Aromaleigh Fall 2019 Eyeshadow Swatches
I wanted to share swatches of the Aromaleigh Fall 2019 eyeshadows that I bought with you. Aromaleigh included extra samples to swatch with my order. I'm not ok right now; I'm grieving Phaedra, so I'm sorry that this isn't really a review, I just wanted to share pretty eyeshadow. For those of you who are unfamiliar with Aromaleigh, they are an indie mineral makeup company. Their products are 100% cruelty-free and handmade, and they do have vegan options.
Where to Buy
Aromaleigh
This is my Design collection eyeshadows are now available in two sizes- full and deluxe sample. The full sizes feature stag antler artwork. These products are inspired by the colors, lighting, music, art and overall aesthetics of the NBC series "Hannibal". Each shade includes specific details about its inspiration. Below are swatches of This is my Design, Norse Mattes, and more.
Aromaleigh is proudly listed on my cruelty-free makeup brands list.
Aromaleigh Fall 2019 Eyeshadow Swatches
All swatches are on my skin with Urban Decay Primer Potion.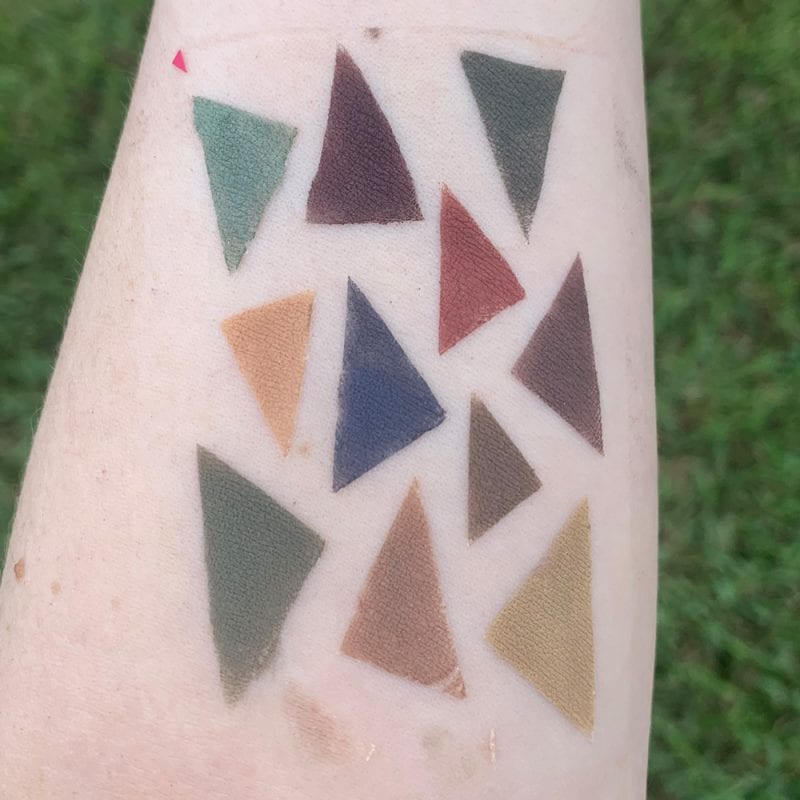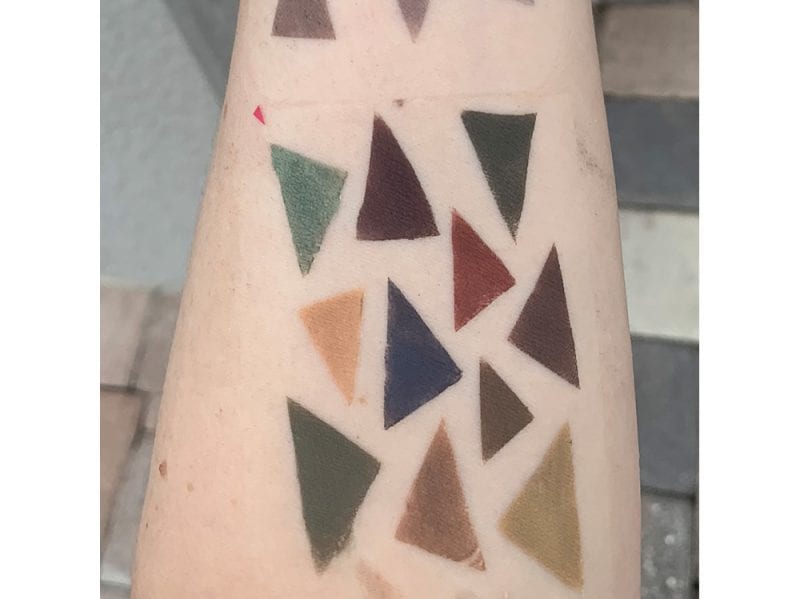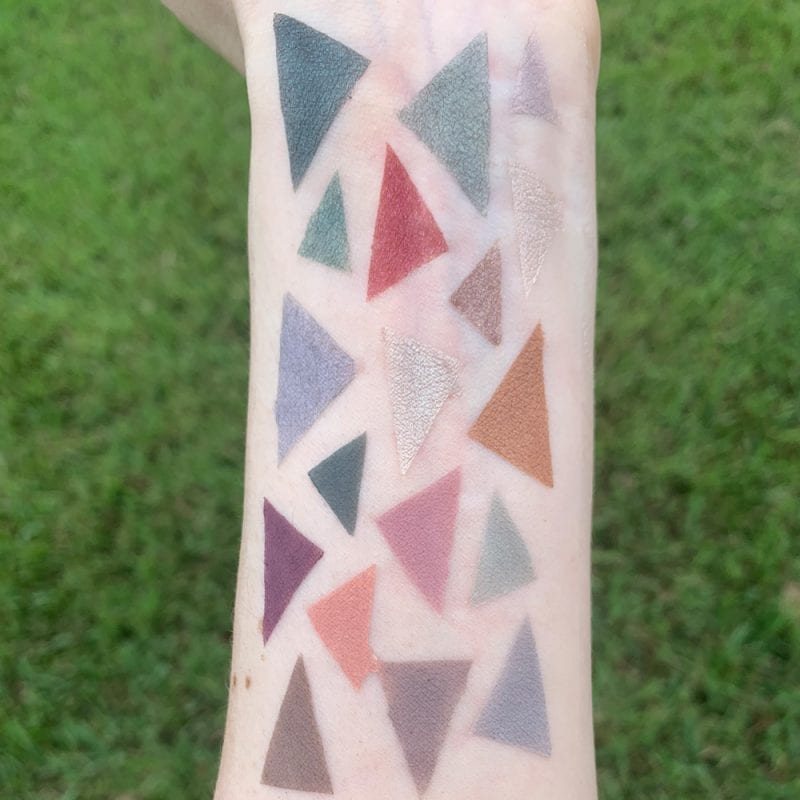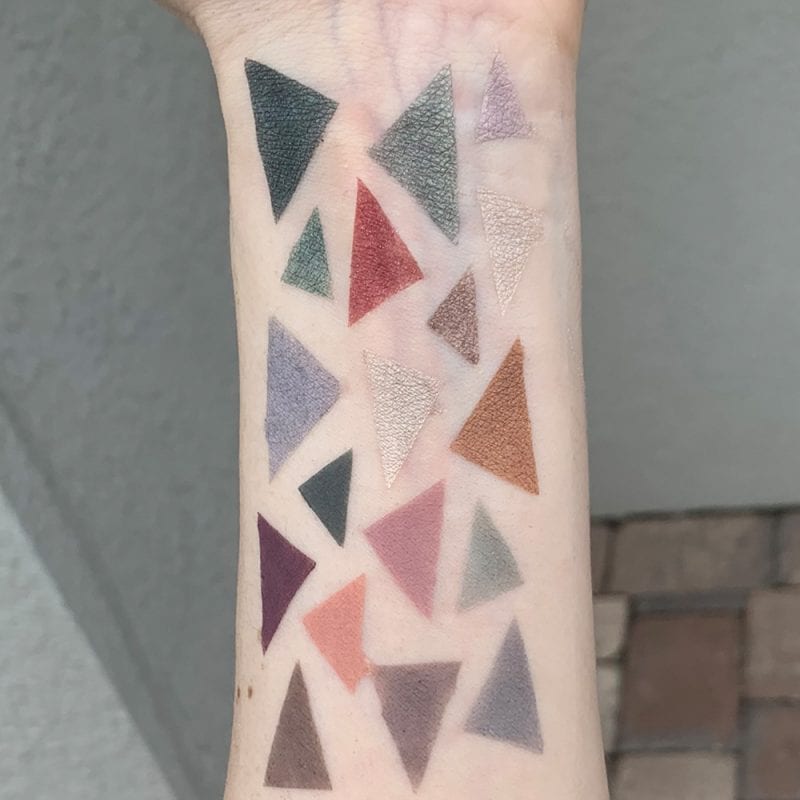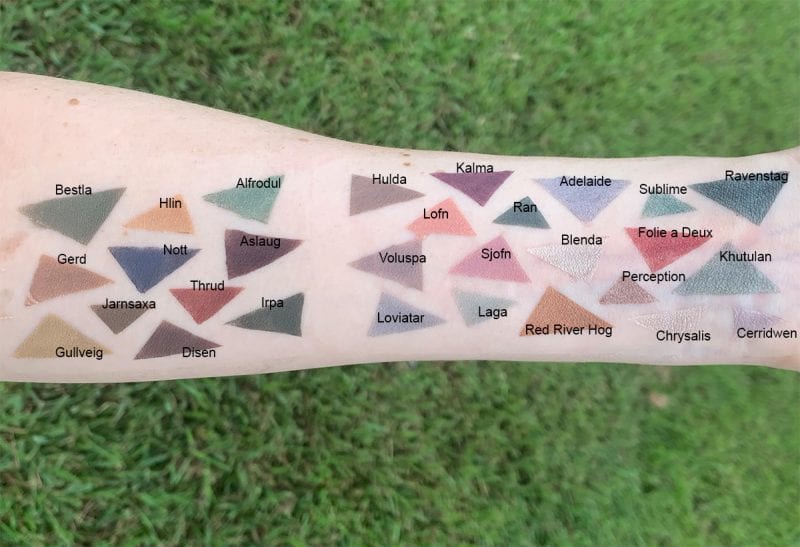 Ravenstag – a very rich and chromatic black, with vivid duochrome effects that range from chartreuse to green to teal to blue. It also has brilliant violet sparks in it. It is exceptionally pigmented, and the duochrome effect is extremely strong if you foil this color/apply it wet.
Folie a Deux – dark blood red with blue undertones and a soft bordeaux metallic highlight, with shards of ice blue sparks throughout.
Khutulun – can appear dominantly deep green or purple depending on the light. In sunlight, it appears to be a deep fir green with a strong purple essence showing through.
Cerridwen – a unique shade with tones of silvery pink and mauve. It has a strong interference glow.
Sublime – a beautiful duochrome with tones of peacock blue, jade green, chartreuse, aqua and gold.
Perception – strong duochrome effect, which ranges from a deep purplish taupe, to copper/bronze and then vivid yellow/gold shimmer with some deep fuchsia and cobalt sparks for good measure.
Chrysalis – a soft greige with iridescent sparkle and shimmer.
Adelaide – a rich violet-blue with multi-tonal overlays of rose and violet. A completely cool toned shade, but still full of life and shimmer.
Blenda – a buff shade with turquoise iridescence which then shifts to a rose-tinted taupe grey with blue and copper hilights
Red River Hog – gift with purchase
Kalma – deep warm purple
Ran – deep heathered teal
Sjofn – midtoned heathered mauve
Laga – heathered midtone grey green
Hulda – cool slate taupe
Lofn – midtone rose petal peach pink
Voluspa – medium deep grey with strong violet mauve tones
Loviatar – medium deep grey with blue undertones
Alfrodul – cool toned green
Aslaug – deep cool burgundy
Irpa – blackened emerald
Hlin – muted terracotta, peachy-soft brown
Nott – blackened navy
Thrud – deep brownish red
Disen – dark cool mahogany
Bestla – dark olive khaki
Gerd – warm midtone brown
Jarnsaxa – dark oak brown with olive tones
Gullveig – gold olive khaki.
I hope you find these Aromaleigh Fall 2019 Eyeshadow Swatches helpful. Right now many of these items are on sale in Aromaleigh's Weekly Sale Section.