While I guess we technically started our IMATS LA 2013 experience on Thursday when we set up the booth, Friday is when the fun really began!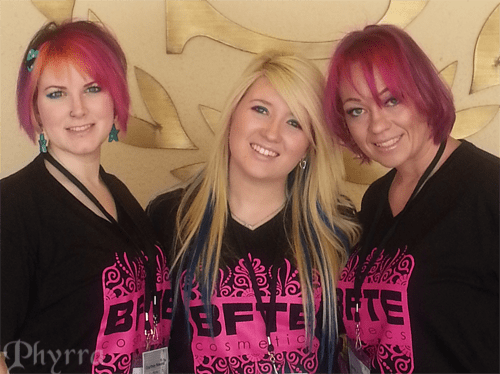 Here we are before heading in to the convention center to have fun!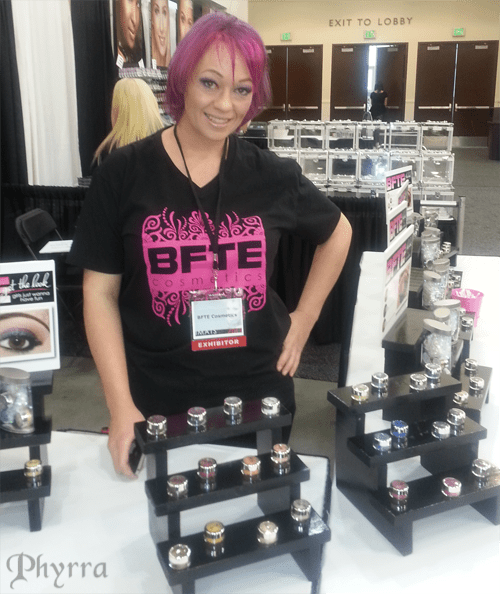 Crystal looks great in front of the booth!
Friday was the Pro event from 2pm to 6pm. I had a little time to walk around and make some purchases, as well as meet with bloggers. I was there on a press pass as well as an exhbitor pass, so I also received a press bag.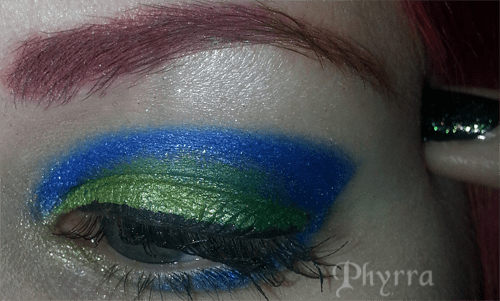 I wanted to show off some of BFTE's bright colors, so above is the look I put together. On my nails I'm wearing Cult Nails Nevermore with a Sephora by OPI top coat (the name escapes me at the moment).

Here are the swatches with Blue Bird, Poodle Pandemonium, Emerald Bliss and Lotus.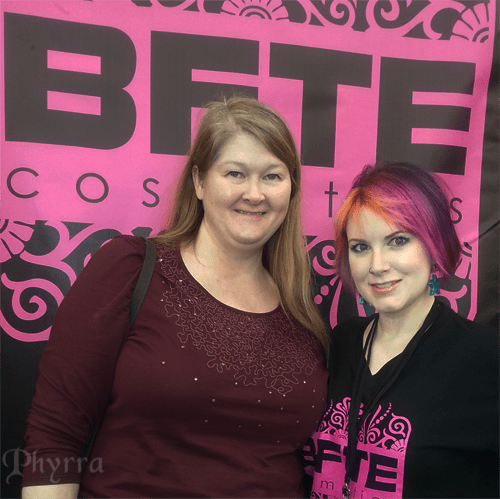 I was very excited because I got to see LiAnn from Sparklecrack Central! I haven't seen her face to face since Dragon Con and she's always a lot of fun.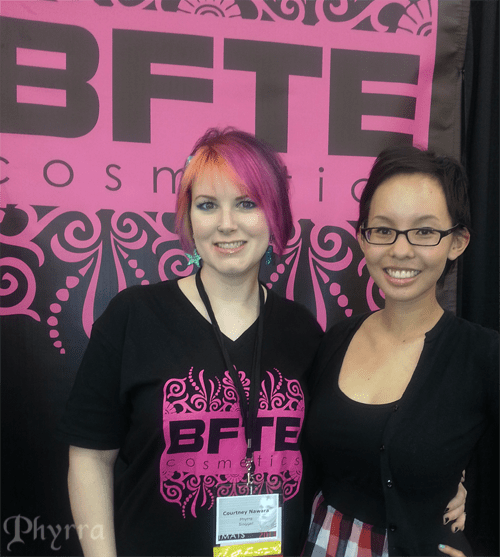 I also got to meet Mai from Portrait of Mai for the very first time! She is so dainty.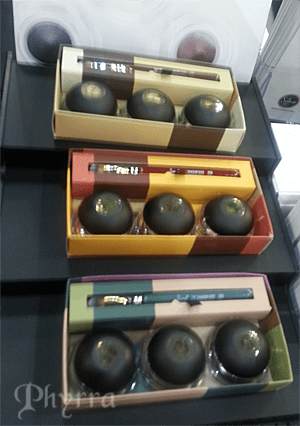 I walked around with LiAnn and Mai for a bit. We went by the Sigma Beauty booth and the people there were amazingly nice. I checked out their cream shadow sets.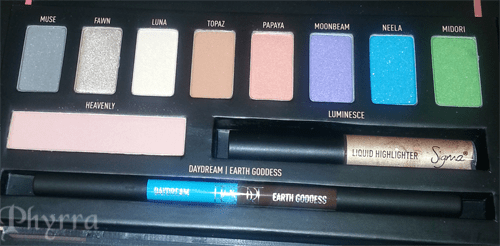 I was very interested in this Sigma palette.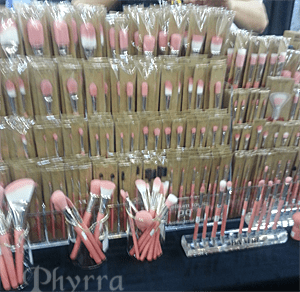 We went by the bdellum brush booth. I was really drawn to these pinky-peachy-coral brushes. I was disappointed that they didn't have any sets.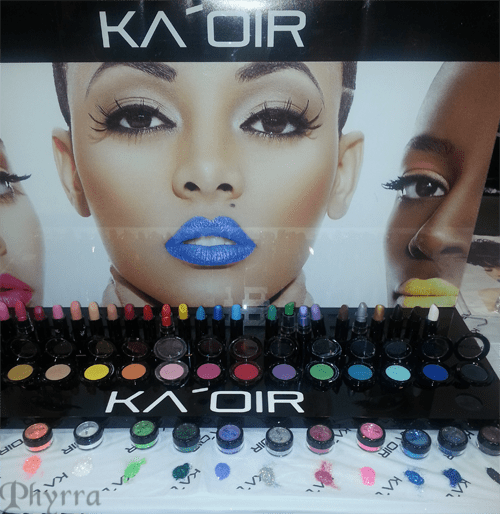 It was interesting to see matching lipstick, pressed eyeshadow and loose glitter from Ka'Oir cosmetics.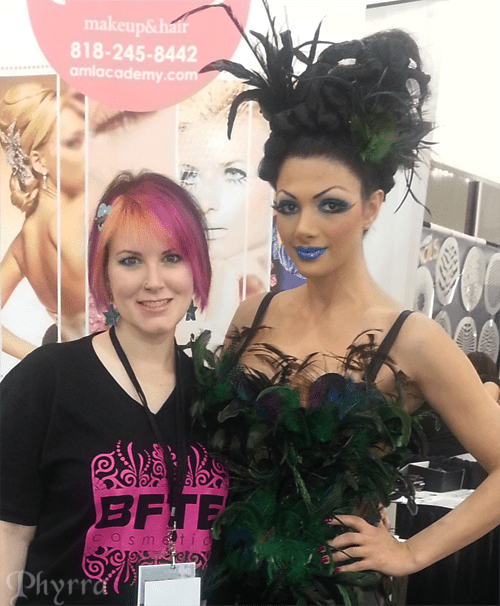 This was a lovely feathered model. I just had to snap her picture.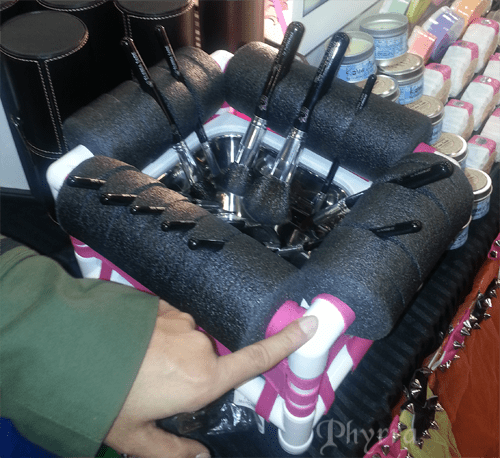 We went by Elessa and Koren's booth and Koren had his sonic brush cleaner out for show. I want one of these so bad! I am tired of cleaning my brushes by hand and I desperately want one of these.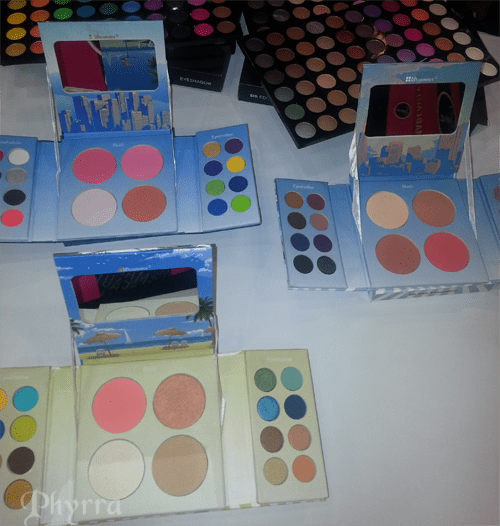 These are some new palettes from BH Cosmetics that we spotted.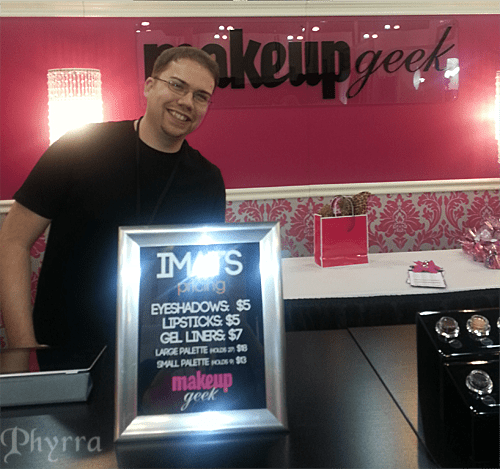 I got to meet Nick from Makeup Geek! He's super sweet. It was cool to get a face to put with a name.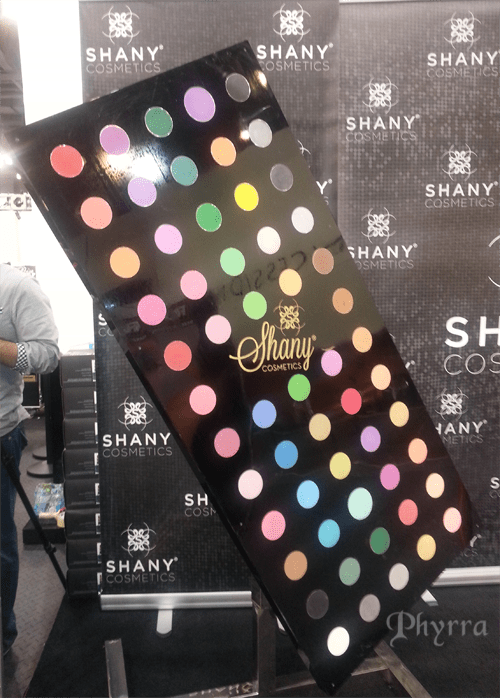 This Shany Cosmetics palette is about the same size as me!!!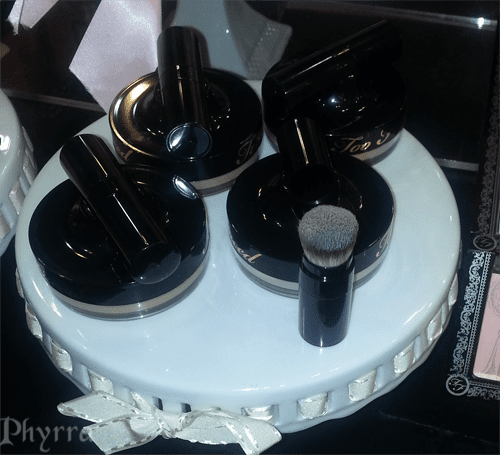 The Too Faced Air-Buffed BB Creme Complete Coverage Makeup. I purchased one of these in Snow Glow to review.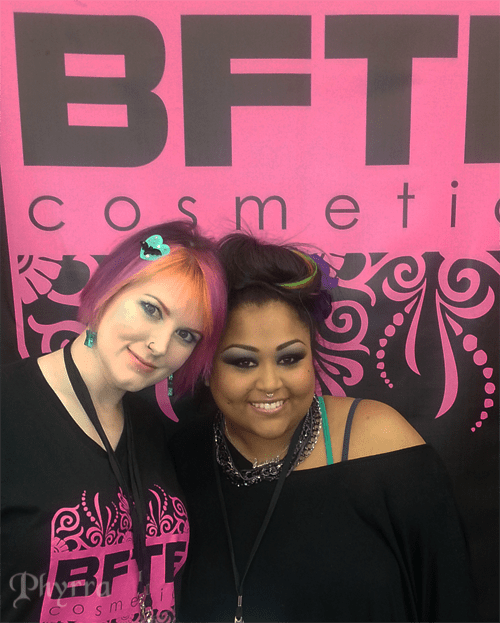 Lauren the Queen of Blending came over to visit us! I loved the colorful extensions in her hair. I was also envious of how she could just have her hair pulled up casually and have it look so great!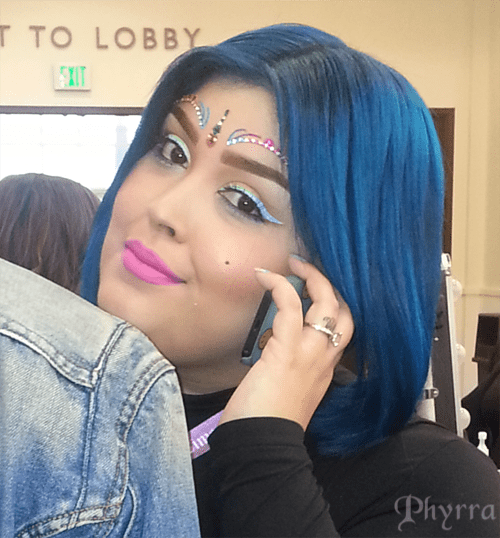 This was a pretty blue-haired artist at the Ardell booth, next to ours.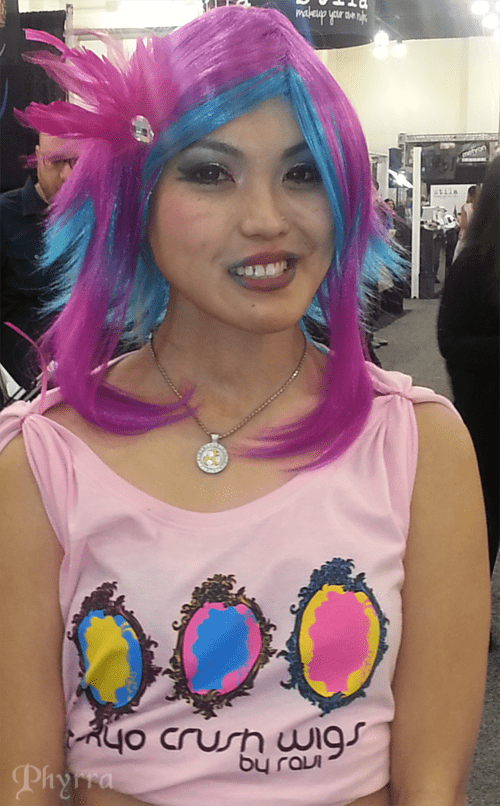 An adorable Tokyo Crush Wigs girl walking around handing out Tokyo Crush wigs and inviting people to visit their booth.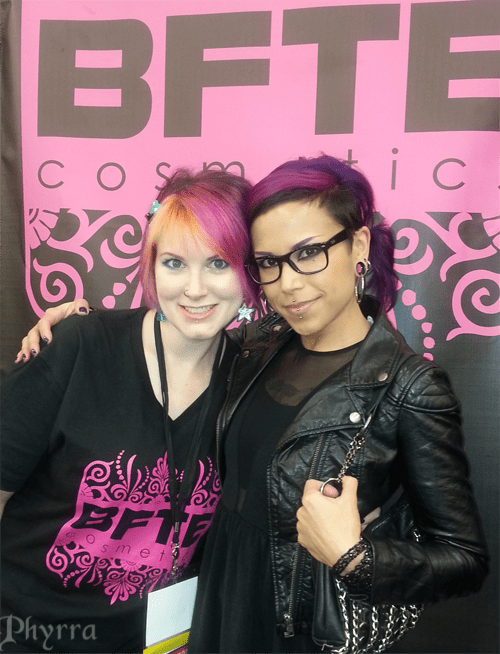 I finally got to meet Heather, better known as Sokolum79 face to face! I love her hair and her style!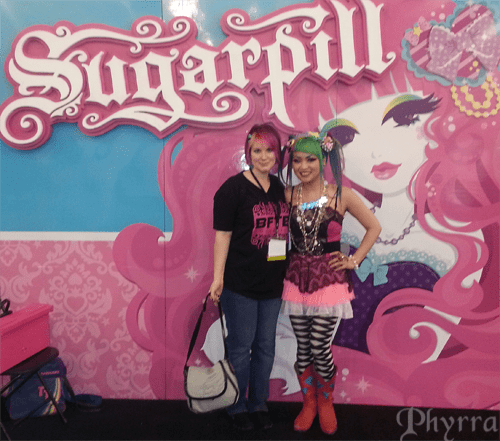 As I was leaving on Friday, I got to meet Amy, aka Shrinkle of Sugarpill. I almost couldn't find words to talk. I felt so awkward and fan girly! She is so impossibly cute! I got a better picture later in the weekend because this one was blurry.

Jen from My Beauty Bunny also let me do her makeup! I used Dragon Slayer on the lid. I contoured with Midnight Kisses. I used Bubbly on the browbone and Glistening to highlight.
After the Friday event was over, Jen, LiAnn and I went to a Beauty Blogger Meetup at Sassafrass Saloon. It was organized by none other than Stef and Tyna from We Heart This!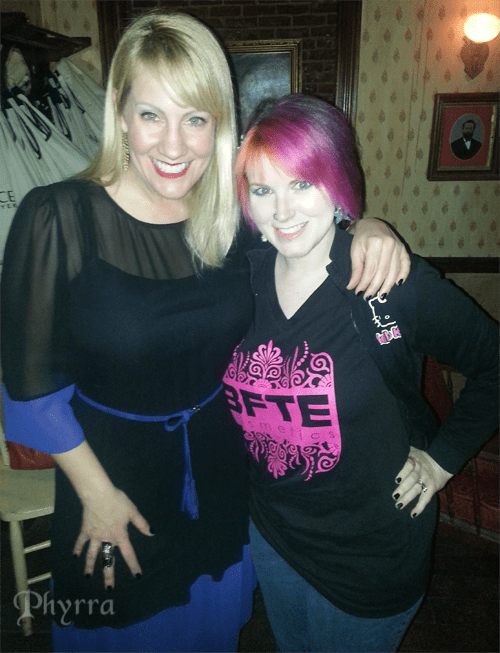 Here I am with Stef! I was excited to meet her. I've been reading her blog for years! She threw a fantastic party.
(if you can't tell, I'm really trying to smile more and show my teeth. Since I got them whitened, I've been feeling more comfortable about doing that.)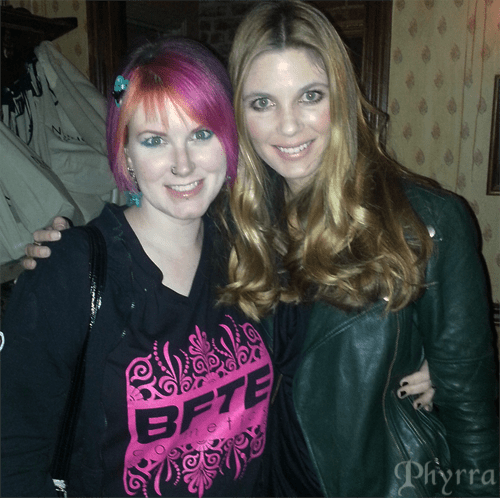 I got to meet Rachel the Beauty Professor! Her hair is gorgeous.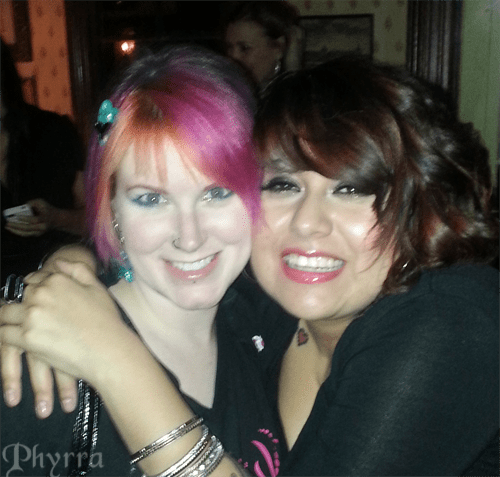 Next up was OMG Bren! Sparkle sparkle!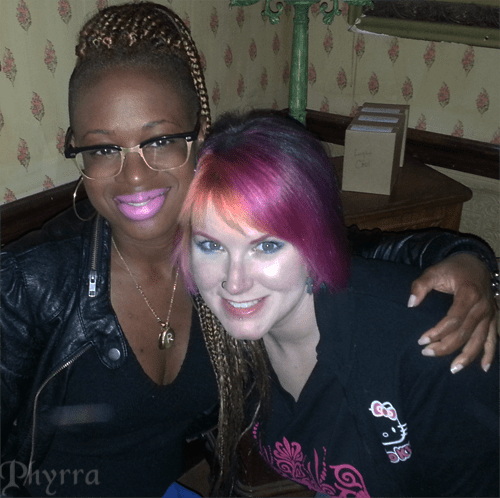 My Central Florida sister Safia (Lipstick Mixtapes) came to hang out, too!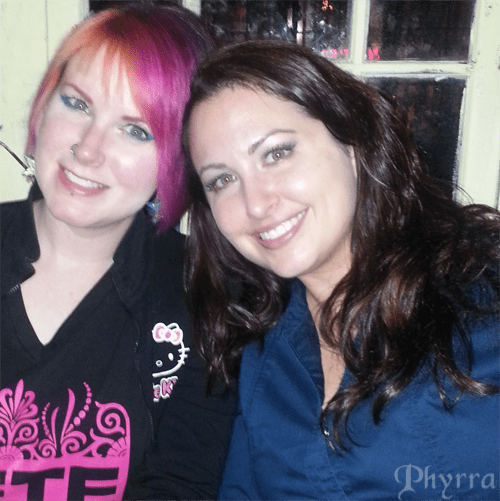 I really loved getting to spend time with Jen!
I got to meet several more lovely ladies, some of whom aren't pictured, such as Marcia from Beauty Info Zone.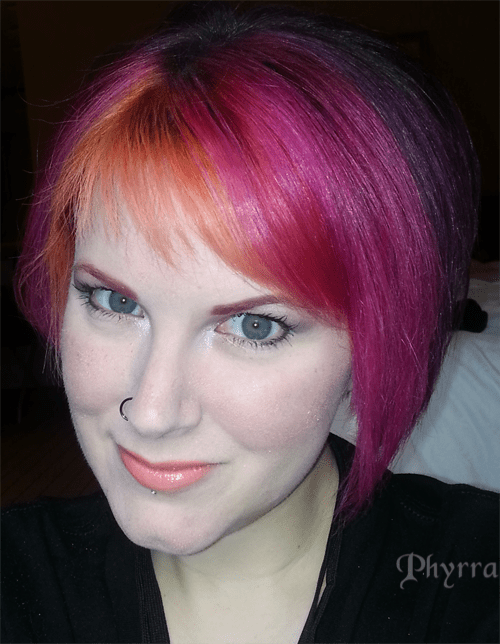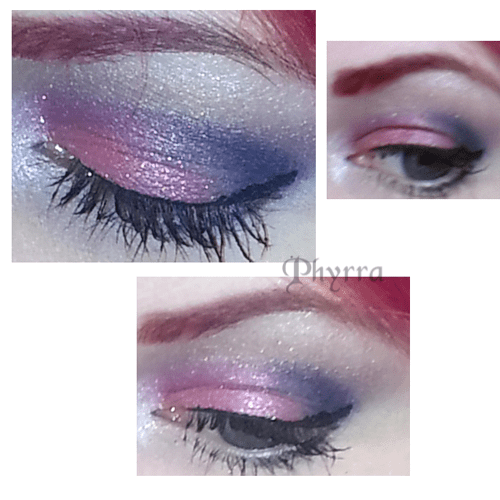 Saturday I wore Lotus, Poodle Pandemonium, Midnight Kisses, Bubbly and Glistening. This was a very soft, pretty look. I probably should have done a bright rainbow eye.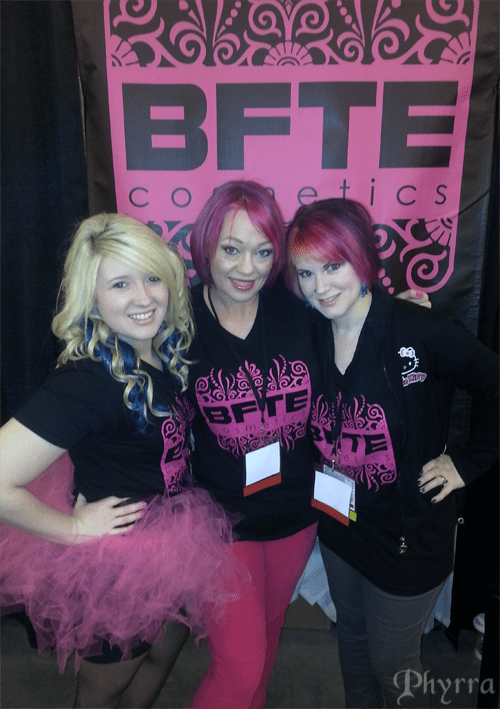 Saturday at the Booth I think we looked cute. Crystal had on a bright pair of pink pants, Kristy had on a fun pink tutu, and I was wearing grey jean leggings. I love how we all have colorful hair.
I spent most of the day Saturday at the booth working as we had a steady stream of customers. It went by quickly!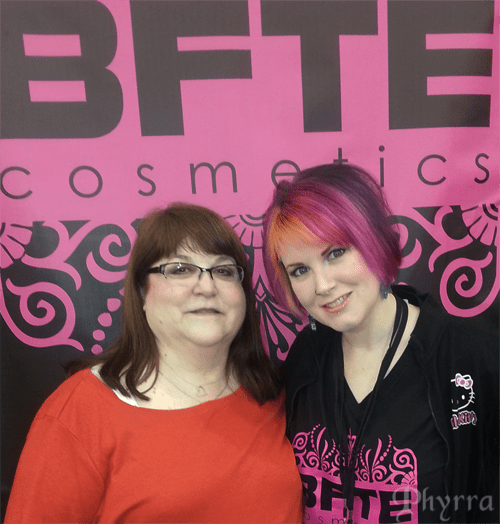 I finally got a picture with Marcia from Beauty Info Zone! Yay!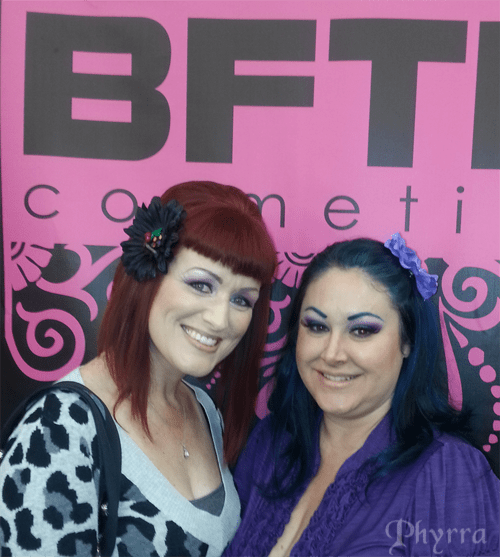 I got to meet Christina from Confessions of a Glitterholic and her friend! I loved their hair!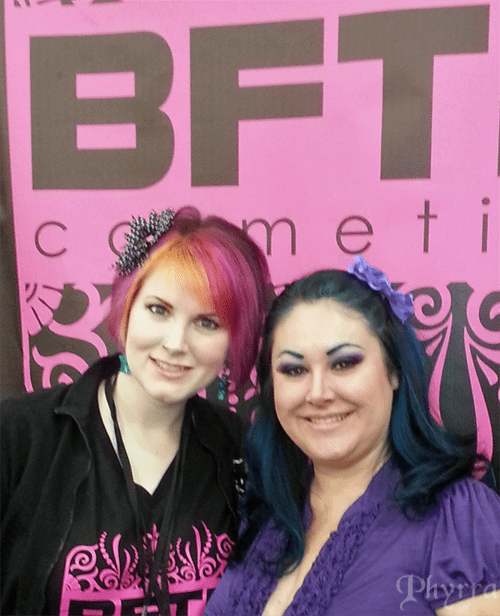 Me with Christina.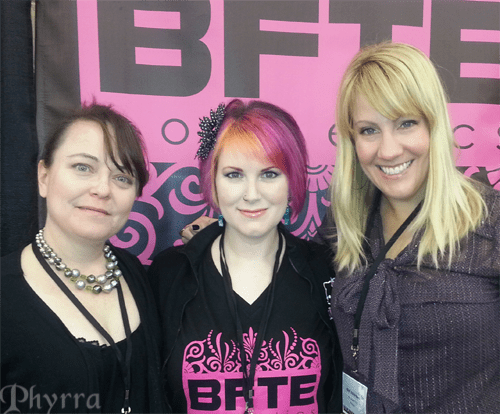 Me with the leading ladies of We Heart This, Tyna and Stef. Yay!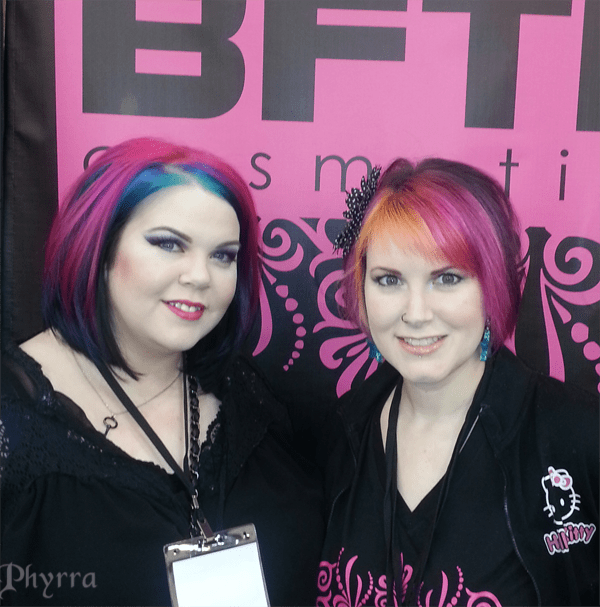 I finally got to meet Cora from Vintage or Tacky face to face. I did go all fan girl on her! I love her hair, her fashion, everything! Love love love!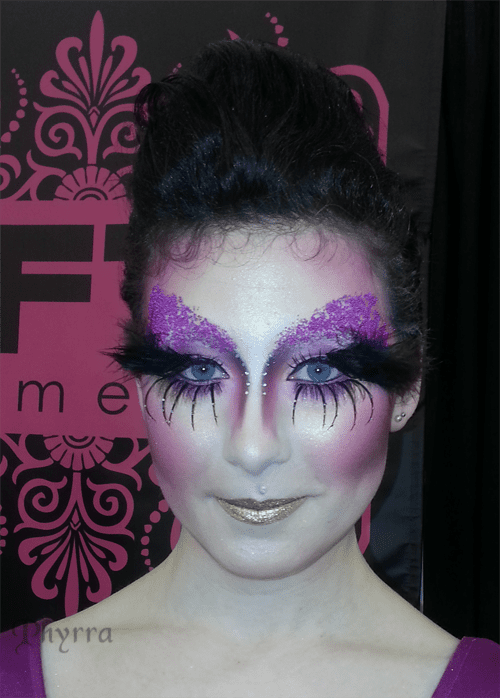 A beautiful promotional model. I love how they did her makeup.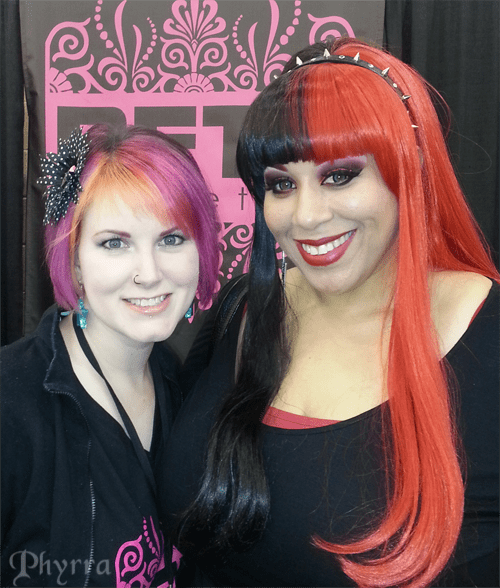 I got to finally meet Dawn, the amazing lady behind Makeup by Siryn who does so many awesome comic book looks!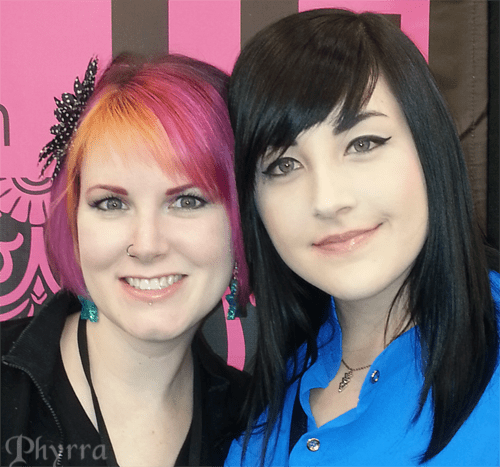 Megan from Pretty in my Pocket came by so I could meet her! Can we say perfect hair and perfect liner? She looks fabulous!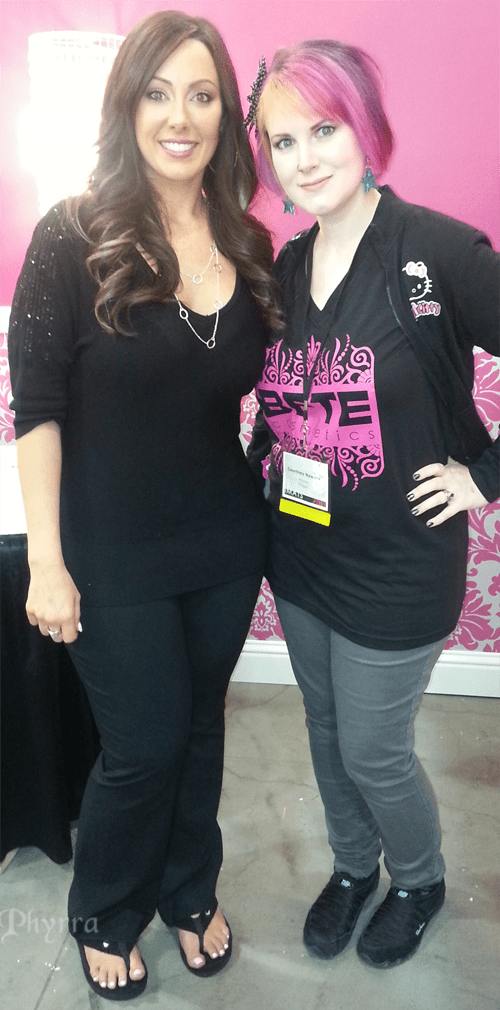 I got to meet Marlena from Makeup Geek! She was so nice.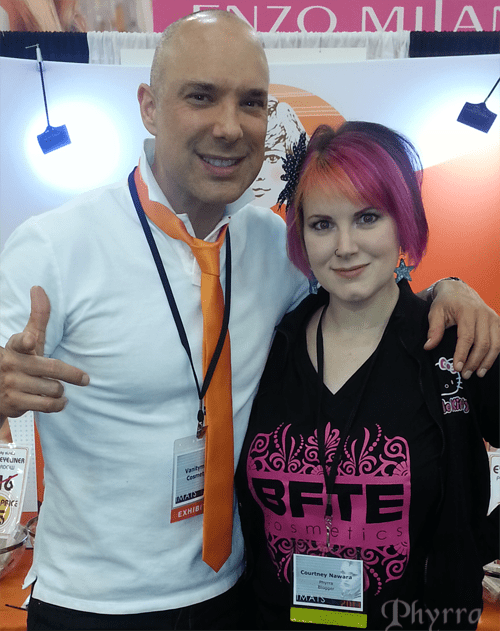 I also got to meet Trevor from Vanity Mark. He was hilarious! If you don't know, Vanity Mark makes the brow pencil I'v been using a ton lately, which is called Gingerella. For the convention I mixed it with a bit of In the Pink by Anastasia.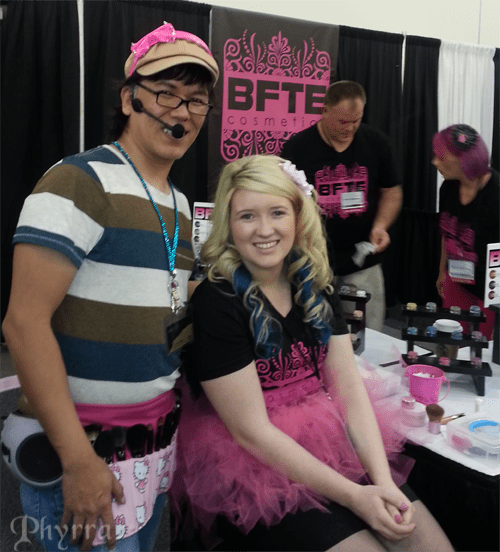 Koren from Enkore Makeup did an awesome makeup demo with BFTE products at the BFTE booth on Saturday. Kristy was lucky and got to be his model!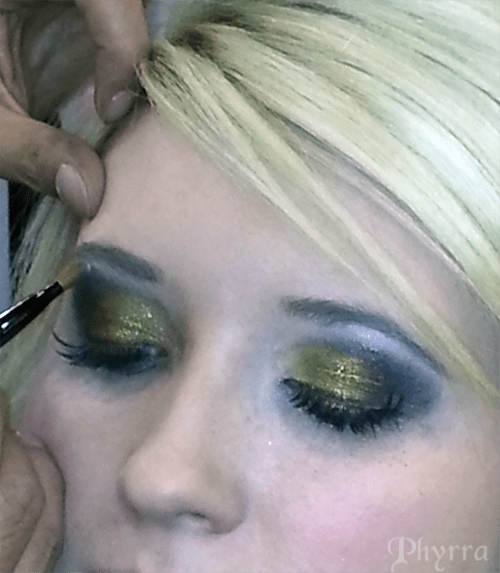 Koren demonstrated various techniques on Kristy.
Ok and this is where I end part 1 of the actual IMATS LA 2013 experience because it's almost 4 am and I need sleep. I'll finish the rest soon.
What do you think of my IMATS LA experience so far?