Hi everyone! Today I've got the Meow Cosmetics Times Square Collection to show you. This is, of course, a seasonal collection from Meow, so it's only available for a short period of time. Meow says this about the collection, many of these unusually complex and mysterious shades are shimmery and  infused with color changing interference pigments, which play with light.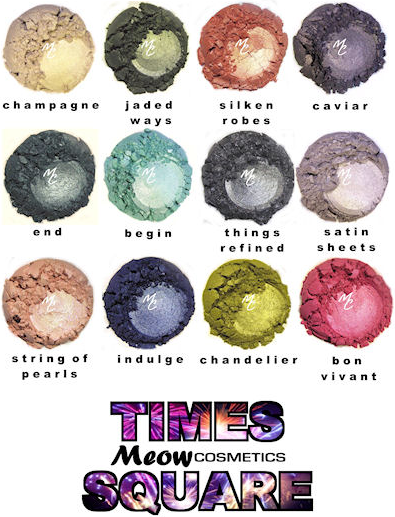 It's funny, it doesn't seem like it's been about a month since I was in New York City at Times Square. Let's see what this collection has to offer!
All of these swatches are on Coastal Scents Shadow Worx primer. Since I always wear eyeshadow primer, and these are complex colors, they really look best over a base. I tried to swatch on bare skin and it just looked wrong, so I started over and did it right.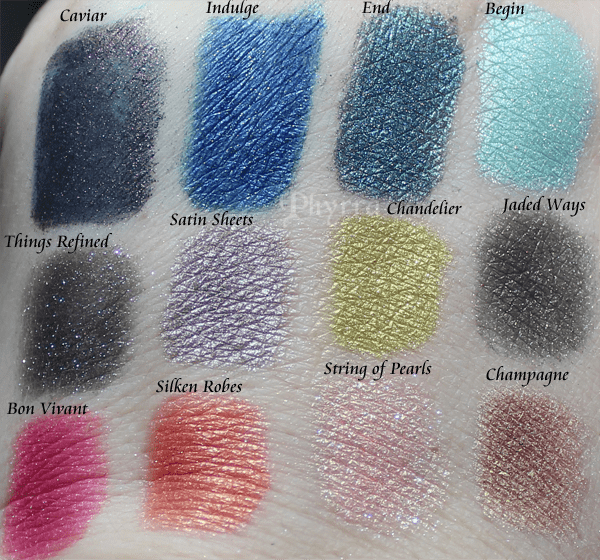 Caviar
dark purple tinged with black and golden sparkle and pink irirdescence
My Take
Purple on a blue-black base with golden and pink iridescence. Caviar is a very complex purple, possibly the most complex blackened purple that Meow has ever put out.
Indulge
deepest metallic navy blue with green and silver sparkle
My Take
Deep navy blue with teal-blue iridescence and sparkle. A very deep, gorgeous blue.
End
dark teal with silver sparkle
My Take
Deep sea blue base with teal iridescence and sparkle. This is a very multi-dimensional, deep teal. I love it.
Begin
light bright aqua with gold iridescence
My Take
Soft seafoam with aqua tones and gold iridescence. This reminds me a bit of Time Foretold, from the Midnight Clear collection.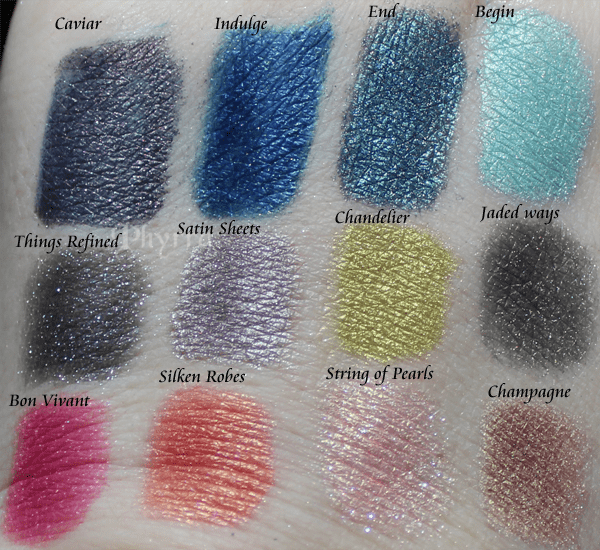 Things Refined
super sparkly gray with satin finish
My Take
Soft charcoal grey base with strong rainbow sparkles. Absolutely beautiful. This reminds me of Fyrinnae Immortality. Everyone needs one of these in their collection.
Satin Sheets
creamy mauve with iridescent golden undertone
My Take
Greyed lavender with gold iridescence. It's an unusual shade that I can see as an unexpected neutral for the office.
Chandelier
brilliant metallic yellow-green with a touch of silver iridescence
My Take
Metallic chartreuse. This sort of color always reminds me of Meow. Unapologetically bright and fun.
Jaded Ways
deep dark green with golden iridescence
My Take
Deep green with brown undertones and golden iridescence. This color embodies wood nymph.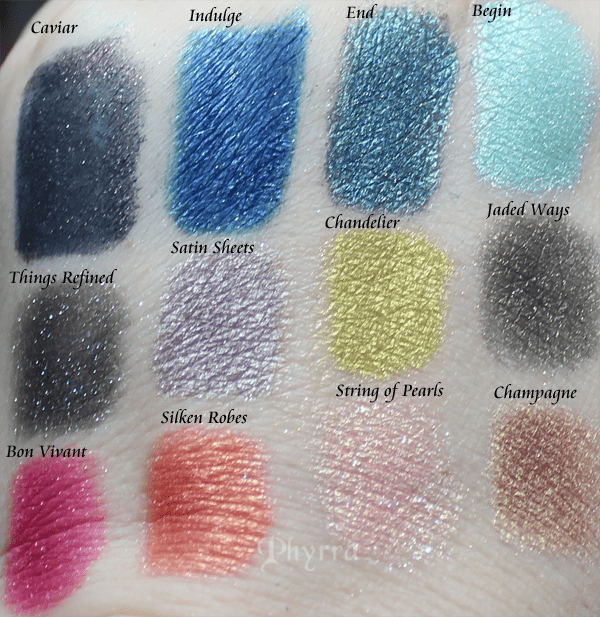 Bon Vivant
the hottest opaque pink we have big color payoff
My Take
Bright hot pink with coordinating shimmer. I love bright pinks like this. If you like UD Woodstock you'll love this.
Silken Robes
coral with golden iridescence
My Take
Bright peach with golden iridescence. Reminds me of UD Free Love. I love this color!
String of Pearls
whisper soft coral with golden sparkle
My Take
Light peachy-coral with golden iridescence and pink sparkles. Delicate, feminine, an dfun. I really love this one.
Champagne
creamy ivory with gold sparkle
My Take
Pale gold with deeper gold undertones and gold sparkle. It's a gold. How can I not love it?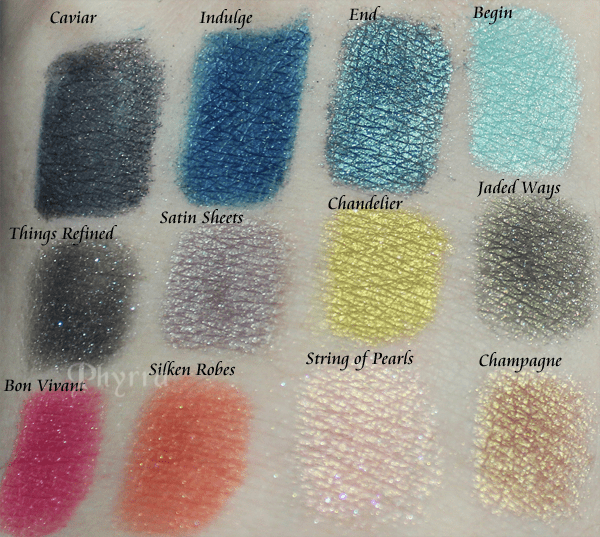 Ingredients
Mica, Titanium Dioxide, Iron oxides Some Colors May contain:: Ferric Ferrocyanide, Aluminum Powder, Ultramarines, Tin Oxide
Price
$8 for full size
$1 for sample
My favorites
Champagne, String of Pearls, Caviar, End, Silken Robes and Indulge.
What are your favorite colors from the Meow Cosmetics Times Square collection?
Some products purchased by me. Some products sent for consideration. All opinions are my own.
Last Updated on