As promised, more of my IMATS LA 2013 experience for you! Read about my IMATS LA 2013 Part 1 here and my Trip to IMATS LA 2013. Again, I've got a ton of pictures in this post. Since I didn't really leave the booth, I took pictures of gorgeous hair and people when they came to visit.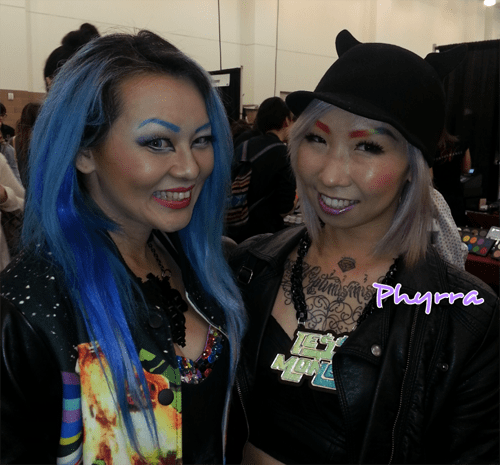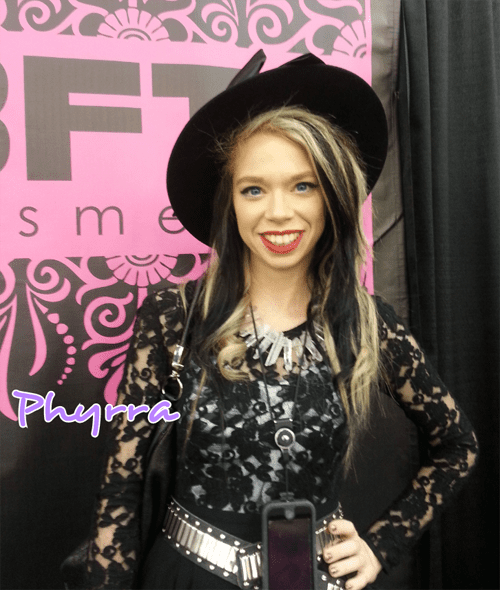 I got to meet the lovely Bunny, aka Grav3yardGirl, who is a friend of Su Chronicle Stones.

Hallie was super sweet. And of course, how could you not love her hello kitty outfit and hair!


I got to meet the beautiful and talented Helen Heinroos, who had lovely pink hair.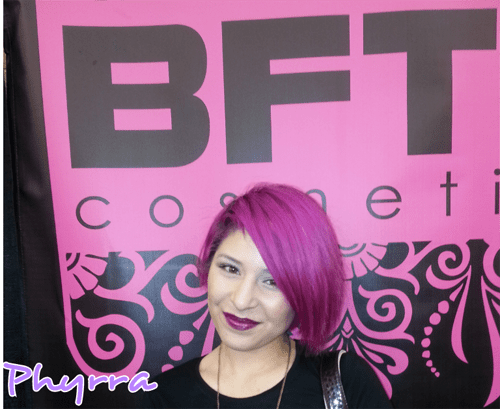 I loved Monica of Miss Pawlished! I love her hair and her lips! I would love for my hair to be that color at some point. I also need that lipstick in my life!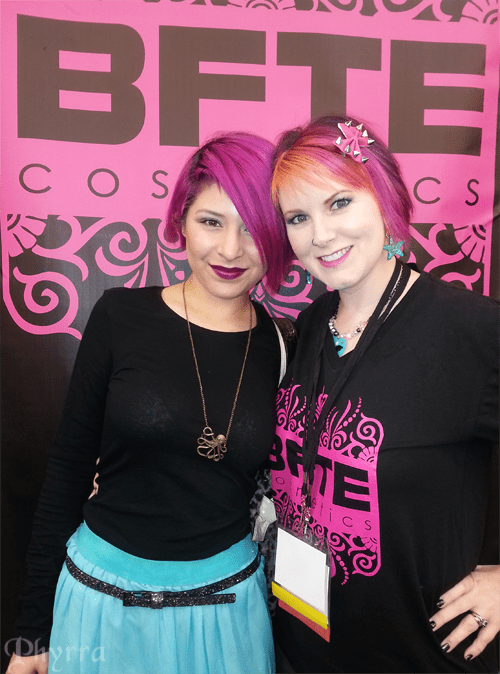 I loved her octopus necklace, cute skirt and black belt! You can also see that I'm wearing Cult Nails Nevermore in the picture (with a topcoat of a sephora by opi polish).

Alyssa had gorgeous hair and makeup.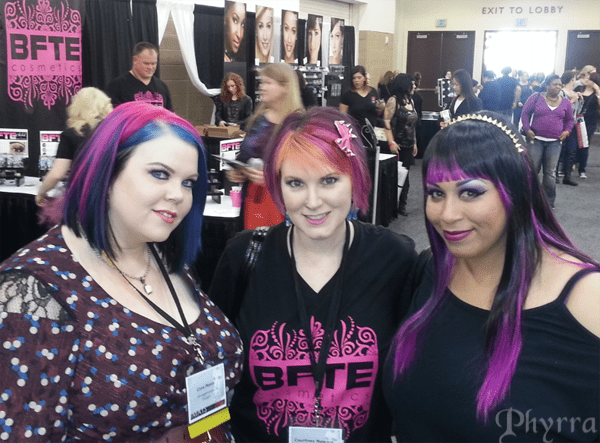 I got to see Cora again, as well as Dawn. I love seeing all of our hair together 🙂



I loved her hair! It was orange, pink, purple and I think there was some black. She was a hair stylist. She also had cute piercings!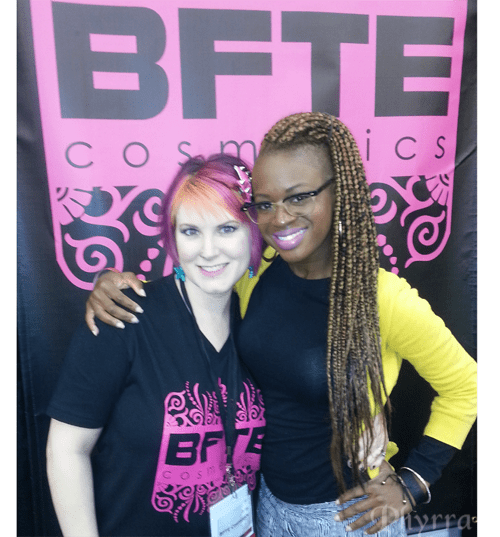 Safia came by to visit 🙂

I finally got to hang out with Amy (aka Shrinkle), founder of Sugarpill Cosmetics! She let us in on the fact that BFTE Cosmetics had been one of the companies that influenced her to create Sugarpill. This was so cool to find out! She was awesome to talk to and I loved her hair.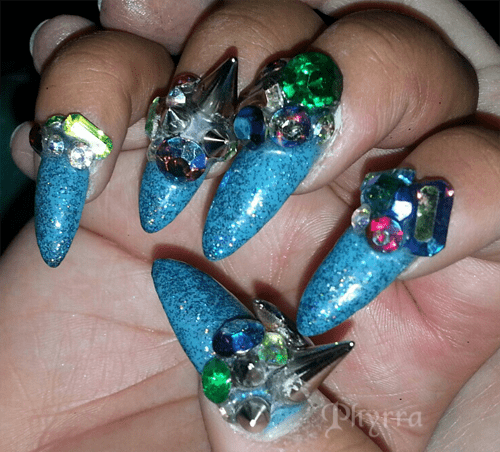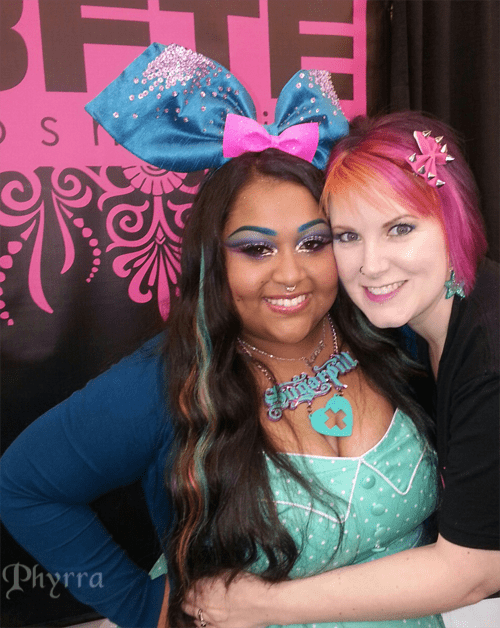 Lauren (the Queen of Blending) came by to hang out again. She is very nice. She had the cutest colored extensions in her hair.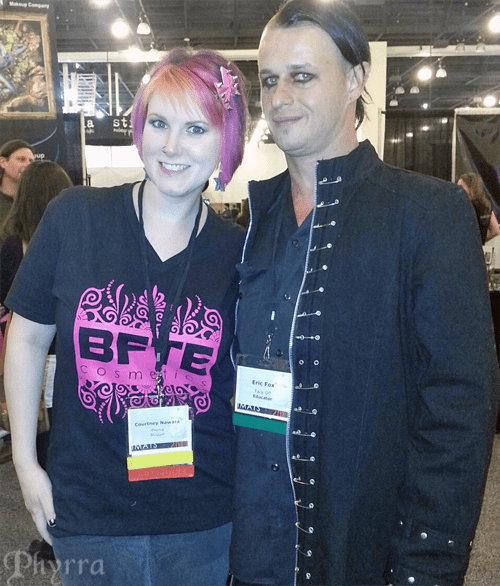 I got to meet the awesome Eric Fox from Face Off, whom Ray adores. He was super sweet.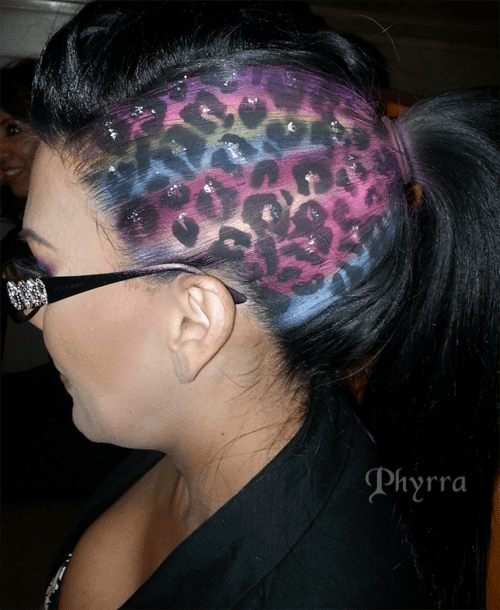 This girl had amazing rainbow leopard print hair. However, she also had black iridescent pyramid studs on her head! I LOVED this! So freakin' cool!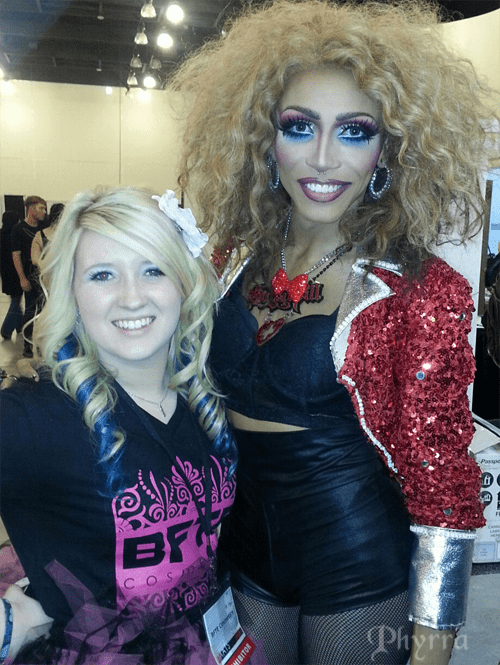 Kristy with Petrilude. We got to meet Misty Maven / Jistyplaven / Josh / Petrilude for the first time. I couldn't get over his beautiful skin.

We got to meet Talia Joy, too! She is very inspiring.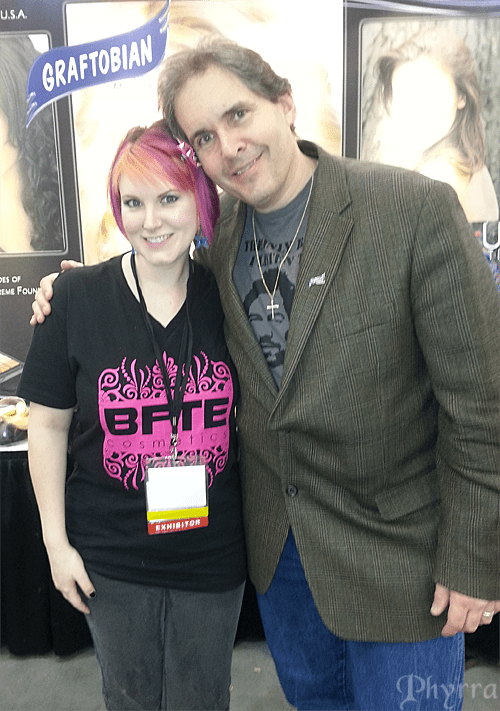 I got to meet Eric Coffman of Graftobian Makeup and chat with him. He was very cool! I've got several upcoming reviews with their products.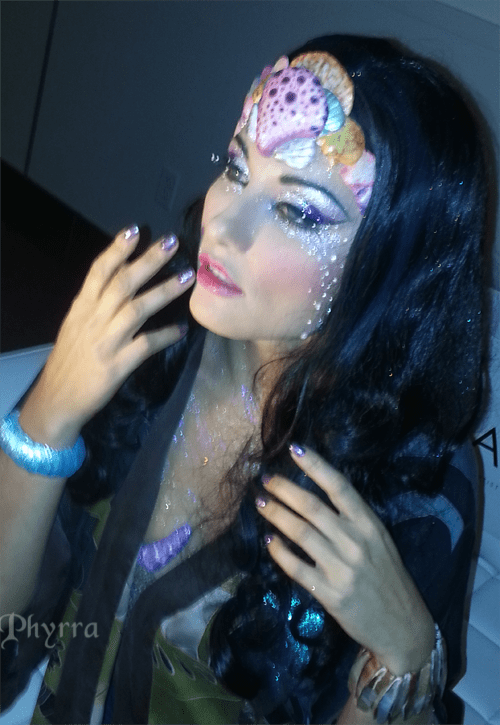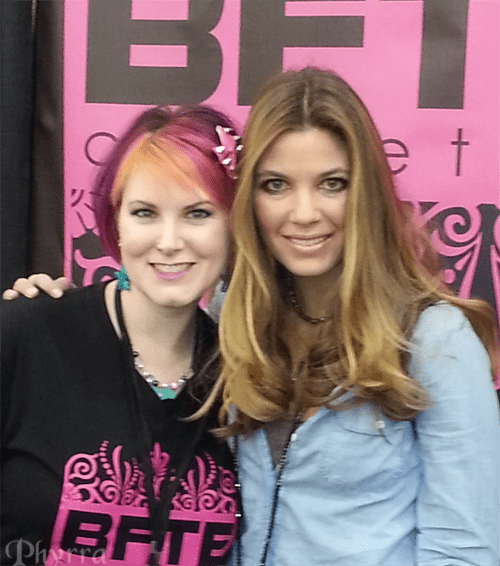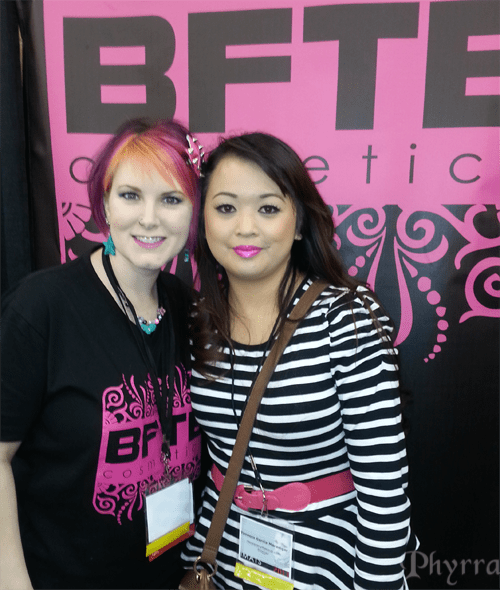 I finally got to meet Vanessa of Nessasary Makeup! She's another of the first bloggers that I started reading. I love her stuff 🙂 You can check her out on Instagram too.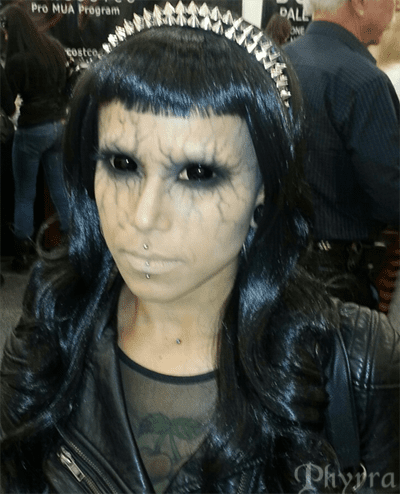 I got to see Heather again all too briefly. She looked awesome with her airbrushed skin and wig. Also, that headband is so fun.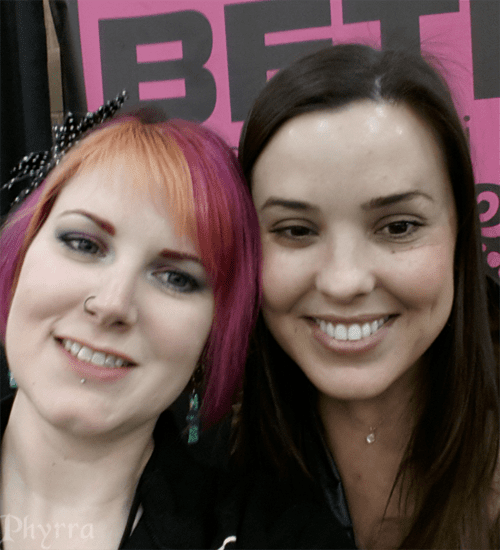 I finally got to meet Cybele of CybeleSays face to face! So exciting! I've read her blog for years.

I got to meet my friend Alyson of the Gloss Menagerie.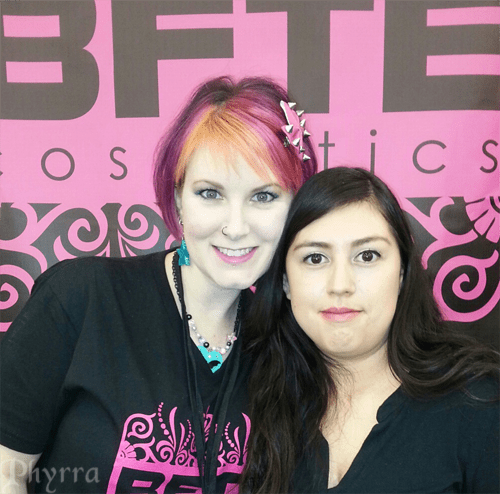 I got to meet Stephanie of Aquaheart's Obsessions.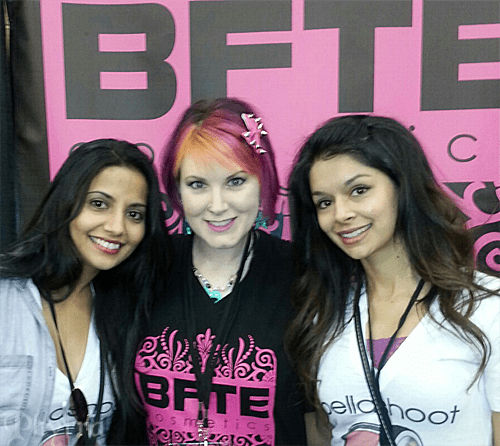 I was finally able to meet the beautiful Bella Shoot sisters. I cannot WAIT for their site to launch! Love them!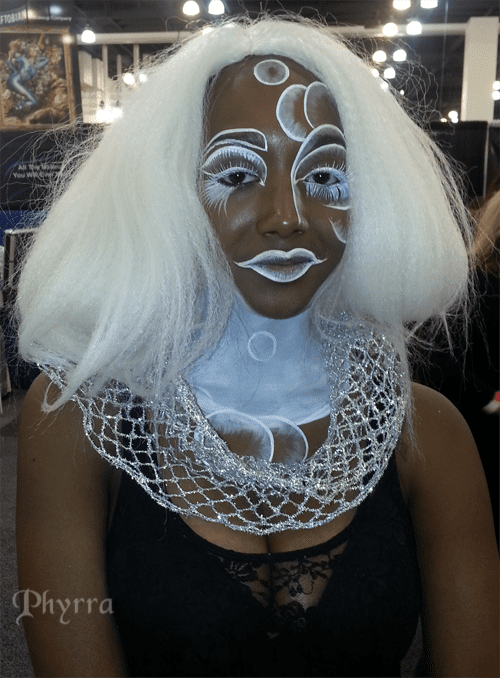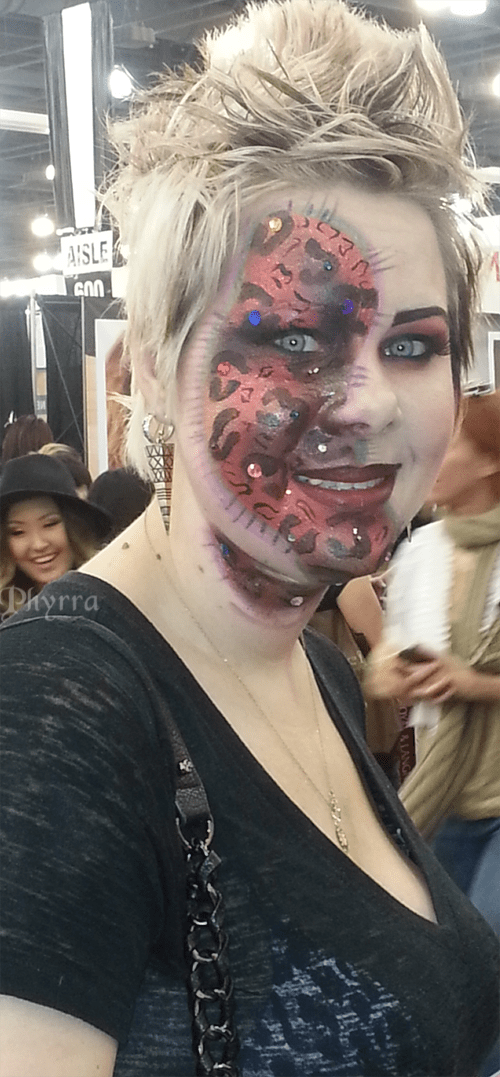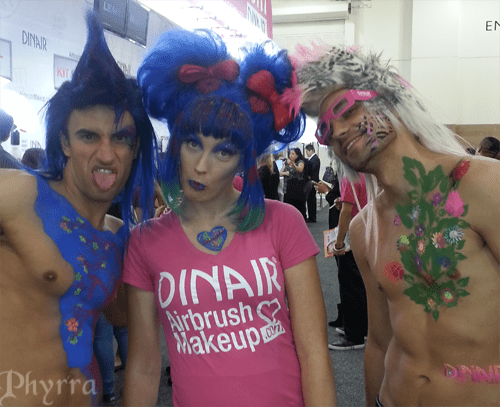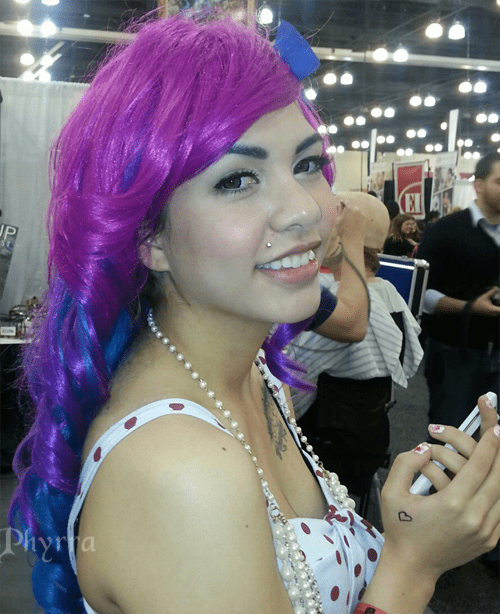 I really loved this girl's wig! It was from Tokyo Crush Wigs.

I really loved my rainbow eye look for Sunday. I used Pixie Epoxy on the lid and crease. I did Poodle Pandemonium at the inner lid, Midnight Kisses at the outer lid. I used Ying Yang at the inner crease, Emerald Bliss at the middle crease and Blue Bird at the outer crease. I used Bubbly on the lower browbone and highlighted under the eyebrows with Glistening. I added a touch of Clara to the inner corner. I think the look was beautiful.

The 4 of us – Crystal, Matthew, Kristy and me – worked very hard for the duration of IMATS. We loved every minute of it!

After IMATS was all over, we broke down the booth and loaded up the van. Then we went to Island Burger and had a tasty dinner. We cheered to a successful event!
It was really a great time! I was so happy to get to meet longtime friends and bloggers, as well as connect with new people.