Recently I had to have some dental work done. I hate medical procedures (and I lump dentistry under that umbrella) and sometimes they cause me stress. I researched my options and chose Serenity Dental because they seemed like they would be sensitive to my anxiety. I am so glad I made this decision! After getting my dental work done, I opted to try out their 15 minute tooth whitening procedure they called Ivorie.

This is the teeth bleaching color guide. My upper teeth matched up to a 14 and my lower teeth matched to a 16. While it wasn't bad on the scale, it was definitely dingy. The lightest on this guide is a 2 and it goes up in increments of 2.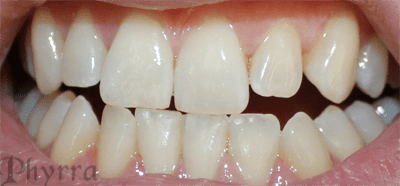 Here are my teeth before the procedure. You can see that they're dingy and could use a good cleaning.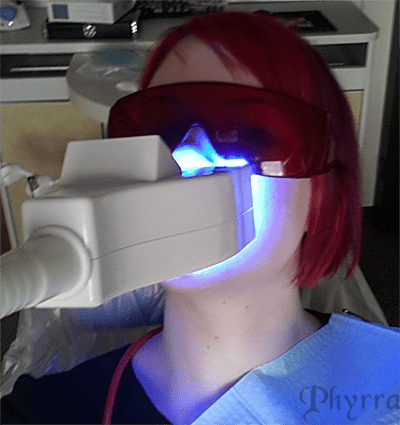 For this procedure I put an upper and lower tray in my mouth filled with a clear, very thick fluid. This didn't make my mouth water or drool or anything like the fluoride trays do. Before the tray goes in your mouth, Vitamin E is placed around your lips, too prevent them from drying out and chapping during the procedure. Big red protective glasses are placed on your eyes and a big blue light thingie (technical term) is turned on and placed right in front of your mouth. A timer is set for 15 minutes and it chimes at each minute. When it gets down to 10 seconds, it chimes every second.
Here are my teeth after the procedure. They're a 6!
Remember, my top teeth started at a 14 and my bottom at a 16. My teeth ended up at a 6. I was very pleased with the results.
This 15 minute procedure was not covered under my insurance, so it cost me $100. However, I feel it was well spent. This is the first time I've ever had my teeth lightened. There was no discomfort before, during or after the procedure. In my opinion, the results were great.
Would I recommend it?
Yes! If you want brighter teeth, more even colored teeth, I think this is definitely a procedure to consider. I highly recommend Dr. Nilash Patel, because he's very kind and considerate.
Have you ever had your teeth lightened? What procedure did you try?
Procedure paid for by me. All opinions are my own.