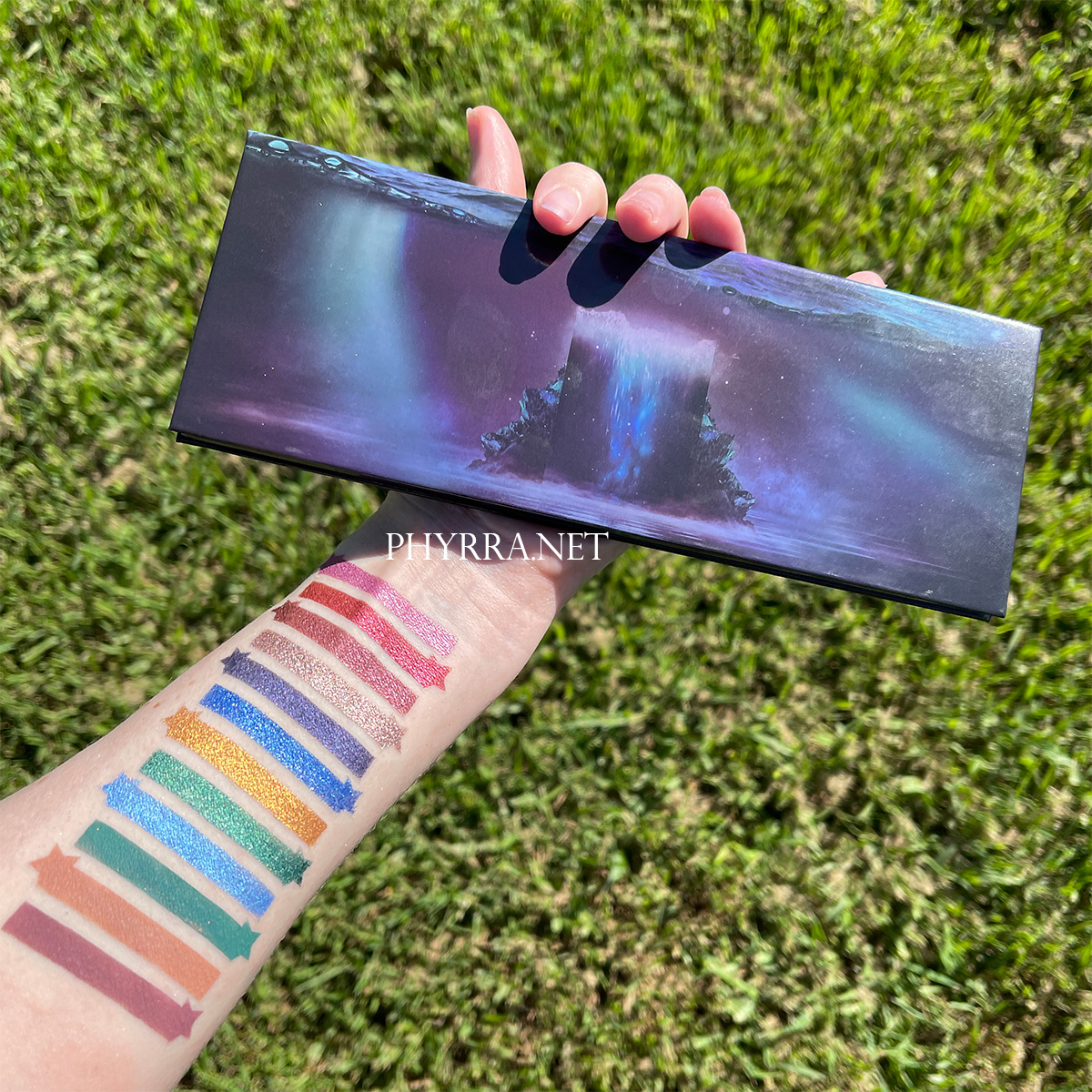 Hello beautiful creatures! Today is my 43rd birthday and I'm sharing the Sydney Grace Co Radiant Reflection Palette with you. This palette was made by Sydney Grace Co in collaboration with Christine from Temptalia. You can see swatches of the other two palettes:  the On the Horizon Palette and the Quintessence Palette.
Where to Buy
The Sydney Grace Co x Temptalia collaboration palettes are  launching this June 18, 2021 at 9 am PT / 12 pm ET on www.sydneygraceco.com. The Temptalia palettes will be $40 individually or $100 for the set of 3. Sydney Grace Co x Temptalia palettes are not limited edition. Sydney Grace is also launching an eyeshadow called Dear Reader, which I will be purchasing as soon as it goes live.
About the Palette
Take a moment to reflect on the faceted nature of each of us as individuals and what lies beneath the surface to discover a rainbow of luxurious jewel-tones just waiting to be explored.
My Skin Tone
I have a very fair neutral to cool yellow undertone for my skin tone. My favorite foundation matches right now are as follows:
You can see swatches of how these foundations look on me in this foundation swatch roundup.
How I Swatch
I swatch using eyeshadow primer and stencils. I typically take my photos outdoors in direct sunlight and indoors in indirect natural light next to a window. See more eyeshadow palette swatches.
Sydney Grace Co Radiant Reflection Swatches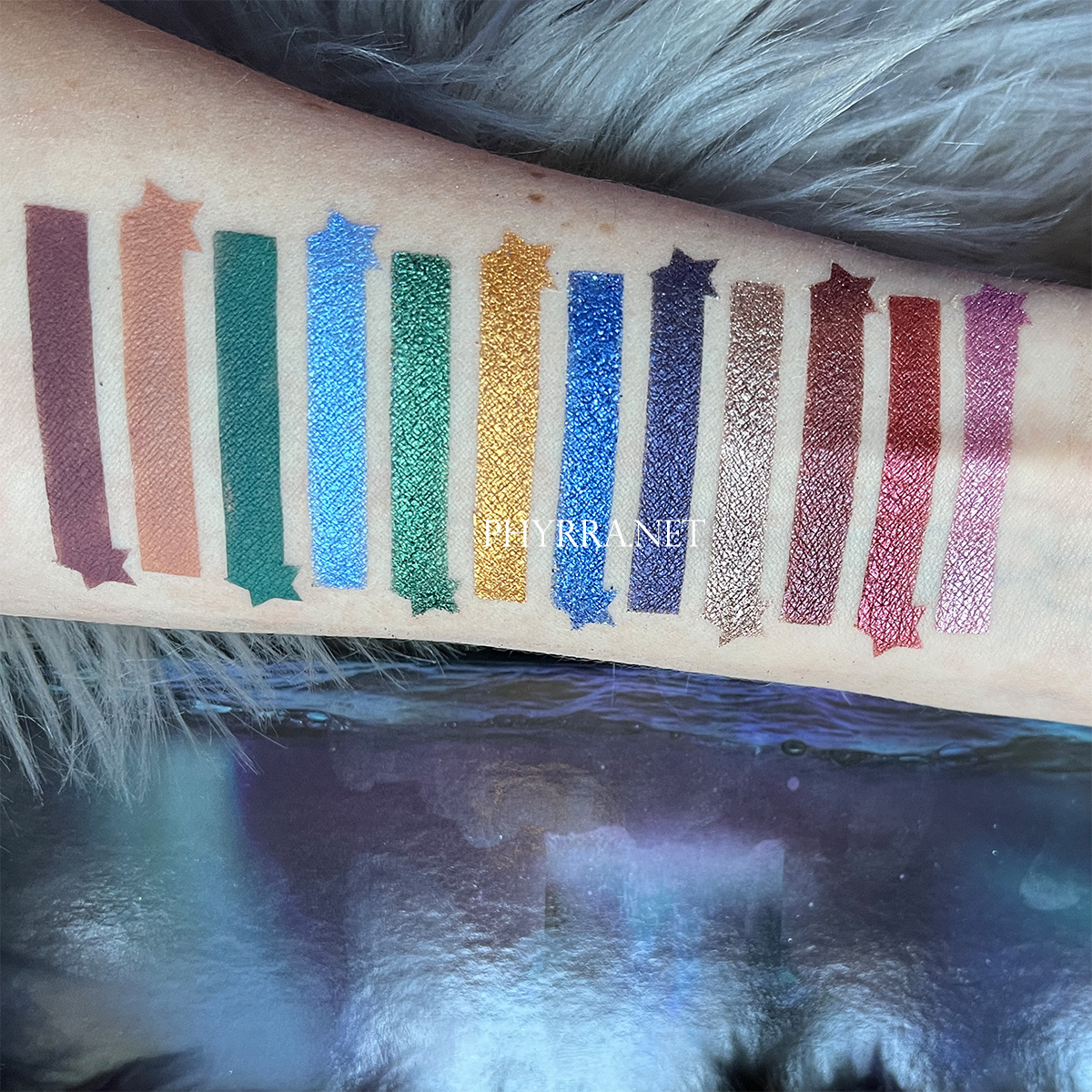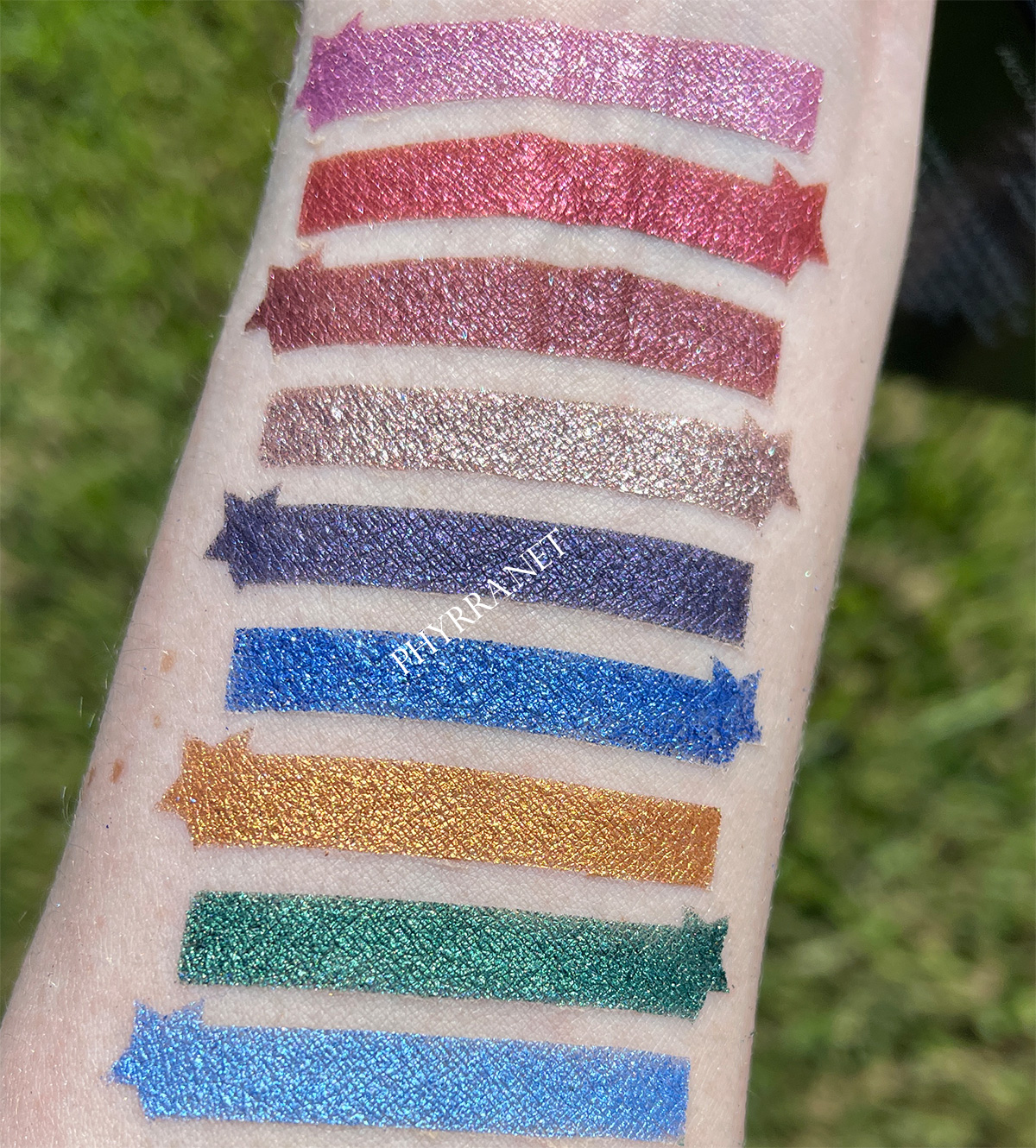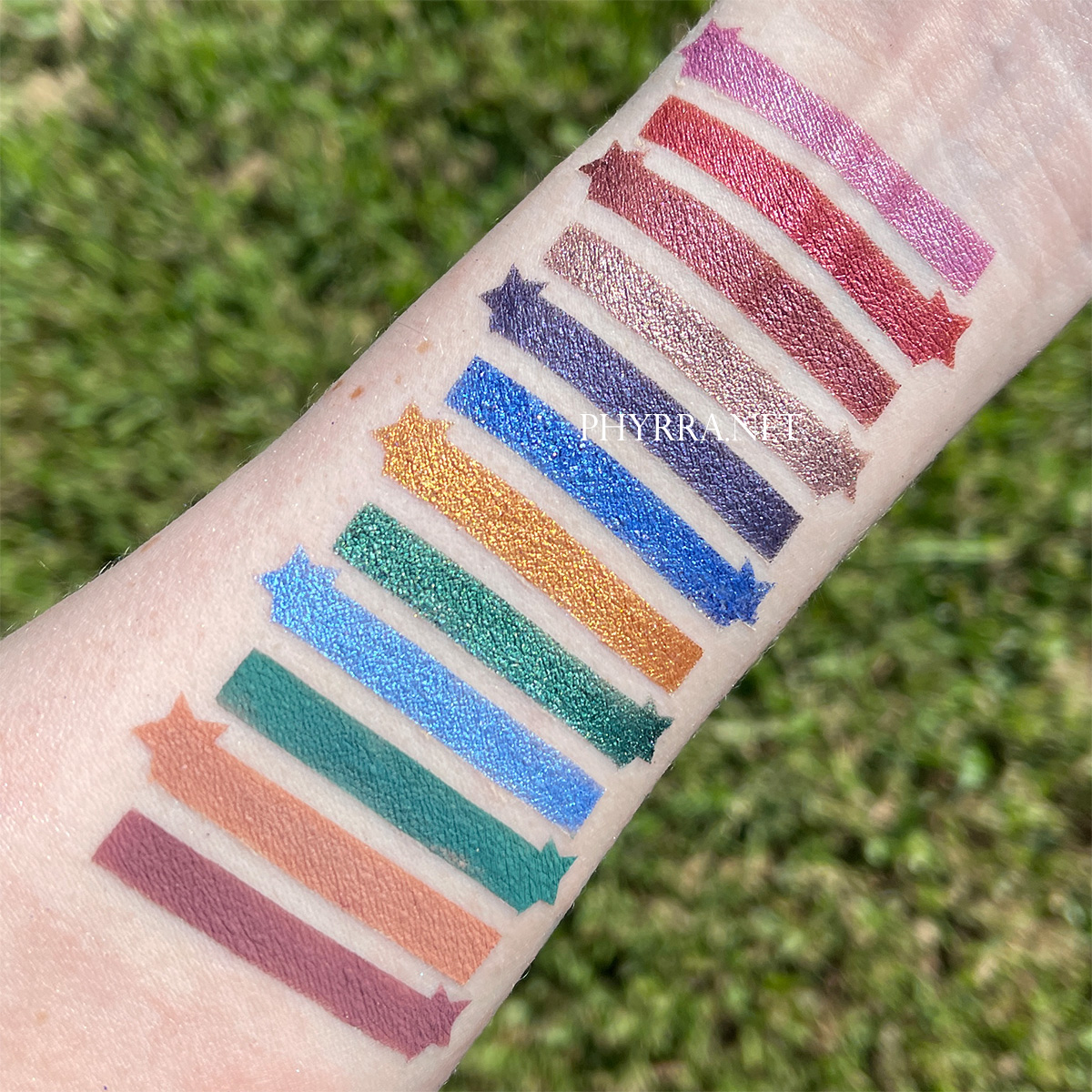 Swatched from top to bottom in order of Temptalia, Operose, Sumptuous Serendipity, Phosphenes, Forget-Her-Not, Our Starry Night, Exquisite Opulence, Jealousy's Descent, Glossover, Sublime Reverie, Dearest Constant, and Unstoppable Love.
Shade Descriptions
Temptalia – metallic high-shine strawberry pink
Operose – metallic deep warm red
Sumptuous Serendipity – metallic dark red plum
Phosphenes – metallic rosy taupe
Forget-Her-Not – metallic deep violet
Our Starry Night – metallic sapphire blue with gold flecks
Exquisite Opulence – intense metallic molten gold
Jealousy's Descent – metallic deep emerald green
Glossover – iridescent glowing blue
Sublime Reverie – muted cool-toned deep teal matte
Dearest Constant – muted light peach matte
Unstoppable Love – muted rosy plum matte
Final Thoughts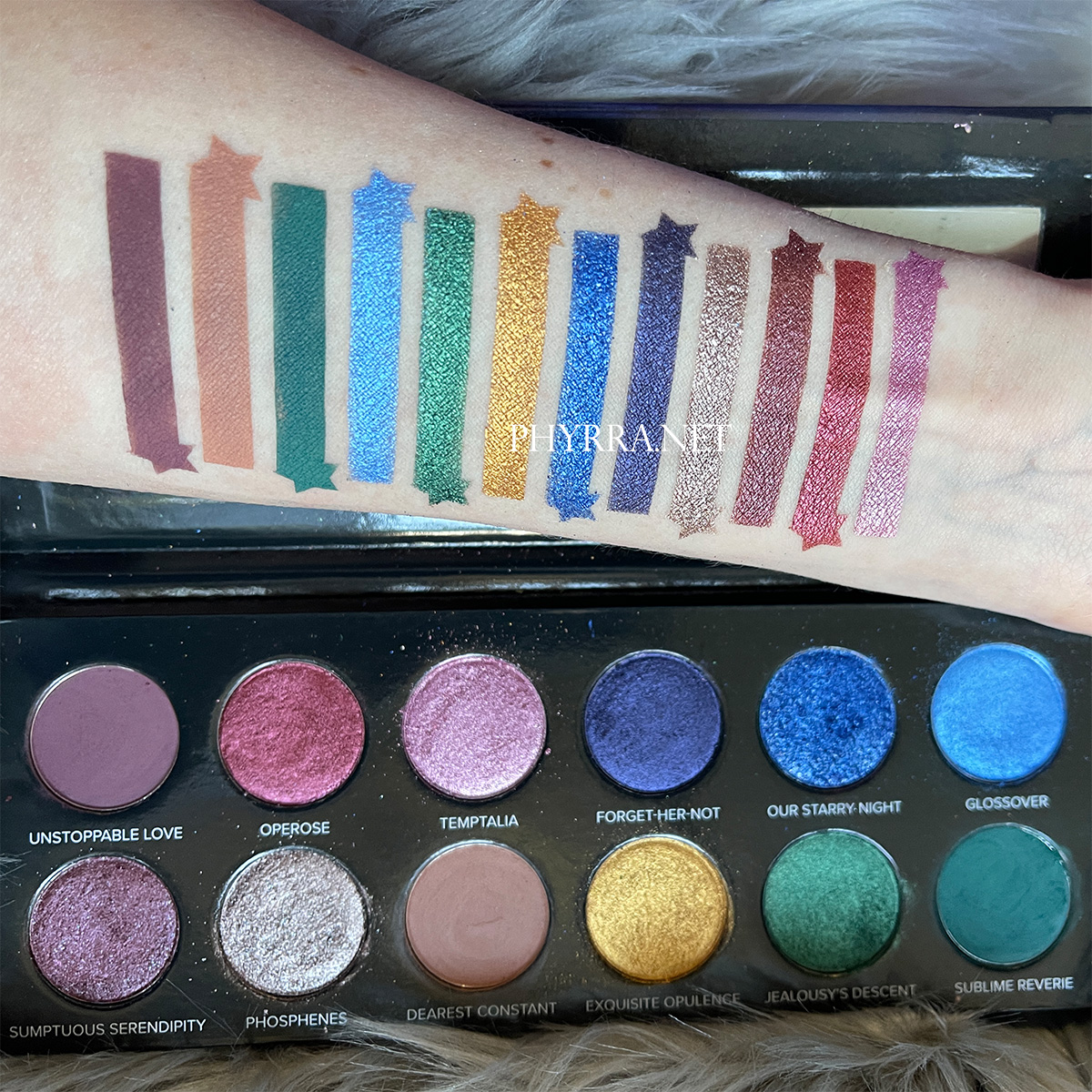 My favorites from the Temptalia x Sydney Grace Co Radiant Reflection palette are Temptalia, Sumptuous Serendipity, Phosphenes, Forget-Her-Not, Glossover, and Jealousy's Descent.
Temptalia, Unstoppable Love and Sumptuous Serendipity are a gorgeous pink trio to use together. Forget-Her-Not is a stunning purple. I really love all the purples, greens and blues Temptalia created for this collection.
Glossover will look amazing when used at the center of a halo eye. I love eyeshadows that have that lit-from-within otherworldly glow.
Out of all 3 of the Temptalia x Sydney Grace Co palettes, the Quintessence palette is my favorite. If I had to choose just one, that's what I would pick. I do think the Radiant Reflection palette is a pretty, jewel-toned take on the rainbow, while the On the Horizon palette is a nice twist on grungey neutrals. Which do you like best?