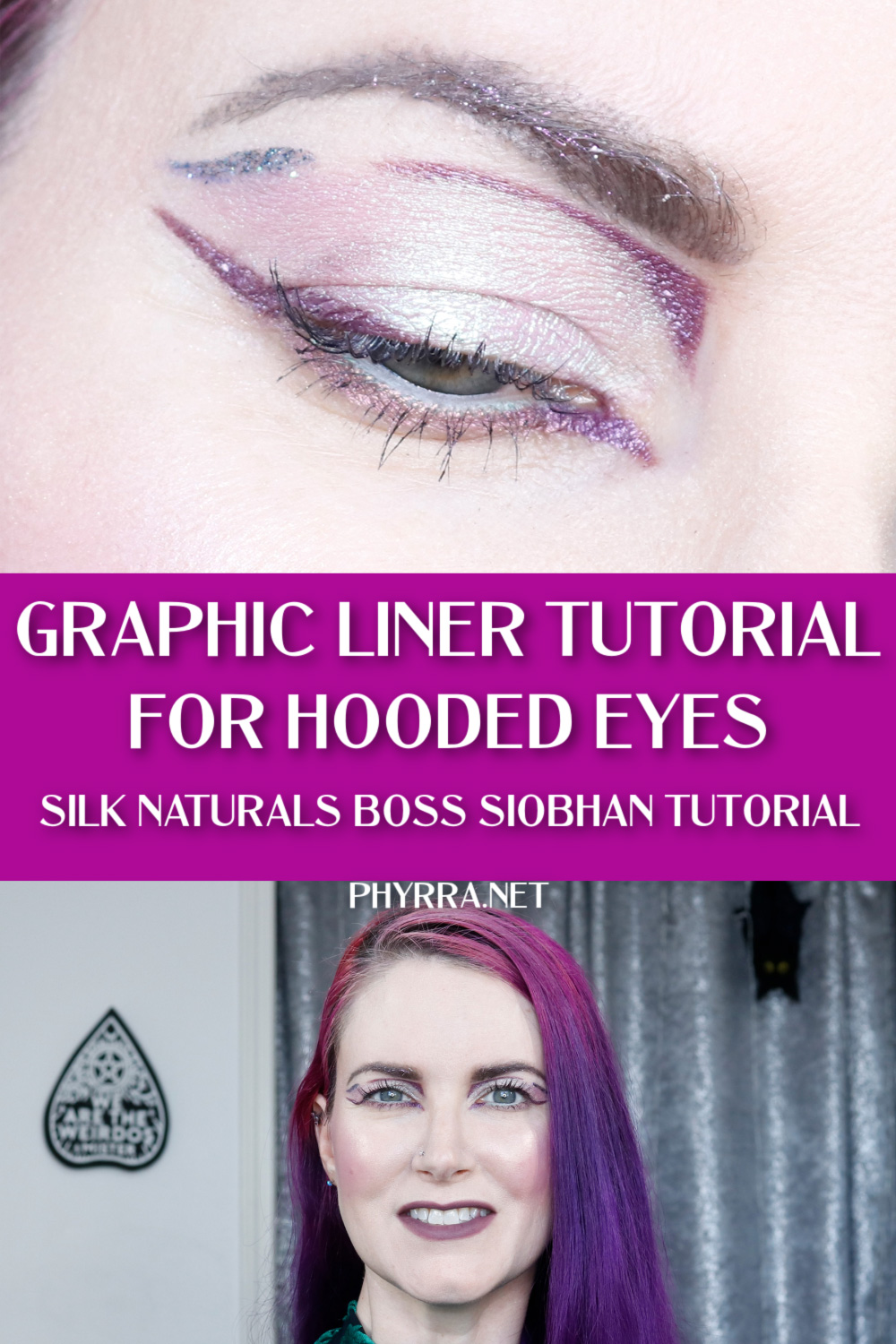 Hello, beautiful creatures! Today I'm sharing Silk Naturals Boss Siobhan Tutorial with you. This is a step-by-step duochrome graphic liner look on hooded eyes.
What I'm Wearing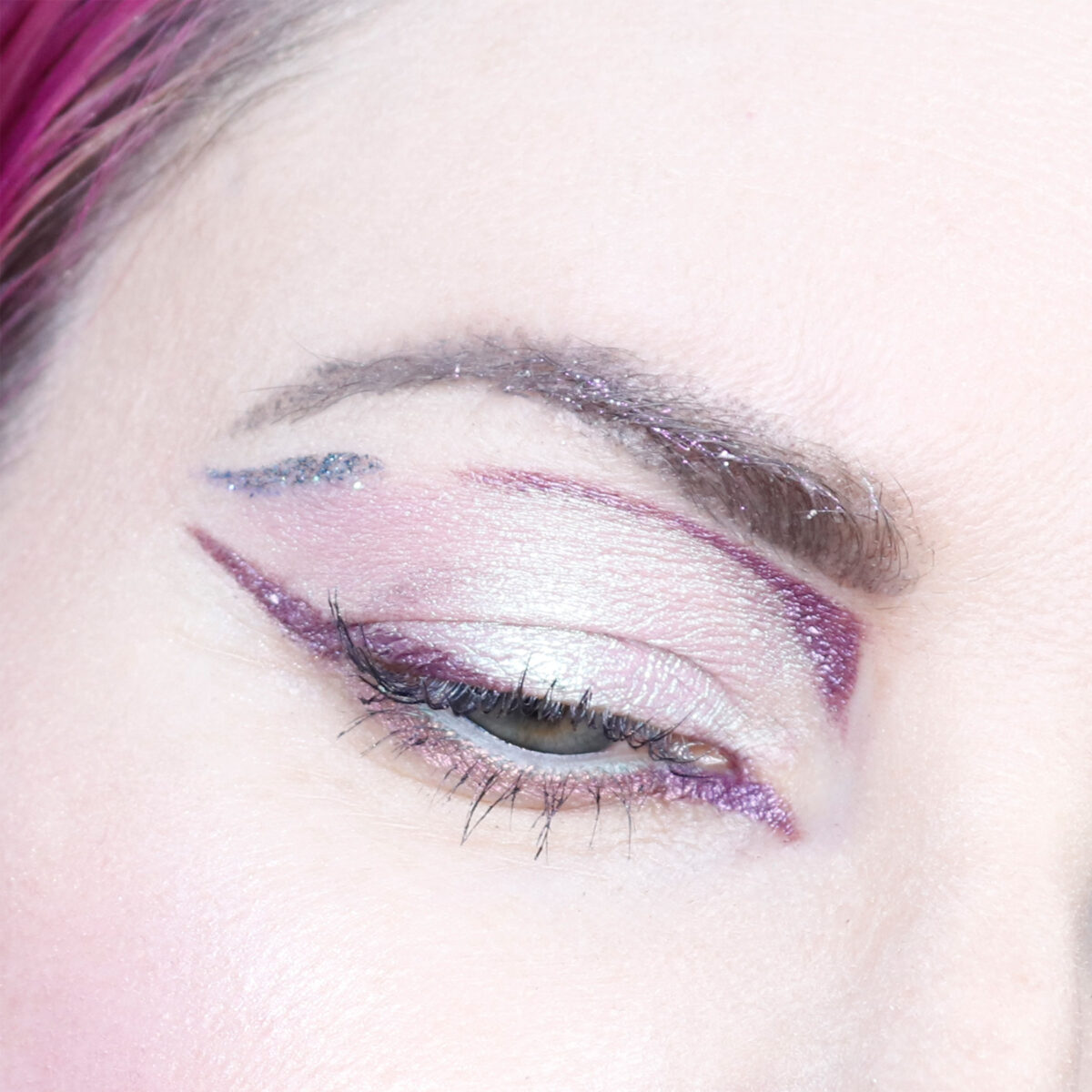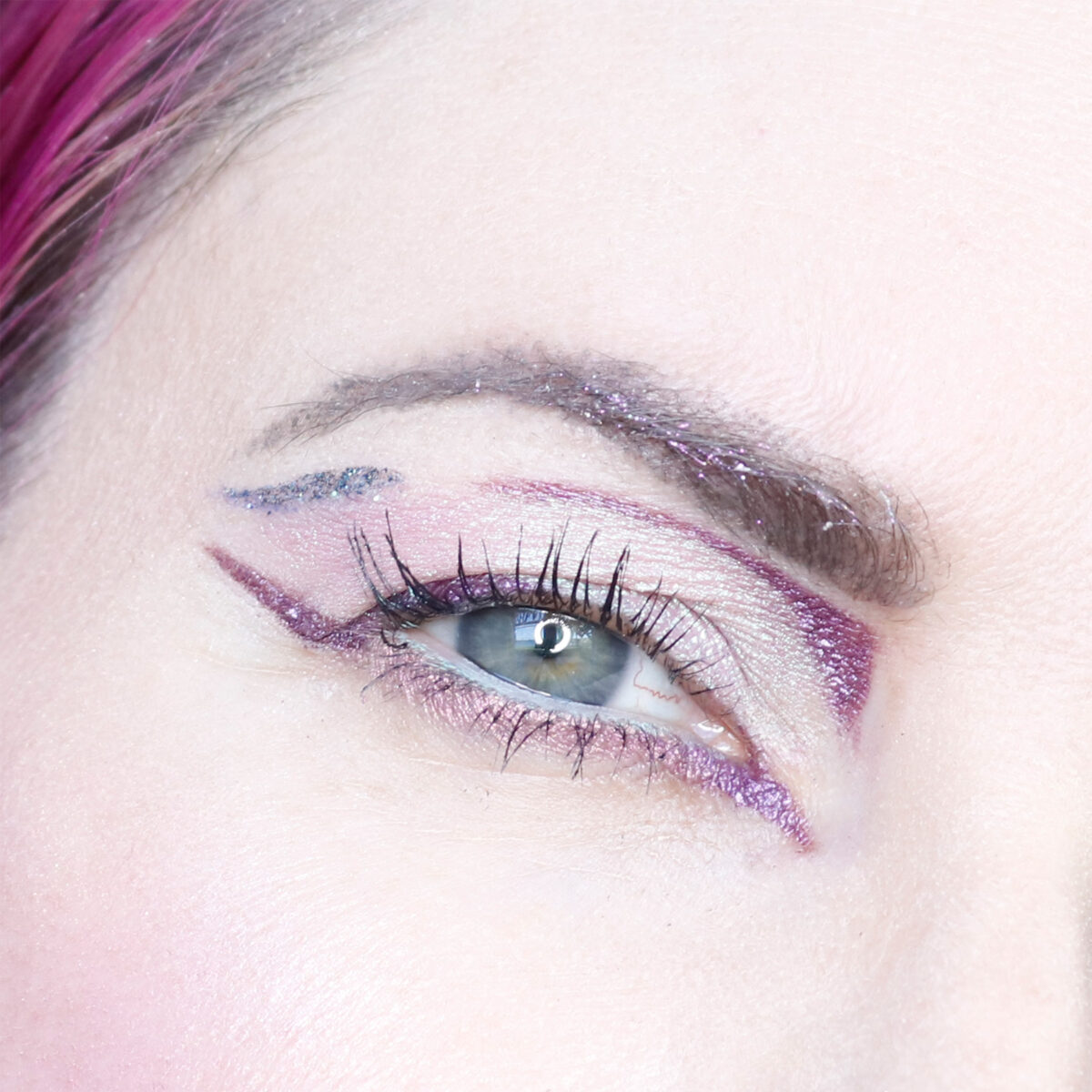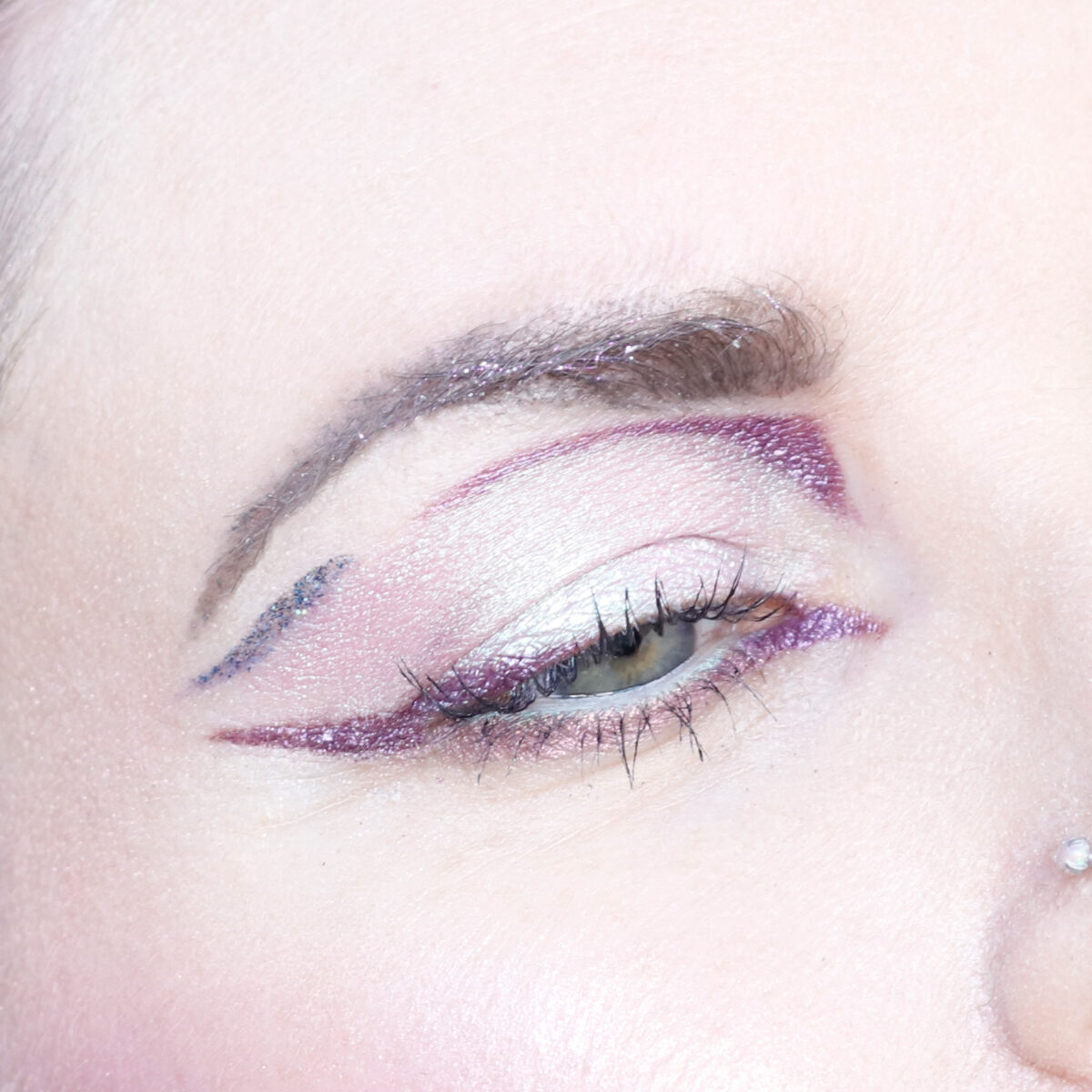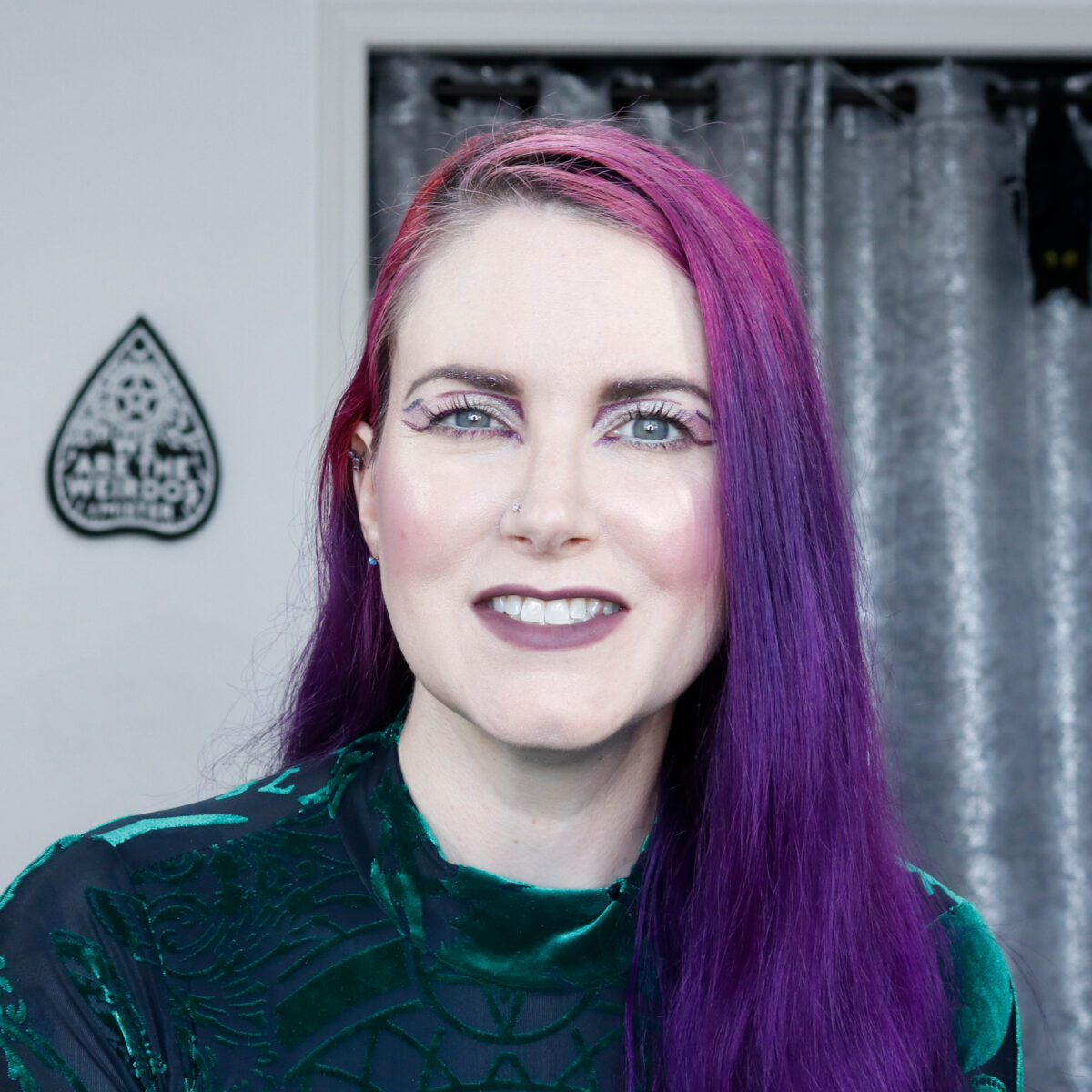 Eyes
Urban Decay Eden eye primer
Concrete Minerals Glitter primer
Silk Naturals Boss all over
SN Siobhan graphic liner
Silk Naturals Scream outer crease
Urban Decay Distortion + Spandex on top of Scream
Silk Naturals Contraband lower lid
Nabla Mint Cupid's Arrow lower waterline
Thrive Causemetics Liquid Lash Extensions Mascara
Haus Granite Gray brow pencil
Lime Crime Sleek Black bushy brow pomade pencil
About Face Interlude glitter brow gel
Face
Danessa Myricks Yummy Skin Blurring Balm in Shade 1
Silk Naturals Leading Lady blush
SN Serenade blush
Lethal Hybrid blush
Silk Naturals Strobe highlight
Kaleidos Star Surfer highlight
Lips
Haus Drag pencil
Kaleidos Mercury Wave cloud lab lip clay
Above is everything I'm wearing on my face for this Silk Naturals Boss Siobhan Tutorial. I love how easy it is to use an angled eyeshadow brush, Urban Decay All Nighter Spray, and loose (or pressed) eyeshadow to create a graphic liner look on hooded eyes!
Silk Naturals Boss Siobhan Tutorial Graphic Liner for Hooded Eyes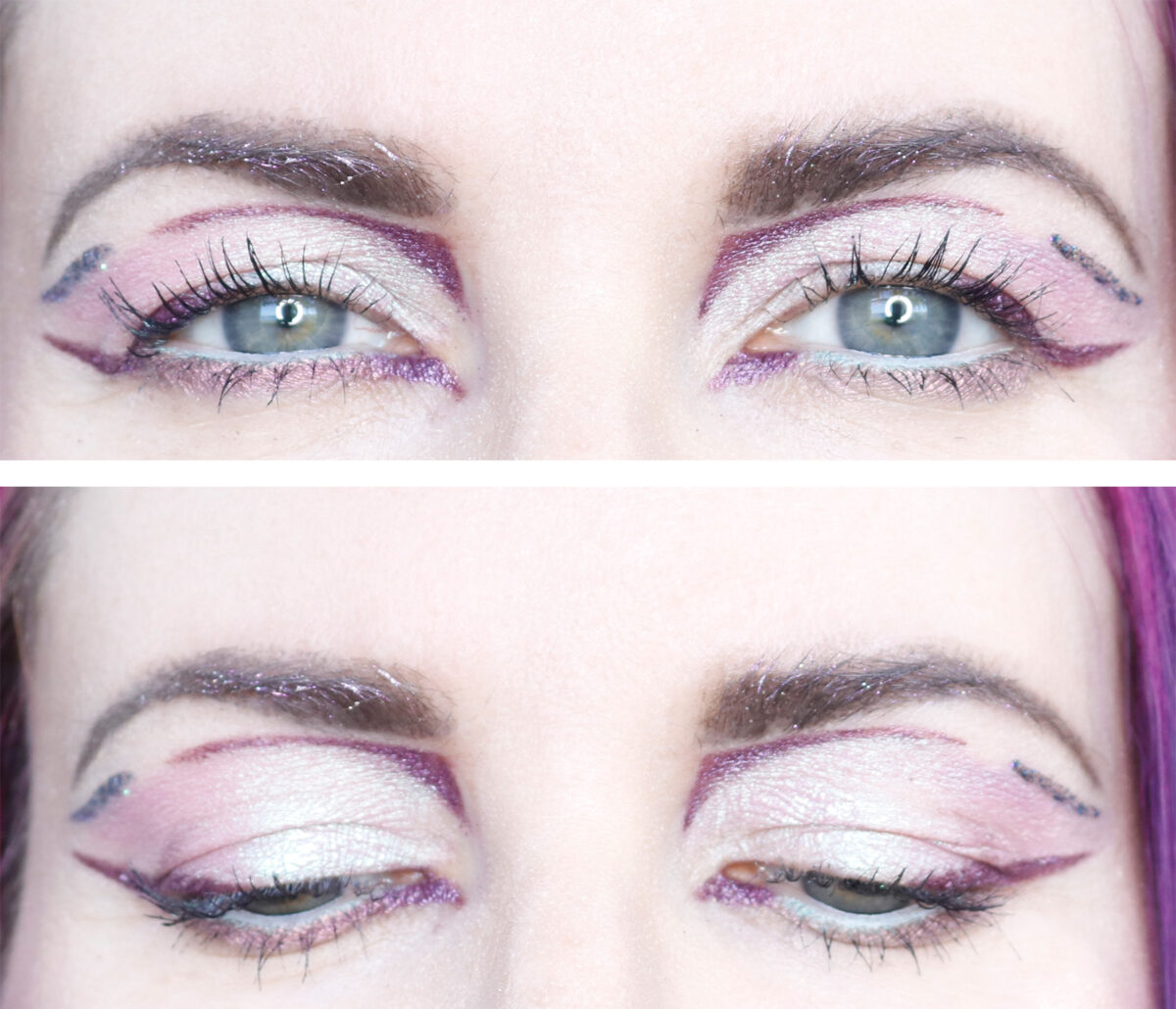 I applied Urban Decay 

Eden

 eye primer all over my eyes and up to my eyebrows to give me an excellent creamy beige base.

Concrete Minerals 

Glitter Primer

 was applied with a flat brush to my lid and above my crease fold.

Silk Naturals 

Boss

 was packed onto my lid and crease, blending it upwards to almost my eyebrows.

With an angled brush sprayed with UD All-Nighter, Silk Naturals 

Siobhan

 created a wing to elongate my eye shape. I also used it in the inner corner to make a little cat-eye effect.

Using the same angled brush damp with UD All-Nighter, I applied Silk Naturals 

Siobhan

 under my brows to create a triangle shape, which I then dragged almost halfway toward the back of my eye. The under brow shape was a nod to Siouxsie Sioux and 80s old-school gothic makeup.

I applied Silk Naturals 

Scream

 with another angled brush as a second wing that floats above 

Siobhan

.

I layered Urban Decay 

Distortion

 and 

Spanx

 glitter liners on top of 

Scream

 to create a deep purple sparkle line.

I applied Silk Naturals 

Contraband

 with a smudge brush to the lower lid.

I added a subtle mint to the lower waterline with Nabla 

Mint

 Cupid's Arrow.

 I finished the look with Thrive Causemetics Liquid Lash Extensions mascara.
Want more hooded eyes makeup tips and tutorials? Check out my book Hooded Eyes Makeup Manual!
Color Descriptions for My Silk Naturals Boss Siobhan Tutorial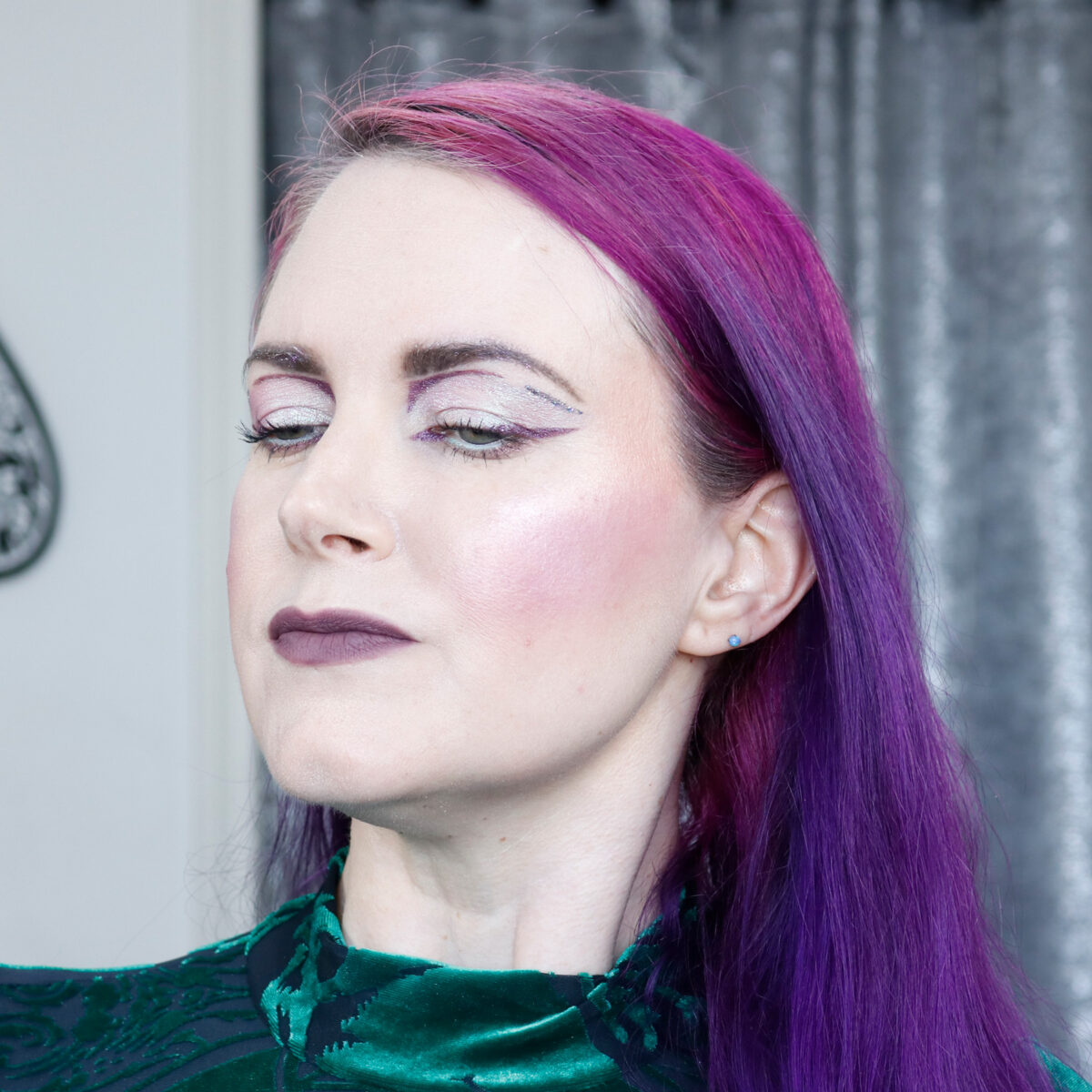 Below are the color descriptions for all the products I used to put together this Silk Naturals Boss Siobhan Tutorial. I wanted to use purples and teals, which are my favorite hues.
SN Boss – soft lavender purple base with turquoise shift

Silk Naturals Siobhan – red plum shimmer

SN Scream – mid-tone purple with teal shift

Silk Naturals Contraband – dirty plummy pink shimmer

Urban Decay Spandex – deep blue-black with iridescent glitter

Urban Decay Distortion – iridescent glitter

Nabla Mint – light minty green

About Face Interlude – white multi-sparkle

SN Leading Lady – light nude peach

Silk Naturals Serenade – plum with cool pink undertones

Lethal Hybrid – lavender

Silk Naturals Strobe – nude pink with gold shift

Kaleidos Star Surfer – rosy champagne with silver undertones

Haus Drag – mid-tone plum

Kaleidos Mercury Wave – greige purple
If you want to recreate my cheek look, you can skip Leading Lady. Leading Lady is a beautiful blush, but it was too warm for this look, so I layered some purples over it. That's the beautiful thing about makeup; if you don't like it, you can try to fix it or redo it.
Mini Makeup Reviews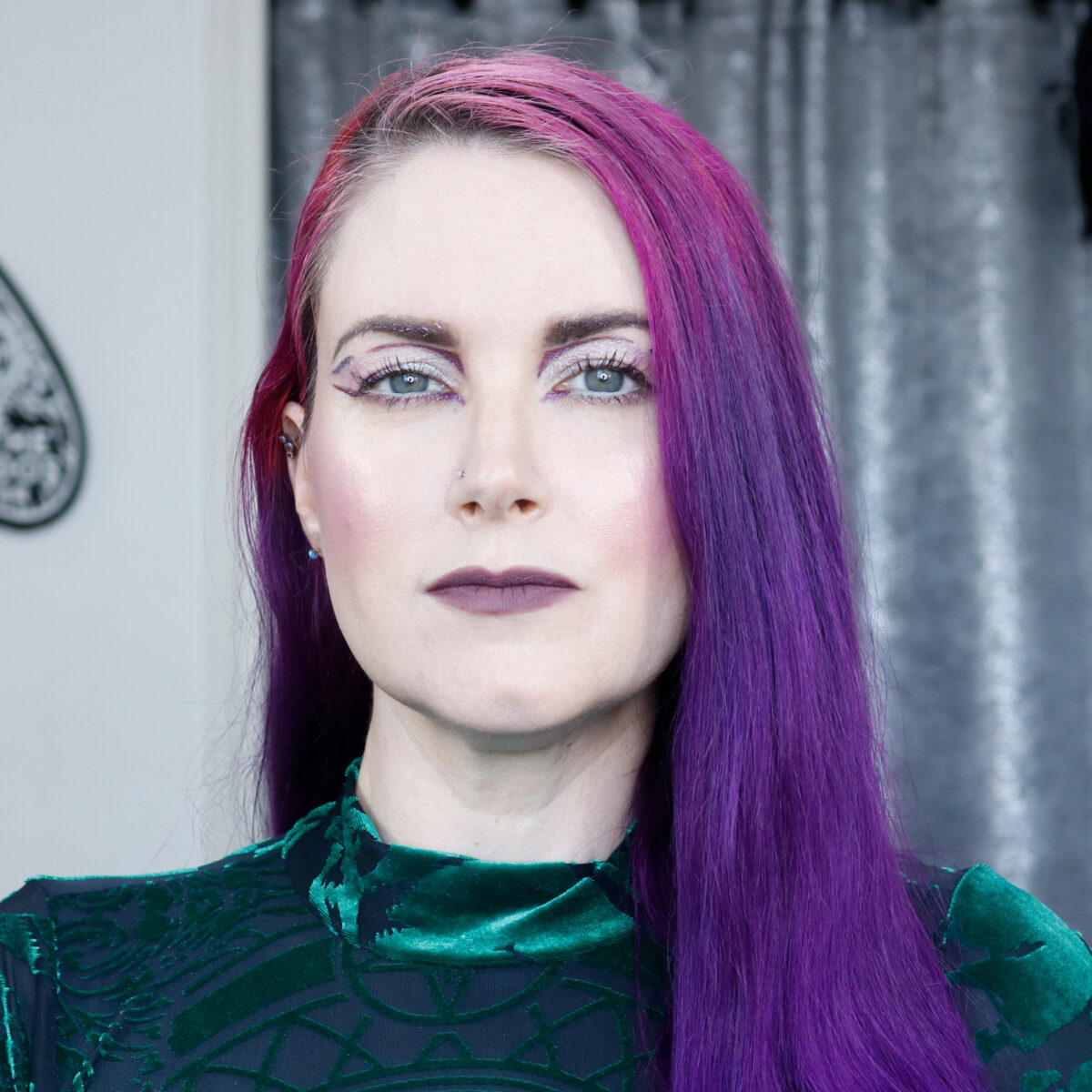 First, Concrete Minerals Glitter Primer is an absolute game changer for me with shimmery, duochrome, or multichrome eyeshadows. It makes them look stunning, and it lasts all day. This formula is very wet, and a tiny amount goes a long way.
Second, Silk Naturals Contraband is an excellent neutral-ish type color that works with everything I've ever paired it with. It's perfect for a neutral eye with a twist and looks fabulous with purples, pinks, and plums. It's so flattering to my eye color.
Third, cool plums are one of the most complimentary colors to my skin tone and eye color. I have blue-green eyes that appear blue, green, teal, or grey. My skin tone is very fair and neutral, with muted cool yellow tones that turn olive when exposed to the sun. Silk Naturals Serenade is so gorgeous on me, as is Haus Drag pencil, Kaleidos Mercury Wave cloud lab lip clay, and Silk Naturals Siobhan. I'm especially fond of Siobhan since Silk Naturals created it for me!
Fourth, I love lash lifts. I haven't had one in forever, and I treated myself to one this week. It makes my eyes look more awake and pretty. Want to see more about lash lifts or lash extensions? Learn more in my lash lift vs. eyelash extensions article. My stubborn stick straight lashes never like to hold a curl, so lash lifts help with that issue. 
Fifth, Dave loves Kaleidos Mercury Wave cloud lab lip clay as a 'neutral but fun' lip color. He says it looks great on me. Dave prefers bright reds, deep teal blues, or black for lip colors. After all, I did wear a black iridescent lip for my wedding.
Final Thoughts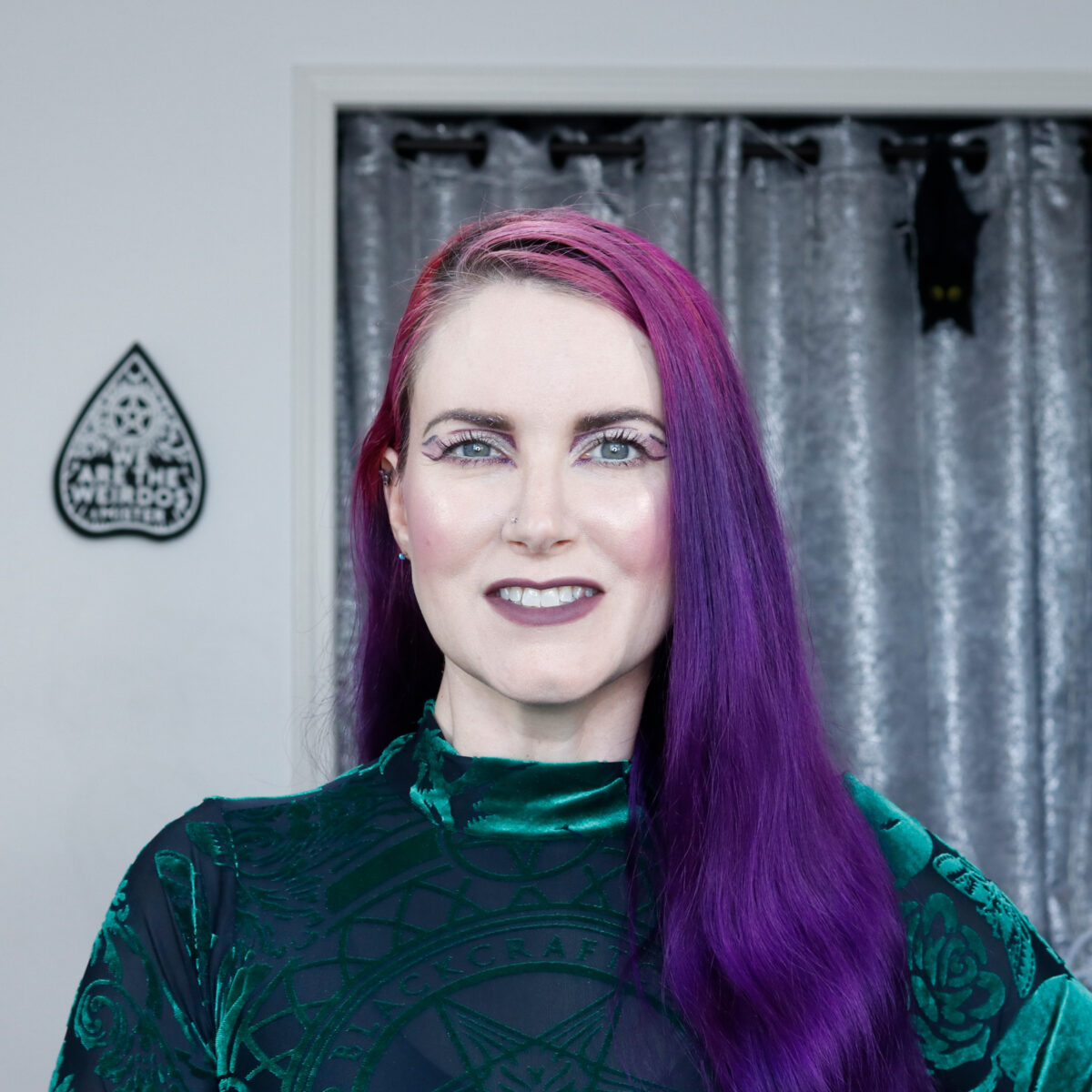 I'm starting to enjoy creating graphic liner looks on my hooded eyes! I love that these types of looks are very free-form. I hope you enjoy the step-by-step Silk Naturals Boss Siobhan Tutorial. Don't hesitate to step out of your comfort zone and try new things!
Don't forget, I'm updating my Black Friday Cyber Monday 2022 sales daily! Some sales are one day only, like today!
More to See