Saucebox Membership Update, Gunas Luxury Vegan Handbags Rant, & Personal Life Update
Hey fam, today I'm sharing a Saucebox Membership Update, a Gunas Luxury Vegan Handbags Rant, & personal life update with you. I am beyond appalled at Saucebox for not fulfilling their obligations to the people who paid for the Saucebox Membership. Gunas Luxury Vegan Handbags have sunk to a new low by  threatening me with legal action on my blog and Youtube channel. In case it isn't clear to you, everything in this blog post is based off of my personal experience and is my own opinion.
Because Gunas sent me a cease and desist threatening me with legal action, and I'm in the middle of a divorce, I just took the video down. It's not worth my time and energy to fight with them. Gunas has clearly shown the type of customer service and care that they're going to offer people. Their actions speak for themselves. And the fact that the owner of Gunas took the time to write an email to her entire customer base trashing me and asking her customers to come harass me is pretty tragic.
I am entitled to my OPINION on products that I purchase with my own money. I am entitled to recommend or not recommend a company based on my experience with that company. I've spent a total of $539 with Gunas. I bought the Madison (Purple) $94.45, shipping was $11.95, Rockstar (black) $75, shipping was $11.95, Naomi (purple) $135, Cottontail $75 w/ free shipping, and Koi (navy) $124, shipping was $11.95. I received the Koi (black) free.
During my time as a Gunas affiliate, I made a total of $523.43 total via ShareASale. So yes, I made less in affiliate sales than the $539 I spent on the brand.
Saucebox Membership Update
As nearly everyone in the Phyrra Nyx Facebook Group predicted, Saucebox has NOT fulfilled its membership as of February 26, 2020.
The main Membership details – $175 cost, goodies sent automatically before everyone else, 25% off personal discount on anything you want to repurchase, goodies from partner brands in every shipment. Saucebox Cosmetics & Moonslice Beauty both belong to Alla.
See the full timeline of Saucebox Membership Events here.
Edit – It looks like Saucebox got dumped from the sub box they were trying to get into. Details here.
Gunas Luxury Vegan Handbags Drama
I honestly never expected to hear from Gunas again after my Gunas rant video from 2 years ago.
I had my Gunas Naomi luxury vegan handbag for 15 months before it ripped at the clasp. I rotate between at least 5 bags so that I'm never stressing one bag too much. I'm also very gentle on my handbags. I was shocked to have my luxury handbag rip, but even more shocked to find out that Gunas doesn't offer a a similar warranty, unlike companies such as Coach, Kate Spade and Dooney and Bourke.
You don't have to take my opinion on not liking a brand as fact. Check out the reviews for Gunas on Yelp and draw your own conclusions about the quality of the products and the type of customer service they offer.
Vegan Handbags
I'm very disillusioned about vegan handbags. From the research I've done, leather is more eco-friendly than vegan handbags for a few reasons, but namely that leather lasts longer, is more durable, and won't end up in a landfill in a year or two. I want eco-friendly that's a good value that will last, not something that will break so soon. My friend Jessica from English Lass in LA wrote about leather in her Love It or Leave It article.
My Personal Life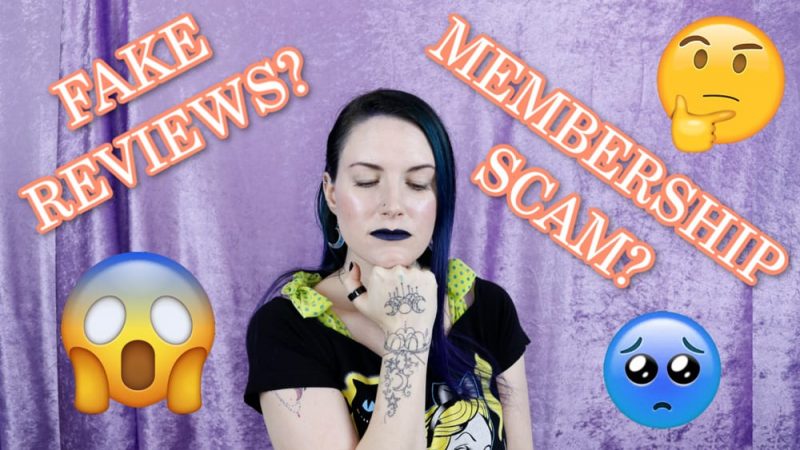 I'm not kidding, I'm heartbroken by what's going on in my personal life right now. I don't want to talk about it.
Mystery Comments About Gunas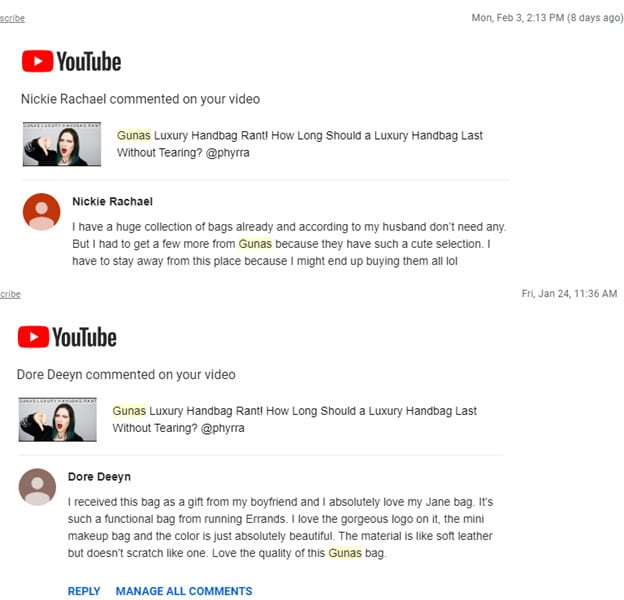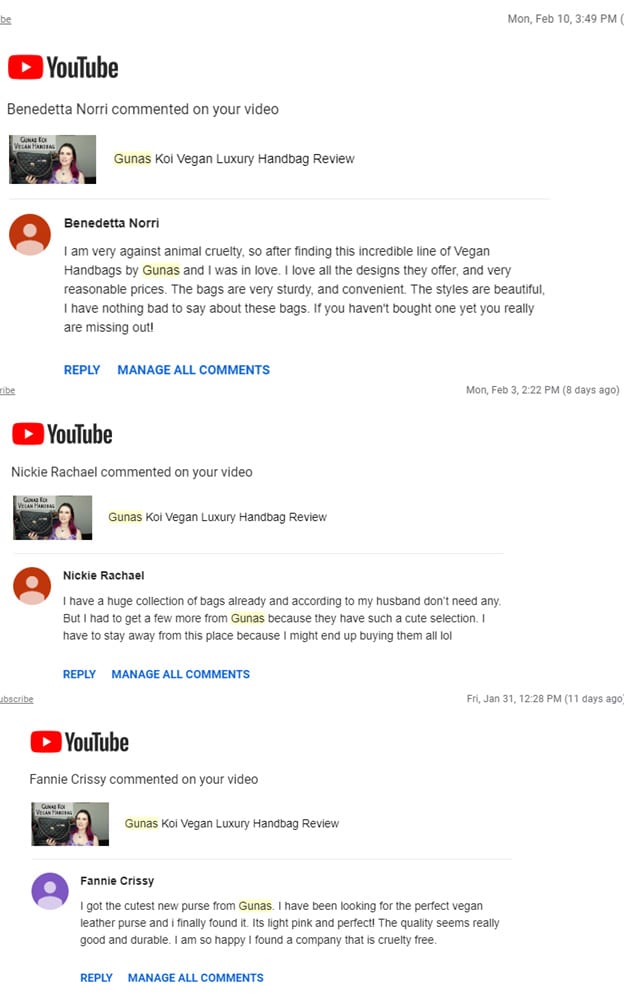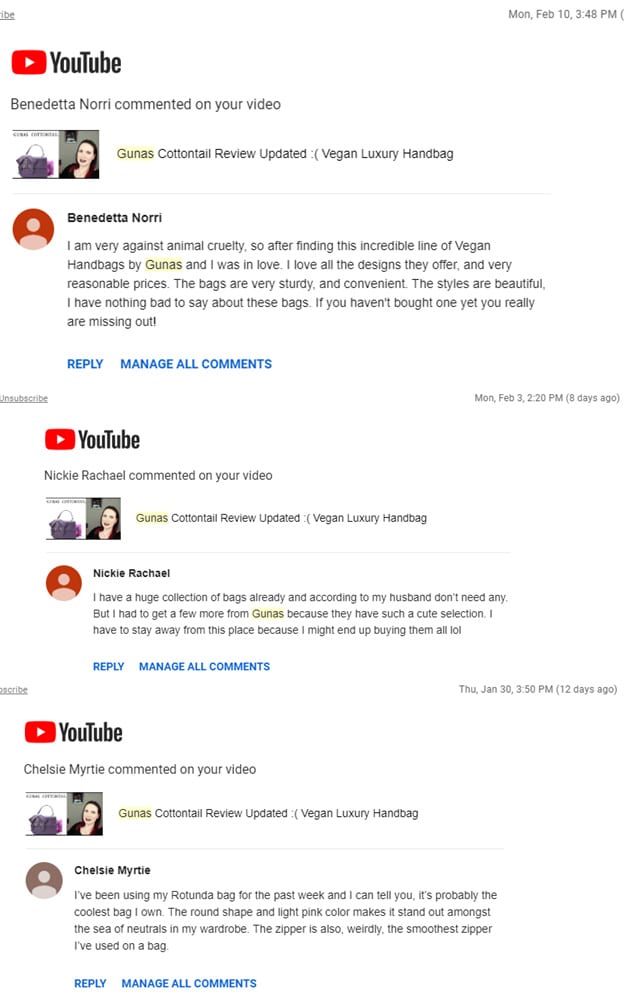 Gunas stated that they did not make these fake comments on my blog and Youtube. I've contacted the FTC about these comments. These are not normal comments. People don't copy and paste the same message on different Gunas reviews for no reason. The Nickie Rachael was particularly prolific because they also left the same message on the BBB page for Gunas.