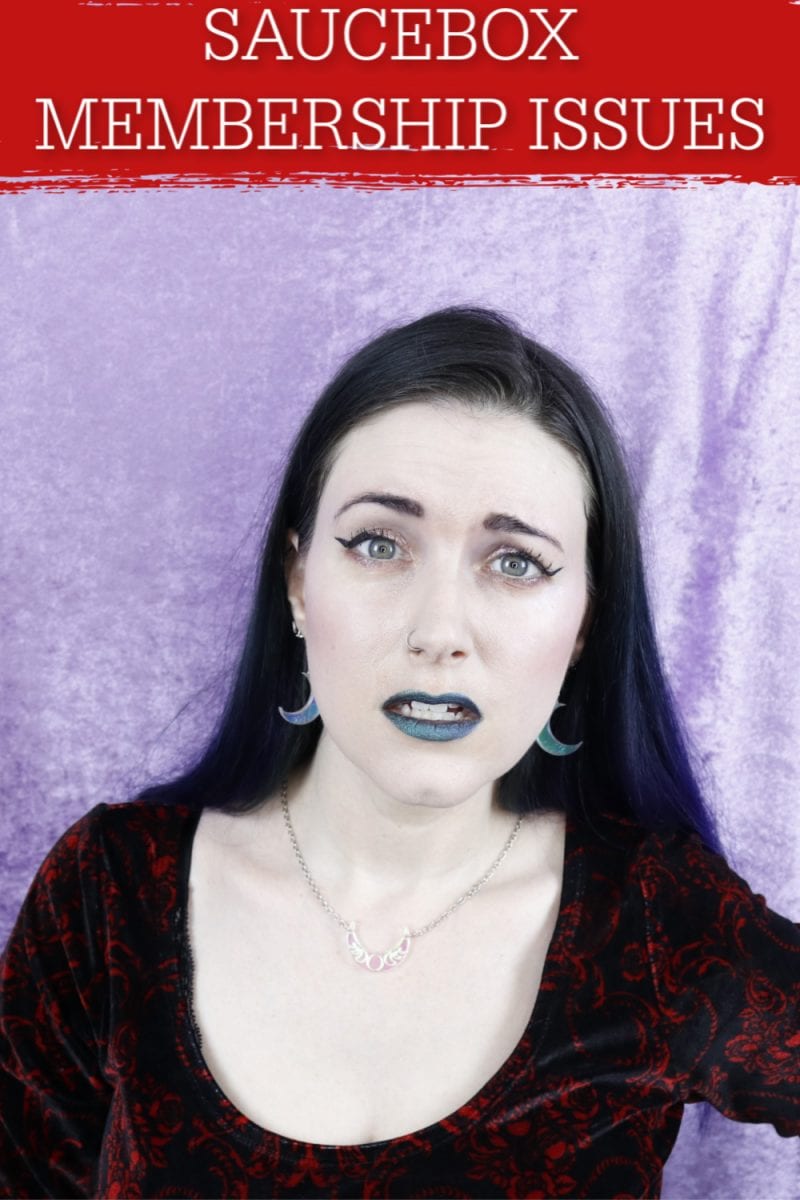 Saucebox Membership Issues
I'm horrified to have to make this blog post and video today about the Saucebox Membership Issues. As you know, I have been a Saucebox fan for years. Saucebox is a cruelty-free indie makeup brand with a lot of vegan options and they are moving towards being 100% vegan. In May 2018 the Saucebox membership was first offered. The main Membership details – $175 cost, goodies sent automatically before everyone else, 25% off personal discount on anything you want to repurchase, goodies from partner brands in every shipment. Saucebox Cosmetics & Moonslice Beauty both belong to Alla.
Saucebox Membership Issues Video
At the end of the Saucebox Membership Issues video I share my thoughts and feelings on the subject, as well as a personal life update.
Please share!
2018 Saucebox Membership Issues
Special thanks to the PhyrraNyx Facebook Group Mods & Members who helped me piece together this timeline.
May 2018
May 10th, 2018 – Saucebox announced they were more than 75% full on memberships.
May 18, 2018 – Saucebox announced membership enrollment extended.
June 2018
June 22, 2018 – Saucebox said a few spots had freed up for membership enrollment
June 27, 2018 – Saucebox said only 10 hours left to sign up for membership, but kept saying they were full
July 2018
July 11, 2018 – Saucebox said more memberships opened up
July 12, 2018 – Marina signed up for the Saucebox membership
July 18, 2018 – Saucebox announced they were almost ready to ship out the sub box
July 27, 2018 – Saucebox Nocturne Palette released. Some people got it with no issue, as well as a coupon for Kaleidosoaps
July 27, 2018 – Saucebox says they processed all initial subscriptions.
July 27, 2018 – Marina contacted Saucebox to update her address because they somehow got hers wrong.
August 2018
August 31, 2018 – Saucebox says the membership is available again.
September 2018
September 3, 2018 – Saucebox says the membership is available yet again.
November 2018
Nov 1, 2018 – Secret Garden launches
Nov 6, 2018 – Saucebox announces rebranding
Nov 8, 2018 – Marina contacted Saucebox because she didn't get Secret Garden
Nov 10, 2018 – Marina was shipped secret garden
Nov 14, 2018 – Amy Loves Makeup reviewed Secret Garden, as she got it before membership holders, who were promised they would receive things first.
Nov 23, 2018 – Saucebox French Holiday single eyeshadows and 2 blushes are released to general public before VIP members
December 2018
Dec 21, 2018 – Marina reached out to ask about French Holiday set  blushes and then got a shipping confirmation
This is the end of the Saucebox Membership issues for 2018, but unfortunately there were many more in 2019.
2019 Saucebox Membership Issues
January 2019
Jan 8, 2019 – Vera Monad Color Switch & 2 more Saucebox blushes were shipped out to Marina
February 2019
Feb 13, 2019 – more memberships being opened despite issues with shipping and fullfillment
Feb 20, 2019 – more memberships advertised
March 2019
March 11, 2019 – Saucebox promises new stuff is in final stages, sale on current inventory
April 2019
April 29, 2019 – First of all thank you for sticking around and waiting for an update. We are in final 48 hours of our super sale and are preparing a full membership update for you.Our site will be down from May 2nd to May 31st for a complete face lift, and new product line up. We have finally taken a step towards new product categories of lip, skin, and face.If you are worried of your membership running out before promised value, please dont. We are extending all memberships till promised value is fulfilled. Stay tuned for a full update  around May 1ST
May 2019
May 6, 2019 – Saucebox membership is updated saying  you will continue getting releases until the promised value is fulfilled. We can not believe we have come such a long way in past 8 years! Our first year we would average only  4 sales per month ….and now we have a team of hard working people and contract a lab manufacturer of full spectrum.
June 2019
June 5, 2019 – 3 new things launching, new sponge will drop before your box ships, color makeup is coming and a face mist is coming
June 23, 2019 – blending sponges released to public, membership boxes haven't shipped
June 28, 2019 – Claims putting together membership shipments to include sponge and two membership-exclusive items
July 2019
July 10, 2019 – Another email about how membership shipments are coming together. This was the shipment we were promised in the third week of June. Claims they will go out Monday (July 15). July 17th received an email saying some went out on July 16th, still working on the rest.
July 17, 2019 – duochrome brush ses for membership holders announced, says they'll go out around first week of august
August 2019
August 5, 2019 – Marina still did not receive the sponge, color swich and blushes, she DM'd Alla, and never got a tracking #. Marina receives it later and the sent date is August 5, the date Marina asked Alla for an update.
August 9, 2019 – Moonslice Beauty appears on Instagram
August 17, 2019 – first email about Moonslice Beauty via Saucebox Email list
Mid August 2019 – Moonslice Beauty Glosses launch
September 2019
Sept 1, 2019 – Moonslice Beauty registered as a business
Sep 11, 2019 – Duochrome brush sets will now go out on 9/15
Sept 18, 2019 – email about brushes being cancelled and memberships were told they were sending fall shadow collection
Sept 19, 2019 – Moonslice Beauty Moonshake Palette launches
Mid to Late Sept – Moonslice Beauty reached out to offer 10% of the sales from the new Moon Magic palette to Jen from My Beauty Bunny for her Cancer treatments
October 2019
Oct 15, 2019 – Moonslice Beauty Emerald Moon palette launches
November 2019
Nov 15, 2019 – original saucebox singles released to general public, not offered to membership holders
Nov 29, 2019 – a face oil is launched as a collab with Kaleidosoaps. Saucebox members were told WE would get a face oil via group comments
December 2019
Dec 14, 2019 – duochrome brushes start to ship out.
Dec 16, 2019 – Moonslice Beauty brush preorder announced
Dec 22, 2019 – Jen Luvs Reviews hosted a Youtube Live Stream to talk about Saucebox VIP Subscription Box + compared it to the Lisa Frank Glamour Doll Eyes Fiasco
Dec 23, 2019 – Alla (owner of Saucebox Cosmetics & Moonslice Beauty) blocked myself, as well as Jen from My Beauty Bunny, on Facebook and other social media platforms.
January 2020
February 2020
Feb 26, 2020 – As of today, people still have not received their products or a refund.
Saucebox Membership Benefits
For $175 you get $700 worth of product over 12 months.
Get all new Saucebox launches before the general public.
25% off personal discount to use on Saucebox website until $700 value is met.
Goodies from partner brands in every box.
There are 4 main Saucebox Membership benefits.
Saucebox Members Key Complaints
Not delivering the products in 12 months. (It's now month 20, almost 21)
Being 19 months out and not even at 50% value promised of $700.
Anything on sale at Saucebox's website was excluded from being able to use their personal discount.
Saucebox liquidated all of the non-membership products.
Lack of clear communication to members.
Custom codes not currently working, even though members were promised they would continue to work.
There are really just 6 key Saucebox membership issues.
Desired Resolution for Saucebox Members
The desired resolution for the Saucebox Members is for them to receive the full $700 value they were promised.
Courtney & Alla's Correspondance
I did reach out to Alla as soon as the PhyrraNyx Facebook Group Mods let me know about this situation.
I said – Alla, what is going on? Madelyn posted this and there are over 200 comments of people coming forward saying that you never delivered any of the stuff you said you were going to for the membership. I know you've had issues, you've told me of issues over the past year, but I did not think that meant that you would not fulfill your obligations to the people in my group who were part of your sub box. They're really unhappy, and I am upset. I feel like people are being ripped off 🙁
Alla said – I never told anyone to fuck off and lied. All I'm doing is fixing this fucking mess I'm working with my lab to deliver me products in January that we are able to deliver in timely manner. all sales are always final For SB. It's been like that from the beginning. So we are putting together a box with $500 worth of product from SB and participating brands for January. it was the worst business decision I've ever made. and I regret it every day. I'm still going forward and fulfilling my obligation. I'm not running away.
My Thoughts
While I share my full thoughts on this insane situation at the end of the video above, I did want to share a little here. I'm so sorry for what everyone in the PhyrraNyx Facebook Group has gone through. Once the PhyrraNyx Mods alerted me to this I was horrified. I'm so hurt and upset that people in our Fam were taken advantage of, that I was taken advantage of. Alla left the PhyrraNyx Facebook Group a few days before all of this came to light. I felt like Alla and I were friends, so I really felt blindsided by this entire situation. I thought she and I had bonded over our mutual love of makeup and poodles.
One of the big reasons I loved Saucebox is good quality products and they were all-inclusive. If you looked through their facebook or instagram feed they had models of all skintones and sizes. I will not be featuring Saucebox until this situation is resolved.
I sincerely hope that Alla will make things right and fix the Saucebox membership issues. I hope she provides the desired resolution that the PhyrraNyx Saucebox Members want. When I contacted Alla on behalf of the members in the PhyrraNyx Facebook group, she said she would be fulfilling her promise.
This whole thing happening makes me wonder if I should just be done with blogging at this point. The last two years have been rough and this is starting to feel like it may be the straw that broke the camel's back.
I wanted to include a link to Alex's video on these issues with Saucebox. She's also a member of the PhyrraNyx Facebook group. And someone made a post in Beautyboxes on reddit about the issue.
I genuinely hope that Saucebox fulfills its promise to the VIP members and if that happens I will create a follow up video! To be clear, I don't want to see Saucebox fail. I love indie brands. I do not love people feeling like they have been taken advantage of by an indie brand.
Edited to Add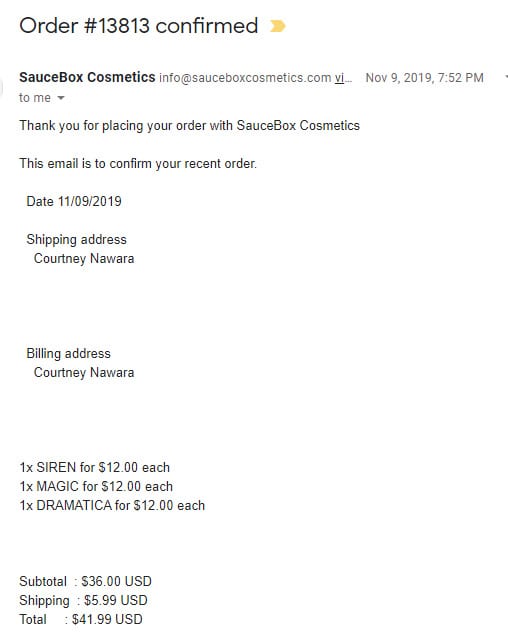 I wanted to add in that I just realized today that I have an order from Saucebox from November 9, 2019 that as of today, December 20, 2019 has not been fulfilled. Aka, I have not received this order in the mail. So I am owed either $41.99 OR these 3 eyeshadows. I doubt I will see either.


Since making this video and blog post live, I have been called names such as vile, vicious, and nasty for putting together this timeline to help people out.  If me helping out my friends, family, and subscribers who have been affected by the Saucebox VIP Membership Subscription Box understand the timeline, the promises made, what promises were kept, and what is still outstanding is nasty, I'm a nasty gal.
The owner of Saucebox unfriended me on Facebook and blocked me on social media channels. Because of how the owner of Saucebox unfriended me and blocked me on social media, as well as blocking me in PayPal, I find it hard to believe she's going to make good on everyone who is feeling ripped off by her right now.
I could not open a dispute in PayPal for my last order from Saucebox. I had to call PayPal on the phone and have them open it because of how Saucebox blocked me within PayPal. I had to explain to PayPal what happened and provide supporting documentation for my claim. Hopefully I will see a refund for my missing transaction.
I hope everyone who shopped with Saucebox gets their orders, their VIP membership items, or a refund.
Again, I had hopes Saucebox would do the right thing. And maybe Saucebox/Alla will, but, they've definitely burned their bridge with me after this Saucebox Membership Issues fiasco.
ETA 2
Jen Luvs Reviews talked about the Saucebox VIP Membership issues and compared it to the Lisa Frank Glamour Dolls vapour ware that never came to be, where tons of people had money stolen from them.
ETA 3 Dec. 31, 2019
I was able to file a dispute with PayPal for my outstanding order with Saucebox and was refunded. I urge everyone with an outstanding order to contact PayPal or your credit card company for a dispute.
Frances, from the PhyrraNyx Facebook group shared this FTC link with the group – The Mail, Internet, or Telephone Order Merchandise Rule is consumer protection. It basically says that a company has to deliver within their stated turnaround time or get permission to extend that turnaround time. If no permission is given, the company must, without being asked, provide a refund.
"The Rule, issued in 1975, requires sellers who solicit buyers to order merchandise through the mail, via the Internet, or by phone to have a reasonable basis to expect that the sellers can ship within the advertised time frame, or, if no time frame is specified, within 30 days. The Rule also requires that, when a seller cannot ship within the promised time, the seller must obtain the buyer's consent to a delay in shipping or refund payment for the unshipped merchandise."
Since my video has gone live, the people in the PhyrraNyx Facebook Group have been told 'the end of January' now 'the end of February.' So the goal post has moved again and it's over 20 months.