Cruelty-Free Makeup for Blue Eyes
Today I'm sharing cruelty-free makeup for blue eyes – an eyeshadow tutorial to make your blue eyes pop. My eyes are blue-green, so depending on what colors I wear they look more blue or more green. Rarely, they will look grey or teal.
Normally, I don't wear an all-shimmer eyeshadow look because I have hooded eyes. However, I thought I'd break the rules and give it a try with the Geek Chic Doggo set. The Doggo set is made up of 6 eyeshadows that work well together with Doin' Me a Frighten (bright purple), Mlem (peachy rose),  Smol  Pupper (beige mauve),  Heck (brown with mint shift),  Bork (highly reflective bronze),  and Bamboozled (complex brown duochrome).
PR + purchased by me.
Makeup for Blue Eyes Look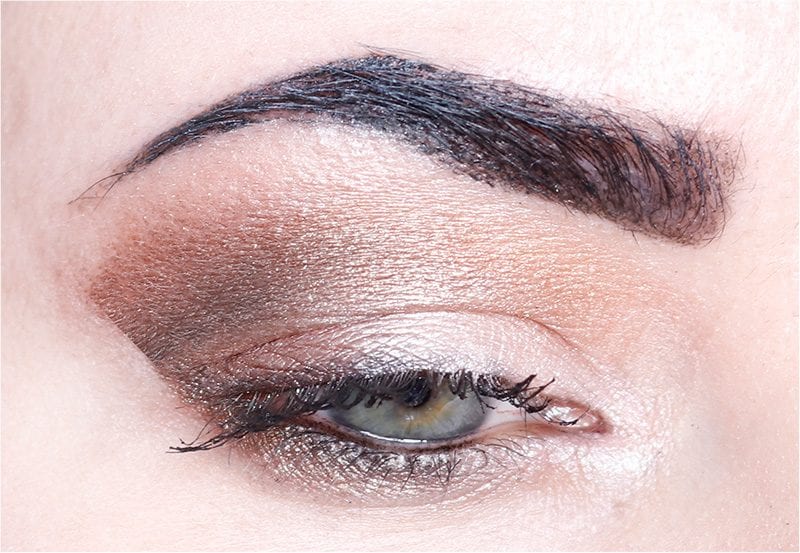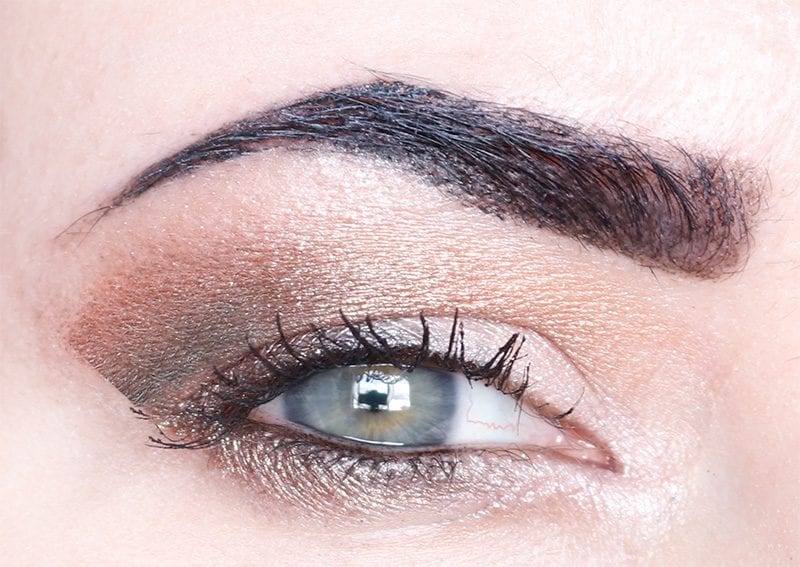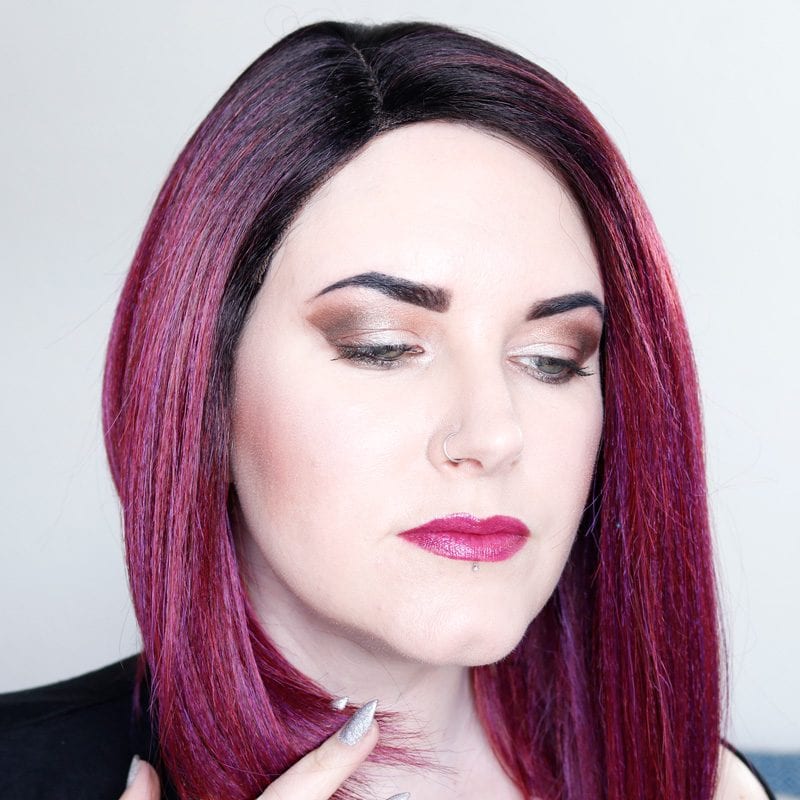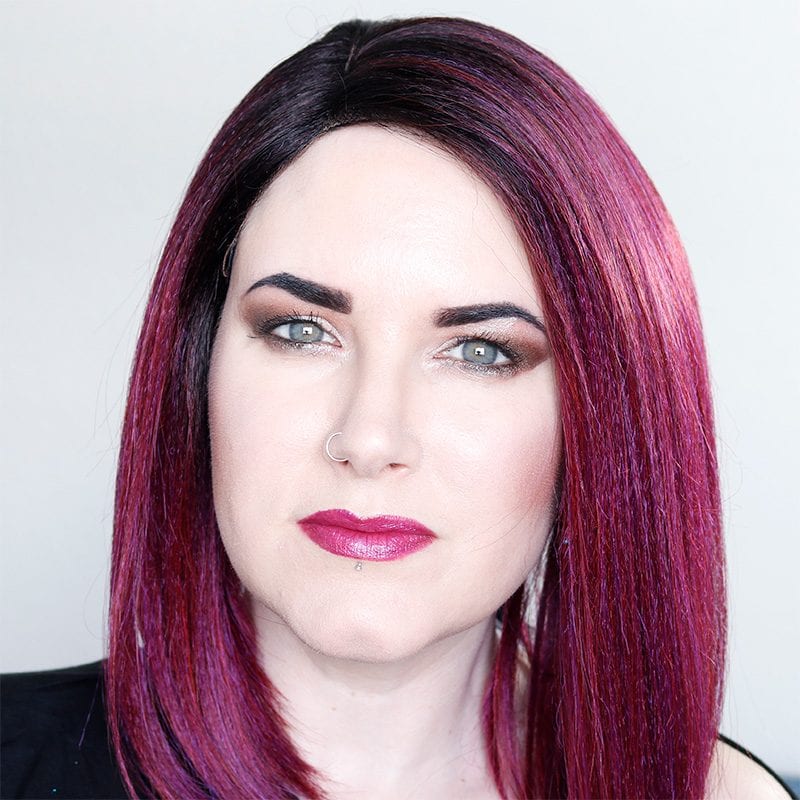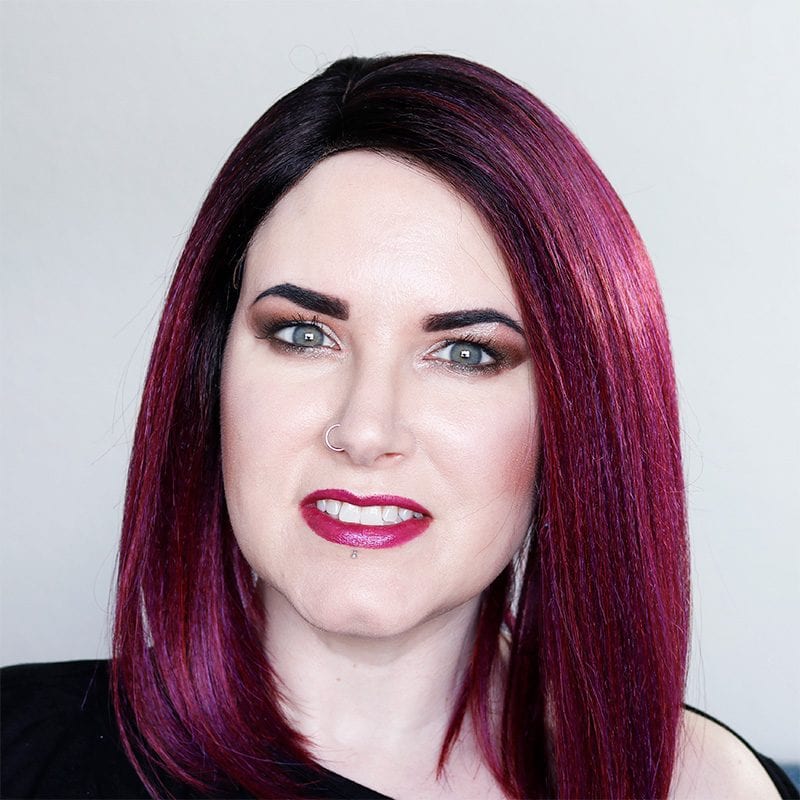 Fashion
Isis Chic Sangria Wig
Bunny Paige Spiked Volcano Heart
Bellabeat Leaf Urban
Patty Boutik One Shoulder Top
Eyes
Kat Von D Fair Eyeshadow Primer 
Milani Prep Set Go Setting Powder
Geek Chic Bork – crease and lower lid
Geek Chic Bamboozled – outer crease
Geek Chic Heck + Makeup Geek Corrupt – outer v
Makeup Geek Corrupt – smudged through roots of lashes
Geek Chic Smol Pupper – lid, inner lower lid and under brows
Wunderbrow in Jet Black
It Cosmetics Superhero Mascara 
Face
Colorescience All Calm – on red areas (use coupon code ALLCALMCN to receive a free mini brush on SPF)
Julep Cushion Complexion in Alabaster – to conceal under eyes and high points of face
Laura Geller Balance-n-Brighten in Porcelain – to set all over
Aromaleigh Digitalis Purpurea – contour
Glamour Doll Eyes Skeletina – contour
Milani Rosa Romantica – blush
Urban Decay TMI – blush
Makeup Geek Celestial – highlight
Lips
Urban Decay 24/7 pencil in Hex
Urban Decay Heartache
Makeup for Blue Eyes- Peach & Terrecotta
Rust, terracotta, orange and peach colors will make your blue eyes pop. The Urban Decay Naked Heat Palette is perfect for that. See my review.
Makeup for Blue Eyes – Browns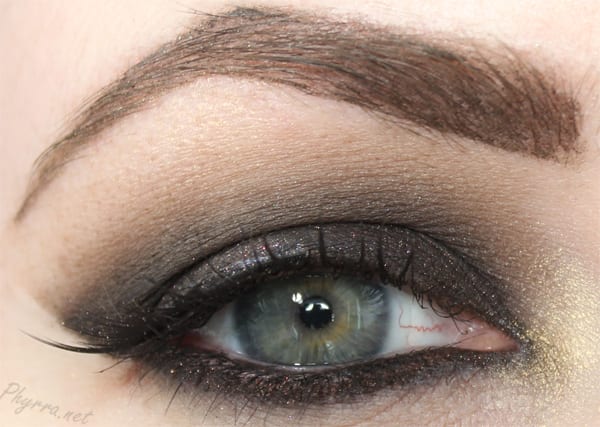 Deep browns, beiges, and chocolate browns can really help to enhance blue eyes. Deep browns like Urban Decay Thunderbird are gorgeous. Golds, bronzes and coppers work too.
Makeup for Blue Eyes – Purples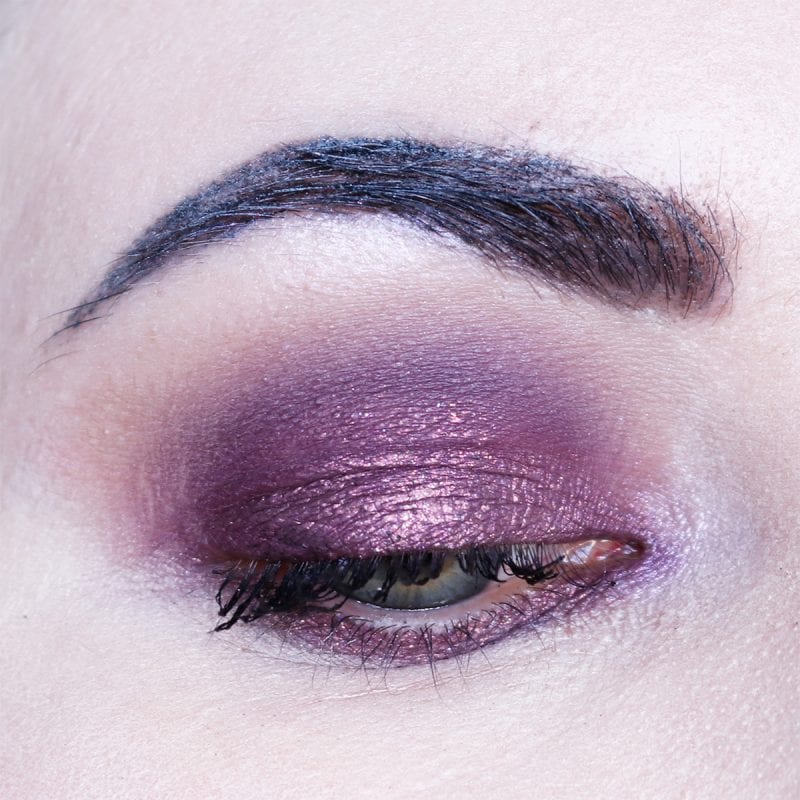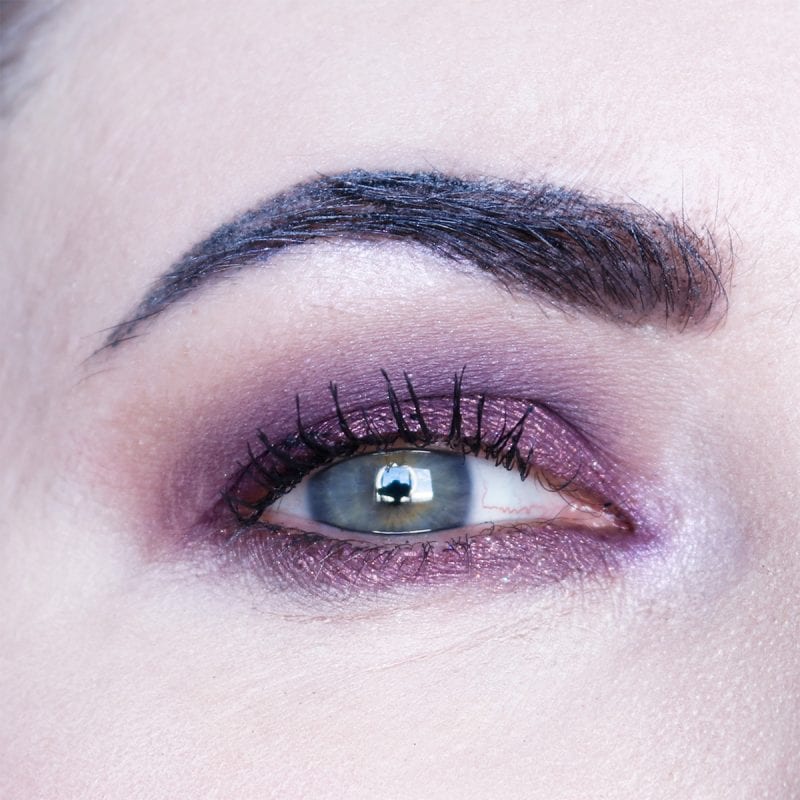 Yes, you can even make blue eyes pop when you wear certain shades of purple, like this red-toned purple. See my tutorial.
Makeup for Blue Eyes Tutorial
While brown eyeshadow is not my personal favorite, I know most people love it, so I created the tutorial below using brown eyeshadow for blue eyes. This eyeshadow shape is excellent for hooded eyes but you can adapt it to all eye shapes.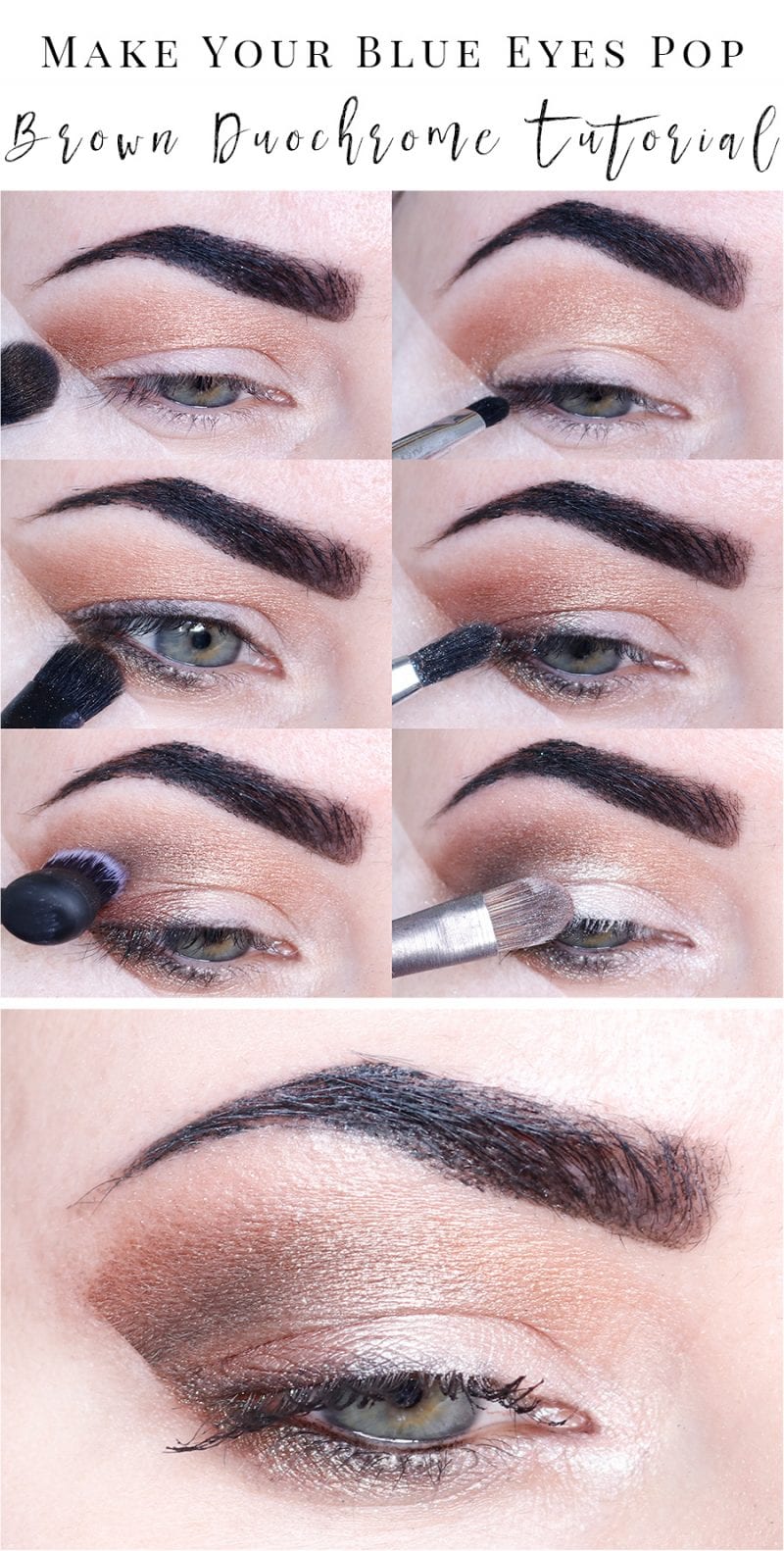 Be sure to prime your eyes with eyeshadow primer and then set with translucent setting powder. I use medical tape to help me get a nice clean edge but if you don't like tape you can always clean up with a pointed q-tip later.
1. Use a fluffy brush to apply Geek Chic Bork to the crease.
2. Smudge Makeup Geek Corrupt through the roots of the upper and lower lashes. Doesn't have to be neat.
3. Use a shader brush to apply Geek Chic Bork to the lower lid.
4. Deepen outer crease with Geek Chic Bamboozled.
5. Mix Makeup Geek Corrupt with Geek Chic Heck and apply to outer V, then blend it out.
6. Pat Geek Chic Smol Pupper on the lid, inner lower lid, and under the eyebrow to highlight. Finish with Mascara.
Shop Your Stash for Similar Shades
Bork – light metallic bronze
Heck – chocolate brown with mint sparkle
Bamboozled – brown with orange-red undertone and blue and pink sparkles
Smol Pupper – light beige mauve shimmer
Check out best eyeshadows for blue-green eyes!
Let me know what colors you like to use to make blue eyes pop!