Karla Cosmetics Night Terror Tutorial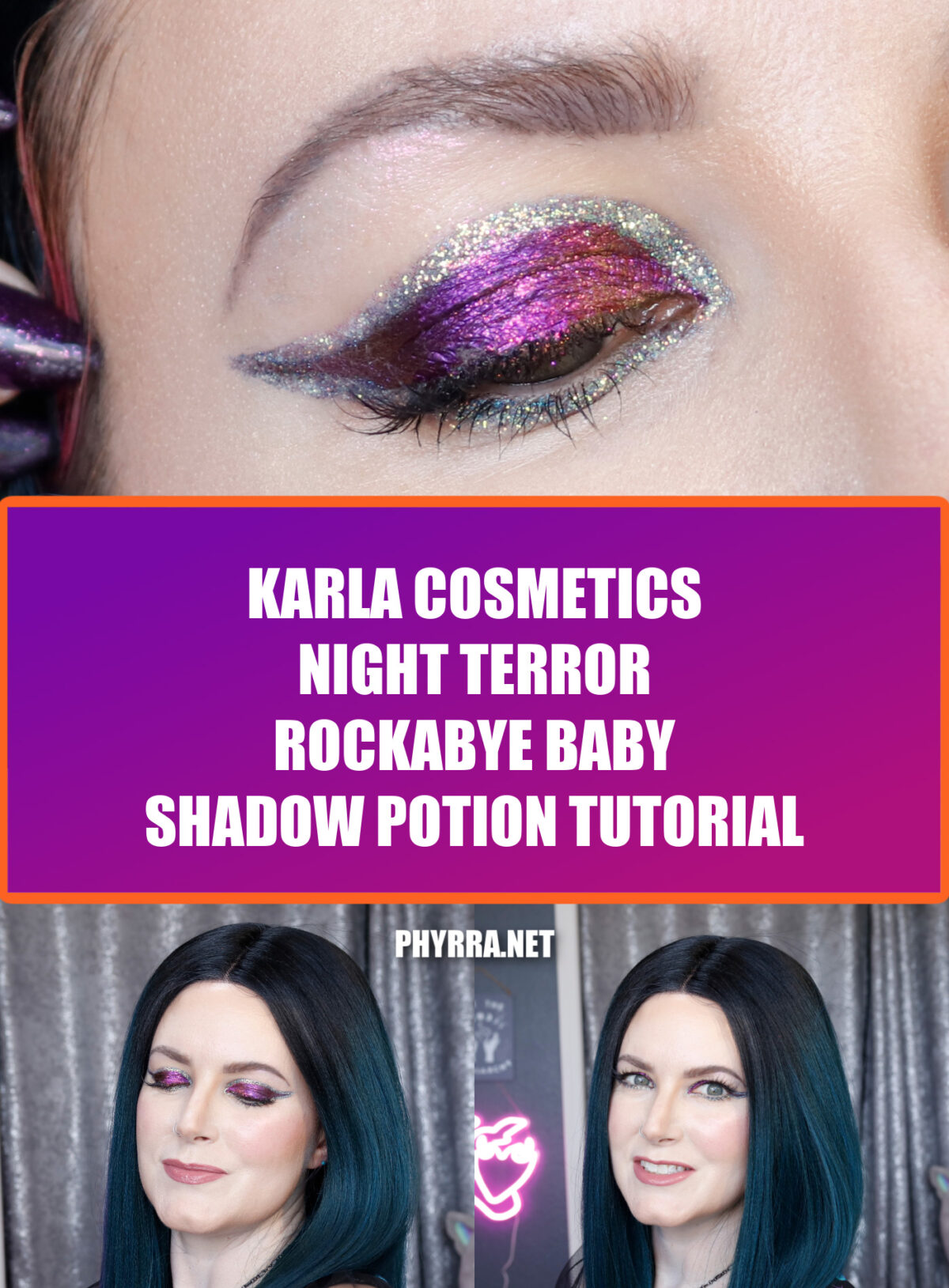 Hello, beautiful creatures! Today I've got a Karla Cosmetics Night Terror Tutorial. This is a beautiful purple glam hooded eyes tutorial to share with you. It includes my entire Karla Cosmetics indie makeup collection swatches. Karla Cosmetics is a brand I found late in 2022 and I've been loving their products ever since! They've released some new makeup for 2023 with their shadow potions. I love featuring top indie makeup brands.
Karla Cosmetics Night Terror Tutorial
Watch the Karla Cosmetics Night Terror Tutorial video on YouTube for Closed Captioning in English! I've been including Closed Captioning for almost 10 years at this point!
Hooded Eyes


My eyes are very hooded and have a lot of excess skin at the outer corner that makes my eyelashes point down and is starting to impede my vision at the outer corner of my eye. I can't normally find makeup tutorials from people with hooded eyes like mine. If you have beautiful hooded eyes similar to mine, I hope you find this easy purple glam makeup tutorial helpful! You can switch out any color for purple if that's not your favorite.
I personally find that with eyes hooded like mine, the easiest way to make a cat eye shape look good is to start from the lower lid so that I can cover the excess skin that sags below my waterline.
Don't know if you have hooded eyes? Check out my video Do I have hooded eyes? It features over 50 different hooded eye shapes from real people in the Hex Squad.
Want more hooded eye content?
Buy the Hooded Eyes Makeup Manual!
Purple Glam Hooded Eyes Makeup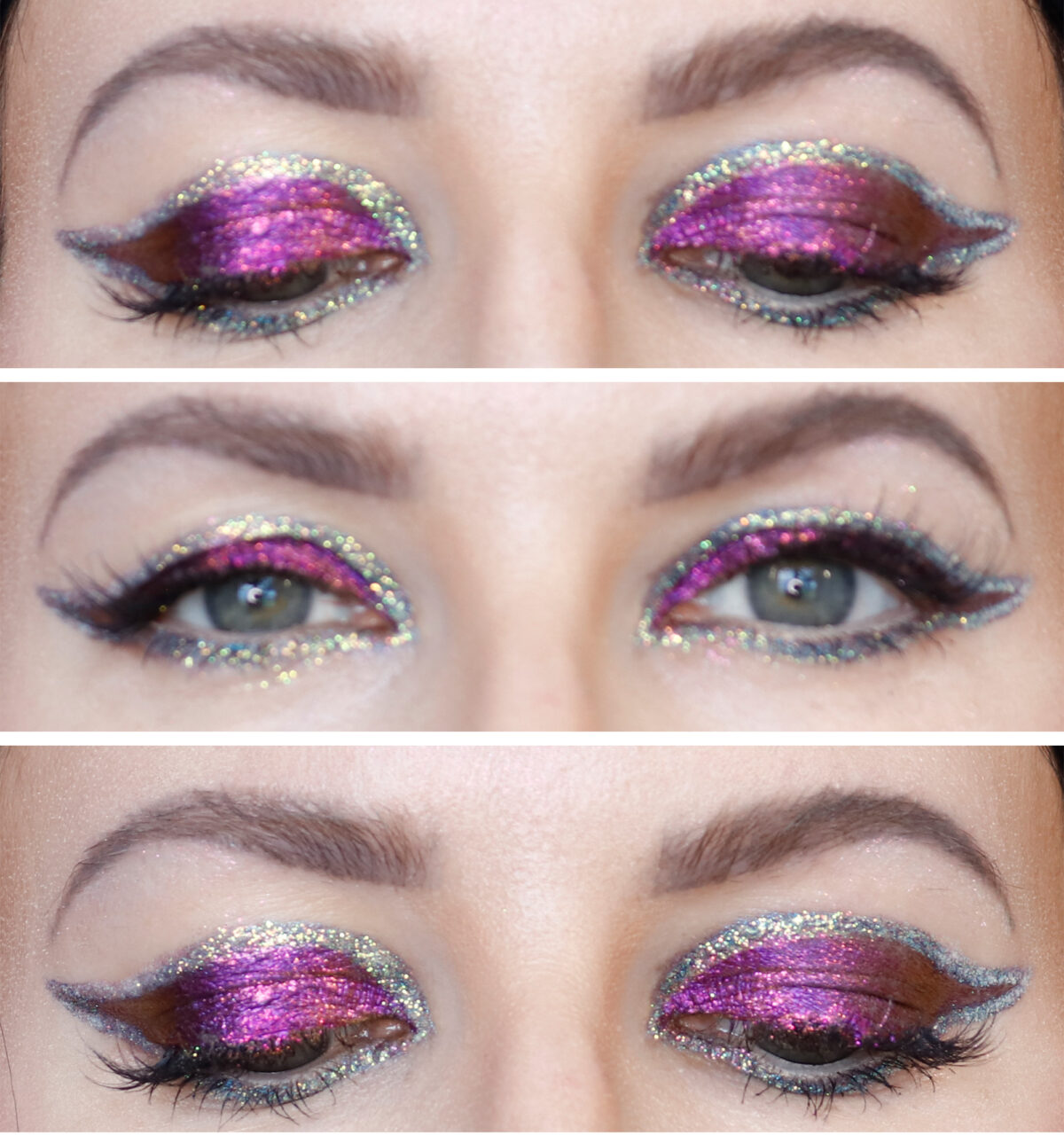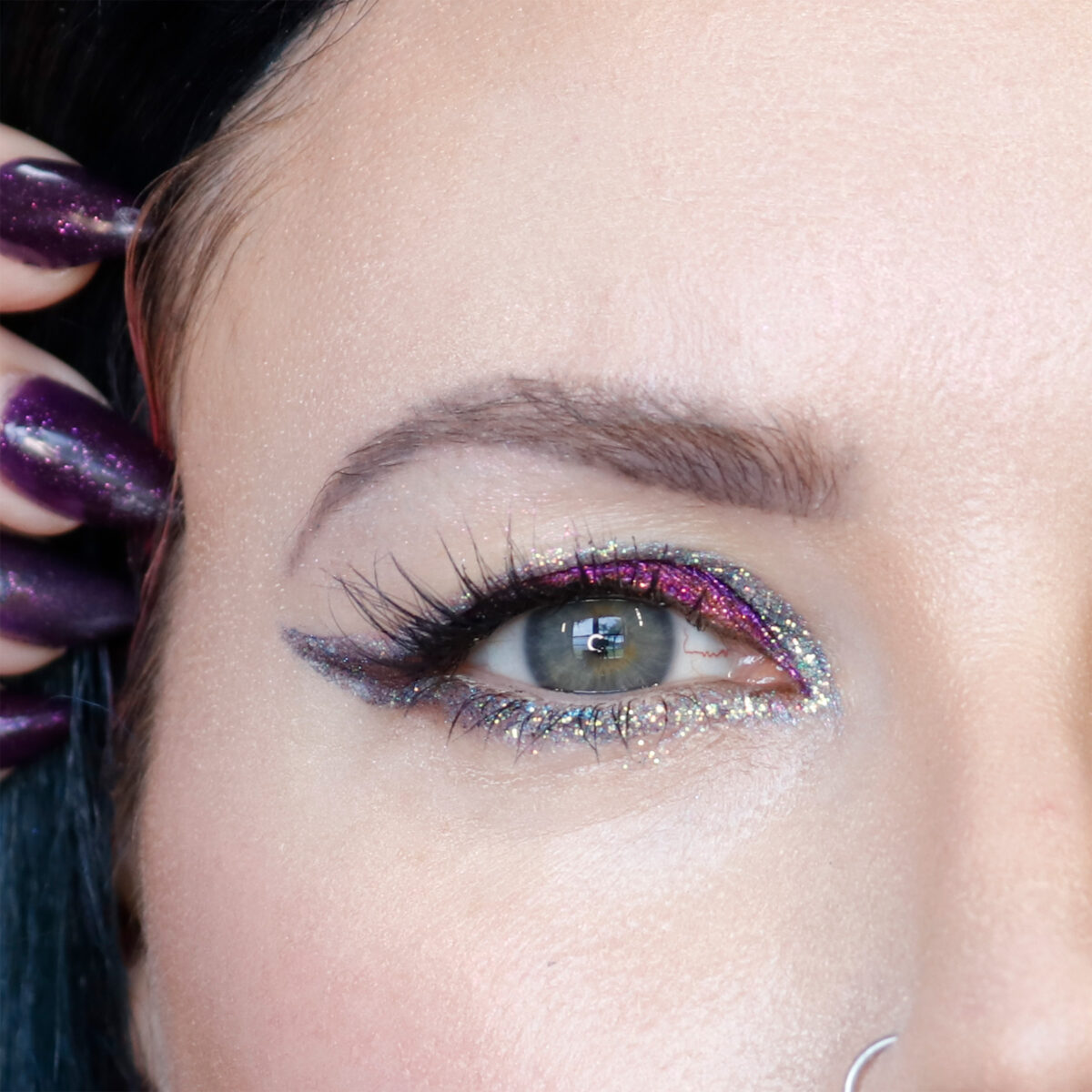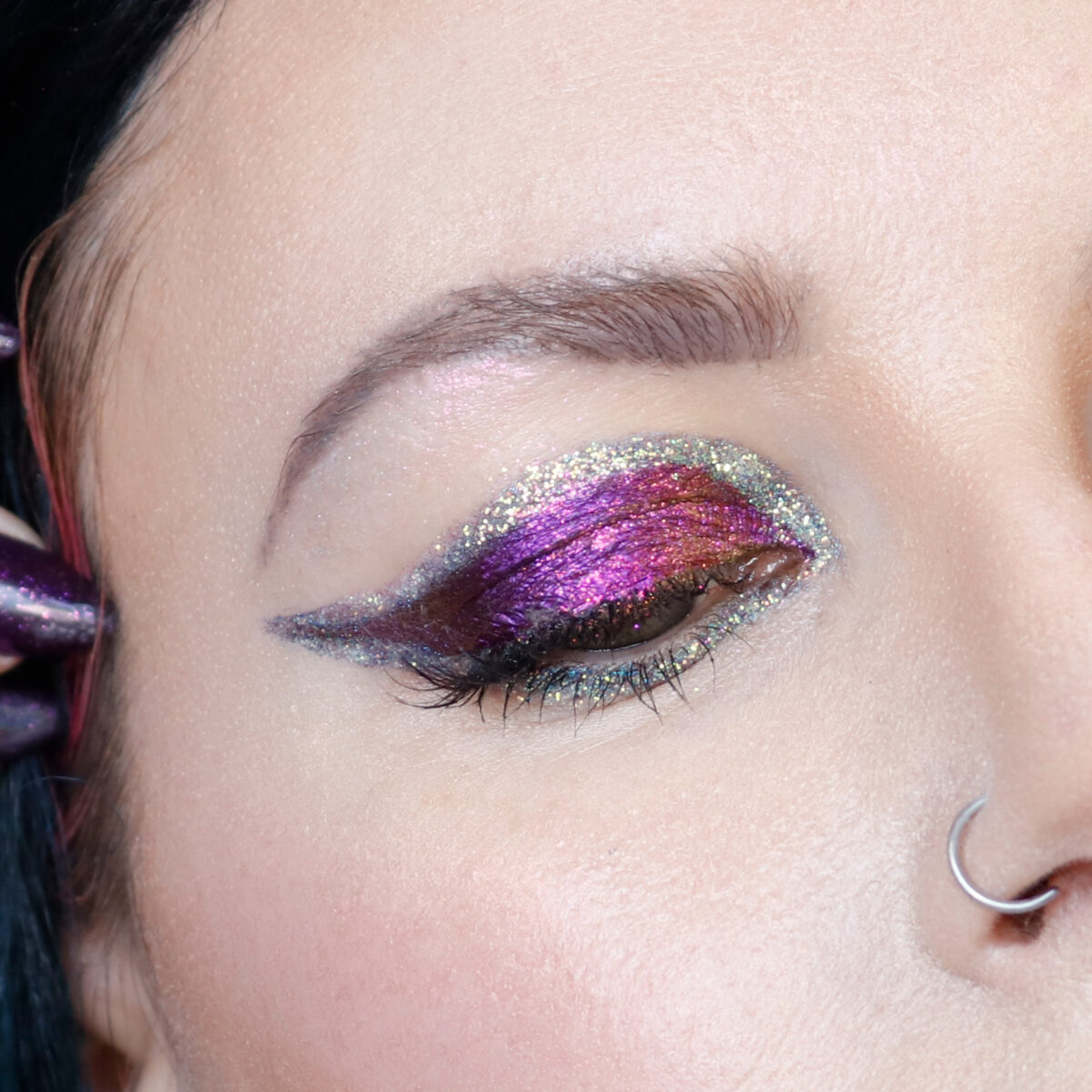 I included the slightly blurred shots above to show more of the color shift and sparkles.
The size of the glitter in the Moira Glitter eyeliner makes me uncomfortable. I love the look of glitter but prefer to get it through mica based products that look like glitter and don't have a large particle size. I was able to remove the glitter without any issue.
What I'm Wearing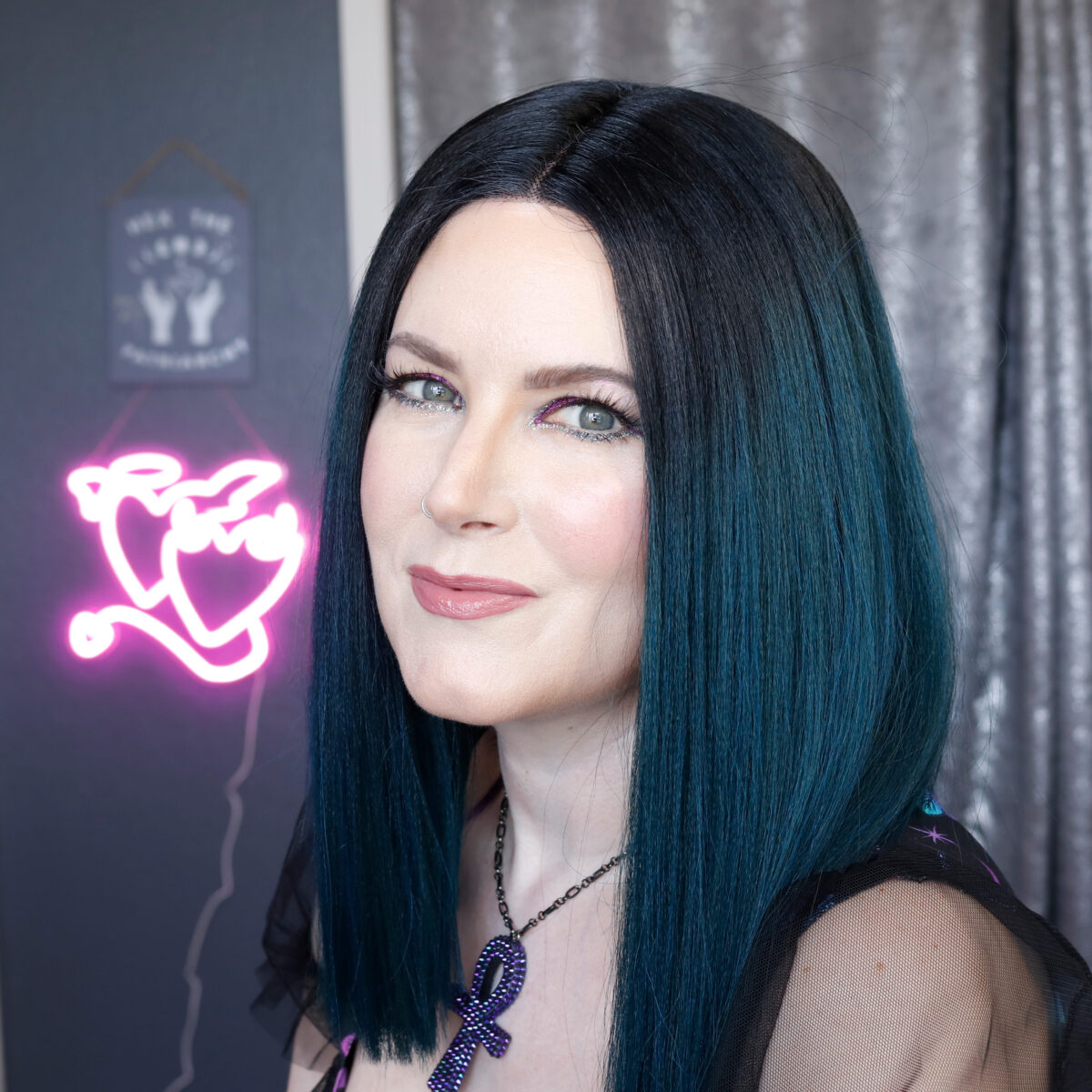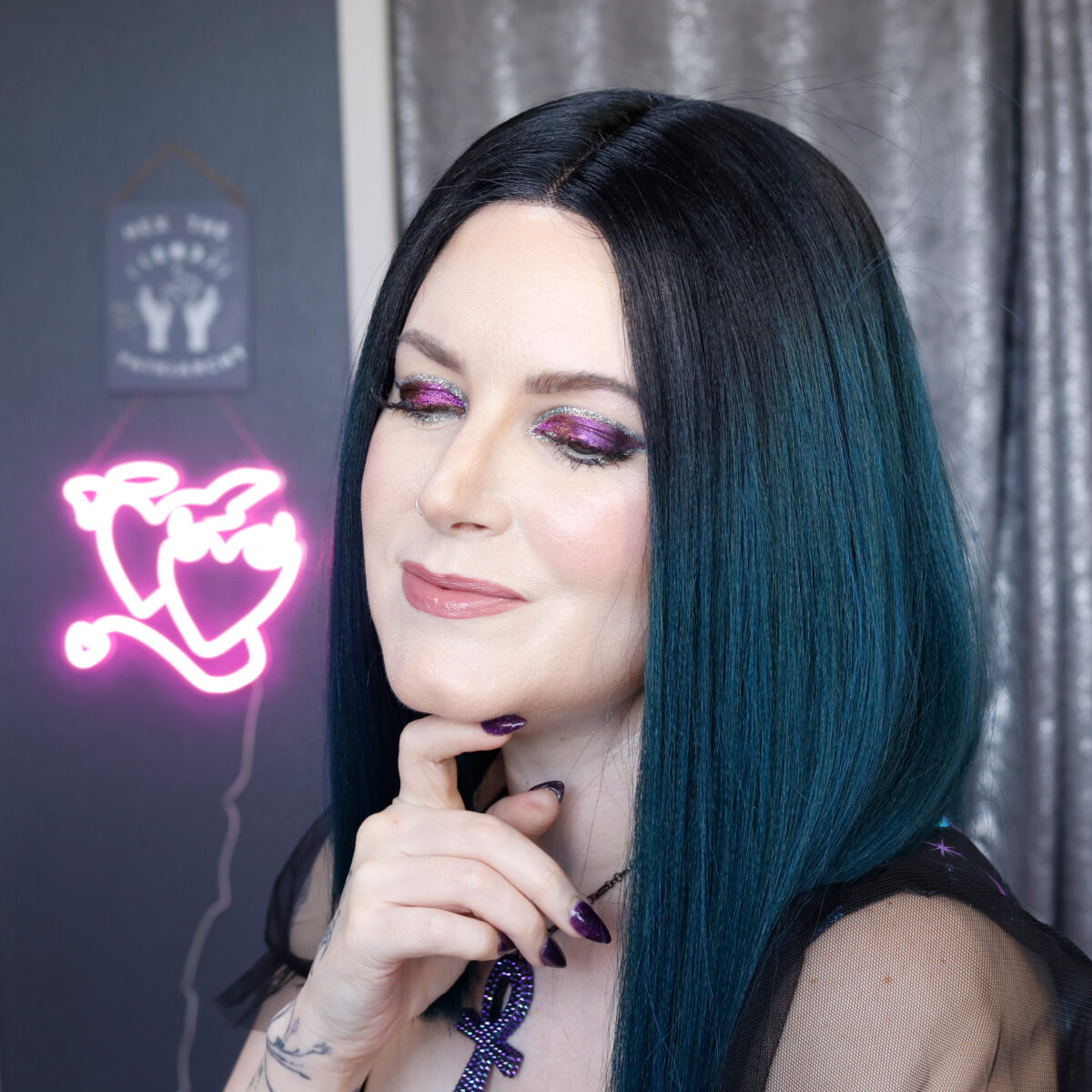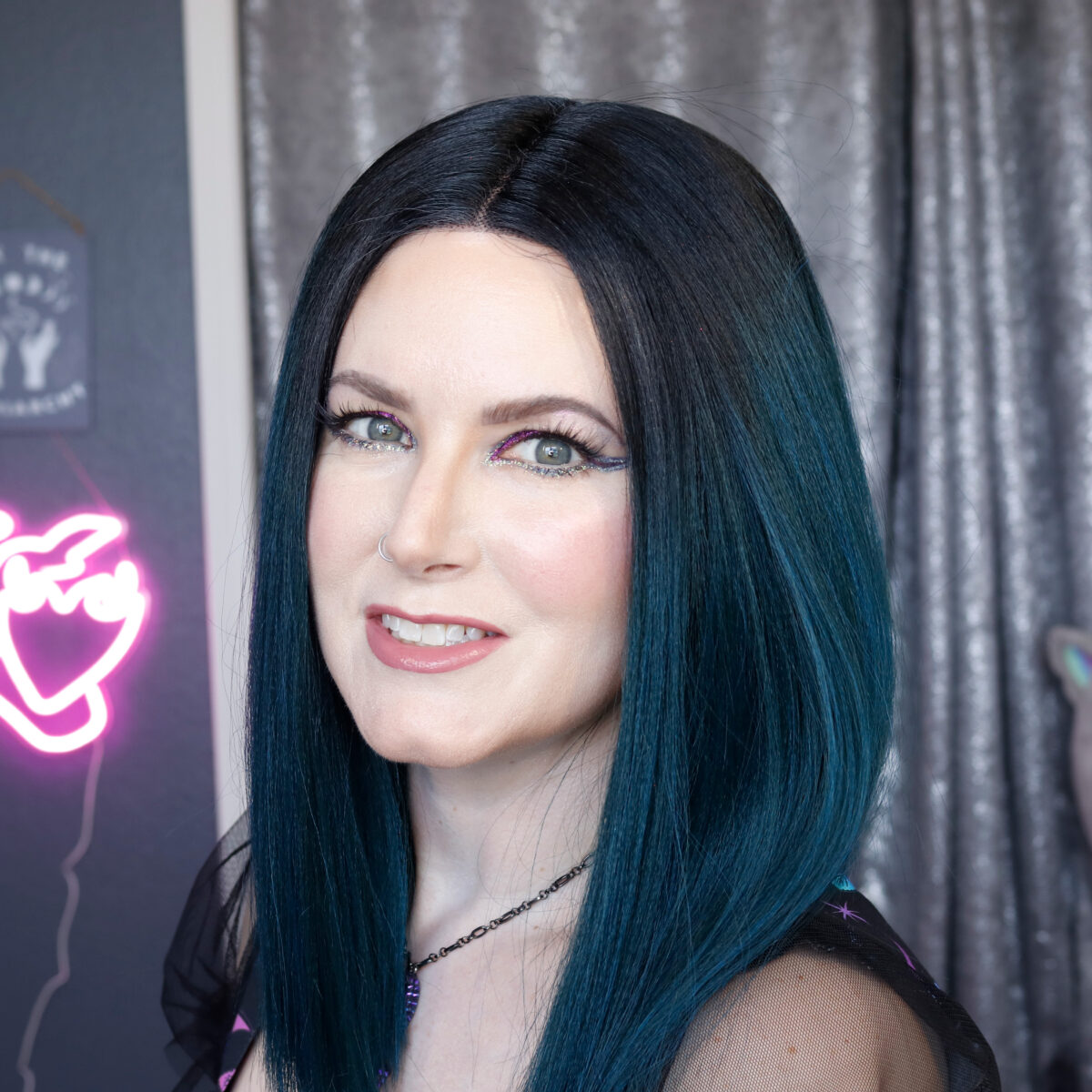 BROWS
Nyx Grey Micro Brow Pencil
Nyx Cool Ash Brown Thickening Brow Gel
EYES
Concrete Minerals Glitter Eye Primer (dc, try Nyx Glitter Primer)
Karla Night Terror Shadow Potion and Rockabye Baby Shadow Potion
Karla Drama Queen Loose Eyeshadow
Moira Buzz Duochrome Liner
Moira Crystal Star Glitter Liner
Eyeko Lash Alert Mascara
Nabla Black & Ivory Cupid's Arrows Longwear Stylo Pencils
Velour-Xtension Cluster Lashes
Velour Latex-free Lash Glue
FACE
e.l.f. Power Grip Primer
Beautyblender Bounce Radiant Skin Tint in Light 1
Rare Beauty Positive Light Under Eye Brightener in Light
Half-Caked Heatwaves Cream Bronzer
Karla Rockabye Baby Shadow Potion
Persona Bubble Cream Blush 
Wet n' Wild Ticket to Brazil Bronzer
LIPS
Urban Decay OG Backtalk Liquid Lipstick
Karla Cosmetics Night Terror is the star of this eye look!
Night Terror Makeup Look Color Story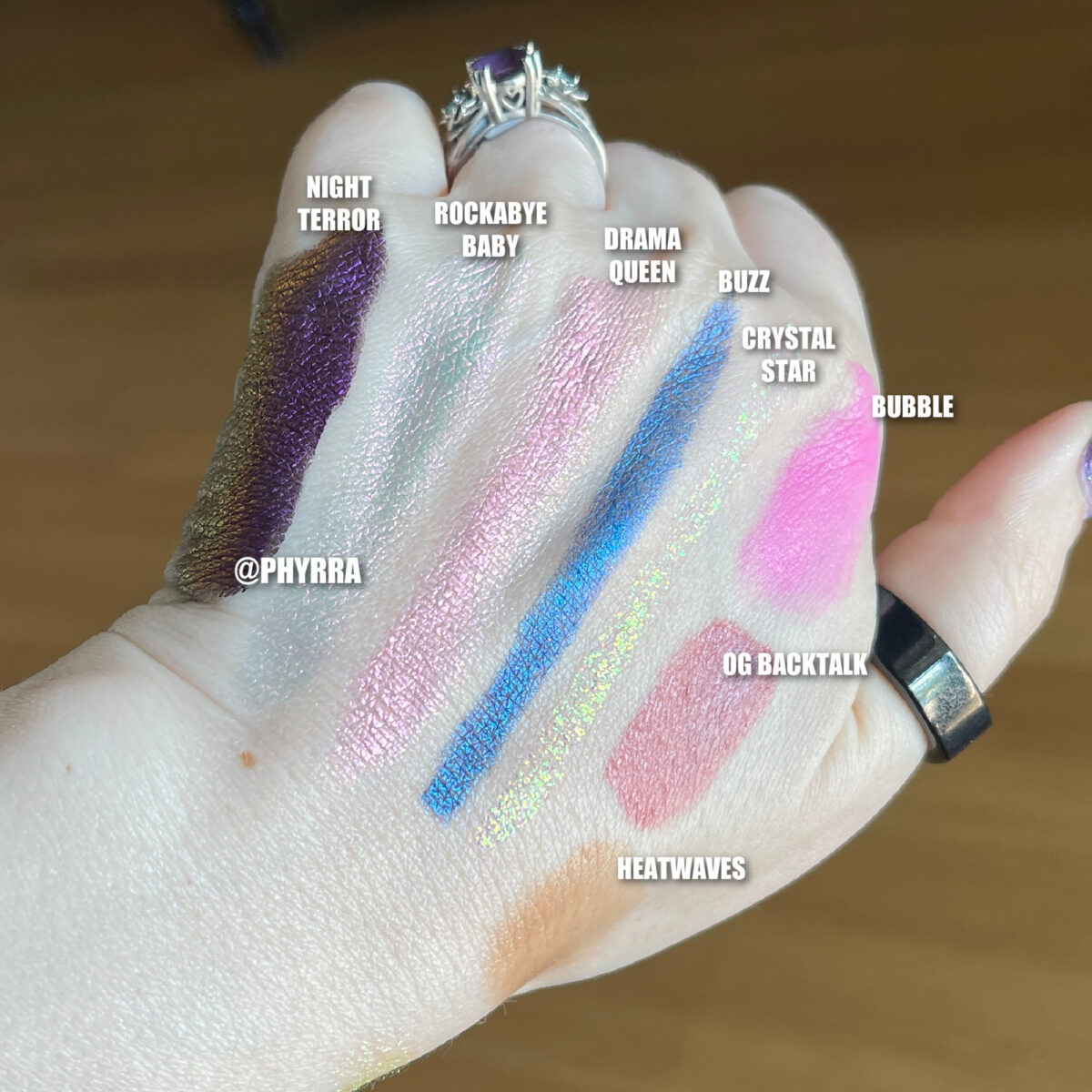 From left to right, top to bottom:
Karla Night Terror – Karla Rockabye Baby – Karla Drama Queen – Moira Buzz – Moira Crystal Star – Persona Bubble
Urban Decay OG Backtalk
Half-Caked Heatwaves
Karla Cosmetics Shadow Potions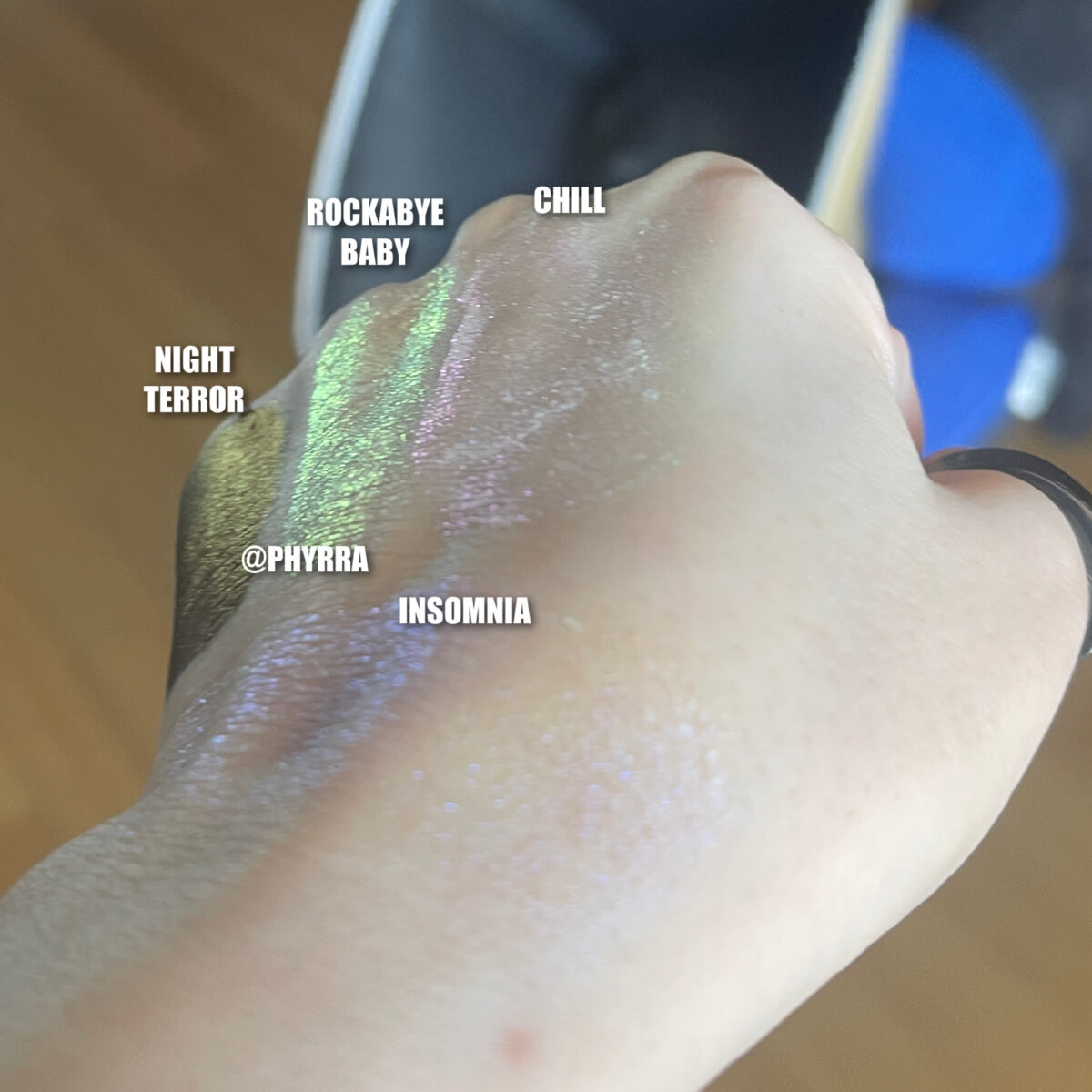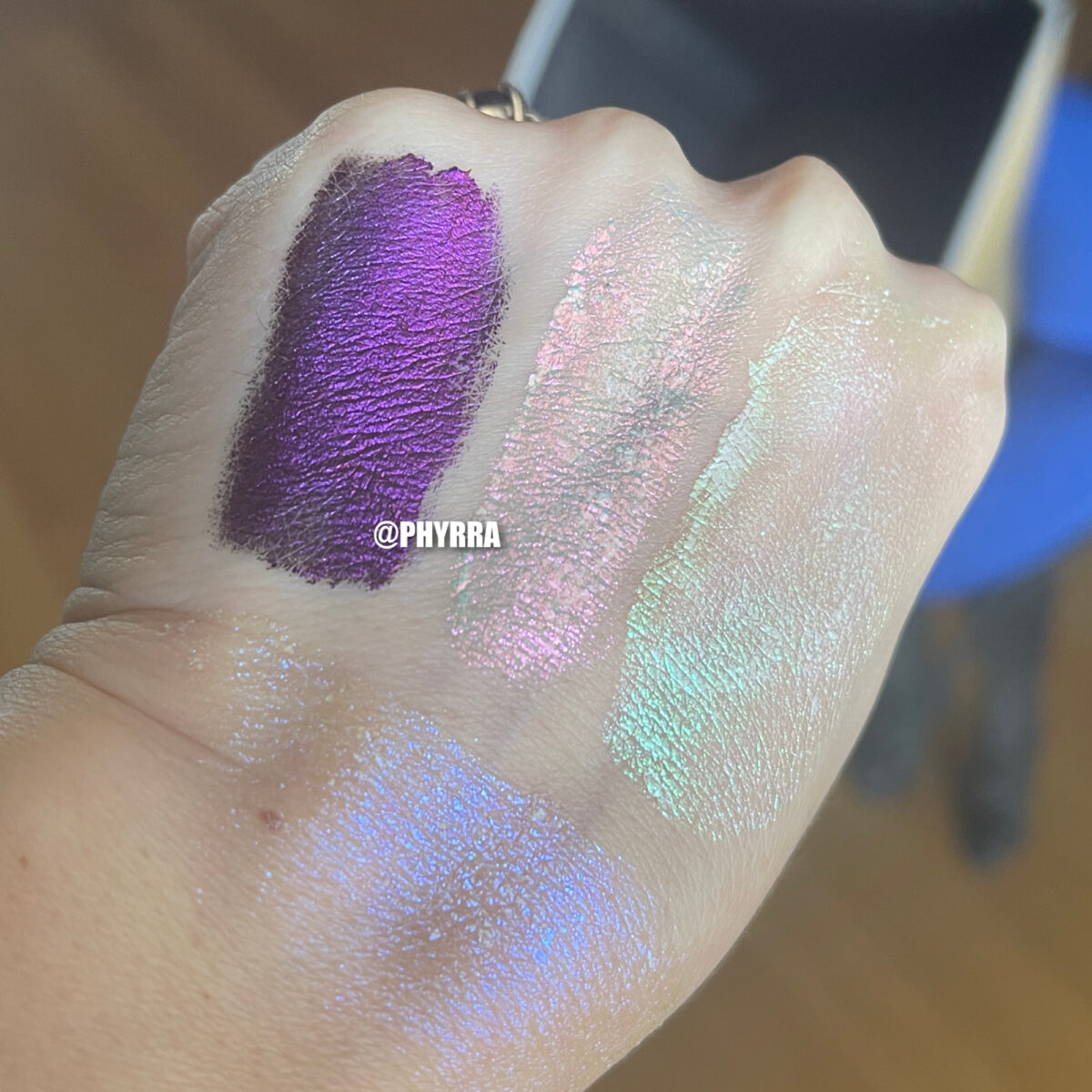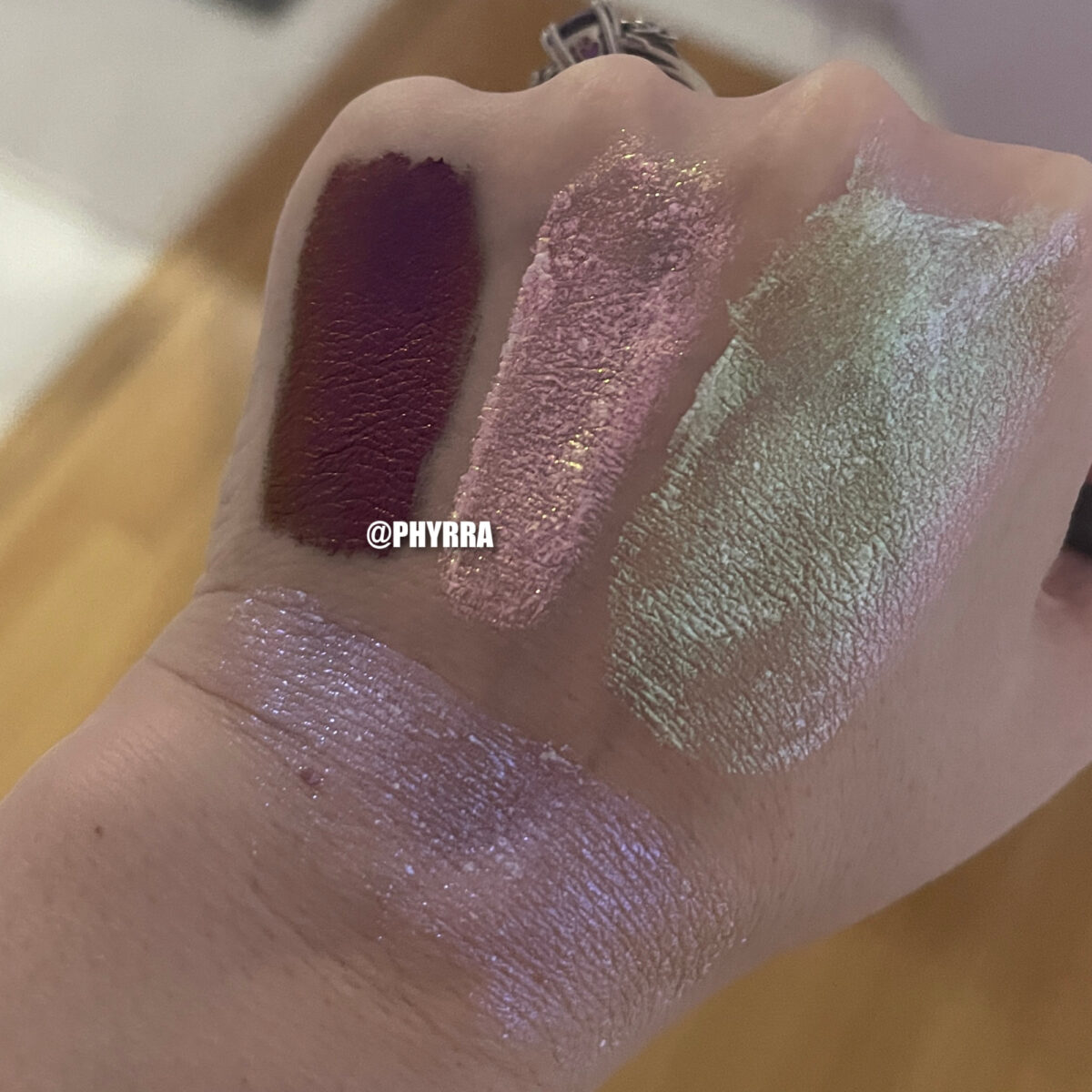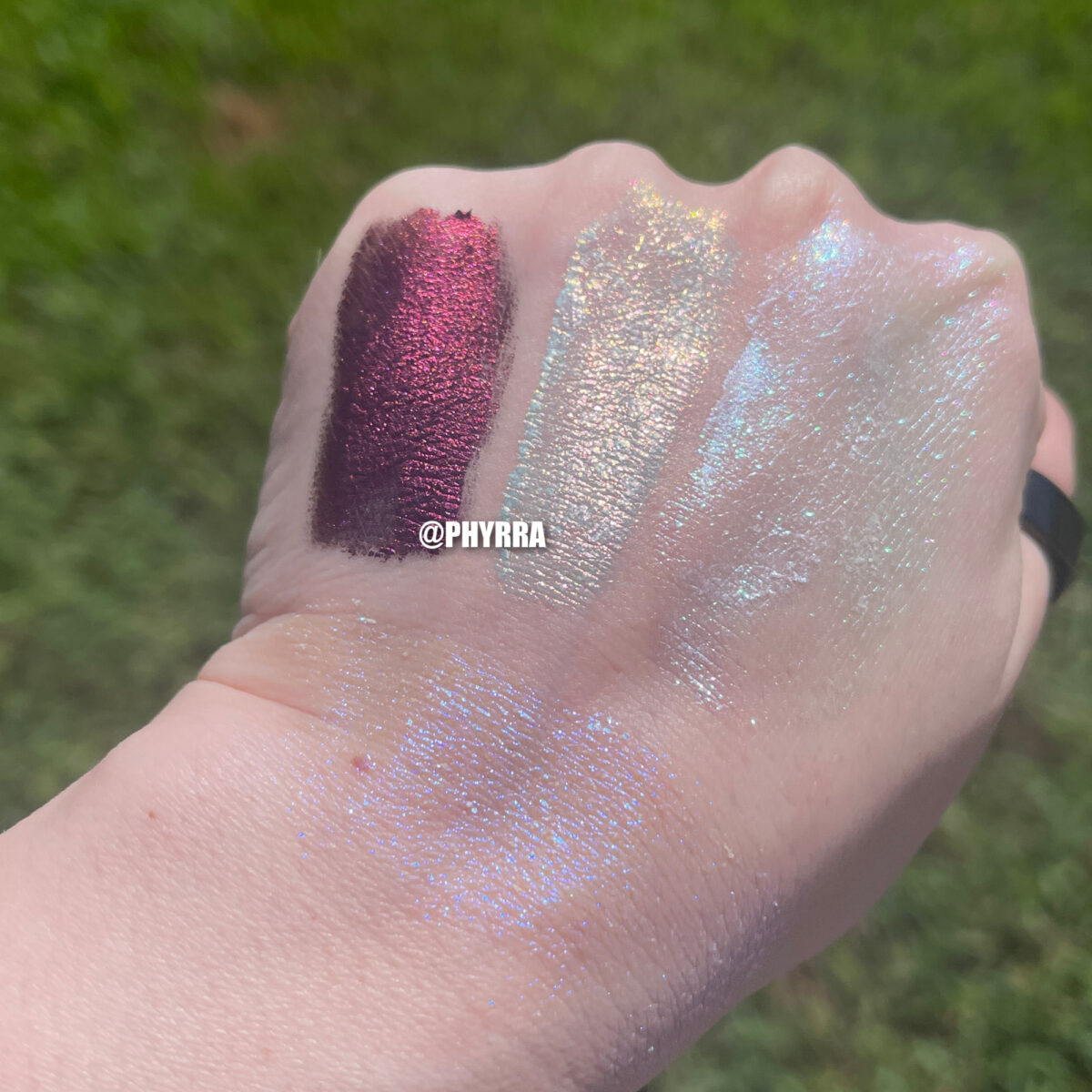 The Karla Cosmetics Shadow Potions are some of my favorite multichrome eyeshadows ever! I love the smooth formula; they meld with your skin on the cheeks when you're using them as highlighters. And Night Terror is absolutely stunning on my eyes!
If you're looking for a new way to play with multichromes I highly recommend trying some of the Karla Cosmetics Shadow Potions. Buy them directly from Karla Cosmetics and you can use my code CORDELIA to save you money. You can also purchase them from Camera Ready Cosmetics!
See my entire Karla Cosmetics eyeshadow collection swatches in motion!
Urban Decay OG Backtalk Liquid Lipstick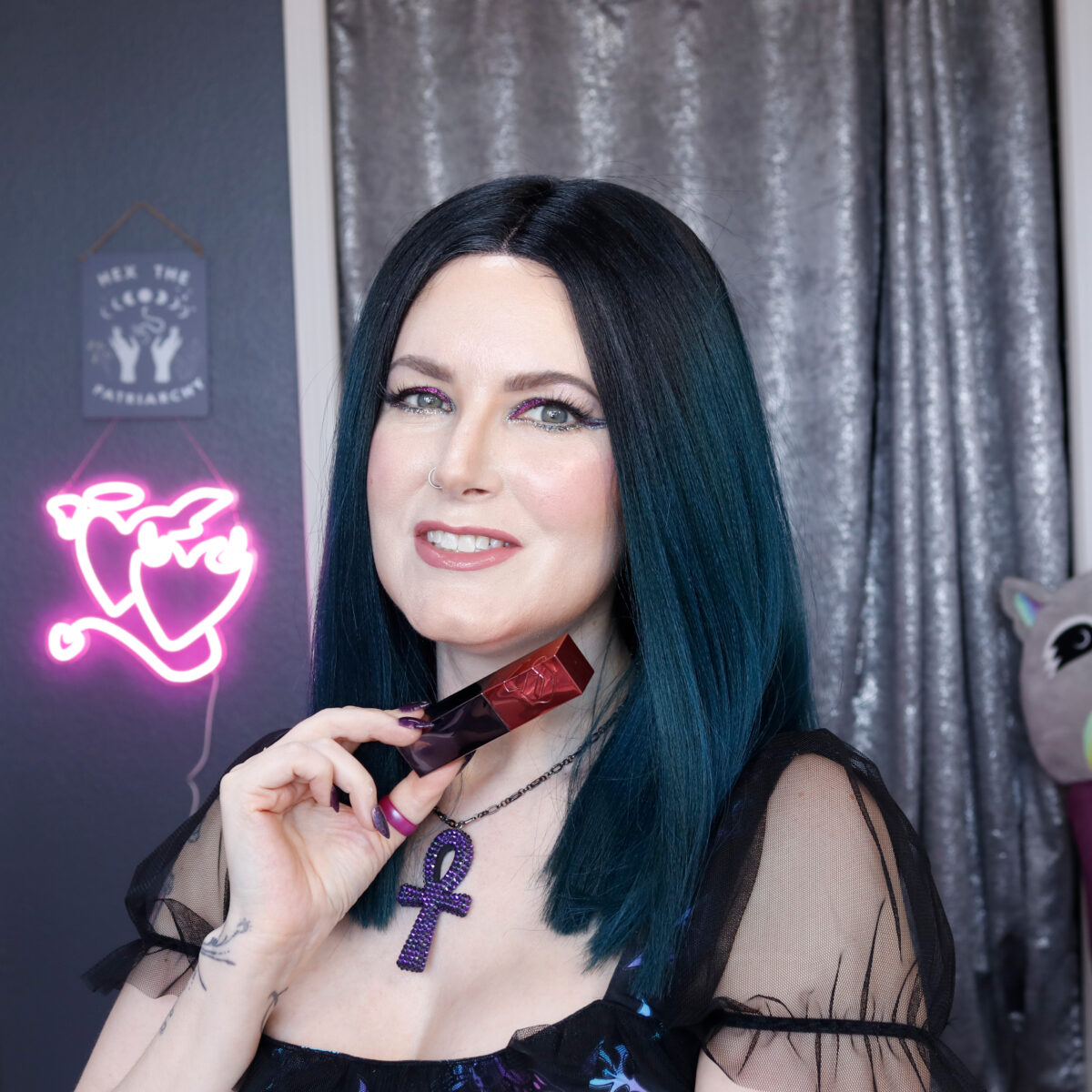 I am in love with the Urban Decay Vice Lip Bond Glossy Longwear Liquid Lipsticks! It thrilled me that they released OG Backtalk, which is my all-time favorite MLBB (my lips but better shade). OG Backtalk is a pinky-mauve nude shade that is a great 'nude' lip color on me. I'm so happy to have it in a comfortable, long-wearing glossy formula. For me, it's perfect for minimal makeup days.
I've purchased OG Backtalk, Shock Value (neon pink), Unbreakable (power red), Raw Footage (deep burgundy), and Indie Sleaze (black). I received No Restraints (bold purple) in PR quite a while ago. I used a lot of my Ulta points to pick up these Vice Lip Bond Glossy Longwear Liquid Lipsticks since I'm on a very low buy these days. However, after the shit show that was the Ulta 21 Days of Beauty, I'd recommend picking them up directly from UrbanDecay.com where they're currently 25% off right now.
I do wish that the Urban Decay Vice Lip Bond Glossy Longwear Liquid Lipsticks had a deep, rich blue and a teal blue. And I wish there was a cooler toned purple. Their shade range is very tame. I miss UD's more edgy colors!
Fashion Pieces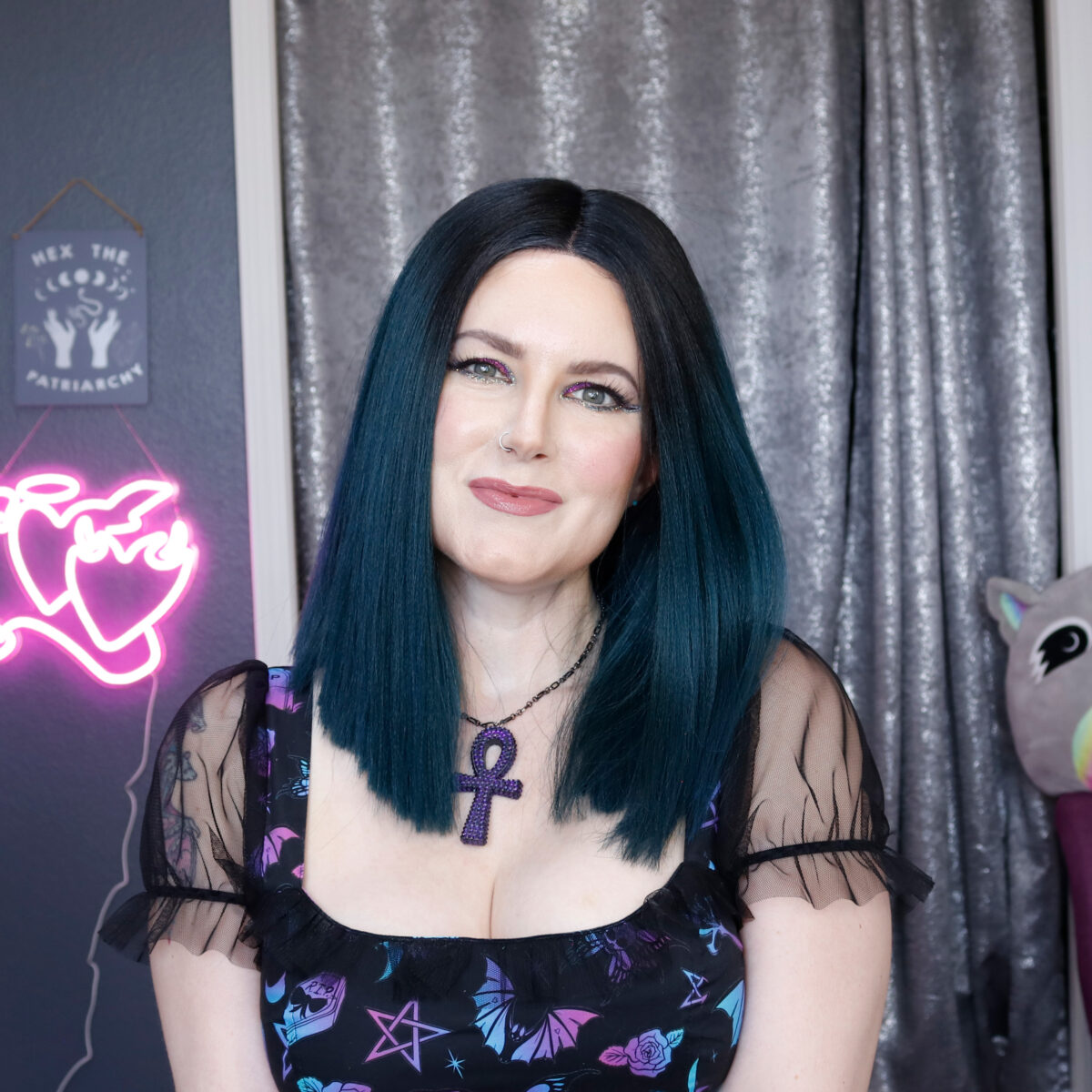 Below are the fashion items I'm wearing.
The Bobbi Boss Yara wig is my favorite wig style. I own this wig in smoky teal green, pure black, red, blue, and purple. I'm only missing the blonde shade! I've had these wigs for several years. I keep them on hanging wig stands.
My Bunny Paige custom ankh necklace is 5-6 years old and still as beautiful as the day I bought it.
The Grave Girls Mystical Aura Crop Top is one of my favorite crop tops for so many reasons! It combines bisexual flag colors with bats, roses, pentacles and other witchy symbols that I adore. I hand wash it to preserve the sleeves.
Final Thoughts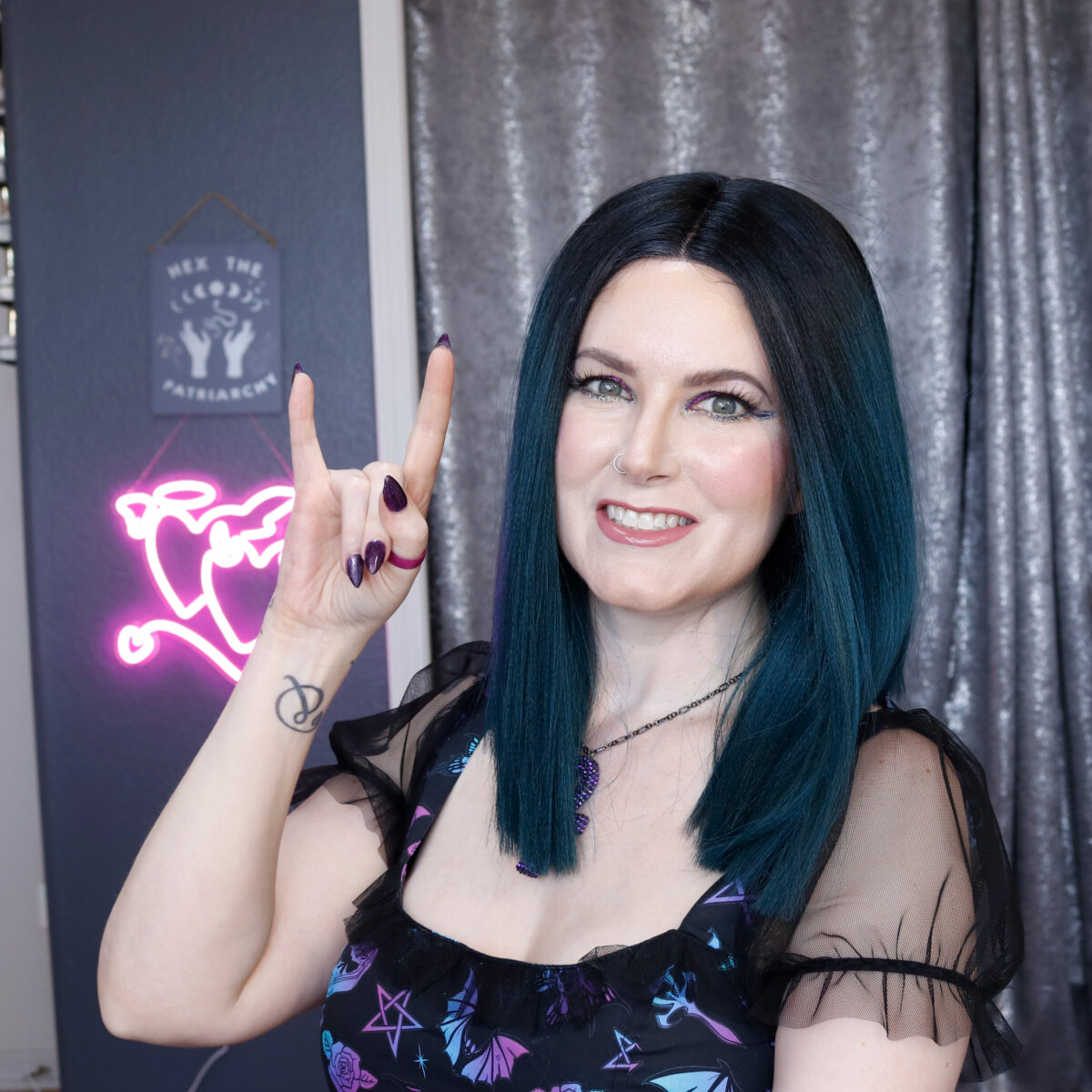 Life has been very challenging for me for all of 2023. I've had to take my husband to the ER multiple times, my dog Nyx to the vet ER multiple times, at one point I had both Nyx and Amaya in cones and Nyx will have been in a cone for 7 weeks by the end of this, we've had multiple surgeries to heal from, family crisises, hurricanes, appliance issues (had to buy a new stove), house repairs that were very costly, and a lot of unexpected stressors.
I certainly did not expect to have to have a double mastectomy with breast reconstruction to prevent death from breast cancer surgery this year.
Despite this, I'm doing my best to stay positive, I'm just very tired. I don't do toxic positivity. The reason I strive to stay positive even when times are dark is that there are so many things that are out of control in life, but I can control myself and my reactions. A recent study has come out discussing that suppressing negative thoughts may be good for mental health. Doing daily affirmations and daily gratitude journaling is helping me get through tough times. So is talking to my friends who are there for me every day and I'm there for them.
I hope things are going well with you! Sending you lots of hugs.
More to See