How to Style the Marsté Barcelona Jersey
Hey friends, it's great to see you! Today I wanted to talk to you about how to style the Marsté Barcelona Jersey. On May 4, I ordered the Marsté Barcelona Jersey in Mystique and the Bangkok Bodycon Mini Skirt in Mystique. Marsté reached out to me to offer to send them as PR samples, so I went ahead and let them cancel my order & send them because I've been on the Makeup Geek PR list until recently.
Let me warn you, this is a picture heavy post and it's really long! I included a ton of B-sides / extras, and cute ones with Phaedra & Nyx. Review is at the very bottom.
For reference, I'm 5'4″, 131 lbs currently. I'm pretty firmly a size 4 in most things, a size 2 or 6 in a few, and size 5 from Hot Topic. See how I went from a size 12 to a size 4.
PR + purchased by me.
About Marsté Fashion
Our CEO and Founder, Marlena Stell, started creating Marsté Fashion in 2016. She was inspired to create high-quality, accessible clothing with everyone in mind. Empowering women with knowledge, advice, and confidence is her mantra. Marsté was created as all women deserve to feel great in their clothes. We strive to create an uplifting and positive experience as fashion should always be fun!
Marsté offers fashion forward, high-quality, everyday casual clothing that fits all body types comfortably. We designed our fabrics to feel amazing on your skin. We hope you find inspiration in our signature colors to express yourself in your own individual style.
How to Style the Marsté Barcelona Jersey with Shorts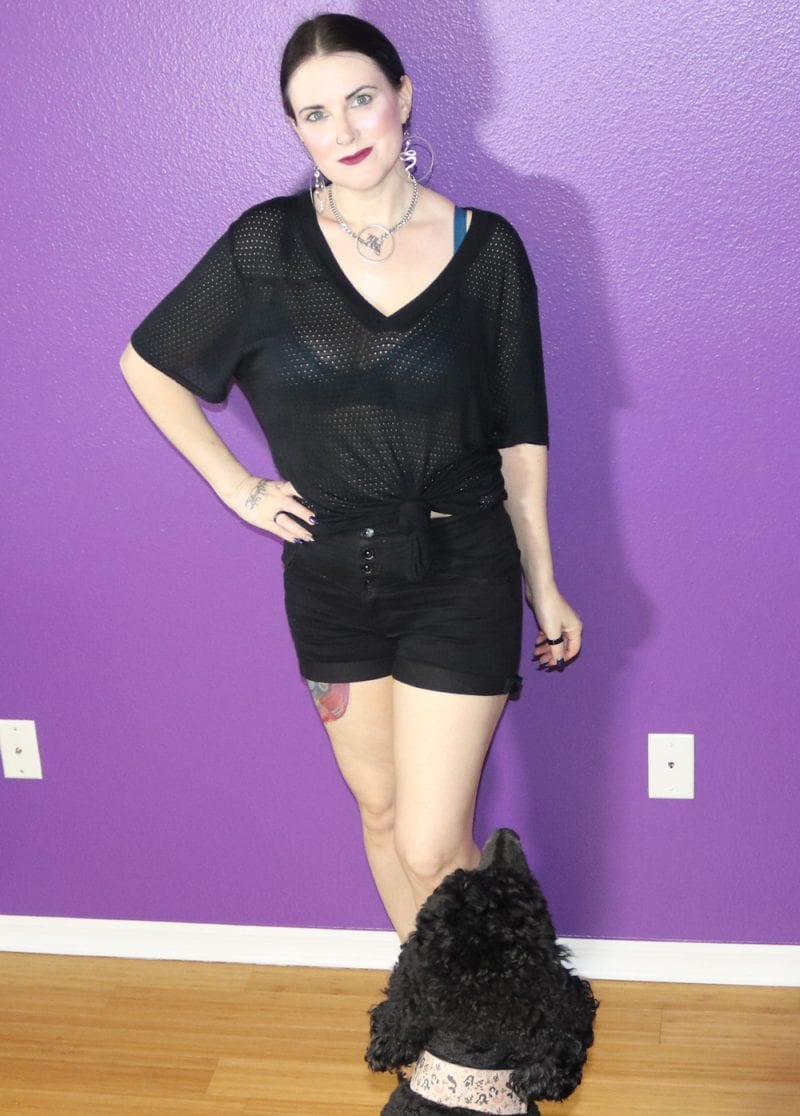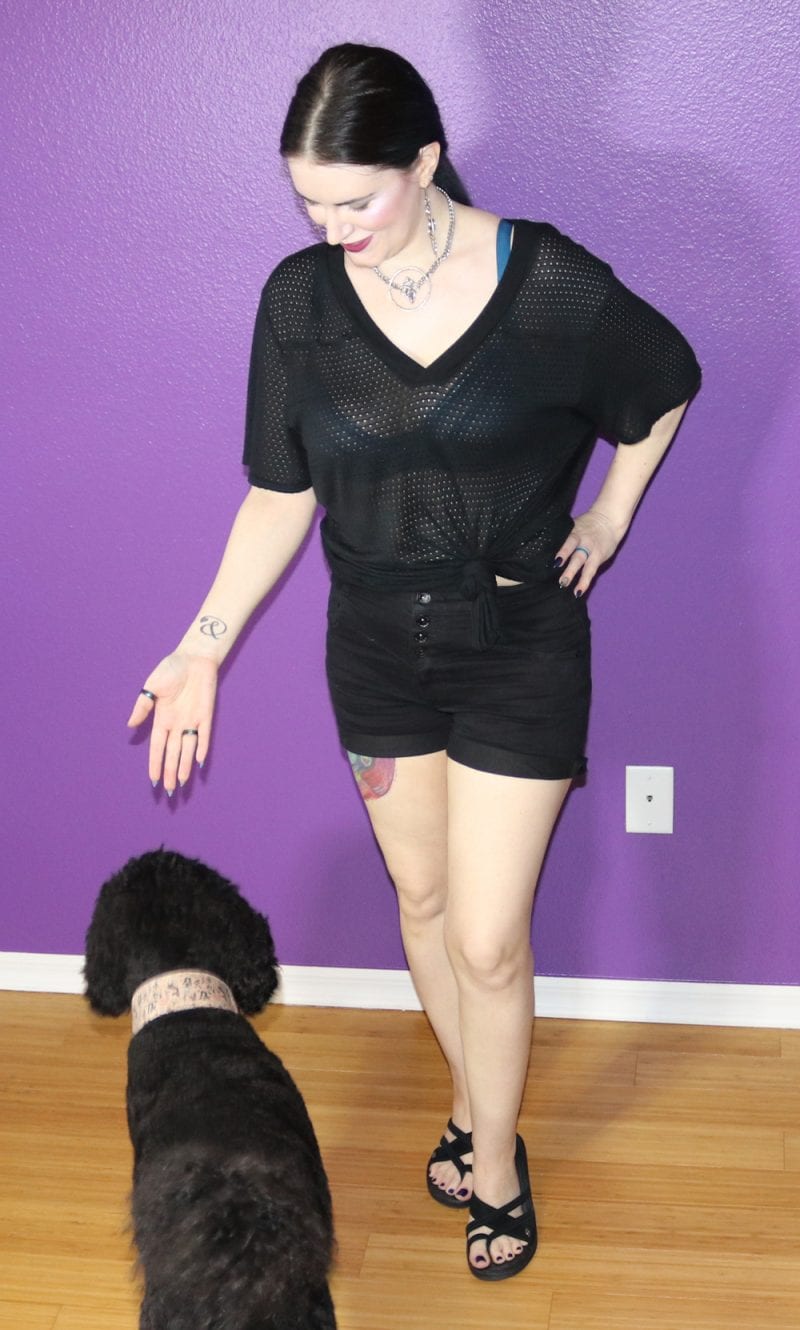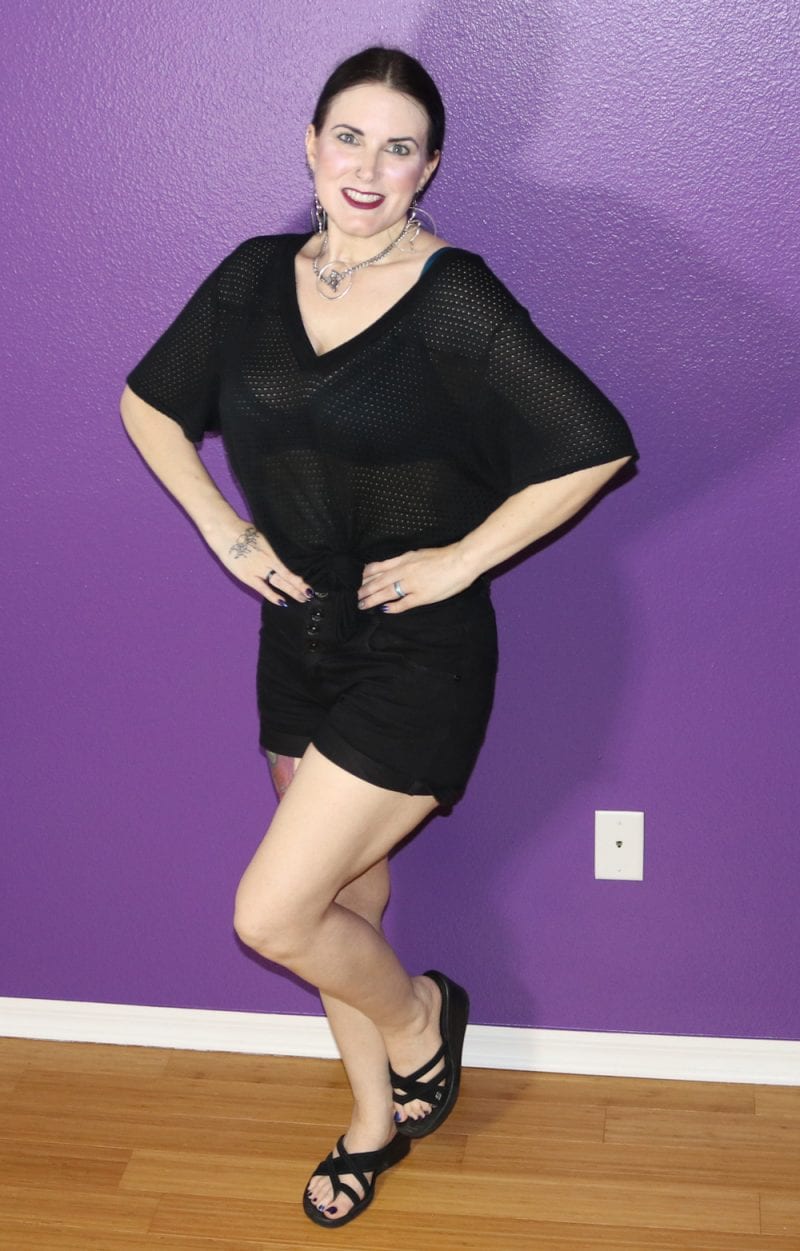 The Marsté Barcelona Jersey is easy to loosely knot up at the bottom and wear with a favorite pair of shorts and sandals for summer. It definitely is a comfortable shirt in this unbearable Florida summer heat. I personally love that the material is a little sheer, because I love mesh, but if it's something you don't love, you can always wear a camisole under it. I'm wearing the Jersey in size 4-6 and as you can tell it's a bit big, which is perfect if you want to wear it as a tunic shirt or dress.
How to Style the Barcelona Jersey with Leggings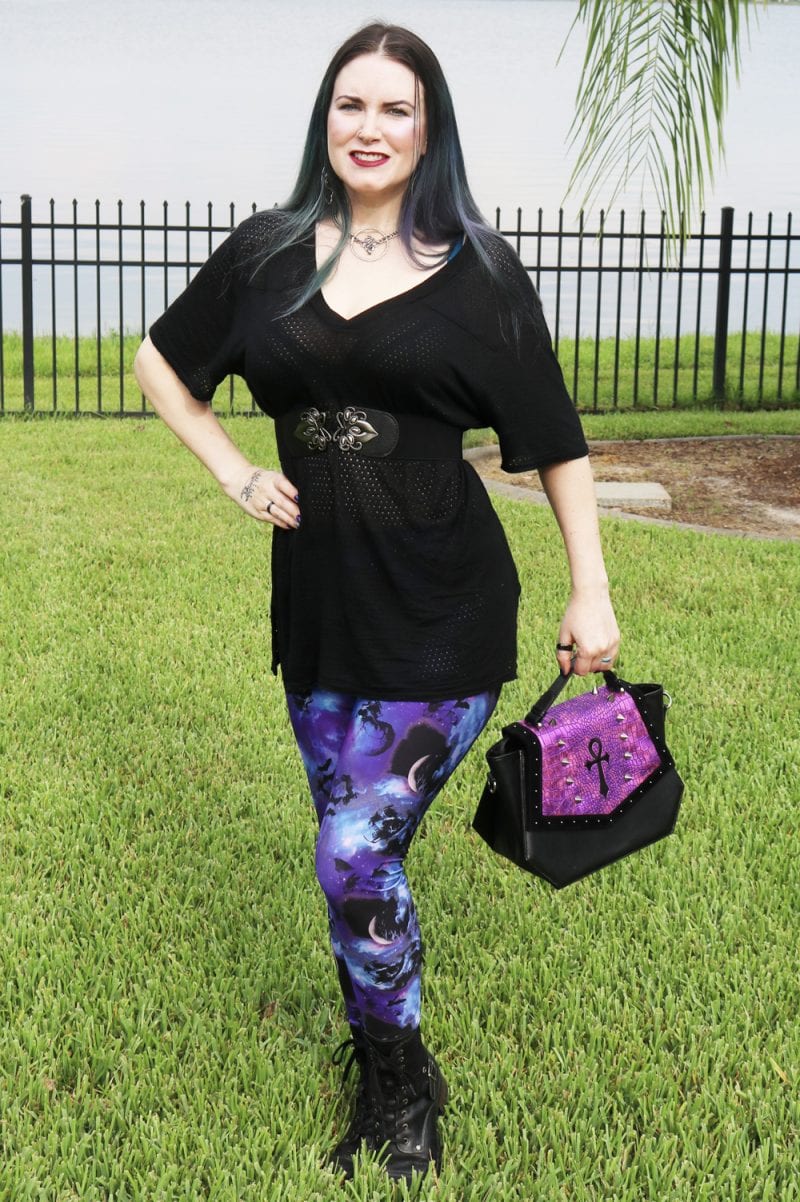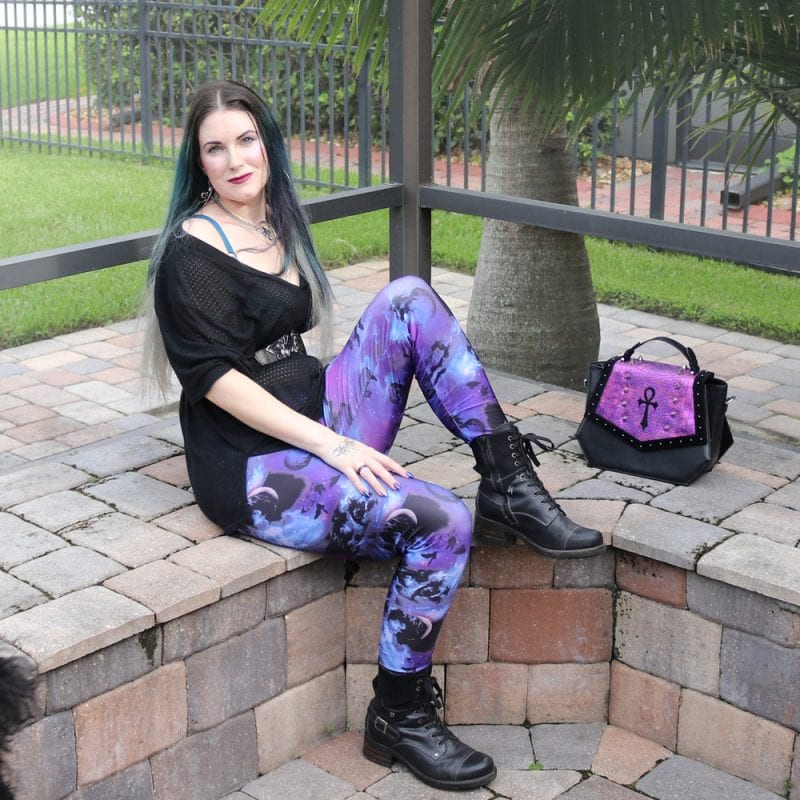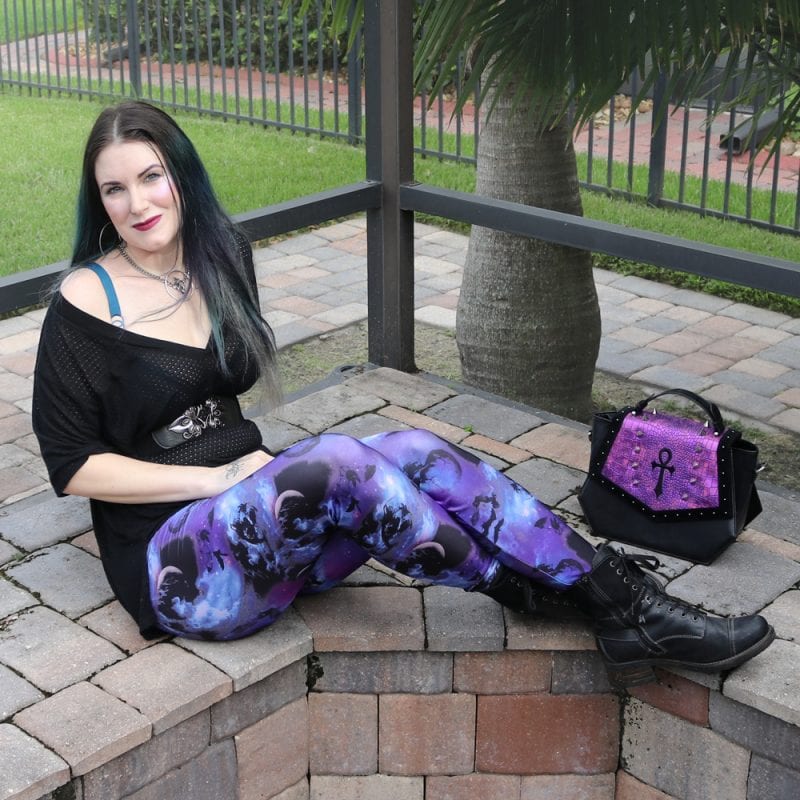 Here I'm wearing the Marsté jersey loose with one of my favorite pairs of leggings, my all-time favorite pairs of boots, and a belt worn high on the waist. I also put my ultimate gothic handbag in the photo. I looove looking at that Avelina de Moray bag. Honestly, this jersey looks good with plain black leggings with pockets, subtle lowkey black holographic mermaid leggings (that I just bought and are on sale), and super busy prints like what I have on.
How to Style the Barcelona Jersey with Jeans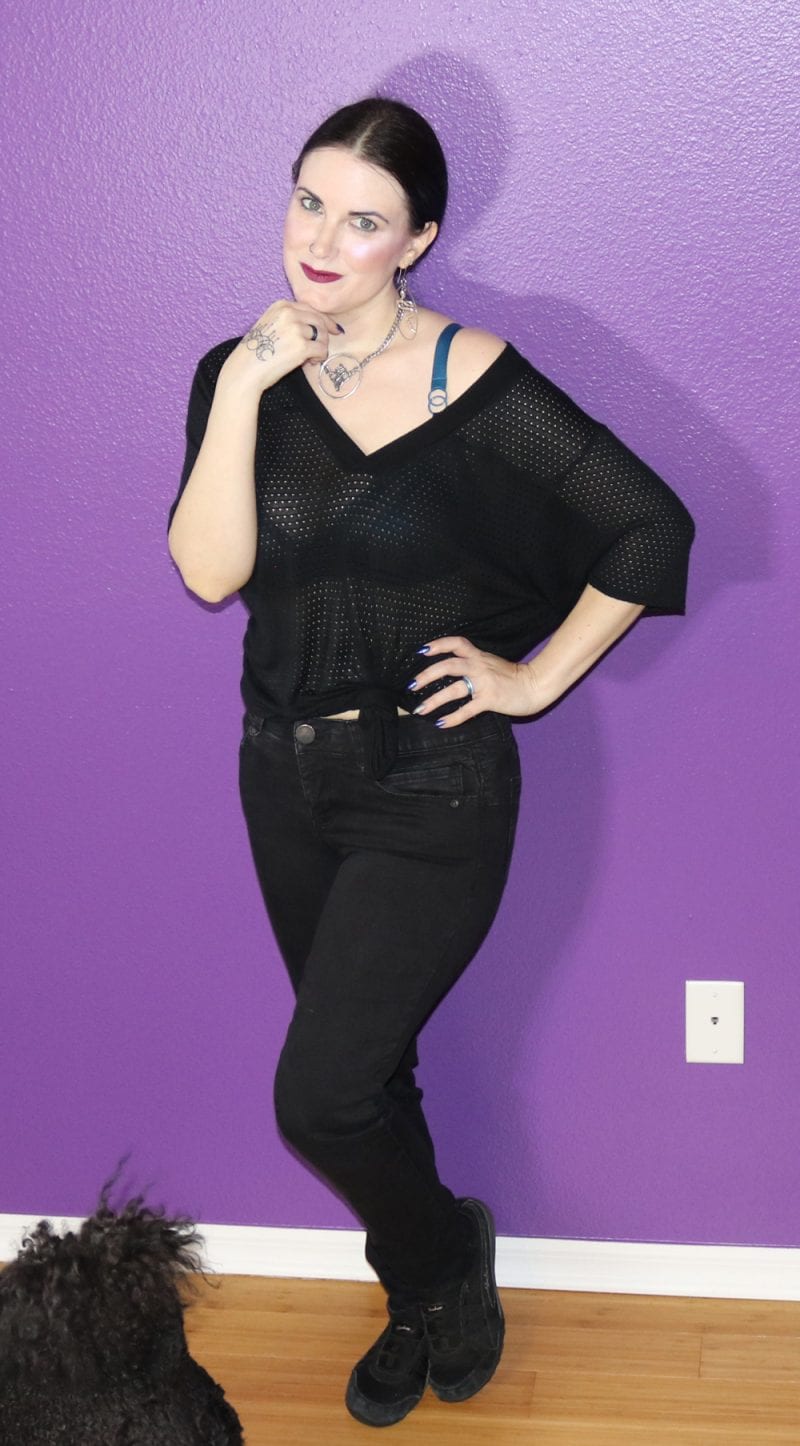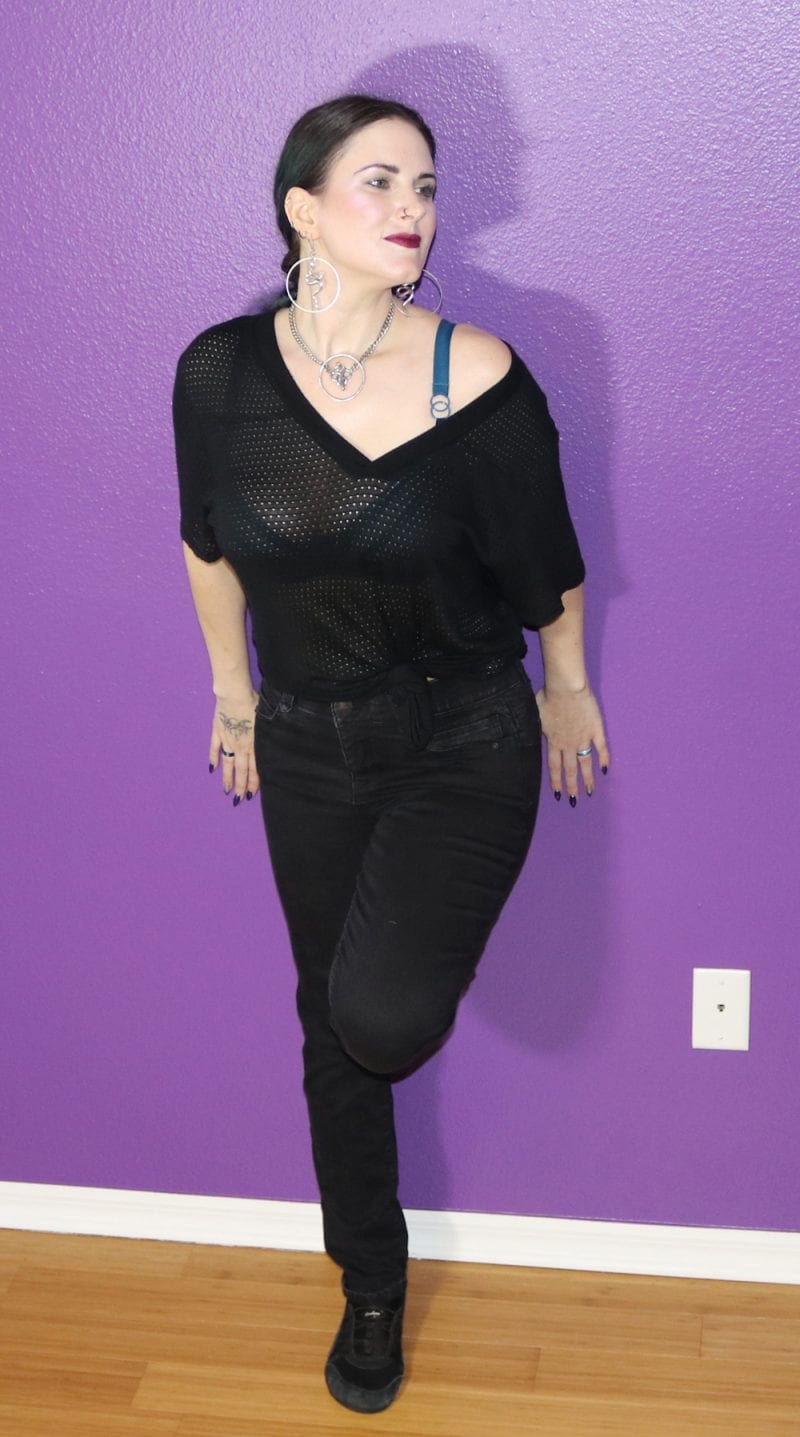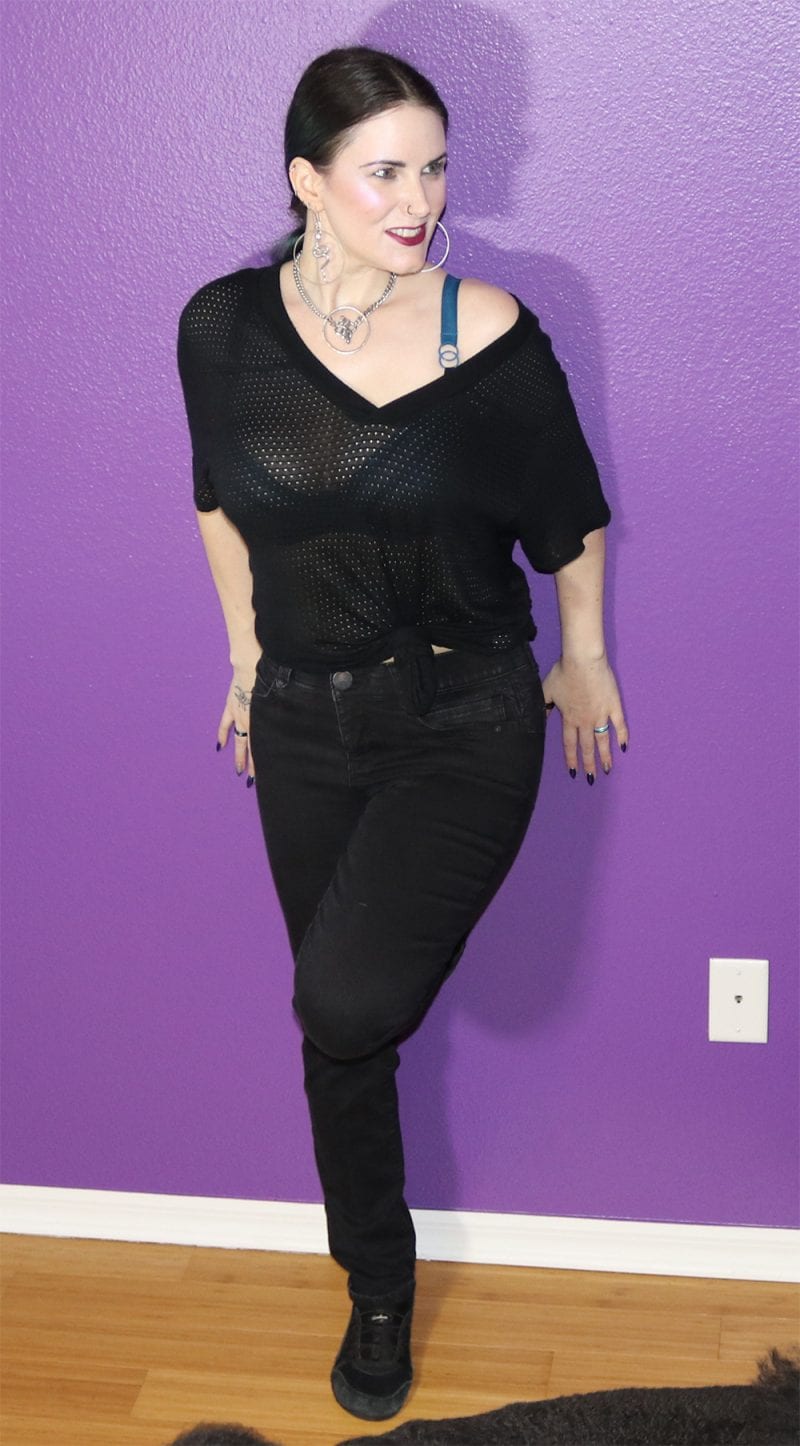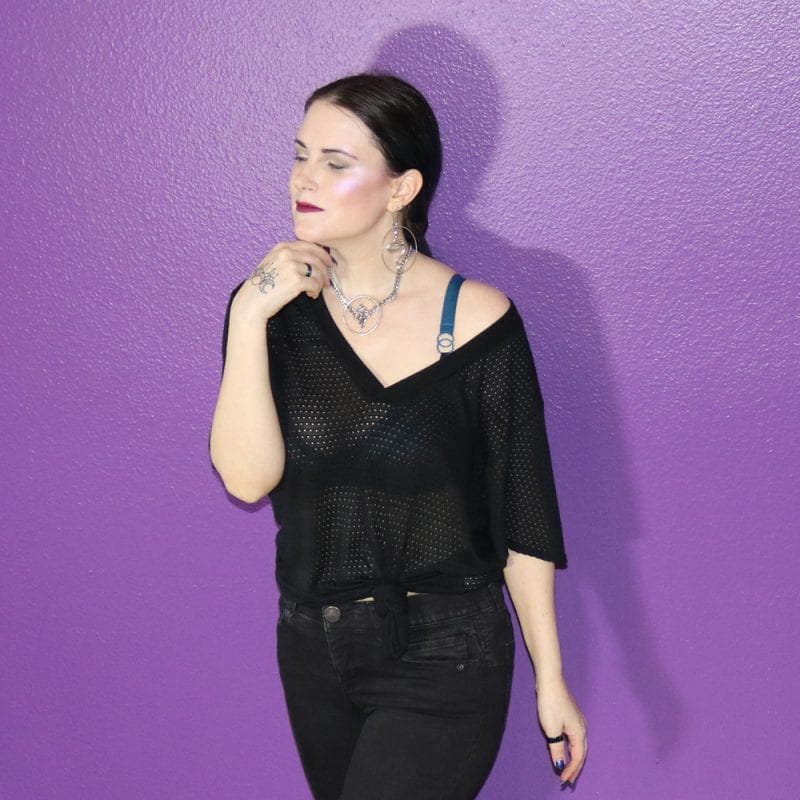 I wanted to show how nice the Marsté jersey looks with jeans, too.  I  have it loosely knotted again at the waist. This is like 1 of 2 pairs of jeans I own. Since I changed sizes, I didn't replace my jeans. Instead, I doubled down on leggings. I love my leggings with pockets. They're so much more comfortable to wear than jeans.
How to Style the Barcelona Jersey with a Ruched Skirt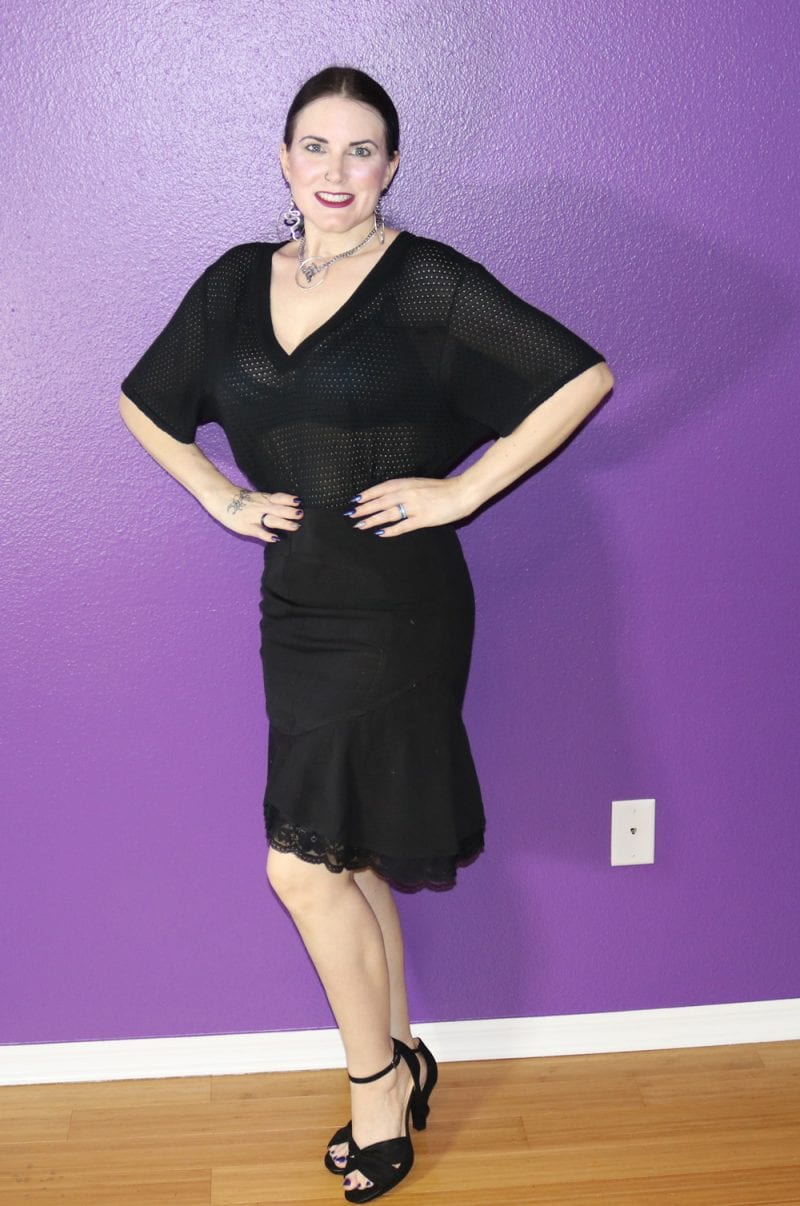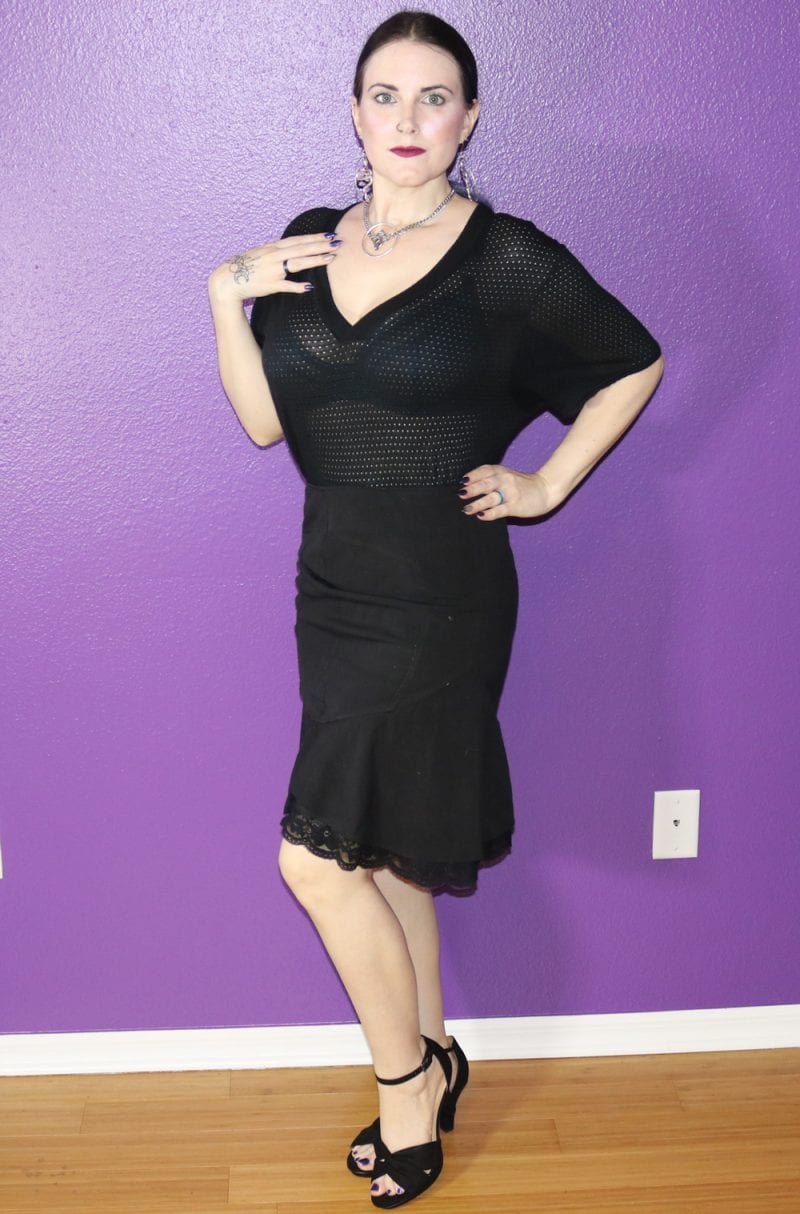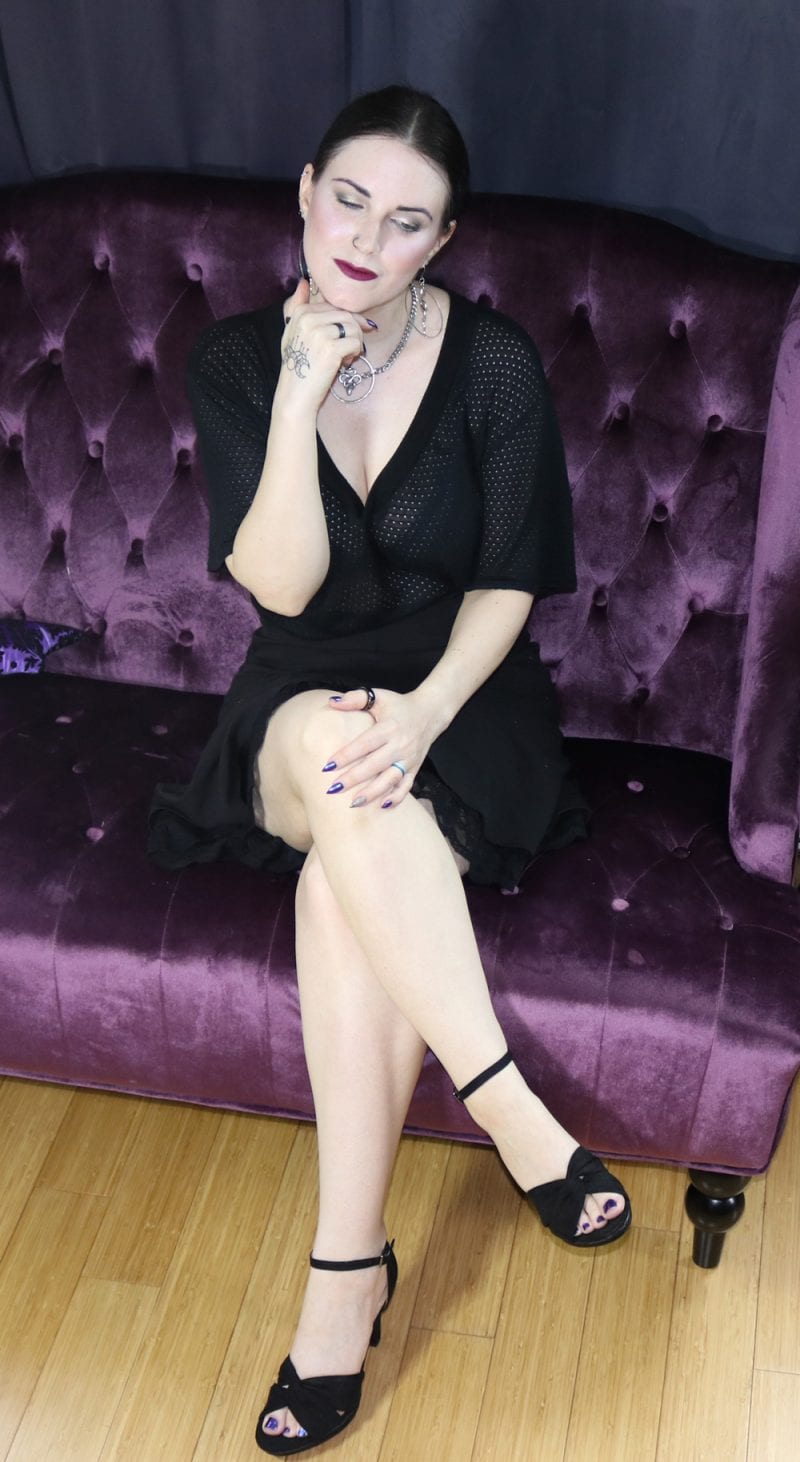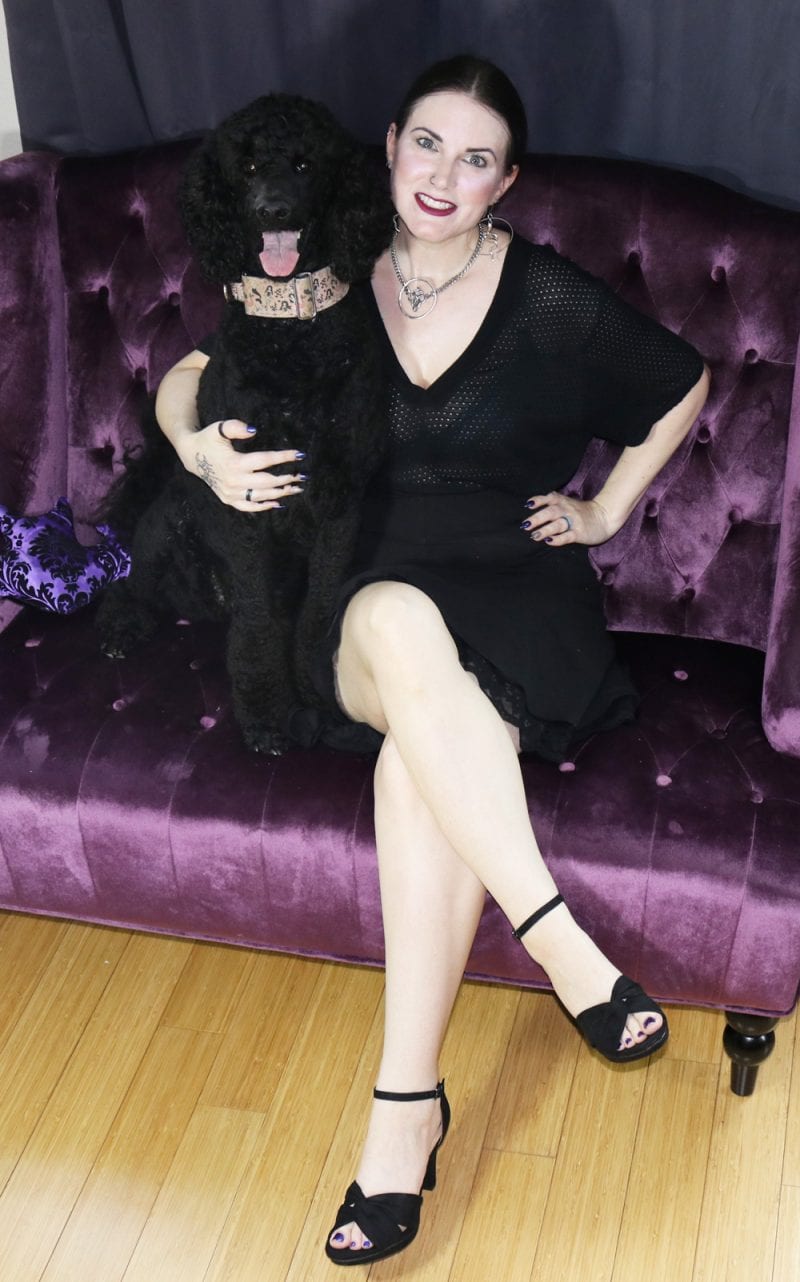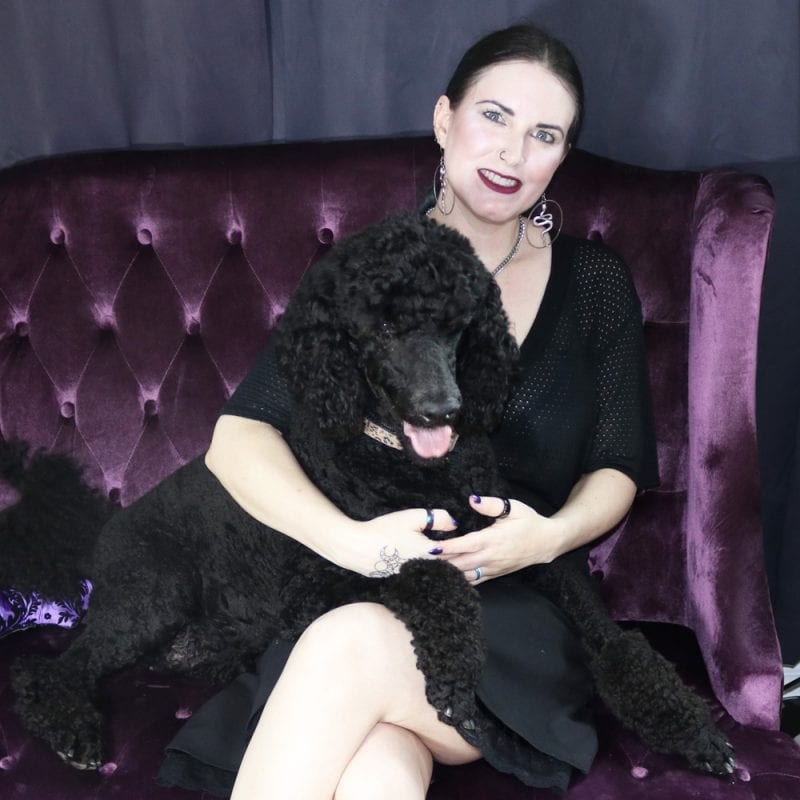 If I'm doing a photoshoot at home, Nyx always has to be involved. She is my velcro dog, right by my side. She loves the Barcelona jersey too, as you can tell! I looked at the Marsté website to get ideas on how they recommended wearing this shirt. One of Marlena's suggestions was to style the jersey in a way to make it office friendly. She recommended pairing it with a camisole and a pencil skirt, which I don't think I have right now, but I do have a ruched skirt. I think it looks excellent with either a pencil skirt or ruched skirt.
How to Style the Barcelona Jersey with the Bangkok Bodyconi Mini Skirt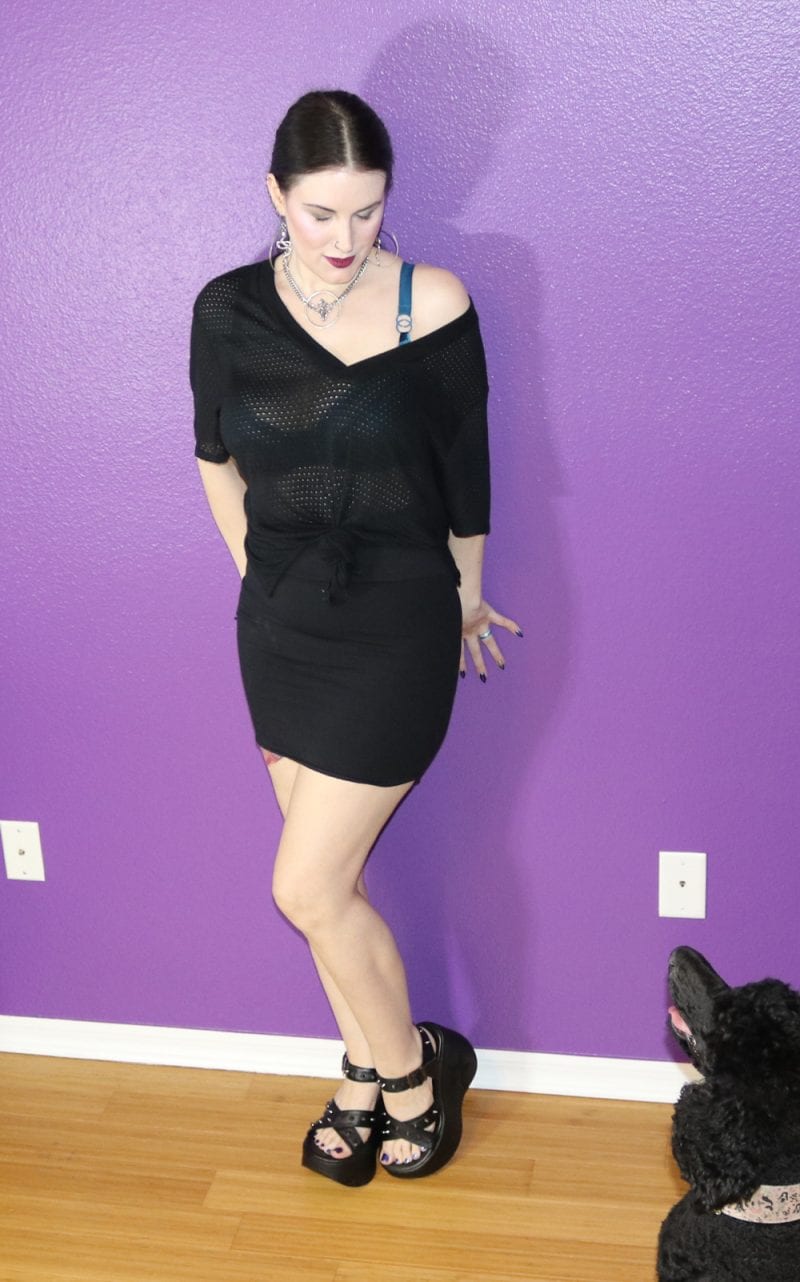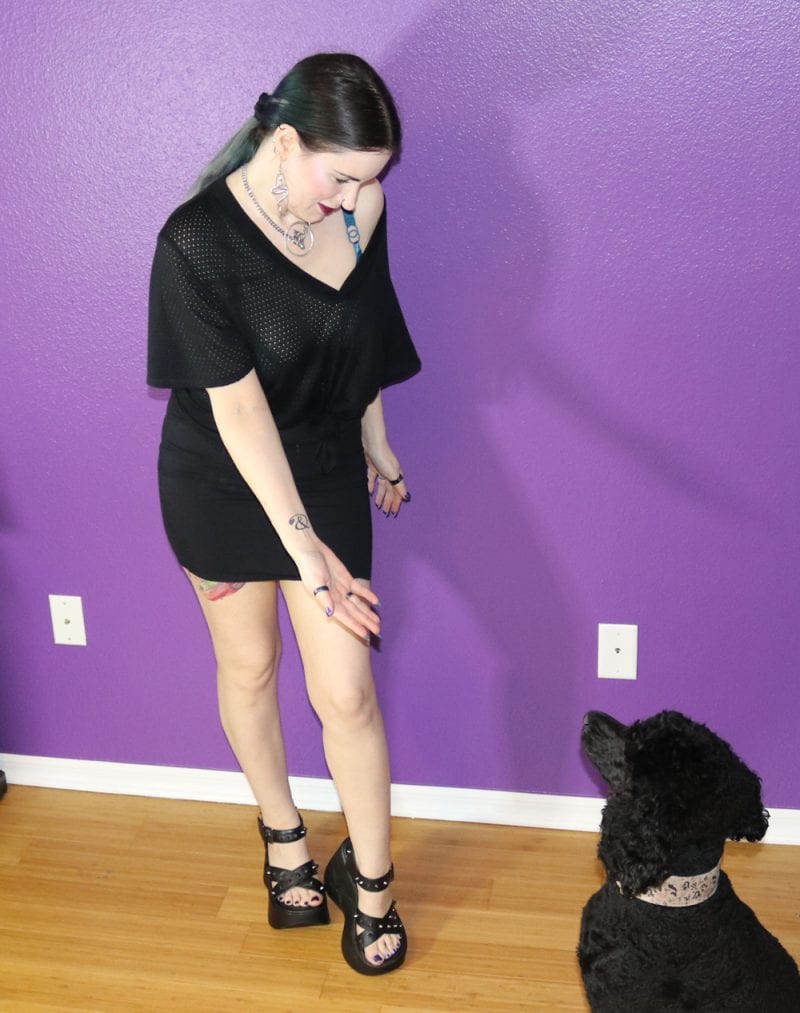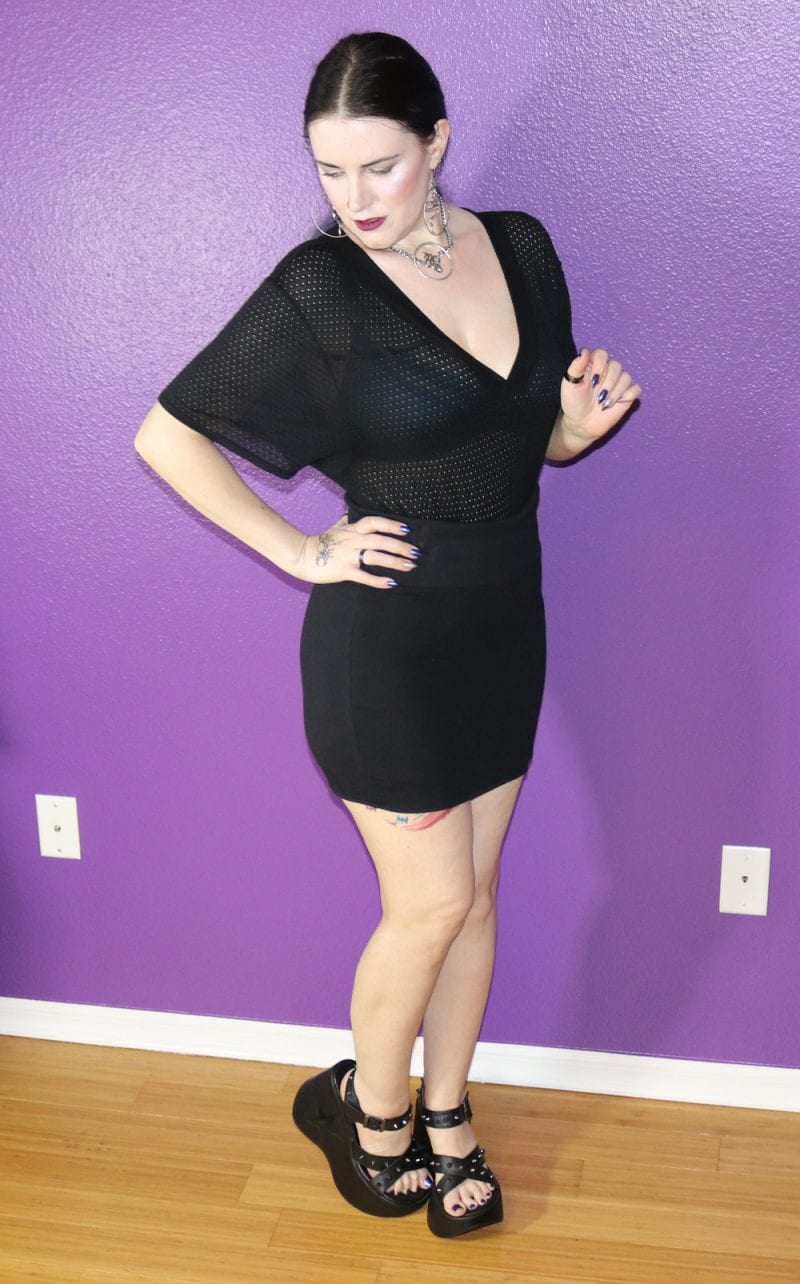 My favorite way to wear the Marsté Barcelona Jersey is with the Bangkok Bodyconi Mini Skirt. It looks really cute tucked in to the skirt (like in the photo directly above) or knotted at the waist (like in the top photo in this set). The Bangkok Bodyconi Mini Skirt is the sexiest skirt I own. I love how fantastic my legs and posterior looks in it. While my Demonia Dark Party Wedge Sandals may not be your style, I think this outfit would look good with your favorite pair of stilettos or booties too.
Poodles & B-Sides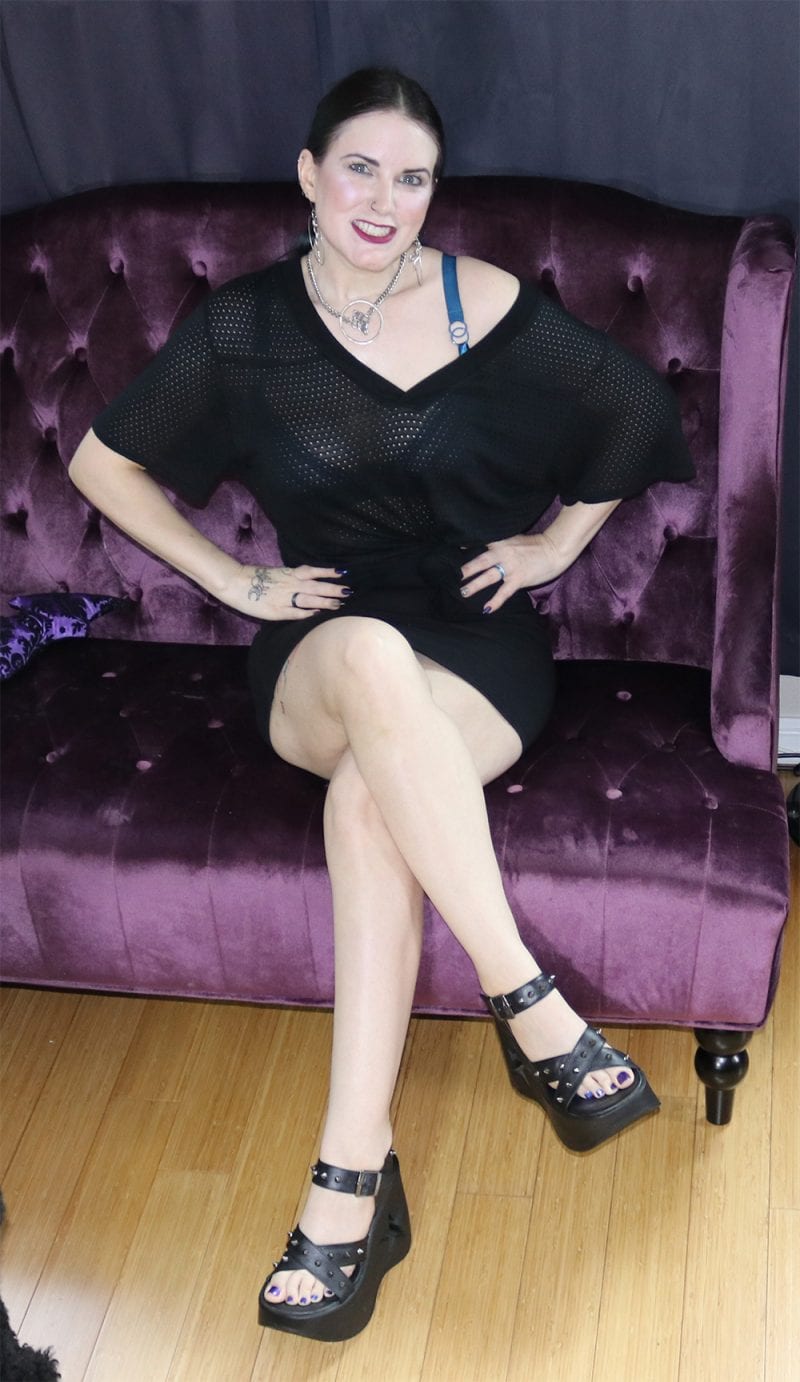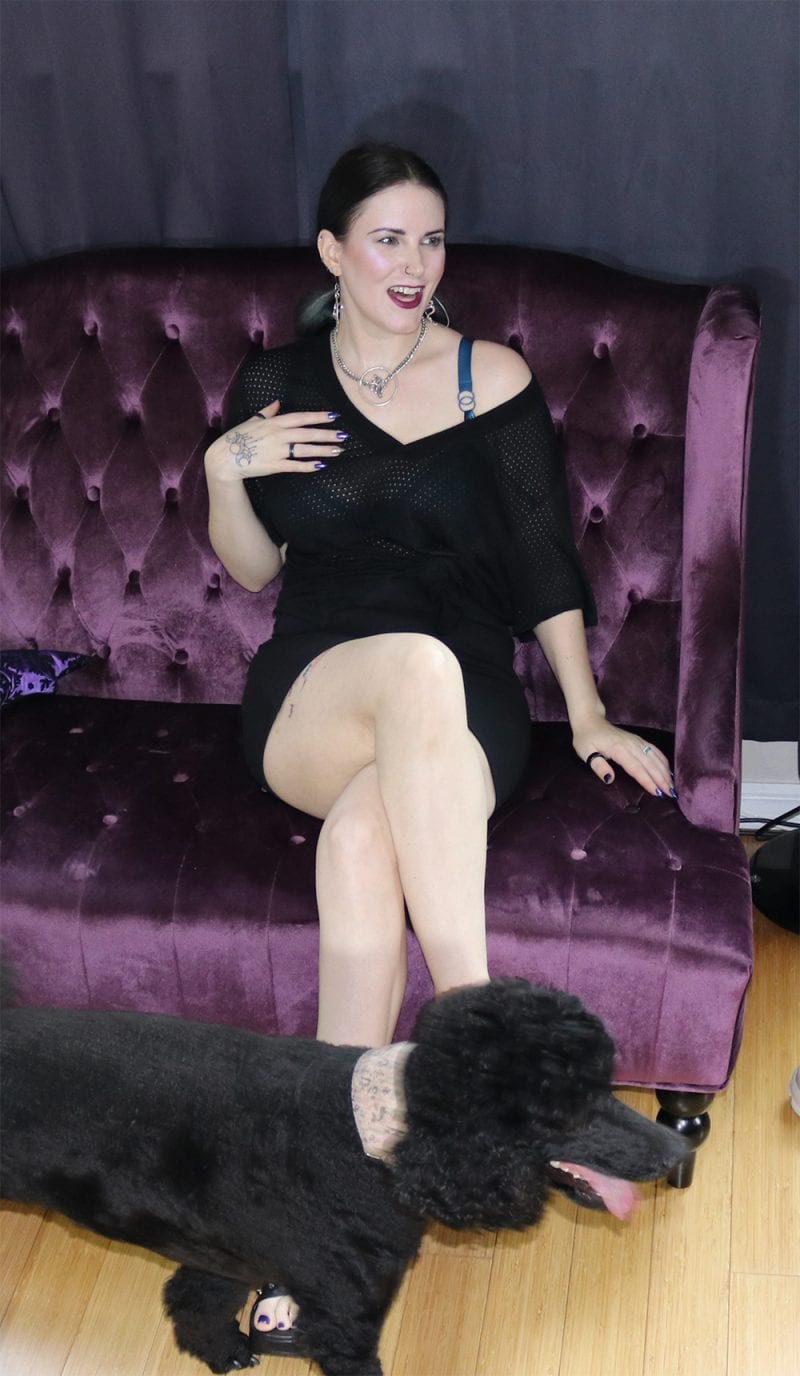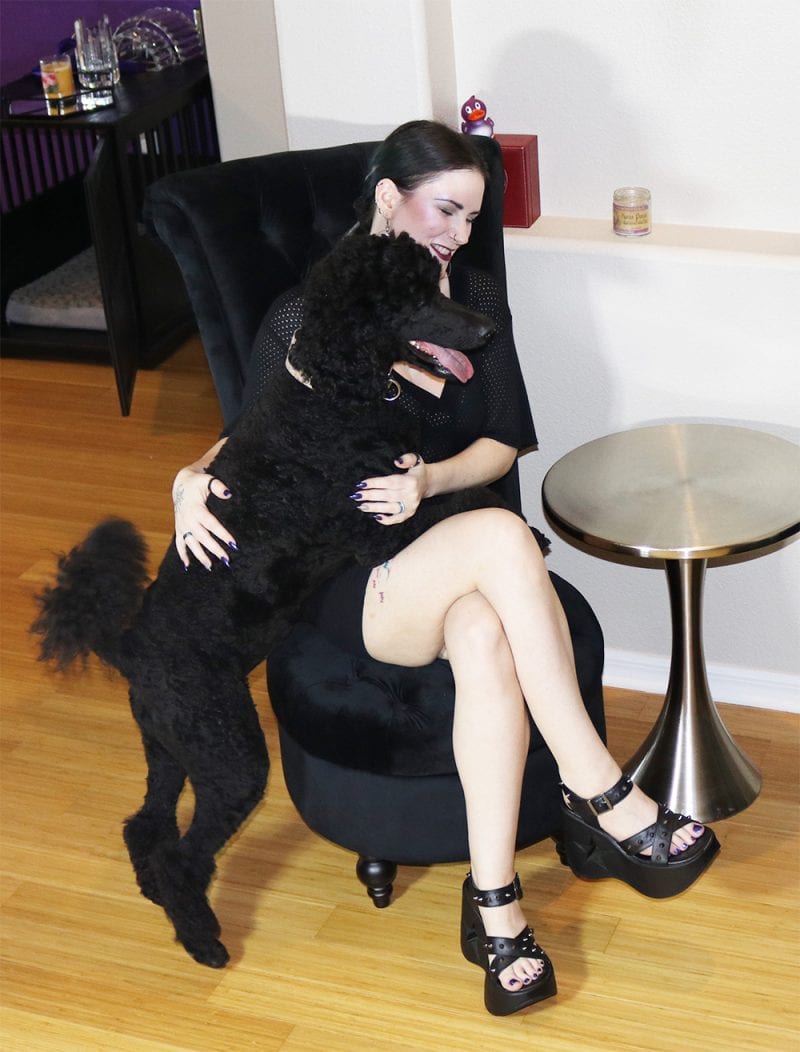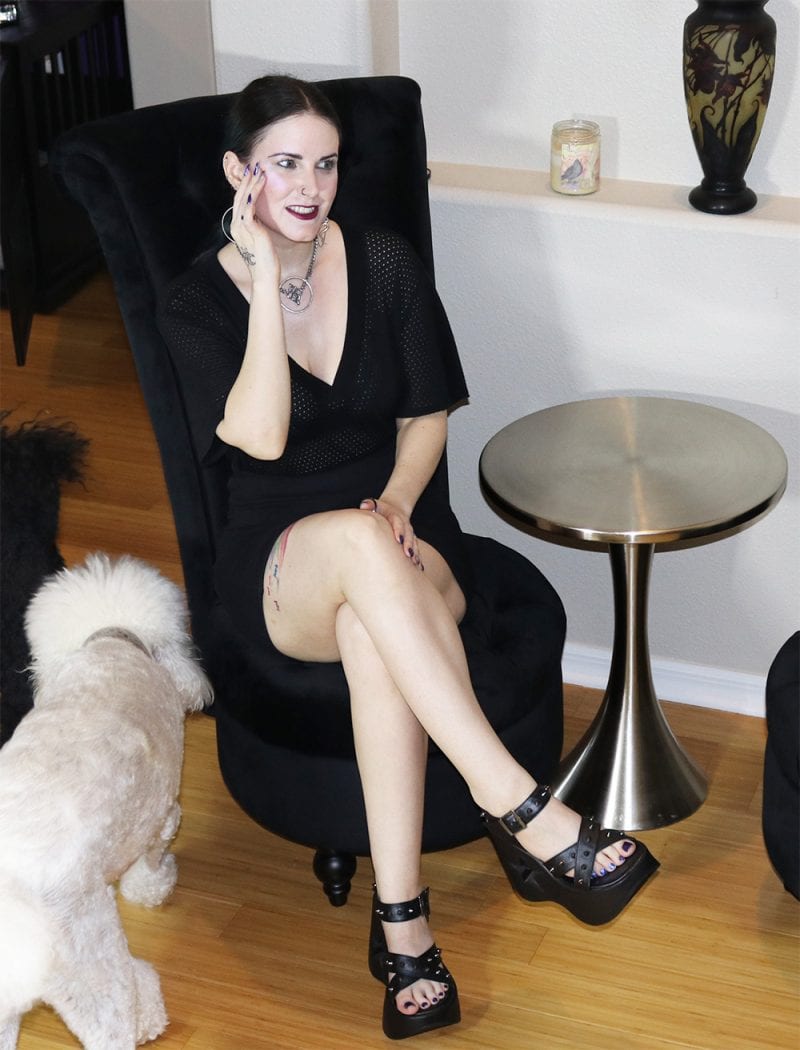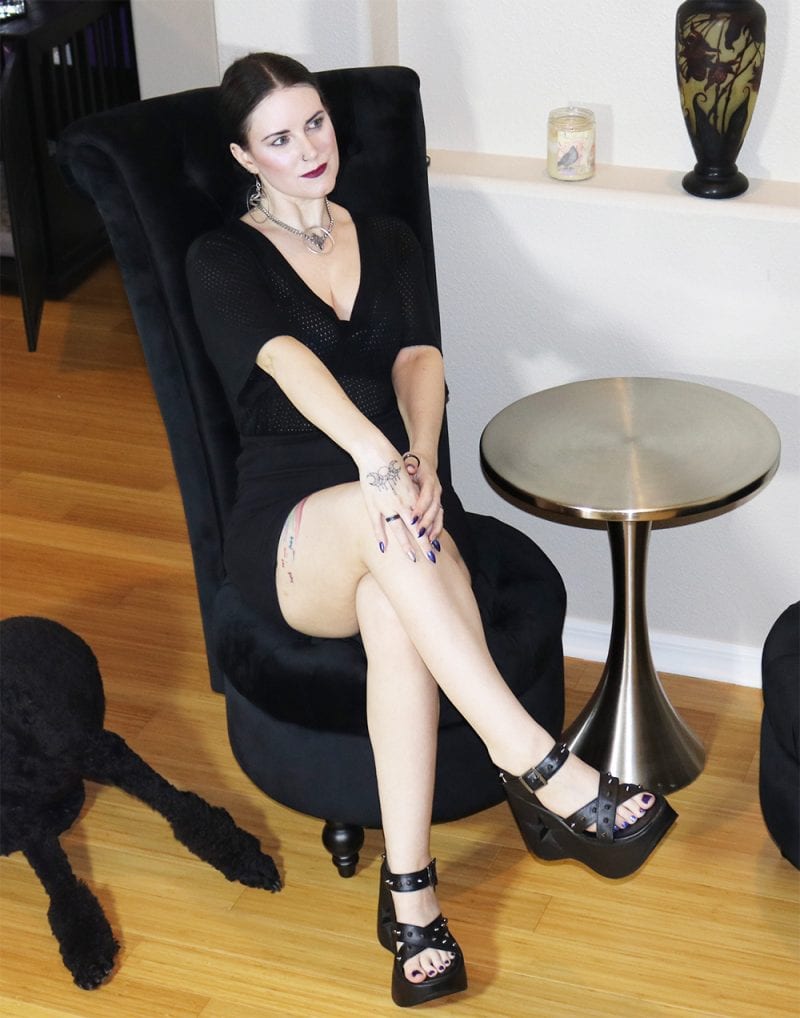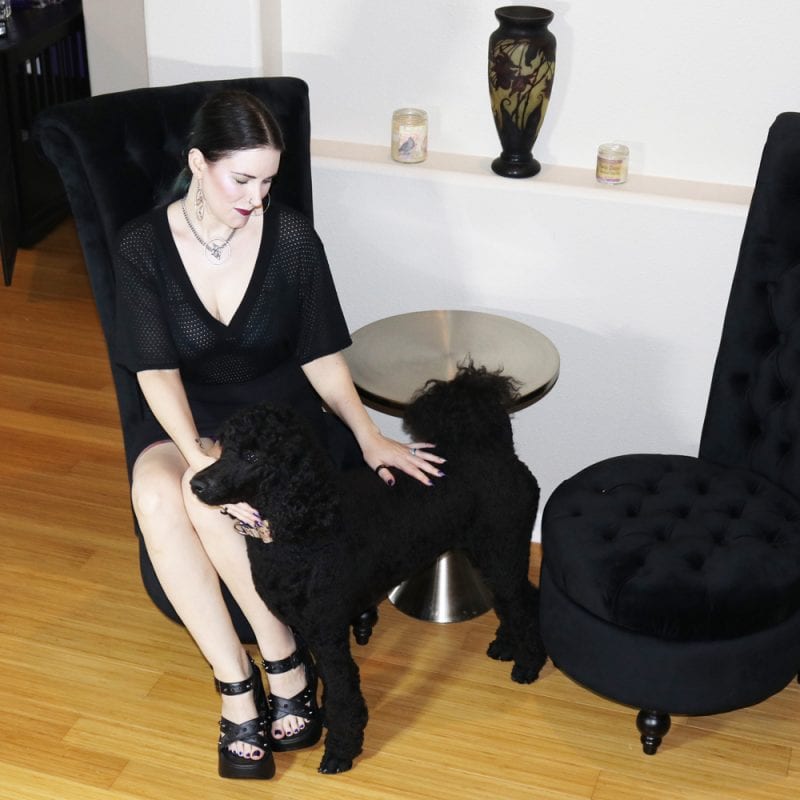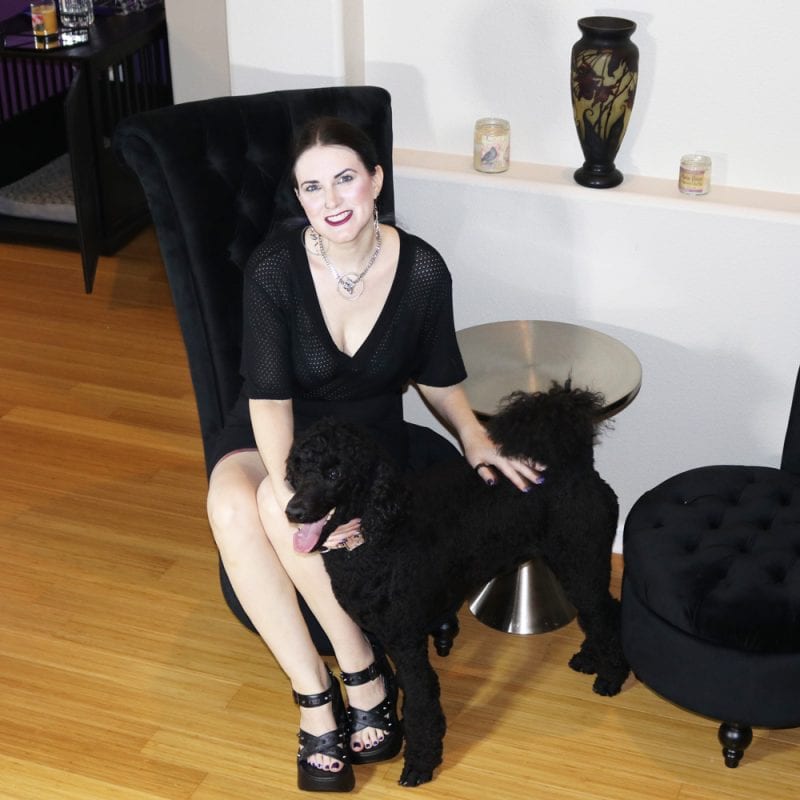 Phaedra and Nyx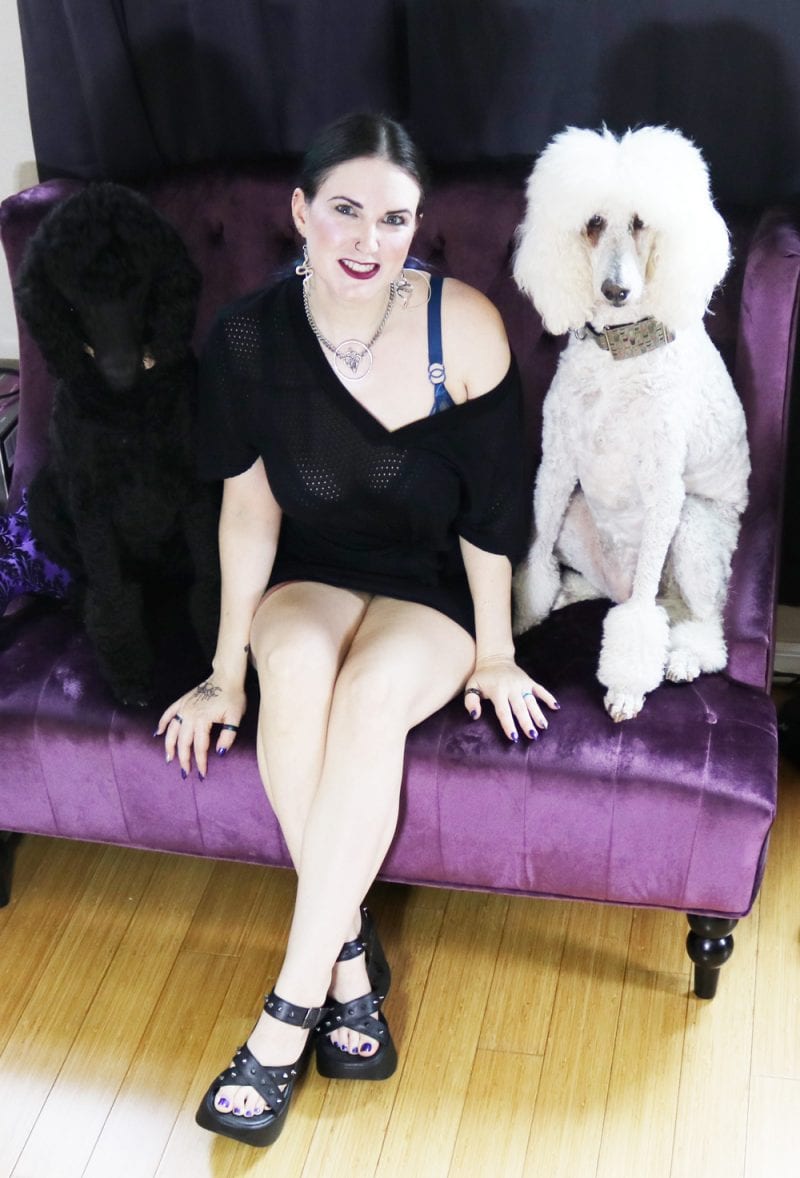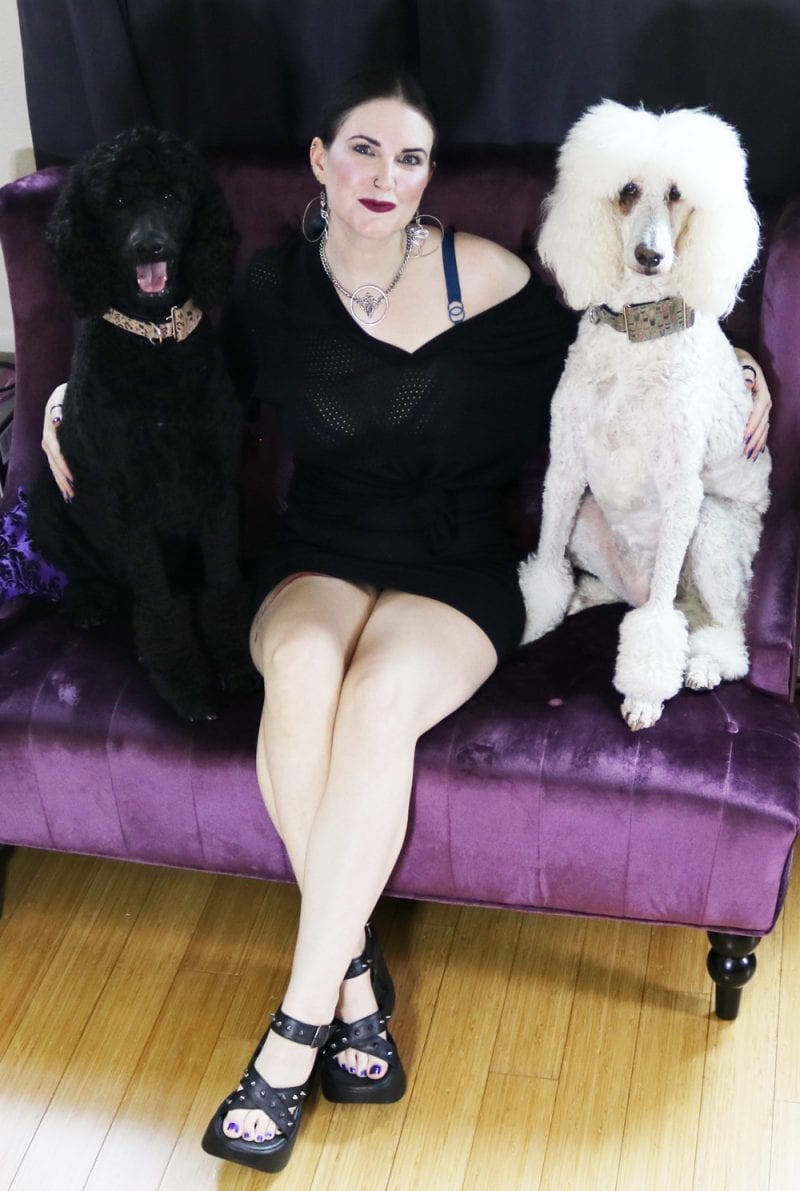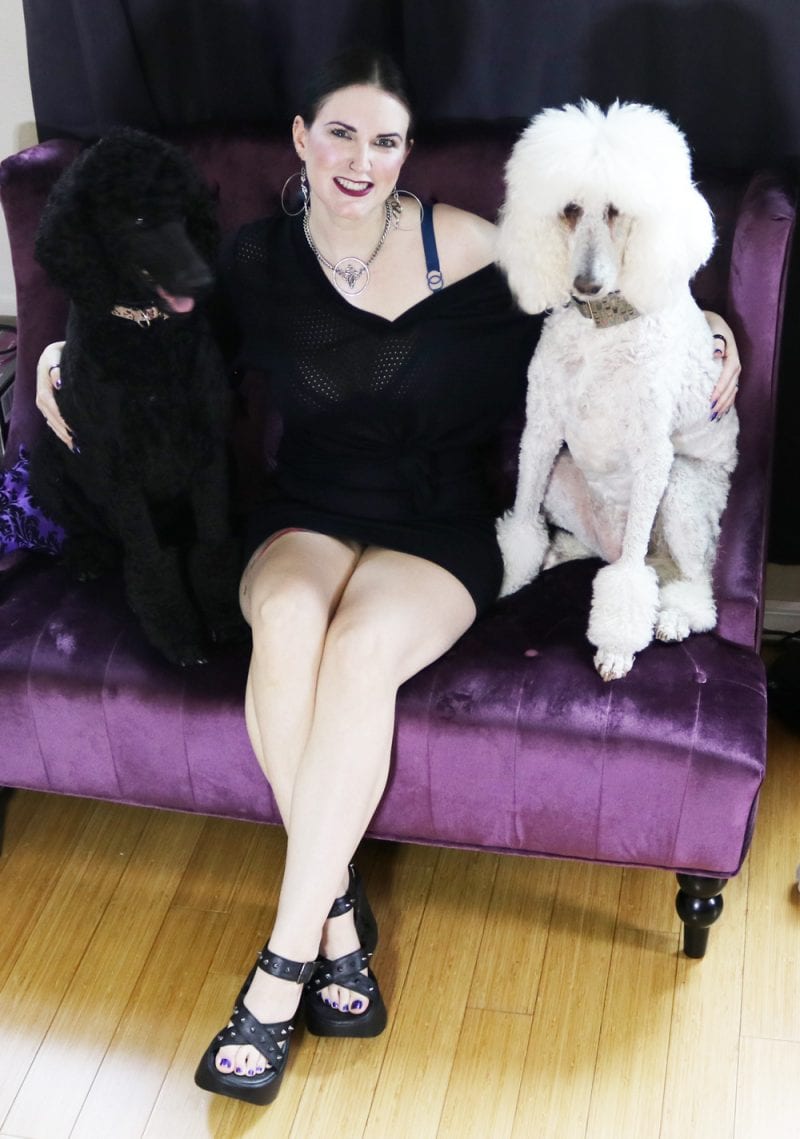 It's very rare I can get the girls to sit on either side of me like this and pose for photos. With Ray's help I was able to get them to take a few photos with me while wearing my favorite combo of the Marsté Barcelona Jersey with the Bangkok Bodyconi Mini Skirt.
A few other suggestions on ways to wear this shirt. My friend Lilah from the PhyrraNyx Facebook Group pointed out it would make an excellent beach cover up. I've also used the shirt as a sleep shirt because it's so soft and comfortable. I also think you could dress it up with jeans if you put on a really cute pair of heels. I think it would also look great with my faux leather eyelet skirt.
Marsté Fashion Sale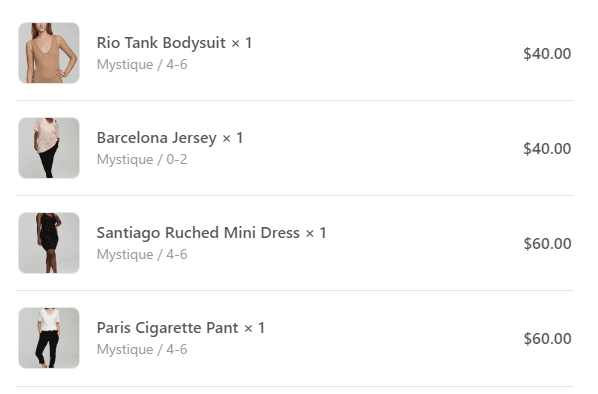 And we're in luck because Marsté is having a 40% off sale for the 4th of July! So I just ordered a few more things.
Marsté Fashion Review
Marsté Fashion Key Features
Made in the USA in L.A.
Fair Trade Ethically Made Fashion
Catering to sizes 0-22
Clothing in staple colors to work for every wardrobe
I've worn my Marsté fashion pieces tons of times over the past 2 months and they've been through the wash many times with no issue. I also have a Sydney Icon Tee from the collection. No fraying, pulling, seams or any issues with any of my items. I'm very happy with the quality of the products. They are so freaking comfortable! I love the modal material used to create many of the pieces. I really enjoy how the skirt especially stretches around my curves.
I really appreciate the fact that Marlena set out to make an all-inclusive (all sizes), fair trade (people being paid a fair wage for their work) fashion brand. I love the minimalist, classic silhouettes of many of the Marsté pieces. I can see many of the pieces working for most people's wardrobes as staple items. For example, the way I wear the Marsté Barcelona Jersey with the Bangkok Bodyconi Mini Skirt, I make it fit my personal gothic fashion style by pairing it with Demonia Wedge Sandals and Medusa snake jewelry.
Also, I think it's fantastic that the have color names like Mystique (black), Love Story (blush pink), Essence (beige), Bloom (grey), Goddess (white), Thrive (green camo), Charisma (grey camo), Echo (deep grey), etc.
One of the things I love about Marsté is that they don't have a separate plus size section, all sizes are in 1 listing and you can switch through different models. It always frustrated me when I was plus sized to find something I liked and then have to go find the plus size version, like how they do on Hot Topic's website and other websites. I really love that they have everything all in one place.
I've wholeheartedly loved my Marsté Barcelona Jersey and other fashion pieces. I hope you found my how to style the Marsté Barcelona Jersey inspiring. I want to inspire you to experiment with your wardrobe and find new ways to wear things. How would you style this jersey?