Going on a Makeup Low Buy
Fam, I am going on a makeup low buy for the next few months. I have been a beauty blogger for almost 12 years, since May 2008. I started blogging as a creative outlet and a fun hobby, a way for me to share my love of makeup. At that time, there weren't a lot of bloggers who blogged about indie makeup or who shared my pale skin issues. That made me want to start blogging. Izzy from Musings of a Muse, Christine from Temptalia and Karen from Makeup and Beauty Blog all three inspired me to start blogging. My friend Brooke from Blushing Noir inspired me to go on this makeup low buy for the next several months with her.
Who are the OG Beauty Bloggers?
I tend to think of Christine, Karen and Izzy the OG beauty bloggers for me. They were 3 of the blogs I read first and they encouraged me to create my own blog. Of course, I also was still on Livejournal at that time. I loved the maceyeshadowsluts community and would look at it daily for inspo.
I LOVE to see makeup inspiration. 12 years later, I still look at makeup inspiration daily on Pinterest  and sometimes Instagram. Even while I'm on a makeup low buy, I will be looking for makeup inspiration daily because it makes me happy.
Makeup Drama
I'm sickened and saddened by the drama in the makeup community. I'm not going to pretend like it was never like this, but I feel like in many ways it has gotten worse. That's crazy. Some people will always be catty, petty bitches. But it does bother me that you have beauty brands out there now looking to take advantage of people and make a quick buck, as well as 'influencers' out there who shill every product that comes their way. I wish stories like the Saucebox Membership Issues were few and far between but I feel like every week there's some new scam.
Add in to that the number of bloggers who have up and quit over the past few years, and I don't blame them. I used to feel like the beauty community was this close knit group of people, but now it seems rare to find genuine and real people who blog. Jen from My Beauty Bunny, Brooke from Blushing Noir, Justina from Justina's Gems, and Miranda from Slashed Beauty are all genuine, amazing people and I adore them.
Who Was My First PR?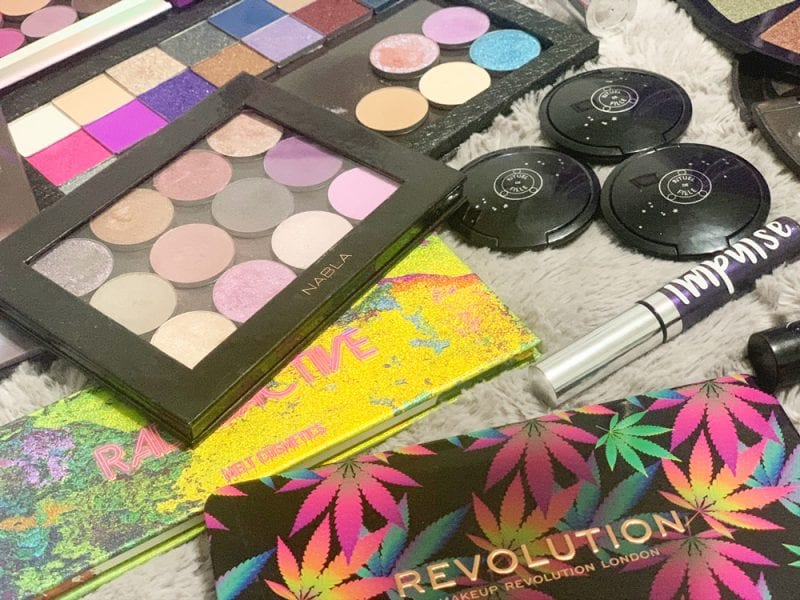 When I first started blogging, I didn't receive PR. Fun fact, the first brand to ever believe in me and send me PR was Urban Decay. This is one of the big reasons that I will always love Urban Decay. Since I started blogging over a decade ago I've gone from receiving tons of PR to turning most of it down because of the strings attached and instead buying most of what I feature on my blog. I've done this so that you know I'm putting my money where my mouth is, and I tell you whether I truly love, hate or feel in-between about things.
No matter what anyone else says, when some brands send you PR, there is an expectation that you will post what they send you ASAP. Some brands wanted me to write reviews for products before I'd even had time to test them (usually skincare brands are bad for this) and I declined. So I only accept PR from brands who let me do things my own way. When I get unsolicited PR, I research the brand and if I don't feel it's a fit for my blog, I don't feature it. When it comes to beauty, I only feature cruelty-free beauty brands.
Disclosure
I've always disclosed on my blog. To this day, it blows my mind that there are 'influencers' who won't disclose. Being honest and transparent is important to me. And I know it matters to you. If you see me say PR next to something or in a blog post, that means it's a PR sample. Otherwise I bought it myself. If you see me say Sponsored, that means a brand paid for me to talk about their product – my real results whether they were positive, negative, or somewhere in the middle. I do not do sponsored positive reviews.
Google Search Traffic
I'm saddened by a lot of changes that I've seen Google make to hurt small bloggers like me. Google is always changing how search works, I get that. Google prioritizes bigger magazine sites like Allure and Refinery29 over blogs in search, even when they have 'thin content' for the results. An example of this would be, say Urban Decay announced a new eyeshadow palette launch. Allure will make a post on their website saying 'new ud palette review + swatches' and just say 'this is what UD teased, everything else coming soon' and then they'll be first in Google Search for that topic. By the time a small blog like myself gets that palette and does a review and swatches, my blog post is buried in the search results by sites like Allure who have the review up first, even if it's not a real review by most people's standards.
Google also takes 'rich snippets' from blog posts of mine, shows that information in Google search, and then people don't click through to read my blog post. This has caused a 60% decline in traffic to my blog over the past year and a half. It's made me depressed and sad to see this happen, despite the amount of money and time I invest into my blog. This is genuinely why I think about quitting blogging.
Why I'm doing a makeup low buy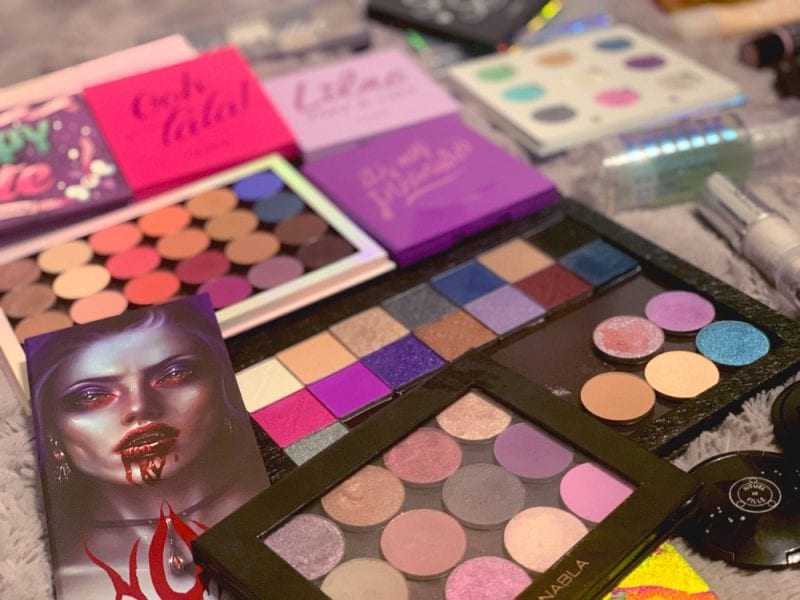 I'm doing a makeup low buy because I cannot afford to keep purchasing all the things everyone wants to see me buy, review, swatch and create tutorials with for my blog. I just can't. And I don't want to go into credit card debt trying to buy everything to swatch, review and share. No one should go into credit card debt for makeup. I also own a ton of makeup. I own so much makeup I could completely make over an entire army!
Additionally, since makeup is my hobby I have spent so much money on it over the past decade. I want to be able to save money for other things, like vacations and home improvements. In my new home I have so many things that I want to update and make it feel more like me. Spending less money on makeup means I get to have more awesome experiences like my trip to Scotland for Jen's wedding! And uhm, it means more money for my tattoo habit.
Shop My Makeup Stash First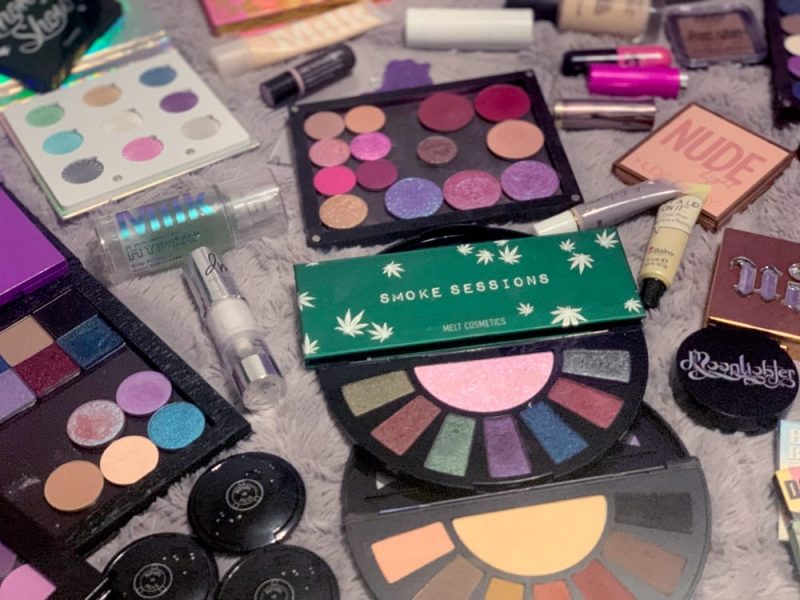 I am going to shop my makeup stash! I have so much amazing makeup that I never get to use it all. I want to enjoy my current collection of makeup.
I also am sick of limited edition bullshit. It feels like almost everything that comes out is LIMITED EDITION so you feel pushed to buy it right away or have FOMO (fear of missing out). And I'm tired of buying things because of FOMO.
I am sick of the beauty community pumping out low quality releases. By continuing to buy the lower quality limited edition releases that come out every week, I'm encouraging brands to continue that behavior. I want to see brands create curated, high quality releases, less frequently.
Finally, I feel like I am hovering on the border of becoming a makeup hoarder. A 3 month makeup low buy is important to me to help me reset myself so I stop wanting to buy all the things. And I hope that by doing a makeup low buy, it will be encouraging and helpful for those of you who want join me on a low buy or no buy.
I kind of look at this like I did when I first started keto. I had to make some pretty extreme changes to my life so that I could learn how to eat healthy and feel better, but I've been doing it for a year and it's now easy for me to maintain. My hope with the makeup low buy is that it will work in the same way.
PR  & Sponsored Content
I don't think this makeup low buy will be easy for me because I do love shiny gorgeous duochrome / multichrome makeup. However, I do think Spring is probably the easiest time for me to do a low buy (or if I was brave enough a no buy) since a lot of spring releases are boring and not to my taste.
I will still be accepting PR and reviewing it from brands I truly believe in. I will still do the occasional sponsored post, because I use that money to invest in my blog and help pay some of the bills. It's a damn good thing I never became a full time blogger and tried to live off of what I could make off of my blog, because I'd starve at this point.
My Makeup Low Buy Rules
Before I buy a new thing, I am making a few rules:
I have to swatch everything I own that is similar to what I'm lusting after to discern if it is unique enough for purchase.
I am allowed to replenish daily staples once they're gone.
I can replace products I pan. Replacement doesn't have to be exact but should be same product category.
Products I destash does not count as me panning a product.
I am allowed to buy 3 times a month max. If I don't use those, they can roll over to the next month.
I have to tell you if I break my low buy.
My friend Brooke from Blushing Noir talks about her 3 month no buy here. Renee from Getting Fit Fab is doing a 4 month no buy here!
When will my makeup low buy end?
I will end my makeup low buy on April 2, 2020. At that time I will reevaluate how I feel to see if I want to do another 3 month low buy, or try a no buy.
But How Will You Create Content?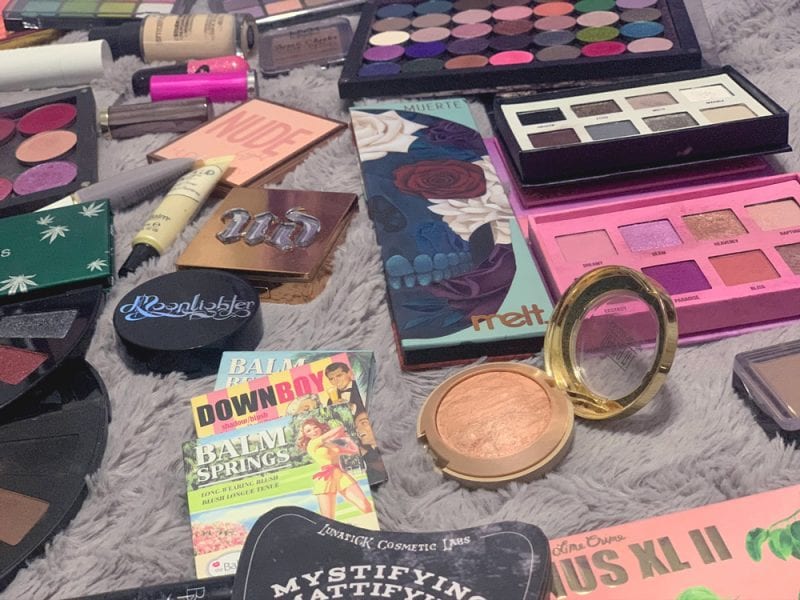 I own so much makeup that I am confident that I can create amazing content for you without buying new things. I can do a week's worth of looks with X palette, or an infinite number of duochrome makeup tutorials, since I'm hooked on those lately. Or share my favorite Black Lipsticks. There's plenty of content to be made from shopping my makeup stash, as well as my closet. Please make sure you leave a comment here or reach out on Facebook to request a tutorial, review, or something else from me!
Have you ever done a makeup low buy or no buy? Will you be joining me on my journey?