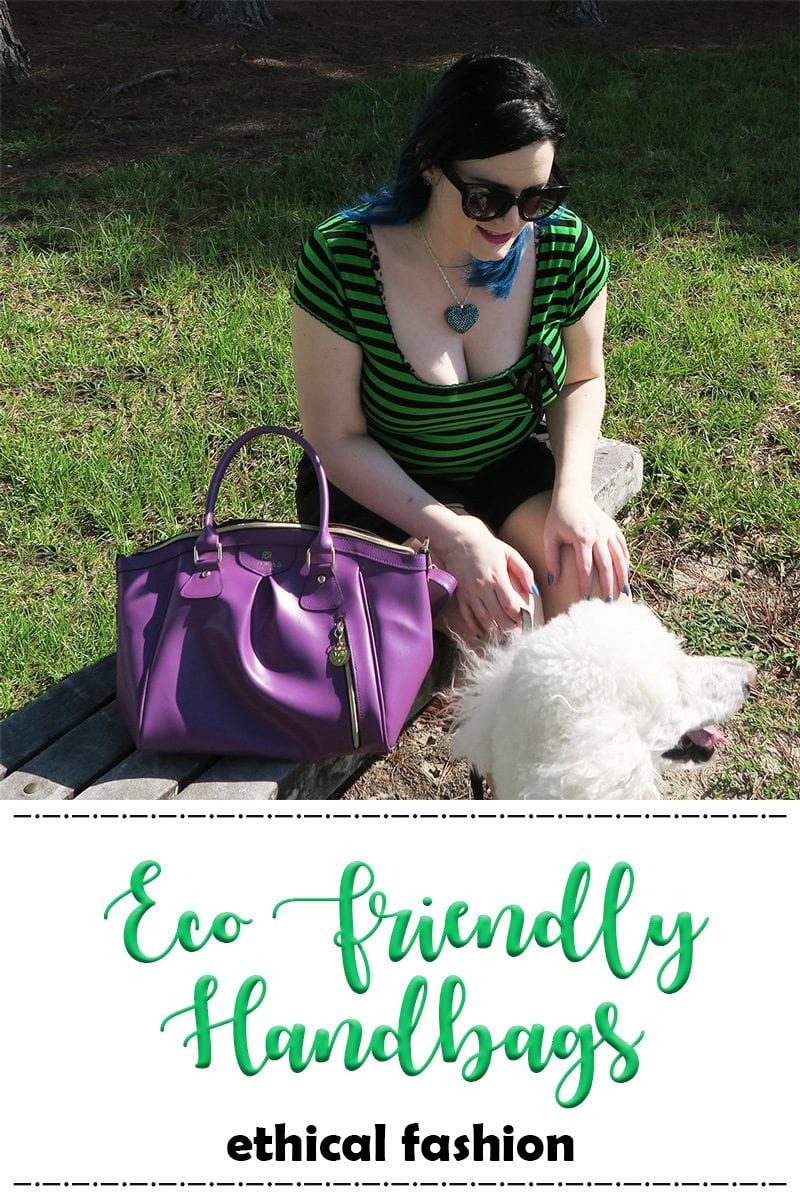 With Earth Day just around the corner, I wanted to talk about Eco Friendly Handbags: Ethical Fashion. Much like I'm serious about cruelty free beauty, I've become passionate about vegan fashion. It's important to me that the handbag I carry didn't come from harming an animal. So I'm sharing some of the great eco friendly handbags currently available.
Update January 2018 – I do not recommend Gunas! Click Here to find out why here!
I received a blogger discount on the Gunas Madison. Purchased by me.
Eco Friendly Handbags: Ethical Fashion
Gunas
It's no secret that I love Gunas handbags. I own several of them. Gunas eco friendly handbags are 100% free of animal by-products. A.k.a. they're vegan. They're made from vegan leather, vegan suede, up-cycled polyester, eco-polyurethane, nylons and coated canvases. They use up-cycled upholstry fabrics and vintage materials. They experiment with new materials like cork, rubber and pinatex. They recycle metals to create the logo hardware. Gunas lining fabric is made from up-cycled cotton canvas or recycled plastic bottles. Gunas promotes conscious consumerism, which is one of the many reasons why I love them.
I've had my Madison, one of their most popular bags, for about a year. It shows no signs of wear. I recently carried it at the Makeup Show Orlando and it was perfect for holding all of my stuff – camera, microphone, notepad, wallet, cell phone, makeup bag, etc. I also have the Naomi, Rockstar (discontinued, see my review), Cottontail (see my review), and Koi. I've been asked to do individual reviews on my Koi, Naomi & Madison. I've got a bunch of mini reviews including the Gunas Madison and Urban Junket Lauren here.
Many of the Gunas bags are made to look like very expensive non-vegan bags, such as Chanel or Hermes Birkin.  I would love to see Gunas make holographic and iridescent handbags in a style similar to the Koi.
Right now Gunas has an Earth Day Sale special. From April 21st through April 23rd use the code EARTH25 to get $25 off orders over $100.
Urban Junket
Urban Junket makes uniquely styled eco friendly handbags with everyday functionality. They're created from 100% coated cotton canvas manufactured with azo-free dyes. The lining is made from recycled polyester spun from recycled plastic bottles. Tracy, the founder, wanted to create a brand that made laptop bags, handbags, accessories and bags with chargers for women that are stylish and functional.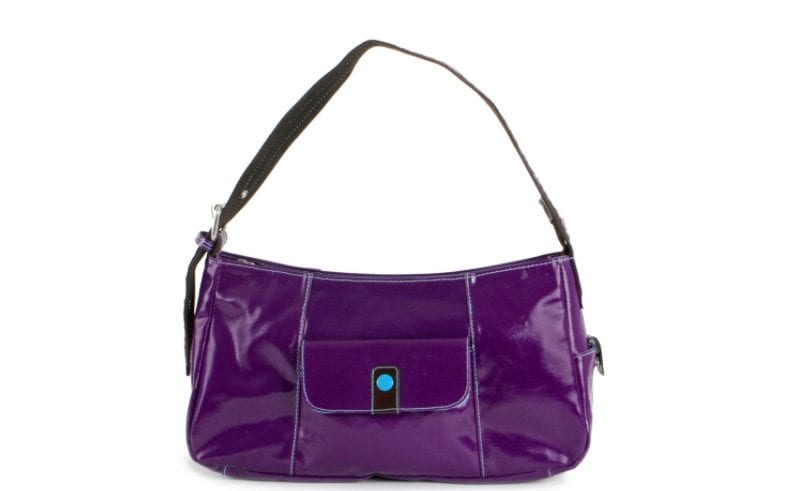 I have one Urban Junket bag, the Lauren Hobo.  I like it but I don't 100 love it. Some of the buttons on it are annoying, I don't like the brown trim (it would look better in black), and it's slightly too small for what I like to carry with me. The violet color is great and the interior lining is a gorgeous bright turquoise blue.
Krochet Kids
Krochet Kids provides a job to women in Northern Uganda and Peru to help lift themselves and their families out of poverty. They educate and mentor the women they hire who make their handbags. The women who make the bags sign each bag. They crochet bags and use vegan leather.
Freedom of Animals
Freedom of Animals eco friendly handbags are made in the USA using green facilities and local production. They use post-consumer polyurethane and organic cotton to create bags that feel as soft as leather but are sustainable.
Matt & Nat
Matt & Nat believe in a simple motto of Live beautifully. The name is short for Mat(t)erial and Nature. They don't use any leather or animal-based materials when creating their eco friendly handbags. They experiment with recycled materials like nylons, rubber, cork and cardboard. They make their linings out of 100% recycled plastic bottles. They also have started incorporating recycled bicycle tires into their collection.
There are so many great eco friendly handbags available today that weren't around 10 years ago. It's easier than ever to shop for vegan handbags. What do you look for in a handbag?