Hello, beautiful people. Today I'm sharing my Devinah Fairy Fire look. I'm currently obsessed with this indie multichrome eyeshadow! It doesn't have an official shade description but here's what the brand says about it: brings you the most magical color from their pixie flames. The base is sheer, which makes Fairy Fire an excellent topper, inner corner pop, or if you're daring, intense cheekbone highlight.
I am, of course, daring, so I tried Fairy Fire everywhere!
Where to Buy
Devinah Cosmetics
Devinah Fairy Fire Look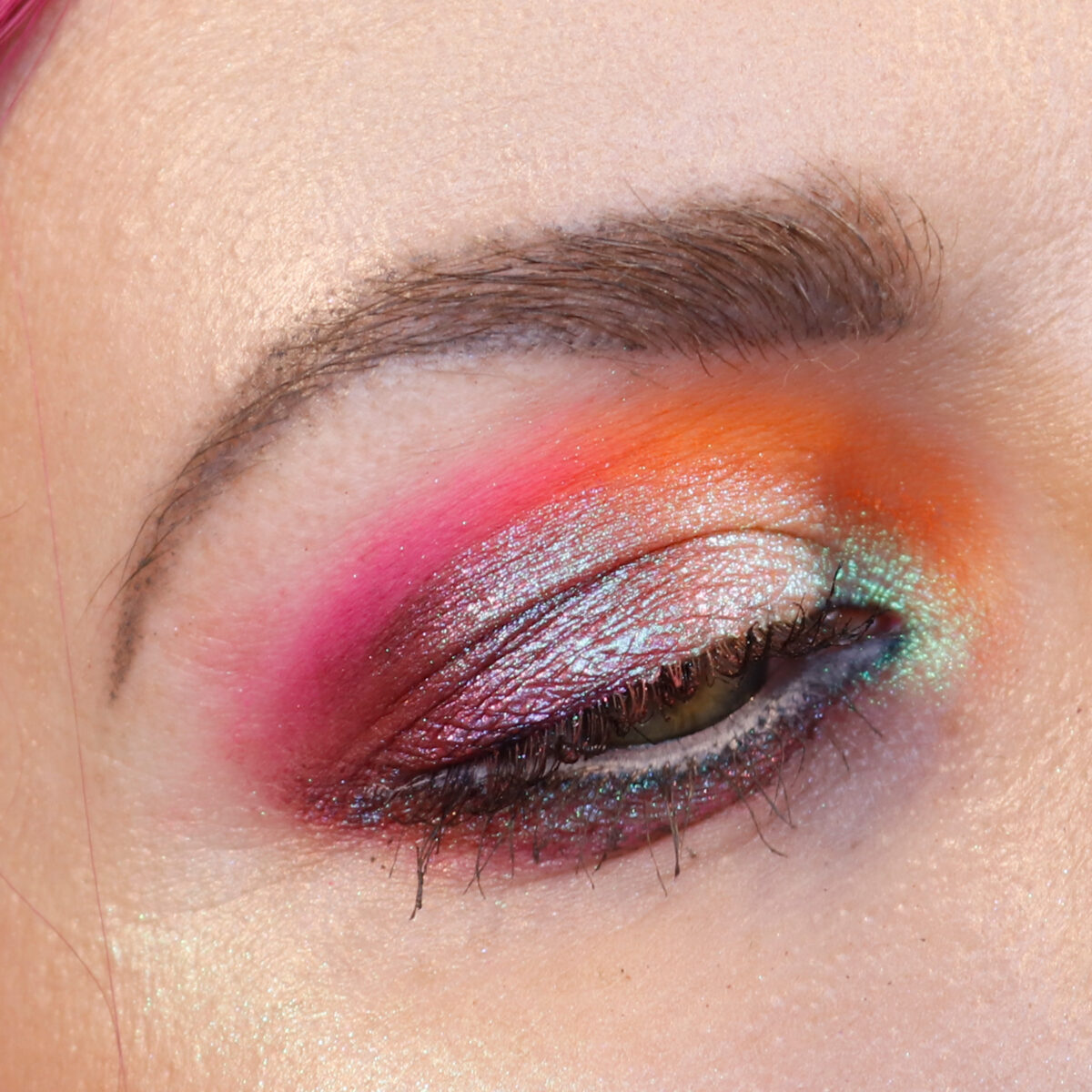 I included the above photo to show how the hoods of my eyes do fall onto my mobile lid. I had someone again say I couldn't have hooded eyes because you can see about 1/3 of my inner lid. Hooded eyes vary in shape! If you're wondering if you have hooded eyes, check out my guide Do I Have Hooded Eyes?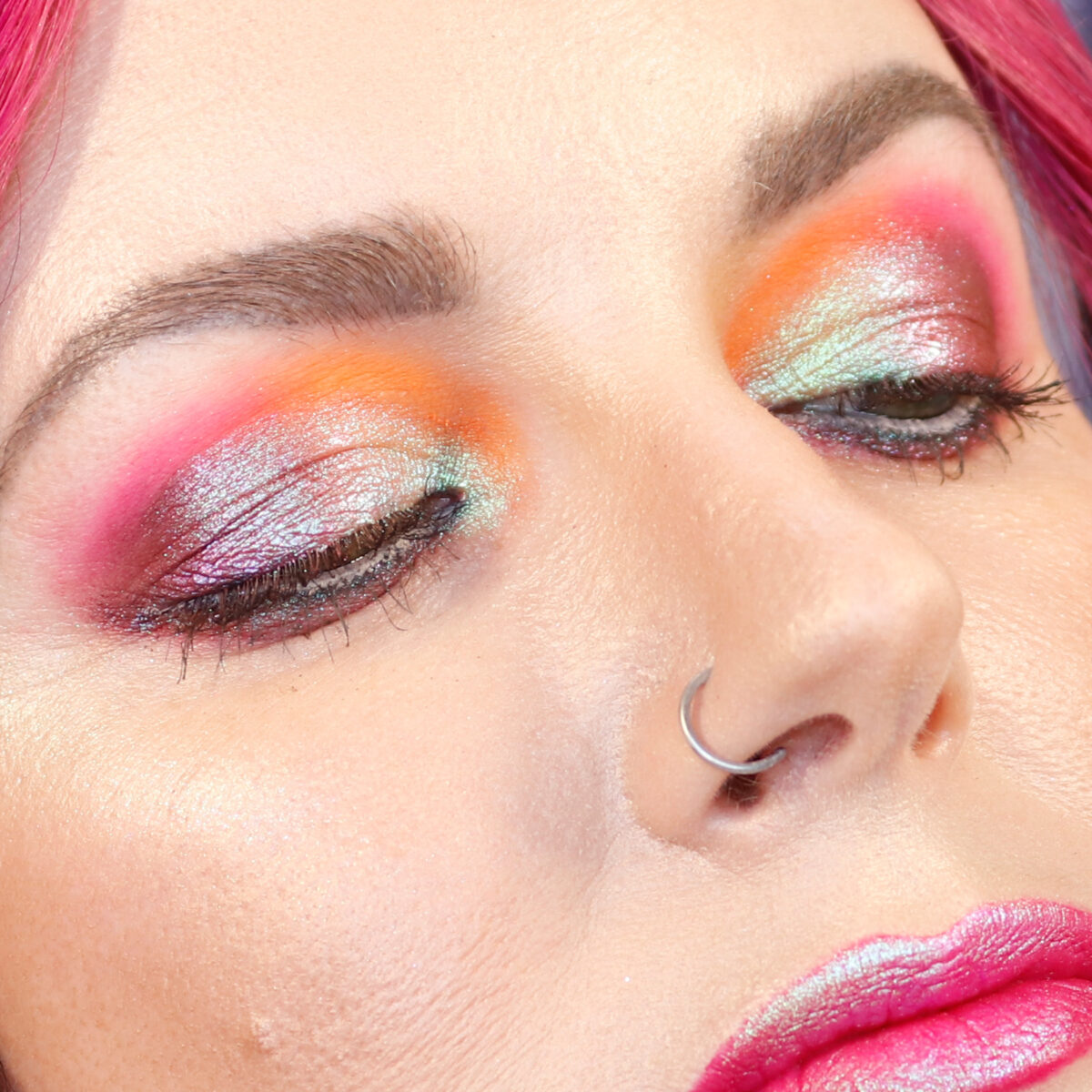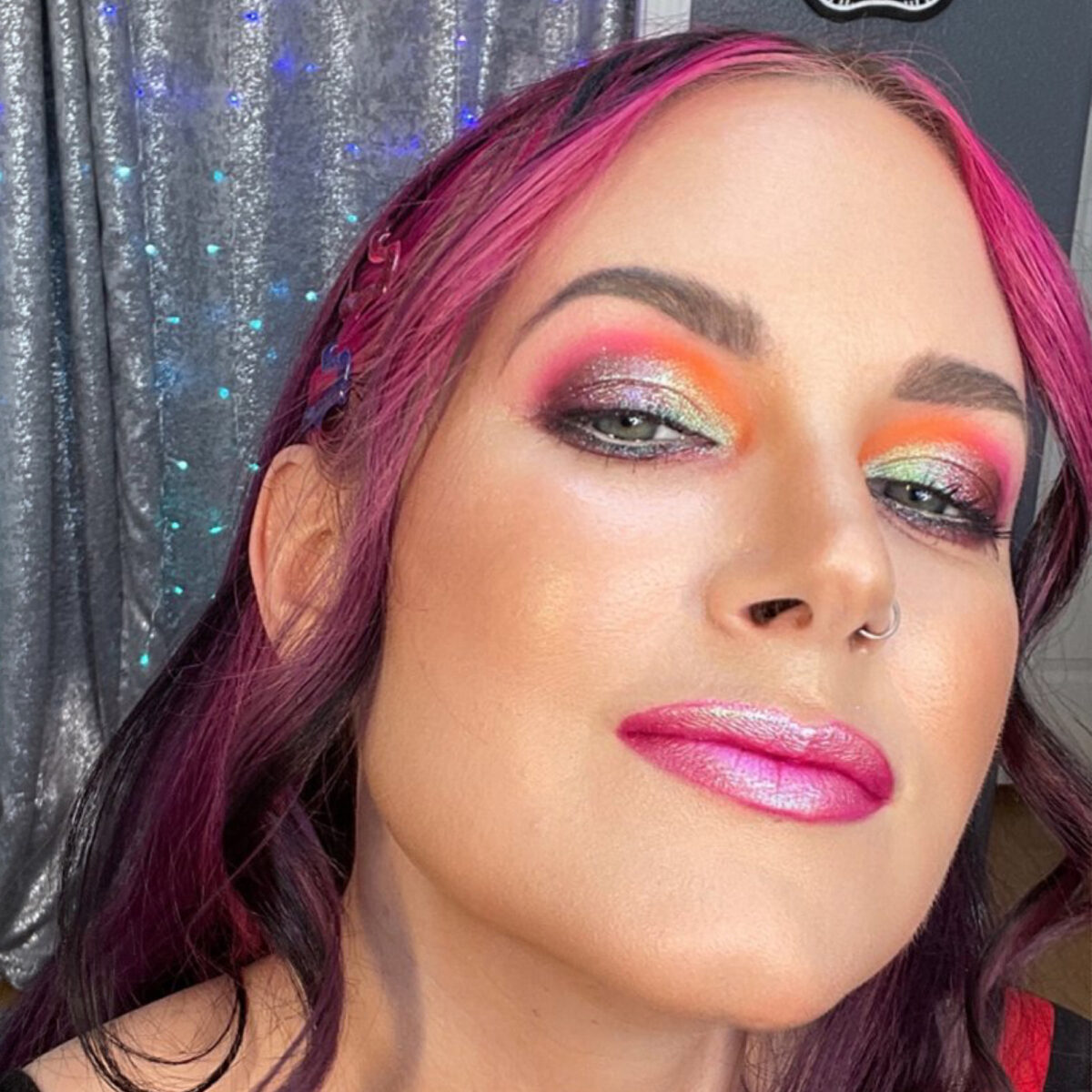 I took the above photo with my forward facing camera on my iPhone. Not the best quality but I love how it captured the colors.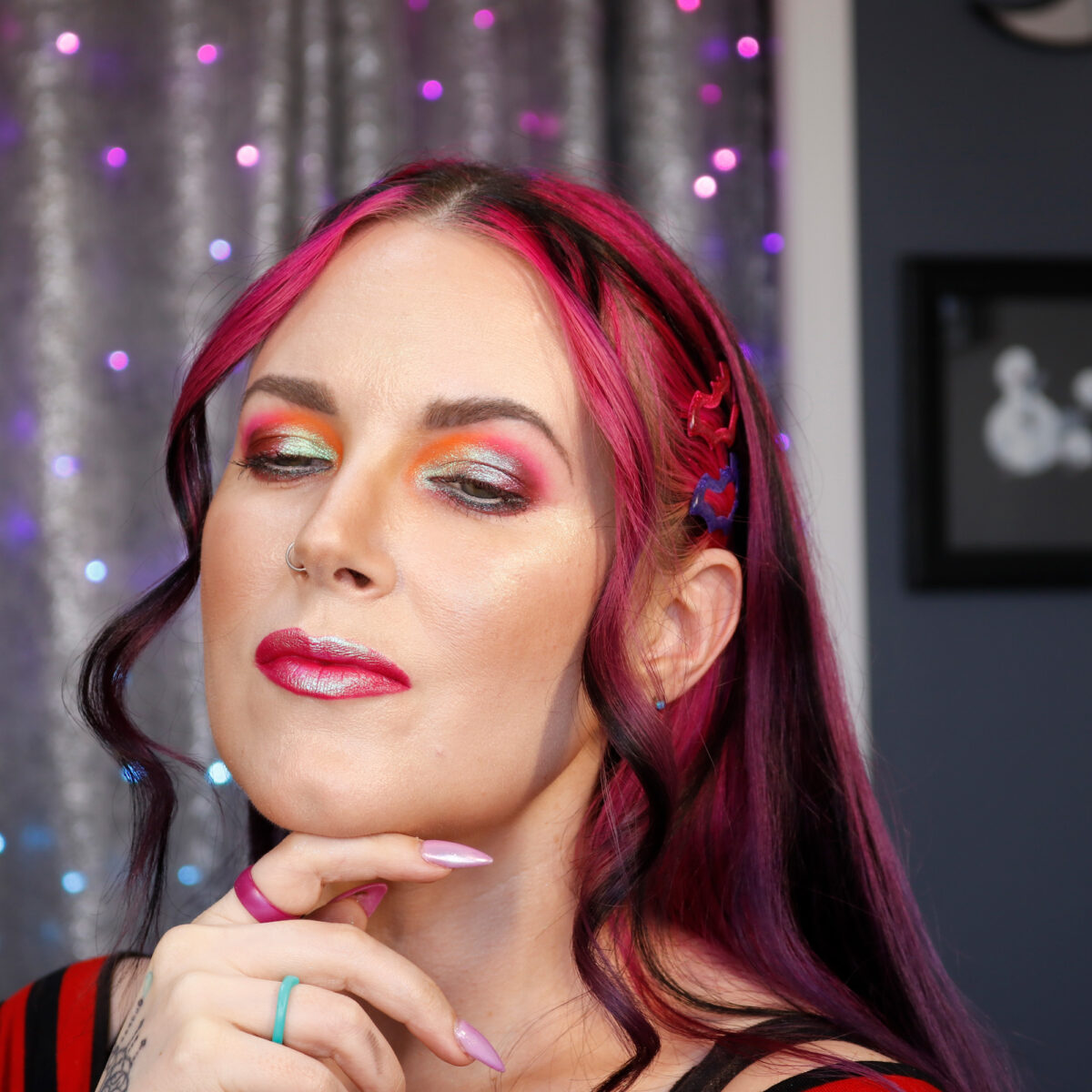 BROWS
Nyx Grey Micro Brow pencil
Nyx Cool Ash Brown Thickening brow gel
EYES
Concrete Minerals Glitter Eye Primer
Lethal Cosmetics Monarch, Thorn, Cascade
Devinah Fairy Fire, Starfire, Patrina, Karma
Fenty Beauty Lavender Pro Filt'r Loose Powder
Eyeko Lash Alert Caffeine Curl Mascara (I need this to come in burgundy wine)
LA Girl Ultimate Eye Intense Wear Auto Eye Liner in Super Bright
FACE
Wet n' Wild Beauty Impossible Primer mixed with
Danessa Myricks Beauty Gold Prism FX Hydrating Lotion
Missha BB Cream 17
Missha BB Cream 21
Jouer Cosmetics Sunset Bloom, Bronze & Glow Cream Bronzer
Silk Naturals Light Meld Powder
Flower Beauty Heatwave Luminous Bronzer in Sunrise
Devinah Fairy Fire
Beyou. Cosmetics Energizing Green Tea Facial Mist and Setting Spray
LIPS
Buxom Recharged Ruby Power Line lip pencil
Half-Magic Beauty Invoice Attached mouth cloud
Karla Cosmetics Moody Cow
Devinah Fairy Fire
FASHION
Demiloon Dead But Delicious top
Kreepsville 666 Bat clips
Black leggings with pockets (on sale right now with a 20% off coupon)
However, if you're like me and wanting a pair of hot pink leggings with pockets, I bought these hot pink leggings recently.
To put together my eyeshadow look:
With my eyes open, I used a small pencil brush to apply Monarch to my inner crease above the fold to the inner 1/2.
Keeping my eyes open, I used another pencil brush to apply Thorn to the outer crease above the fold.
With a third pencil brush, I applied Cascade to the outer corner of the eye and the lower lid.
I used a lid brush to put Starfire on the lower lid and the outer 2/3 of the lid.
With a lid brush, I applied Fairy Fire to the lid and blended it over Starfire.
I tightlined at the roots of the upper lashes with Karma and along the lower lashes.
I added depth at the outer corner with Patrina.
I used Fenty Lavender Pro Filt'r Setting Powder to blend out the edges and keep the colors vibrant.
LA Girl Super Bright pencil was used on the waterline.
Eyeko Lash Alert Caffeine Curl mascara completed the eye look.
Bright Pink Lips

To create this beautiful lip look I outlined my lips with Buxom Recharged Ruby Power Line lip pencil. I love this lip liner formula, just wish it had a hot pink! I filled in my lips with Half-Magic Beauty Invoice Attached mouth cloud and blended this on Recharged Ruby.  Karla Moody Cow and Devinah Fairy Fire were blended together on a brush and tapped on the center of the lips, then softly blended out.
Half-Magic Beauty Mouth Clouds Swatches

Oh, I did myself dirty when I first tried the Half-Magic Beauty Mouth Clouds. I tried Mr. Chic-y Pants, which is an orange-beige-brown and not flattering on me, and Angel Rave (a pale lilac violet). Both of these colors disappointed me initially. I tried Invoice Attached (neon hot pink) and fell in love with the color, formula, blurring properties, texture, and how they feel when worn. So good! This led me to pick up Self Help (true red) and Excuse Me Sir (cobalt blue).
Eyeko Lash Alert Caffeine Curl Mascara
Eyeko Lash Alert Caffeine Curl Mascara is my current favorite mascara. I have it in Black, as well as Purple & Green. I love this tubing mascara because it makes it easy for me to apply and get a curl that lasts for a long time. My lashes are stubborn and stick straight and don't like to hold a curl, but will hold one with this mascara. It's on sale right now at Ulta, normally $19, marked down to $11.40 online only price. If you're interested in trying it, now is a great time.
Beyou. Cosmetics Energizing Green Tea Facial Mist and Setting Spray

Beyou. Cosmetics is a new to me brand that I found at Target! They're touted as a Latina owned Women owned cruelty free brand and they use 96% natural ingredients. I am currently testing out their Beyou. 5-Minute Instant Restore Caffeine Face Mask as a replacement for my Pixi Glow 02 Oxygen Mask that was discontinued in addition to this spray.
The Beyou. Energizing Green Tea Facial Mist and Setting Spray is only available online right now, not in stores. It's a really nice, affordable spray for my sensitive skin. I love green tea and its antioxidant benefits. It is soothing and hydrating on my skin!
Devinah Fairy Fire Color Story
I wanted to swatch the color story for the eyeshadows and multichromes on my hand so you can get a better idea of how I used the colors together.




These colors are so pretty! I tried to capture the color shifts for you.
Shade Descriptions
Lethal Thorn – neon pink UV-reactive matte
Lethal Monarch – neon orange UV-reactive matte
Lethal Cascade – cerise cool-toned red matte
Devinah Fairy Fire – sheer yellow-green base that shifts green, teal, blue, pink, purple
Devinah Starfire – burgundy red that shifts golden orange, purple, and pink
Devinah Patrina – blackened deep blue-violet matte that pulls plum with pinks and purples and blue on its own.
Devinah Karma – pure black matte
Karla Moody Cow – pink to lilac to blue to aqua shift with a pink base
Complexion How-To

I've been doing my complexion radically different from how I used to do it.
Complexion Notes
The easiest way I've found to add some dimension to my face is to use 2 different foundation shades. Missha BB Cream 17 is very fair neutral to muted yellow undertones and brightening on me. Missha BB Cream 21 somehow blends seamlessly into my face and then dries a shade or two darker; it's a very fair neutral cool product that I swear has a touch of yellow olive grey to it to make it match me so well. I put the brightening foundation at the center of my forehead and above my eyebrows, the center of my face and under my eyes, and my chin.
See complexion product swatches of Missha 13, 17, 21 and more!
Why Bronzers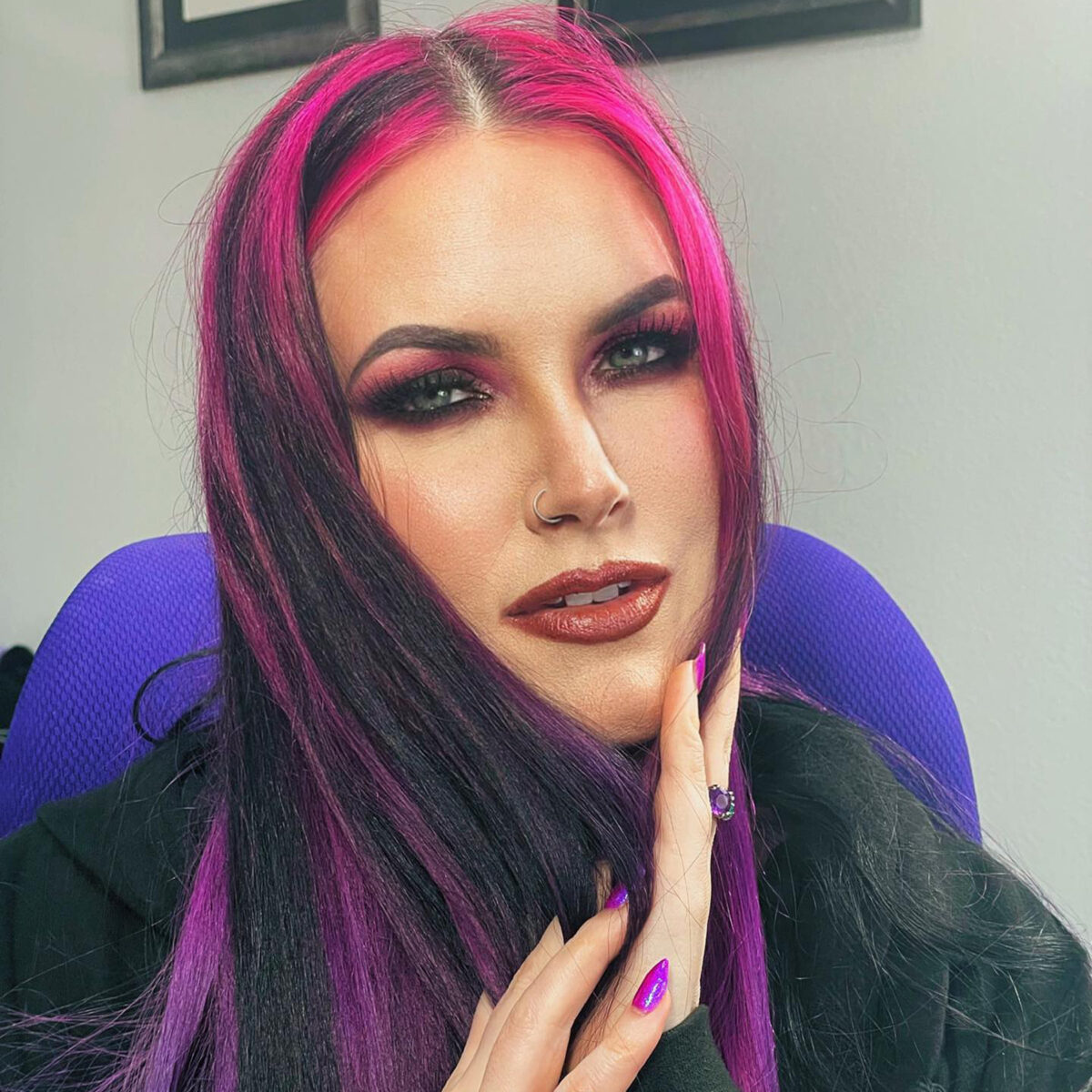 After Mickey created this Red Smokey Eye look on me, it inspired me to start experimenting with bronzers to help add dimension to my face without looking orange.
Bronzer Swatches

Bronzers I Love
Here are the products I've tried and loved.
Jouer Cosmetics Sunset Bloom, Bronze & Glow Cream Bronzer
I bought this to use as a cream bronzer because Mickey always favors using a cream product, then a powder one on top. Sunset is actually the perfect shade for me! The lighter bronzer option looked straight up orange on me, but this one is more flattering. The stick format makes it easy to apply and it's very easy to blend out and get a precise application.
Flower Beauty Heatwave Luminous Bronzer in Sunrise
I saw this bronzer at Ulta and since I love Flower Beauty, I thought I would give it a try. It's extremely flattering on my very fair neutral cool to muted yellow olive undertone. I don't see orange with it at all! It looks very neutral cool to my eyes.
Huda Beauty GloWish Soft Radiance Vegan Bronzing Powder in Light 1
This is a beautiful light peachy bronzing powder. It's the most soft peach toned bronzer I own. I can make peach bronzer work, but I can't get orange bronzer to work on me. Probably because peach is muted, much like my undertones. If only more brands would create muted-toned products!
Ulta Beauty Collection Baked Bronzer
It only comes in one shade, but it's got a nice soft radiant glow.
I'll work on a bronzer focused post in the future to go into more depth on this topic. I also want to see if I can pick up some indie bronzers to include.
What We Do in the Shadows on Hulu

I'm very excited that Hulu's What We Do in the Shadows, a hilarious vampire show filled with lots of queer representation, starts their new season on July 13. I picked up this Demiloon top that says Dead but Delicious in honor of it. Demiloon makes a lot of my favorite tops!
Final Thoughts

I don't often wear orange, but when I do, it makes an impact! Putting together this look was fun; I love keeping it bright and colorful. And the bright lips for this look! It's amazing how just a tiny bit of Moody Cow and Fairy Fire really elevates the lips.
If you love seeing posts from bloggers like me, I implore you to like, comment, and share their posts (whether it's on Pinterest, Reddit, Facebook etc,). Blogs are dying out, Google is trying to drive us all out of business unless we pay to run ads, and personally, I can't afford to run ads. It's getting harder and harder to run this blog. I'm starting to see why a lot of bloggers quit in favor of microblogging on Instagram, to exclusively do videos on YouTube, or just quit altogether. I've had my own site since 2008 (prior to that I blogged on LiveJournal), but the modern internet seems to dislike bloggers like me.
I'm having a double mastectomy and breast reconstruction surgery at the end of the month. It is highly unlikely that I will be able to post on my blog from bed while in recovery. That said, you will find me active on my Instagram Stories, Threads (the new Instagram App), and hopefully on YouTube Shorts. I'll also pop into the Hex Squad group to chat.
More to See