Hello my friends. It has been a hot minute since I created a fun makeup look, so today I'm sharing a bold pink makeup look I put together. Pink is my friend Nattie's favorite color, so I was thinking it might be fun to create a bold look in her signature hue. I've had people tell me that no one should wear bright pink eyeshadow, especially not 'old' people like me who are over 40, or who have hooded eyes like mine. Clearly, I don't care what they say!
Pink Hooded Eyes Makeup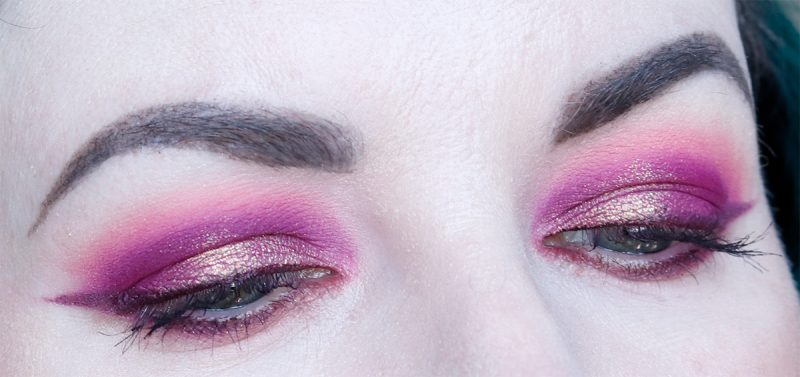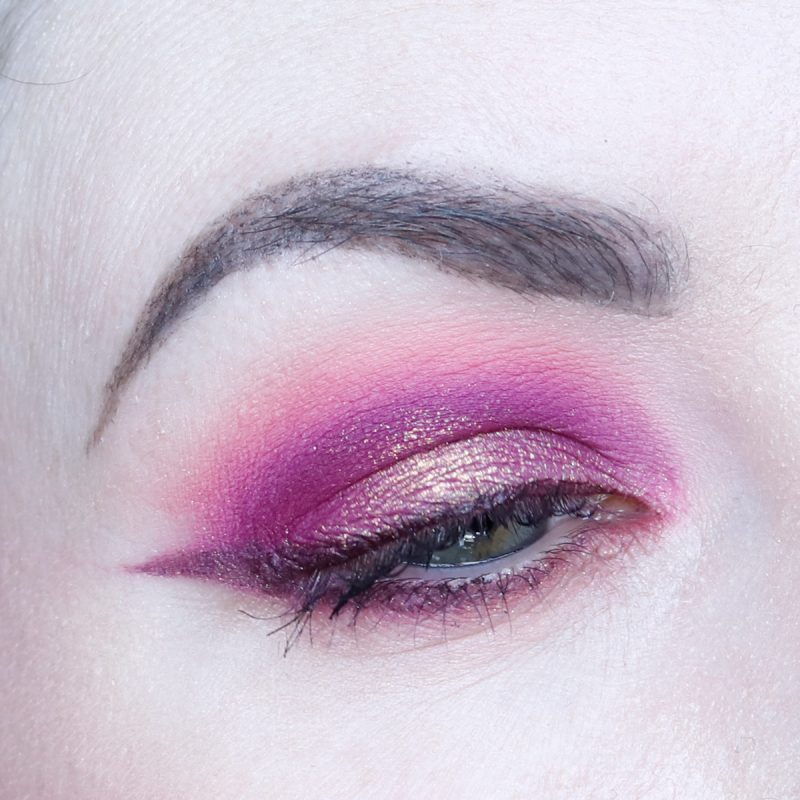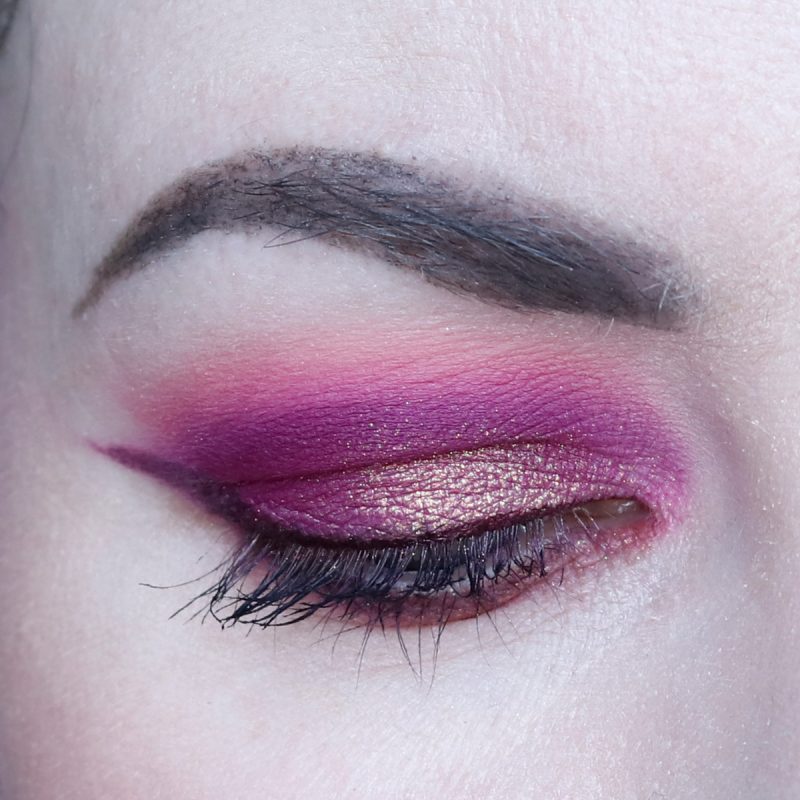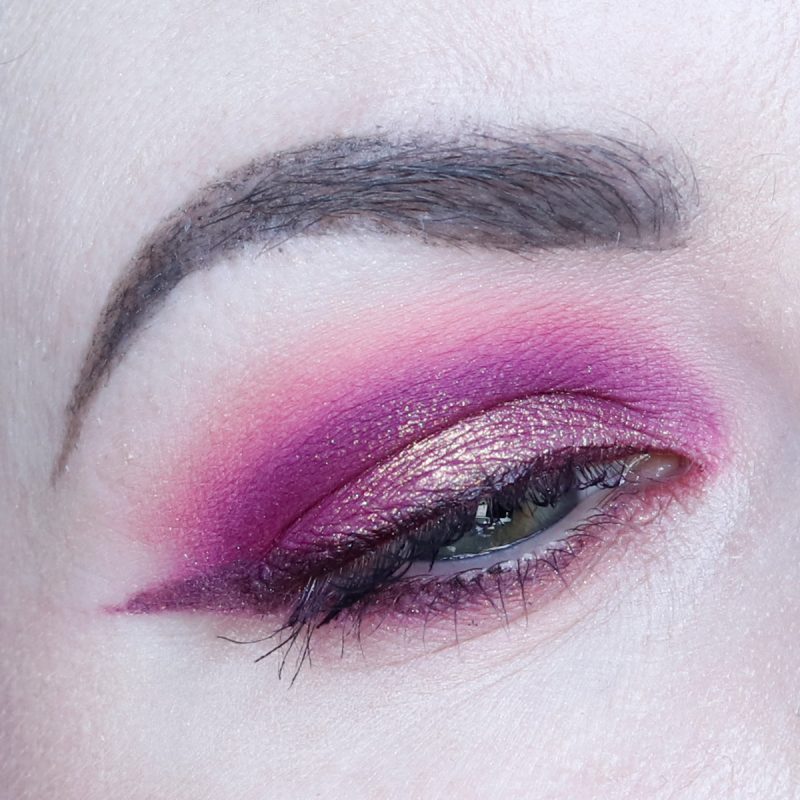 Brows
Urban Decay Browblade in Blackout and *Cool Cookie
Eyes
Urban Decay Eden Primer Potion
Cozzette Essential Powder in C1 – to set the crease and blend out the edges
Lethal Remission – transition
Nabla Venom – all over
*Urban Decay Hexed – inner lower lid
Terra Moon Antares – lid
Nabla #3 Cupid's Arrow – liner
Marc Jacobs Berry Deep Liquid Liner – upper lash line
Eyeko Lash Alert Mascara
* PR sample.
When creating this look, I applied UD Eden Primer Potion as my base and set the crease with my Cozzette Powder in C1. With a Sigma E25 I applied Nabla Venom to the lid and crease and used a pencil brush to apply it to 3/4 of the outer lower lid. I applied a tiny bit of UD Hexed to the inner lower lid. Lethal Remission was the perfect transition shade for this look, so I used that to blend out the edges of Venom. I went over the edges of everything with Cozzette C1 (a skin tone shade powder) to make sure it blended nicely. I used a small brush to smudge Nabla #3 Cupid's Arrow along the upper and lower lash line and into a wing shape. I lined the upper lash line with Marc Jacobs Berry Deep liquid liner. I wasn't going to apply mascara because I haven't had a lash lift in almost a year and a half and my lashes refuse to hold a curl, but I tried curling them anyways and then put on Eyeko Lash Alert Mascara.
Bold Pink Lips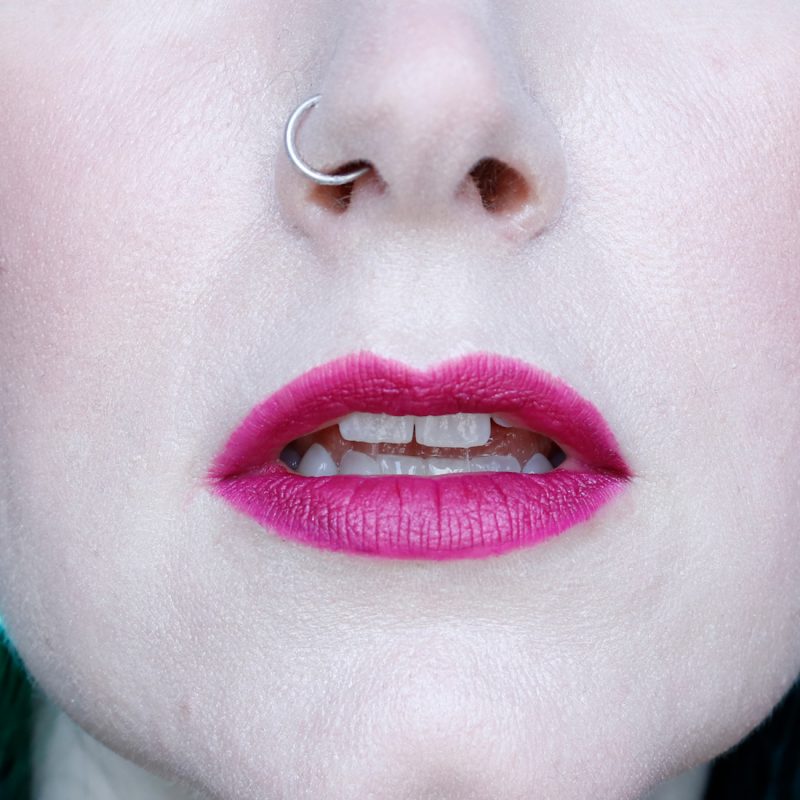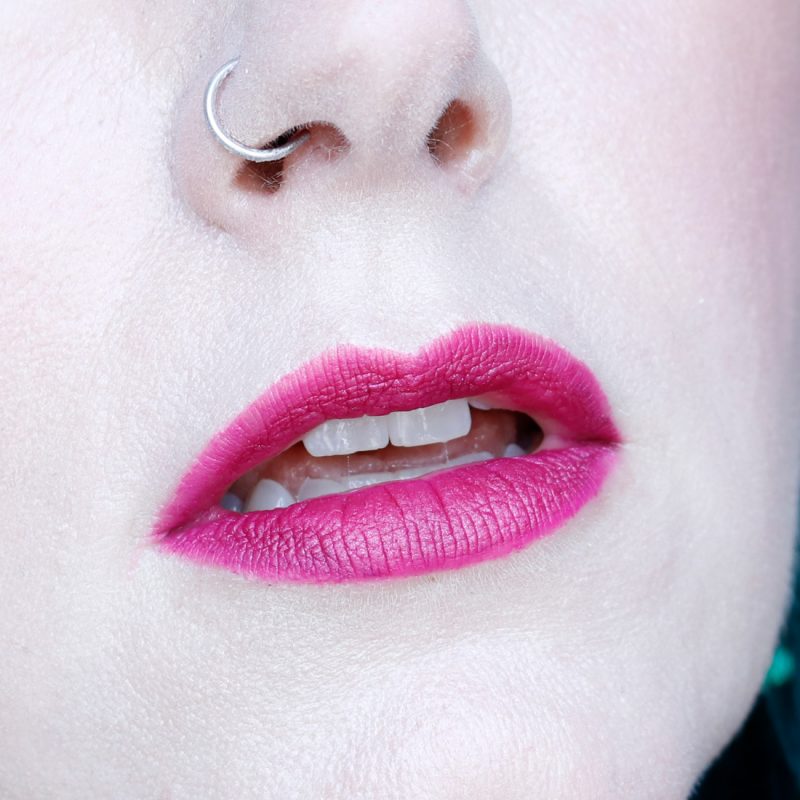 Lips
Melt Jinx pencil
Lime Crime Fruitcake Plushie Glow (LE, discontinued, check out the Plushies)
I lined and filled in my lips with Melt Jinx lip pencil. It's the perfect bright fuchsia pink. I topped it with Lime Crime Fruitcake Plushie Glow (LE).
I LOVE the Lime Crime Plushie Glow formula and hate that Lime Crime has only ever released LE versions of it. It's one of the most comfortable liquid lipstick formulas I've ever tried and it doesn't transfer. Lime Crime, if you're reading this, please release an entire line of Plushie Glows in fun colors.
See my Lime Crime Plushies Soft Glow Liquid Lipsticks Review!
Pink Complexion Makeup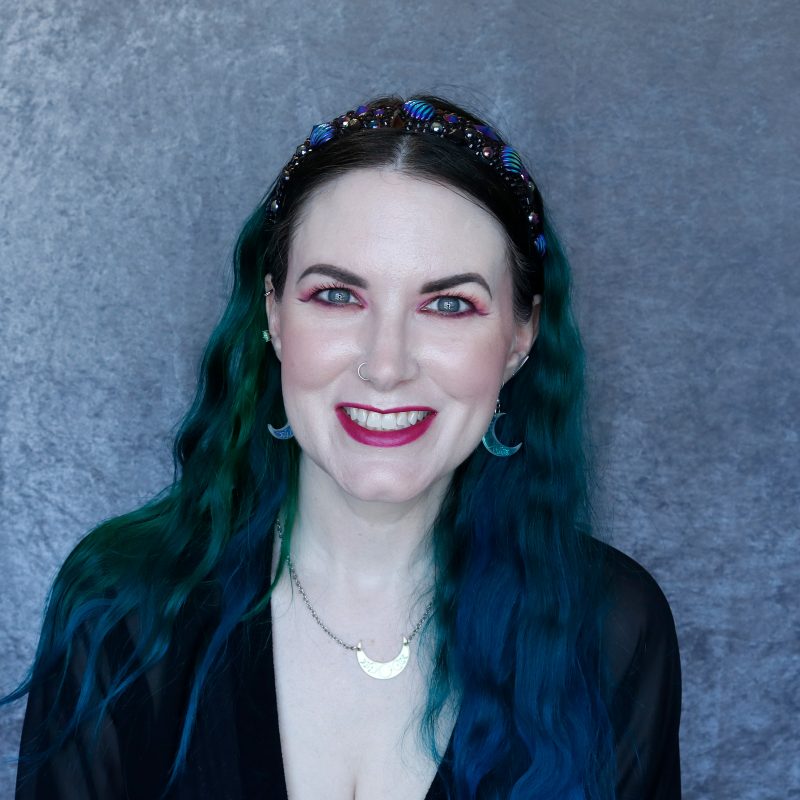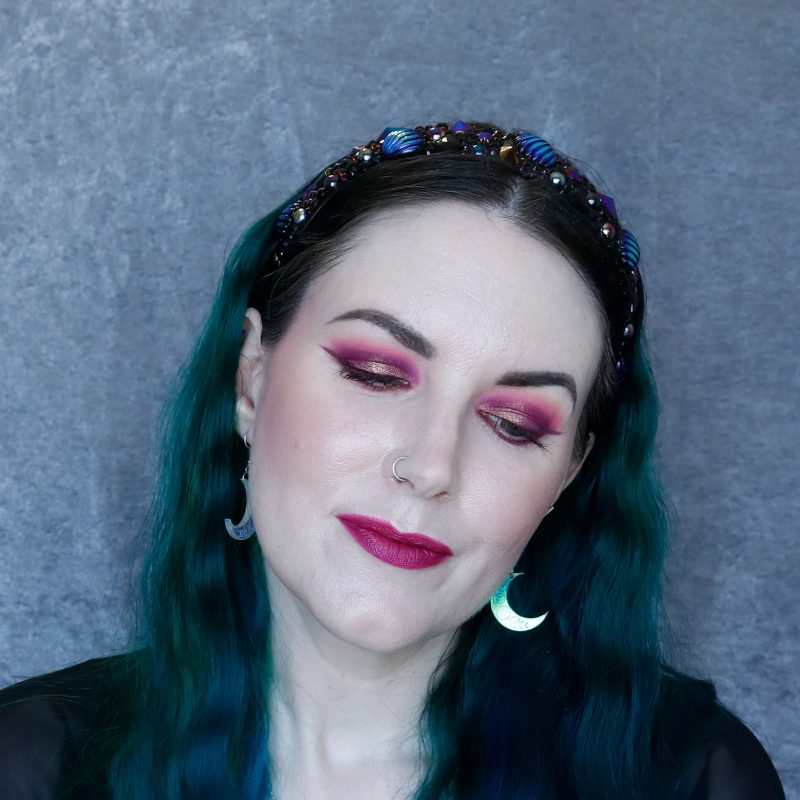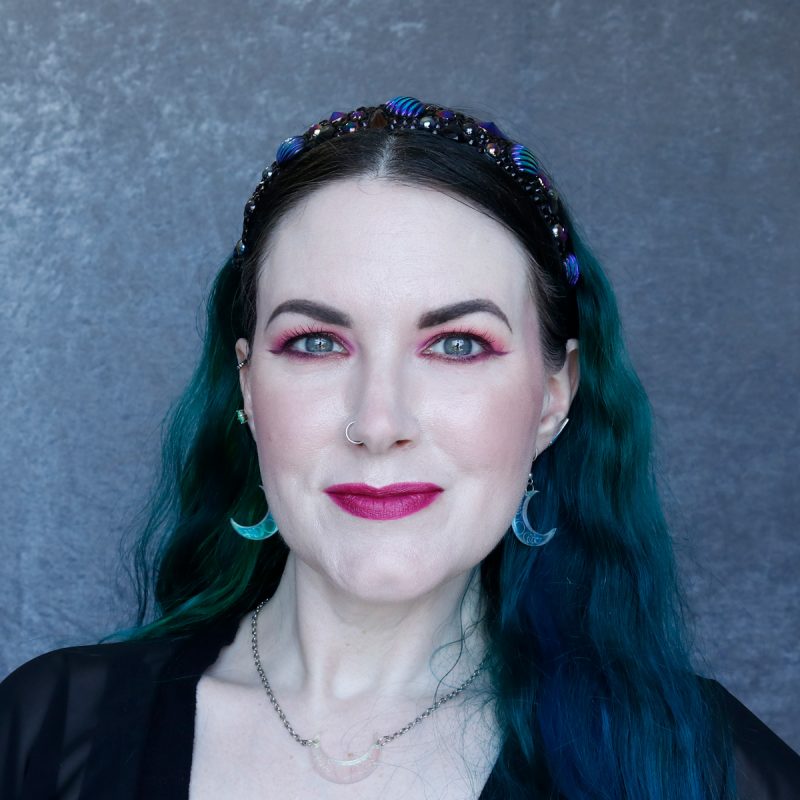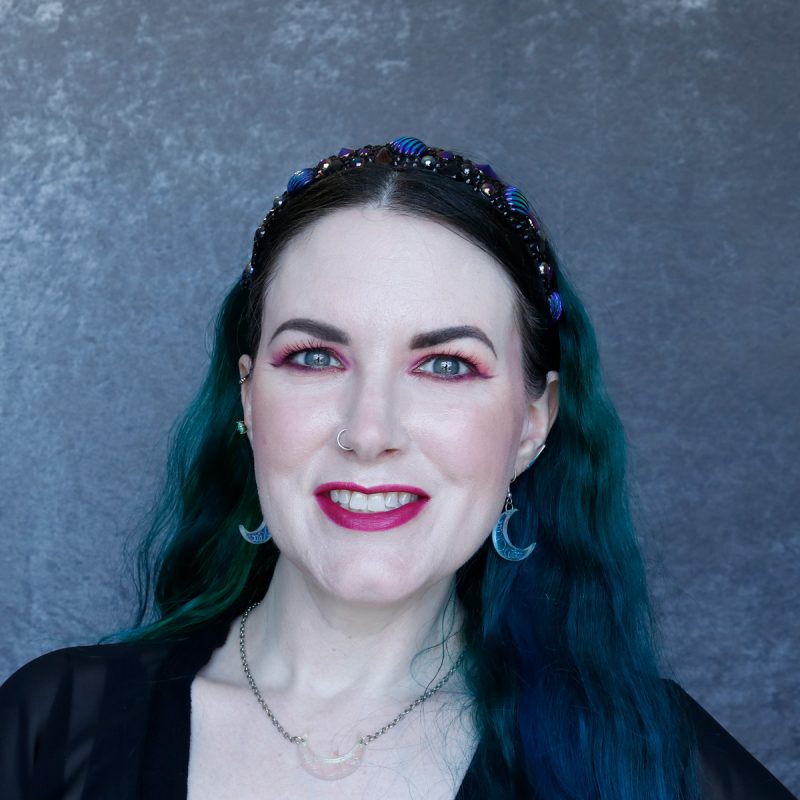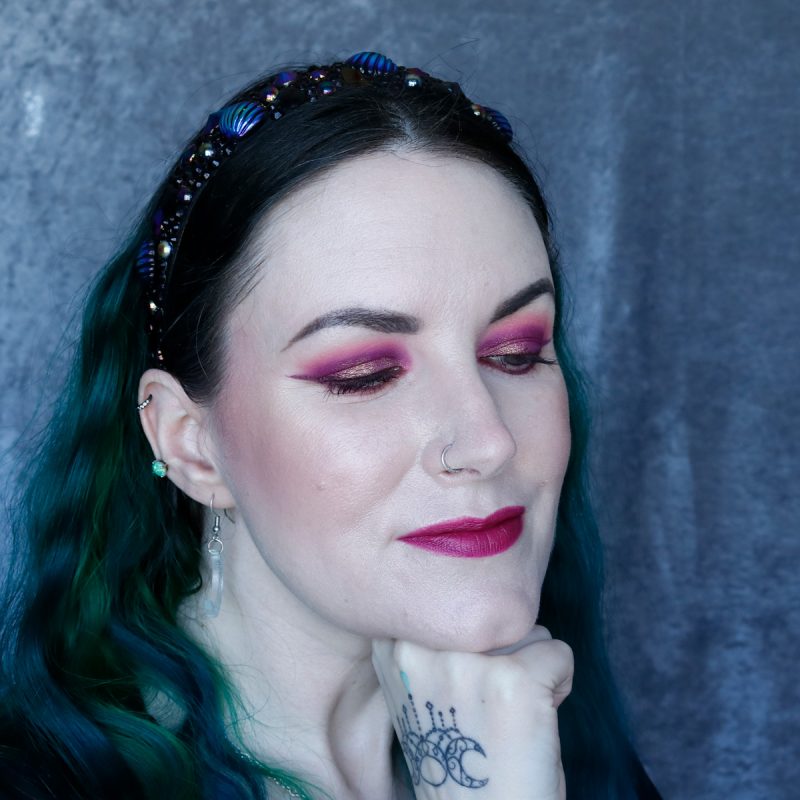 Face
Danessa Myricks Original Prism FX Hydrating Lotion
*Urban Decay Hydromaniac in 10 Ultra Fair Neutral
*Urban Decay Angel (LE) – highlight
*Urban Decay Easy (LE) – blush
Black Moon Centipede – highlight
Laura Mercier Secret Brightening Powder – under eyes
Cozzette Beauty Essential Setting powder in C1 – lightly all over
*Urban Decay All Nighter Spray
* PR sample
For my face I applied Danessa Myricks Original Prism FX Hydrating Lotion as my primer. I mixed in a bit of Prism FX with Urban Decay Hydromaniac in 10 Ultra Fair Neutral for my foundation. I felt nostalgic for Urban Decay's Afterglow Blush formula and used Angel as a highlighting blush and Easy as my blush from the Urban Decay x Gwen Stefani blush palette. I even dusted a bit of Easy blush across my nose. I then went and added a bit more glow with Black Moon Centipede. I applied the thinnest application possible of Laura Mercier Undereye Setting Powder under my eyes. I took a tiny amount of Cozzette C1 powder and dusted it over my blush and highlight to make sure that they blended nicely. Then I set my makeup with UD's All Nighter Spray.
Urban Decay Hydromaniac Tinted Glow Hydrator Foundation is the best foundation for my dry skin that UD has released in over a decade. It matches me without me having to add a white mixer. I love the glow it gives. In love with it!
Bold Pink Makeup Look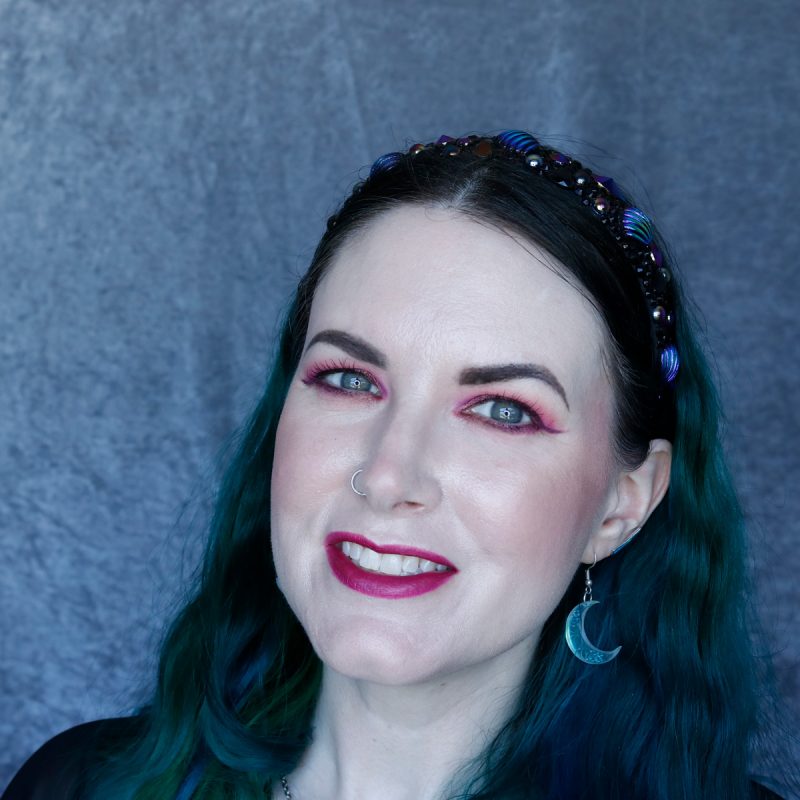 UD's Easy Afterglow blush was perfect for giving me a soft pink glow to compliment my bold pink makeup look. I really miss the Urban Decay Afterglow Blush formula. I wish they had done more with it, like added more cool-toned shades and kept it around longer. I think it was a wonderful formula and I loved both the blush palettes I purchased in it. The UD x Gwen Stefani blush palette is so pretty on me, in my opinion. The UD x Jean-Michel Basquiat blush quad was a stunner too.
I finally received my Terra Moon Cosmetics order that contained Antares and knew I wanted to use it in a look. Antares has a coral pink base and it shifts to green and gold. The green shift is much easier to see in person and the camera loves to pick up the gold shift. Nabla's Venon provided the perfect deep fuchsia pink base and using Lethal Remission to blend out its edges really complimented Antares.
I hope you are doing well! If you want to chat with me, join me in the PhyrraNyx Facebook Group. I pop in there daily to say hi, comment on people's makeup looks, and talk about beauty, gothic fashion, mental health, and other lifestyle topics.