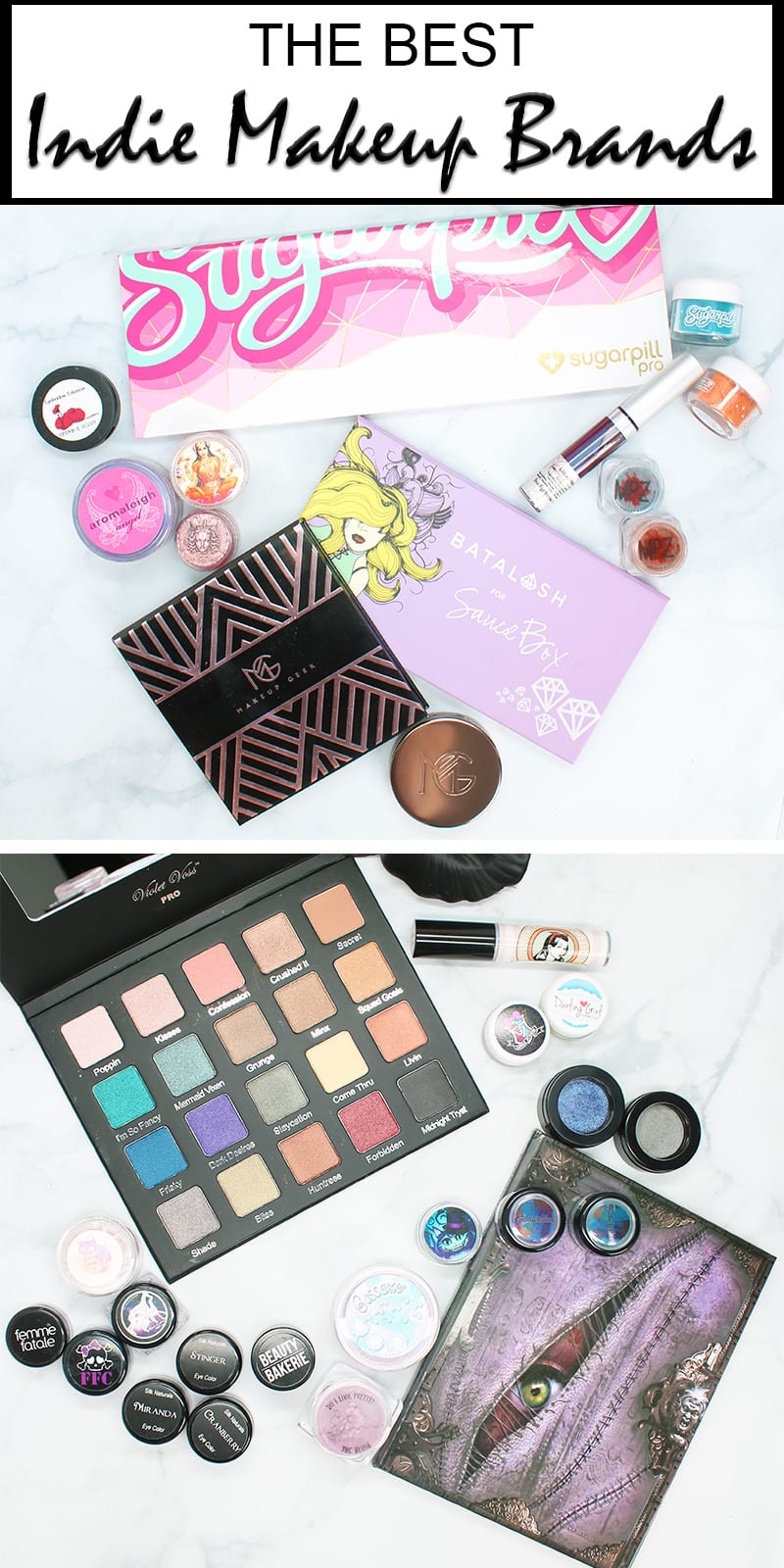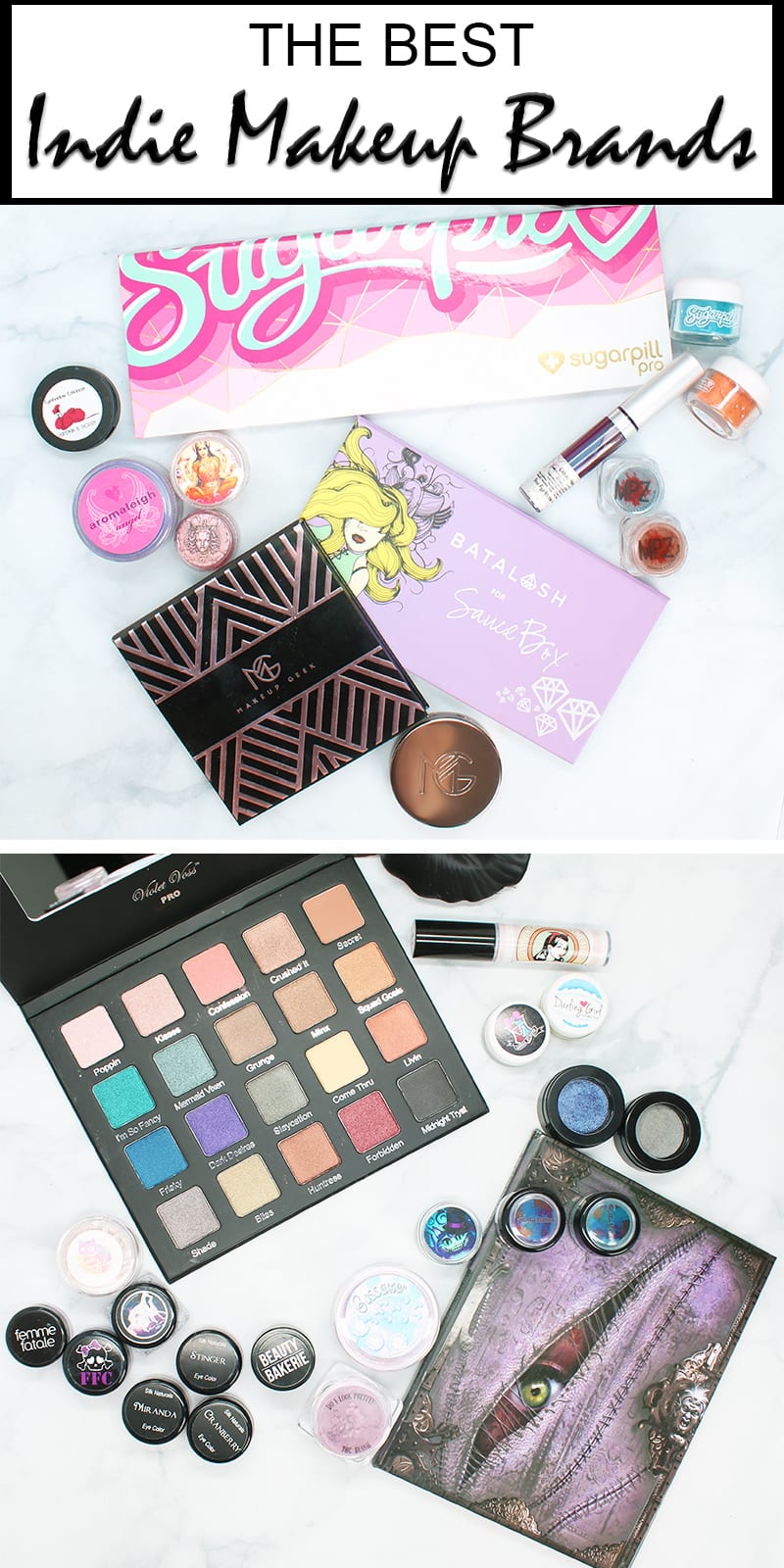 Today I'm sharing  my Best Indie Makeup Companies list. This has been a highly requested post for the past several years and it's an update to my previous list. As always, best is subjective. This is my opinion. When you buy something, I firmly believe that you're voting with your dollars, and these are companies that I feel comfortable buying from. Not every indie brand is listed here; not every indie brand is one I will buy from.
Don't miss out on the awesome 2018 4th of July Sales!
I just updated this list for May 2018!
Best Indie Makeup Companies
This list has two types of indie brands on it – handmade indies (those made in a home ) and larger indies that have a warehouse or work with a manufacturer to create their products. While this is titled makeup, it also includes the broader category of beauty, so hair, bath and body as well. Also, nail polish is in a separate section at the bottom for my beloved lacquer fanatics.
For those of you who don't know, an independent business is a business that is free from outside control. This means that the owner / owners of the company call the shots and they don't answer to a parent company or investors. Usually they're a sole proprietorship. When it has been pointed out to me that a company I thought was indie was under outside control, I've removed it from the 'indie' list, even though I do support mainstream brands, too.
The main (but not only) criteria to be featured on my blog is for a brand to be cruelty free. If a brand listed here is not an independent business (aka it's actually owned by a parent company), please let me know! I want this list to only have indie businesses.
I do get very excited when I see my favorite brands get Leaping Bunny Certification too. Leaping Bunny Certification means more to me than PETA because I know how hard the people at LBC work to ensure that brands on their list are truly cruelty free. If your favorite brand isn't certified, ask them to consider it! It's free to get certified. Find out how easy it is to get certified!
A Girl's Gotta Spa
They make organic, vegan luxury bath and body products. (100% vegan)(Leaping Bunny Certified)
AJ Crimson
I first met AJ Crimson at the Makeup Show Orlando. He makes foundations and lipsticks for all skintones. He's also a very talented makeup artist.
Aromaleigh
Aromaleigh is a one-woman business that creates artisan makeup in small batches. You can find gorgeous eyeshadows, blushes, highlighters, contour powders and more. I'm currently in love with their cheek products and I can't get enough of them. (see my Aromaleigh posts) (vegan options)
Beauty Bakerie
They make a variety of smudge proof products including lipsticks, brows, eyeliners and eyeshadows. I've recently bought a few and love them! I featured Beauty Bakerie in the Black Owned Makeup Brands Challenge. (vegan options)
BFTE Cosmetics
Originally owned by my friend Crystal and now owned by my friend Kimberly, BFTE offers over 200 eyeshadows. They also have a ton of foundations and blushes.(see my BFTE posts)(vegan options)
Black Phoenix Alchemy Lab
BPAL makes unique perfumes. With the exception of the honey-based products, everything else is vegan. They're inspired by everything from comic books to Fraggle Rock to Crimson Peak. (see my BPAL posts)(vegan options)
Brija Cosmetics
They are 100% vegan and currently have some LE FDA approved glitter. I recently bought their Rick & Morty collection. (100% vegan)
Bunny Paige
Not makeup, but still stuff to make you feel beautiful, I love my Bunny Paige jewelry. Described as edgy wearable art, I think these are stunning, high quality pieces. They're handcrafted with swarovski, studs and spikes. I've had several custom pieces made and I love all the pieces that I've bought. (see my Bunny Paige posts)
Chagrin Valley
They make all kinds of handmade soaps. They're certified organic. (100% vegan)
Cocoa Pink
Cocoa Pink makes a ton of great hair and body products. I personally love their ShamPink shampoo, Argan Therapy Creme conditioner, perfumes, body butter and Ends with Argan Benefits. My favorite scents include Cinderella's Carriage, Hawaiian Cake, Pina Colada Cotton Candy, and Bonfire Pumpkins. (see my Cocoa Pink posts)(vegan options)
Coloured Raine
Founded in 2013, CR makes bold lipsticks and eyeshadows. I've enjoyed most of my purchases from CR.
Concrete Minerals
Concrete Minerals has a sort of witchy vibe and a lot of great deep shades like Kinky, a black-based teal with rainbow sparkle. I love their aesthetic. (see my Concrete Minerals posts)(100% vegan)(Leaping Bunny Certified)
Cryptic Cosmetics
Founded by Instagram's Depechegurl, also known as Christina, this is a brand new indie company. I recently indulged in the color Gore Couture. I love Christina's message of being yourself while having self-confidence, rockin' a bold lip, and dressing all in black. (100% vegan)
Darling Girl
I love Darling Girl Cosmetics! They have to many creepy and cute collections like Ghoul School (Monster High Inspired), Ghost with the Most, Oh the Horror!, and Queens of Horror collections. (see my Darling Girl posts)(vegan options)
Get 15% off at Darling Girl with PHYRRA15
Devinah Cosmetics
I recently ordered from Devinah Cosmetics and had a positive experience. The eyeshadows are gorgeous too.
Dose of Colors
Dose of Colors works with a lab to make really nice traditional lipsticks, gorgeous baked highlighters, fun eyeshadows and liquid lipsticks. I love their Pearl Dust highlighter. (see my Dose of Colors posts)(vegan options)(Leaping Bunny Certified)
Emme Diane
Emme Diane is an indie skincare brand perfect for sensitive skin. They offer free consultations to help you pinpoint your skin issues and get you on track to having your best skin. (See my Emme Diane posts)
Get 10% off with code Phyrra10
Epically Epic Soap Co.
Handmade in Santa Fe, they have great lip balms, tinted lip balms, solid lotions and roll on perfume. The many purpose solid lotions are great to throw in your purse or keep on your nightstand as they work for hand cream, body lotion, solid perfume, cuticle butter, massage oil, and hair pomade.(vegan options)
Espionage Cosmetics
Geeky makeup and nail wraps? Yes please! They've successfully used kickstarter to fund their company and I applaud their style. (see my Espionage posts)
Fairy Girl
Fairy Girl offers gorgeous lipsticks that range from pale nudes to bold mattes. They're made with super nurturing ingredients like organic cocoa butter, coconut oil, argan oil, Hawaiian kukui nut, avocado, jojoba seed, etc. Love them! (see my Fairy Girl posts)(100% vegan)(Leaping Bunny Certified)
Fyrinnae
Fyrinnae was one of my first indie makeup loves and everything they make is magical. Their Arcane shadows are gorgeous, their liquid matte lipsticks are awesome and their Pixie Epoxy is a MUST for anyone who wants to use duochromes or super glittery eyeshadows. If you only pick up one color, consider Luxury or Because Cats. (see my Fyrinnae posts)(100% vegan)
GeekChic Cosmetics
With awesome fandom collections including Moon Prism Power (Sailor Moon Inspired), Superneutrals (Supernatural), Win or Die (Game of Thrones), Timey Wimey (Dr. Who), Witchcraft & Wizardry (Harry Potter), you're sure to find something to love. You can find eyeshadows, lipsticks, perfumes and more. (See my GeekChic posts)(100% vegan)
Geek Fire Labs
A relatively new company to emerge, they offer super cute lip balms, perfumes and lotion bars. My favorite is Unicorn Blood, with notes of sparkling white wine, vanilla, cotton candy and caramel.
Glamour Doll Eyes
GDE has been around almost as long as my blog! They've got tons of shadows, glitters, balms and glosses. (See my GDE posts)(vegan options)
Glamorous Chicks
Glamorous Chicks is a brand that I found at the Makeup Show NYC. They make gorgeous lip paints in unusual colors. I have Futuristic Blue and Love Potion. I featured them in the Black Owned Makeup Brands Challenge.
Hello Waffle
Canadian-based Hello Waffle was created by uni graduate Christine and named after her cat Waffle. She has pretty eyeshadows, blushes, and lip products. (See my HW posts)(vegan options)
Ishani Botanicals
Ishani Botanicals is a vegan indie skincare brand that creates handmade organic, non-GMO products. Their packaging is all biodegradable too. (See my Ishani Botanicals posts)(100% vegan)
Get 25% off at Ishani Botanicals with phyrra25
Life's Entropy
Formed by a couple of nerdy scientists, LE offers artisan cosmetics ranging from contour sticks to brow theories to eyeshadows and lipsticks. (see my LE posts)(100% vegan)
Lucy Minerals
They make my favorite mineral foundation, which I prefer to used press. They're a Florida company. They offer a good range of foundation shades. What's even better is that they offer custom mixed foundation. (See my Lucy posts)(vegan options)
LunatiCK Labs Cosmetics
With the coolest multi-purpose contour palette, HD finishing powder, and Bullet shaped lipsticks, LunatiCK is pretty amazing. Their packaging is the best of all indie brands that I've tried to date. (See my LunatiCK posts)(100% vegan)
Magnolia Makeup
This is a brand that I originally found at the Makeup Show Orlando. They make pretty eyeshadows and foundations. They're based in New Orleans. I featured them in the Black Owned Makeup Brands Challenge.
Makeup Geek
Founded by Marlena, one of the original beauty Youtubers, Makeup Geek is a proudly cruelty free brand. Marlena works with a lab to create her products. She offers over 100 pressed eyeshadows in everything from staple neutrals to fun brights and flashy duochromes. My current must-have shade is Kaleidoscope, which has a silvery base and shifts from pink to mint to violet. (See my Makeup Geek posts)(vegan options)
MBA Cosmetics
They're an independent company that not only makes things in house, they also sell some private label products and do contract manufacturing as well. They have over 64 lipstick colors made in house and over 200 eyeshadows. (See my MBA posts)
Melt Cosmetics
Founded by Lora Arellano and Dana Bomar, Melt is a luxe indie brand. Lora is Rihanna's makeup artist. They haved 20 lipstick shades ranging from nudes to blues. They also have eyeshadow singles and stacks available. The stacks are a steal at $45 for 4, which typically have .125 oz of product per eyeshadow. You can also buy them individually for $17. I LOVE their eyeshadow packaging. Their formula is on the soft and powdery side. (See my Melt posts)(vegan options)
Meow Cosmetics
Meow was one of the very first indie companies that I ever tried. They have rotating seasonal collections, as well as permanent ones. They don't really do LE, which I appreciate. Their Friday the 13th, Dark Dreams, Asylum, and X collections are some of my all time favorite eyeshadow collections. Their Pampered Puss foundation was my favorite for years until my skin went from combo to dry. It no longer can handle their foundation. I do love the cat theme and names. (See my Meow posts)(vegan options)
My Pretty Zombie
I've fallen in love with their duochrome eyeshadows. They do gothic shades well, especially reds and purples. (See my MPZ posts)(vegan options)
Get 15% off at My Pretty Zombie with myprettyphyrra
Necromancy Cosmetics
Handcrafted in Puerto Rico, they make gorgeous 100% vegan lipsticks. (See my Neromancy posts)(100% vegan)
Ofra Cosmetics
Ofra is a Florida company, yay! They make makeup and skincare that's all vegan. Their long wearing liquid lipsticks are wonderful and they even have some duochrome shades!
Save  30% at Ofra with PHYRRA30
Overtone
This is an awesome brand that helps me keep my color vibrant in between salon visits. Seriously my color looks great thanks to their Go Deep hair masks. (See my oVertone posts)
Pumpkin & Poppy
They make some great products including a vegan eyeshadow primer and pale skin contour. (See my Pumpkin & Poppy posts)(100% vegan)
Purely Cosmetics
Best known for their diamond powder, they carry a wide range of products. (See my Purely Cosmetics posts)
Rituel de Fille
They specialize in cream products. They make gorgeous, seasonal collections. (See my Rituel de Fille posts)
Saucebox
Saucebox has a special place in my heart because they're a very eco-conscious brand. Their packaging is biodegradable. They're made in LA. Their eyeshadows are HUGE, the same size as Sugarpill shades.  They've also had the unique opportunity to partner with the Batalash Girls (Samantha Ravndahl) and create a cool eyeshadow palette. Recently they made a 100% vegan palette with beautiful colors, including a kick-ass purple. They're highly underrated. (See my Saucebox posts)(vegan options)
Get 10% off at Saucebox with PHYRRA
Scaredy Cat
Best known for letting you customize their eyeshadows, they have a lot of pretty duochromes. Their jar artwork is really unique too. (See my Scaredy Cat posts)
Silk Naturals
Silk Naturals is the unsung hero of the indie world. They are a powerhouse of products making everything from foundations to eyeshadows to lipsticks to brow pomades and blushes. They offer vegan dupes for many non-vegan products. They are a great brand to start with. I especially love their velvet matte lipsticks. (See my Silk Naturals posts)(100% vegan)
Get 5% off at Silk Naturals with phyrra18
Strobe Cosmetics
Strobe is a 100% vegan indie makeup company. I recently picked up their Creepy Cute palette and love it!
Sugarpill
Founded by Shrinkle, aka the Queen of Brights, Sugarpill has a ton of loose and pressed eyeshadows, as well as nail polish. We've been teased with lipsticks for months now too. You can see my rainbow swatches here. (See my Sugarpill posts)(vegan options)(Leaping Bunny Certified)
Sydney Grace Co
This is a new to me brand. I love their pressed eyeshadows. I featured them in my DIY Cool-Toned Berries Palette.
The All Natural Face
They make a ton of beauty products. Most of them are good unless you have super oily, hooded eyes like I do. (100% vegan)
Violet Voss
Founded by the lovely PurseBuzz, they make pretty glitter and eyeshadow. Their glitter glue is great too.
Virus Insanity
You don't hear much about this brand but they've got some gorgeous eyeshadows. (See my Virus Insanity posts)
Indie Nail Polish Brands
Check out my Gothic Clothing Guide: how to build a goth wardrobe!
Last Updated on