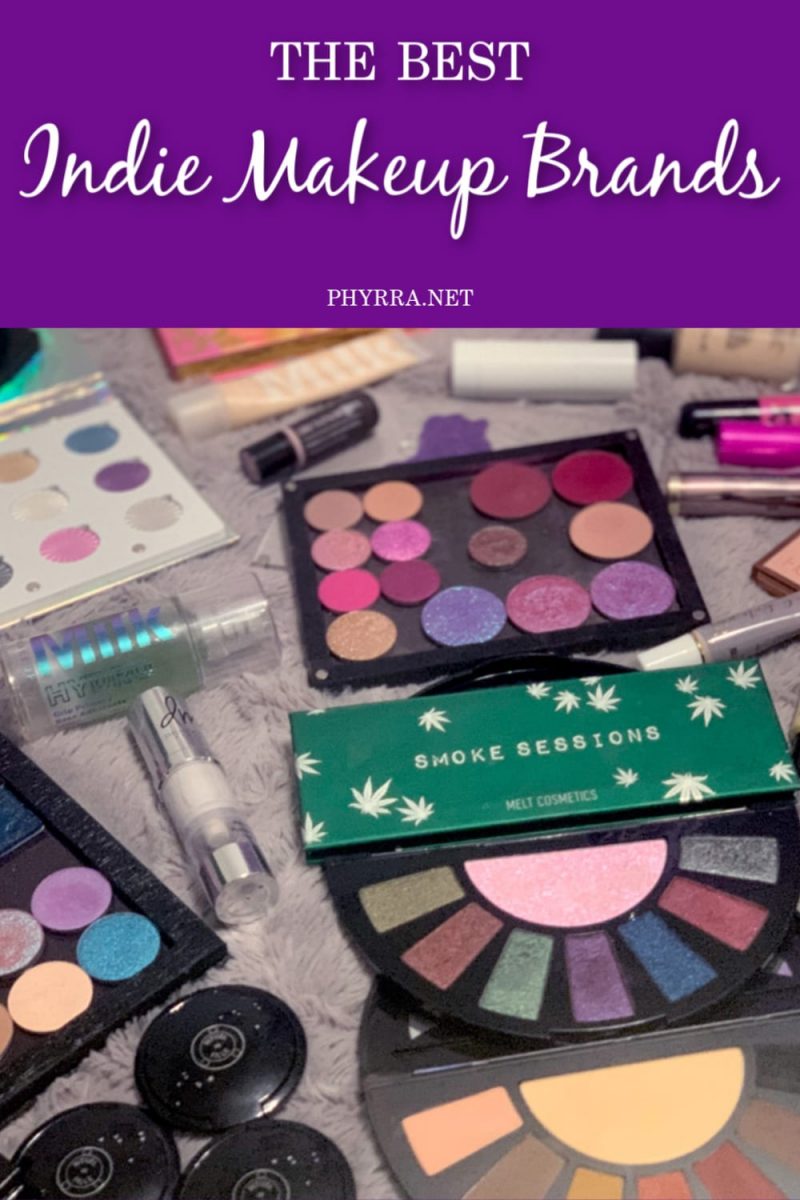 Best Indie Makeup Companies
Today I'm sharing  my Best Indie Makeup Companies list, updated for 2020. This has been a highly requested post for the past several years and it's an update to my past lists. As always, "best" is subjective. This is my opinion. When you buy something, I firmly believe that you're voting with your dollars, and these are companies that I feel comfortable buying from. Not every indie brand is listed here; not every indie brand is one I will buy from.
What is an Indie Brand?
This list has two types of indie brands on it – handmade indies (those made in a home) and larger indies that have a warehouse or work with a manufacturer to create their products. While this is titled makeup, it also includes the broader category of beauty, so hair, bath and body as well. Also, nail polish is in a separate section at the bottom for my beloved lacquer fanatics.
For those of you who don't know, an independent business is a business that is free from outside control. This means that the owner / owners of the company call the shots and they don't answer to a parent company or investors. Usually they're a sole proprietorship. When it has been pointed out to me that a company I thought was indie was under outside control, I've removed it from the 'indie' list, even though I do support mainstream brands, too.
What's the Main Criteria to be Featured?
The main (but not only) criteria to be featured on my blog is for a brand to be cruelty free. If a brand listed here is not an independent business (aka it's actually owned by a parent company), please let me know! I want this list to only have indie businesses.
What Does Leaping Bunny Mean?
I do get very excited when I see my favorite brands get Leaping Bunny Certification. Leaping Bunny Certification means more to me than PETA because I know how hard the people at Leaping Bunny work to ensure that brands on their list are truly cruelty free. If your favorite brand isn't certified, ask them to consider it! It's free to get certified and Leaping Bunny will advertise your brand to their millions of followers. Find out how easy it is to get Leaping Bunny certified!
What is Clean Beauty?
The Clean Beauty movement includes products made with ethically sourced ingredients and fair trade. I often feel like Clean Beauty was started with good intentions but it is mostly a marketing term and has some bad science behind it. Parabens, phthalates, formaldehyde, triclosan, siloxanes, sles, sls, als, pegs, petrolatum, and phenoxyethanol are all considered dirty in the clean movement.
Parabens are often touted as evil, but please do your paraben research before painting them all with the same brush. Many are naturally occurring and not a threat. (additional paraben research, additional research)
More and more sites are starting to add 'Clean at X Store' to clean beauty brands. This usually means that they're made without t sulfates (SLS and SLES), parabens, formaldehydes, formaldehyde-releasing agents, phthalates, mineral oil, retinyl palmitate, oxybenzone, coal tar, hydroquinone, triclosan, and triclocarban. And often, synthetic fragrance is included in here.
I'm mentioning Clean Beauty here because many indie brands are also clean beauty brands, so there's an overlap. Just like many indie brands are also cruelty-free, and some are 100% vegan.
Best Indie Makeup Companies to Try in 2020
Aether Beauty
Aether Beauty is an indie brand founded by Tiila Abbitt, former Sephora senior product developer. This is a sustainable beauty line. (vegan)(Leaping Bunny Certified)
A Girl's Gotta Spa
They make organic, vegan luxury bath and body products. Their perfumes are nice too! I love the citrus shower gel and body lotion. (100% vegan)(Leaping Bunny Certified)
Aromaleigh
Aromaleigh is a one-woman business that creates artisan makeup in small batches. You can find gorgeous eyeshadows, blushes, highlighters, contour powders and more. I'm currently in love with their cheek products and I can't get enough of them. (see my Aromaleigh posts) (vegan options)
Apocalyptic Beauty
Apocalyptic Beauty make gorgeous eyeshadows, blushes, contour and highlight powders, and lip products. They make scented setting sprays, body mists, and they have a monthly subscription box if you are looking for a new one. (vegan)
Baby Bat Beauty
Baby Bat Beauty is a gothic indie makeup brand with an awesome red Vampire themed palette and duochrome eyeshadows. I've gotten compliments on their lipsticks too! (vegan)
Beauty Bakerie
They make a variety of smudge proof products including lipsticks, brows, eyeliners and eyeshadows. I've recently bought a few and love them!  (vegan options)
Black Moon Cosmetics
I am in LOVE with Black Moon Cosmetics! They make my favorite highlighters, their lipsticks are amazing, and their shadow palettes are bomb. (vegan)(Leaping Bunny)
Black Phoenix Alchemy Lab
BPAL makes unique perfumes. With the exception of the honey-based products, everything else is vegan. They're inspired by everything from comic books to Fraggle Rock to Crimson Peak. (see my BPAL posts)(vegan options)
Bunny Paige
Not makeup, but still stuff to make you feel beautiful, I love my Bunny Paige jewelry. Described as edgy wearable art, I think these are stunning, high quality pieces. They're handcrafted with swarovski, studs and spikes. I've had several custom pieces made and I love all the pieces that I've bought. (see my Bunny Paige posts)
Chagrin Valley
They make all kinds of handmade soaps. They're certified organic. (100% vegan)
Clove + Hallow
Clove and Hallow is a gorgeous indie clean indie brand. Their Liquid Skin Tint, Lip Velvets & Hydrating Blush Serumes are all nice. (100% vegan)
Cocoa Pink
Cocoa Pink makes a ton of great hair and body products. I personally love their ShamPink shampoo, Argan Therapy Creme conditioner, perfumes, body butter and Ends with Argan Benefits. My favorite scents include Cinderella's Carriage, Hawaiian Cake, Pina Colada Cotton Candy, and Bonfire Pumpkins. (see my Cocoa Pink posts)(vegan options)
Concrete Minerals
Concrete Minerals has a sort of witchy vibe and a lot of great deep shades like Kinky, a black-based teal with rainbow sparkle. I love their aesthetic. (see my Concrete Minerals posts)(100% vegan)(Leaping Bunny Certified)
Crow and Pebble
I recently ordered some lovely eyeshadows and a lipstick from this brand. They are UK based. I love the inspiration for the company name, too.
Danessa Myricks Beauty
Danessay Myricks is an amazing makeup artist who started her own line for cosmetics. I love her Prism FX Hydrating Lotion, ColorFix, and cushion liners. (vegan)
Darling Girl
I love Darling Girl Cosmetics! They have to many creepy and cute collections like Ghoul School (Monster High Inspired), Ghost with the Most, Oh the Horror!, and Queens of Horror collections. (see my Darling Girl posts)(vegan options)
Get 15% off at Darling Girl with PHYRRA15
Devinah Cosmetics
Devinah makes gorgeous eyeshadows. I love their Icy Betch palette, duochromes, and more. (vegan options)
Dose of Colors
Dose of Colors works with a lab to make really nice traditional lipsticks, gorgeous baked highlighters, fun eyeshadows and liquid lipsticks. I love their Pearl Dust highlighter. (see my Dose of Colors posts)(vegan options)(Leaping Bunny Certified)
Dreaming Tree Soapworks
Dreaming Tree Soapworks makes lovely soaps, solid lotions, perfumes, lip balms and candles. I LOVE their beautiful label artwork too. You MUST try their tub truffles! (vegan options)
Eccentric Cosmetics
This is a cutie Australia indie brand. I recently placed another order with them that I should receive before mid January 2020.
Espionage Cosmetics
Geeky makeup and nail wraps? Yes please! They've successfully used kickstarter to fund their company and I applaud their style. (see my Espionage posts)
Fyrinnae
Fyrinnae was one of my first indie makeup loves and everything they make is magical. Their Arcane shadows are gorgeous, their liquid matte lipsticks are awesome and their Pixie Epoxy is a MUST for anyone who wants to use duochromes or super glittery eyeshadows. If you only pick up one color, consider Luxury or Because Cats. I've got almost 12 years worth of Fyrinnae eyeshadow swatches on my blog. (see my Fyrinnae posts)(100% vegan)
Hexennacht
Hexennacht is an indie perfume house that makes lovely scents like Big Toddy Goth Girl, Hestia, Chai-mallow, Vanilla Clove, Spirit Temple, and Mallowmint Pineapple Sticky Rice. Their headache eraser helps me a ton, too!
GeekChic Cosmetics
With awesome fandom collections including Moon Prism Power (Sailor Moon Inspired), Superneutrals (Supernatural), Win or Die (Game of Thrones), Timey Wimey (Dr. Who), Witchcraft & Wizardry (Harry Potter), you're sure to find something to love. You can find eyeshadows, lipsticks, perfumes and more. (See my GeekChic posts)(100% vegan)
Glam Goth Beauty
They have a gothic 7 Deadly Sins palette, and a ton of gorgeous glitters, most of which are biodegradable. (100% vegan)
Holo Taco
Holo Taco is a brand started by Youtuber Simply Nailogical. I've tried 3 of the nail polishes from her and liked them. They're cruelty-free and vegan!
Holy Snails
I LOVE Holy Snails! They're an American K-Beauty Inspired Indie Skincare brand. They just recently got Leaping Bunny Certification. Their Honey Shark Sauce is a MUST HAVE for me! (Leaping Bunny Certified)
Idun Minerals
You know I love Idun Minerals! They're a Sweden based clean indie beauty brand. Their Nordic Veil foundation is my favorite from the line. Their skincare is also really nice!
Impulse Cosmetics
They make gorgeous eyeshadows and lipsticks. I recently fell in love with Witchful Thinking lipstick by them. (vegan)
Ishani Botanicals
Ishani Botanicals is a vegan indie skincare brand that creates handmade organic, non-GMO products. Their packaging is all biodegradable too. (See my Ishani Botanicals posts)(100% vegan)
Get 25% off at Ishani Botanicals with phyrra25
JD Glow Cosmetics
JD Glow makes STUNNING AF eyeshadows. I only have a few, See Weed, 365, Cleopatra, N-Sane & Anomaly. I love the large pan size.
Jillian Dempsey
I recently found Jillian Dempsey on Credo Beauty. She's a makeup artist and very talented and she also happens to love Rituel de Fille. I tried JD's lid tint in Smoke, which is a beautiful color. I've debated picking up Ruby, too. (vegan)
Juvia's Place
Juvia's Place is a black-woman owned indie brand. I've tried several of their eyeshadow palettes and enjoyed them. I recently picked up their stick foundation in Tokyo to play with. (vegan)
Kristen Leigh Cosmetics
Kristen Leigh Cosmetics is a new to me indie makeup brand. They're well-known for their glitter gels and multichromes. I recently placed an order with them and will be reviewing them as soon as I can.
Land of Aahs Perfume
I recently found Land of Aahs Perfume when I was looking for an English Pear & Freesia type perfume, but stuck around for their Caramel Woods and Salted Caramel Cocoa perfumes.
Life's Entropy
Formed by a couple of nerdy scientists, LE offers artisan cosmetics ranging from contour sticks to brow theories to eyeshadows and lipsticks. (see my LE posts)(100% vegan)
LunatiCK Labs Cosmetics
With the coolest multi-purpose contour palette, HD finishing powder, and Bullet shaped lipsticks, LunatiCK is pretty amazing. They have awesome gothic packaging too. (See my LunatiCK posts)(100% vegan)
Makeup Geek
Founded by Marlena, one of the original beauty Youtubers, Makeup Geek is a proudly cruelty free brand. Marlena works with a lab to create her products and will be rebranding soon. (See my Makeup Geek posts)(vegan options)
Manic Panic
While Manic Panic is a brand that has been around forever, I'm pretty sure they're still indie! 15% of their annual profits are donated to charities each year. Tish & Snooky, the founders, have been dyeing their hair and wearing crazy makeup for as long as I've been alive. (100% vegan)(Leaping Bunny Certified)
MBA Cosmetics
They're an independent company that not only makes things in house, they also sell some private label products and do contract manufacturing as well. They have over 64 lipstick colors made in house and over 200 eyeshadows. (See my MBA posts)
Melt Cosmetics
Founded by Lora Arellano and Dana Bomar, Melt is a luxe indie brand. Lora is Rihanna's makeup artist. They haved 20 lipstick shades ranging from nudes to blues. They also have eyeshadow singles and stacks available. I LOVE their eyeshadow packaging. Their formula is on the soft and powdery side. The mattes blend out beautifully! I wish all mattes were like this. (See my Melt posts)(vegan options)(Leaping Bunny Certified)
My Pretty Zombie
I've fallen in love with their duochrome eyeshadows and blushes! They do gothic shades well, especially reds and purples. (See my MPZ posts)(vegan options) Get 15% off at My Pretty Zombie with myprettyphyrra
Necromancy Cosmetics
Handcrafted in Puerto Rico, they make gorgeous 100% vegan lipsticks. Sacramental is a MUST HAVE! (See my Neromancy posts)(100% vegan)
Ofra Cosmetics
Ofra is a Florida company, yay! They make makeup and skincare that's all vegan. Their long wearing liquid lipsticks are wonderful and they even have some duochrome shades! Save at Ofra with PHYRRA (Leaping Bunny Certified)
Rebels & Outlaw
This line is by my friend and makeup artist James Vincent and his husband Jeremy. I love their candles, their lip scrub is the best, and their smudging sprays are lovely.
Rituel de Fille
They specialize in cream products. I've fallen in love with their inner creme glow pigments. They make gorgeous, seasonal collections. (See my Rituel de Fille posts)(vegan options)(Leaping Bunny Certified)
Shablam Cosmetics
Shablam is a new to me indie brand. I ordered 3 of their mutant lip colors in Enchantress (orange sunset gold with pink sheen), Sorceress (metallic lavender with silver blue sheen), and Witch (greenish gold with red to purple sheen). (vegan options)(Leaping Bunny Certified)
Shroud Cosmetics
Shroud Cosmetics is a 100% vegan indie makeup company. I own Creepy Cute & Divinity palettes and love them! (Leaping Bunny Certified)
Silk Naturals
Silk Naturals is the unsung hero of the indie world. They are a powerhouse of products making everything from foundations to eyeshadows to lipsticks to brow pomades and blushes. They offer vegan dupes for many non-vegan products. They are a great brand to start with. I especially love their velvet matte lipsticks. (See my Silk Naturals posts)(100% vegan)
Get 5% off at Silk Naturals with phyrra18
Sigil Inspired by Tammy Tanuka
I found this brand on etsy and they make some gorgeous colors. They're from Russia! I have Soul Collector, Pollen of Unforgettable Flowers, Sweet Fog and Chimera, and I recently placed a large order so I can swatch more of their colors for you.
Spellbound Stitches
Not makeup, but my friend Carlye's indie clothing company makes custom designs for cosplay, costumes, gothic fashion of all sizes, and more. She sells some pieces on Etsy but you can bring her any idea and she'll be able to make it.
Spooky Cosmetics
Spooky Cosmetics is a super cute gothic indie brand. I've tried a few of their eyeshadows and thought they were lovely.
Sugar and Spite
Sugar & Spite is a small indie brand that makes delicious shower gels, lip balms, perfumes, hair mists and more. My favorite scent by them was discontinued, Upside Down, but I really like Tell it to the Moon, Rue Bella, and Plan 9.
Sugarpill
Founded by Shrinkle, aka the Queen of Brights, Sugarpill has a ton of loose and pressed eyeshadows, and beautiful lipsticks. You can see my rainbow swatches here. (See my Sugarpill posts)(vegan options)(Leaping Bunny Certified)
Suva Beauty
Suva Beauty is a Canada based indie brand. They make beautiful eyeshadows, hydra liners and fx liners. My favorites from them are Hookah, Denarau, Turkish Bath. (vegan options)
Sydney Grace Co
I love their pressed eyeshadows and many people swear by their creme eyeshadows. I featured them in my DIY Cool-Toned Berries Palette.
Take Off to Relax Bath Co
This brand was recommended to me this year for bath bombs and I love them!
The All Natural Face
They make a ton of beauty products. Most of them are good unless you have super oily, hooded eyes like I do. (100% vegan)
Indie Nail Polish Brands