Ishani Botanicals Vegan Beauty
Thanks to Ishani Botanicals for sponsoring this post! The opinions and text are all mine.
Today I'm sharing the brand Ishani Botanicals with you. Ishani Botanicals is a fairly new indie beauty brand that focuses on creating handmade organic, non-GMO, cruelty free and vegan products. These are quality products in simple packaging, created with similar principles to the Ayushi beauty line. The packaging is all biodegradable too. All of the products clearly list their batch number and manufacturing date on the back of the bottle, which I really like. Also included is a 'best used by' date, to make it very easy to see when you should finish using an item.
Where to Buy
Ishani Botanicals
If you subscribe to Ishani's website or sign up for their emails you get a 30% off coupon code for your order.
Ishani Botanicals Face Washes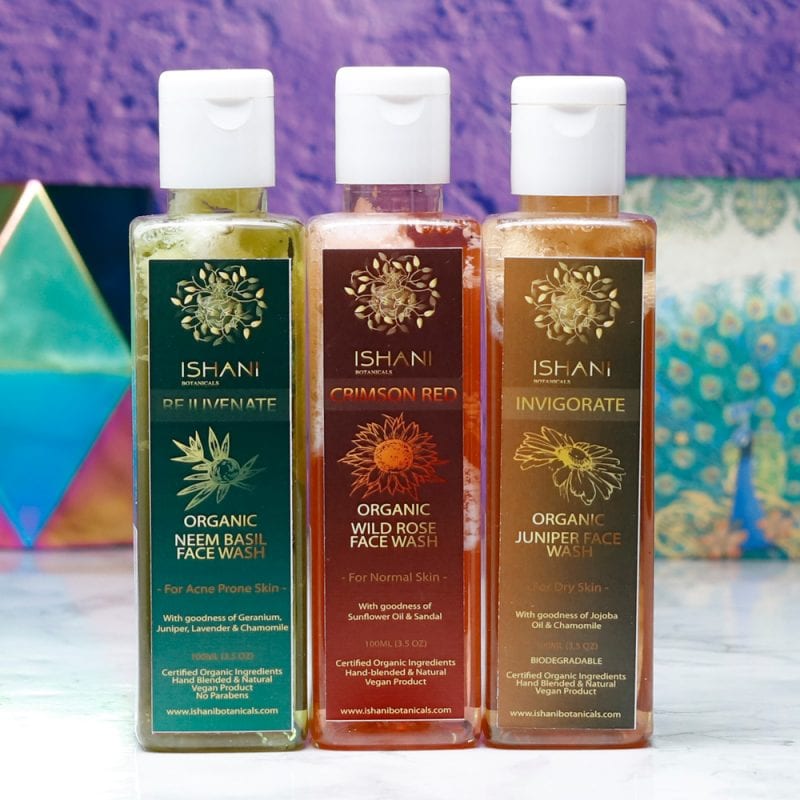 The Ishani Botanicals face washes are 100% free of parabens, phthalates, sulfates, artificial colors and synthetic fragrances. They're also completely handmade.
The Crimson Red Wild Rose Face Wash is intended for normal skin. It has nourishing ingredients such as sunflower oil and sandalwood.
The Invigorate Juniper Face Wash is for dry skin like mine. It has soothing chamomile and jojoba oil in it to hydrate the skin.
The Rejuvenate Neem Basil Face Wash is intended for acne-prone skin. It has geranium, juniper, lavender, and chamomile in it.
Ishani Botanicals Shampoos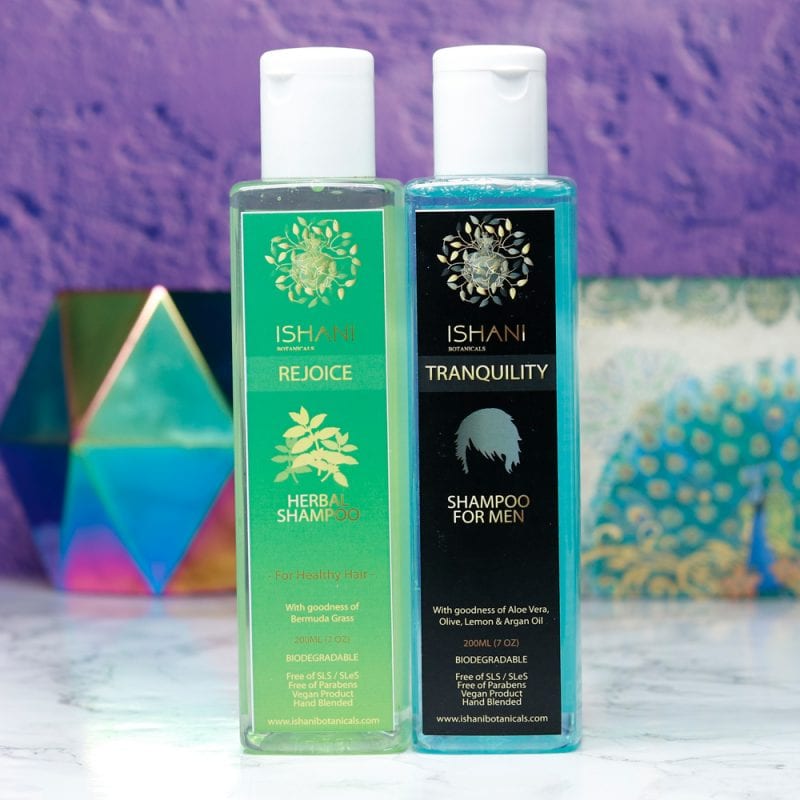 The Ishani Botanicals hair care products are 100% free of artificial colors, synthetic fragrances, sulfates, phthalates, and parabens. They're also handmade.
The Rejoice Organic Herbal Shampoo is SLS and SLeS free, making it ideal for sensitive scalps. It contains wheat protein, wild rose, and geranium to help the hair look and feel healthy, as well as to add shine and strength.
The Tranquility Organic Men's Shampoo is a very clean smelling shampoo. It has ingredients like wheat protein, aloe vera, olive oil, argan oil, lemongrass, lavender and chamomile to nourish the hair and keep it healthy.
Ishani Botanicals Oils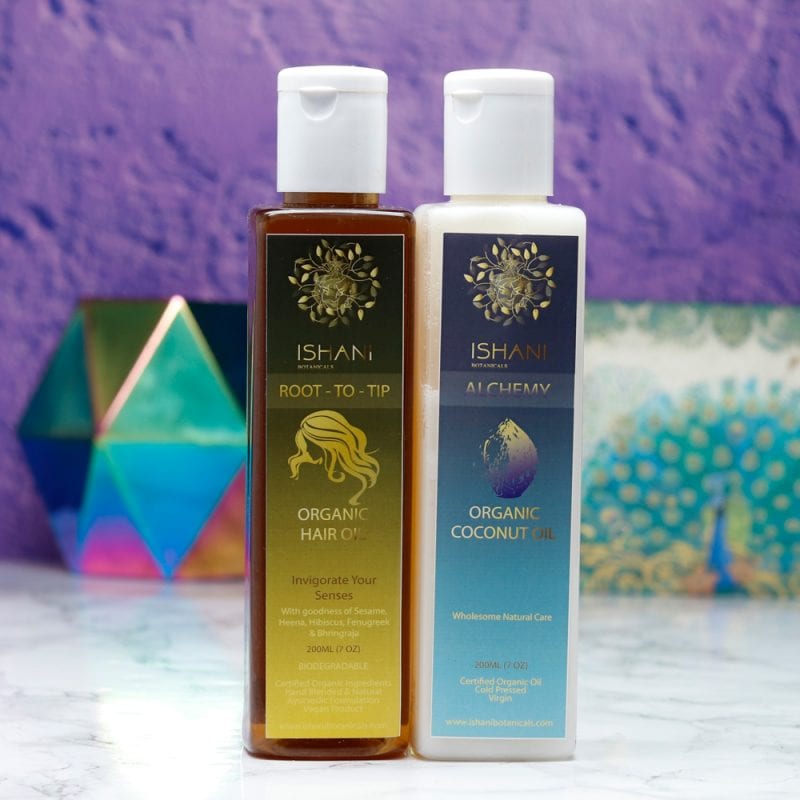 The Ishani Botanicals natural liquid soaps may look like they have chunks of product in them because of temperature change. Just run the bottle under warm water to return it to a liquid consistency.
The Root-to-Tip Organic Hair Oil is great to massage into your hair and nourish it. You can also put it all over your hair as an overnight hair treatment. It has ingredients like sesame, hibiscus, false daisy, and henna in it. The way I want to try it next is as a hot oil treatment!
The Alchemy Organic Coconut Oil is my favorite! I love coconut oil for just about everything! I use it for flyaway hairs, to massage into my scalp to help with dryness, to remove makeup, and to moisturize my cuticles. We also use coconut oil to cook, usually with rice.
Ishani Botanicals Hair Therapy Gel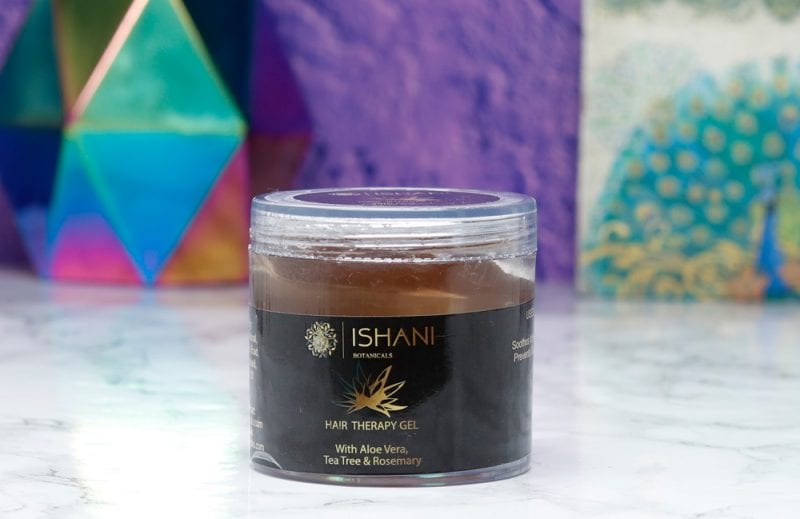 The Organic Hair Therapy Gel has been helpful with my dandruff. It's made with aloe vera, tea tree oil and rosemary. The aloe vera gel is so soothing!
Ishani Botanicals Aloe Vera Gels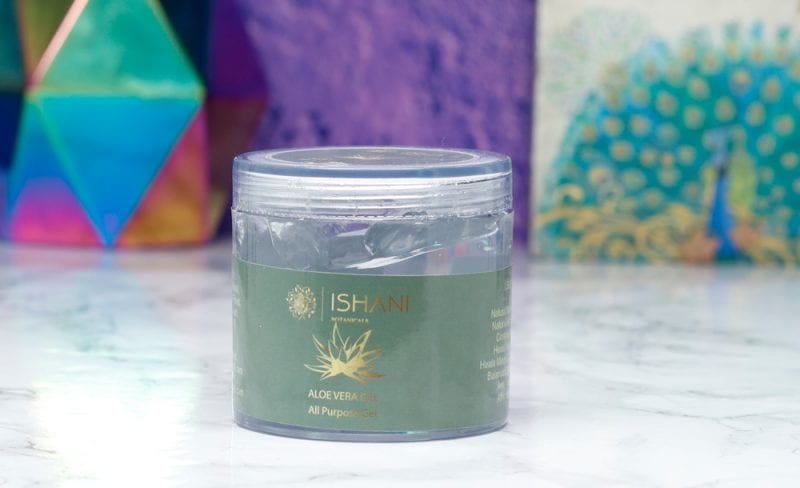 The Aloe Vera Gel with Lemon Extract is not for sensitive skin. It's meant to help balance excess oil, control acne, and it has natural astringent properties. I've been using it on my hand as a quick-absorbing moisturizer.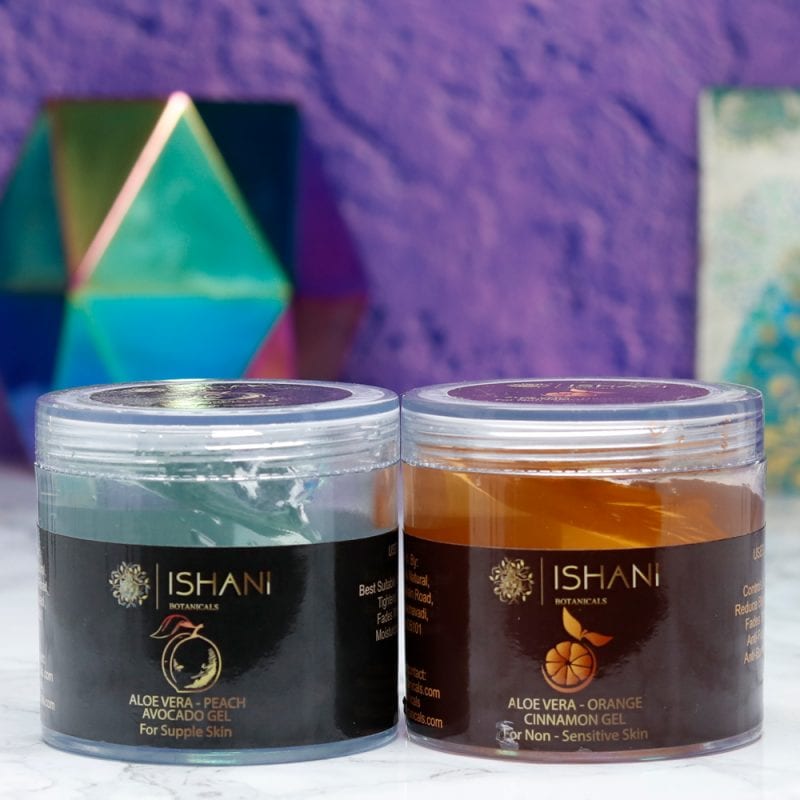 The Aloe Vera Gel with Orange and Cinnamon is not intended for sensitive skin like mine. It's intended to help with acne and to remove blemishes.
The Aloe Vera Gel with Peach and Avocado is meant for dry skin like mine. It's hydrating and soothing. I love aloe vera for my skin!
Ishani Botanicals Organic Pet Soap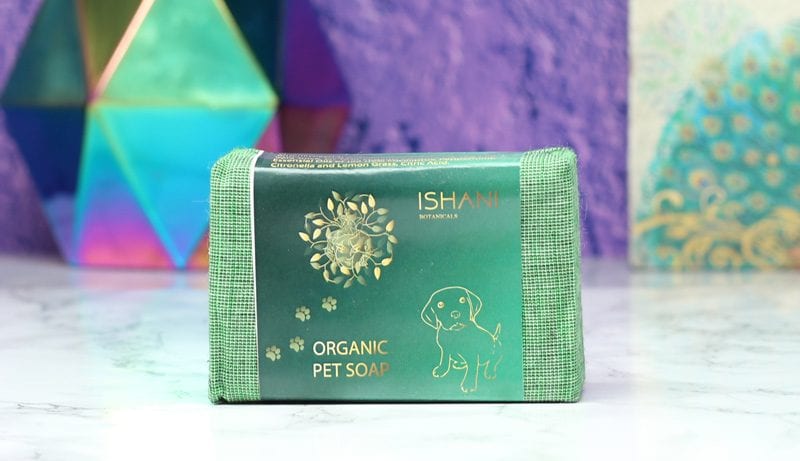 Ishani Botanicals also makes an organic pet soap! It has a very soft, clean soap set. The soap comes wrapped in green fabric and paper. I haven't had a chance to try it on Phaedra or Nyx yet.
Ishani Botanicals Favorites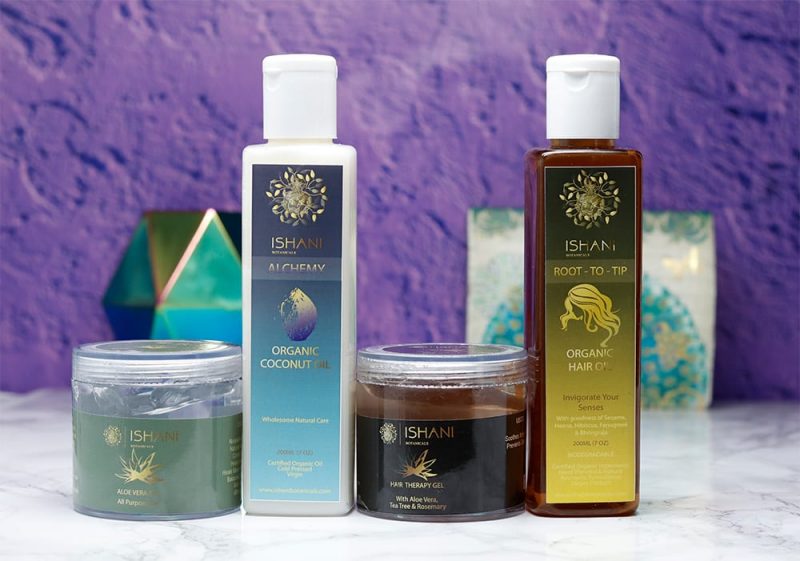 These are my favorites from the Ishani Botanicals vegan beauty line. I love coconut oil and use it daily. I really like using the Root-to-Tip on the ends of my hair. The Hair Therapy Gel has been nice to massage into my scalp, too. I enjoy using the Aloe Vera Gel as a fast-absorbing moisturizer for my hands.
If you are dealing with dandruff and dry scalp like I am, you might like the Hair Therapy Gel. The tea tree oil in it has anti-inflammatory, antifungal, and antibacterial properties. It can help to stimulate the circulation in your scalp and unclog your hair follicles.
You need some coconut oil in your life (unless you're allergic!). It's such an amazing, all-purpose oil for skin and hair.
If you're a fan of handmade indie brands, you need to check out Ishani Botanicals.