Best Gothic Makeup Brands to Try in 2020
Hey friends, 2020 is just around the corner so today I'm sharing my 27 best gothic makeup brands to try in 2020 with you.  These are indie brands that favor spooky packaging, goth aesthetics, and nomenclature for the most part, but a few more mainstream brands too. These are brands that you can turn to to create awesome zombie makeup, for when Halloween makeup everyday is life and red eyeshadow makes your cold dead heart happy! Every gothic makeup brand mentioned is cruelty-free and has vegan options and many on this list are 100% vegan. Some are also Leaping Bunny Certified. I've included lots of swatches of my favorite products too in the video, so please watch the video!
Edited to Add: I no longer recommend Saucebox or Moonslice Beauty. See why here in my Saucebox VIP Membership Issues Scam Video.
Best Gothic Makeup Brands to Try in 2020 Video
Click Here to Watch on Youtube.
Best Gothic Makeup Brands to Try in 2020 List
(cf) – 100% cruelty-free
(cf)(v) – 100% cruelty-free with vegan options
(v) – vegan
(i) – indie
Apocalyptic Beauty http://apocalypticbeautycosmetics.com/
(cf)(v)(i)
fun names and spooky gothic packaging
They have Badass Brow Pomade, so if you're looking for an alternative to KVD's Colored brow products, they're a good choice. They also make gorgeous eyeshadows, blushes, contour and highlight powders, and lip products. They make scented setting sprays, body mists, and they have a monthly subscription box if you are looking for a new one.
See more of the gothic makeup brand Apocalyptic Beauty.
Baby Bat Beauty https://babybatbeauty.com/
(cf)(v)(i)
great names, gothic packaging
They have gorgeous duochrome eyeshadows and vampire themed eyeshadow palettes. They also have gorgeous liquid lipsticks. I've been waiting for their satin lip creams to come back because I want Rosebud, Dagger & Shiver. I love my gothic Nox vampire palette.
Glam Goth Beauty https://glamgothbeauty.com/
(cf)(v)(i)
great names, gorgeous gothic packaging
They have a gothic 7 Deadly Sins palette, and a ton of gorgeous glitters, most of which are biodegradable. I have a really cute beanie hat from them.
Fyrinnae http://fyrinnae.com/
(v)(i)
awesome names, simple packaging
Fyrinnae has been a vegan indie staple brand of mine for years. They make the BEST duochromes and multi-chromes and their Pixie Epoxy is perfect for complex eyeshadows and glitter. They also often have gorgeous duochrome lip products.
I've got almost 12 years worth of Fyrinnae features on my blog.
Melt Cosmetics https://www.meltcosmetics.com/
cruelty free with vegan options (i) Leaping Bunny Certified
great names, great black packaging
Melt makes amazing eyeshadow stacks and eyeshadow palettes. I also love their liquid lipsticks and lip pencils. The blushes and highlighters I've tried have been great as well. This is probably the easiest brand to get your hands on from this list. Smoke Sessions, Radioactive & Muerte are  of my favorite palettes.
See all of my Melt Cosmetics features.
Black Moon Cosmetics https://www.blackmooncosmetics.com/
(v)(i) Leaping Bunny Certified
great names, great gothic makeup packaging
They have two amazing eyeshadow palettes that I love, but their gothic Black Metals palette is especially amazing if you're into rich, dark jewel tones. Their liquid lipsticks and highlighters are both my current favorite formulas to wear. Catshark and Squid highlighters get all my love. I also love their lipstick toppers and liquid eyeshadows. They're stunning. Sorrow is my go-to blue while Sanguis is my go-to red lipstick.
You know about my love affair with Black Moon Cosmetics on my blog.
Shroud Cosmetics https://www.shroudcosmetics.com/
(v)(i) Leaping Bunny Certified
cool names, fun witchy packaging
They make awesome gothic eyeshadow palettes like Creepy Cute and the Divinity palette. They just came out with the Arcana palette. They used to be known as Strobe Cosmetics.
I need to update my Strobe Cosmetics tag to Shroud Cosmetics but I have more features with them on my blog.
Impulse Cosmetics https://impulsecosmetics.com/
(cf)(v)(i)
pretty colors, basic packaging
Impulse makes lipsticks, eyeshadows and pressed glitters.
Devinah Cosmetics https://www.devinah.com/
(cf)(v)(i)
fun names, simple packaging
Devinah makes gorgeous eyeshadows, especially duochromes!
Rituel de Fille https://ritueldefille.com/
(cf)(v)(i) Leaping Bunny Certified
awesome names, luxe gothic witchy packaging, one of my favorites
I am in love with their Inner Glow Crème multi-purpose products for the cheeks! Intuition is my perfect contour shade, Nymph is a beautiful blush, and the High Priestess is a stunning highlight. Their lipsticks and eyeshadows are nice too. The only products that have deeply disappointed me were the LE Corvus and Hydra eyeshadows because they never set, they always stay wet, and that does NOT work on hooded eyes like mine.
Rituel de Fille is truly a gorgeous luxury gothic makeup brand! I have a ton of Rituel de Fille articles on my blog.
My Pretty Zombie http://www.myprettyzombie.com/
(cf)(v)(i)
cool names, simple gothic packaging
They make really awesome eyeshadows, unusual weird gothic blushes and contours too.
You need to see these gorgeous My Pretty Zombie swatches.
Lunatick Cosmetic Labs https://www.lunaticklabs.com/
(v)(i)
cool names and collabs, awesome gothic makeup packaging
Lunatick Cosmetic Labs is a really awesome, quirky indie company that makes bad ass officially licensed gothic makeup with Elvira and Vampira eyeshadow palettes, as well as fun lipsticks.
I have a lot of fun Lunatick Cosmetic Labs features.
Lime Crime  https://limecrime.com/
(v) Leaping Bunny Certified
ok names, girly packaging
I love my lime crime products! Venus 3, Venus Immortalis, Venux XL and XL2 are all stunning and I love wearing them. I also love the Plushies, the glitter eyeshadows and glitter lipstick toppers. And their Black Brown Smokey brow pen is my go to. Venus Immortalis is the ultimate gothic makeup palette. I love those cool tones.
I never thought I would love Lime Crime, but here we are. So here's my features with Lime Crime.
Aromaleigh https://www.aromaleighcosmetics.com/
(cf)(v)(i)
awesome and weird names, unique beautiful packaging
Aromaleigh makes a ton of great matte and duochrome eyeshadows. They have an entire Insectarium collection for weird insects with strange and unusual contour, highlight and blush shades.
I've been reviewing Aromaleigh for years, so there are many Aromaleigh Makeup Swatches.
Sugarpill https://sugarpill.com/
(cf)(v)(i)Leaping Bunny Certified
interesting names, girly packaging
I have loved my Sugarpill products for years. They make beautiful eyeshadow singles, loose eyeshadows, bullet and liquid lipsticks. Their liquid lipstick formula is one of the best.
I was one of the first people to blog about Sugarpill in 2010, so I've got about a decade's worth of Sugarpill Makeup swatches and reviews. I even interviewed Amy (Shrinkle) the owner of Sugarpill in 2010.
Saucebox https://sauceboxcosmetics.com/
(cf)(v)(i)
eco friendly packaging, fun names
Saucebox has made some amazing palettes like the Etude palette, Mermaid Life, and Secret Garden, as well as awesome singles like Black Widow. They also have a sister brand named Moonslice Beauty who makes very budget friendly beauty products. I've got 3 of their palettes – Emerald Moon, Moon Magic and Moon Shake swatched at my blog Phyrra.net.
You can find my Saucebox Makeup features here and my Moonslice Beauty features here.
Milk Makeup https://www.milkmakeup.com/
(v) Leaping Bunny Certified
simple all white packaging for most products
I would be remiss if I didn't mention Milk Makeup since they're my favorite makeup brand right now. They make my favorite primer, foundation, concealer, foundation stick, mascara, lash growth serum, brow serum, and stick highlighter. I also adore several of their lipsticks. They also have fun stamps for face and body art.
You know that Milk Makeup is currently my favorite makeup brand because they make the most of my daily makeup staples. See my Milk Makeup features.
Manic Panic https://manicpanic.com/
(v)(i)
black packaging, gothy names
Manic Panic was the first gothic makeup brand I ever knew of and the first hair dye brand I ever used. I  have major nostalgia any time I see a Manic Panic product, so I had to include them.
See some of my Manic Panic features.
Milani https://www.milanicosmetics.com/
(cf)(v) Leaping Bunny certified
black or gold packaging, generic names
Milani has stepped up their makeup game in the past year or two and I've been really impressed. As you know their Stick foundation is my favorite drugstore foundation (see the top 11 reasons why in this video).
I've got some more Milani reviews coming up, but here's my current list of Milani Makeup Features.
Shablam Cosmetics https://shablamcosmetics.com/
(cf)(v)(i) Leaping Bunny Certified
awesome gothic witchy packaging and names
Shablam is a new to me brand but I just ordered 3 of their mutant lip colors in Enchantress (orange sunset gold with pink sheen), Sorceress (metallic lavender with silver blue sheen), and Witch (greenish gold with red to purple sheen). I'm waiting impatiently for my Black Friday order to get here!
Necromancy Cosmetica https://necromancycosmetica.com/
(v)(i)
awesome black gothic packaging and names
They make amazing gothic lipsticks. Sacramental is a must have shade from them. They are a must-try!
See my Necromancy Cosmetica makeup features.
Silk Naturals https://www.silknaturals.com/store/
(cf)(v)(i)
simple black goth packaging, cute names
Silk Naturals is an indie staple of mine for years. They make gorgeous eyeshadows, blushes, cream foundations, eyeliners and more.
I've got over a decade of Silk Naturals features on my blog.
Concrete Minerals https://www.concreteminerals.com/
(v)(i) Leaping Bunny certified
black witchy gothic packaging
Concrete Minerals is an indie company that has been around for a long time and they still keep coming out with releases. I just ordered their Starman collection and I own the black magic collection. The mermaid collection looks nice too.
I've got quite a collection of Concrete Minerals makeup features to share!
Geek Chic Cosmetics https://www.geekchiccosmetics.com/
(v)(i)
cutesy packaging and names
Geek Chic has a ton of awesome eyeshadows, highlighters, blushes and lipsticks. The colors range from pastel goth to vampy deep tones. They have colors like Black Witch, Death's Head, Glacial Ice, Petrichor, just to name a few!
There are tons of Geek Chic Cosmetics makeup features here on Phyrra.net!
Pretty Zombie Cosmetics https://www.prettyzombiecosmetics.com/
(v)(i)
gothic packaging and names
They just make liquid lipsticks, but their colors are very dark, gothic, and unusual.
You can see my gothic lipstick features with Pretty Zombie Cosmetics.
Nyx Cosmetics https://www.nyxcosmetics.com/
(cf)(v)
black packaging, cutesy names
One of the only drugstore makeup brands I love, Nyx has a wide range of products in sleek black packaging and unusual colors for your cold, dark soul.
See all of my fun Nyx Cosmetics features.
Urban Decay https://www.urbandecay.com/
(cf)(v)
silver metallic packaging, fun names
Urban Decay has long been a staple in my makeup collection. Their Vice lipsticks are my all time favorite bullet lipsticks. Their eyeliners have been a go-to for a decade. They make great eyeshadows and blushes as well. Voodoo, Heroine, Junkie, Perversion, Hex, Oblivion are all favorites of mine.
I am an Urban Decay Fanatic and I have literally about 50 pages worth of UD features. They are in my top 10 favorite makeup brands of all time.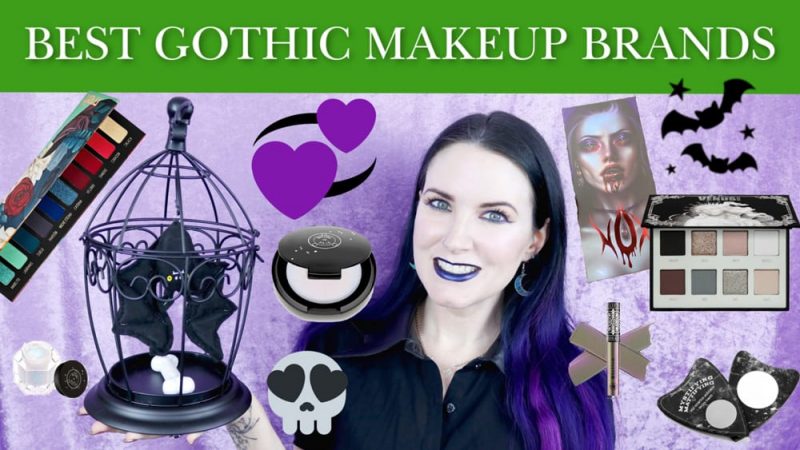 I hope you enjoyed seeing my 27 (well I guess technically 28 if you count Moonslice Beauty) Best Gothic Makeup Brands to Try in 2020!