Make Magic With Rituel de Fille Ash & Ember Eye Soots
Do you want unique, otherworldly eyeshadows? Make Magic With Rituel de Fille Ash & Ember Eye Soots. I had many of you reach out to me to ask me to share my Rituel de Fille collection with you. Today I'm sharing my Ash & Ember Eye Soots with you. I have a few that are Limited Edition and in a different formula.
Where to Buy
Rituel de Fille, Credo Beauty
Price
$38
Rituel de Fille is the luxury gothic indie makeup brand. They're also Leaping Bunny Certified. Some of their products are vegan, but most are not.
How to Apply
Rituel de Fille Says
Rituel de Fille Ash & Ember Eye Soot is a magical concoction of intense, smoldering, everlasting color with a rich texture between powder and cream. This eyeshadow is made with pure pigments and natural oils, free of waxes to avoid melting with the warmth of your skin. With either fingertips or brushes, apply vertical pressure; think pressing, rather than just swiping. The color transfers and applies much better this way. And unlike traditional pressed eye shadows, you don't have to be delicate with your Eye Soots as the product can't crack or shatter.
Ash & Ember Eye Soot Packaging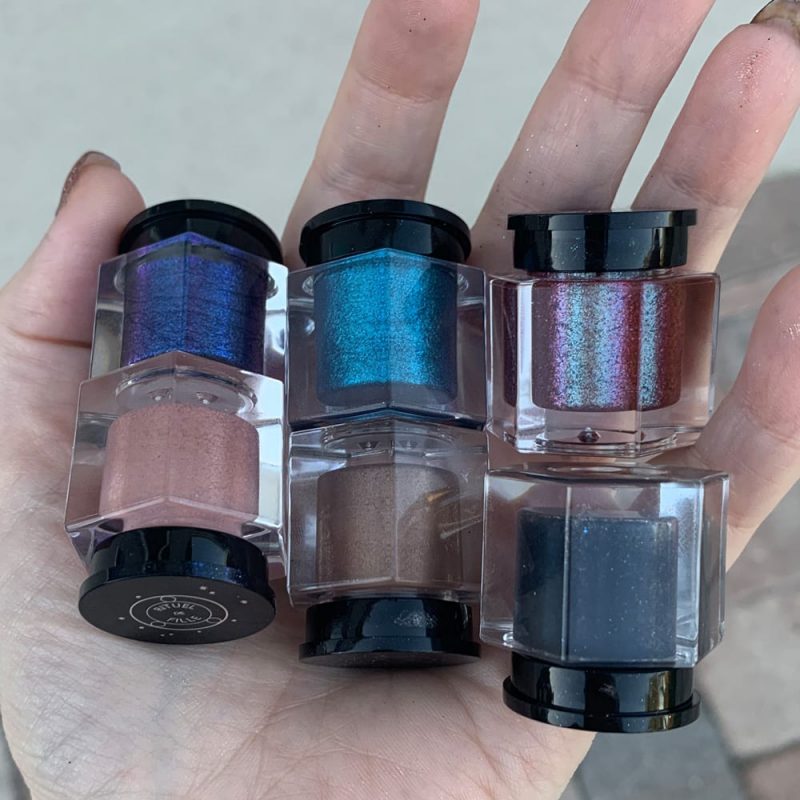 I have a love hate relationship with the Rituel de Fille Ash & Ember Eye Soots. I love the brand's logo and star design. These jars leave a lot to be desired for me though. If you have ANY length of nail, the cream product gets under it when you use you finger to tap into the jar. I have to use a synthetic brush because I have long nails. I just don't find this jar design to be user friendly with a cream product, though I've used this design with loose eyeshadow without issue. I wish these came in a mini compact version of the cheek products that was refillable so the packaging was eco-friendly.
The Ash & Ember Eye Soots I Would Love to Add to My Collection


I missed out on these three limited edition eyeshadows. I am so sick of the LE trend because these were gone in the blink of an eye. I would have loved to have added them to my collection. If I could only choose one, I would choose Caerulum.
Caerulum: is iridescence captured with a flash like labradorite. This is a gauzy, diaphanous shade with remarkably bright, glittering points of turquoise light that builds to extraordinary brightness and complexity.
Vitrum: is a silvery, translucent, captivating prismatic color of pure light like a cluster of fine, glimmering quartz crystals.
Rosea Aurum: is a delicate, brightly glimmering iridescent blush shade like pale pink tourmaline. It is the perfect flushed meeting of warm and cool, soft and striking, wearable and remarkable.
Rituel de Fille Ash & Ember Eye Soots Swatches
Below is my current collection of Rituel de Fille Ash & Ember Eye Soots.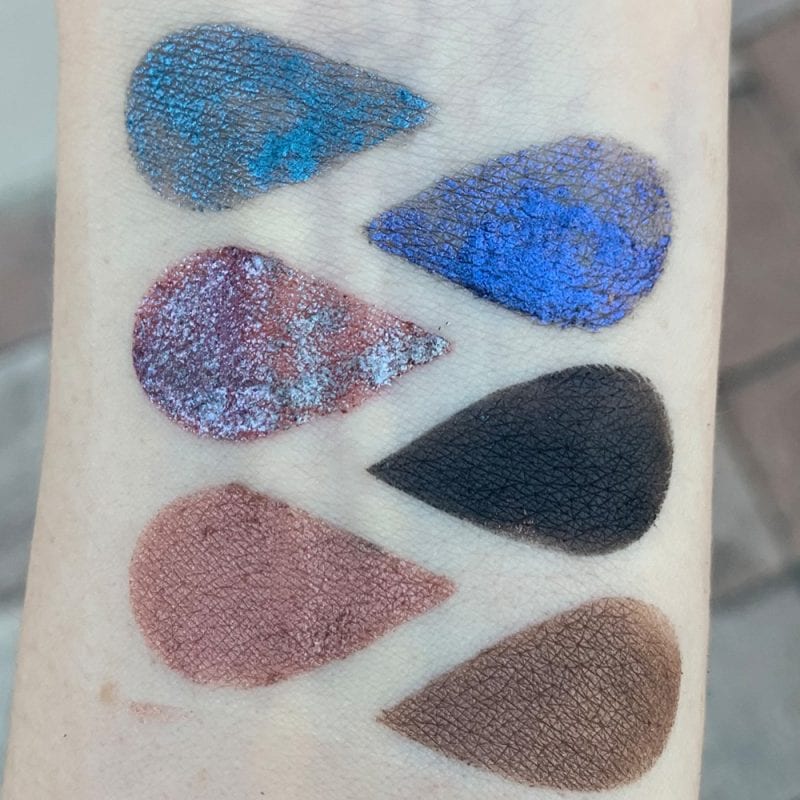 Outdoor swatches on my pale skin in indirect natural light. This is honestly my favorite light to shoot swatches in these days. I love how you can see the duochrome nature of Cygnus in the shot above. I see pink to violet to blue to teal green in the shift on the red base.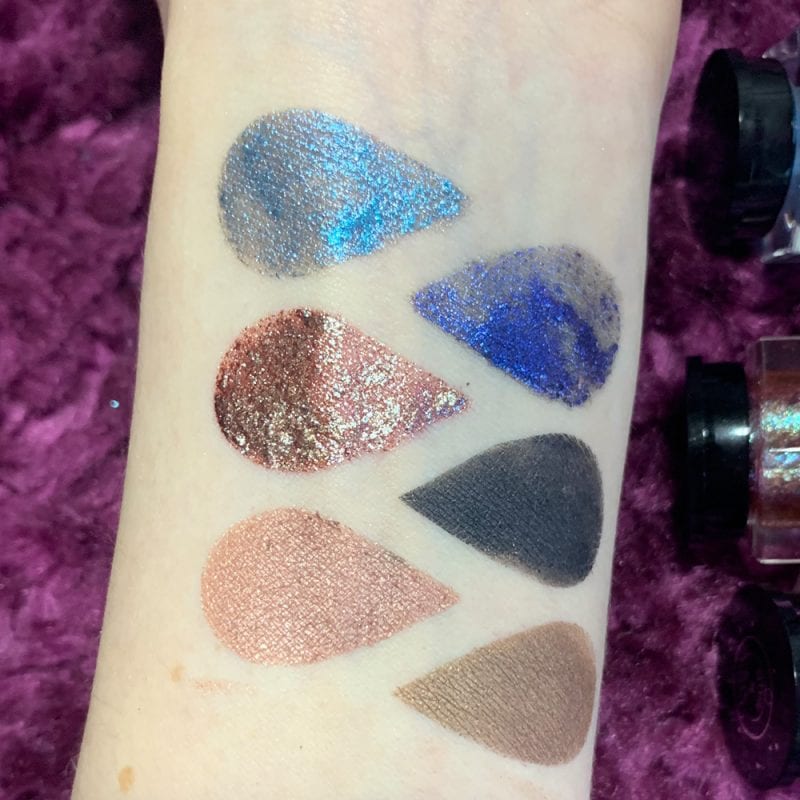 Indoor swatches on my fair skin under my daylight bulbs.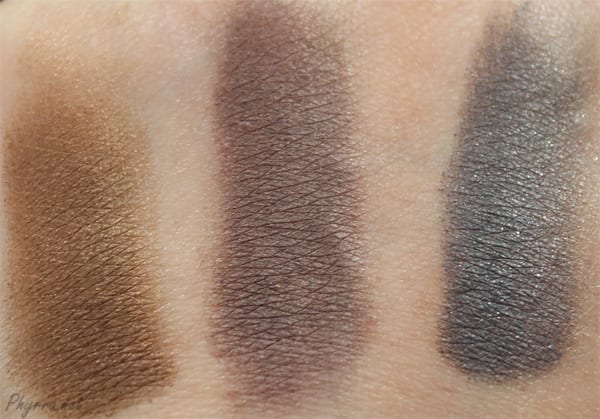 The above 3 swatches were from my original Rituel de Fille review from 2014.
Ash & Ember Eye Soot Formula
The Rituel de Fille Ash & Ember Eye Soot Formula is one that I always have to wear eyeshadow primer and set my eyes before application, just like any other eyeshadow I own. My oily, hooded eyelids are tough on eyeshadow. Still, as long as I prep I can get all day wear.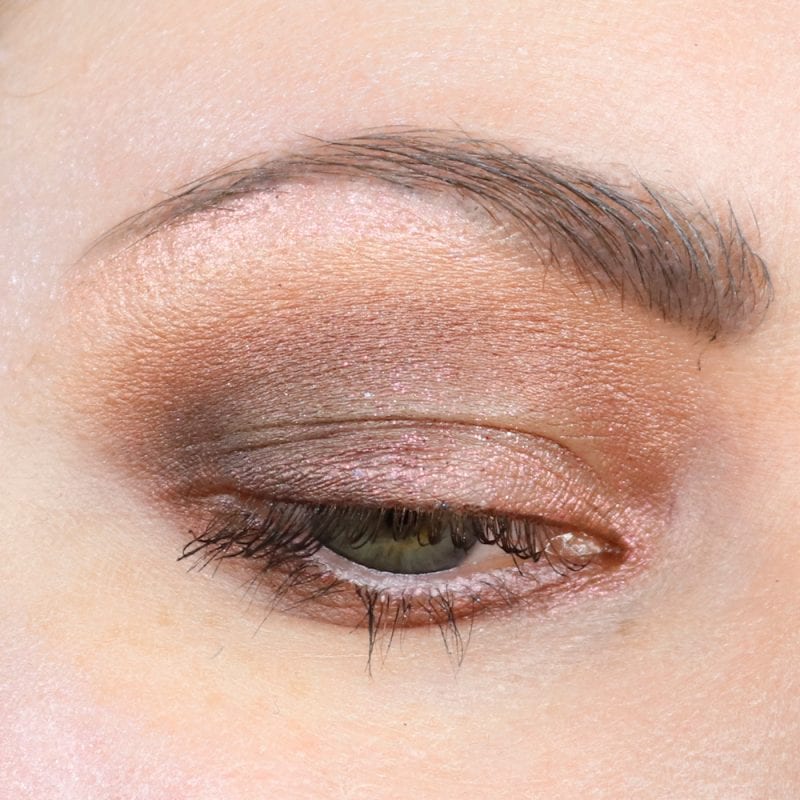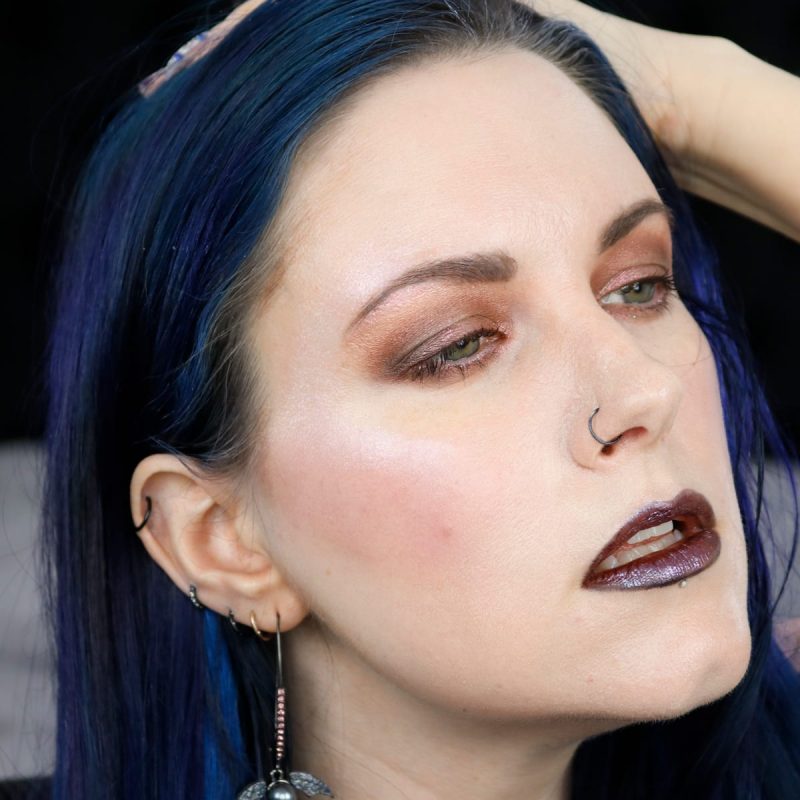 Above I'm wearing several of the Ash & Ember Eye Soot samples I purchased, Exuviae, Obsidian, & Ara.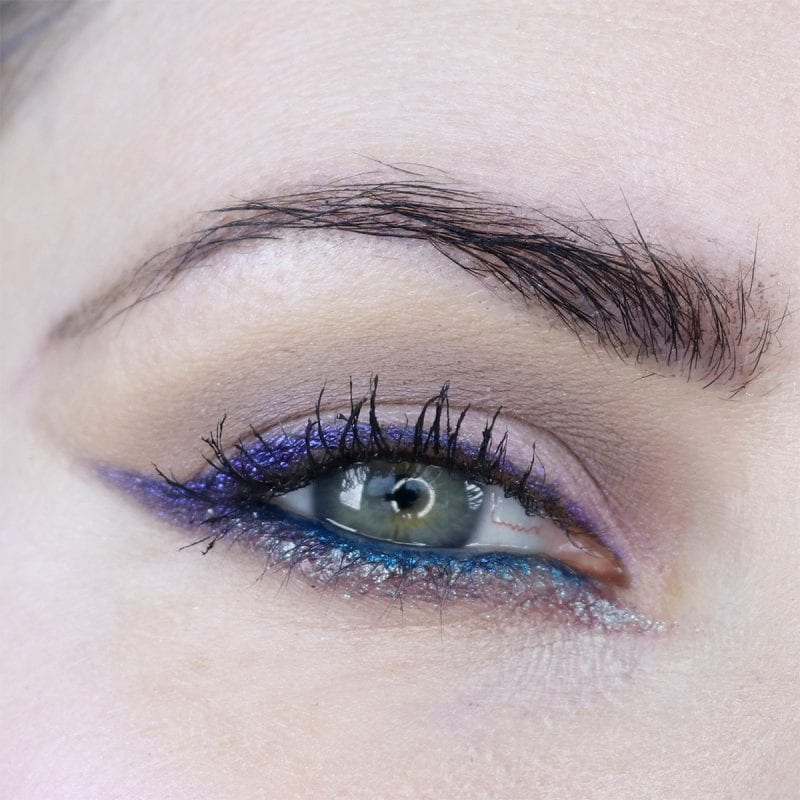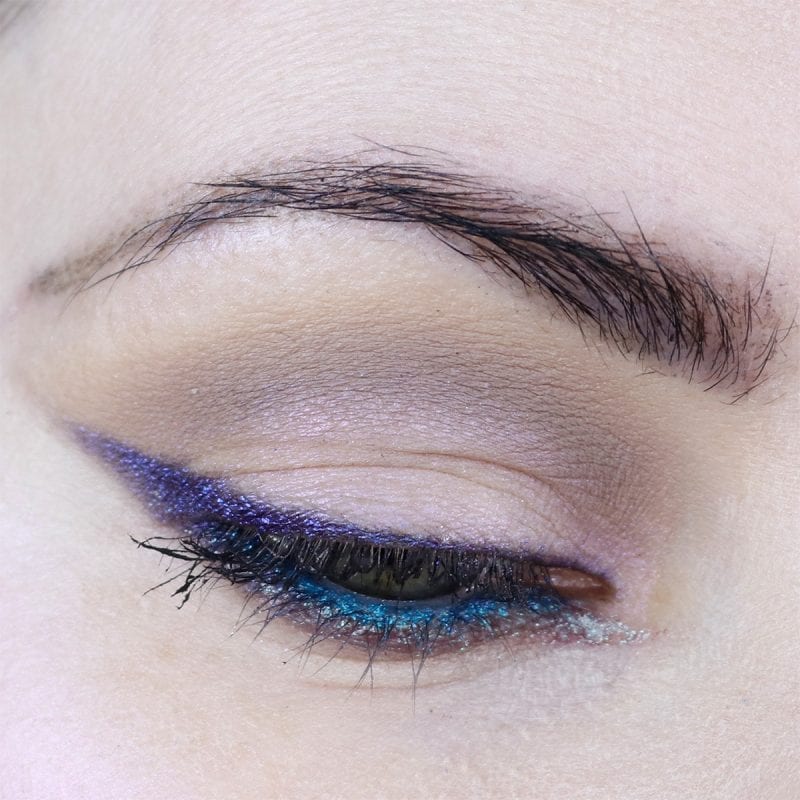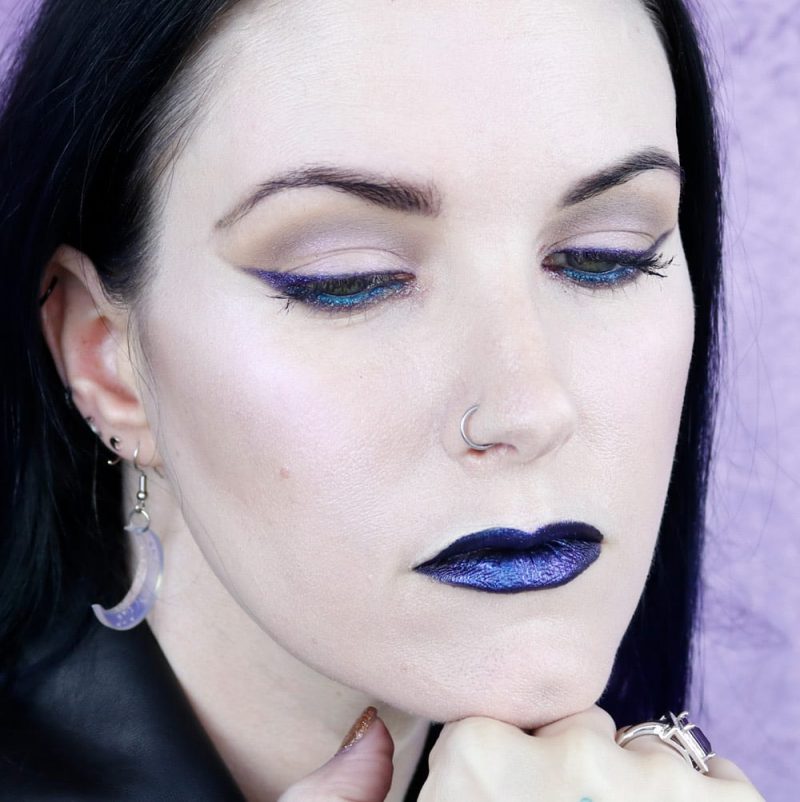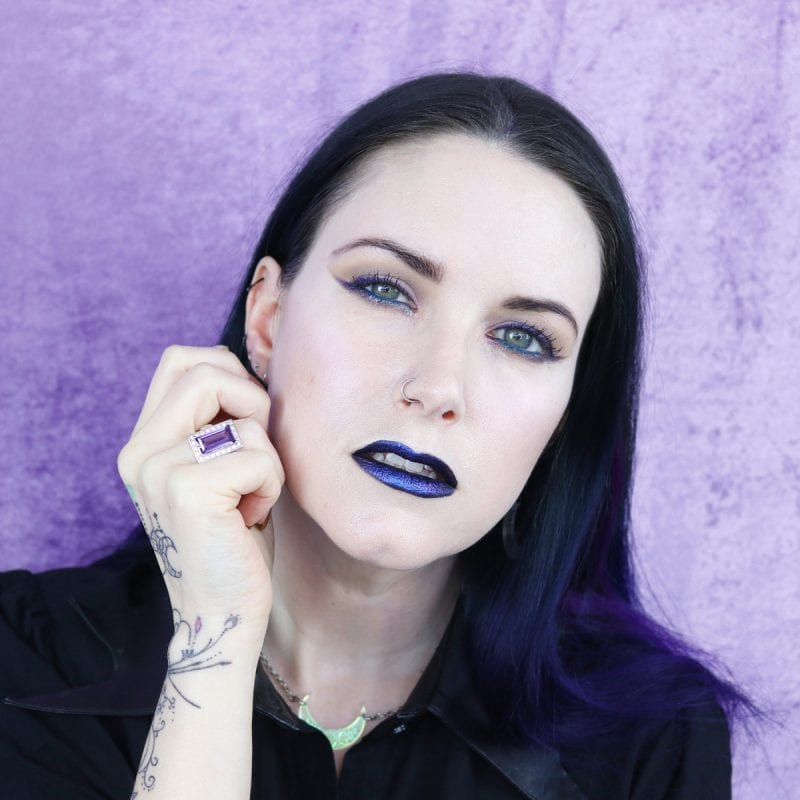 I'm wearing Rituel de Fille Cygnus along the lower lid as liner on top of Black Moon Cosmetics Cold (from the Orb of Light Full Moon Palette). I've got Rituel de Fille Corvus patted on top of Black Moon Sorrow Liquid Lipstick.
Rituel de Fille Ash & Ember Eye Soots Review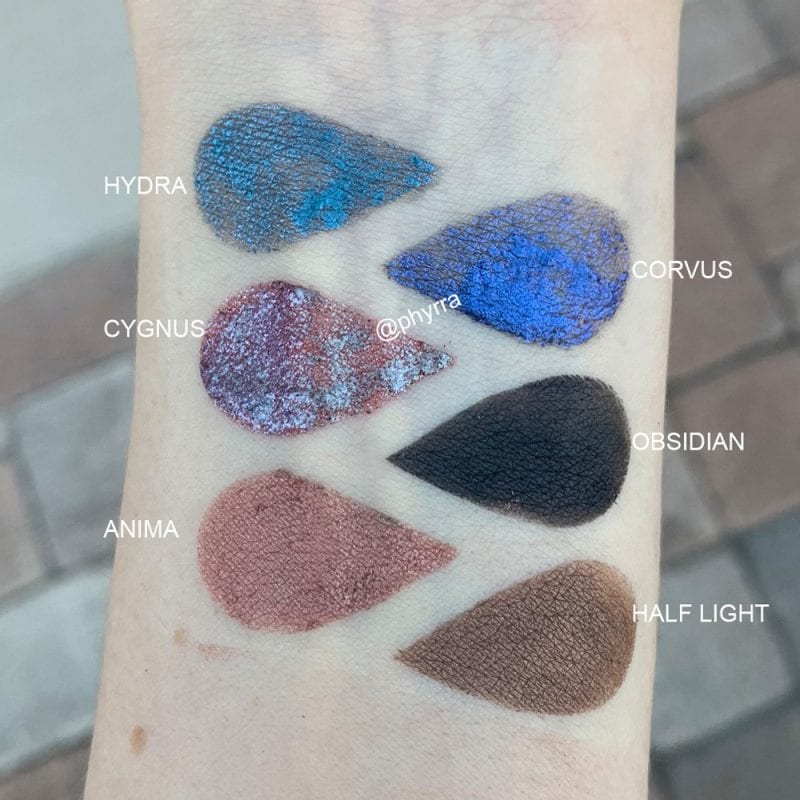 Anima: The spirit of life, expressed in a soft flush of radiant mauve-pink. Warm blush highlights create a remarkably dimensional color merging cool and warm tones. This vital shade is capable of diffusing to subtlety and wearing in full boldness.
Now, I bought Anima because I discovered over the past year or two that I look good in mauves that are neutral to cool toned. Anima pulls very, very warm on me. I can make it work but it's hard because it turns into a brown on me.
Half Light: We created this warm, softly shimmering taupe to evoke shadows at dusk. We love applying this color as a base to create depth in a smoky look, or on its own for a subtly mysterious gaze.
Half Life does a nice job of making my blue-green eyes pop blue. It's more of a bronzey-taupe to my eyes.
Obsidian: A rich black with metallic sheen. (vegan)
I love this black.
Cygnus (Celestial Sphere Eye Soot): Blood and radiant starlight. We created Cygnus with a deep red gelée base illuminated by stunning blue-green iridescent shift, creating a color of smoky drama with the luminous complexity of a deep space nebula.
Cygnus is my favorite of all the colors that I own. I primarily wear it on the lower lid because of the formula.
Corvus (Celestial Sphere Eye Soot): a rich ultraviolet with blue highlights in a black gelée base. Can Be used on bare skin, layer over any crème product, or wear on the lips for a rich glossed finish.
I've really only been able to wear this on my lips as it creases on my eyelids, which makes me so sad.
Hydra (Celestial Sphere Eye Soot): a glimmering bioluminescent aqua in a black gelée base.
This is gorgeous on my lips, but much like the other gelee formula, it creases on the eyes.
I adore Rituel de Fille and I really love my Ash & Ember Eye Soots, despite having difficulty with the gelee formula. Cygnus is my absolute favorite shade out of the ones I own because of the complexity and depth of the shimmer. It looks so good patted on top of many different colors. I live for duochromes and multi-chromes like this, I just wish it was in a more user friendly formula for my oily, hooded eyelids.
What do you think of the Rituel de Fille Ash & Ember Eye Soots?