Duochrome Makeup Look
I wanted to share this pretty duochrome makeup look I created with a ton of indie makeup with you. To create the eyes, after priming & setting the eye area, I mixed Black Moon New & Cold together to shade the crease & lower lid, & swirled whatever was left on the brush over the lid. I patted Aromaleigh Ostara onto the lid. I used Milani After Dark pencil to line the upper lash line & slightly wing it out, then applied Baby Bat Beauty Amulet on top. I used a bit of Amulet on the bottom 1/4 of the lower lid, then put Rituel de Fille Cygnus along the rest of the lower lid. I layered UD Night King, then Winterfell Snow pencils on the lower waterline. I highlighted with Milk Supernova. I finished it with Milk mascara.
You know I'm obsessed with glowy skin, so I mixed Clove + Hallow Liquid Skin Tint in 1 with Danessa Myricks Prism FX to help me lock in that ethereal glow on my dry skin. Rituel de Fille Intuition & High Priestess helped me sculpt my cheeks. Black Moon Catshark gave me more of otherworldly glow on my face. I LOVE the pearlescent finish on Black Moon's highlighters. Give me a lit from within pearly iridescent glow over glitter any day for my highlight!
To create my lips, I used Black Moon Sorrow lipstick & topped it with Rituel de Fille Corvus for the added dimensional purple-blue shift.
Duochrome Makeup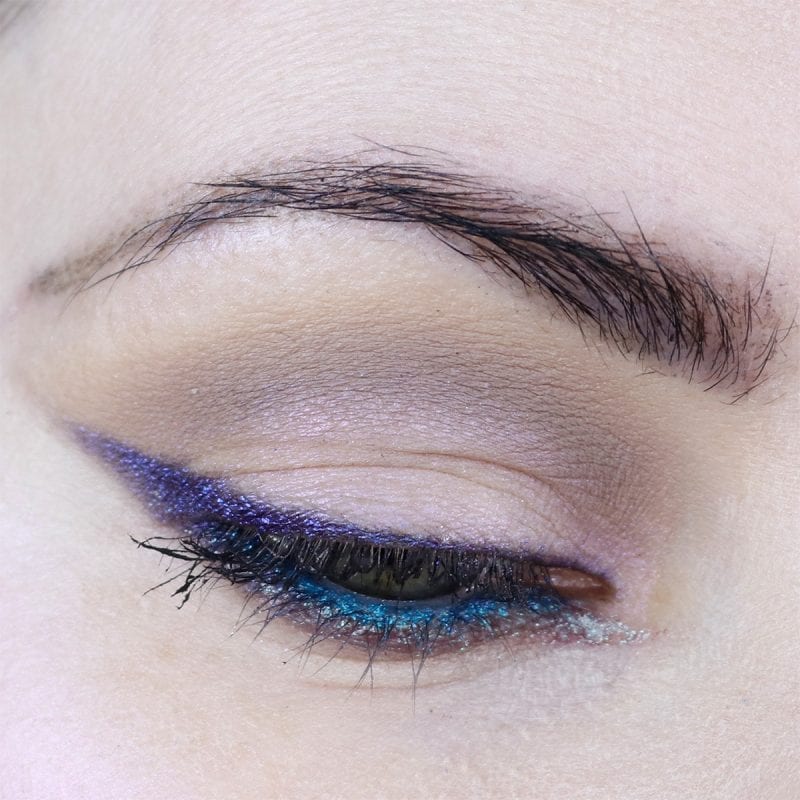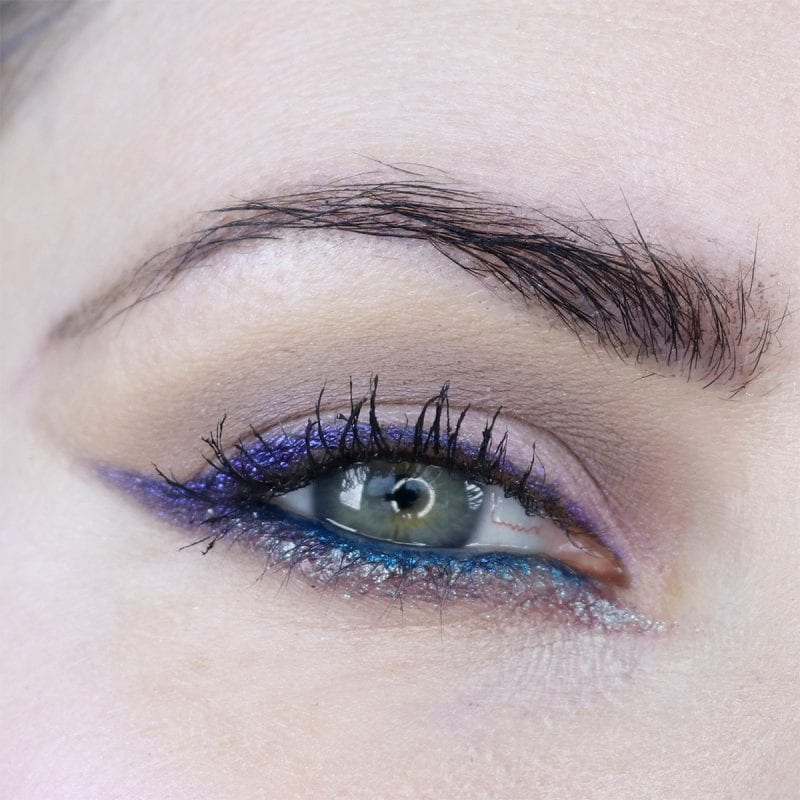 The eyelid color, Ostara, has a subtle peach base with a violet shift. The upper liner color, Amulet, shifts from blue to purple to pink. The lower liner color, Cygnus is a burgundy base with teal blue shift that can turn pink from some angles. Milk Supernova, used under the eyebrows, has a white base with an iridescent violet shift.
The duochrome makeup on the eyes is my favorite, especially because I used a mix of subtle duochromes with bolder duochromes.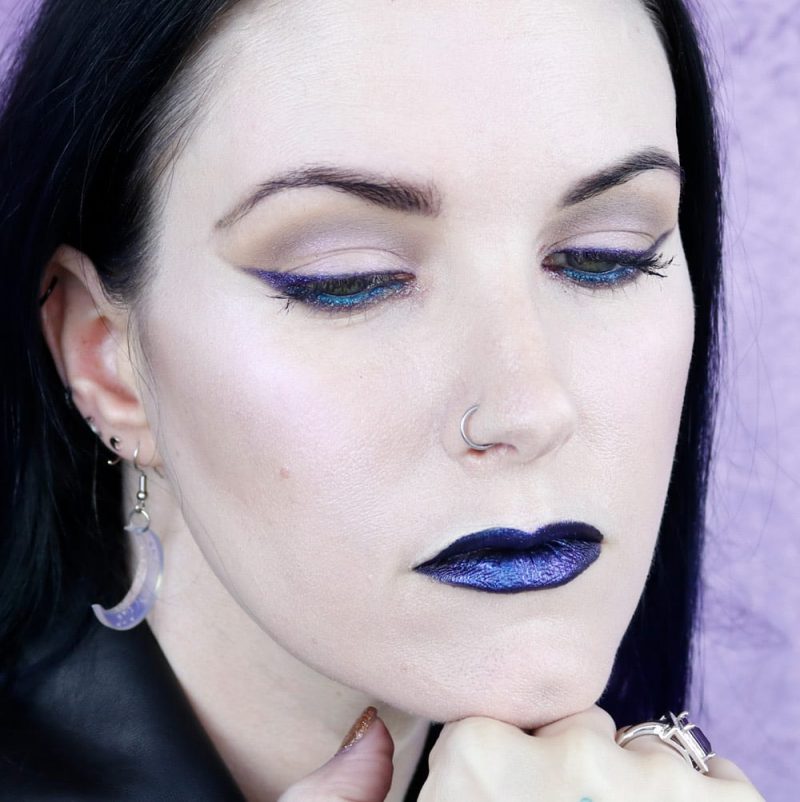 For the lips, Black Moon Sorrow is a blackened blue with arctic blue reflects. I layered Rituel de Fille Corvus on top, which is a rich ultraviolet with blue highlights in a black gelée base.
I find the duochrome makeup look on the lips is beautiful and intense.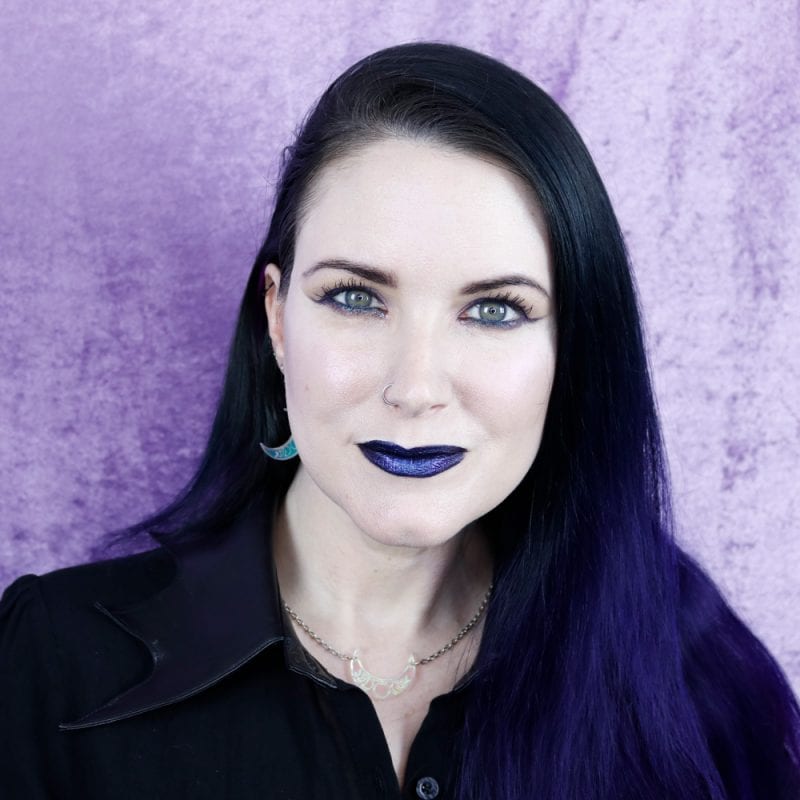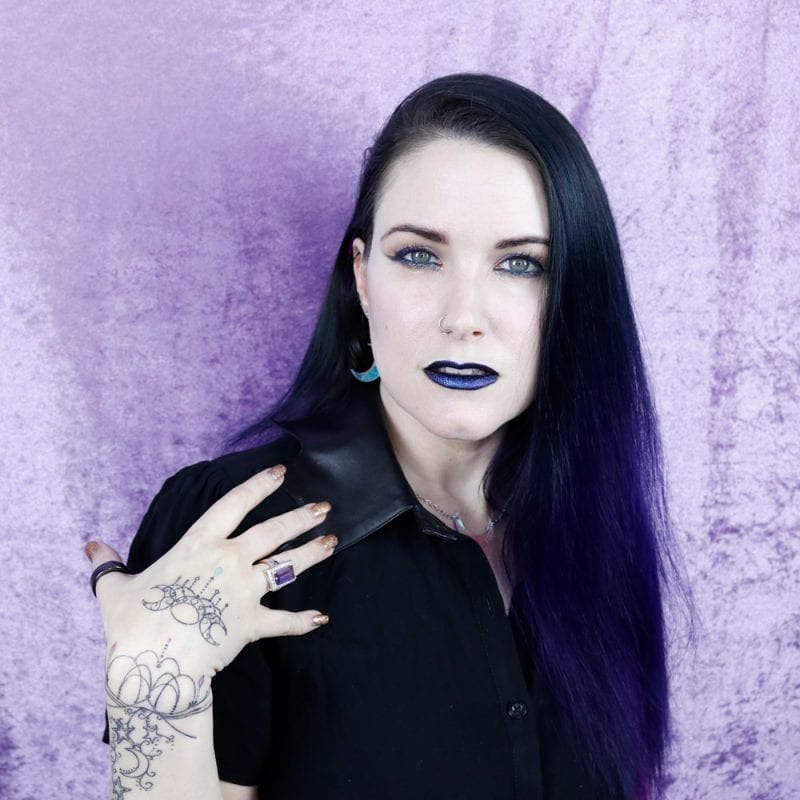 Not gonna lie, I absolutely love this shirt! The ridiculously over-sized pointed collar makes me so happy. And of course, the iridescent etched moon necklace and earrings are stunning af!
Love my tattoos? Learn all about them in my latest, Bat Tattoo.
Duochrome Makeup Look Products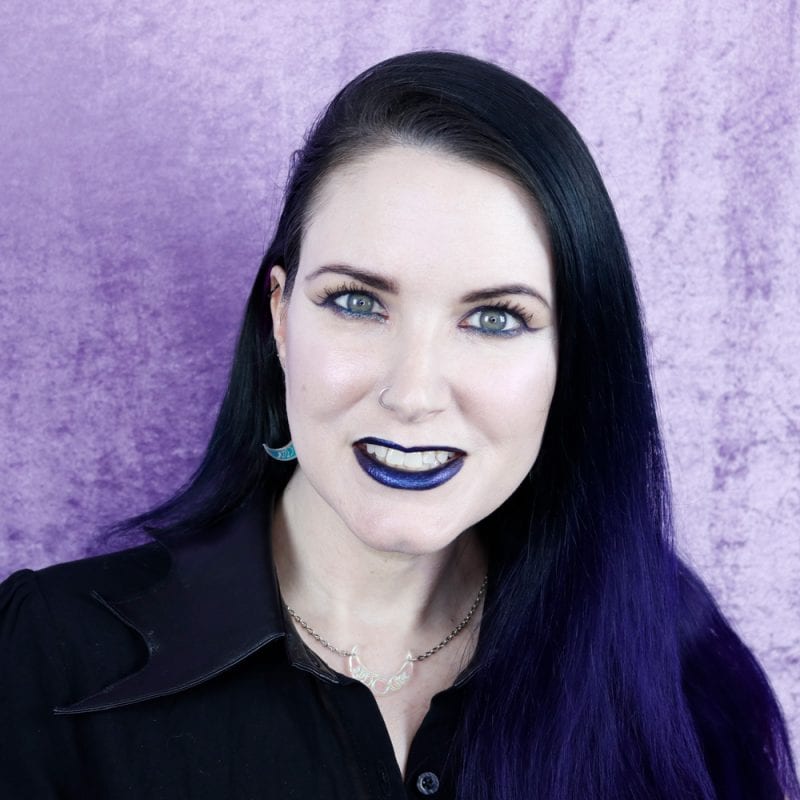 Fashion
Black Bat Wing Collared Shirt
Silver Cicada Iridescent Moon Necklace
Silver Cicada Iridescent Moon Earrings
Eyes
TheBalm Eyeshadow Primer
Black Moon Orb of Light Palette
Aromaleigh Ostara
Milani After Dark pencil
Baby Bat Beauty Amulet
Rituel de Fille Cygnus (LE, but looks like they brought it back)
Milk Makeup Kush Mascara
Lime Crime Smokey Brow Pen
Milk Makeup Kush Cyper Brow Gel
Milk Supernova
Urban Decay Night King + Winterfell Snow pencils (LE, discontinued)
Face
Milk Hydro Grip Primer
Clove and Hallow Liquid Skin Tint in 1 mixed with
Danessa Myricks Prism FX Hydrating Lotion
Rituel de Fille Intuition
Rituel de Fille High Priestess (LE, but looks like they brought it back)
Black Moon Catshark
Lips
Black Moon Sorrow
Rituel de Fille Corvus (LE, looks to be discontinued)
Yes, give me glowy, lit from within skin! I hadn't used the Danessa Myricks Prism FX Hydrating lotion in a while but love that glow it gives. Since I've been using stick foundations so much, I haven't tried mixing Prism FX in with a stick. I need to give that a go. Yes basically, the Prism FX gives you duochrome skin. You look normal from one angle and then bam! The light hits you and you've got this gorgeous ethereal glow!
I think this is a fun duochrome makeup look. I love duochromes, so using them on the eyes, lips and face makes me happy. How do you like to wear duochromes?