Aromaleigh Kupala Fall Cruelty-Free Makeup Tutorial

Aromaleigh Kupala Fall Cruelty-Free Makeup Tutorial
Today I'm sharing my Aromaleigh Kupala Fall Cruelty-Free Makeup Tutorial with you. I wanted to create a look with Inward Melodies and Kupala, both colors that I find gorgeous. I decided to pull in Medousa since it's a red burgundy color, making it very Fall appropriate. It's really a great way to wear red. This is a full face tutorial using mostly Aromaleigh. I tried to go all one brand as much as possible. Normally with my hooded eyes, I avoid shimmer on the lid, but not for this Fall Cruelty-Free Makeup Tutorial!
Cle & KBShimmer PR sample. Everything else purchased by me.
I wanted to update & reshare this tutorial with you because it's a fun way to incorporate red into your makeup look for Fall & Winter. There are so many eyeshadow palettes out there with these shades! You can also shop your stash and recreate with singles like a bronzey peach, a light peachy pink, a vivid red burgundy, and a charcoal. Of course, the Urban Decay Naked Heat Palette and the Anastasia Beverly Hills Modern Renaissance Palette both have these shades in abundance!
What I'm Wearing In This Fall Makeup Tutorial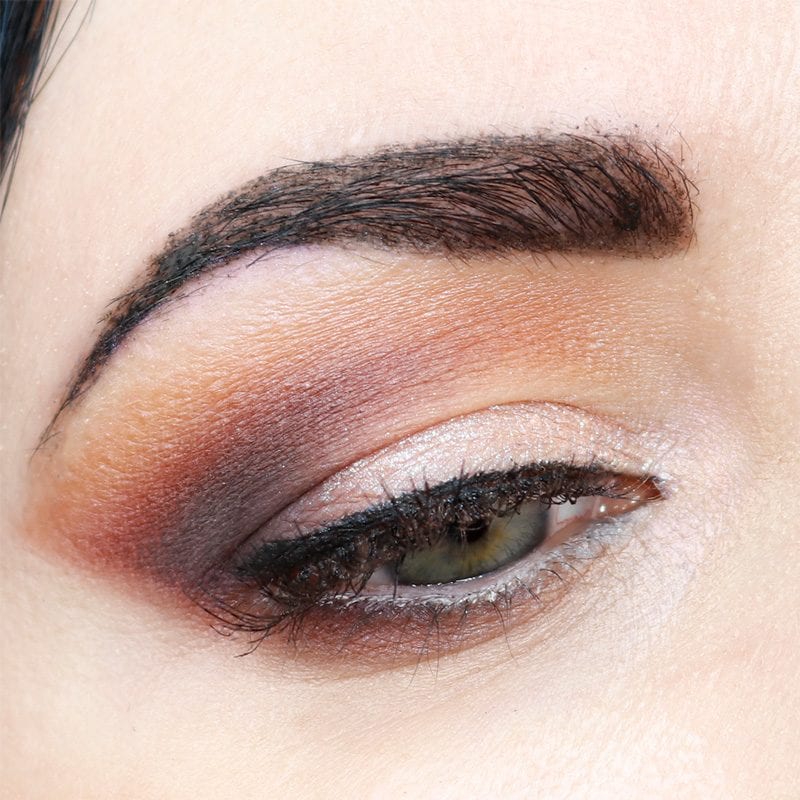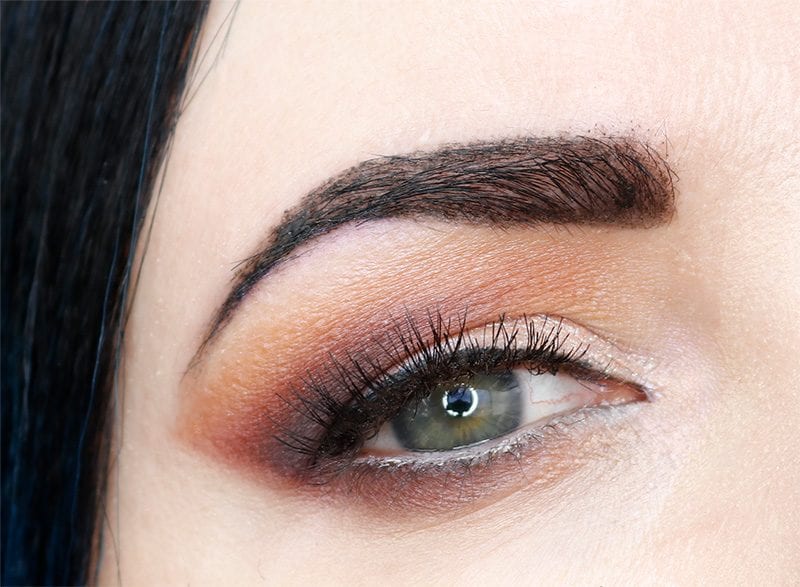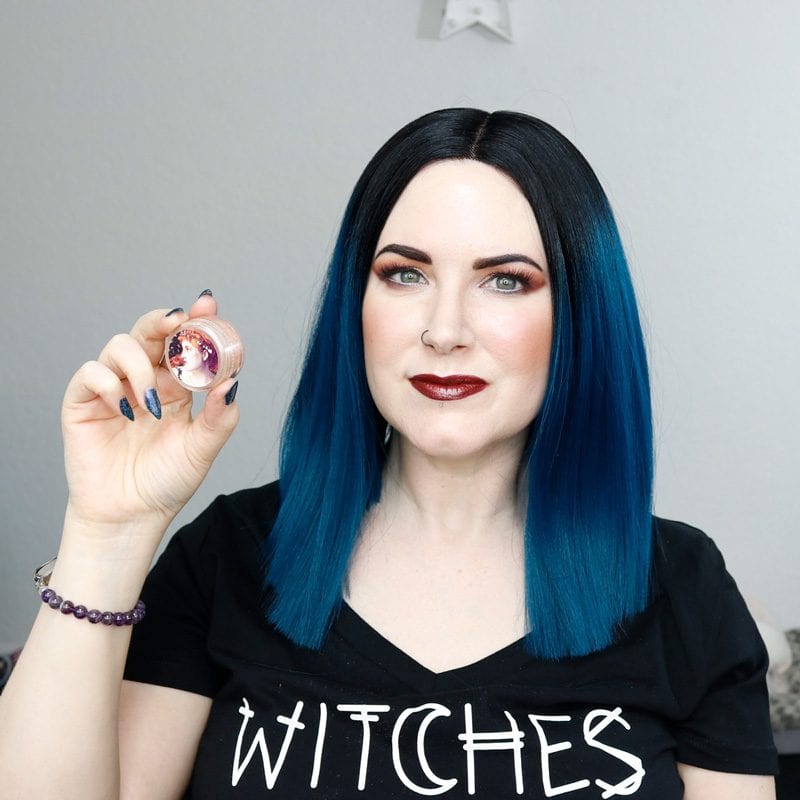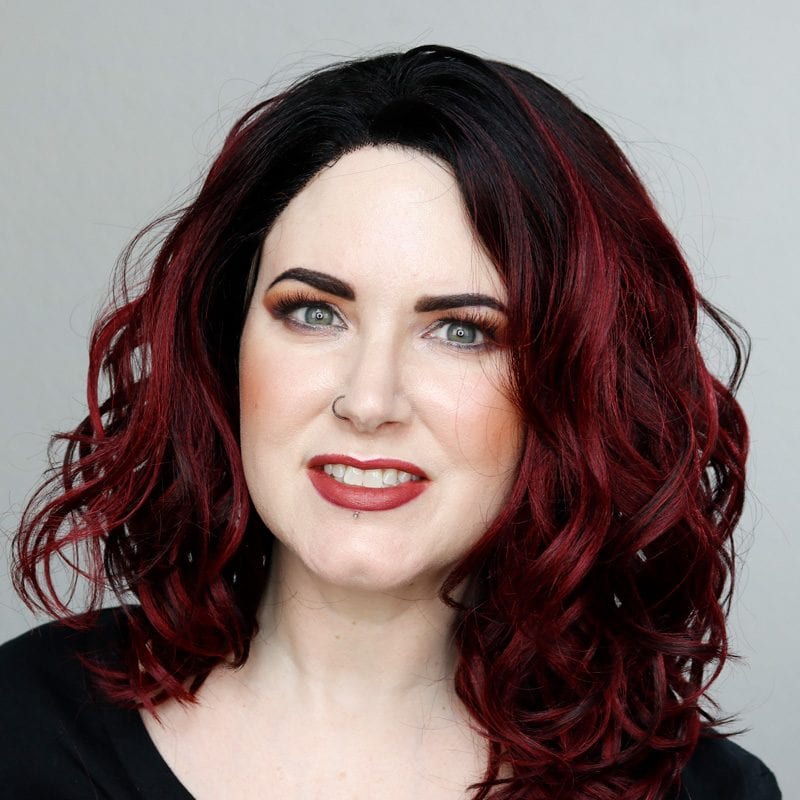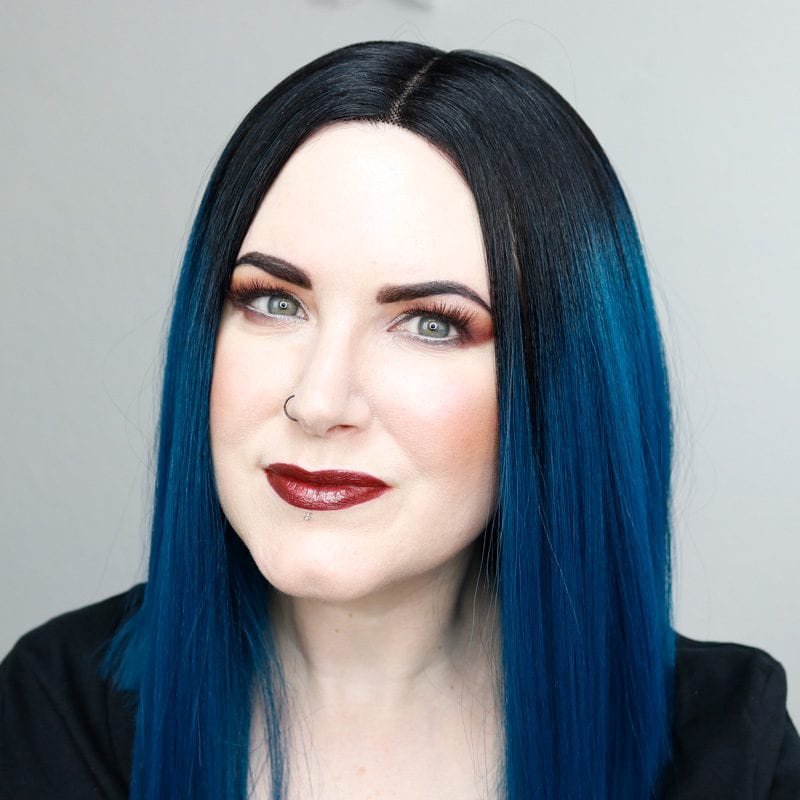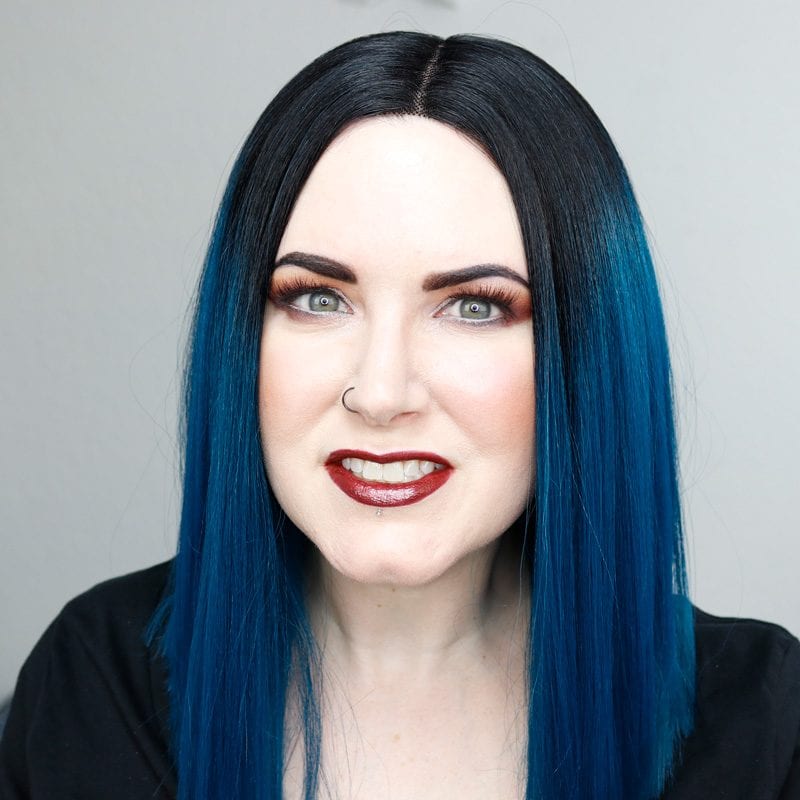 Fashion
Bobbi Boss Yara Teal Wig
It's a Wig Trudy Red Wig
Witches Shirt
Bellabeat Leaf Urban
Eyes
Too Faced Shadow Insurance
Milani Prep Set Go Setting Powder
Aromaleigh Kupala – transition
Aromaleigh Medousa – outer half of lid, crease, lower lid
Aromaleigh Hel – to deepen outer v and line the eyes
Aromaleigh Inward Melodies – lid and inner v
Aromaleigh Ostara – highlight
Sigma Unclouded Liner – lower waterline
Sigma Wicked Gel Liner
Ardell Demi Wispies with Duo Brush-On Lash Glue (cut in half)
It Cosmetics Superhero Mascara
Wunderbrow in Jet Black
Face
First Aid Beauty Coconut Smoothie Primer
Cle Cosmetics Essence Air Cushion Foundation in Light
Aromaleigh Kupala – blush
Aromaleigh Ostara – highlight
Lips 1
Urban Decay 24/7 pencil in Hex
Aromaleigh Dragon's Kiss gloss
Aromaleigh Maledicto gloss – center of lips
Lips 2
Urban Decay 24/7 pencil in Hex
Kat Von D Lolita lipstick
Nails
KBShimmer Age of Aquarium
Aromaleigh Fall Makeup Cruelty-Free Tutorial Swatches
I swatched all the shades I used for my tutorial and then a few extras. I wanted to show you what they look like under different lighting conditions.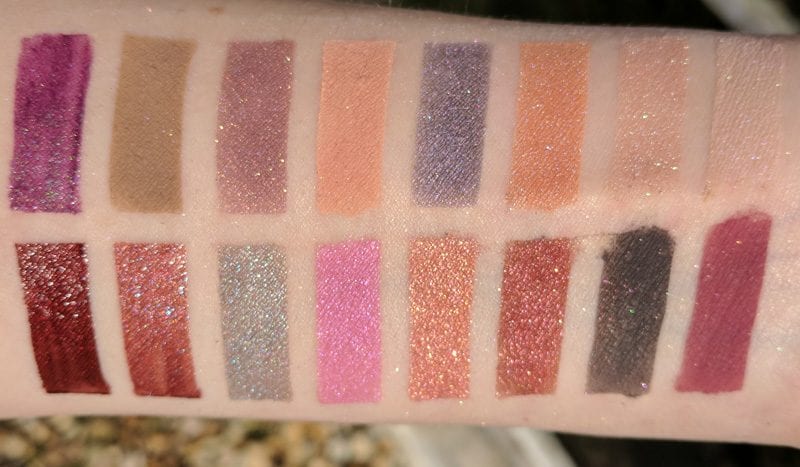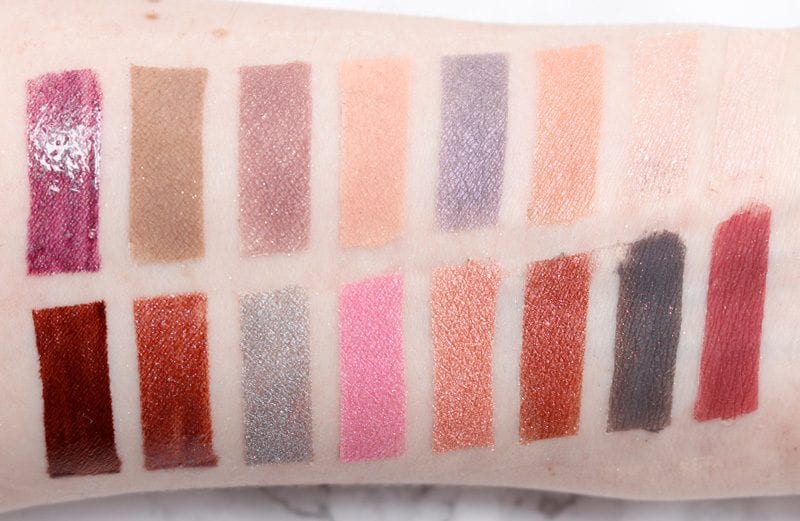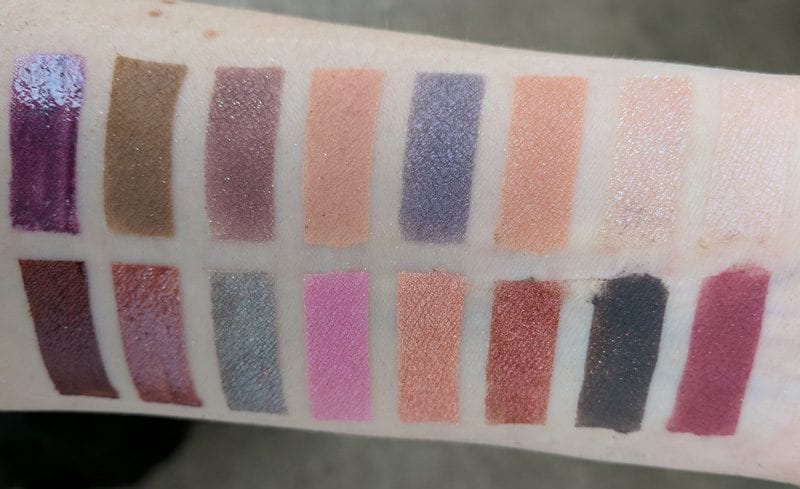 Top Row L to R – Gorgon – Brunhilde – Euryale – Dowager Princess – Nyx – Kupala – Inward Melodies – Ostara
Bottom Row L to R – Dragon's Kiss – Maledicto – Dis Pater – Blodeuwedd – Confessions – Poppy Flaunts – Hel – Medousa
Hel is completely matte but I did not use a sticky base with Poppy Flaunts or Confessions and their shimmer did travel.
Shade Descriptions
Kupala – rich warm bronzey peach with satiny blue shift
Inward Melodies – a light peachy pink with blue iridescence and green and blue sparkles
Ostara – a light peachy pink with a strong purple shift
Medousa – vivid, rich red burgundy with pink undertones matte
Hel – deep grey black matte
Aromaleigh Kupala Fall Makeup Tutorial Video
I hope you enjoyed this Fall Makeup Tutorial. I really love duochrome shades like Kupala, Inward Melodies and Ostara. They really make a look unique to me.
You May Want to See