Anastasia Beverly Hills Alyssa Edwards Palette Look
Back in June as part of my birthday hauling, I bought the Anastasia Beverly Hills Alyssa Edwards Palette. I created this Anastasia Beverly Hills Alyssa Edwards Palette Look to share with you. I had originally filmed a tutorial for this look but the video didn't turn out. I still wanted to share the look because I think it's beautiful, colorful, and fun, and it is nice bright makeup inspiration.
Anastasia Beverly Hills Alyssa Edwards Palette Look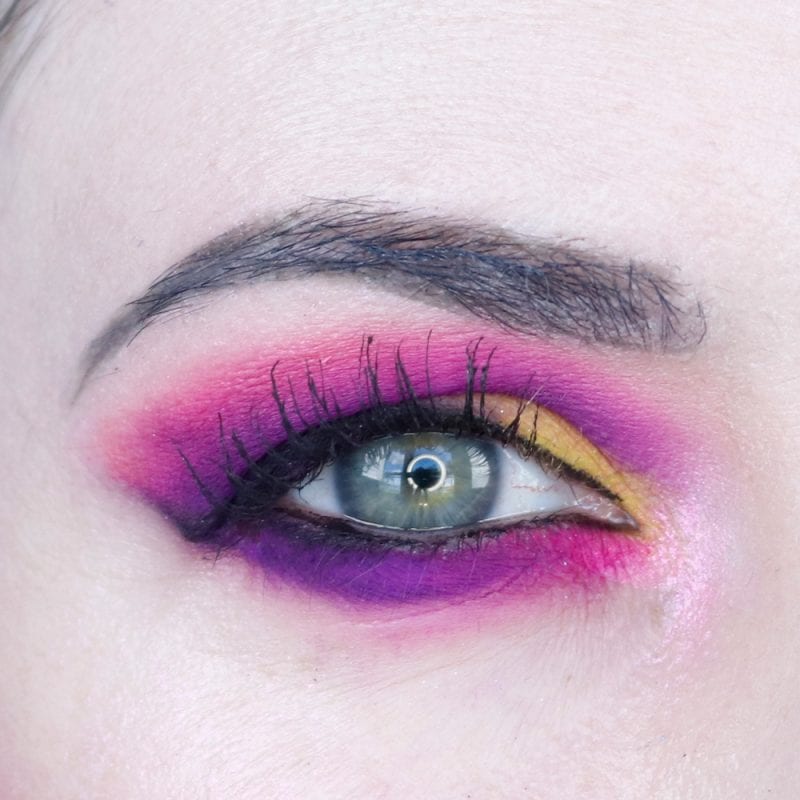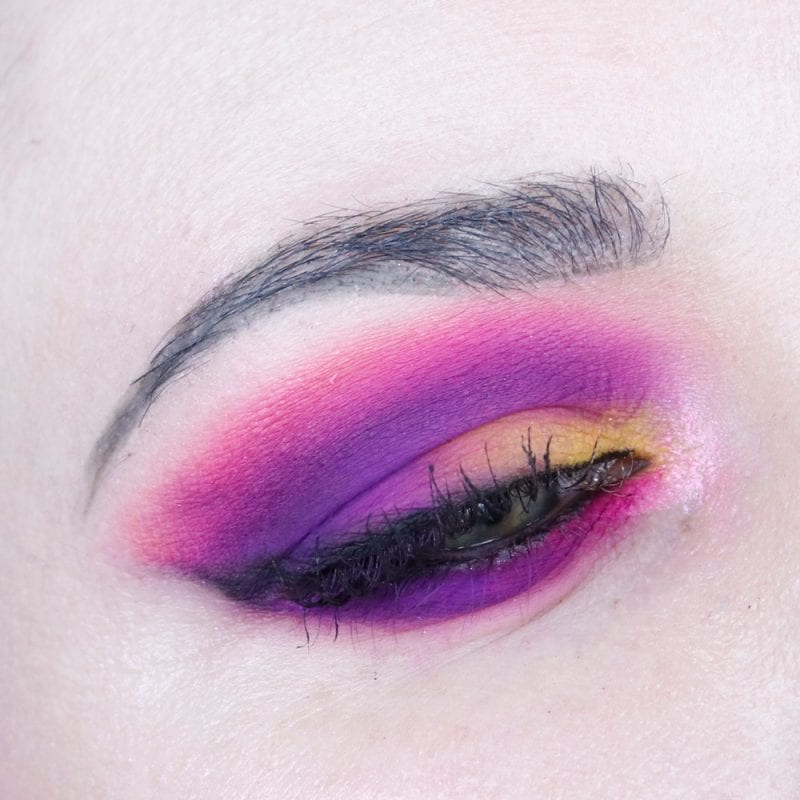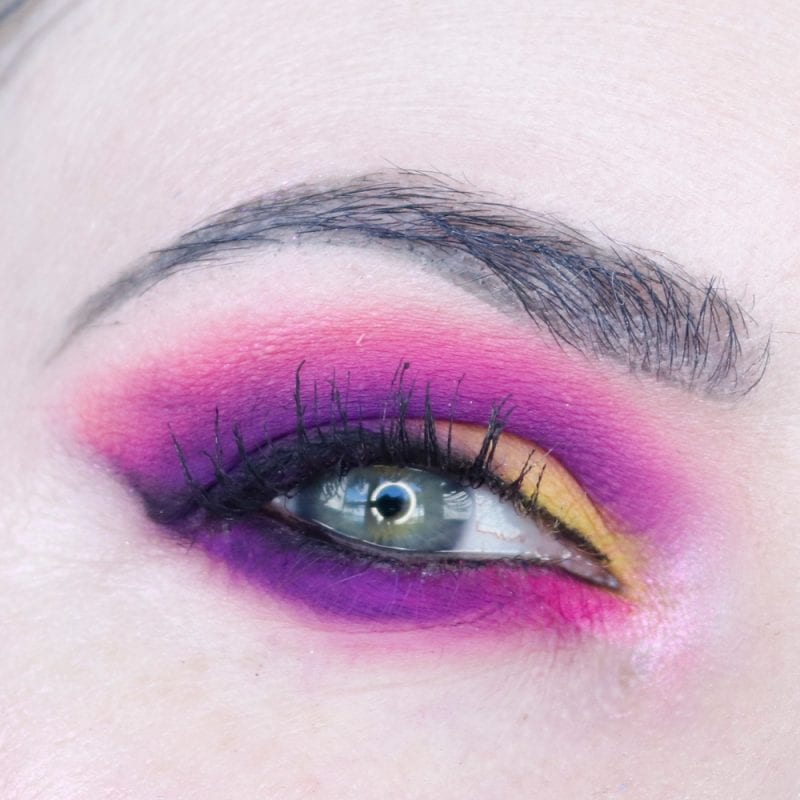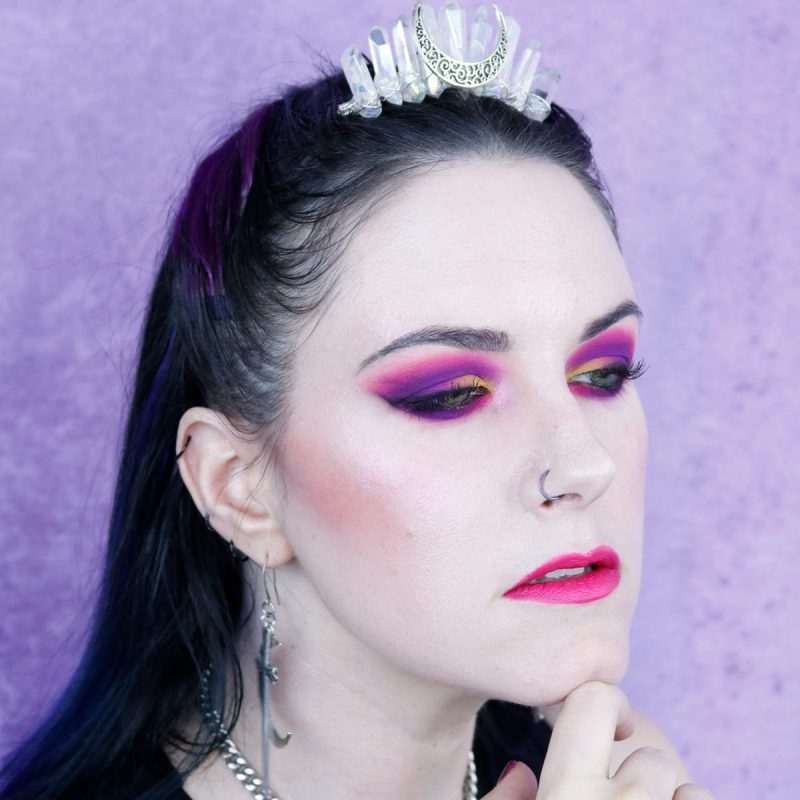 Eyes
Anastasia Beverly Hills Eyeshadow Primer
Cozzette Beauty Essential Powder in C1
Anastasia Beverly Hills Alyssa Edwards Palette
Lime Crime Smokey Brow Pen
Milani Stay Put Eyeliner in After Dark
Milk Makeup Kush Mascara
Face
Milk Hydro Grip Primer
Milk Flex Stick Foundation in Porcelain
Rituel de Fille Delerium blush
Rituel de Fille Eclipse contour
Rituel de Fille Eros contour
Rituel de Fille High Priestess highlight
Lips
Urban Decay Anarchy pencil
Marc Jacobs Flaming-oh! liquid lip crayon
I Don't Recommend the ABH Alyssa Edwards Palette
The reasons I bought the Alyssa Edwards palette were:
During the month of June when I purchased it a portion of sales were being donated to LGBTQ organizations.
I love bright pinks and purples; the color story spoke to me.
I have liked some of ABH's eyeshadow formulas in the past.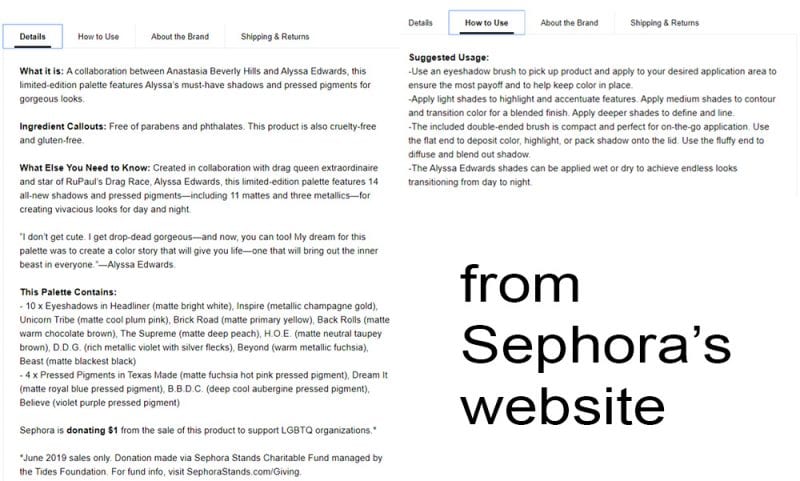 I was very upset with the palette once I received it because:
Nowhere online did I see on Sephora's website that some of the colors were not eye safe. I didn't even notice this on the box. SHAME ON YOU Anastasia Beverly Hills and Sephora for not making this information more visible to your customers.
The eyeshadows stain my eyes like crazy, even with primer and setting powder.
Some of the colors kept trying to blend away into nothing when I would try to blend them.
I honestly would have returned this palette if I had been within the short Sephora return window because of my annoyance, but because I  bought this palette with a $100 Sepora Gift Card, it's not one I could even return for the same price I purchased it for, which is deeply disappointing.
Sephora is really going downhill with all their changes and restrictions on returns. I rarely return items, but this is one I would have returned. Their continued crappy policies and procedures are encouraging me to do even more shopping at Ulta. And my Ulta points are racking up like crazy! I've got about 6500 points right now worth $392.50, unlike my 4600 Sephora points, which are worth nothing.
I don't recommend the Anastasia Beverly Hills Alyssa Edwards palette. The eyeshadow performance was not great to me. Some colors were fine, but others kept trying to disappear into nothing when I would blend. Ultimately, I think you'll be happier with a different eyeshadow formula that doesn't blend away into nothing.
Pressed Pigments is Code
In case you don't know, because I don't think your average makeup lover does, 'pressed pigments' is code for 'these ingredients are not approved by the FDA for use on the eyes but they're approved for the face'. In this case, the ingredients are approved for use in the EU on eyes. However, I think it's disingenuous of companies to use the phrase pressed pigment, rather than owning up and saying 'these colors that we're showing people using on the eyes are eye safe in Europe but not eye safe in the USA.' They show these items being used on the eyes. I mean, let's be real, who buys an eyeshadow palette and doesn't expect to use all the colors sold in the eyeshadow palette as being eye safe?
So why are these ingredients considered eye safe in the EU and not in the USA? Because the USA's FDA is overwhelmed, understaffed and sorely behind on approving ingredients. Things have not changed a ton with the FDA since I reached out to them to write about glitter & neons in cosmetics in 2012! You can see the list of FDA approved Color Additives here. You can petition about glitter or any other sort of ingredient with the FDA Petition form here. The FDA's website is insanely slow. It takes forever for some of these links to load. The FDA also has a specific page dedicated to Novelty & Neon Makeup.
Is only Anastasia Beverly Hills guilty of this? No, Huda Beauty has done it recently, as has Lorac too. I was just as irritated to learn that the two Huda Beauty Neon Obsessions palettes I purchased had some non-eye safe colors too.
So what will non-eye safe colors in the USA do differently than their eye safe versions in the UK? The answer is nothing. They're the same product. That said, the non-eye safe colors are more likely to cause irritation and staining.
Can products with FDA approved ingredients cause issues? Yes. I've actually had a bad reaction to a Stila paint pot years ago that caused the skin under my eyes to get red, swollen, itchy and flaky. Stila used an FDA approved ingredient, I just had a bad reaction to it.
Ultimately, just like with animal testing, I expect companies to be transparent about their products and ingredients. Right now, Sephora is not doing its job, and several of the brands are failing too. Sephora, Huda Beauty, Anastasia Beverly Hills and any other company that decides to use non-FDA approved ingredients in their eyeshadow palettes needs to clearly disclose this information on Sephora's website in their product description so that consumers can actively make a choice to purchase these products with that knowledge. It shouldn't only be hidden in fine print on the side of the box.
ETA:
I was asked what bright eyeshadows do I recommend in lieu of the ABH palette.
Sugarpill Eyeshadow Singles – super bright, mostly vegan.
Viseart Bright Editorial Palette – literally my favorite rainbow palette! It gives you all the colors of the rainbow to work with. It's my favorite palette for cosplay and fantasy stuff.
Urban Decay Electric Palette – if you have this in your collection, it's a great palette, though it also has some colors that are not FDA approved for use on the eyes.