Hello, beautiful people! Today I'm sharing my witchy bi pride nails with you. It's Pride month and I decided to do witchy nails with a bi pride flag on my ring finger, along with the bi crescent moons symbol. The crescent moons is my favorite bi symbol ever!
This manicure took me two days to complete because I mixed regular polish and gel polish along with nail art stickers to create it. You must wait at least 12 to 24 hours for regular polish to dry before attempting to layer gel polish on top.
The Base

I used Painted Desert Extra Short Coffin full coverage nail tips, which are still long on my because I have small nail beds. Painted Desert Cactus Gelly Plus is my go-to builder gel to help me apply tips, and their Stainless Steel Top Coat locks in my designs for weeks. I used one coat of Madam Glam Green Highlighter gel polish for a base nail color on all my nails except my ring finger, and for that nail I used a diy glow in the dark hot pink gel.
After sealing all my gel tips with Painted Desert Stainless Steel Top Coat, I painted 2 thin coats of Dreamland Lacquer Shamrock Shake onto all my nails except the ring finger. I finished that with Mooncat Speed Demon top coat.
For the bi pride flag, I used some of my favorite eyeshadows to create the gradient! I used Lethal Thorn, Lethal Foxglove, and Lethal Remedy with Daily Charme Chrome gel.
Witchy Nail Art


After I waited 12 hours for my regular nail polish to be truly dry, I then carefully applied my nail art decals. I used nail art stickers from a few different packs that I had. One was witchy with snakes and moons, one had crescent and full moons, and one had bats.
After all the decals were in place, I used Painted Desert Cactus Gelly Plus to encapsulate the stickers and reinforce the regular polish to prevent chipping. Then I sealed it all in with Painted Desert Stainless Steel Top Coat.
Sunlight

One morning when Nyx was sitting in my lap, I noticed how the sunlight intensified the neon quality of Shamrock Shake and thought it was beautiful.
Lip Balm for Extremely Dry Lips

I'm holding the awesome *La La Leaf La La Lips Pride (Mandarin Mint) CBD lip balm. I received this in PR and I adore it. It does a good job of helping my lips to feel hydrated for several hours. I don't have to constantly reapply it.
If you're looking for a new lip balm, LA LA Lips is:
made with CBD (does not get you high)
is supposed to keep you hydrated for 12 hours
especially formulated for extremely dry lips like mine
is supposed to last up to 90 days a tube
All of these were compelling reasons for me to want to try it! It lives up to all of those claims for me with the exception that I haven't had it for 90 days yet. I've had it for about a month and barely put a dent in it!
Pansexual Pride Nails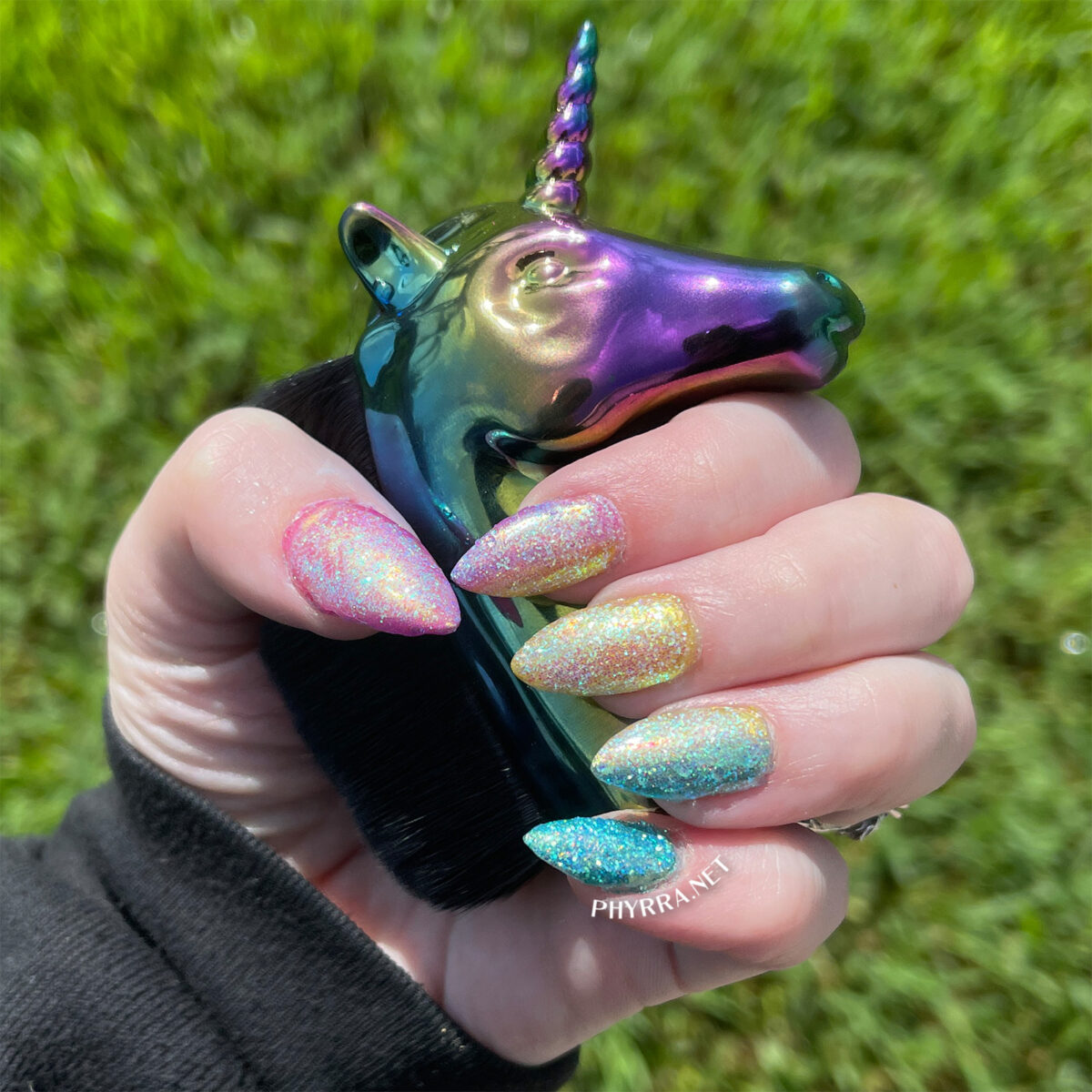 Don't fret, I did awesome Pansexual Pride Nails last year! See the Pansexual Pride Nail Art Tutorial.
Bi Pride Nails

I love creating nail art! Whether you freehand nail art, use stamps or stickers, it's a ton of fun! Have you tried to create witchy nails or Pride nails before? If so, I'd love to see!
More to See