How to Glazed Donut Nails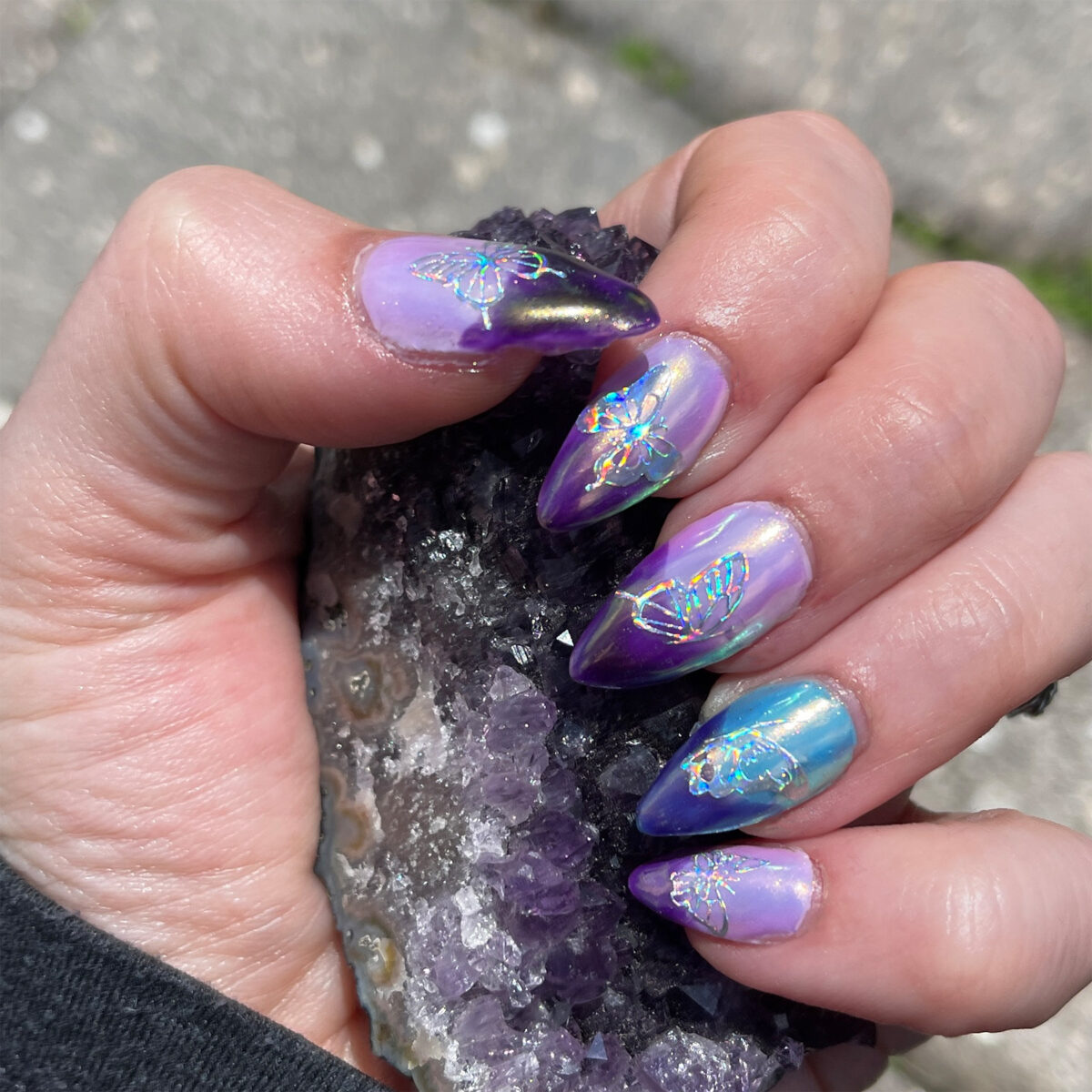 Hello, beautiful creatures! Today I'm excited to share my how to glazed donut nails tutorial. I've enjoyed seeing multiple takes on glazed donut nails, so I wanted to share my two versions of this mani trend. In case you're new here, my name is Cordelia and I love bright and gothic makeup and fashion. I started doing my own gel nail manicures at home during lockdown and have continued doing them because it's fun. I'm a beauty enthusiast.
All photos taken outdoors in direct sunlight except the set with my gothic Hello Kitty. That set was taken indoors in indirect sunlight next to windows.
Everything purchased by me because I love doing my own nails. All opinions my own.
What are glazed donut nails?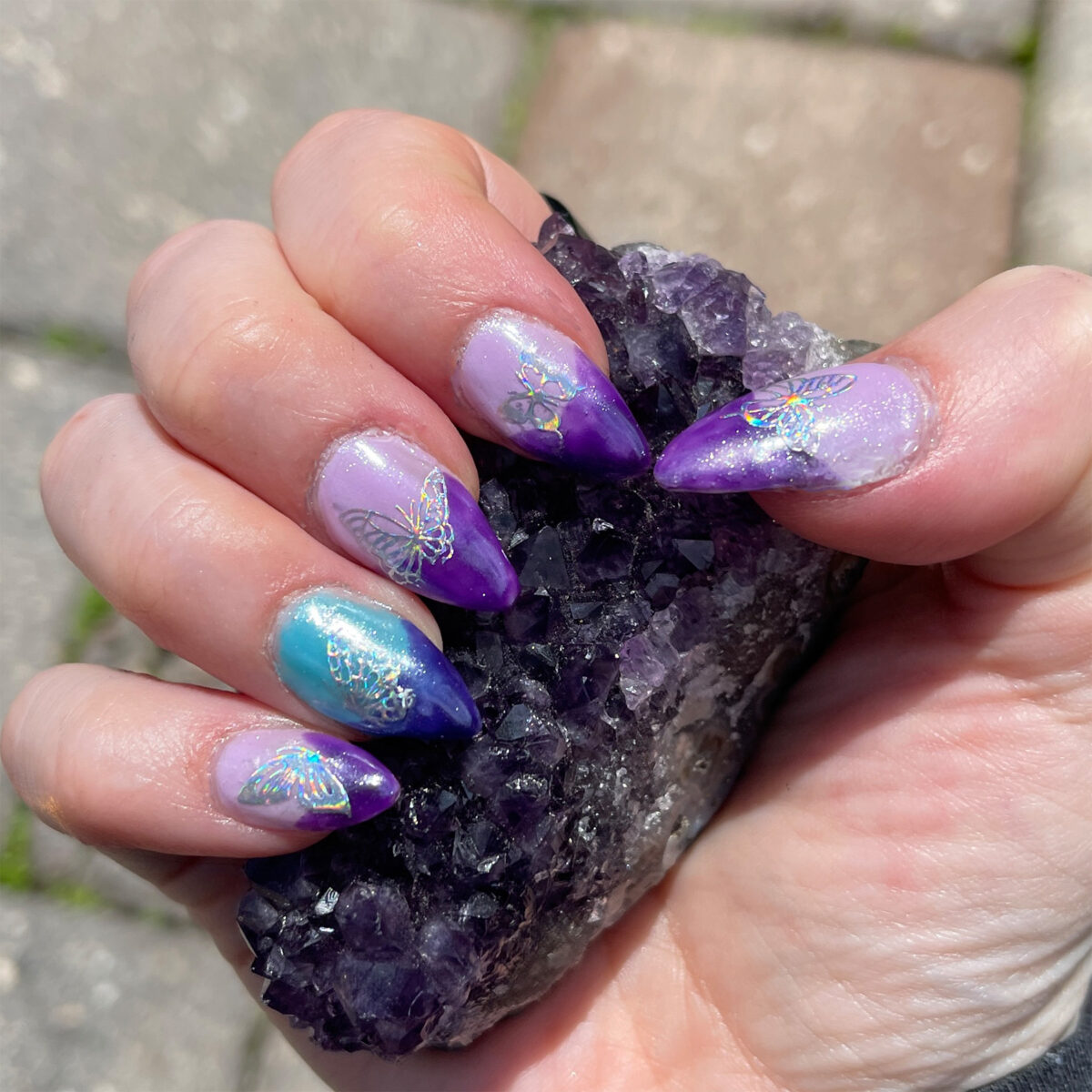 Who doesn't love a good glazed donut? I still do, even though they can be messy. Thankfully, glazed donut nails aren't grimy, don't need to be refrigerated so the glaze won't melt, and are safe for people with a nut allergy!
Glazed donut nails started as a trend with a white nail color that glows because of white chrome powder. I used Daily Charme Magic White Chrome Powder for the manicure on my right hand, and I also experimented with my unicorn chrome powder for the manicure on my left hand.
For my take on glazed donut nails, I eschewed the white polish base and instead chose pastel purple and light tropical teal. I included holographic butterfly decals, too, since I've been seeing them everywhere. Other hues I've seen for glazed donut nails have been skin tone shade bases, pastel pink or lavender, or light beige.
The white chrome powder is gorgeous and I love the finish it gives nails, even darker hues. However, the unicorn chrome powder steals my heart because it gives an iridescent quality, similar to what you'd see on a soap bubble.
Can you do glazed donut nails with regular polish?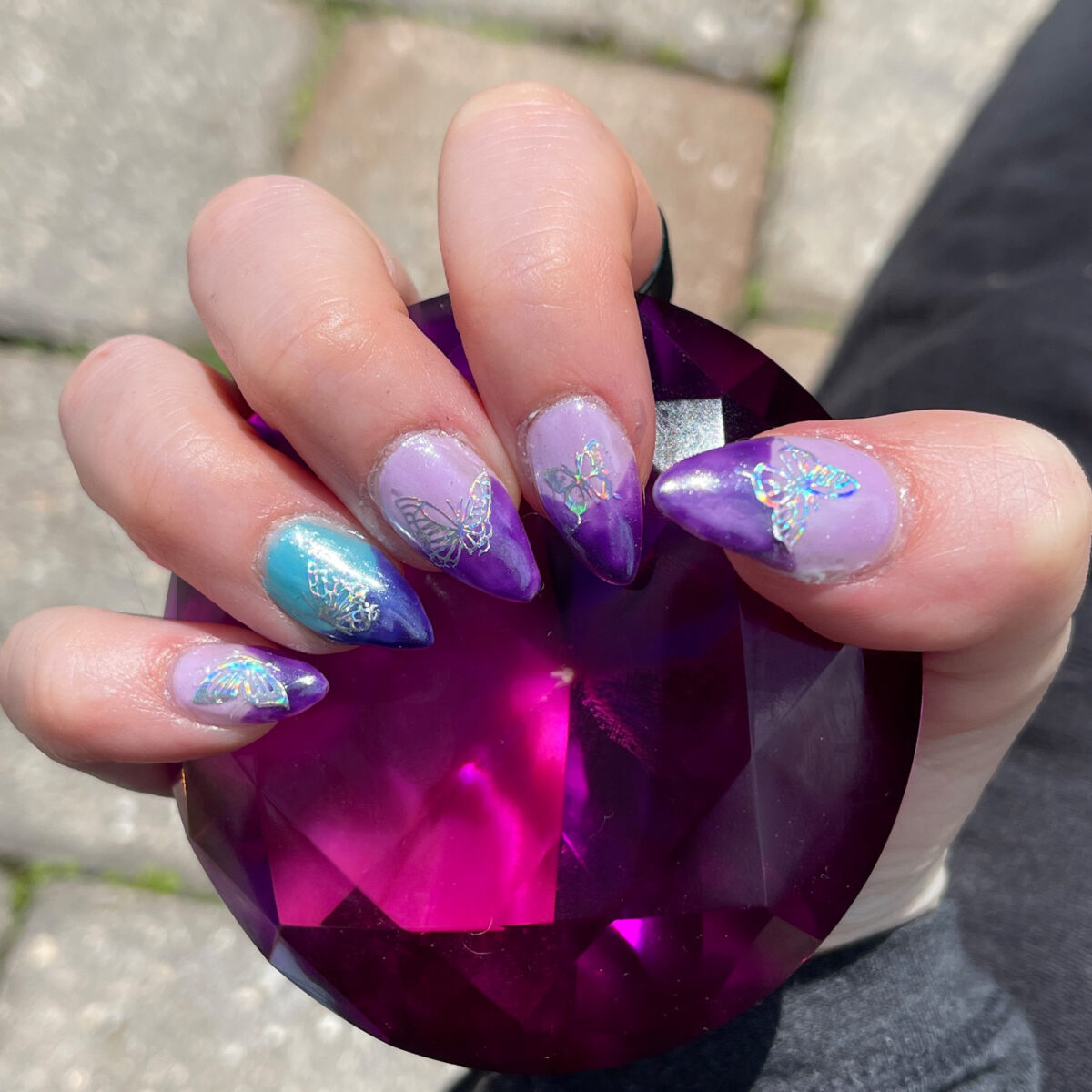 Yes, you can get the glazed donut nails look with regular polish and a cosmetic powder. Here's how to glazed donut nails with regular polish.
Choose a sheer or light base color such as KBShimmer 

White Here White Now

.

Apply one to two coats of polish as desired and let them dry thoroughly.

Once dry, use an eyeshadow brush to apply a 

white chrome powder

 to each nail.

Finish with Mooncat 

Speed Demon top coat

to seal in the glaze.
Can you do glazed donut nails with eyeshadow?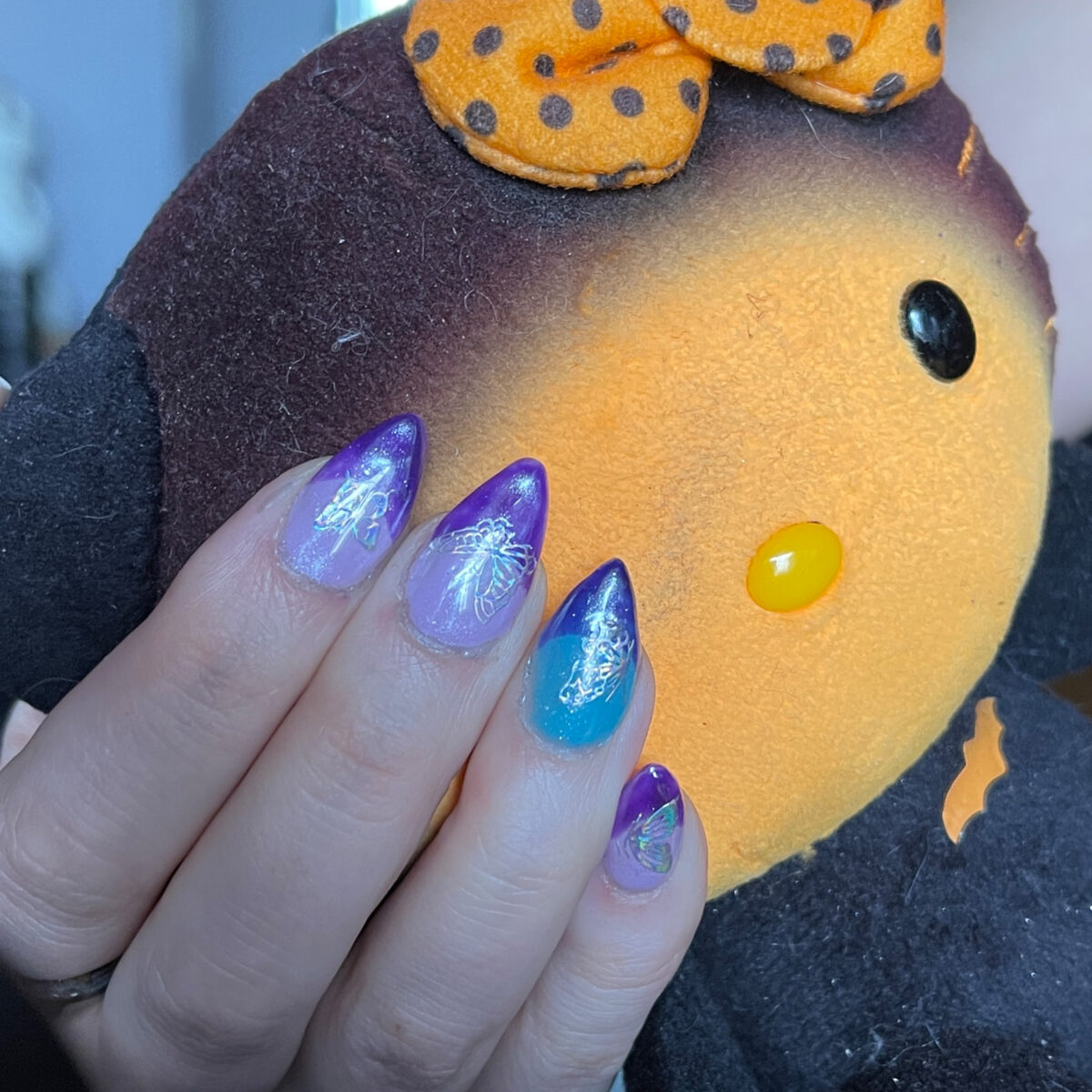 Yes, you can create glazed donut nails with an eyeshadow on top of a gel or regular polish, as long as that eyeshadow is a metallic white. Most interference color types of eyeshadows should excel at this.
Can you do glazed donut nails with dip powder?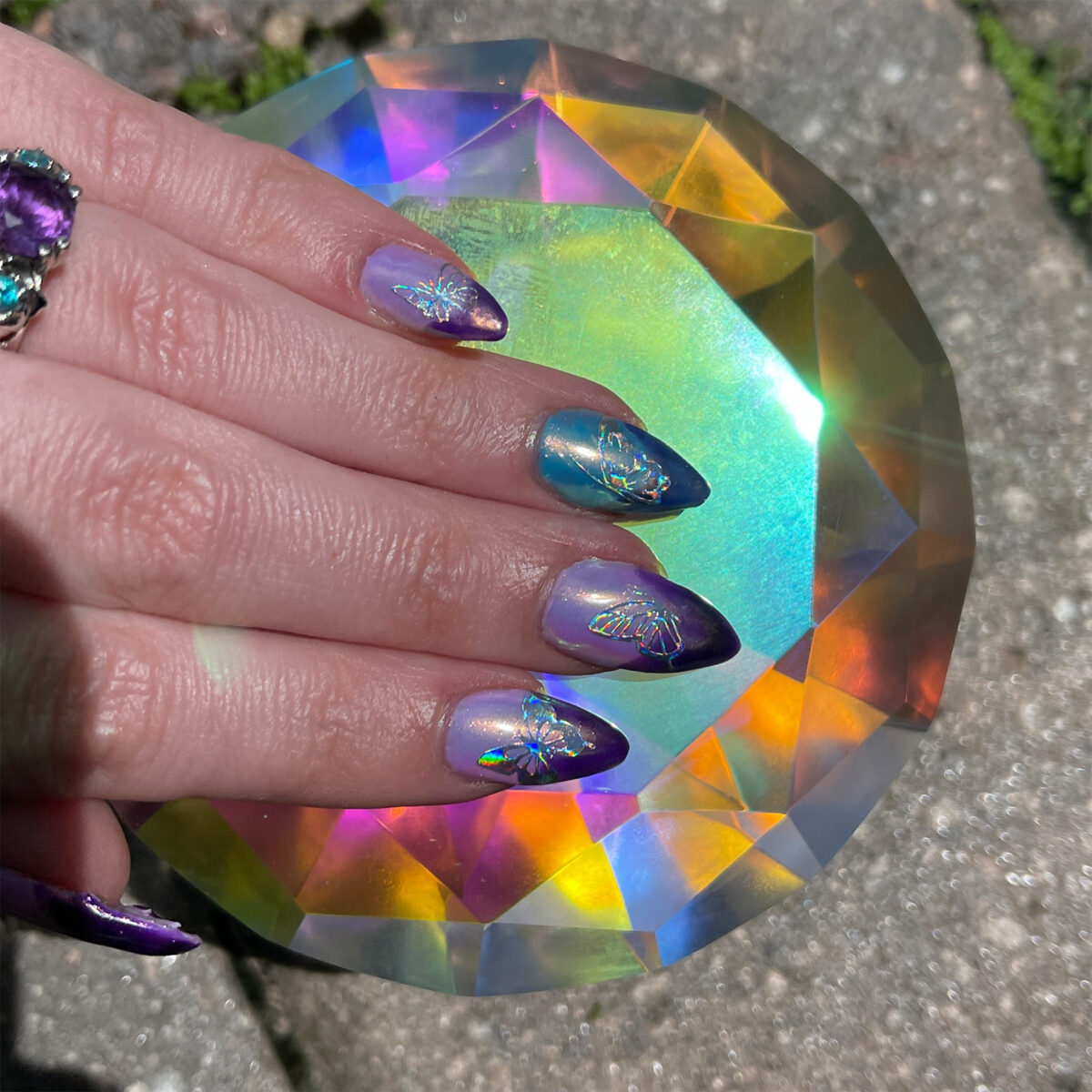 Yes, you can do glazed donut nails with dip powder, and I love and recommend iGel Beauty dip powders. It's all in how you prefer to put your base color on the nails – regular polish, gel polish, or dip powder – and then finish it with a magical White Chrome Powder.
How to Prep Your Full Coverage Tips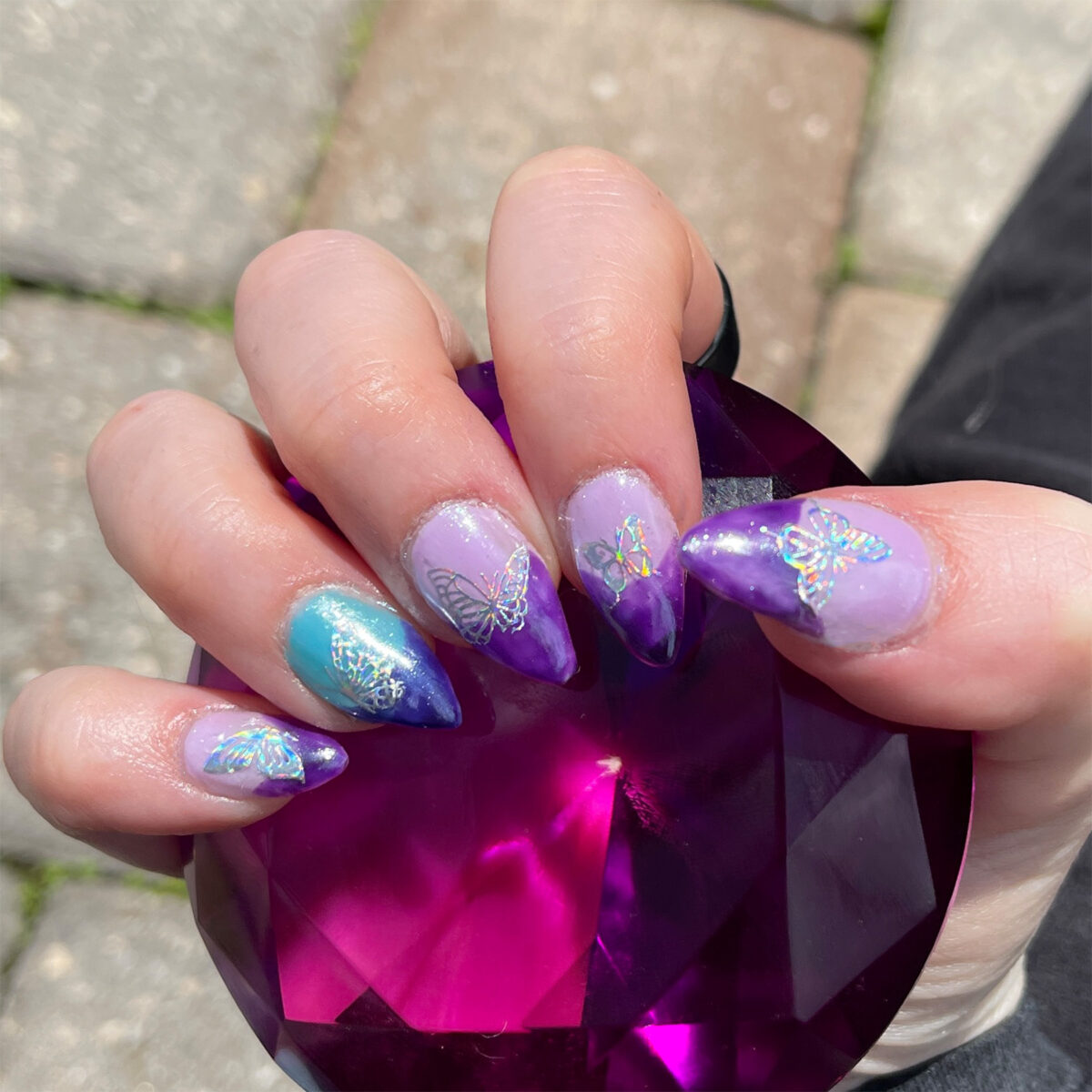 It would be best if you etched the inside of full coverage tips so that your DIY how to glazed donut nails can last three to four weeks. There are different ways to prep, including using your e-file, a hand file, or a chemical, and I use a chemical primer on them as it's the quickest, most efficient way.
Size your tips and set them to the side. I used Daily Charme 

White Almond Short tips

. My sizing for this mani: 3 thumb, 8 index, 6 middle, 8 ring, and 11 pinky.

Apply Apres 

Non-Acidic Gel-X Prep

 to the insides of the tips.

If you experience lifting with your tips, let it completely dry and prime it a second time.
How to Prep for a Manicure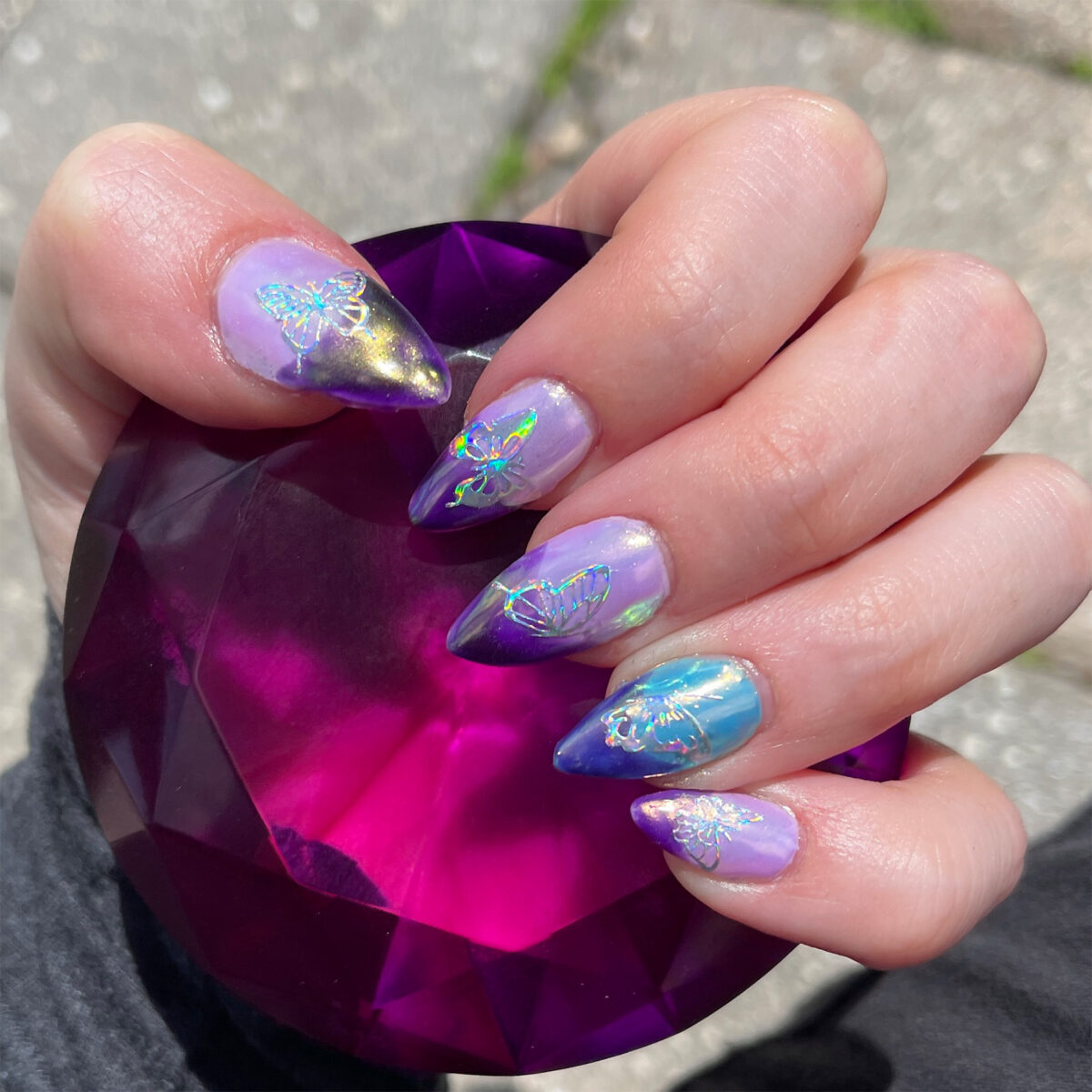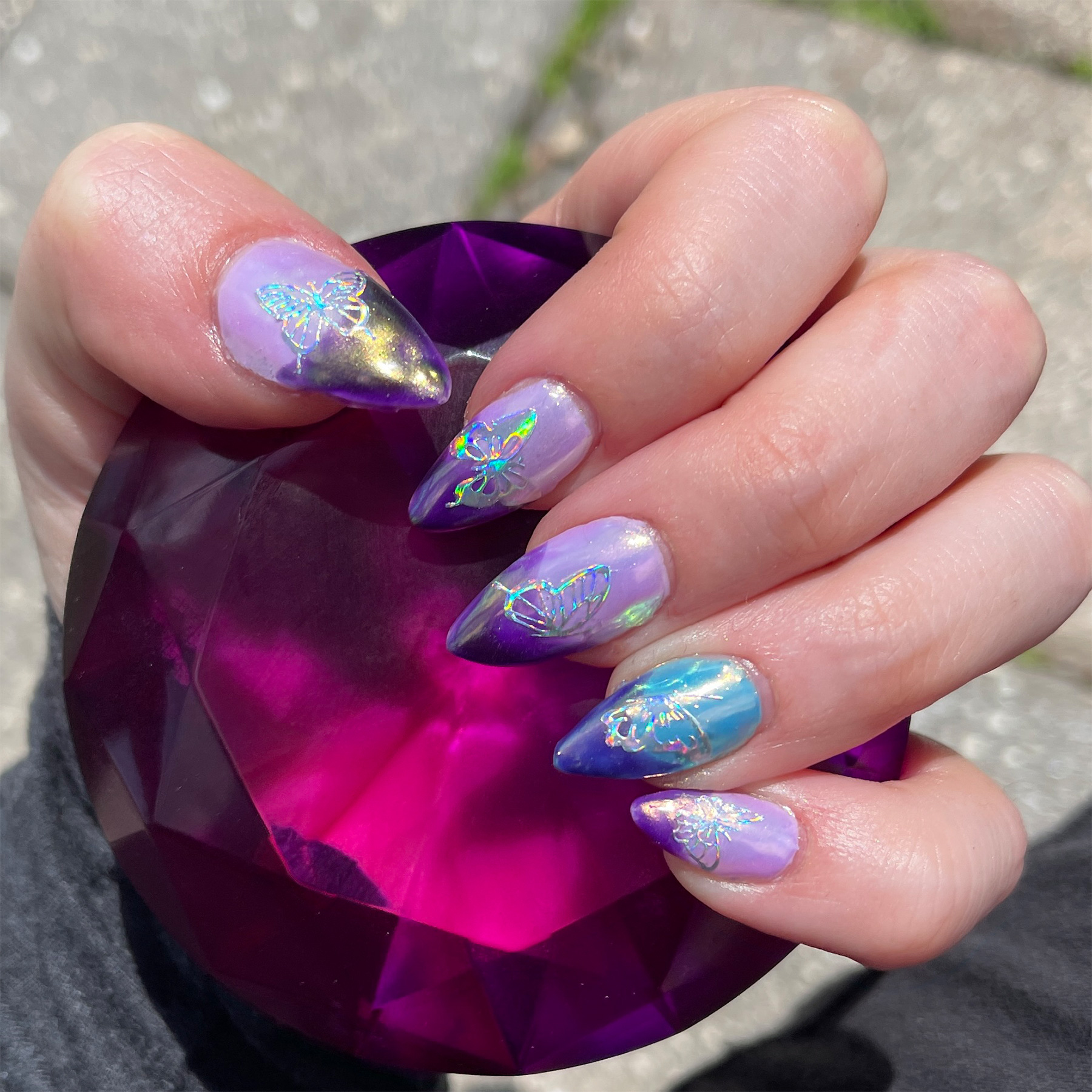 Never skimp on prepping for your manicure! If I skimp, it cuts down my wear time significantly. I get great results by taking my time to make sure the cuticles are neatened, the nail plate shine is removed, and the nails are dehydrated.
Push the cuticles back. I love to use my Mooncat 

Boundary Pusher

 to push them back.

Lightly scuff the nail plate to remove the shine with Makartt 

180/100 grit nail file

.

Remove the dust with a Daily Charme 

Dark Unicorn Brush

.

Dehydrate the nail plate with 

isopropyl alcohol

. If you have issues with your tips lifting, dehydrate twice.

Clean up the cuticles and make sure the cuticle line curve looks nice.

Prime the nails with Orly 

Nail Tip Primer

. Prime twice if you have issues with tips lifting.
How to Glazed Donut Nails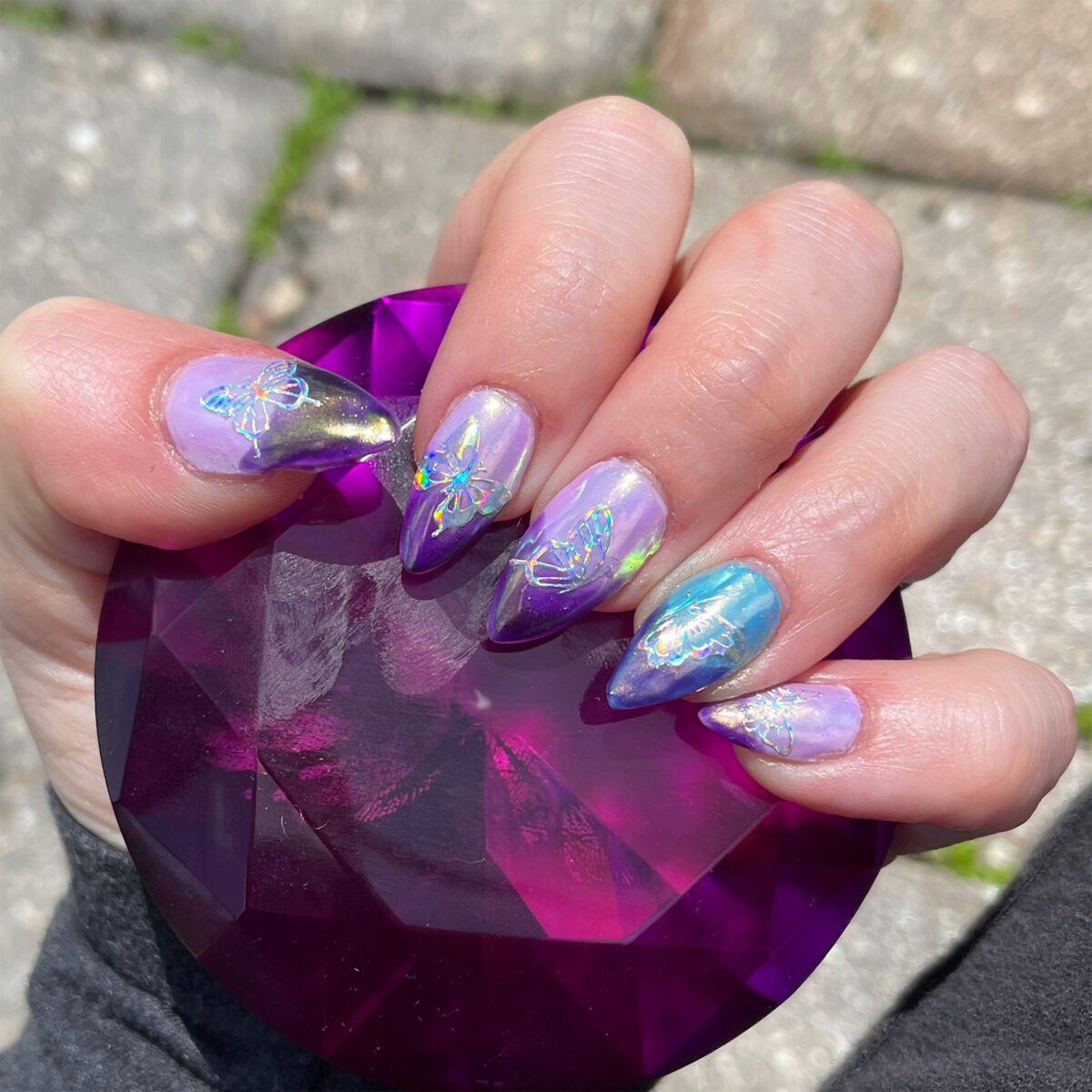 Here's how to glazed donut nails with gel nail polish. I used the Painted Desert Cactus Gelly Plus for the first time, and it's faster and easier to use than the ENC Clear Bubblegum. I'm thrilled with this! Anything that speeds up my application time, so I have more time for nail art makes me happy.
Apply a thin layer of Painted Desert 

Cactus Gelly Plus

 to all nails and cure for sixty seconds in a large 

led lamp

. Pay attention to the cuticle line so that it has a nice curve and leaves a small gap so that the Cactus Gelly Plus does not touch the cuticle.

Cover the inside of the nail tip by the cuticle with 

Cactus Gelly Plus

 and put an extra bead of product at the end.

Apply gentle pressure and adhere the full coverage tip to the nail.

Flash cure with a small led 

lamp

 while holding the tip in place and applying pressure for at least fifteen to thirty seconds.

Cure each hand for 60 seconds after all the tips are on.

Use the 

e-file

 to clean up any spillage along the cuticle line and to make the tip blend better with the natural nail.

Hand file to shape the nails. These were almond tips, and I prefer stiletto, so I filed them into more of a stiletto shape. Unfortunately, my favorite brands for nail tips – Daily Charme and Painted Desert – don't have short stiletto tips, so I've got to reshape almond tips.

Paint a coat of Madam Glam 

I Lilac You a Lot

 and cure for 60 seconds. You can use a 

white gel polish

 if you want a traditional glazed donut look or choose a light color as I did. I added an accent nail of Daily Charme

 Bora Bora

.

Optional: I wanted to practice my french tip color technique, so I used a 

french tip brush

 and painted Daily Charme 

Grapetini

 (my current favorite purple!) as french tips on each nail and cured for 60 seconds. You don't need to do this unless you want french tips.

Paint a thin layer of Daily Charme 

Chrome Effect No-Wipe Gel

 on all nails and cure for 60 seconds.

Use an 

eyeshadow sponge

 or brush to brush on the chrome powder. I used Daily Charme 

Unichrome Chrome Powder

 on my left hand and Daily Charme 

Magic White Chrome Powder

 on my right hand.

Optional: With tweezers, apply 

holographic butterfly decals

 to each nail.

Apply a layer of Daily Charme 

5-in-1 Strengthening Gel

; it's self-leveling, which helps your nail shape and cure for 60 seconds.

Finish with iGel 

No-Wipe Top Coat

 on the top and undersides of the nails by curing for 60 seconds on each side.
Final Thoughts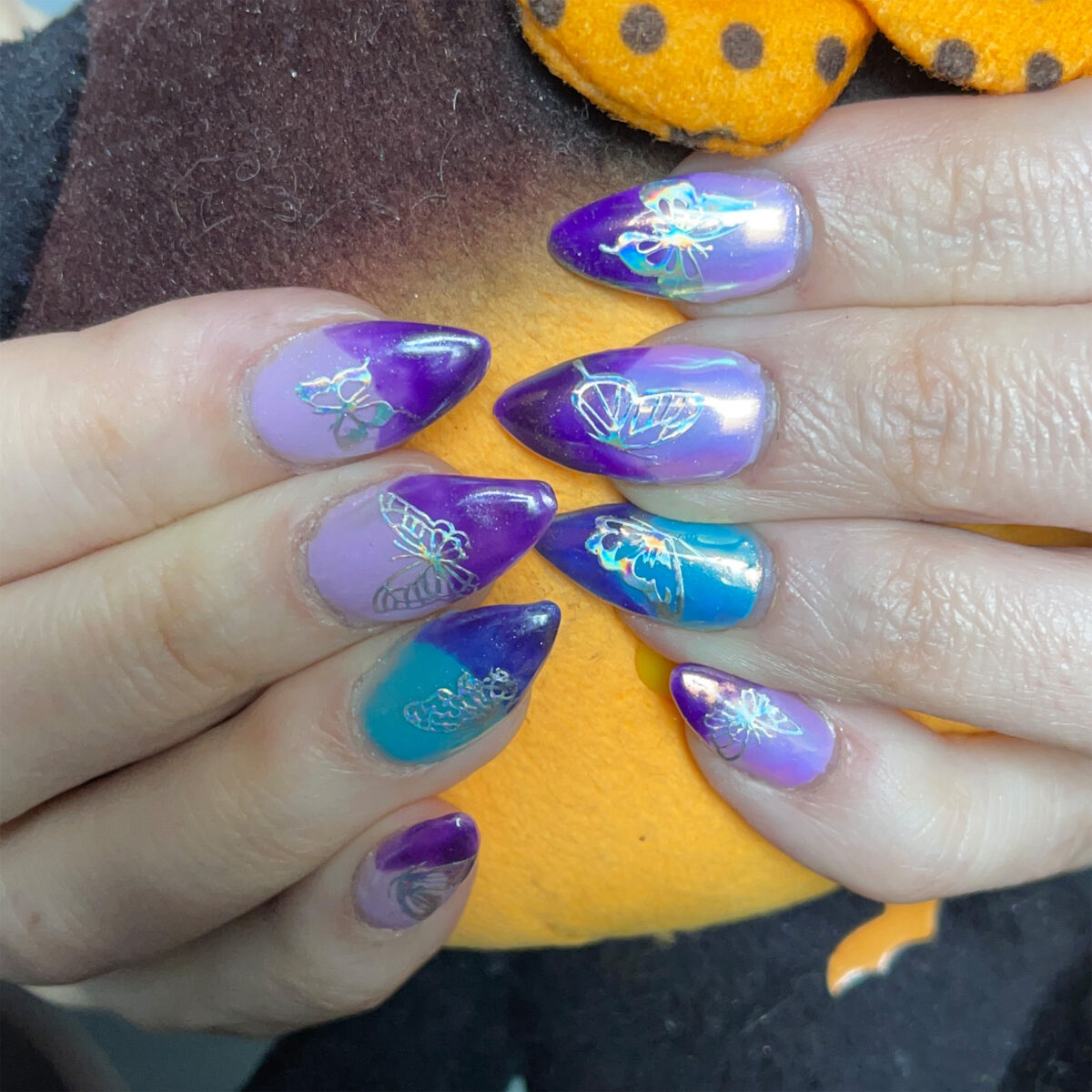 I adore chrome powders on my nails and love my how to glazed donut nails. Will you be giving glazed donut nails a try? I have to admit, I think all the food collabs with makeup are strange, including the Fenty Beauty Makeup or Ketchup, but I'm into glazed nails.
My next manicure will likely be double ombre french nails, which look awesome! What mani or makeup trend are you into right now? Any I need to try? Let me know!
Right now I'm working on an amazing gothic makeup video for Saturday in my scant amount of free time. I think you will love it.
More to See