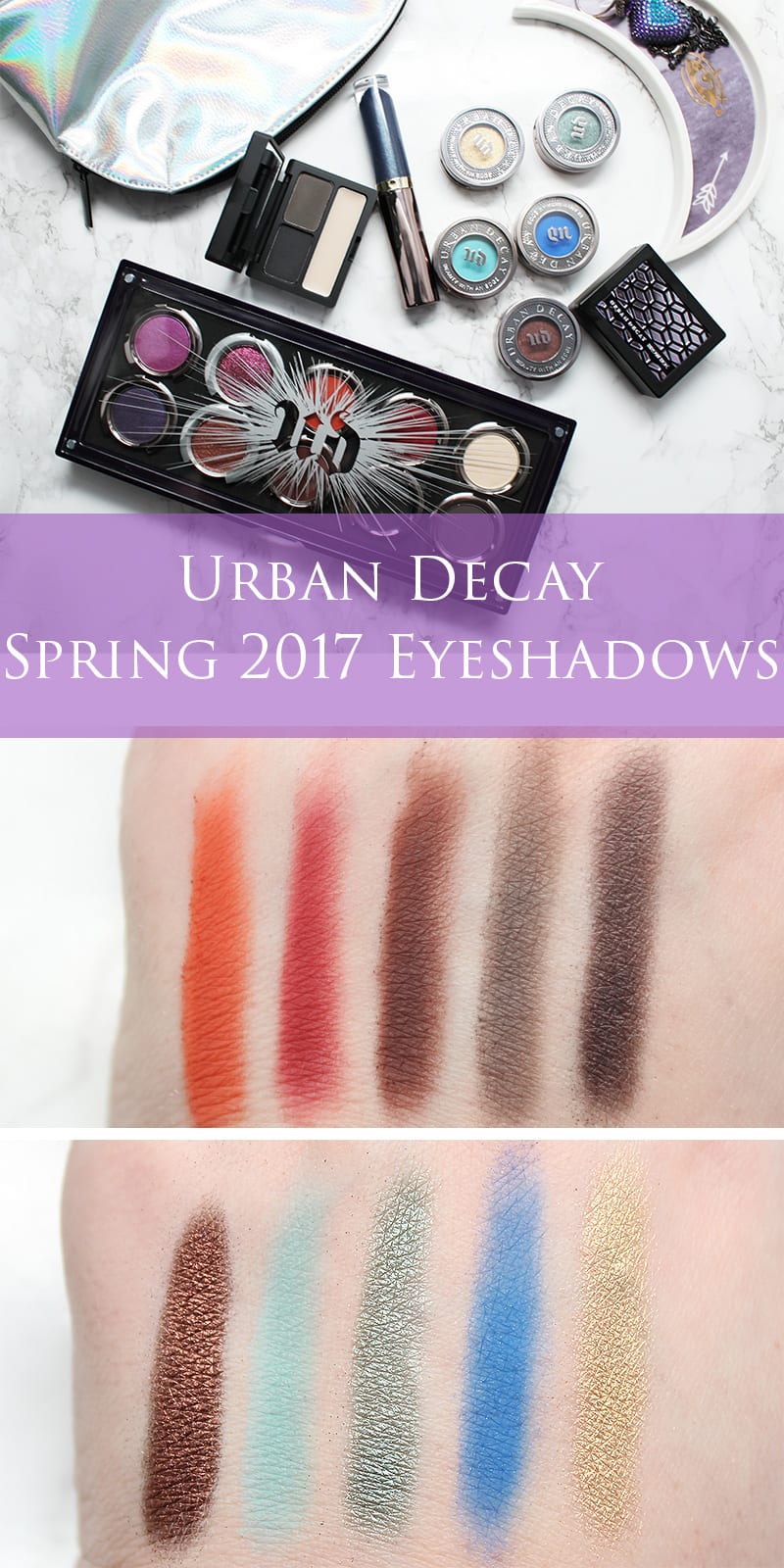 Today I wanted to share the new Urban Decay Spring 2017 Eyeshadow Singles with you. If you follow me on Instagram and watch my Instagram Stories, you saw me sneak peek these earlier this week.
Urban Decay Spring 2017 Eyeshadow Singles
Pr sample.
Urban Decay has released a ton of new eyeshadow singles for Spring 2017. Currently Blitz, Serious, Chaos, Shellshock, Frostbite, Chains, Narcotic, Punk, Extragalactic and Midnight Blast are exclusive to UD's website. Blonde, Vice, C-Note, Thunderbird, 1985, Smokeout, Relish and Spike are available at Sephora.
All of the new shades are, of course, cruelty free. However, none are vegan.
Urban Decay Spring 2017 Eyeshadow Singles
All swatches below are on Urban Decay Primer Potion. For the Moondust eyeshadows, I also used Darling Girl Glitter Glue, which is a sticky base. I applied all of the eyeshadows with the Urban Decay Moondust brush, which I cleaned in between on the Color Switch.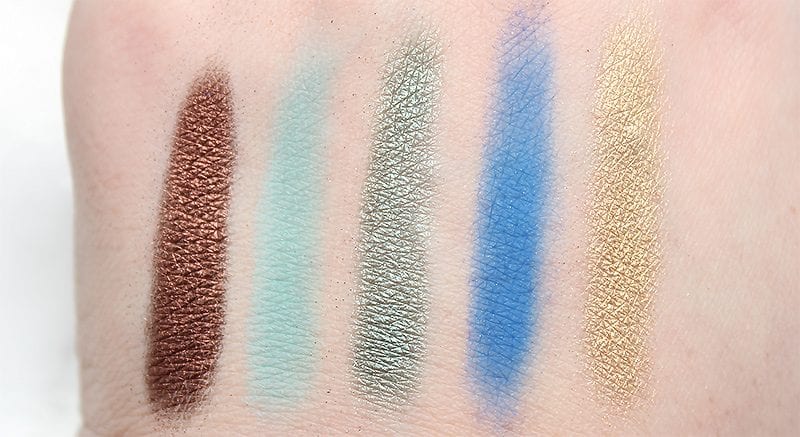 L to R – Thunderbird – Narcotic – C-Note – Chaos – Blitz
Thunderbird
metallic brown-red
Thunderbird is a metallic warm brown. I feel like there are many warm browns in UD's collection. The formula on this color is pretty amazing.
Narcotic
vibrant aqua matte
Narcotic is a gorgeous light aqua blue matte. I wish this had a bit more pigmentation.
C-Note
frosted green
C-Note is about the color of money, a frosty milky green. For some reason it made me think of MAC Shimmermoss, which is more blue-toned, while this is firmly in the green camp. This color is very pretty.
Chaos
bright blue with floating tonal pearl matte
Chaos is a vivid blue matte. I really like this color.
Blitz
bright metallic gold
Blitz is a pretty metallic yellow gold. This color is so gorgeous. The pigmentation is great too.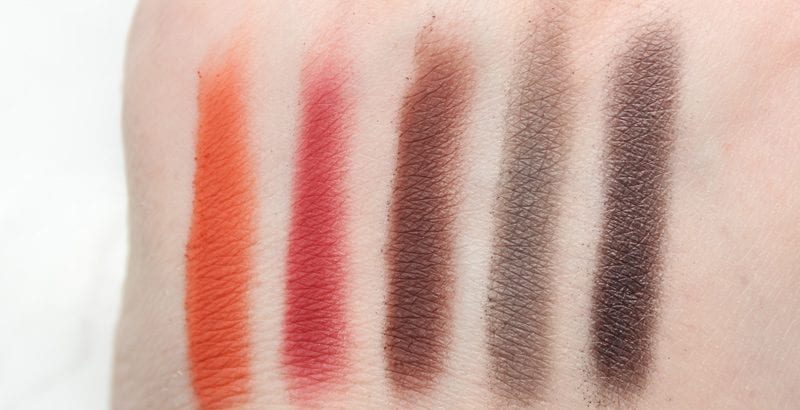 L to R – Spike – Relish – Punk – Serious – Smokeout
Spike
orange matte
Spike is a vivid orange matte. This is a bad ass orange. Great pigmentation.
Relish
dirty red matte.
Relish is a slightly dusty red matte. This is a fabulous red with great pigmentation.
Punk
red-brown matte
Punk is a deep brown with red undertones matte. This is an excellent matte, just wish it was more red toned than brown.
Serious
smoky grey with iridescent floating pearl satin
Serious is a perfect smoky grey, slightly deeper than midtone. I love this color. It's great for doing the smoky dome shape on my eyes.
Smokeout
dark taupey black satin
Smokeout is a deep blackened taupe satin. This is a pretty nice deep brown taupe.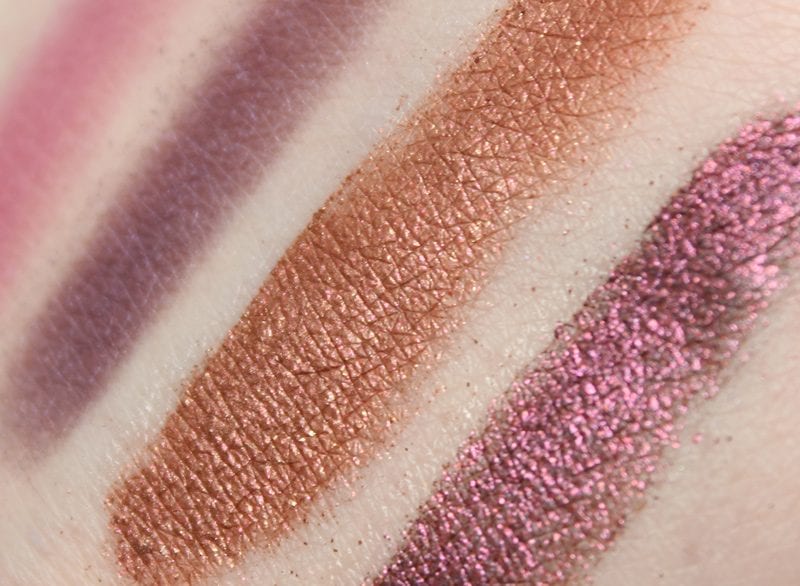 L to R – Midnight Blast – Extragalactic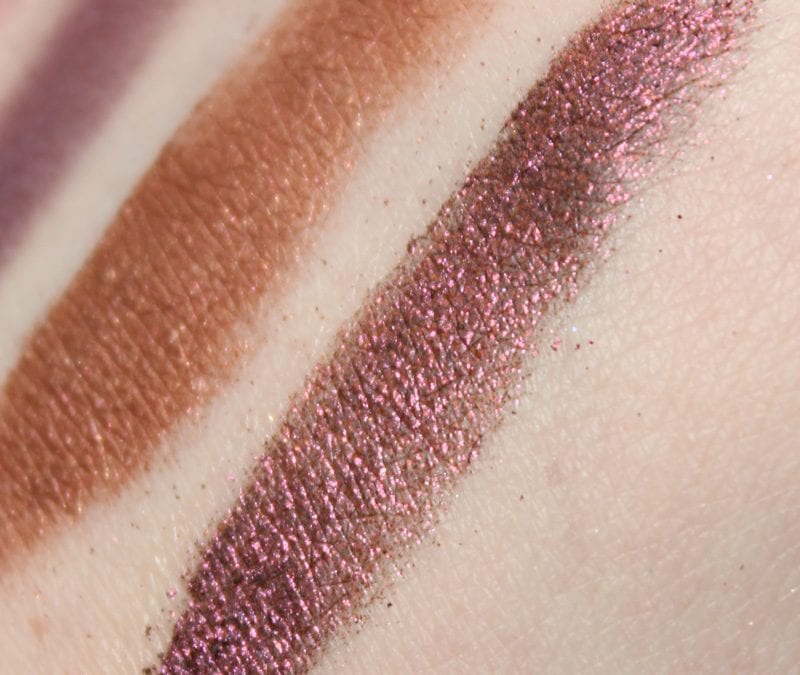 L to R – Midnight Blast – Extragalactic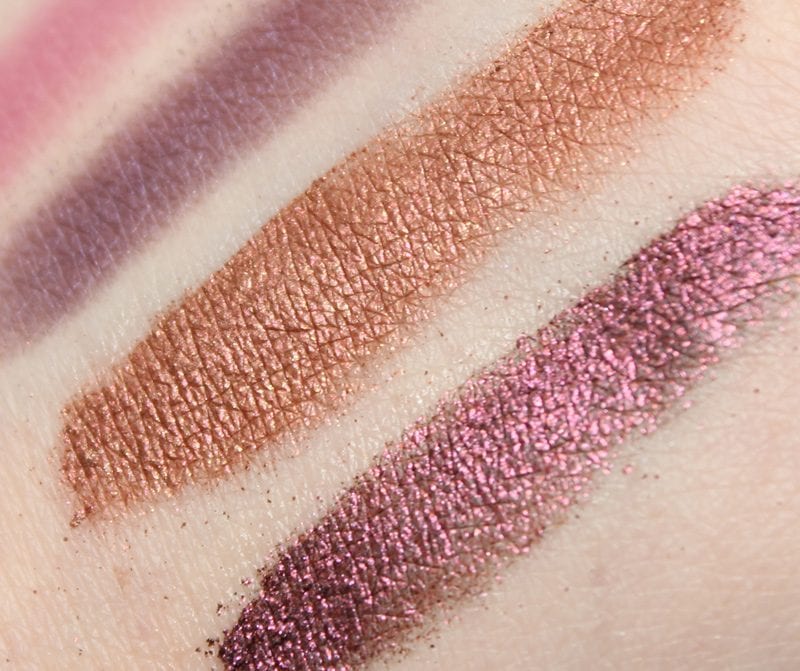 L to R – Midnight Blast – Extragalactic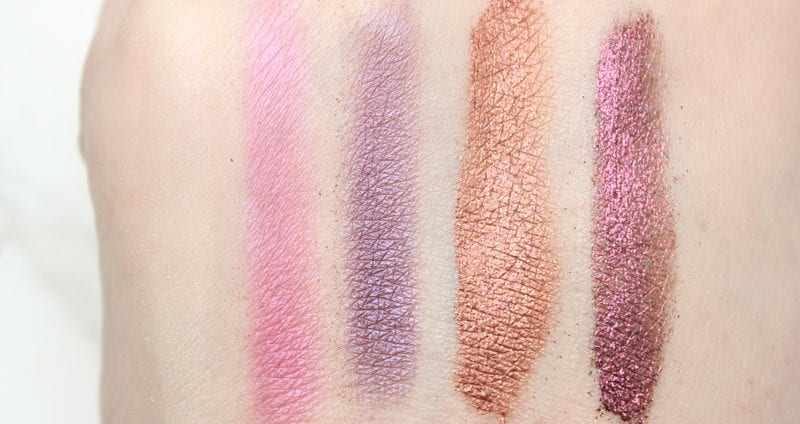 L to R – Blonde – 1985 – Vice – Midnight Blast – Extragalactic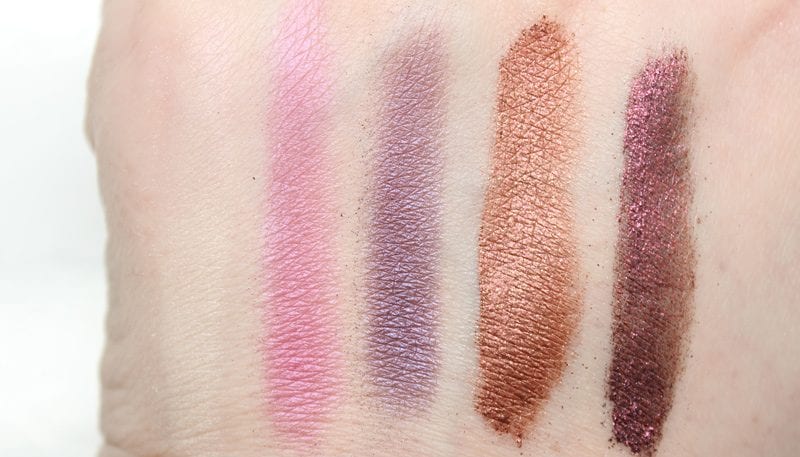 L to R – Blonde – 19850 – Vice – Midnight Blast – Extragalactic
Blonde
pale beige with pink iridescent shift satin
Blonde is an ultra pale beige satin with a pink iridescent shift. It's easier to see it when it's applied on the eye. You can sort of see the pink shift on my hand above.
1985
metallic fuchsia with fuchsia micro glitter shimmer
1985 is a metallic fuchsia pink. I love this color but I wish it had a tad more pigmentation.
Vice
deep eggplant purple
Vice is a deep eggplant purple shimmer. I love this color but I wish it had a bit more pigmentation.
Midnight Blast
bronze with gold sparkle
Midnight Blast is a metallic bronze with gold, orange, brown, and bronze multidimensional glitter and shimmer. It's stunning. This is one of the prettiest Moondust shades ever. I'm not even a bronze eyeshadow person and the way this shade looks made me want to wear it. It was begging to be the centepiece of an eye look.
Extragalactic
black with red sparkle
Extragalactic is a red with a smoky black base. It looks like the red is very multidimensional in this one as well.
Warm Eyeshadow Look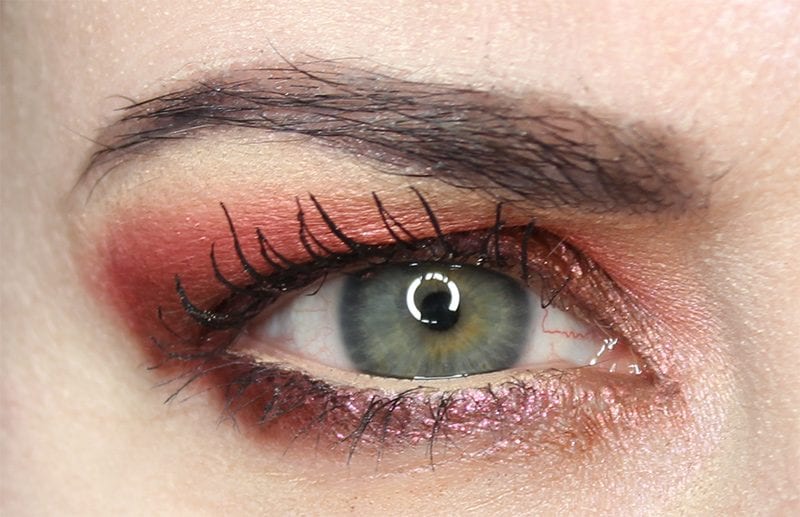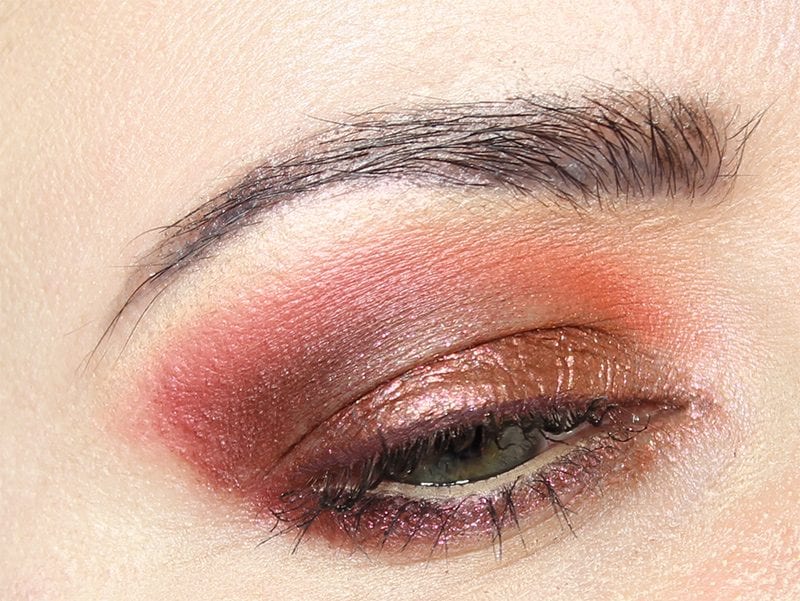 I put together a look with Blonde as the base shade, Spike at the inner crease, Relish at the outer crease and outer lower lid, Midnight Blast (with a sticky base) on the lid and inner v, Extragalactic (with a sticky base) on the lower lid, Punk at the outer v, Colour Pop Best O gel liner at the upper lash line and outer lower lash line, Walk of Shame pencil on the lower waterline (set with Blonde), Perversion mascara and Makeup Geek Celestial to highlight at the inner corner.
I really love that Urban Decay added so many colorful mattes to their lineup. For those craving pastel tones for the lid or as a transitional shade you'll love Narcotic. Chaos steals the show as lid color or as a liner. Spike and Relish are long anticipated additions to the UD line up, as they needed a matte orange and red.
I personally am always happy to see more greys like Serious. Blonde is actually a great base shade for me. I love it. I really think 1985 is a much needed addition to the lineup too, as it's really the only midtone pink in the line up.
I think warm-toned eyeshadow fans will fall in love with Midnight Blast. It's so breathtakingly beautiful.
What do you think of the new Urban Decay Spring 2017 eyeshadow singles?
More to See
Last Updated on