Top 5 Favorite Beauty Products from Glossier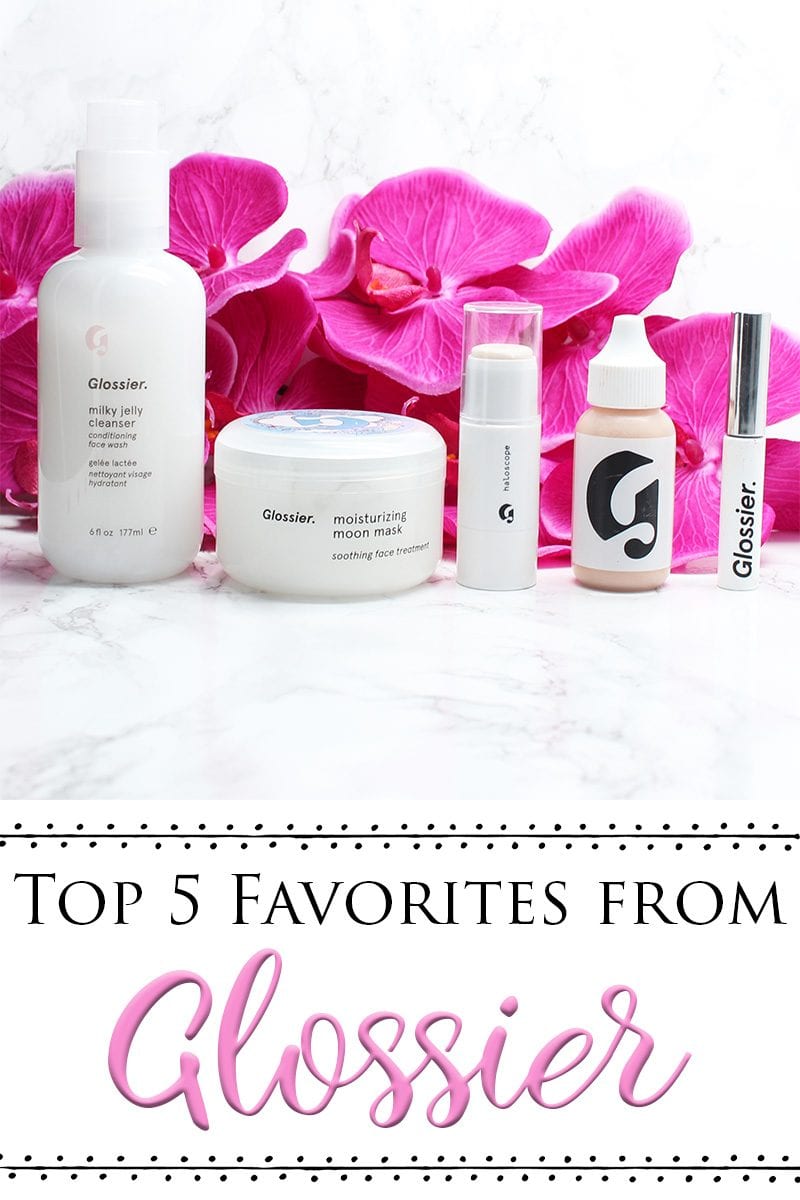 I wanted to share my Top 5 Favorite Beauty Products from Glossier with you. Glossier is the cool girl cruelty free beauty brand. They have minimalist packaging, which I find strangely appealing.
About Glossier
Glossier claims to be inspired by what girls need in real life. They make easy-to-use basic items that form the backbone of your unique beauty routine. Glossier was created by Emily Weiss, the woman behind IntoTheGloss.com.
Glowy, dewy skin is their thing, and I have to say I love it. I appreciate their skincare first approach to beauty. As someone who does not want to wear a pound of foundation on my face, I do believe in doing the most that you can for your skin with skincare first. If you're someone like me who has skin issues (in my case it's rosacea), it can make you want to cake your face with foundation. But now that I have my skin issues managed as well as I can, I want to use the least amount of foundation necessary, so that some of my real skin peeks through.
Top 5 Favorite Beauty Products from Glossier
PR + purchased by me.

1. Perfecting Skin Tint in Light
I  used to be torn about the Glossier Perfecting Skin Tint in Light because it is so very light coverage and I don't have perfect skin. I have redness from rosacea. I always want to hide my redness. Finally with the help of Mickey I hit on the perfect way to apply this foundation, which made me fall in love with it. Somehow, when layered with my favorite concealers and primer, I feel like my skin looks amazing. Perfecting Skin Tint has Diamond powder in it, which is supposed to brighten the face and blur imperfections. I think it does that nicely. It's also moisturizing.
I start by priming my skin with Urban Decay Optical Illusion Primer. Then I conceal around the face with Kat Von D Lock It Concealer in L1 and L3. I finish by applying Perfecting Skin Tint in Light. I usually mix in a few drops of a white foundation mixer to make it a better match for my skintone. This gives me ultra luminous skin. (See my luminous foundation routine tutorial.)
Another way to wear this is to mix it with Cover FX Custom Cover Drops. That helps to add the coverage I need for my rosacea. I still have to mix white into it, though.
Glossier Perfecting Skin Tint is only available in 5 shades. I do wish they had a lighter shade available.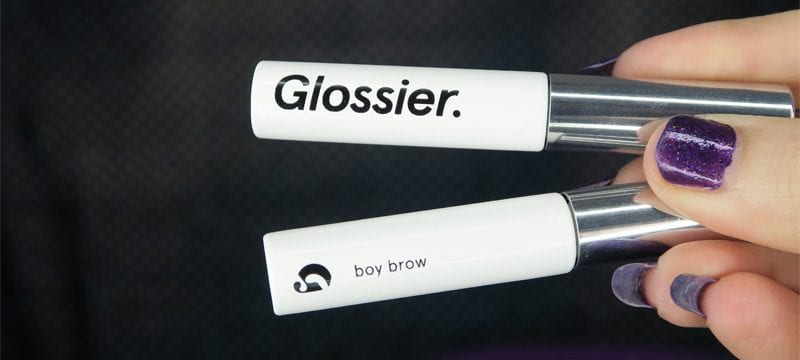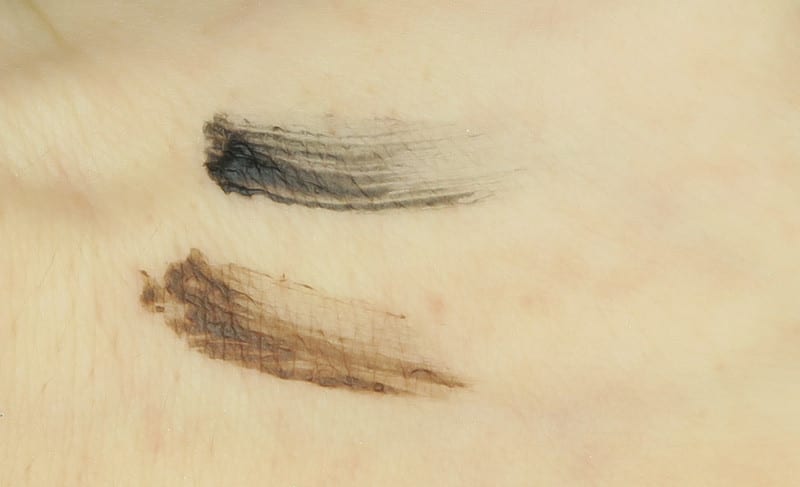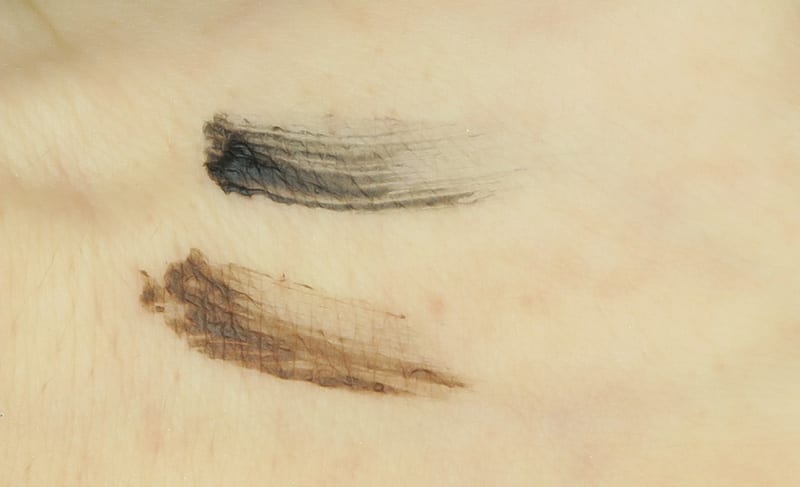 2. Glossier Boy Brow in Black
Glossier Boy Brow is an all-in-one type of brow product. It thickens, fills in and grooms the brows in place without giving you sharpie brows. It's inspired by brow pomade.
Boy Brow comes in 4 shades – Black, Brown, Blonde and Clear. Swatched above are Brown and Black. I prefer Black because my natural hair color is very close to black and I tint my brows black. Brown is too warm and orangey on me, as I need neutral / cooler tones. It's seriously the easiest way for me to do my brows. I just run the wand through my brows and I'm done!
I read in an interview that Glossier said Black was the most popular shade. The article implied that people are wearing the wrong shade for their brows. However, I think too many people assume that you should wear brown and call it a day. People like me prefer deeper, cooler tones so I'm glad that's an option. I do wish that they had an option for redheads though!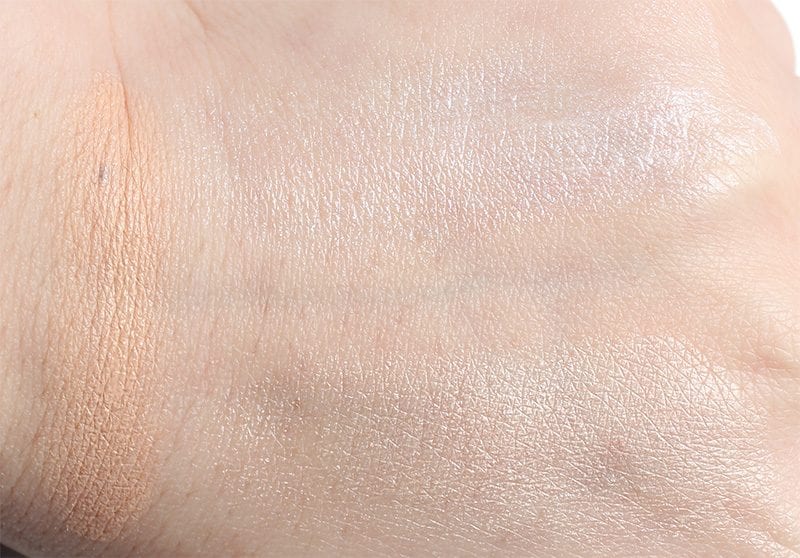 Halosope is a super gorgeous dewy highlighter. It's hydrating for dry skin. It's not glittery in the slightest and comes in three shades. Moonstone is a white based opalescent, making it perfect for pale skin like mine. Quartz is a pearly sheen that blends in with my skintone. Topaz is a sun-kissed glow.
I love how this feels and if I want to have a very fresh, dewy look, this highlighter helps me achieve it. I prefer to use it as a base for my Makeup Geek Celestial highlighter if I'm layering products to make them last all day.
I did include a swatch of the Stretch Concealer in Light. It's unfortunately too peachy / too dark for my skintone. It has such an interesting formula. It's made with elastic micro waxes to move with your face instead of caking up. It's only available in 5 shades. It claims to disappear into the widest range of skintones but as you can see on my hand, not in my case.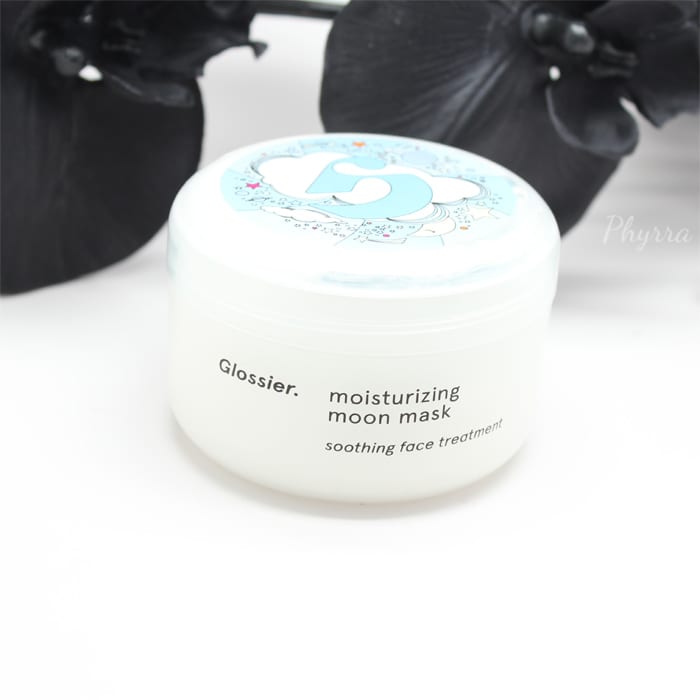 The Moisturizing Moon Mask is touted as the most hydrating treatment Glossier could come up with. My skin agrees! It's got sweet almond oil, soybean oil, glycerin, shea butter, aloe vera, squalane, licorice root extract, lemon extract, honey and hyaluronic acid.
I recently mentioned this in my best face masks for dry skin because it's life changing for me. I've worn it as a sleeping mask, but I prefer to use it in the daytime as a moisture booster. It also works really well after I've done a liquid peel.
The Milky Jelly Cleanser is a recent love of mine. I just started using it. It's a very creamy formula that really softens the skin as it cleanses. It doesn't strip my dry skin or make it feel tight. It has allantoin in it, which is soothing for sensitive skin like mine. This is an excellent cleanser, especially when you're dealing with cold, dry weather.
What do you think of Glossier and their skincare first approach to makeup?