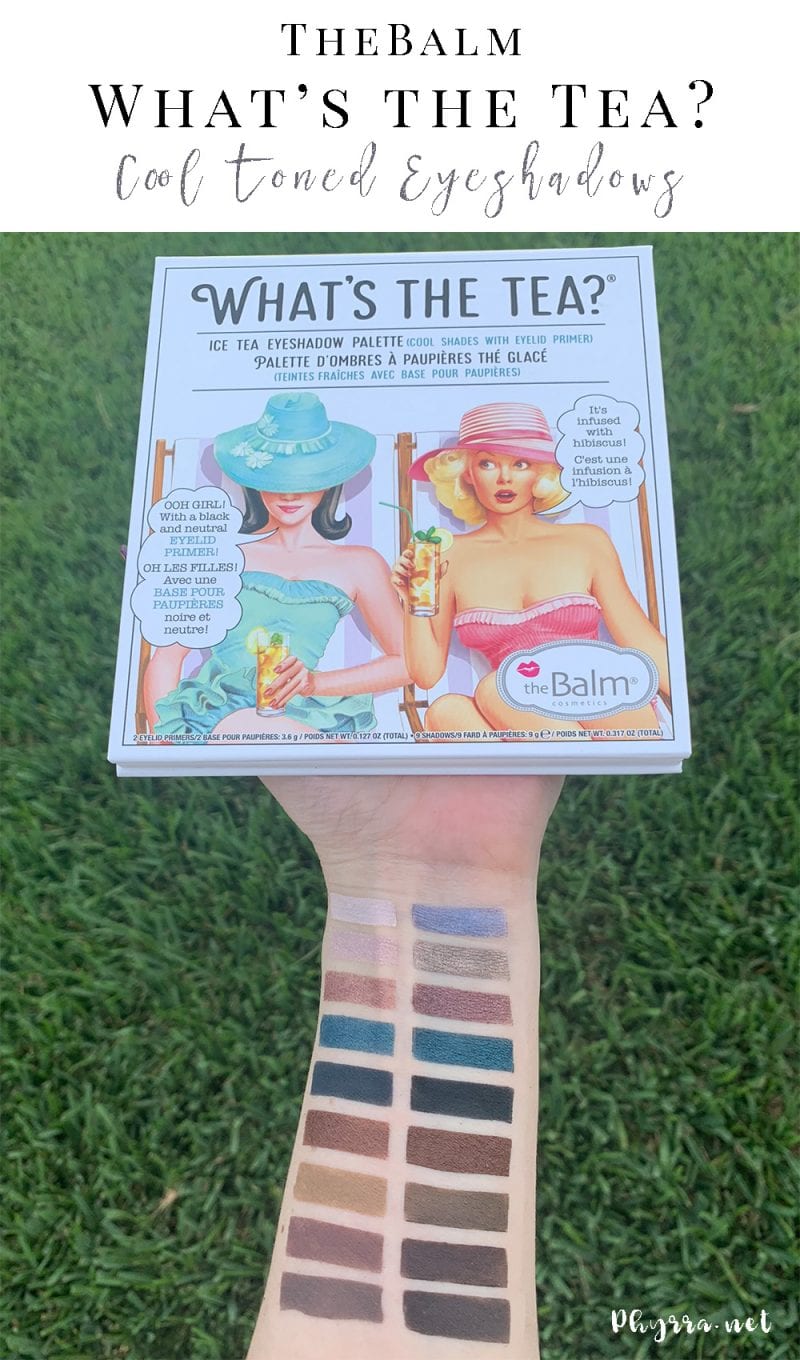 theBalm What's the Tea Ice Tea Palette
Today I'm bringing you my theBalm What's the Tea Ice Tea Palette review and swatches. This is a cool-toned eyeshadow palette by theBalm. If you're new to theBalm, they're a cruelty-free brand but they are not certified with PETA or Leaping Bunny. TheBalm claims that this is the first every eyeshadow palette to include a primer, which is blatantly false. I've seen several palettes that  have included a primer in the past. What I don't like about this palette is that it does have 2 cream products (the black and neutral primers) in it that don't have a separate cover.
Prefer brands that are Leaping Bunny certified? Check out my cruelty-free makeup brands list, which can be searched by Leaping Bunny certified brands!
Price
$36 for .317 oz
What theBalm says about the What's the Tea Ice Tea Palette
It's time to spill the tea… theBalm has created the first-ever eyeshadow palette to include a primer — and not just one, but two! Sip back and chill with Ice Tea's cool, jewel tones. The palette features a neutral primer to intensify the color payoff and black primer to transform the nine shadows into 27 different shades to pour over. The shimmery shadows can be worn solo or with other shades for an added pop of color, while the matte formulas go on smooth and double as liners. Each talc-free shade can be worn dry or wet — whatever your cup of tea.
theBalm What's the Tea Ice Tea Palette Swatches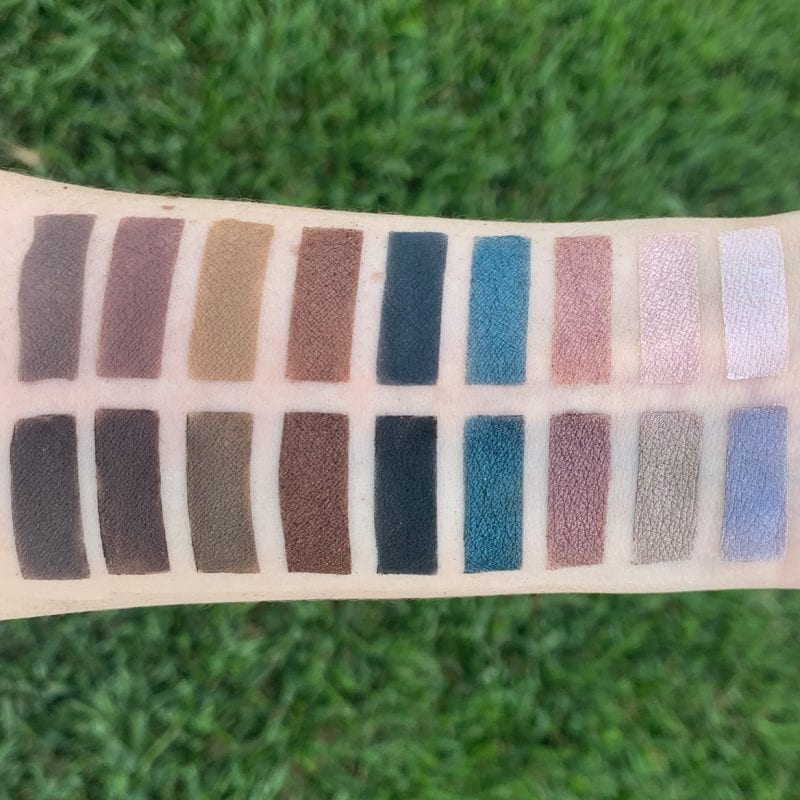 L to R – Latest Scoop – The Run Down – Oh Snap – Rumor Has It – Talk of the Town – The Buzz – The 411 – He Said, She Said – Kiss and Tell
Top is on Too Faced Shadow Insurance primer, bottom is on the black primer included with the palette.
kiss and tell – white with iridescent blue violet shift, cornflower blue with violet shift
he said, she said – light rose gold shimmer, golden shimmer
the 411 – rosy mauve shimmer, burgundy rose shimmer
the buzz – rich turquoise blue shimmer, deep ocean blue shimmer
talk of the town – blackened navy matte, blue-toned black matte
rumor has it – cool bronze shimmer, deep brown shimmer
oh snap – cool-toned light taupe matte, midtone taupe matte
the run down – pinky grey taupe matte, deep charcoal taupe matte
latest scoop – deep cool grey taupe matte, deep charcoal brown taupe matte
I love the cool tones in theBalm What's the Tea Ice Tea Palette, especially when on top of a black primer! I feel like we rarely see brands mention tinted primers, so I do like that theBalm is getting creative and including the 2 primers with the palette, even if I hate mixing cream and powder products in the same palette.
I particularly love how glowy Kiss and Tell and He Said, She Said are on a neutral primer. They're great eye brightening shades. I adore how The Buzz and The 411 look on black primer. They're gorgeous. When I think about cool-toned mattes, I'm always looking for shades like The Run Down, Oh Snap and Latest Scoop.  Really, Rumor Has It is the only color I don't like in this palette.
TheBalm eyeshadows have all day wear without creasing and fading for me on primer. My current favorite eyeshadow primers are Urban Decay Sin Primer (pale nude shimmer), Urban Decay Original Primer Potion (nude), and Too Faced Shadow Insurance (nude). As an aside, I really feel like instead of being described as nude, these are more of a beige.
If you're looking for a versatile cool-toned eyeshadow palette, I recommend checking out the theBalm What's the Tea Ice Tea Palette.
What do you think of theBalm?
Last Updated on