The Best Cruelty-free Burgundy Mascaras
It's no secret that I love burgundy. Today I've rounded up the best cruelty-free burgundy mascaras to share with you. Recently burgundy mascara was put back on my radar because a friend gifted me with Maybelline Snapscara in Black Cherry (not cruelty free). Since I loved the color and I want to wear burgundy, I went out looking for cruelty-free options to share with you and feature on my blog!
The Best Cruelty-free Burgundy Mascaras List
1. Marc Jacobs O!Mega Lash Volumizing Mascara in Garnet 80 (burgundy-red wine)
This burgundy mascara is on sale right now for $15! I just bought it via Sephora. I also bought Think Ink, the cool navy blue. I feel like $15 for a Marc Jacobs mascara is a steal! I love so many of their products.
2. Kevyn Aucion the Expert Mascara in Bloodroses (deep burgundy)
This deep burgundy mascara is $29 at Beautylish. I received this several years ago as a PR sample from the Makeup Show and believe I loved it.
3. Canmake Layered Look Mascara in Rose Burgundy (burgundy reddish brown)
Canmake is a new-to-me cruelty-free Japanese beauty brand (I had mistakenly listed them as Korean). I'm working on a cruelty-free Korean beauty brand list for you. It's just extremely difficult because I do not speak Korean, so that makes research hard. Canmake's burgundy mascara is only $9.50.
4. Colour Pop BFF Mascara in Red (true red)
I don't know the quality of the Colour Pop mascaras, but this list wouldn't be complete if I didn't include them since they're $8.
5. Fiona Stiles Ultimte Lash Icon Mascara in Worth (burgundy)
I can only find this mascara as part of a set on QVC, but it's about $12 per mascara. Fiona Stiles used to be available at Ulta but they're no longer carried there.
I was honestly surprised to see that Urban Decay Cosmetics and Nyx Cosmetics, two of my favorite cruelty-free beauty brands, do NOT have any burgundy mascara options. I also checked Cover Girl, since they're now cruelty-free as well. I didn't see any options with Cover Girl either.
How to Wear Burgundy Mascara Guide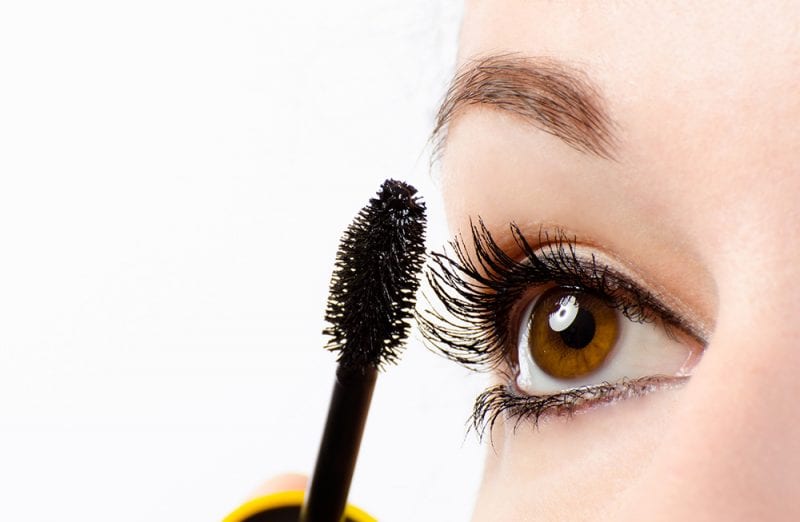 1. Pop of Color on the Lower Lashes
Since I have lash extensions, the way I wear burgundy mascara is on my lower lashes to add definition. However, if you want the burgundy color to be more visible, try using a white mascara primer like Urban Decay Subversion Mascara Primer or the Milk Makeup Kush Lash Primer.
2. On the Tips of Your Lashes
You can also apply your mascara as normal, then only apply the burgundy mascara on the tips of your lashes. Or just put primer on the tips after you've applied your mascara, then the color mascara on top of the primer.
3. Lashes Only
Try a bare eye with only burgundy mascara.
4. Monochromatic Eye Looks
I love monochromatic looks and will often wear burgundy eyeshadow, burgundy liner and now I can add in burgundy mascara.
5. Monochromatic Makeup Looks
Coordinate your mascara, lipstick and nail polish to all match.
6. Pair Burgundy with Your Favorite Colors
I love seeing burgundy and purple, burgundy and black, burgundy and rose gold, burgundy and pink, burgundy and peach together. Try using these colors with burgundy, especially if it's outside your comfort zone. You can also pair it with brown and nude shades. I bet a soft mauve would look great too.
7. Lightly Smokey With Burgundy
Try a lighter smokey eye with bronze or grey eyeshadow and burgundy mascara.
8. Two Tone Look
You can also try 1/2 burgundy mascara on the inner lashes and 1/2 purple, blue or black mascara on the outer half of your lashes for a two tone look.
9. Duochrome Look
Pick your favorite duochrome or multichromatic eyeshadow to put all over the eyes and pair with a burgundy mascara.
10. Rusty Look
Choose a red with an orange undertone or a rusty orange eyeshadow to wear with burgundy mascara.
11. Alien Look
Use Black Moon Cosmetics E.T. (lime green) eyeshadow with burgundy mascara. Lime Green and Burgundy Wine are opposite each other on the color wheel. (see my color wheel guide)
Why Would You Wear Burgundy Mascara?
I'm sure people are going to ask, why would you wear burgundy mascara? Well for me, the number one reason is that I love burgundy almost as much as I love black and purple. It's a jewel toned color that really sets off my skintone and looks amazing on me.
Burgundy mascara is great for bringing out the blue in blue-green eyes. I've said it before, but blue-green eyes like mine will best be enhanced with neutral shades like purple; cool shades like silver, lilac, iridescent beige, grey, slate and charcoal; and warm shades like peach, copper, bronze and red.
The Most Flattering Eyeshadow & Color Mascara Combo For Your Eye Color
These are the most flattering eyeshadow and color mascara combo for each eye color family according to the multiple makeup artists I consulted with:
Brown eyes – gold eyeshadow and deep purple mascara
Amber eyes – terracotta eyeshadow and navy mascara
Hazel eyes (blue, green, amber and brown) – light purple eyeshadow and burgundy wine mascara
Green eyes – brown eyeshadow and burgundy wine mascara
Blue eyes – copper eyeshadow and navy mascara
I don't consider my eyes hazel because I don't have any brown or amber in them. You see blue, green, grey, and a yellow-green color in my eyes.
Last Updated on