Put a Spell on Everyone Around You with Hexennacht Perfumes
Today I'm sharing my Hexennacht Perfumes review with you. Hexennacht is a cruelty-free indie brand by Caroline Blicq. They specialize in perfume, hair, soap, and bath & body products. Everything is blended fresh in small batches. Almost all items made to order. I meant to have this review up sooner for you because I do adore their scents and goth witch vibes. I adore their aesthetic and packaging, as well as their products!
Please keep in mind that I have year round allergies because I'm 'blessed'. So my sense of smell isn't as keen as I'd like. My nose is perpetually stopped up on one side or the other. No bueno. Sometimes Singulair helps, but I don't take it daily. Zyrtec and Claritin don't seem to help at all. I'm allergic to dust, pollen, mold, and most plants. Yay. I really wish I could find a permanent solution to my issue. After talking to several friends who have done allergy shots as adults, I'm not hopeful that I would see much improvement with shots. I also hate needles. Not that you'd know that from the number of times I've been pierced or tattooed.
Where to Buy
Hexennacht
Price
$16 Perfume Roll-ons
$28 Perfume Spray
$15 Atmosphere Spray
$15 Hair & Beard Oils
$15 Body Oils
$7 Incense Sticks
$15 Headache Eraser
What type of perfumes do I love?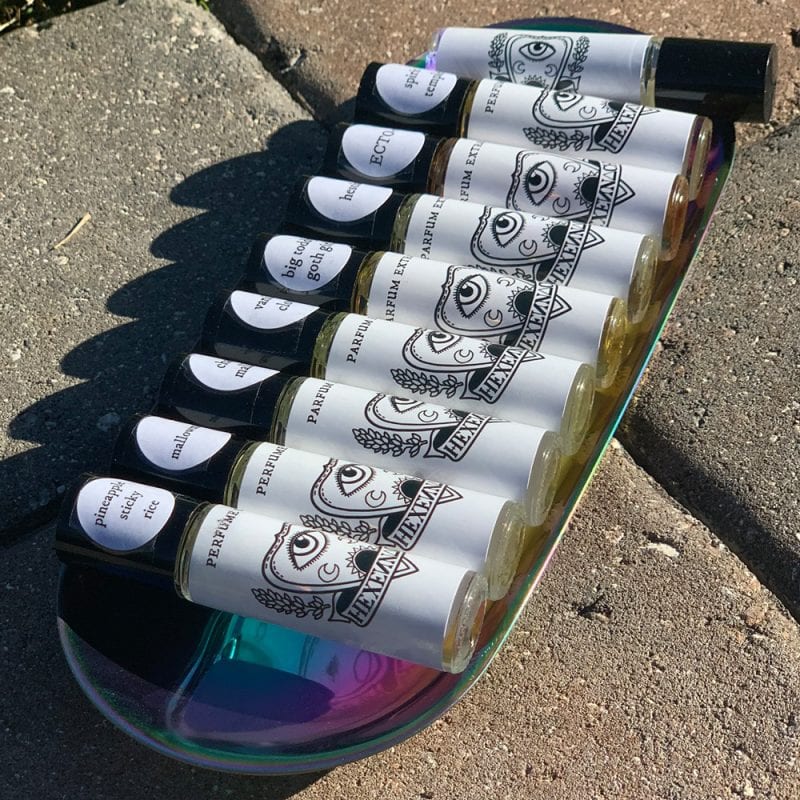 I'm a sexy gourmand scent lover. I like scents that smell good enough to eat. I do NOT like lavender or patchouli in 99% of the things out there. I don't like florals. I love scents with vanilla, amber, musk, sandalwood and some tea notes. Fruity is good. I enjoy a few smoky scents if they're balanced with sweetness. See some of my past perfume favorites.
You may also find my Beginner's Guide to Cruelty-free Perfumes helpful.
Hexennacht Perfumes Review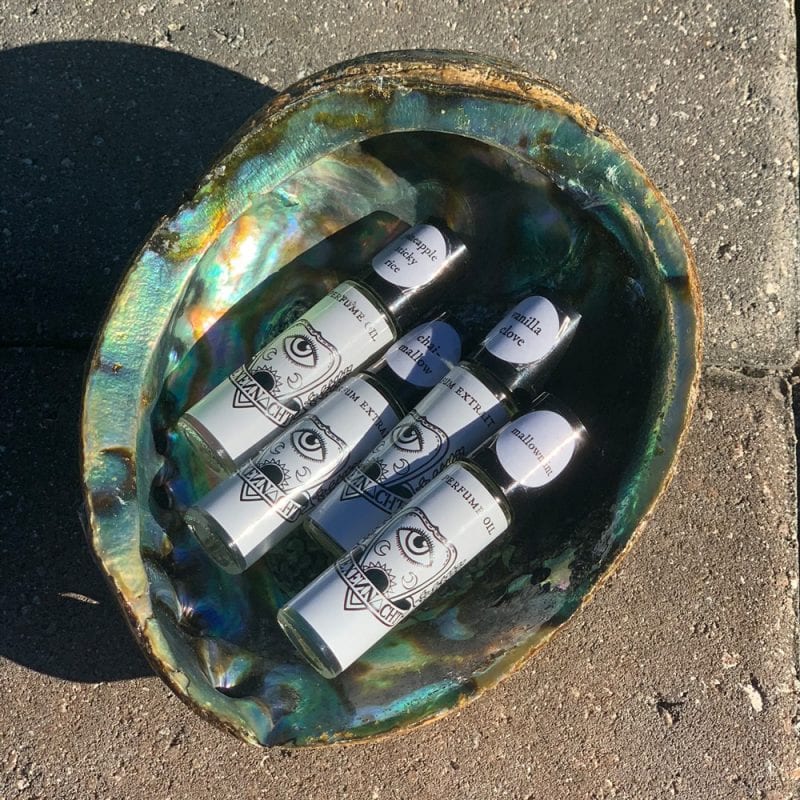 I do want to point out that while I love my Hexennacht perfumes, I wish that their site was organized in a more helpful manner. I would love to see the top, middle, and base notes listed for each scent.
Ecto-1
Smoked vanilla, cacao absolute, Stay-Puft marshmallows, graham crackers.
If you love graham crackers, this is the perfume for you! When I first apply it I smell buttery graham crackers and vanilla. After a bit I start to smell sweet and chocolate. I don't get any smoky notes in this one on my skin, which was a little disappointing. But, the graham cracker + chocolate is nice. I just wish there was a bit of discernible smoke. While an interesting scent, it's not one I reach for often unless I'm layering it with something else. If you're looking for something with a buttery note for layering scents, this is it.
Big Toddy Goth Girl
Spiced buttered rum, bourbon, honey, cinnamon, nutmeg, clove cigarettes.
Rum, rum and more rum to start.  It's all liquor on my skin. Then a little bit later I can smell the clove and cinnamon. Ultimately, this is a fun scent that I bought for the name but it's not a favorite of mine. The honey note in it turns it a bit powdery on my skin. Honey notes are almost always a death note for my body chemistry.
Chai-mallow
marshmallow, buttercream, black tea, chai spices.
OMG this is my favorite tea scent ever! You smell the chai tea immediately. Later I get little wiffs of sweet marshmallow and buttercream icing. This is one of my favorites from Hexennacht. It's also a scent that Ray really adores as he's obsessed with chai. If you are a chai latte lover, you will love this one.
Hestia
Marshmallow and clove.
I love the strong spicy clove to start. The marshmallow mellows it out a bit, but it smells delicious like cloves for a long while. This is another one I adore. I almost feel like there's a bit of cinnamon sweetness in with the clove. This is a sultry gourmand. SO GOOD. If you love either of these notes, you'll adore Hestia.
Mallowmint
marshmallow, buttercream, candy cane.
I get strong candycane to start, almost verging on medicinal. Then it chills out and I can smell sweetness. If you ever loved the Bath and Body Works Twisted Peppermint, you'll love this. It was a favorite of my husband Ray's. It's a perfect winter scent and I should have remembered to pull it out sooner. I highly recommend if you like sweet peppermint.
Pineapple Sticky Rice
fresh, sweet pineapple, pan-toasted basmati rice, a dusting of brown sugar, coconut cream.
Immediately upon application I smell warm rice fresh out of the rice cooker and sweet pineapple. Later I smell sweet pineapple, which I adore. I love the hell out of pineapple – both to eat and wear – so I adore this scent! This is a lovely soft sweet scent.
Spirit Temple
vanilla bean pods, Spiritueuse Double Vanille, nag champa incense.
When I first apply this I'm overwhelmed by the nag champa incense note. After a few minutes it mellows out and then I get a bit of vanilla, but overwhelmingly incense. I wanted to love this one but I can't wear it on its own. The incense note is too overpowering so I have to layer it with other scents to cut it. Because of how my skin really seems to make the incense note overpowering, this is not a favorite for me. If you love incense scents you may love this one.
Vanilla Clove
Rich, creamy vanilla, warm, spicy/herbal clove.
Rich and creamy? Heck yeah! I love the spiced clove that comes out after a few minutes.
Hexennacht Perfumes Headache Eraser Scent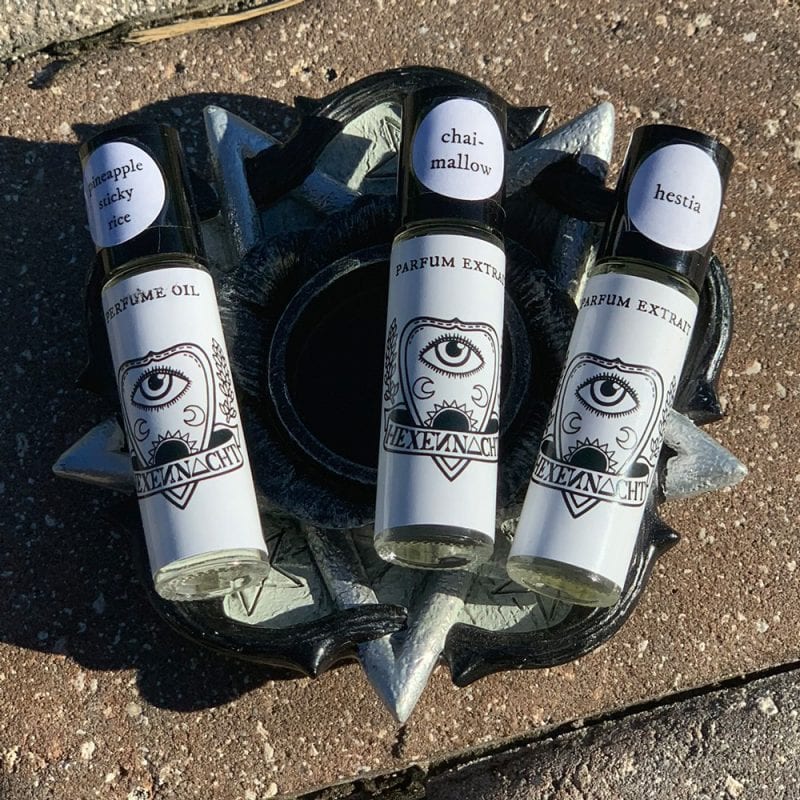 Headache Eraser
A premium-grade essential oil blend, with Mentha piperita (peppermint), Eucalyptus globulus, Gaultheria procumbens (wintergreen), Melaleuca cajeputi (cajeput), Mentha spicata (spearmint), Rosmarinus officinalis (rosemary), Lavandula officinalis (lavender), Boswellia carterii (frankincense), Anthemis nobilis L (Roman chamomile), Helichrysum italicum (immortelle), and Vetiveria Zizanoides (vetiver).
The Hexennacht Headache Eraser is a very clean, minty herbal scent. It helps with most of my minor headaches. Apply it to the temples on your face, as well as your back or shoulders. I've gifted a few of these to my friends who deal with bad headaches and migraines. They've found them helpful too.
Final Hexennacht Perfumes Thoughts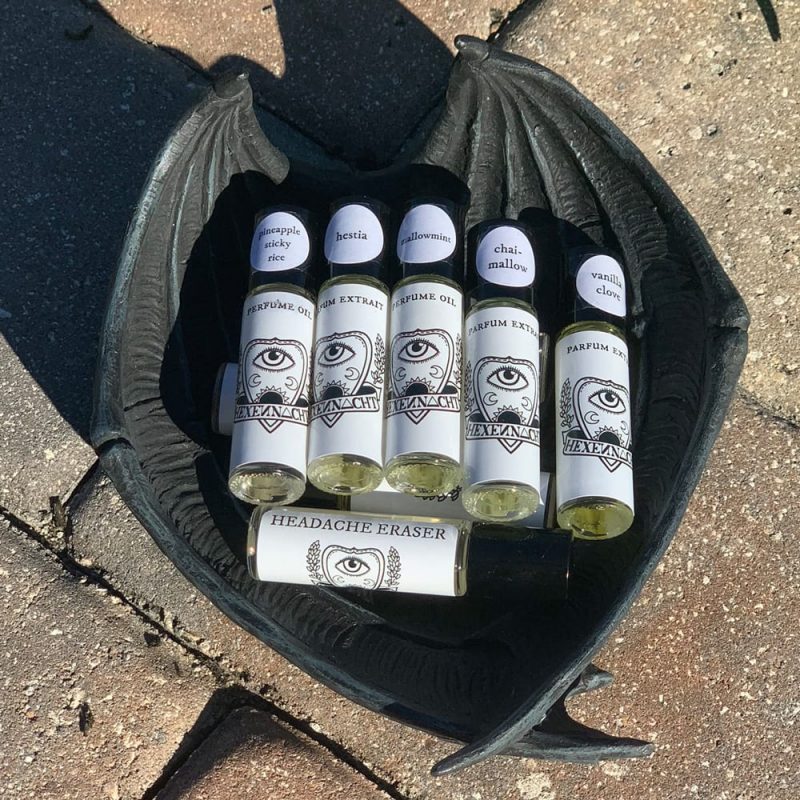 Their current turn around time (TAT) is 7 business days. When I've ordered from them they've shipped before their stated time-frame. Everything arrived packaged in cute black paper, properly packed.
I'm very happy with my Hexennacht Perfumes purchases. I love their witchy aesthetic and fun perfume blends. The rollerball perfume packaging is compact and easy to sling into any makeup bag or purse. What do you think of Hexennacht Perfumes?