Hello, beautiful creatures! Today I'm sharing my favorite experiences in Las Vegas from my Las Vegas Trip. Dave and I spent two weeks in Las Vegas (see my stay at Las Vegas Mandalay Bay Hotel) for our honeymoon vacation.
I saved all my vacation time from 2021 and 2022 to be able to take two consecutive weeks off because the company I worked for was a typical American company with limited vacation time. I worked through burnout for ten months in 2022, which is not ideal and I do not recommend.
Helicoptor Tour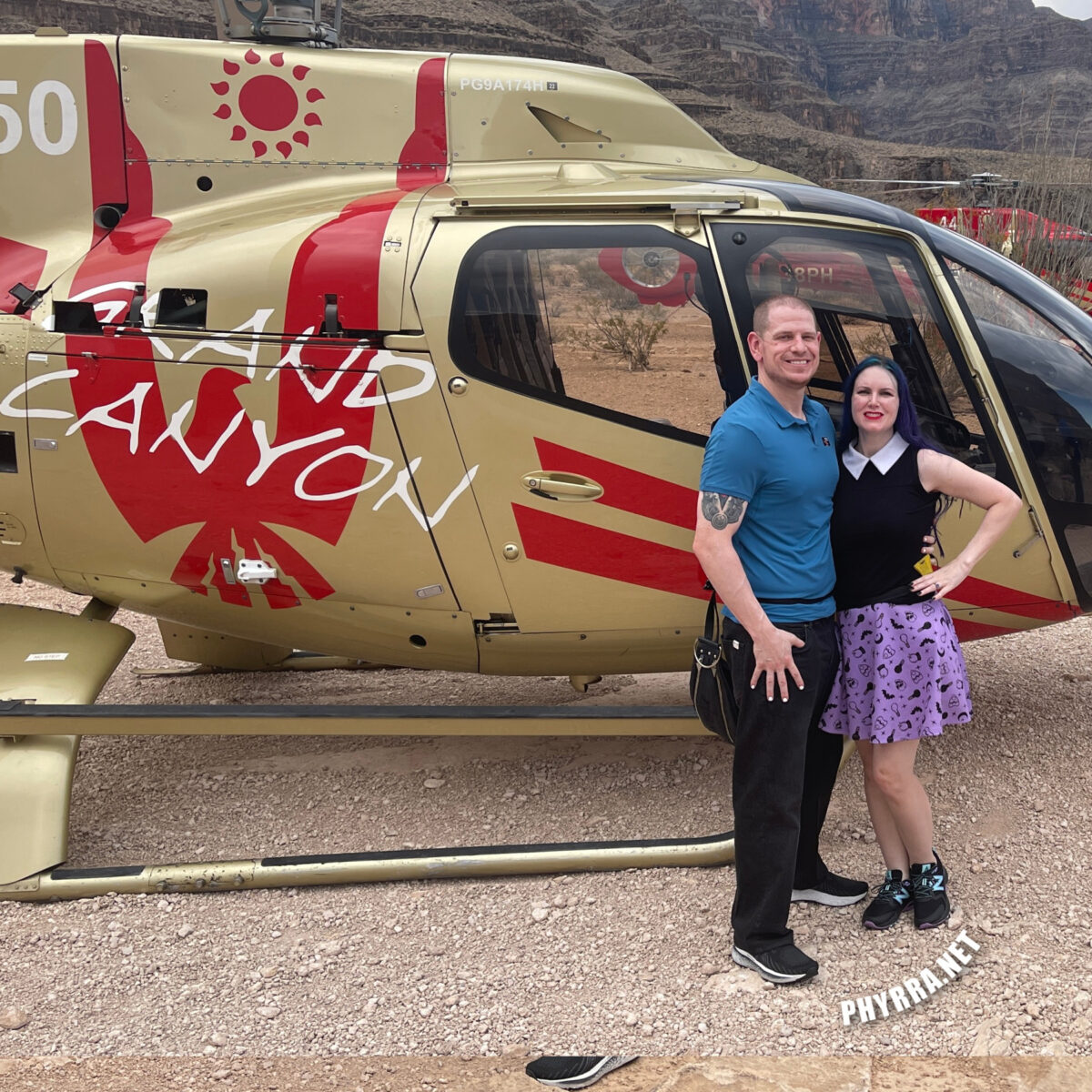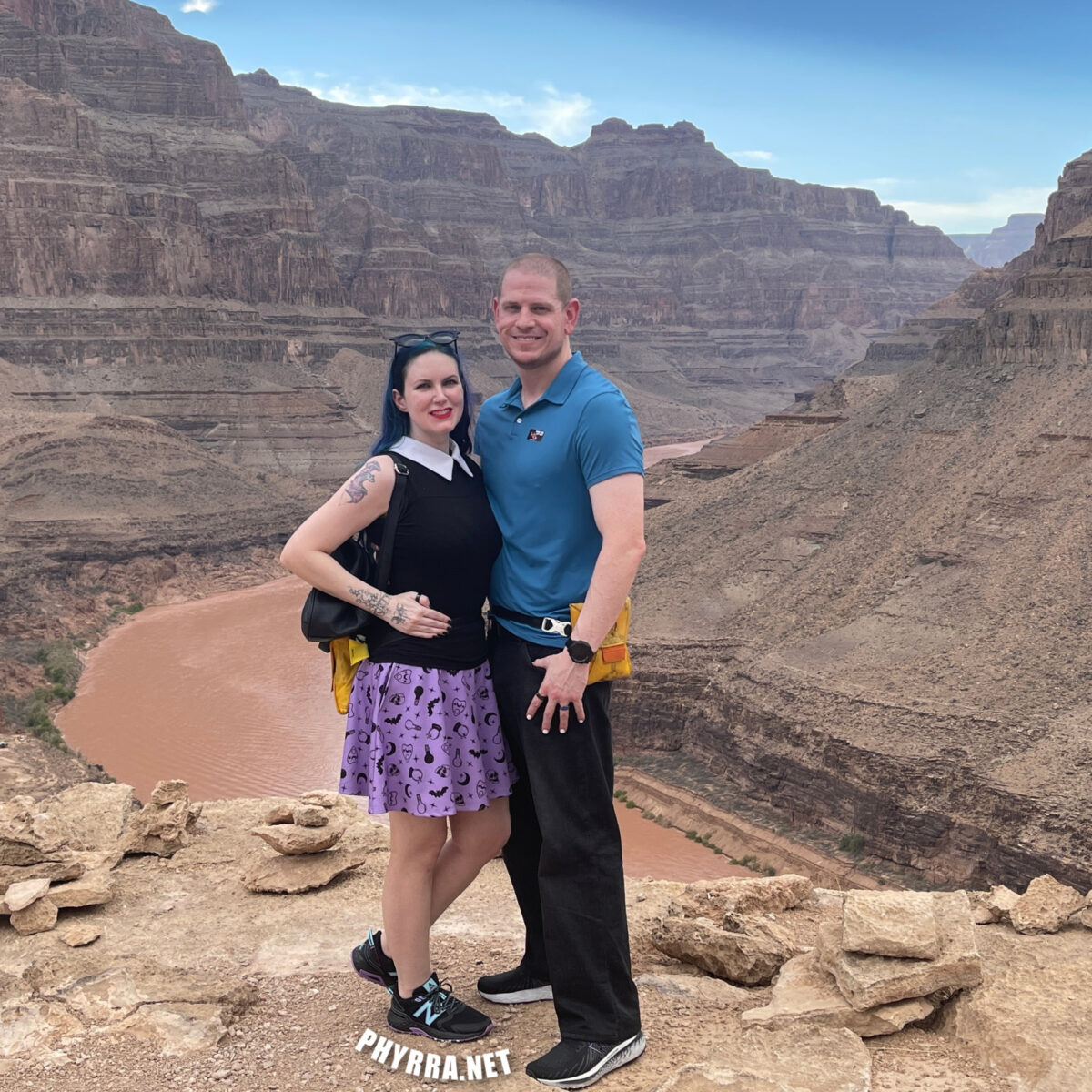 One of Dave's bucket list items was to see the Grand Canyon. He booked us a Papillion Grand Canyon Grand Celebration Sunset Helicoptor tour. The tour sent a party bus to our hotel to pick us up to start. Once at Papillion headquarters, we watched an informational safety video, were weighed for the tour, and split into groups and assigned to a pilot.
We spent the first 45 minutes to an hour flying over Las Vegas, Hoover Dam, Lake Mead, Mojave Desert, extinct volcanoes, and the Colorado River. We hovered at a point where four states touch: Arizona, California, Utah and Nevada. This is really cool!
Once we arrived at the western side of the Grand Canyon, we landed inside the Canyon. We had a picnic and champagne inside the Grand Canyon, while enjoying the beautiful view. I don't know why but I didn't expect the water to be so brown.
The Hualapai Indian Reservation hosted our champagne picnic. They have a beautiful Skywalk experience where you can walk over the Grand Canyon.
One of the most surprising features in the Grand Canyon West is the Bat Cave Mine. A mine was built to harvest bat guano, aka poop. Guano is used as fertilizer, for gunpowder, and according to our helicopter pilot, mineral makeup.
We timed our helicopter tour to finish when it was sunset over the Las Vegas Strip. It was beautiful and romantic to see the Strip at that time of night. Dave and I were thrilled by this bucket list experience!
I had no idea that I would fall in love with flying in a helicopter, but it was definitely a highlight of our Las Vegas trip! I want to take more helicopter rides!
Absinthe

Absinthe is, in a single word, amazing. It's the best live interactive performance I've ever seen. The ringmaster and his side kick Joy are hilarious. It's part burlesque, part feats of strength and amazement, unapologetically raunchy, and awe inspiring. One of Carlye's friends, Maven, played the Green Faerie that night.
We loved the Absinthe show so very much! If you go to the show and want to interact with the Gazillionaire, I recommend sitting in the first 2 rows or so. As an introvert, I sat in the third row and was captivated by the daring feats from the entertainers.
Absinthe is the coolest live interactive performance I've ever had the pleasure to attend, making it a highlight of my Las Vegas trip. I would love to see more shows like Absinthe! It's a show anyone who loves live performances with amazing feats of strength, grace, and beauty will enjoy.
Carrot Top
Dave and I love stand-up comedy, but I've rarely gone to live performances. We saw Carrot Top at the Luxor Hotel, right next door to the hotel we stayed in. If you love stand up, you'll enjoy Carrot Top. If you're part of the LGBTQIA+ fam, you'll enjoy Carrot Top.
Stand-up comedy has helped me get through dark times and depression in my life. I'm grateful that I found stand-up to brighten my day. What started as an obsession with Aziz Ansari has morphed into a love of most stand-up comedy.
Carrot Top has been performing at the Luxor for over 16 years and doesn't show any signs of stopping. The Luxor loves having their resident comedian who performs daily Monday through Saturday. It was quick and easy to get tickets to his show and this turned out to be a great evening during our Las Vegas trip.
Studio XO Photoshoot





One of the big things Dave wanted to do while we were in Las Vegas was a kitsch photoshoot. Our magical best friend Carlye styled the three of us for the shoot. Carlye picked out the black and hot pink mesh outfits, as well as the black and hot pink harnesses. I wore a pair of open-toe Doc Martin heeled boots, and borrowed a black western hat from Carlye.
While we were at the Meow Wolf shops, I found a gorgeous iridescent swimsuit that matched my custom made gothic wedding dress that Carlye made me, so I bought that and wore it in the swing photo above. The material on that suit changes from blue to green to teal to purple, just like my wedding dress. So pretty!
Studio XO is a wonderful place for a photoshoot and the photographer that we worked with, Kirsten, was fantastic! I've shared several of the photos from this shoot on my Instagram. I would love to work with Kirsten again!
Meow Wolf





Meow Wolf is an interactive art experience that we went to in Las Vegas. Omega Mart is the primary art installation at Meow Wolf in Area 51 Las Vegas, and it even has an interactive quest that you can do throughout the store.
Carlye, Dave and I enjoyed questing through Omega Mart, it was a ton of fun. And yes, we wore masks except for the few photos we took. In addition to the Omega Mart experience, there are restaurants and bars, places to shop, and I believe there was a zip line inside too. As art aficionados, we love interactive art experiences and look forward to more in our future!
Final Thoughts

Dave and I loved every minute of our Las Vegas trip. Most of it was spent exploring Las Vegas, walking all over the city and through the hotels. We loved spending time with our best friend Carlye during the second half of the trip and look forward to traveling with her again in the future.
And no, I didn't gamble at all. Dave gambled a little bit, but neither of us are into gambling. We'd rather sip on a drink,  walk around, people watch, and have fun. Plus, we don't like the smoke that is pervasive in most of the gambling areas.
If you're looking to take a Las Vegas trip of your own, I highly recommend checking out Absinthe if you want to see a beautiful show, Carrot Top if you're into comedy, Meow Wolf if you want an interactive art experience, and taking a helicopter into the Grand Canyon if you are daring! This was my third trip to Las Vegas and I loved it!
More to See