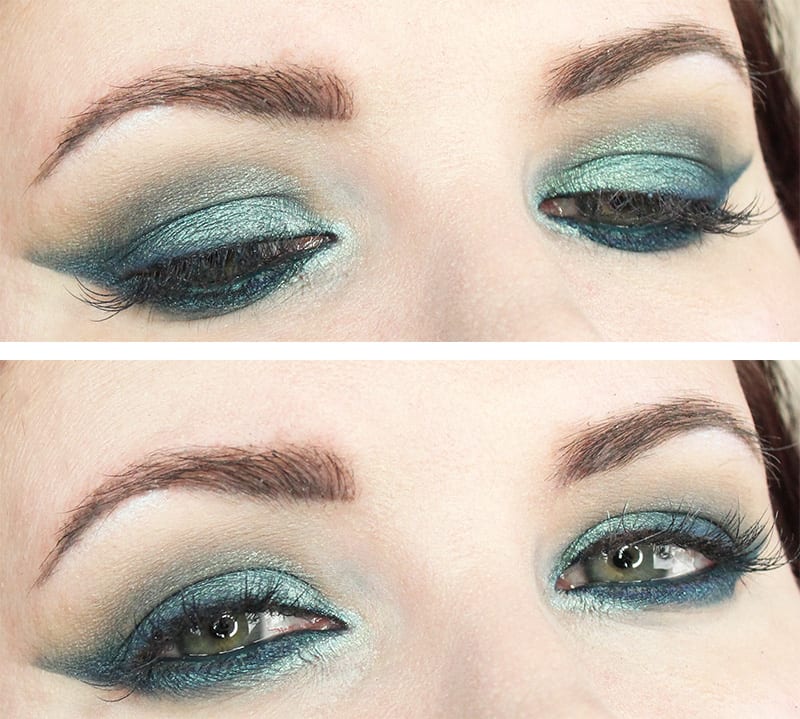 Kat Von D MetalMatte Cruelty-Free Tutorial Smoky Teal
Today I'm excited to share my Kat Von D MetalMatte Cruelty-Free Tutorial Smoky Teal for Teal Thursday with you. While I don't think you can pick up the MetalMatte palette online at Sephora now, it still seems to be available in store. I love this palette and even a few months after having purchased it, I still find myself reaching for it. I love the cooler tones.
Pr + purchased by me.
Smoky Teal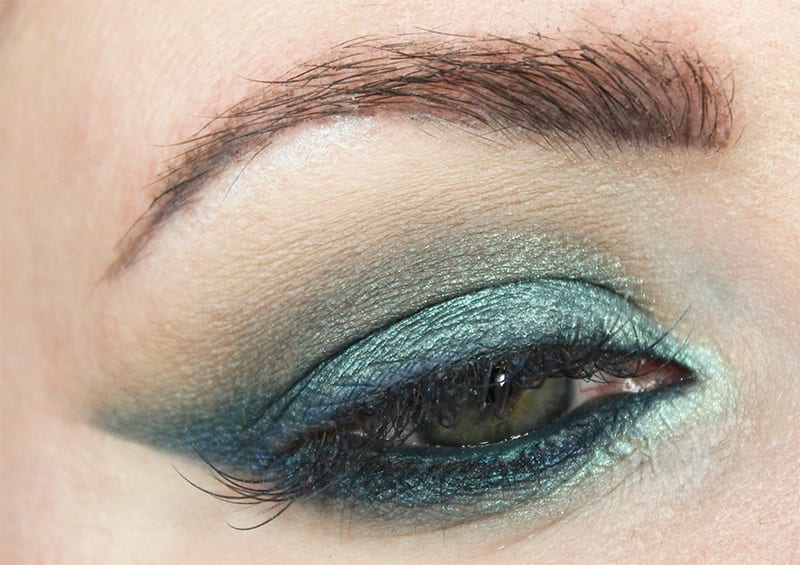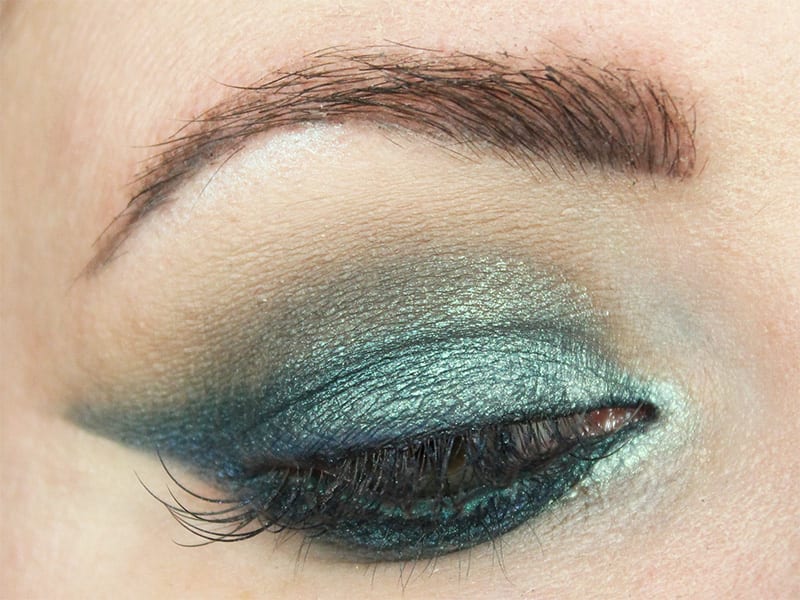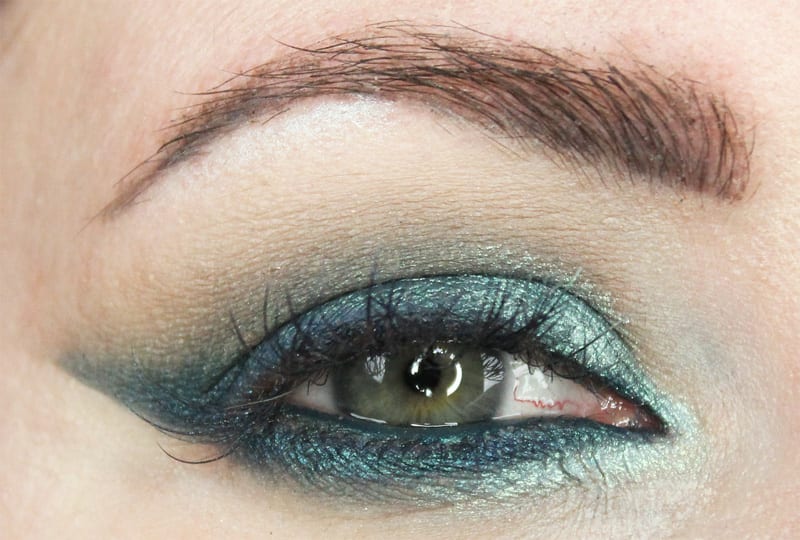 Eyes
Milani primer
NARS light reflecting loose setting powder – as base shade
KVD Suede + Stone – transition & lower lid
KVD Velour – thickly at upper and lower lash line
KVD Moss – blended into & above velour
KVD Nebula – on lid and lower lid
KVD Watt – on top of Nebula
Aromaleigh Thalassa – damp on inner lid & inner corner
Colour Pop Jet Set brow pencil
Glossier Boy Brow in Black
NARS Abbey Road – waterline (set with KVD Watt)
Face
Lucy Minerals Courtney foundation
Physicians Formula bronzer
Nyx Nude to Me ombre blush
Makeup Geek Moon Phase highlight
Aromaleigh Illuminata Luxe Light
UD Chill Spray
Kat Von D MetalMatte Cruelty-Free Tutorial Lip Combinations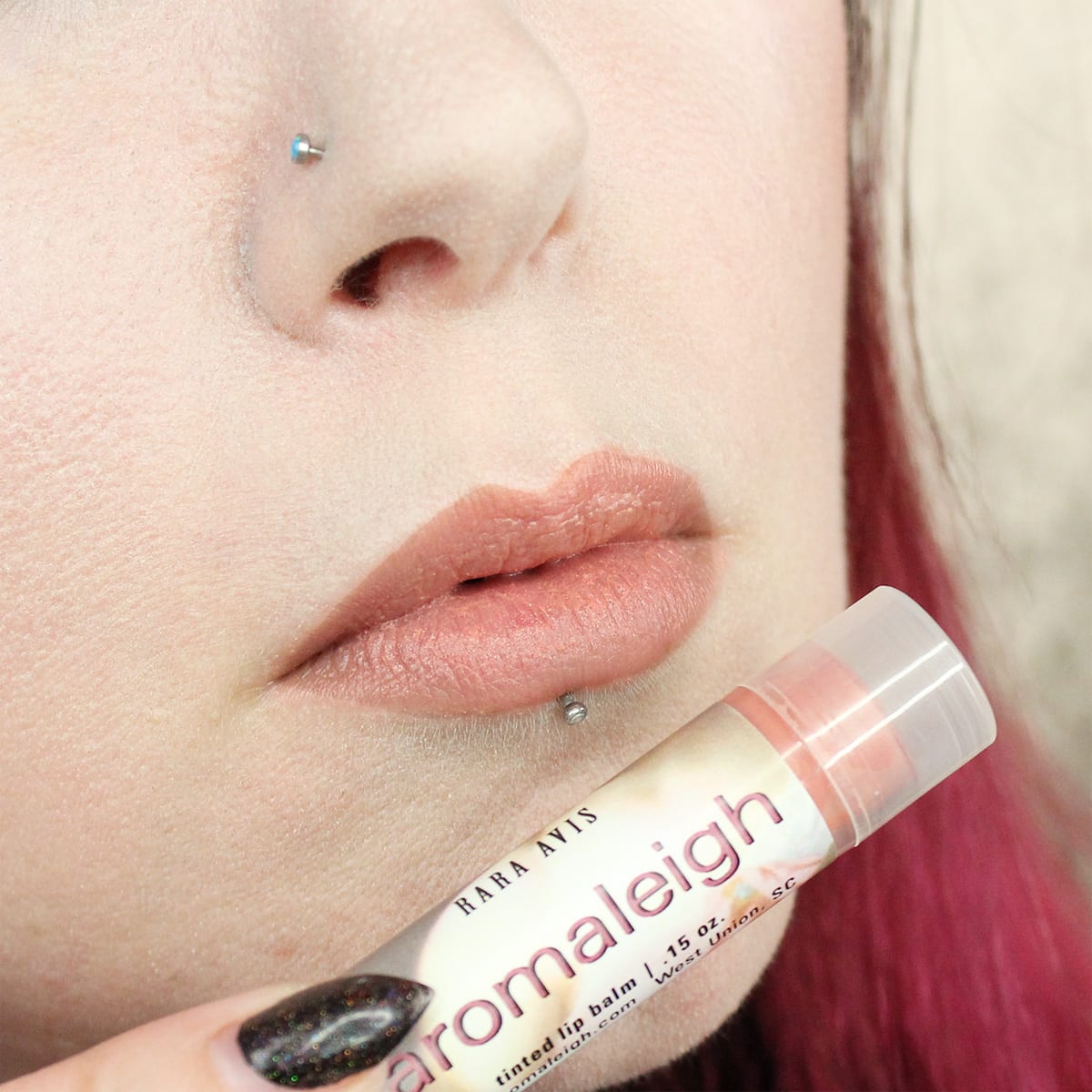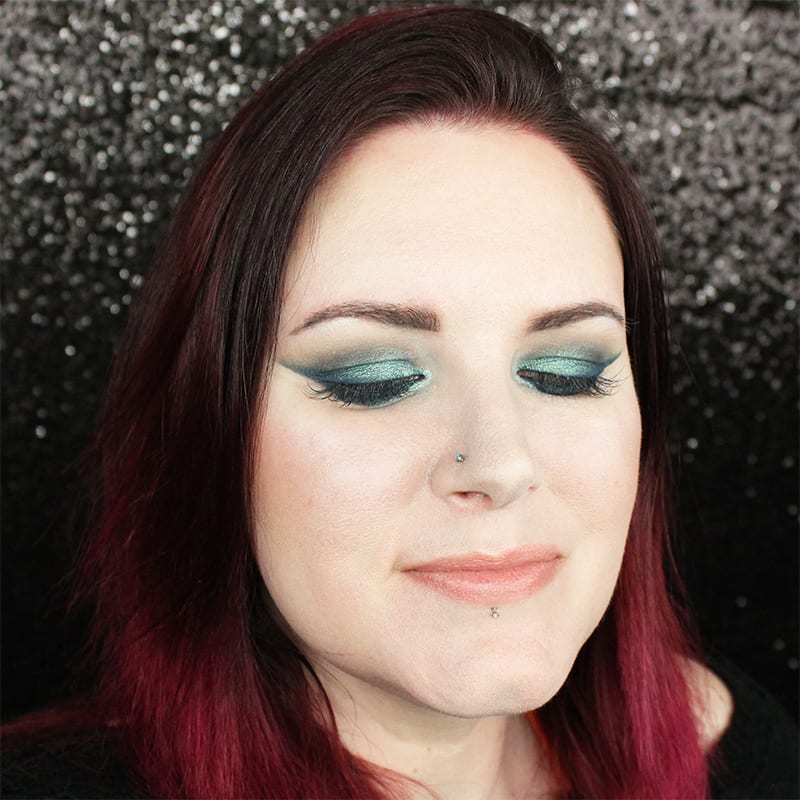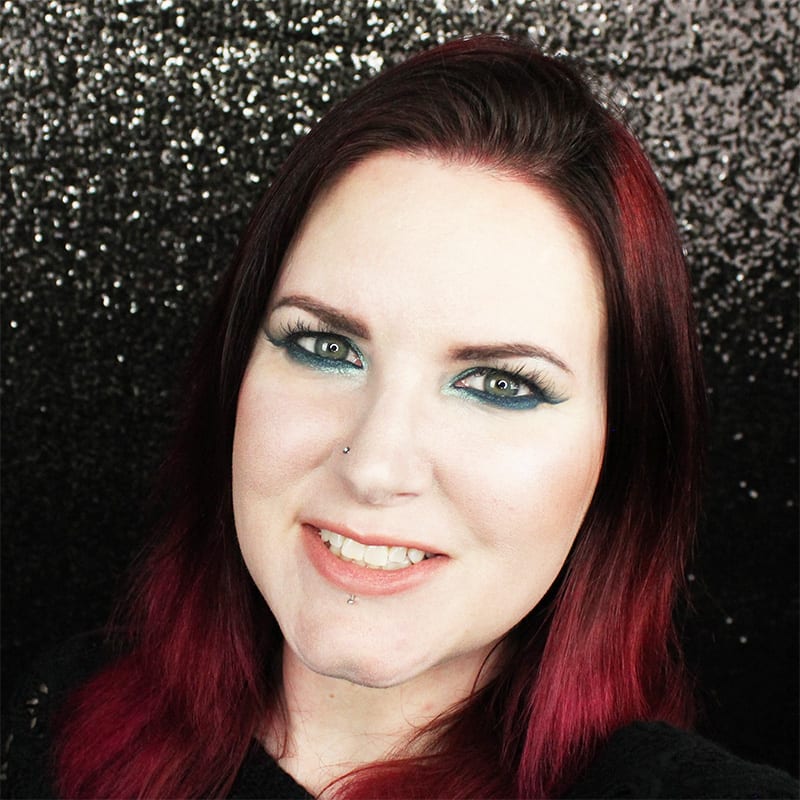 Lips 1
BareMinerals Borderline
Aromaleigh Rara Avis
This is a soft coral nude type lip.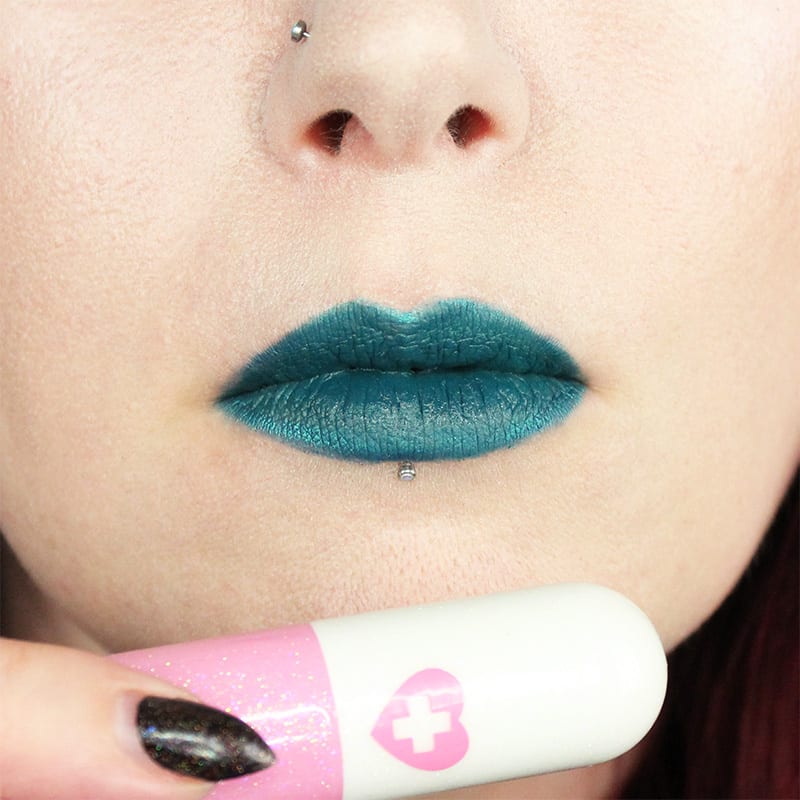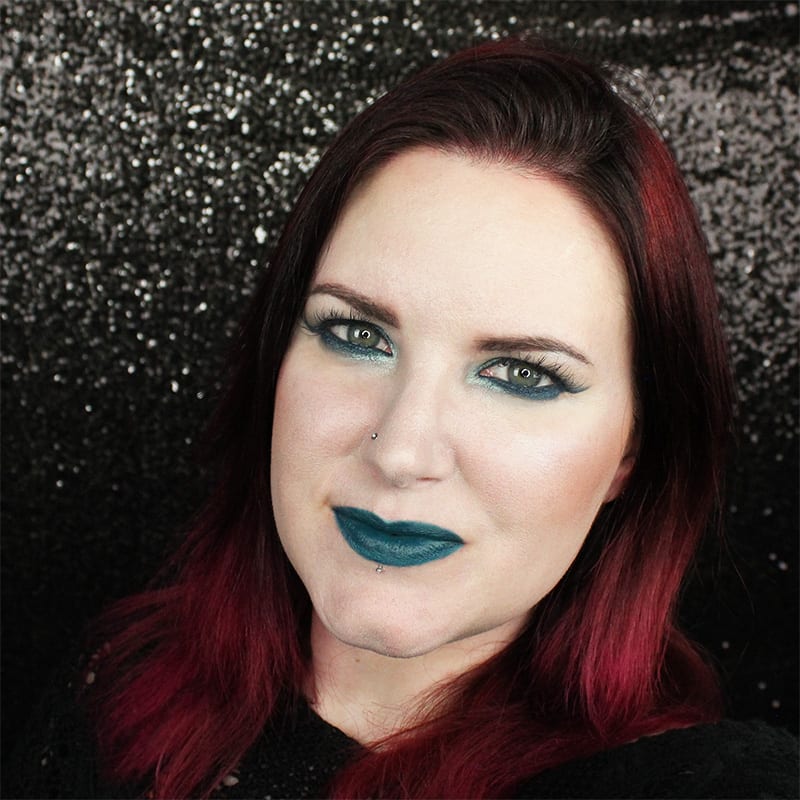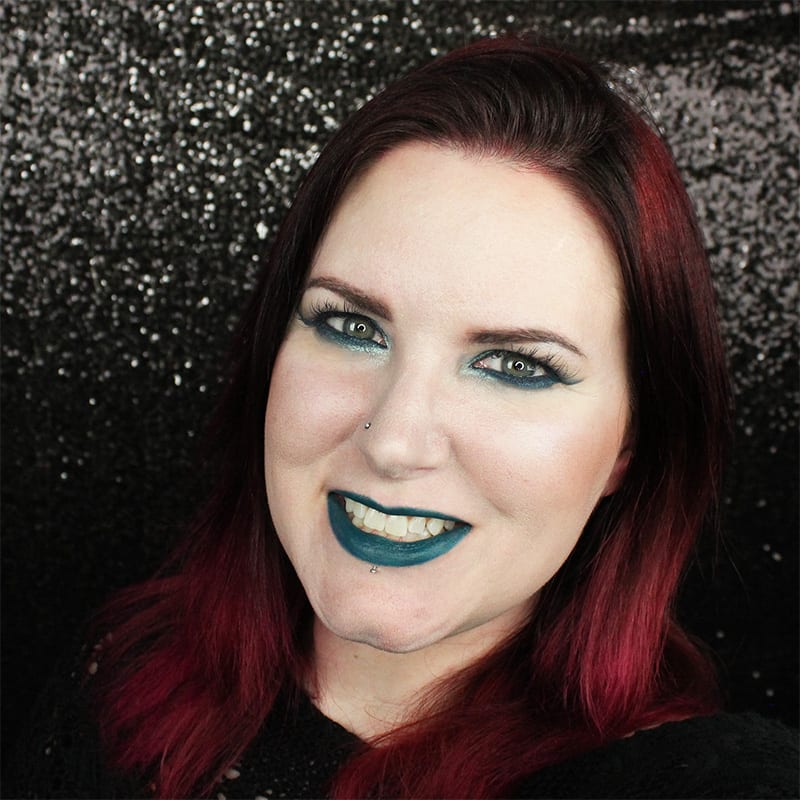 Lips 2
NARS Abbey Road
Sugarpill U4ea
It's hard to beat the teal blue matte lip.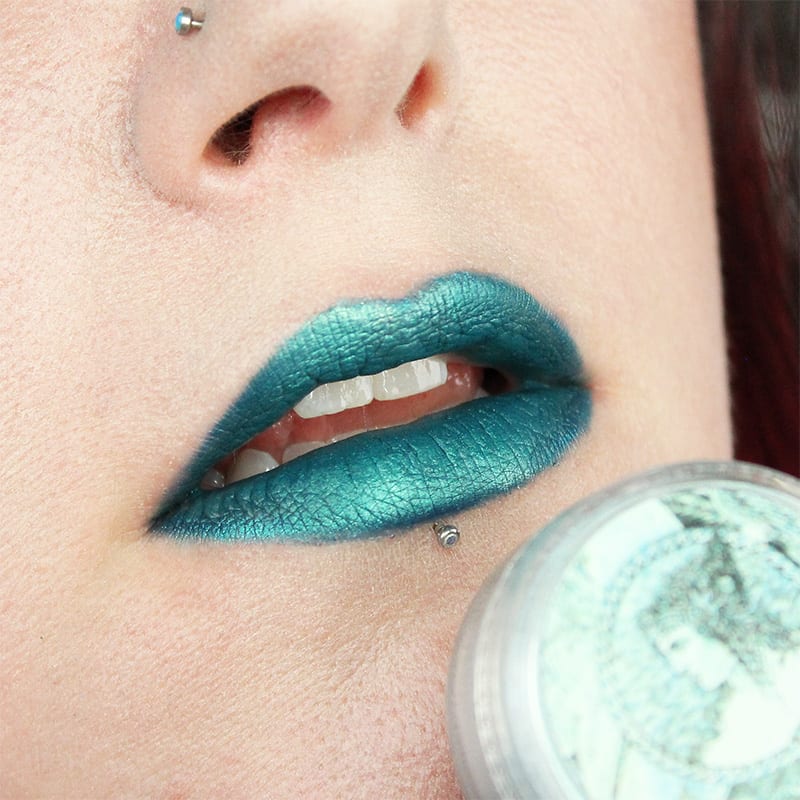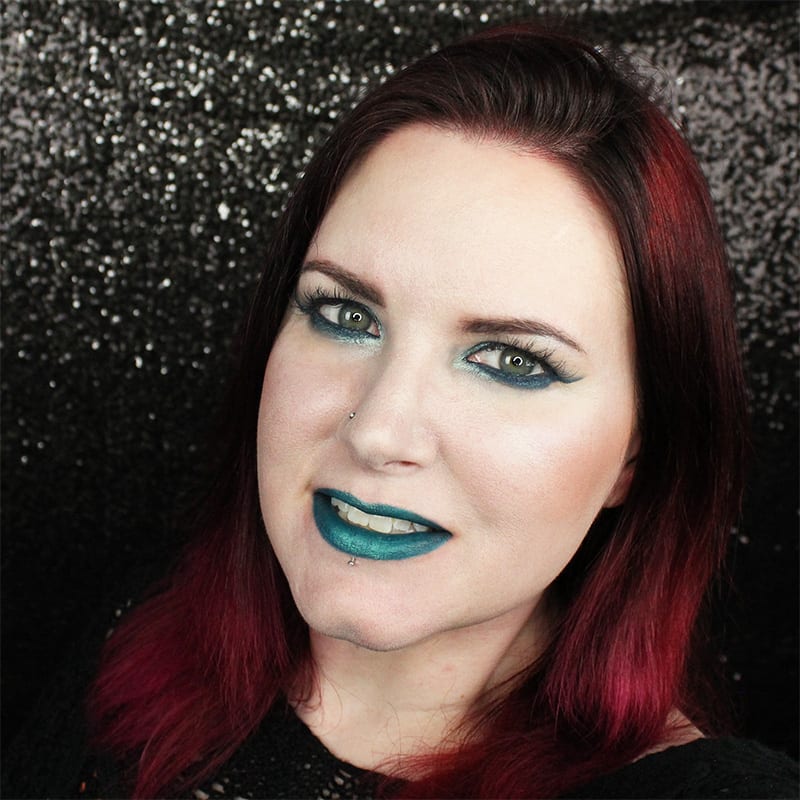 Lips 3
NARS Abbey Road
Sugarpill U4ea
Aromaleigh Thalassa
I love the depth that Thalassa gives U4ea.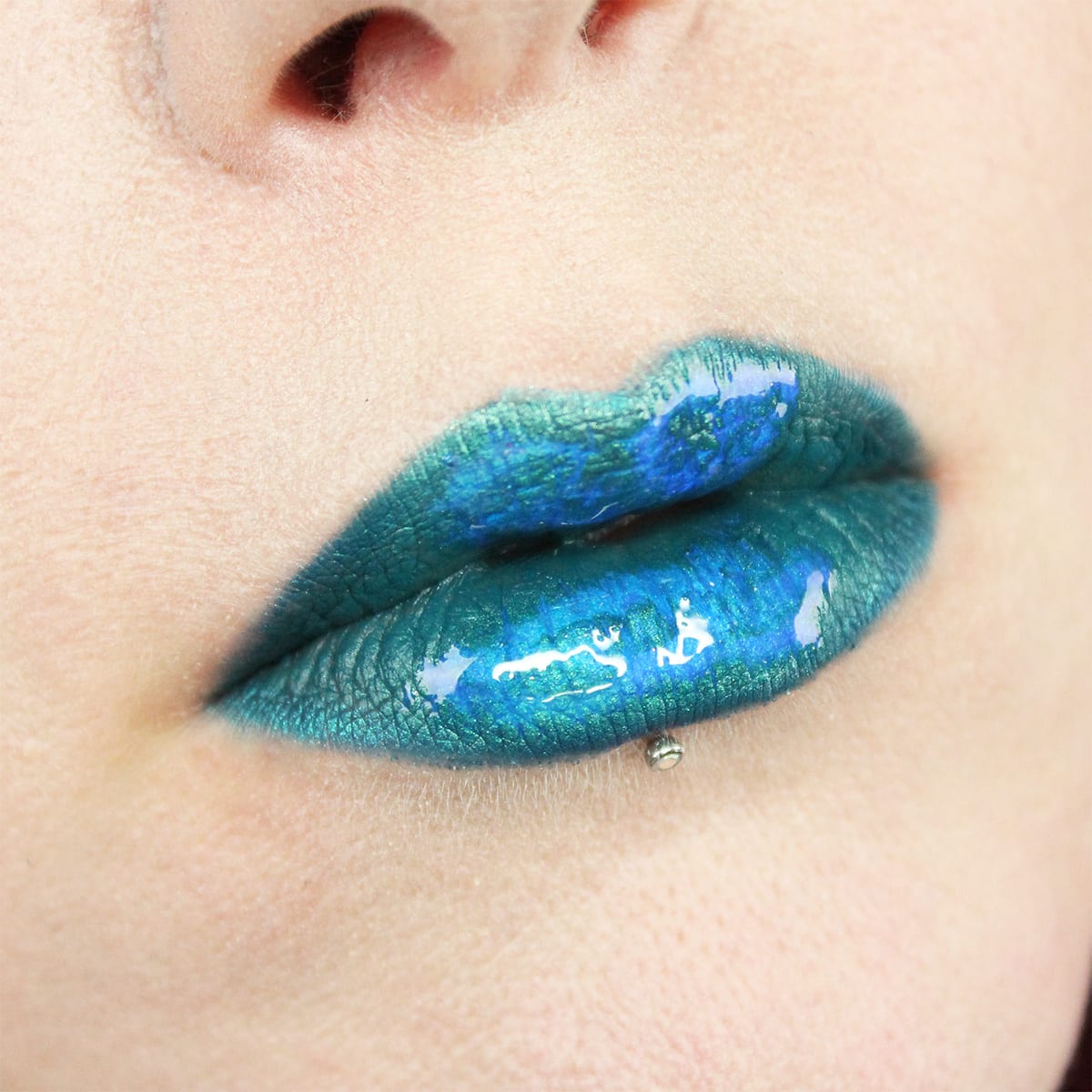 Lips 4
NARS Abbey Road
Sugarpill U4ea
Aromaleigh Thalassa
Inglot 541
Throwing 541 on top of it was gorgeous, but immediately after I did that I had to toss 541 and wipe off my lips. 541 had gone bad.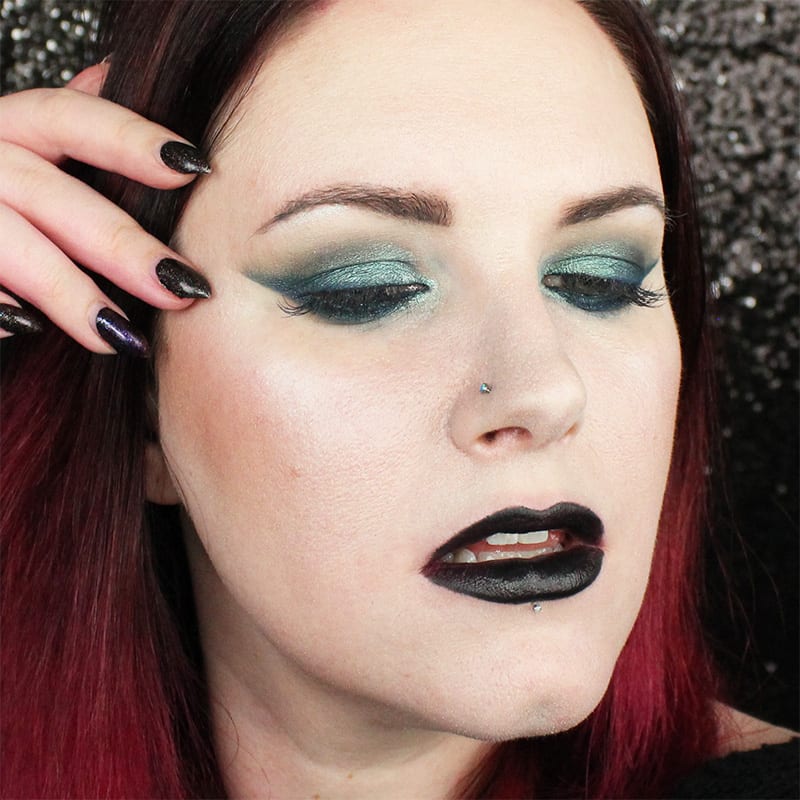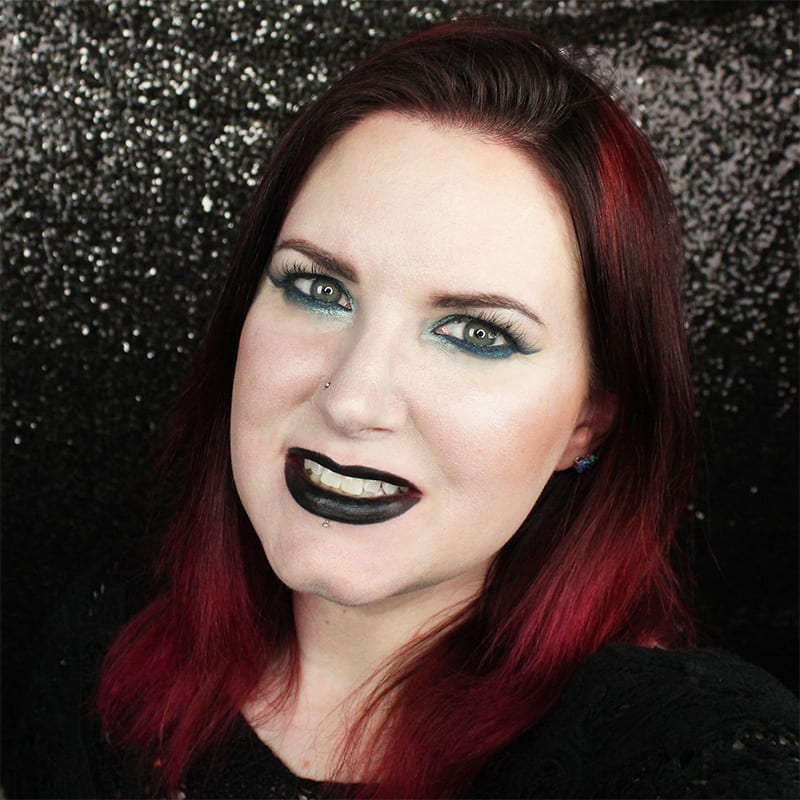 Lips 5
UD Perversion pencil
UD Perversion vice lipstick
Such a perfect black lip.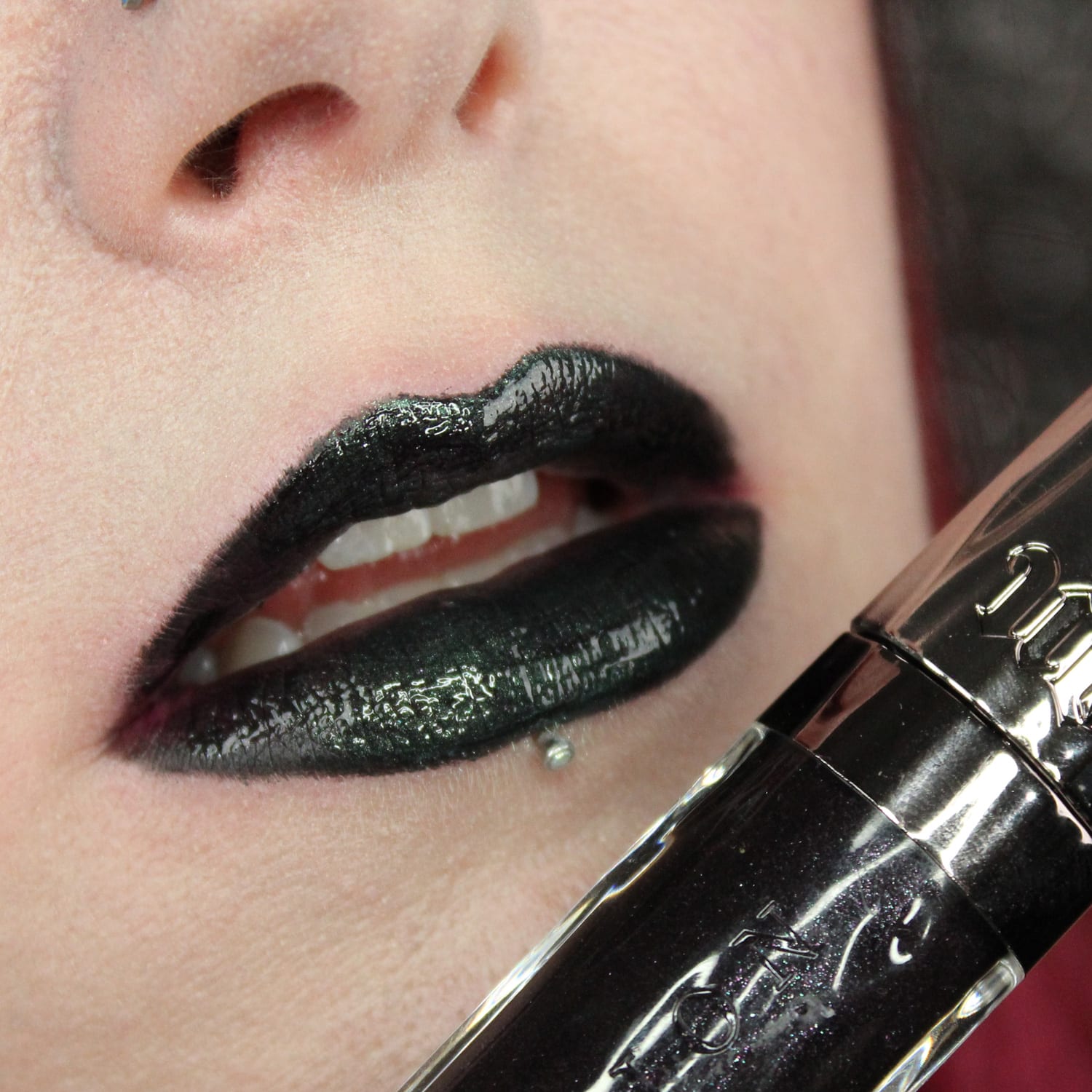 Lips 6
UD Perversion pencil
UD Perversion vice lipstick
Aromaleigh Thalassa
UD Vanity
I love the added dimension from putting Vanity at the center of the lips.
Kat Von D MetalMatte Cruelty-Free Tutorial Smoky Teal Picture Tutorial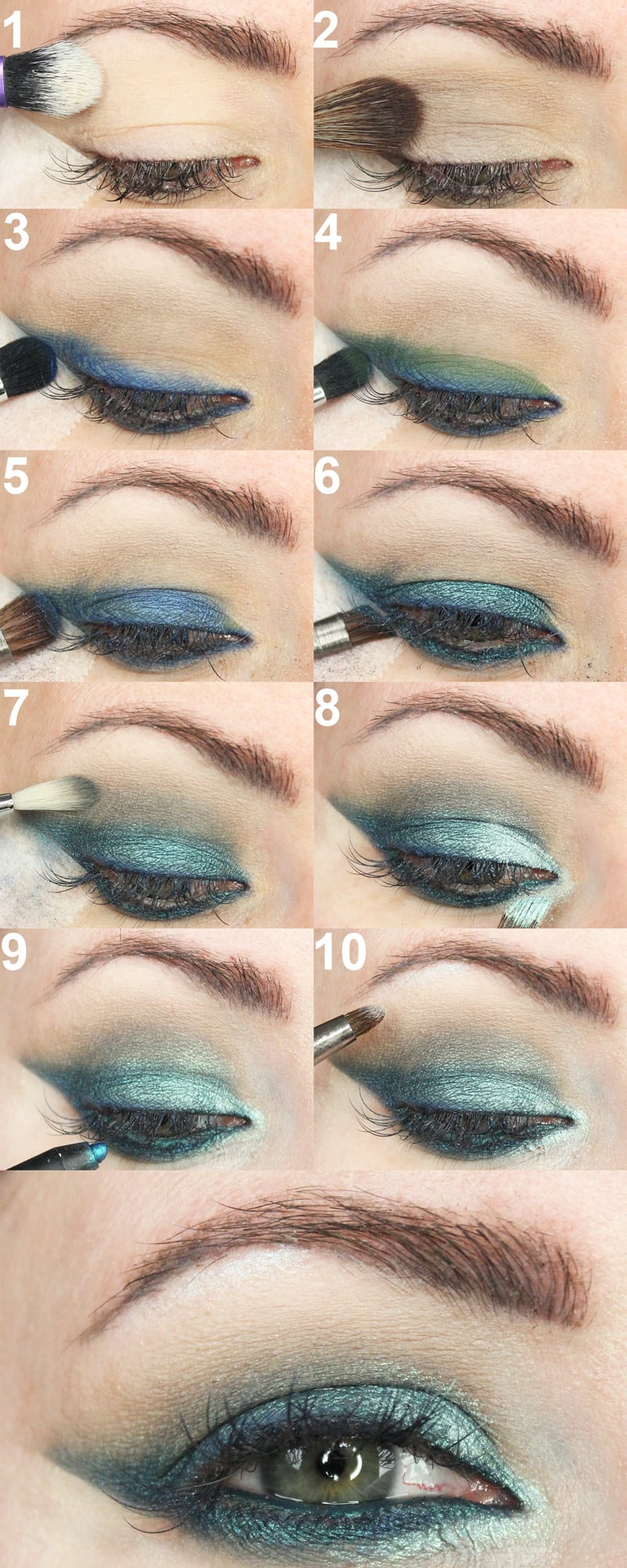 Kat Von D MetalMatte Cruelty-Free Tutorial Smoky Teal
First, use a fluffy brush to apply Bone as a base shade all over.
Second, with a fluffy crease brush, mix Suede & Stone together to create a light taupe transition shade for the hood of the eye, the lid, and lower lid.
Next, take a stiff shader brush and line the upper lashline and lower lashline thickly with Velour. Keep it smaller towards the inner corner and make it wider towards the outer corner, winging it out.
Immediately after that, using the same brush blend Moss onto the lid slightly above Velour, winging it out.
Then blend Nebula on top of Moss and Velour on the lid.
Next, blend Watt on top of Moss and Velour on the lid, and on top of Velour on the lower lid, winging it out.
Using a small fluffy crease brush blend Stone into the edge of the lid and hood colors, where matte meets metallics.
Spritz a brush with UD All Nighter spray, then pat Aromaleigh Thalassa onto the inner lid and inner v.
Line the waterline with a teal liner. I used NARS Abbey Road. I also set this with Watt.
Finally, highlight under the brows with Makeup Geek Moon Phase.
Shop Your Stash for Similar Shades
Bone – white matte
Suede – light beige matte
Stone – deep grey matte
Moss – green matte
Velour – royal blue matte
Nebula – metallic blue
Watt – metallic teal
Thalassa – pale teal with gold to green iridescence
Abbey Road – teal blue eyeliner
Moon Phase – iridescent white with blue and purple shift
The Kat Von D MetalMatte Cruelty-Free Tutorial was honestly one of those looks that I had a ton of fun during its creation. You could technically stop at step 4 in the eyeshadow and still have a really cool all matte look. However, I chose to go on and add shimmer to it. I don't normally apply eyeshadow the way I did in this look, which is what ultimately made it so much fun.
Sugarpill U4EA is essentially the best teal blue lipstick I've ever owned. I love it. Not crazy about the 'citrus' smell, but the color and formula are top notch.
Urban Decay Perversion lipstick is the best black ever. Seriously. It's significantly heads and tails above any other black lipstick that I've owned, and I've owned a lot. If you want the perfect black lipstick that will wear all night for you without drying out your lips, this is it. Use it with the Perversion lip pencil, blot, apply another coat, and blot. Then you'll be set. It's so good. Though I gotta say, I love how it looks with just a touch of Thalassa and the Vanity gloss on top.
Vanity gloss is altogether great for deepening or cooling off any lipstick color. It's that perfect sheer black that adds a lot of shine. It immediately makes your lips look bigger if you apply it just to the center of them.
All in all, I hope you find the lip combinations and eyeshadow Cruelty-Free tutorial inspiring. I really enjoyed making them.
More to See