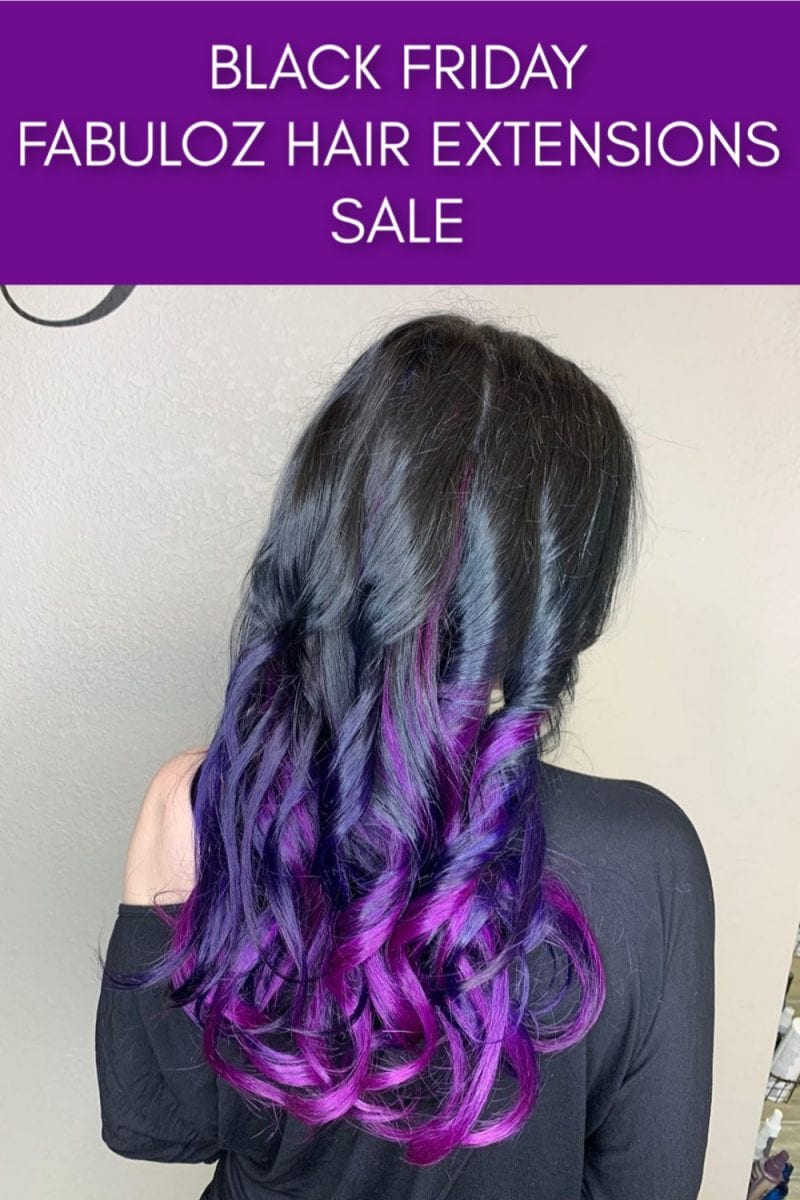 This post is sponsored by Fabuloz Hair Extensions, but the love is very real!
Hair Extensions Sale
I've got an awesome hair extensions sale to share with you. As you know, I've been wearing tape in hair extensions for the past two years from the brand Fabuloz Hair Extensions. They're a luxury high-quality real hair extension line and I'm in love with them. Fabuloz Hair Extensions has an AMAZING Black Friday Sale going on now until December 2 that I wanted to share with you. Fabuloz Hair Extensions also gave me a coupon code of PHYRRA to share. Below I'm going to show you my new hair (just had it done on Nov. 21), as well as some of my different hair extension looks.
Where to Buy
Fabuloz Hair Extensions
Sale Info
Starter Kits- $50
All Tape- $12
Bond Remover-$5
Color Ring-$40
All 18" Hair-$99
All 22" Hair-$125
My first set of extensions were 18″, my second set was 26″ (special ordered) and my current set is 22″. The 18″s that I have I wore for a year and they're still in excellent condition. I occasionally pop in a few pieces to add a splash of teal blue to my hair.
The Fabuloz Hair Extensions have a slim line bond that sits closer to the head than other types of tape. It prevents flipping as it grows out, which can be quite uncomfortable. It's easy to remove the tape with the bond remover, no sticky residue is left behind. I personally find tape in extensions to be more comfortable and not damaging to my hair, unlike the ring extensions I had years ago.
How Many Bags of Hair Do I Need?
This is really going to depend on what you're looking for. Do you want thicker hair? Are you looking to add a pop of color? Do you want to add length? Each bag of hair comes with 20 pieces to make 10 full extensions.
What Type of Hair is This?
Fabuloz hair extensions are made from 100% remy human hair, which is a very high quality hair type.
Can You Color It?
Yes, as you can probably tell from my hair, you can buy Fabuloz Hair Extensions and color them whatever color you desire.
Can You Style Them?
Yes, you can style Fabuloz Hair Extensions just like you would style your own hair! See my secret to long hair guide for how to take care of rainbow long hair.
My 18″ Blue Tape In Extensions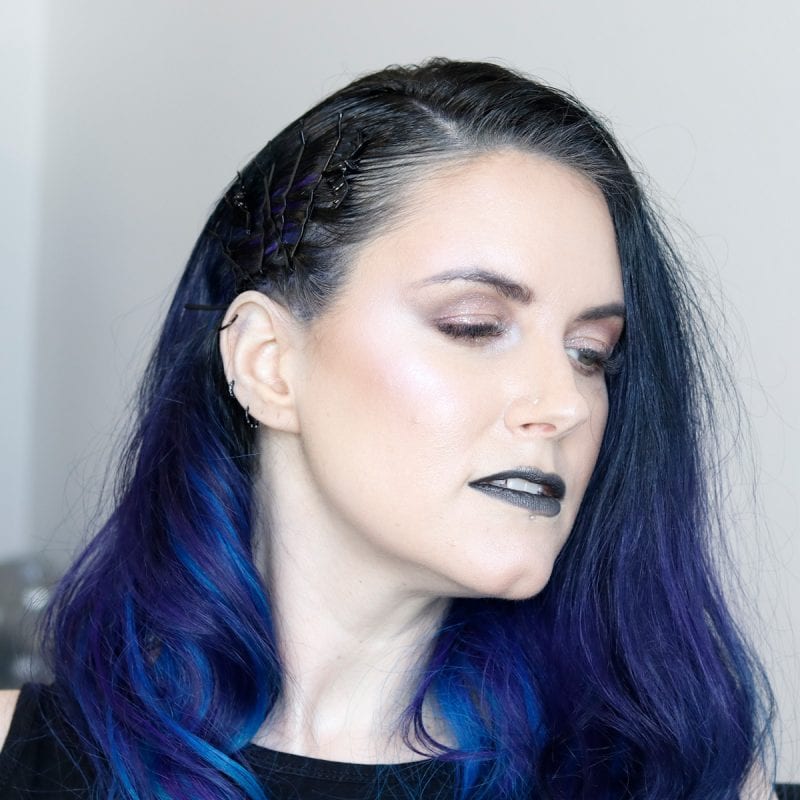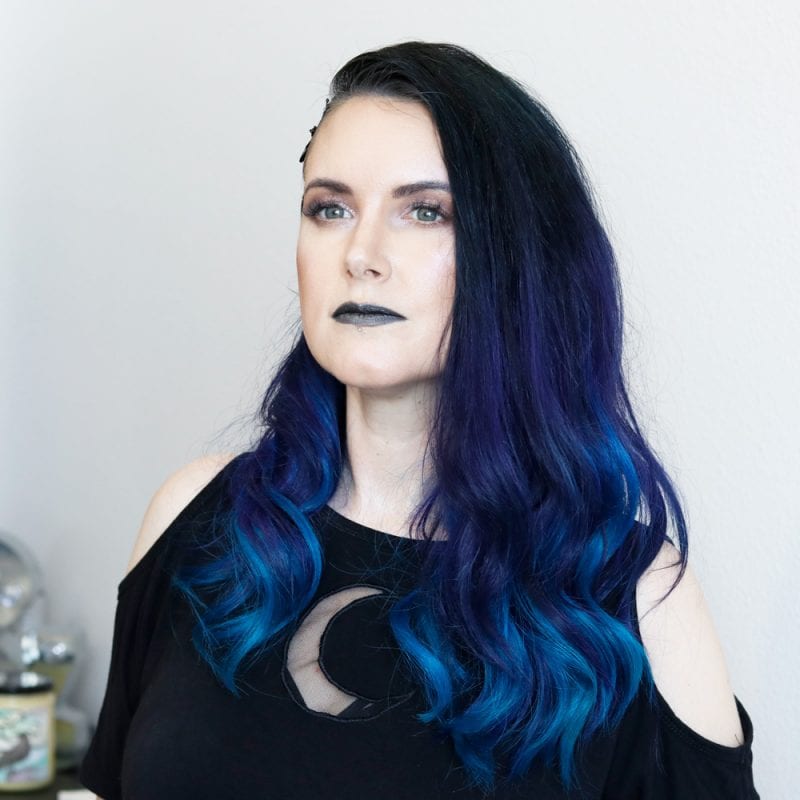 See the details on this makeup & hair look. This is two bags of hair in my hair. I was looking to add length as well as a pop of color. Using extensions for my pop of color instead of lightening all of my hair has helped my hair to be healthier.
26″ Grey Extensions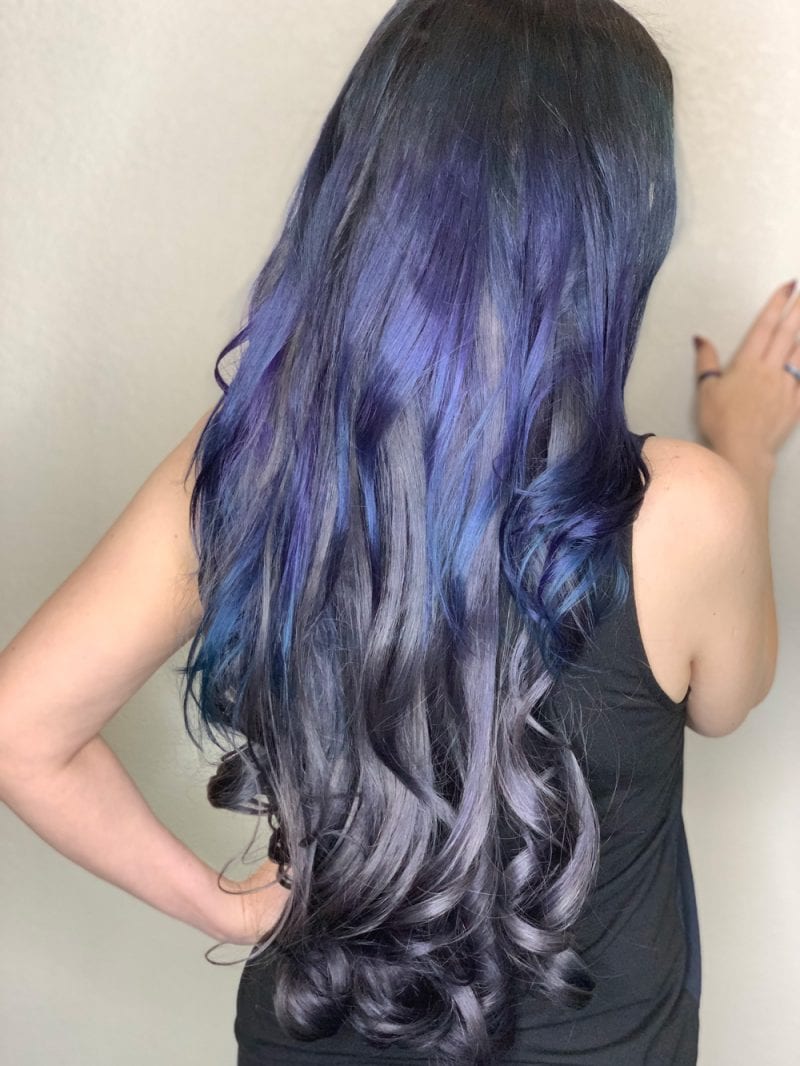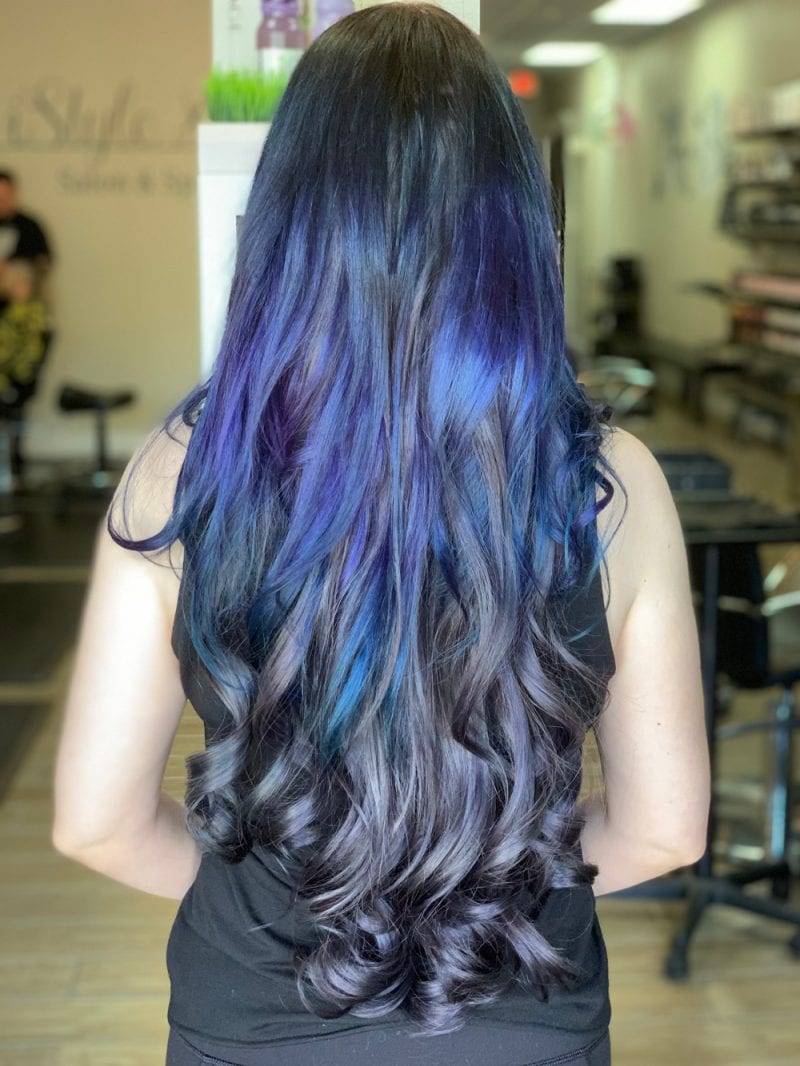 See my favorite cruelty-free hair brands and products. This was 3 bundles of hair in my own hair, which was quite a lot for my hair, which is bordering on fine in texture. Three bundles was too much for me as it would tangle in the back.
That reminds me, if you have issues with your extensions tangling, talk to your hair stylist! Tell them the problems and see if they can fix them. When I told Cliff I was dealing with constant tangling, he changed how he was positioning the extensions and their density by using less extensions. He also placed them slightly higher up in the back so that they wouldn't tangle.
My Freshly Touched Up Hair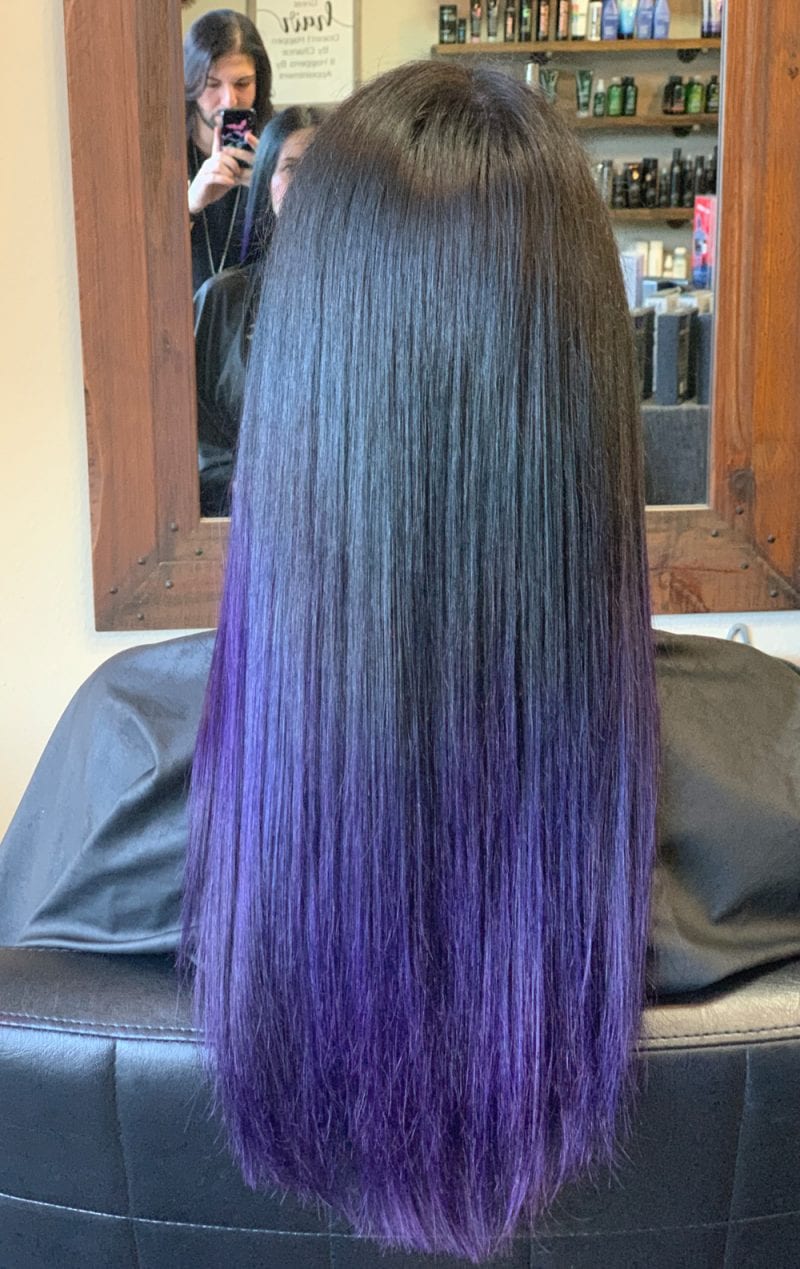 I just went to see my stylist Cliff this past Thursday to get my extensions adjusted, my color refreshed, and my ends trimmed. Oz hung out with us while we were working on my hair. I was really grateful for the time I spent at the salon talking with them as I've had a really rough time of things lately. I haven't lightened my roots in forever, but I asked Cliff to do a little hand painting in the darkness framing my face to make the blue-black more prominent. It's subtle but I adore it.
My 22″ Gothic Purple Dream Hair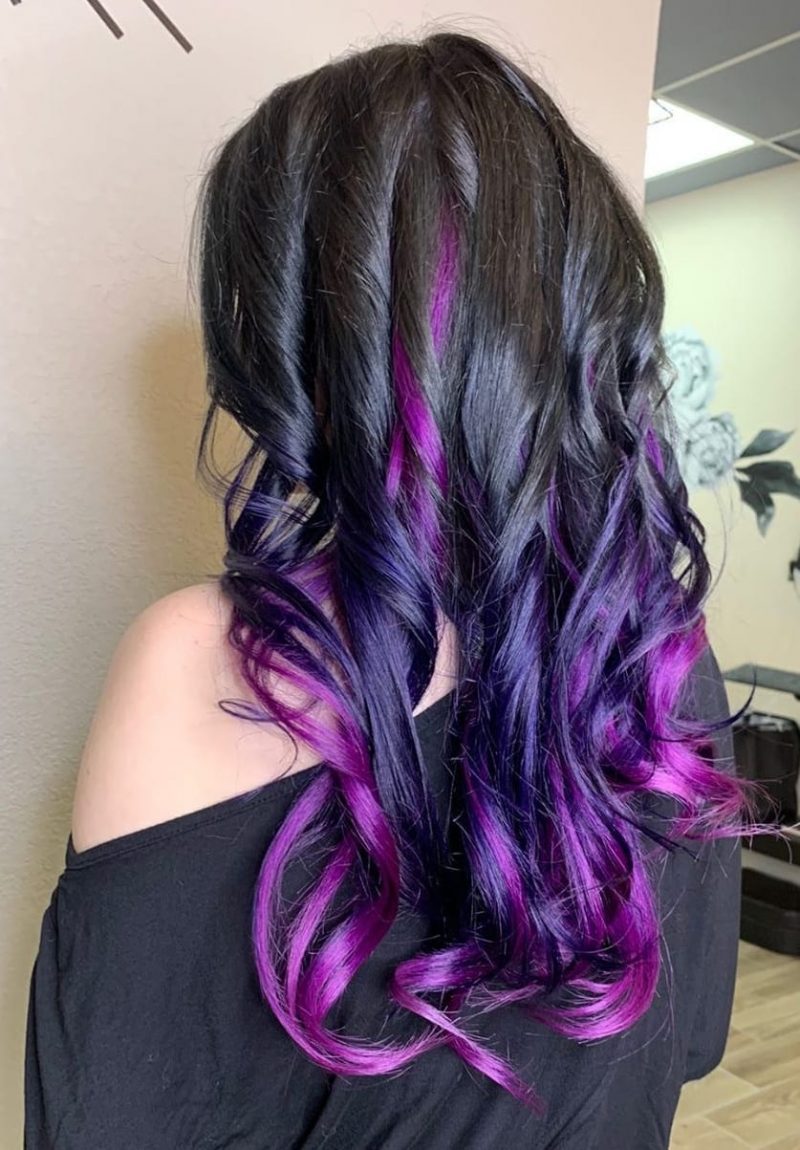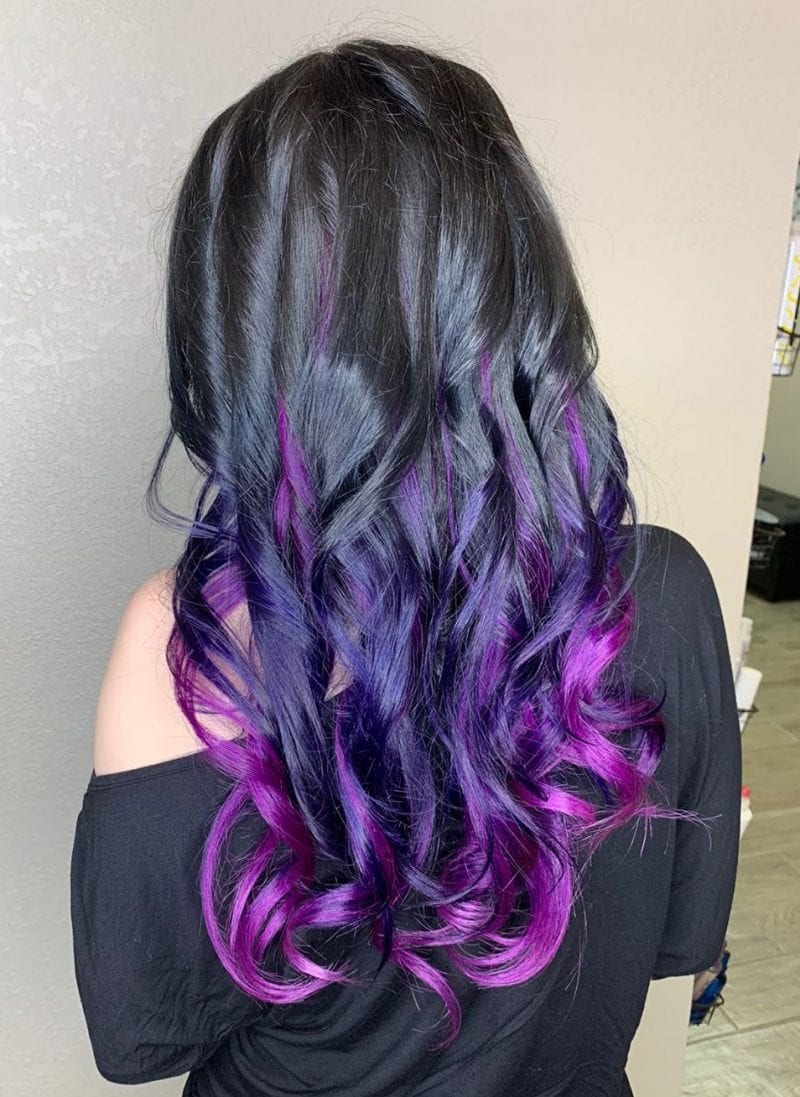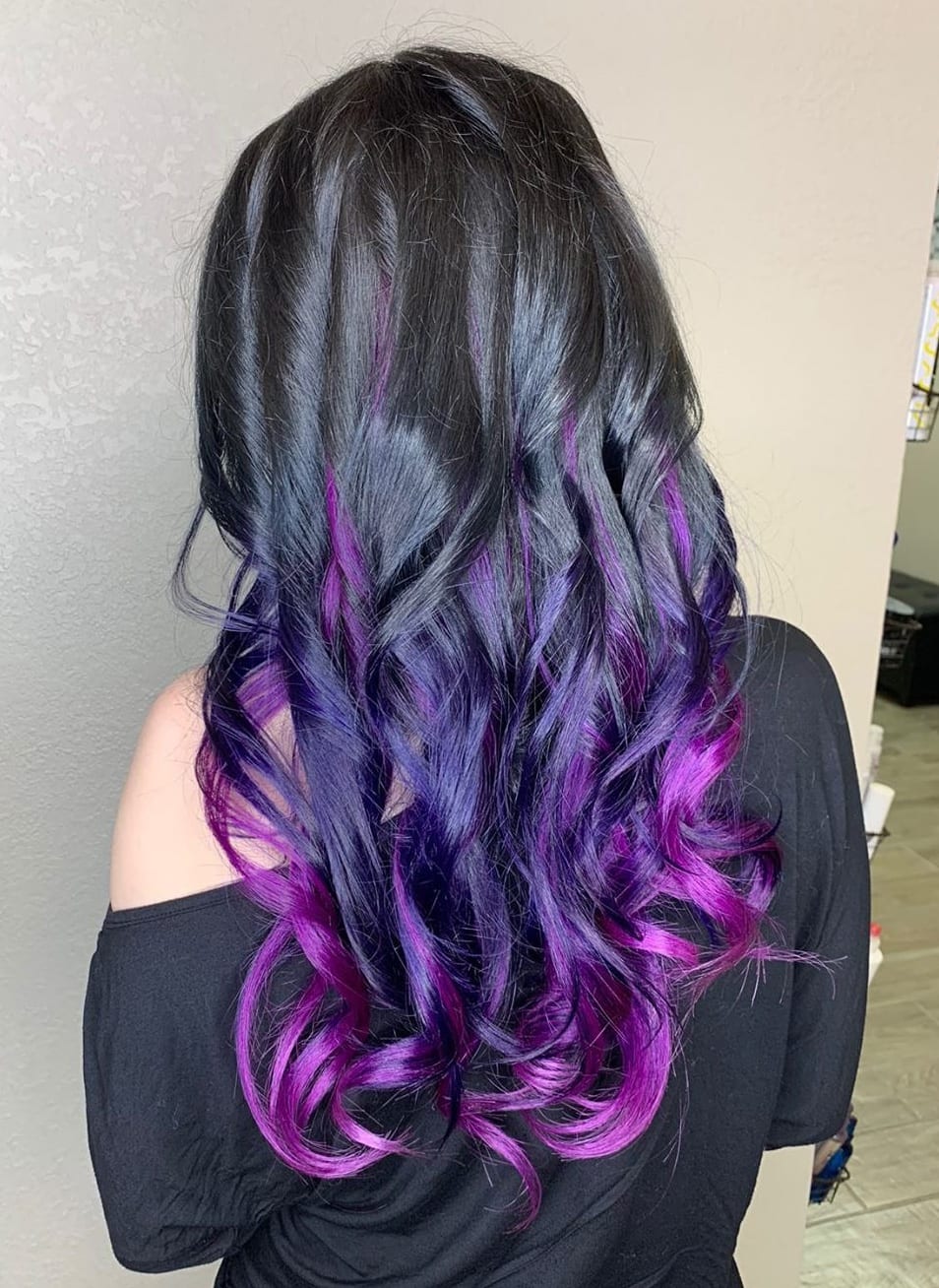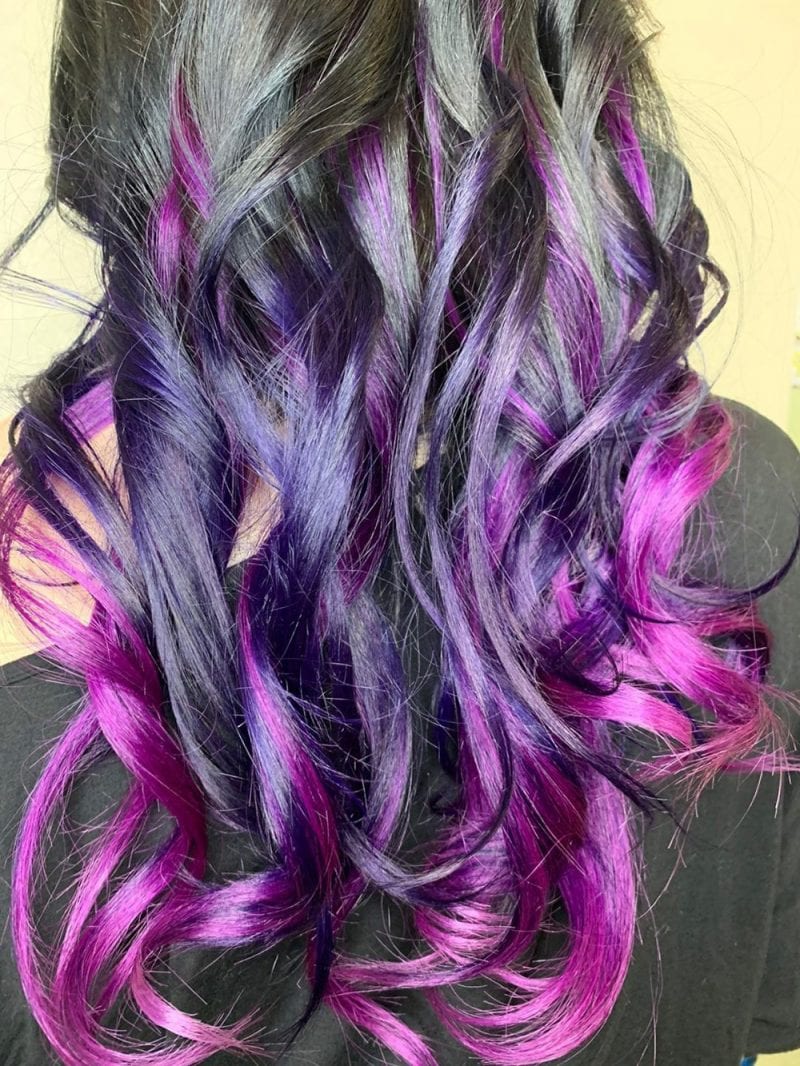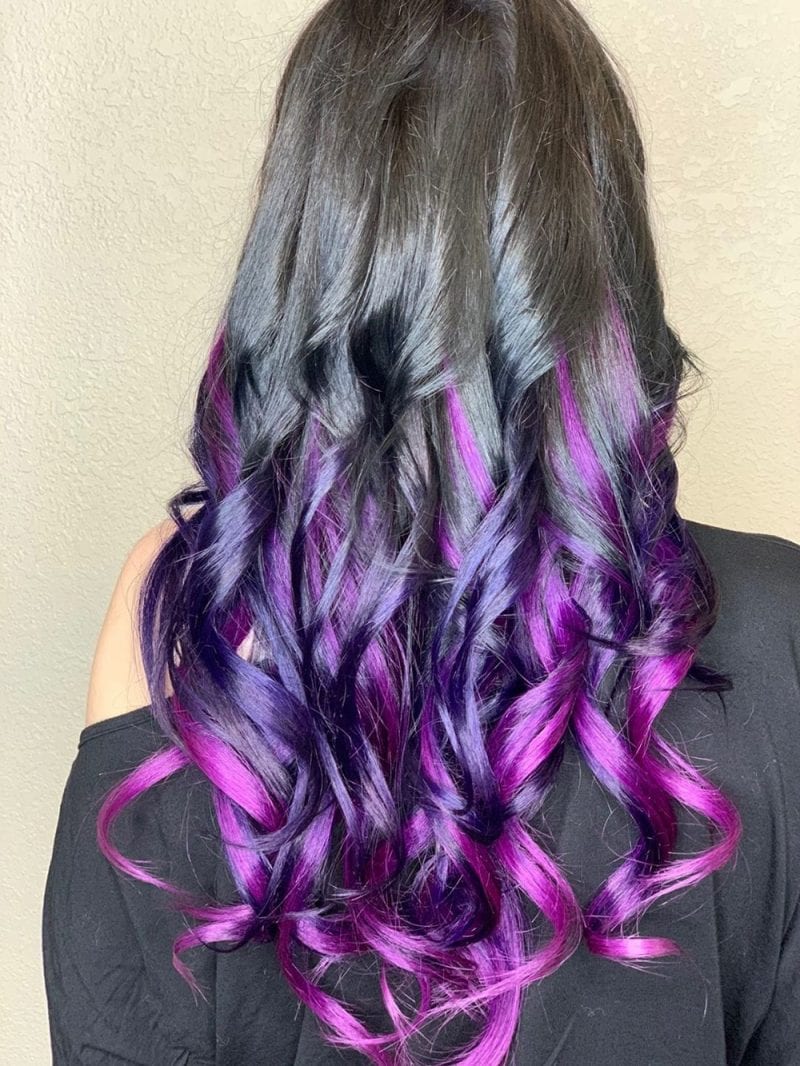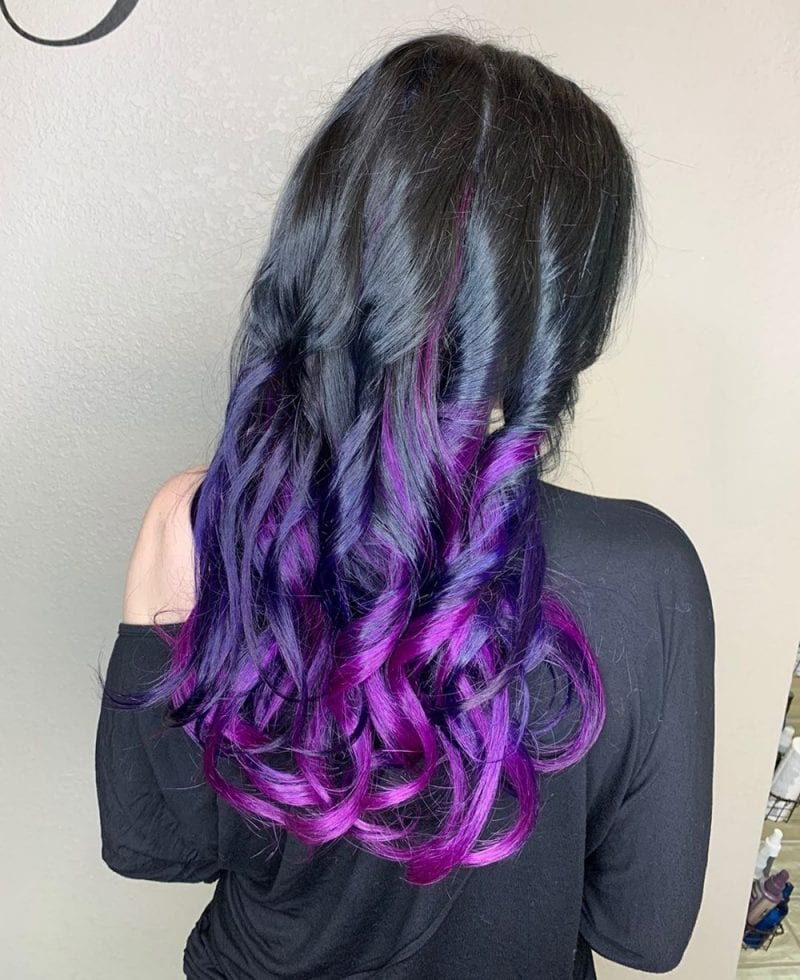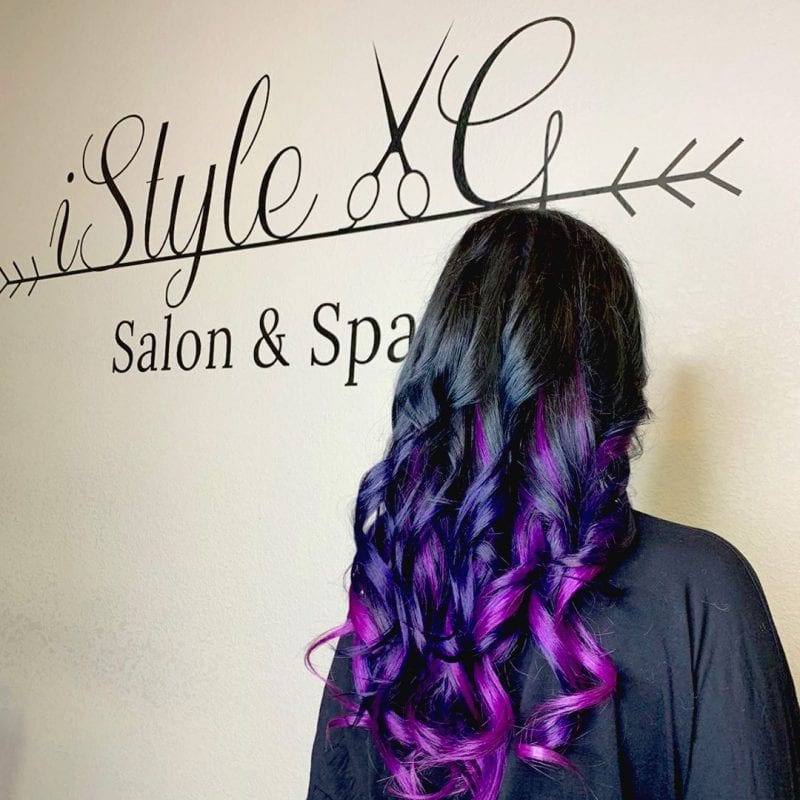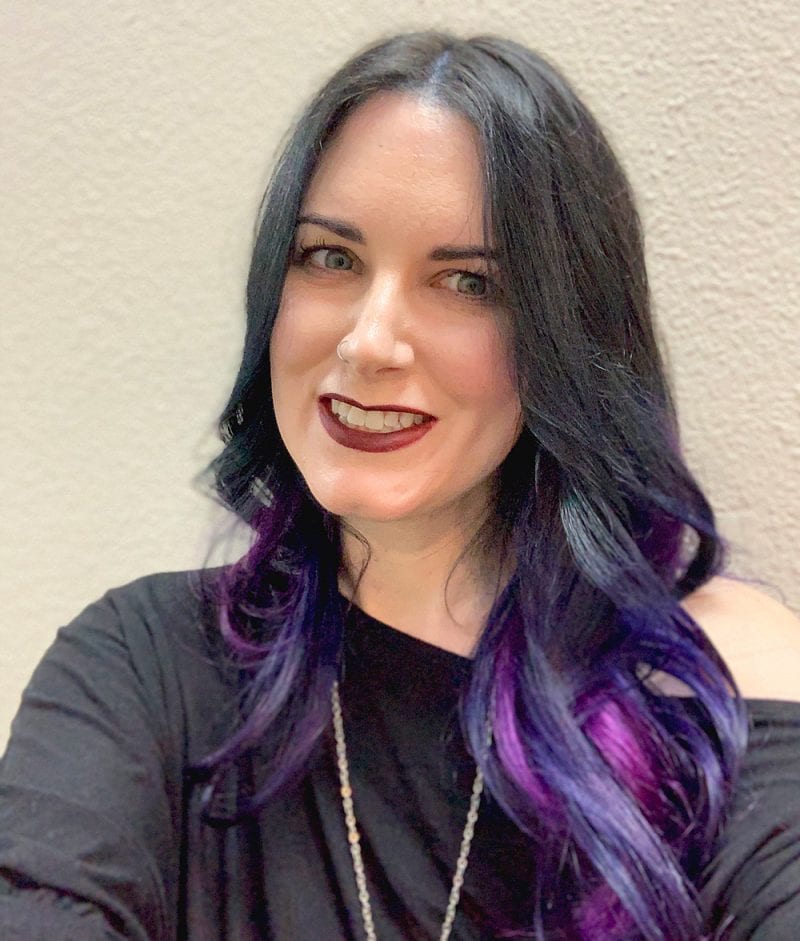 See my easy artfully disheveled winter look tutorial for details on my makeup and clothes. I believe this is like 1.75 bags of hair in my hair. I'm using less extensions than when I first started because I only need them for pops of bright color as opposed to length. I love my own natural hair length!
My current color scheme:
Need help figuring out how to take care of extensions? Check out my Beginner's Guide to Tape In Hair Extensions. If you're looking for the best hair extensions, I highly recommend Fabuloz Hair Extensions.