Easy Artfully Disheveled Winter Look Tutorial
Today I'm sharing a super quick and easy artfully disheveled winter look tutorial with you. In just 10 steps you can have that effortless cool girl look! The longest part of this makeup look for me is lining and filling in the lips. You could make it even faster if you chose a nude lip color, but I love vampy shades, and they're perfect for Fall & Winter. This is for my friends who love makeup, but aren't into elaborate eye looks.
PR + Purchased by me.
Jillian Dempsey Lid Tint Mini Review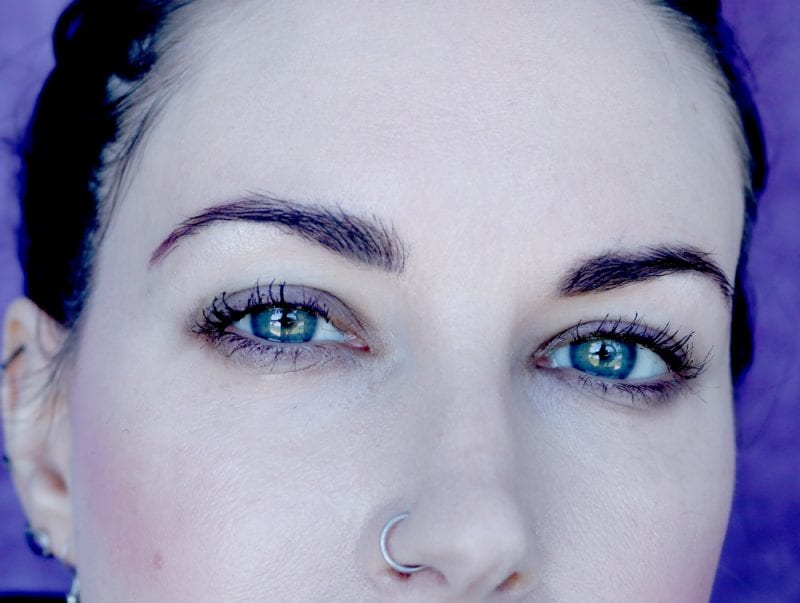 I used the Jillian Dempsey Lid Tint in Smoke for this Artfully Disheveled Winter Look Tutorial. It's a beautiful blue-black tint. I have a love-hate relationship with this lid tint. I love the hue of Smoke and the sheer wash of color it gives me because it's incredibly flattering on my blue-green eyes. It makes my eyes pop!
I hate that Smoke creases like crazy on my hooded eyes.
However, for that whole artfully disheveled look, I think the creasing is probably fine. It also causes my mascara to flake and smudge onto the lid, perhaps because it's a somewhat glossy product. I feel stupid for not realizing it was going to be glossy when I bought it. I thought it would set to a dry finish and just have a satiny look.
Despite being so polarized with my feelings on the lid tint, I would repurchase it because of the color and ease of use. I just wish it would set!
Clove + Hallow Sangria Lip Velvet Mini Review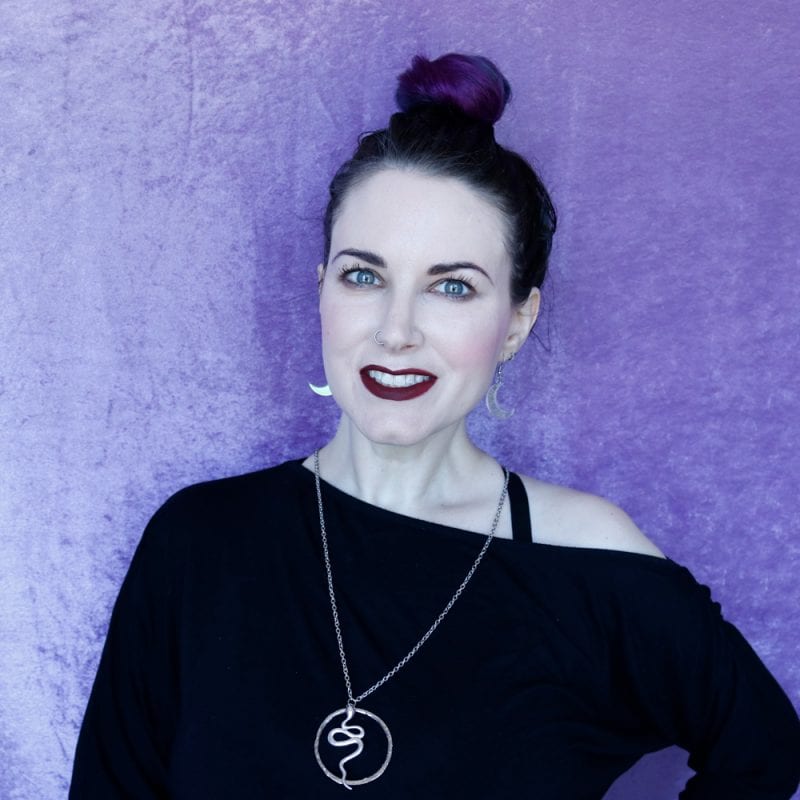 I adore the Clove + Hallow Lip Velvets! I have 3 shades – Jet Setter (deep navy), Sangria (deep burgundy wine) and Darling (pale dusty pink). They're all 3 gorgeous vegan liquid-to-matte lipsticks. I've got my eye on adding Sugarbear (neutral mauve) & Fiesta (orange-toned red) to my collection.
These Lip Velvets are budge-proof but not make-out proof. They'll last through most meals, though I often need to touch up the corners of my mouth. Don't expect them to last through a heavy make-out session.
To prep for any sort of liquid lipstick, I highly recommend exfoliating your lips first. Then follow that up with a hydrating lip mask. Clove + Hallow just came out with an awesome lip polish to help your lips be as smooth as possible. Their lip mask is nicely hydrating too! The Clove + Hallow Lip Polish & Lip Mask, along with some new Lip Velvets, are all part of the Clove + Hallow Holiday 2019 collection.
If you're afraid of liquid lipsticks because they're too drying on your lips, consider giving the Clove + Hallow Lip Velvets a try, because I find the formula very comfortable on my lips, which are sensitive.
Glo Skin Beauty HD Mineral Foundation Stick in Cloud 1C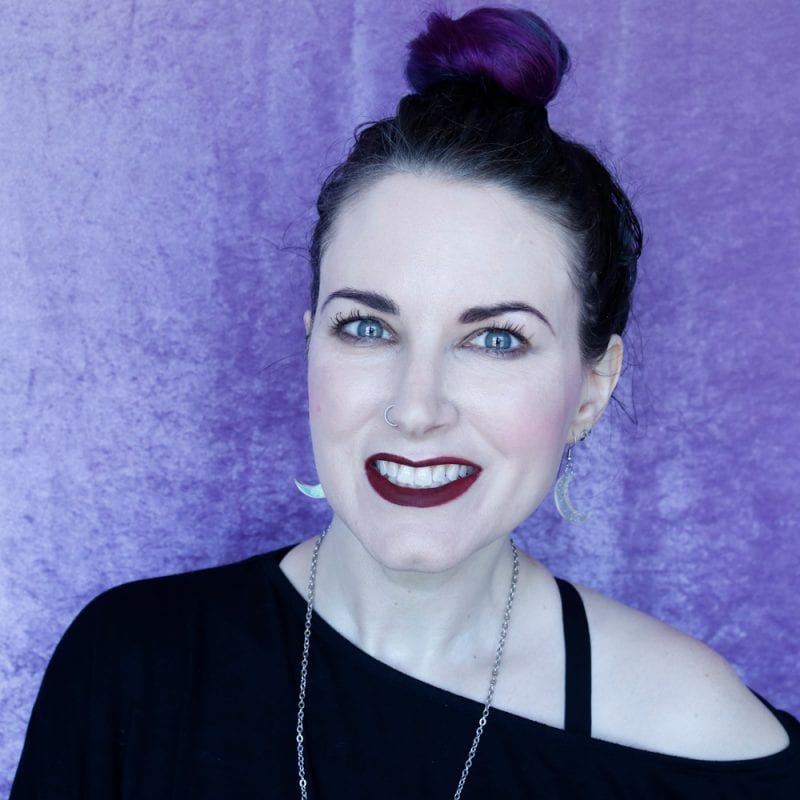 This is only my third time wearing the Glo Minerals HD Foundation Stick in Cloud 1C. It's touted as a 4-in-1 cream formula to use as a foundation, concealer, contour or highlight. The Glo HD Mineral Foundation Stick has hyaluronic acid, Vitamins A, C, E, and green tea extract to make it suitable for sensitive and dry skin like mine. I personally love the control that a stick foundation gives me, as you can apply it sheer to full coverage to suit your taste. It has a natural satin-matte finish by my standards. The Glo stick comes in 12 shades.
So far I've gotten a solid 12 hour wear out of this foundation. I use it with the Milk Hydro Grip Primer and set it with either the Cozzette Beauty Essential Powder in C1 or the Revolution Pro Skin Finish Powder in Luminescence if I need it to last all day.
Easy Artfully Disheveled Winter Look Tutorial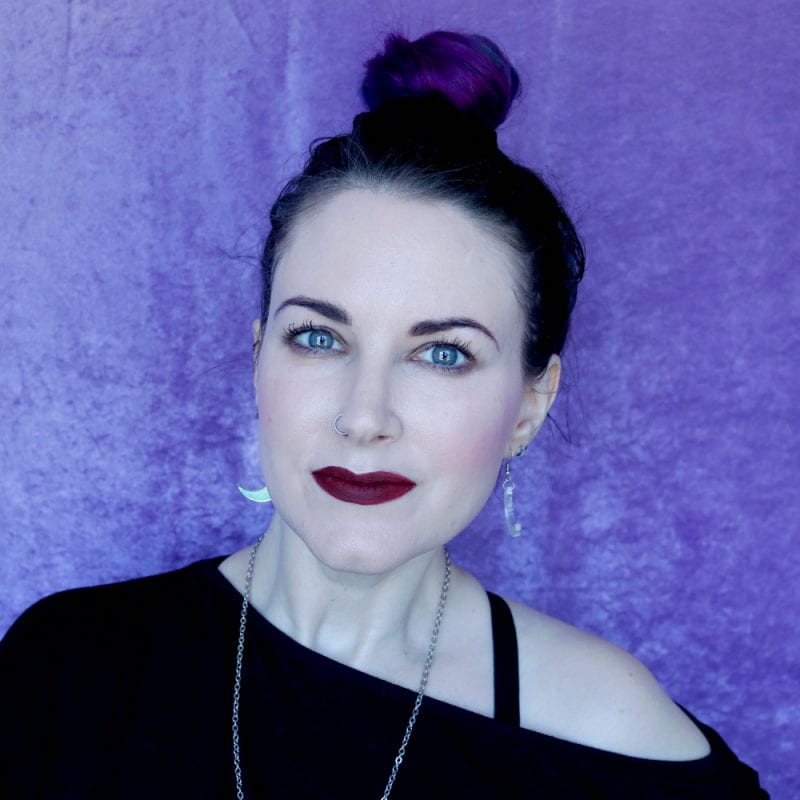 Fashion
PattyBoutik Batwing Sweater
Open the Cellar Door Medusa Pendant Necklace
Silver Circada Moon Earrings
TomboyX Black Bralette
Eyes
Jillian Dempsey Lid Tint in Smoke (v)
Milk Makeup Kush Mascara (v)
Lime Crime Smokey Brow Gel (v)
Lime Crime Smoke Brow Pen (v)
Face
Milk Makeup Hydro Grip Primer (v)
Glo Minerals HD Foundation Stick in Cloud 1C (v)
Tarte Frose Blush
Rituel de Fille High Priestess higlighter (discontinued)
Lips
Urban Decay Hex Pencil
Clove + Hallow Sangria Lip Velvet (v)
To create your own artfully disheveled look in 10 easy steps:
Apply Milk Hydro Grip Primer to your face & let it set for 60 seconds.
Use a stick foundation like the Glo Minerals HD Stick in Cloud 1C to even out your skintone all over your face.
Bring color to the cheeks with Tarte Frose blush.
Add dimension to the top of the blush with Rituel de Fille High Priestess highlighter.
Swipe Jillian Dempsey Lid Tint in Smoke onto the lid and lower lid.
Add a layer of mascara to the lashes with Milk Makeup Kush Mascara.
Outline the lips with Urban Decay Hex Pencil (optional).
Fill in the lips with Clove + Hallow Sangria Lip Velvet.
Throw your hair into a messy bun.
I fully believe you can pull off this artfully disheveled look any time of year. You can make it fit any season by choosing the right lip color. In the summer I'd use a bright hot pink or orange. In the spring I'd use a moody lavender. For fall and winter I love a deep burgundy wine. For year round, a bright blue-based red, black, navy, or lavender taupe are shades I wear.
What's your easy winter look?