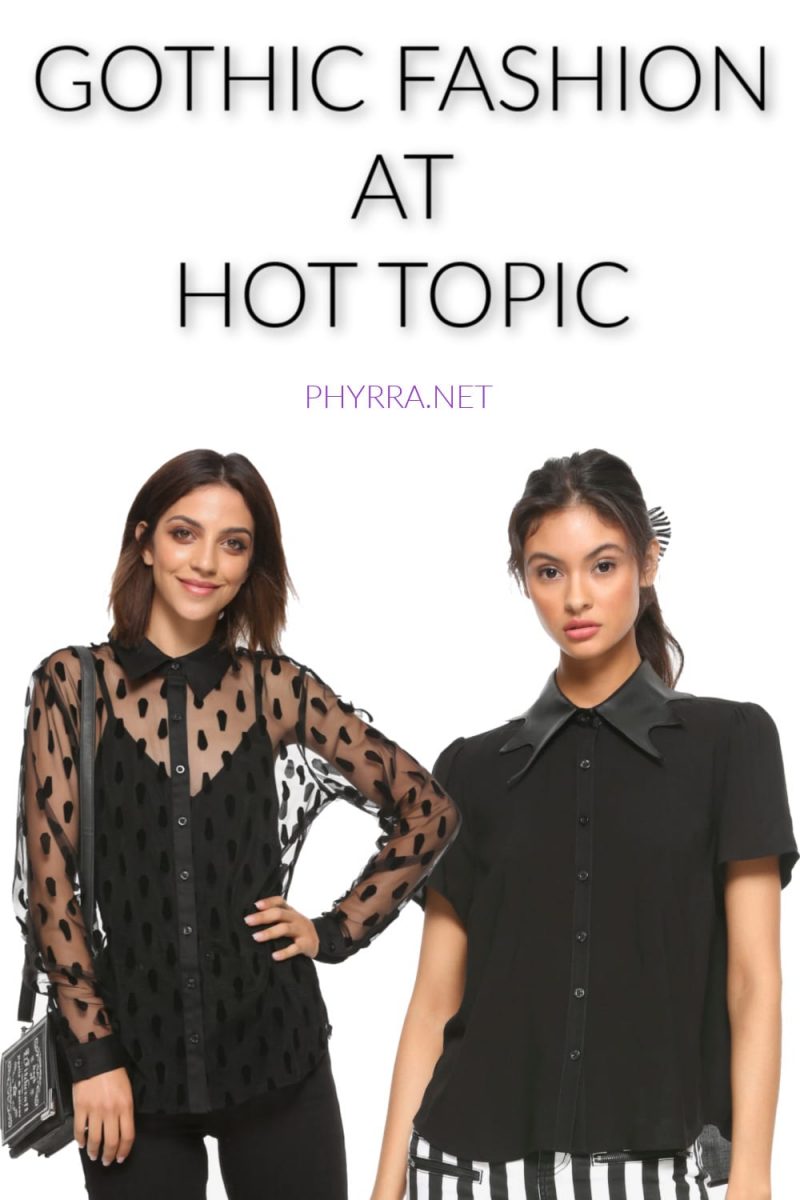 Gothic Fashion at Hot Topic
I wanted to talk a little about gothic fashion at Hot Topic. As someone who got into the goth scene around 1999, I've always had a soft spot for Hot Topic, despite the negative connotations of being a 'mall Goth' or 'Hot Topic Goth' as opposed to someone who thrifted and DIY'd their gothic wardrobe.
The Gothic subculture grew out of the punk scene, which thumbed their noses at the establishment and preferred indie brands to mainstream ones. Despite that, I love Hot Topic and really appreciate how they showcase smaller brands I love like Hell Bunny. Hot Topic carries sizes XS to 3XL. Most items seem to be listed as their name or their name and plus size.
While I used to think of Hot Topic as just an alternative fashion store, these days I tend to think of them as a pop culture store more than anything! They carry so many things related to pop culture. Want something from Disney? No problem! Marvel? They've got it! Riverdale? No problem. Supernatural? Yep!
What is Goth?
Need help understanding what is goth? Start with gothic music like Aurelio Voltaire, the Sisters of Mercy, Bauhaus, Joy Division, Collide or the Crüxshadows. Check out my gothic music playlist for more! You may find Voltaire's book, What is Goth? helpful. And there's always Jillian's Gothic Charm School!
Gothic Fashion Picks
I've found a ton of cute things at Hot Topic lately and I wanted to share since they're having a sale!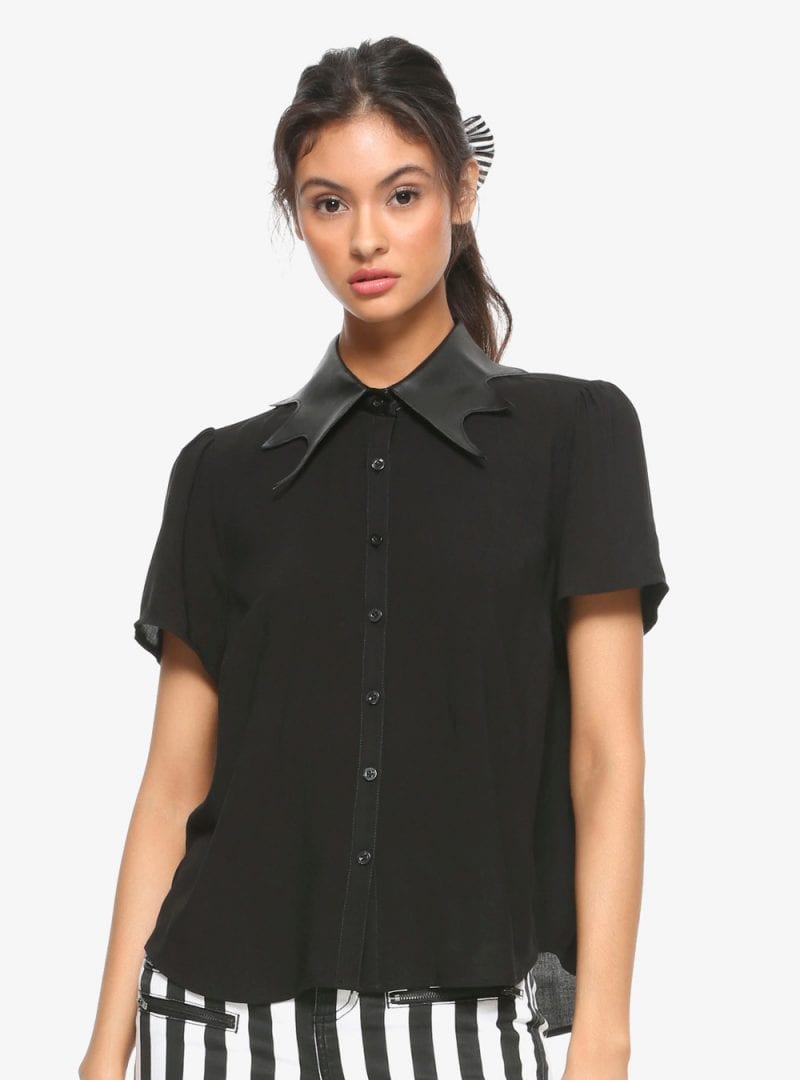 Black Bat Collar Button-Up Shirt
I just bought this cute Black Bat Collar Button-Up Shirt. I'm obsessed with a grown up Wednesday Addams look for my wardrobe and this shirt fits into that category but it's just different enough from the other ones I own since it's black on black. I love the exaggerated collar points too!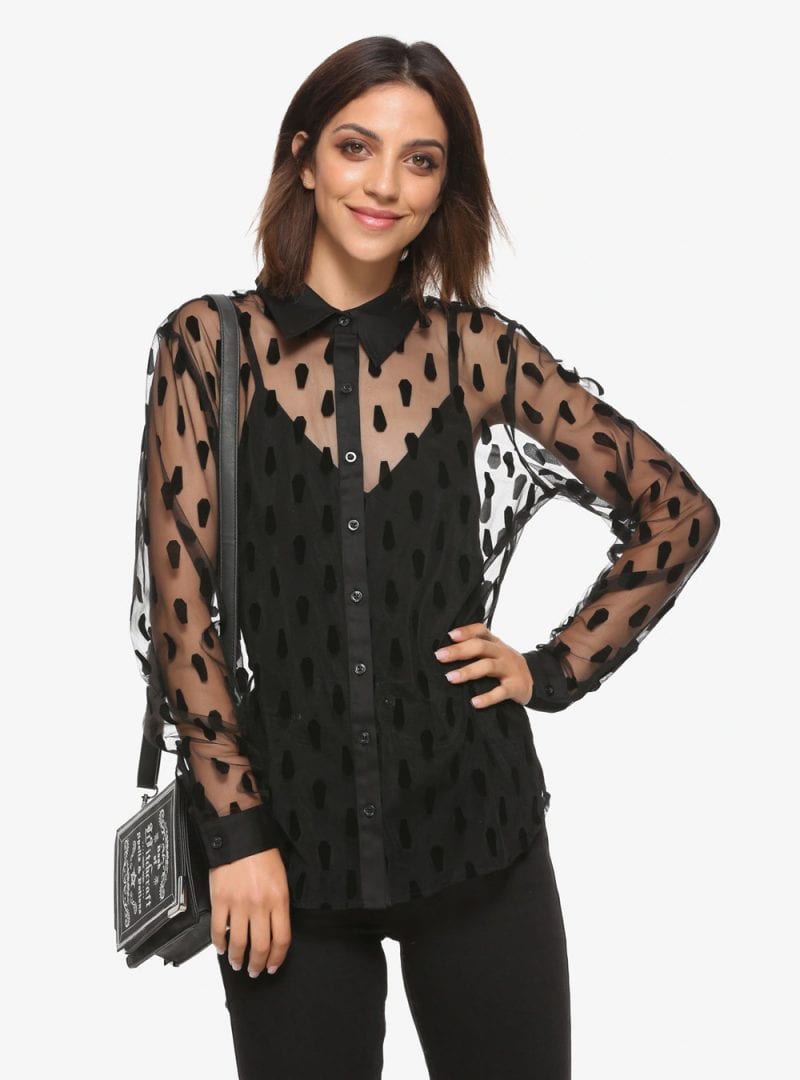 Black Coffin Flocked Sheer Long-Sleeve Button-Up Top
The only way this Black Coffin Flocked Sheer Long-Sleeve Button-Up Top could be better is if the sleeves were bishop sleeve style. I LOVE the coffin flocking. So many of my cute Hell Bunny blouses are now too big on me but I love that blouse style so I grabbed this shirt. It's unique in my collection. I may ask my friend Carlye if she can help me modify the sleeves to be Bishop Sleeves.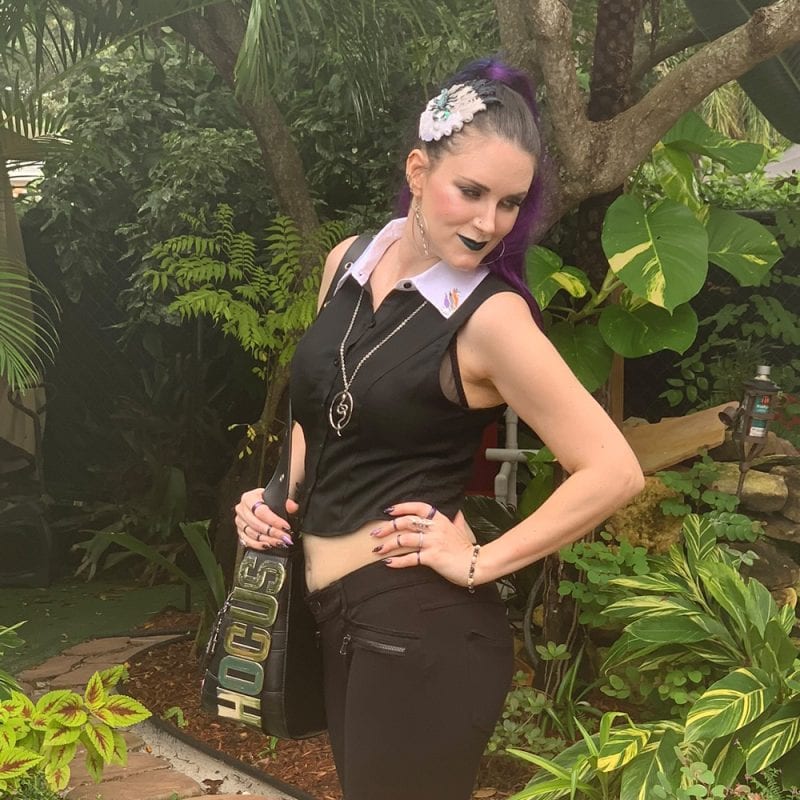 White Collar Sleeveless Button-Up Top
You get to see a sneak peek of my upcoming gothic lookbook! I love this white collar sleeveless button-up top.  It's perfect for everyday wear for me. It is a crop top on me, though longer than some of my other crop tops. Last year if you'd told me I'd be wearing crop tops, I'd have laughed and said I was too old for them or didn't have a good enough body for them. Now I know that crop tops are for everyone who wants to wear them!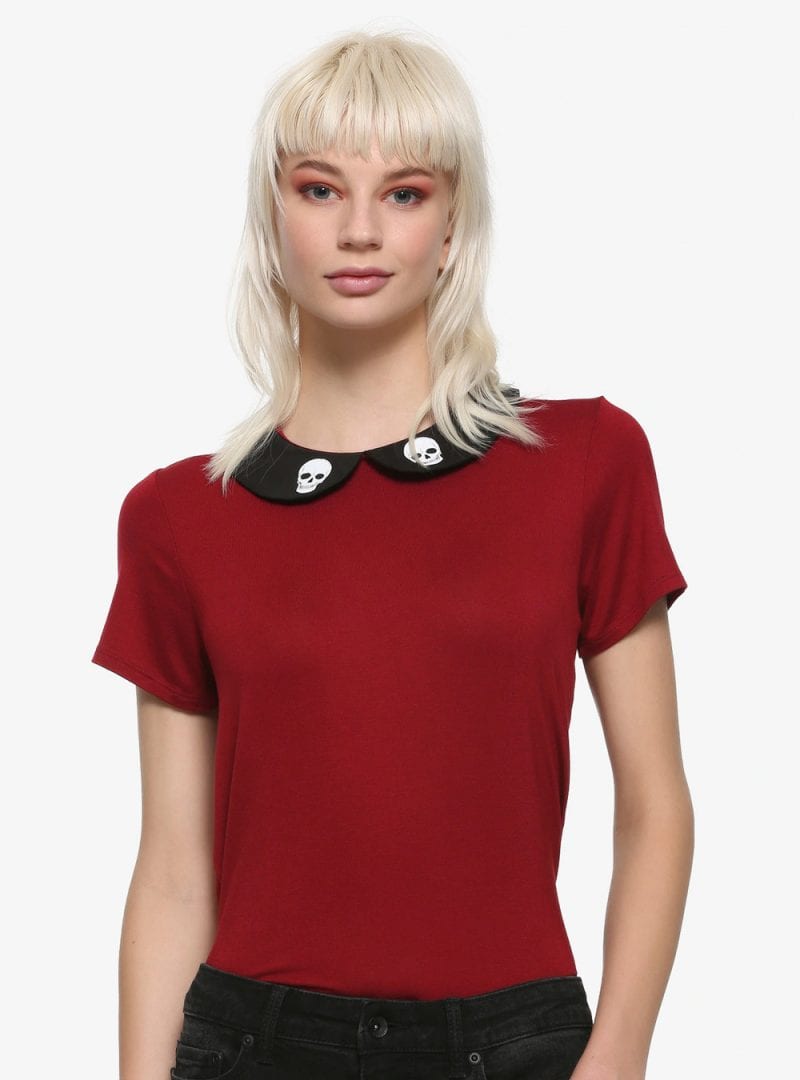 This shirt gives me all the Chilling Adventures of Sabrina Vibes. It's on my wish list. I prefer a pointy collar to the Peter Pan style though.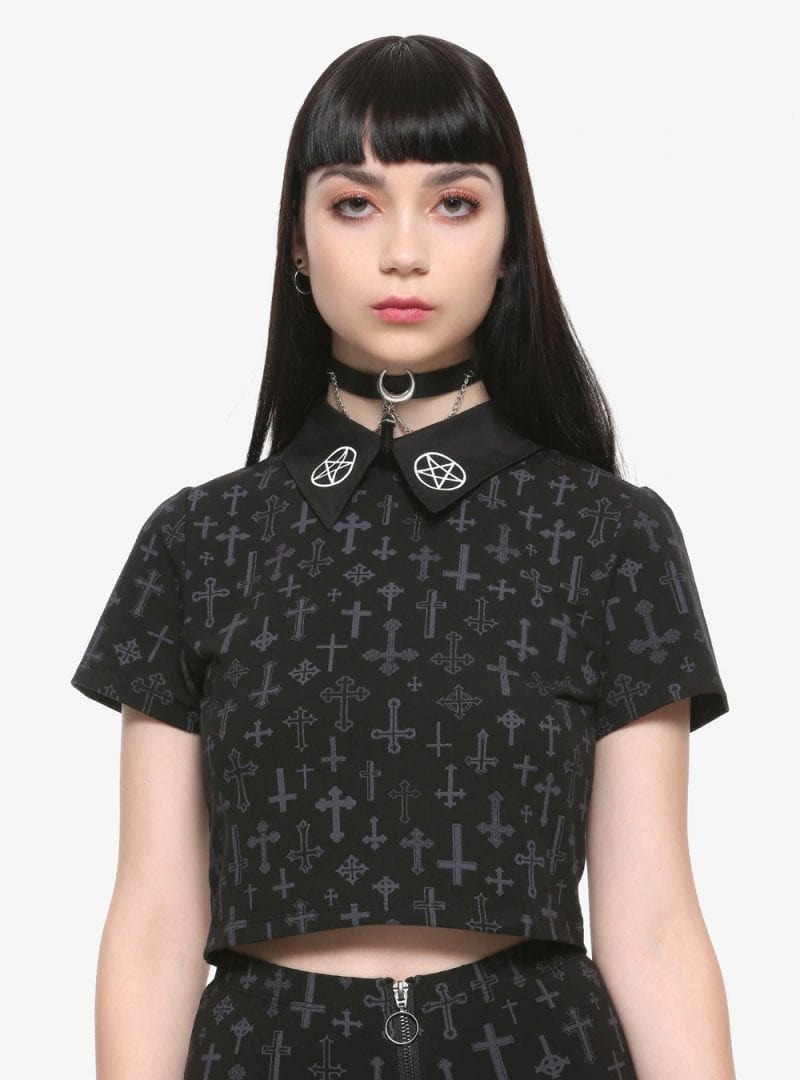 The Craft Cross Pentagram Collared Crop Top
I loved the Craft, such a cult classic movie! I've been happy to see the clothing inspired by the movie. Really hits that 90s nostalgia for me.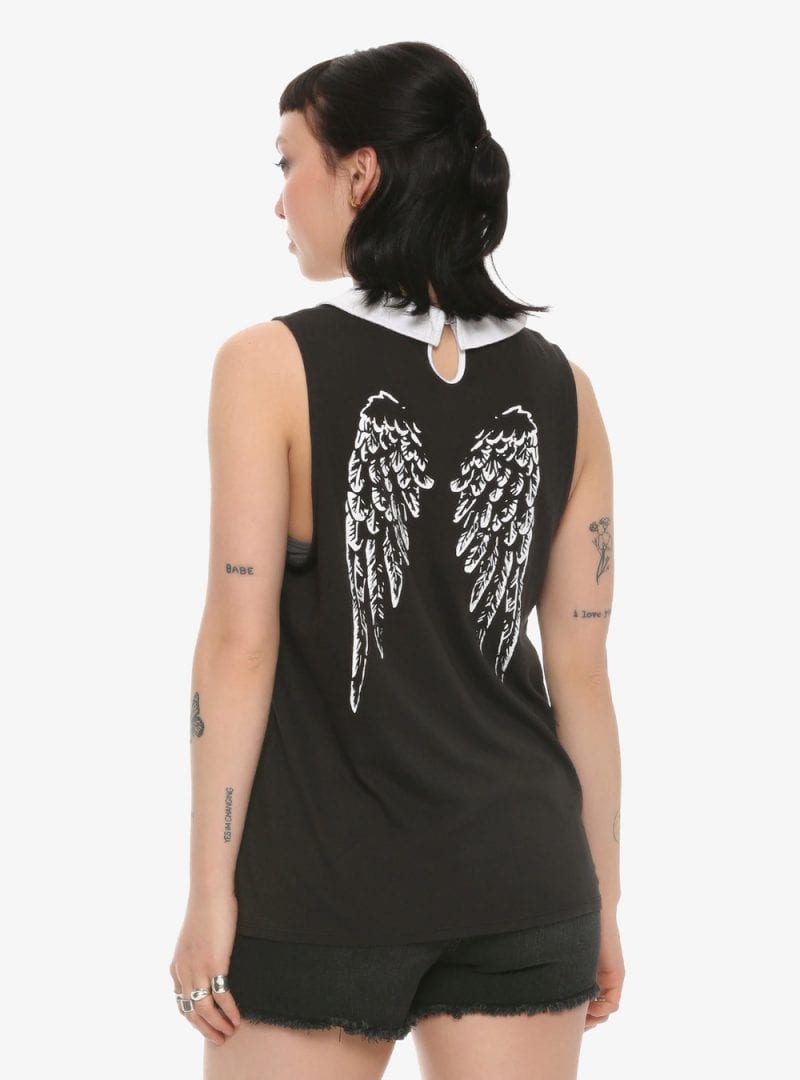 Supernatural Castiel Collared Winged Top
I love this Supernatural Castiel Collared Winged Top. I always get people asking about the wings. I'm sad that this is the last season of Supernatural but they've had a great run and hopefully will go out with a bang.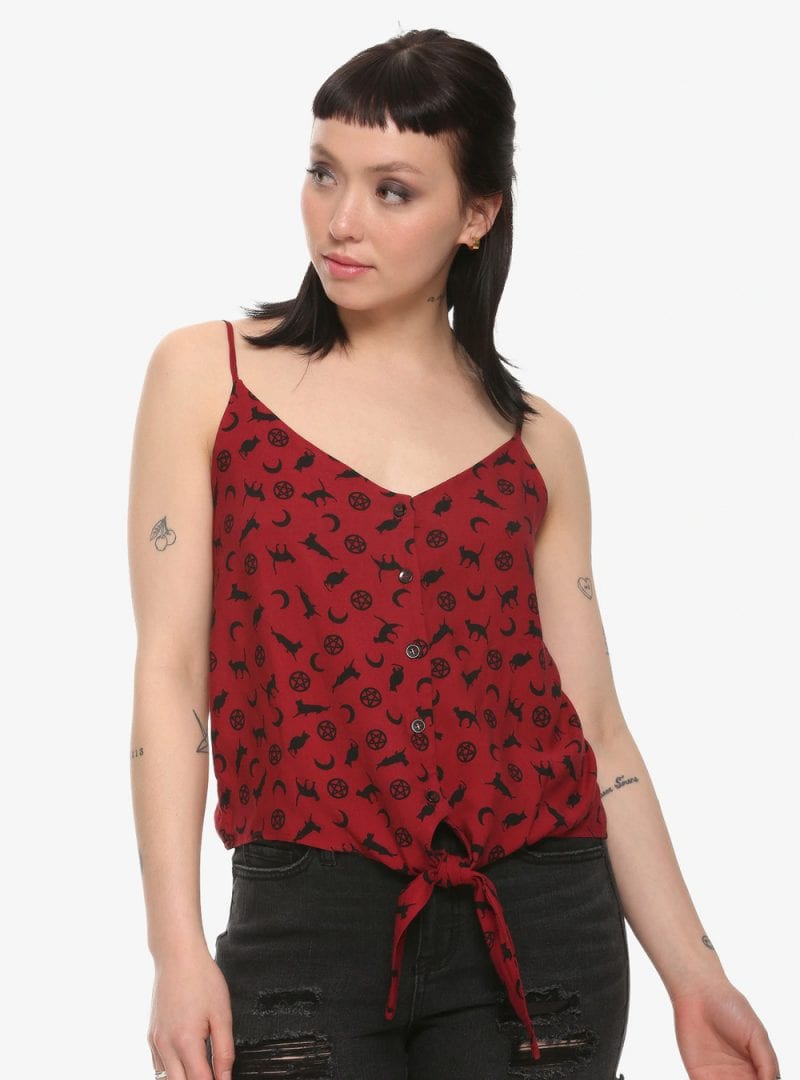 Black Cats, Crescent Moons & Pentagrams Burgundy Top
I love this top so much but I hate having to iron it. That's the only downside to it. I love how it looks with a mini skirt too! I typically pair it with my favorite pair of black high waisted shorts or my Marste Bangkok Mini Skirt. It definitely gives me Chilling Adventures of Sabrina vibes.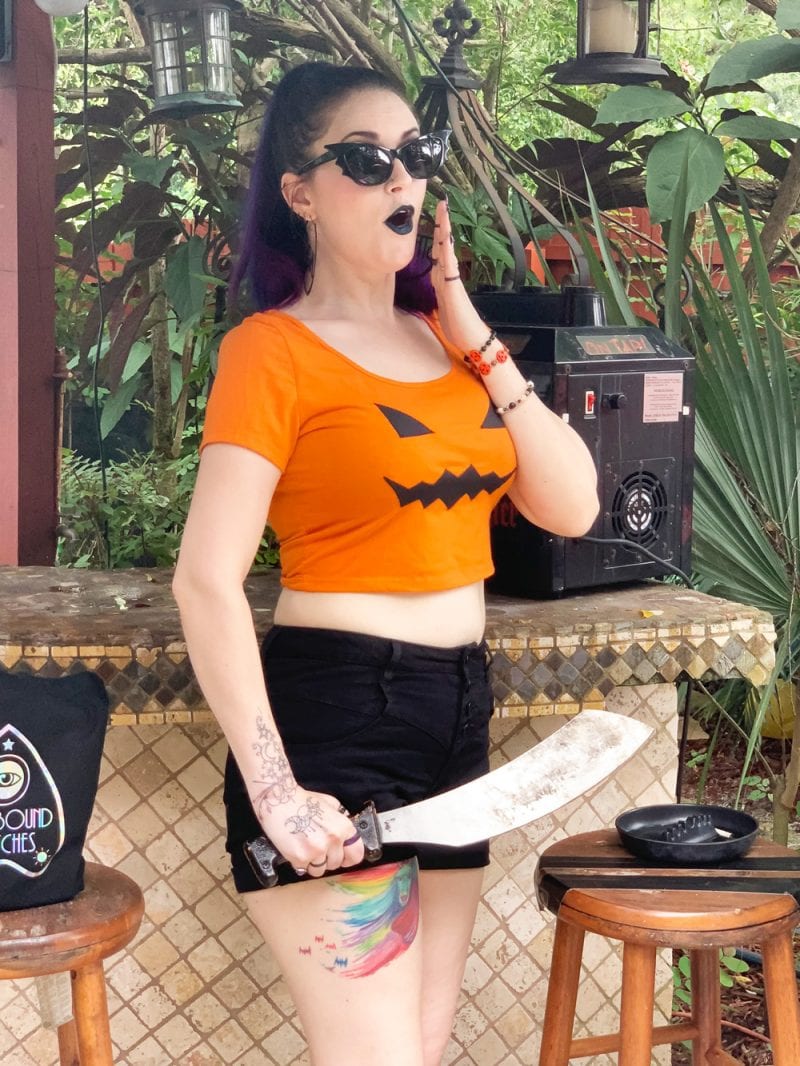 Blackheart Black High-Waisted Shorts
Another sneak peek from my upcoming lookbook! After going from size 12 to size 4, I had to replace all of my shorts. These Blackheart Black High-Waisted shorts are the most comfortable that I've found. I bought 3 pair this summer! I'm wearing size 5. The orange Halloween Pumpkin Crop Top is by Spellbound Stitches & will be available soon!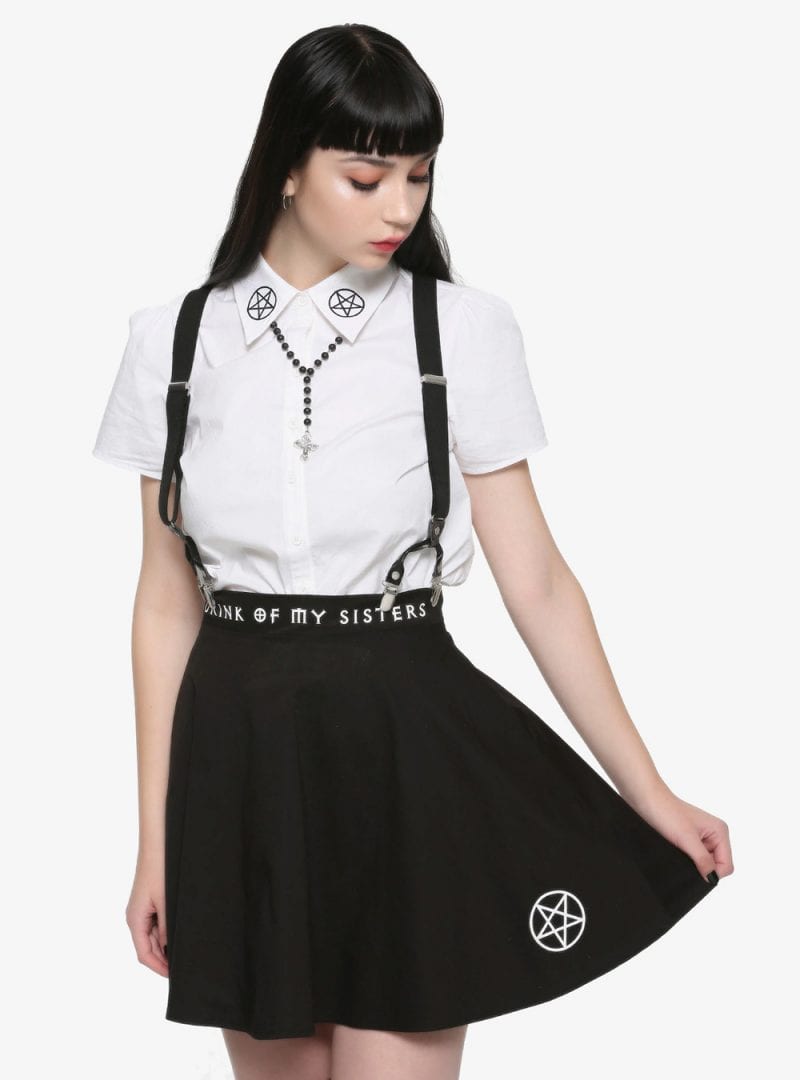 The Craft Pentagram Suspender Skirt
This is such a cute skirt. If I didn't have something similar I'd snap it up.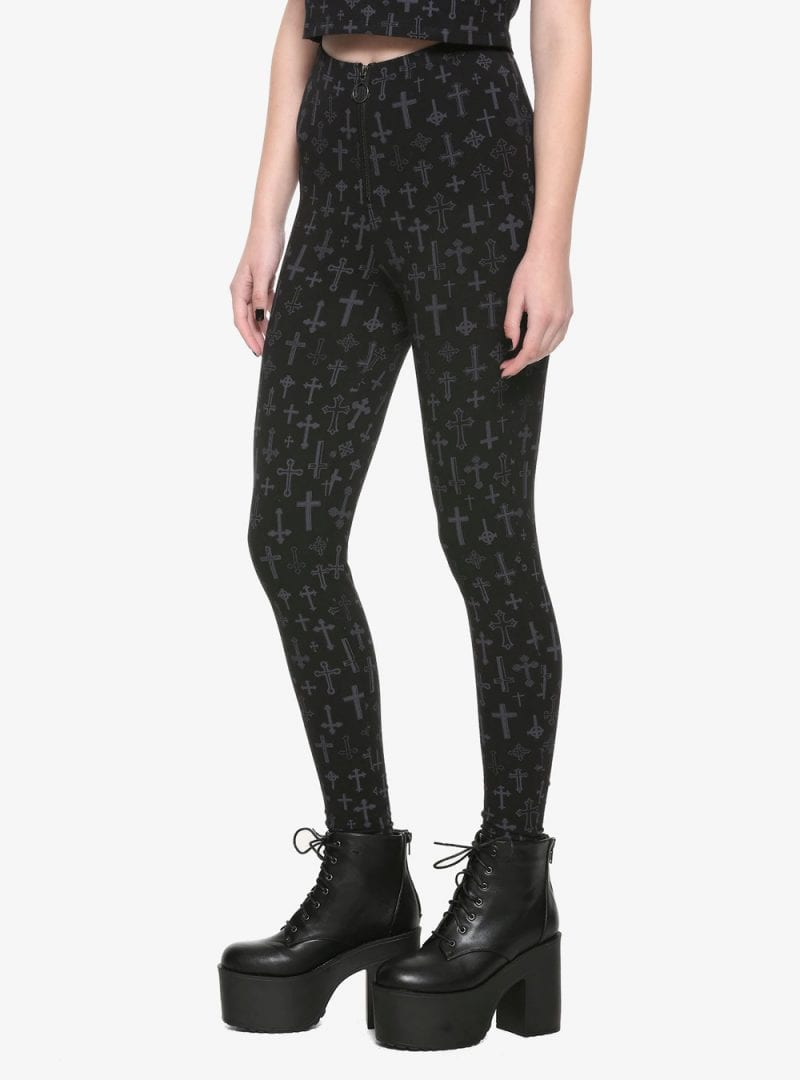 The Craft Cross O-Ring High-Waisted Leggings
I am so in lust with these! They're on my wish list.
Gothic Dresses at Hot Topic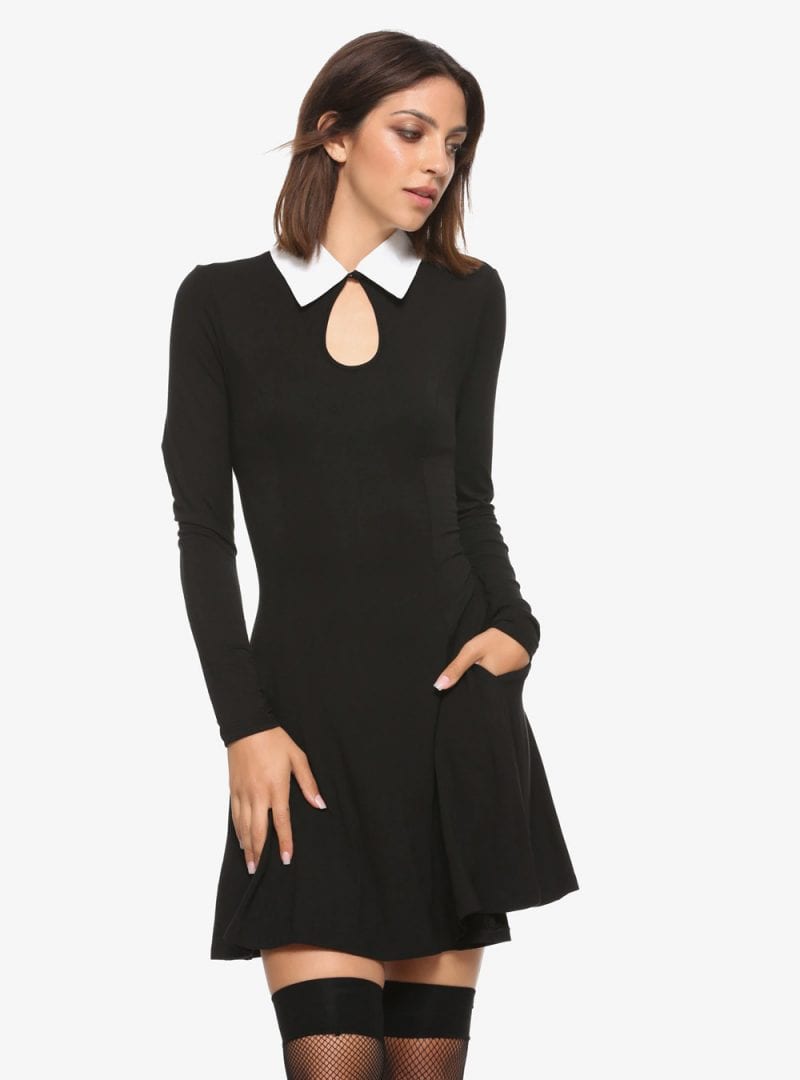 Black Keyhole Long Sleeve Dress with Pockets
This Black Keyhole Long Sleeve Dress with Pockets would be PERFECT for Fall, though we're still in the throes of hot Summer in Florida. So many of the affordable AF thigh highs would work with this dress.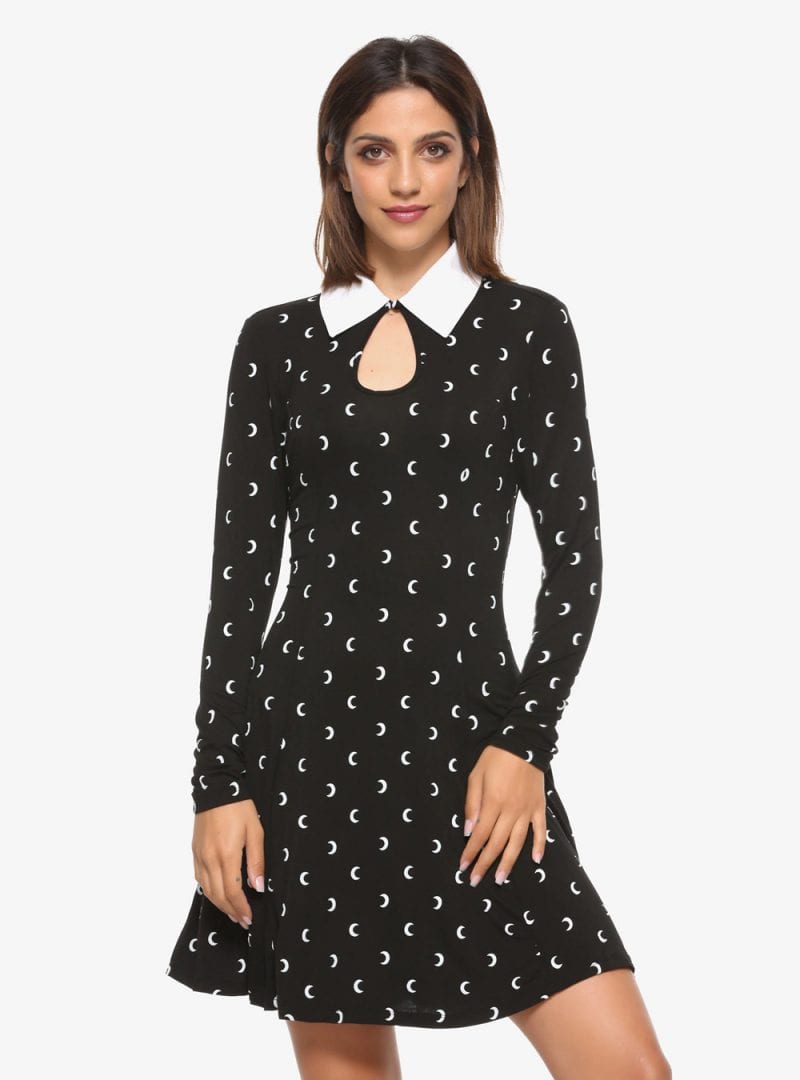 Black Moon Print Keyhole Dress with Pockets
I love this moon print too!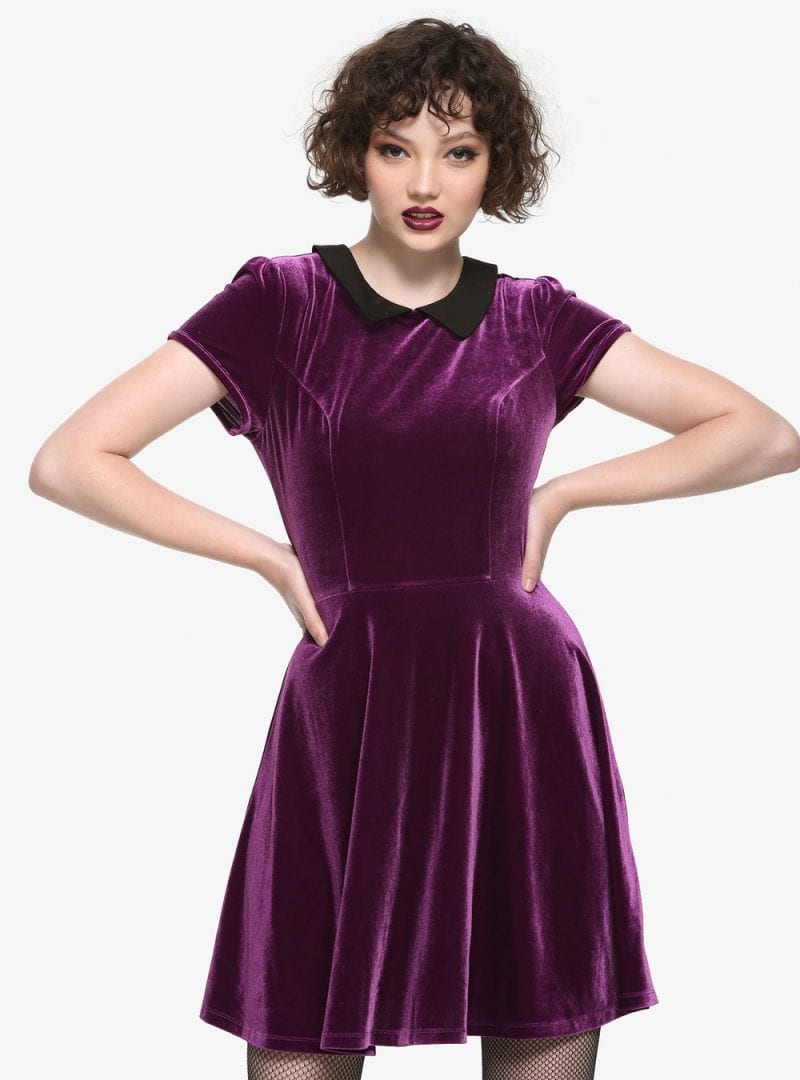 Purple Velvet Black Collar Dress
Purple is so classic. I love velvet, too. This dress is a perfect staple wardrobe piece.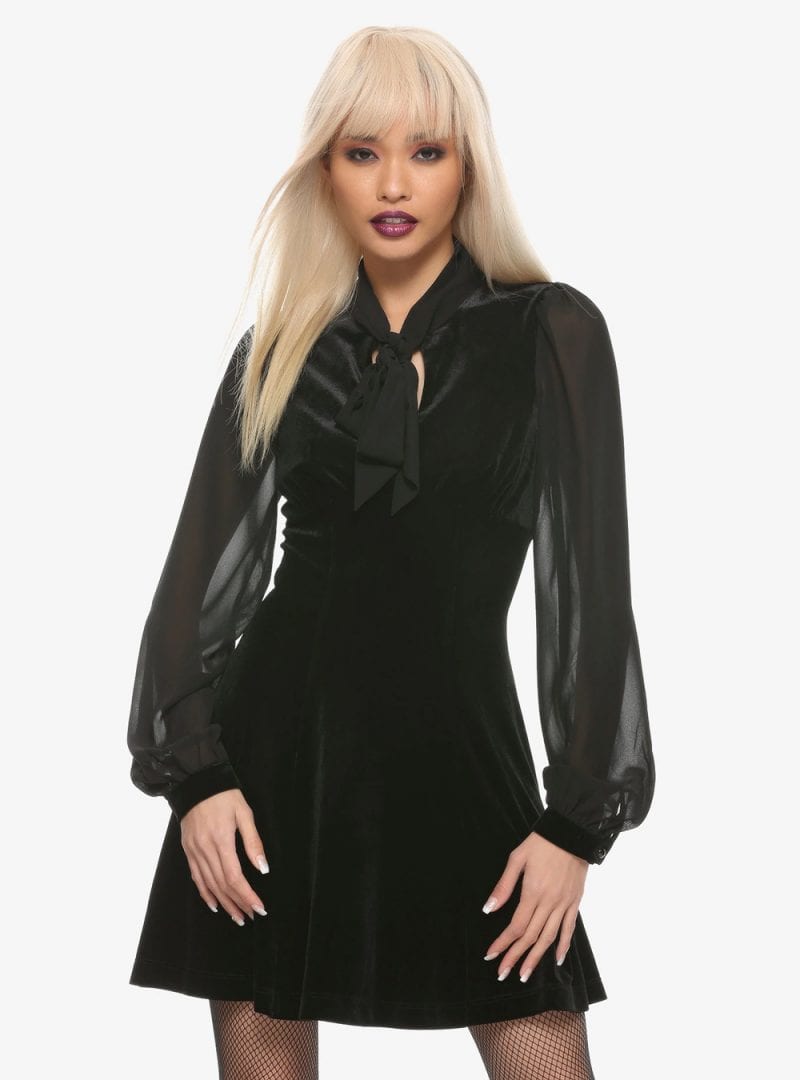 This Hell Bunny Estelle Dress is so gorgeous! The bishop sleeves are to die for! The only thing I'm not crazy about is the tie scarf at the neck.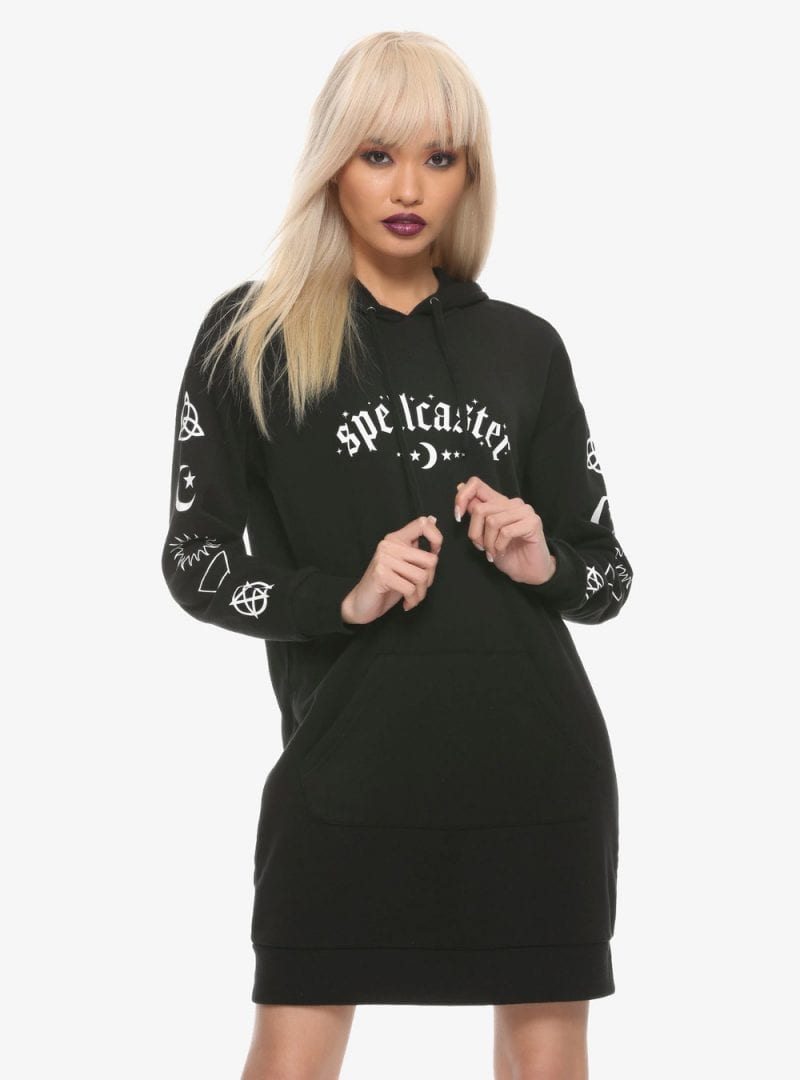 I bought this Spellcaster Hoodie Dress for Fall. It's so freaking cute. I love the pocket and hoodie.
When I'm shopping anywhere, I tend to look for the clothing features I love such as bishop sleeves, sheer black mesh, bat collars, pointed collars, moon or star motifs, ankhs, bats or coffins. I'm always keeping an eye out for things that fit my gothic fashion taste or can be modified to fit them.
Right now Hot topic has 20% off site wide with an additional 50% off over 1500 items on clearance with code EXTRA50. If you have kids in school, they have up to 60% off of backpacks for back to school.