Hello, beautiful creatures; I'm sharing my Dossier Ambery Cherry review today. If you're unfamiliar with Dossier, they bring you cruelty-free premium fragrances at an affordable price. I favor sexy gourmands or warm and spicy scents and am not fond of robust flowery scents. I'm excited to be sharing this Dossier perfume with you.
This post is sponsored by Dossier, but the love is genuine.
Why buy from Dossier?
Why should you consider buying perfume from Dossier? Dossier makes high-quality perfumes at affordable prices for everyone. Fragrance is a luxury product that most brands mark up from around 20% to 90%! The ingredients and the packaging are the least expensive part, while the marketing is where most of the expense lies in perfume.
Is Dossier Perfume Cruelty-free?
Dossier perfumes are cruelty-free and vegan, and none of their products are ever tested on animals. Many of the brands that their fragrances are inspired by cannot say the same thing.
Is Dossier eco-friendly?
Yes, Dossier is eco-friendly and uses 100% recyclable luxe glass bottles, and their packaging materials are 100% recycled and made in a recyclable box. Everything except their pump is plastic-free.
I love that Dossier has an excellent return policy; they give returned products to the Give Back Box charity instead of throwing them into the trash. Give Back Box charity is a non-profit organization that dispenses Dossier perfumes to charities around the USA.
Dossier Ambery Packaging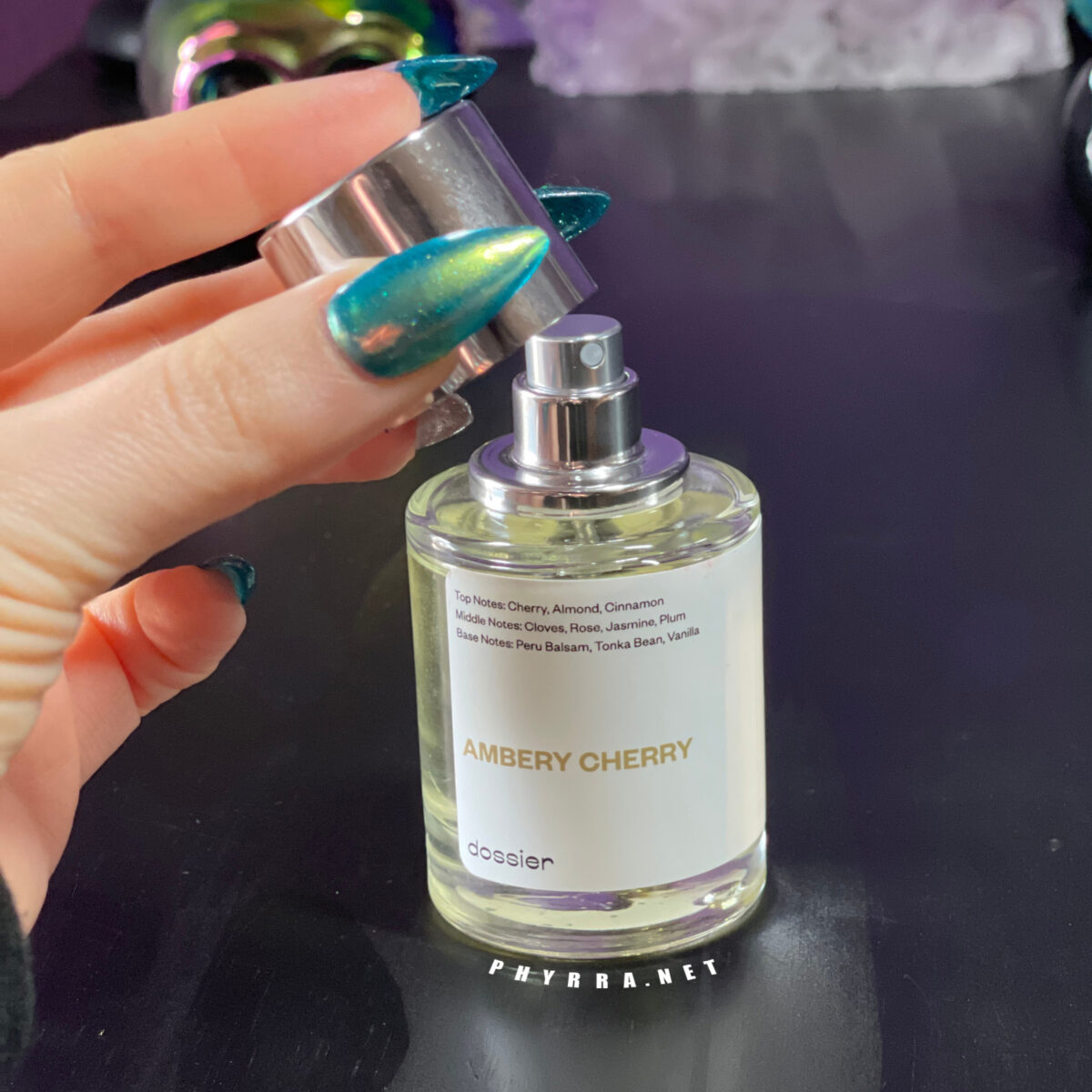 I love the Dossier packaging! These bottles are gorgeous, heavy glass bottles that are 100% recyclable. Their metal caps are magnetized, and they close with a satisfying click. 
The minimalistic design has a clean, understated label with the dossier name in the bottom left corner, the perfume name in the middle, and the perfume scent notes at the top left.
Is Dossier Ambery Cherry on Fragrantica?
I could not find an entry for Dossier Ambery Cherry on Fragrantica, but I did find several other Dossier perfumes reviewed there. I know many aromachologists and cognoscentis love Fragrantica and check it when comparing colognes and fragrances.
The Best Way to Apply Fragrance
A master aromachologist taught me the best way to apply fragrance is to spritz a cloud before you and then walk into it. If you want to be even more fragrant, you can spritz on your wrists, behind your knees, behind your ears, and at the bend in your arms. Never rub your wrists together after you spritz on perfume. Rubbing your wrists together after perfume application will dull the scent and make your top and middle notes fade quickly.
The Best Way to Store Perfumes
The best way to store perfumes and help them live a long time is to keep them in the dark, away from temperature changes. I keep my fragrances on a shelf in my closet, away from all light.
Tom Ford Lost Cherry Scent Notes
Tom Ford's Lost Cherry perfume lists the top notes as bitter almond, liquor, and black cherry; the middle notes are sour cherry, plum, Turkish rose, and jasmine sambac. The base notes are tonka bean, vanilla, Peru balsam, cinnamon, benzoin, sandalwood, cloves, cedar, patchouli, and vetiver.
I have never tried Tom Ford's Lost Cherry perfume, so I don't know how it performs with my body chemistry.
Dossier Ambery Cherry Review Scent Notes
Ambery Cherry Dossier perfume, inspired by Tom Ford's Lost Cherry, is described as a daring, extroverted gourmand that opens with bursts of cherry and almond, which shifts to warm spices, then sweet flowers. It finishes strong with vanilla and wood to warm it up for a rich and ambery fragrance.
Dossier Ambery Cherry perfume, inspired by Tom Ford's Lost Cherry, opens with top notes of cherry, almond, and cinnamon. The middle notes have delicious plum, cloves, sweet rose, and jasmine. The grounding base has vanilla, tonka bean, and Peru balsam.
Does Ambery Cherry by Dossier Last?
Dossier Ambery Cherry perfume, inspired by Tom Ford's Lost Cherry, lasts a long time on my skin, similar to how Ambery Saffron, inspired by MFK's Baccarat Rouge 540, last on me. I love spritzing on my perfume in the evening and waking up smelling it, and it's one thing that makes me happy about waking up early in the morning.
With Dossier Ambery Cherry and Ambery Saffron, I can smell both scents after 10 hours. I love this!
Dossier Ambery Cherry Review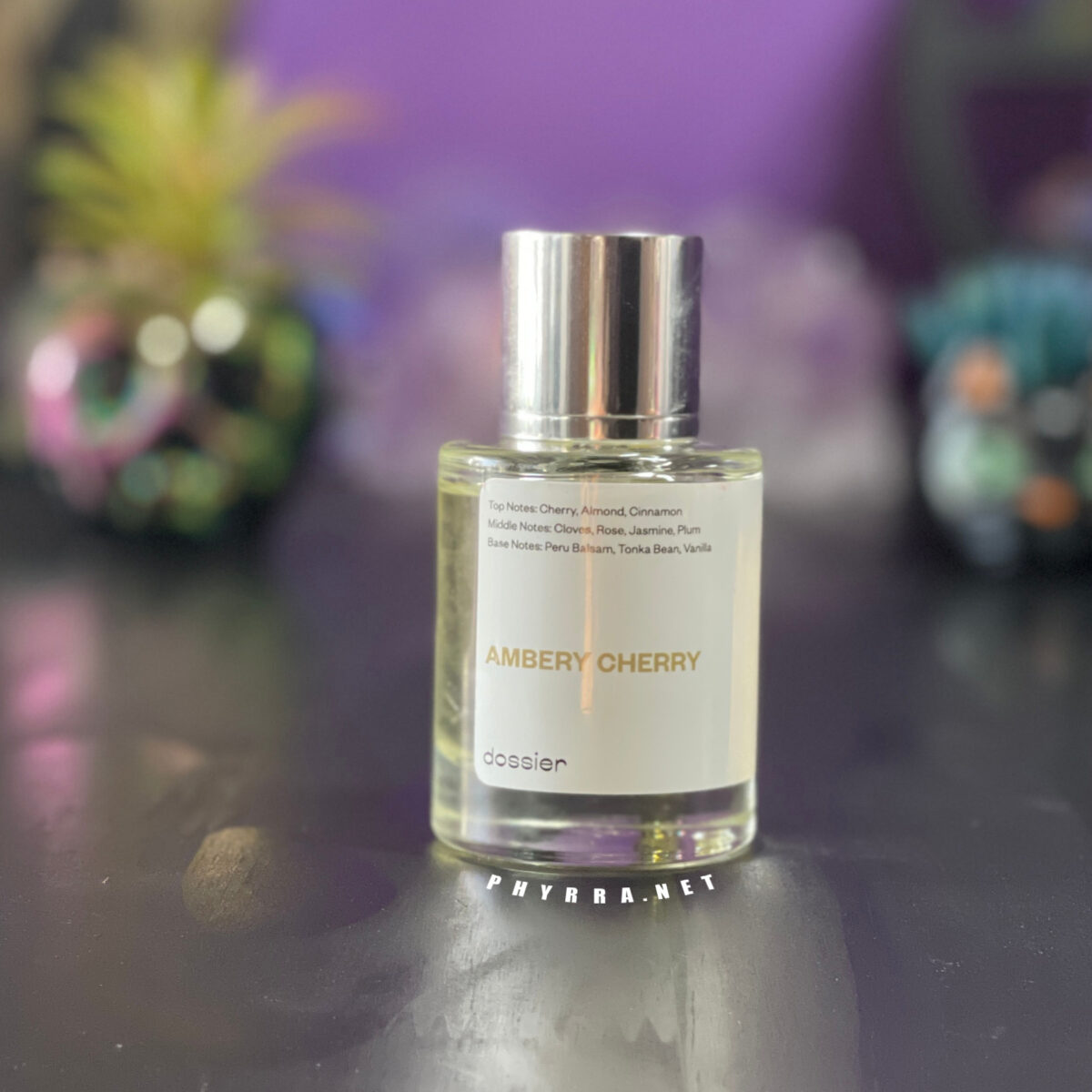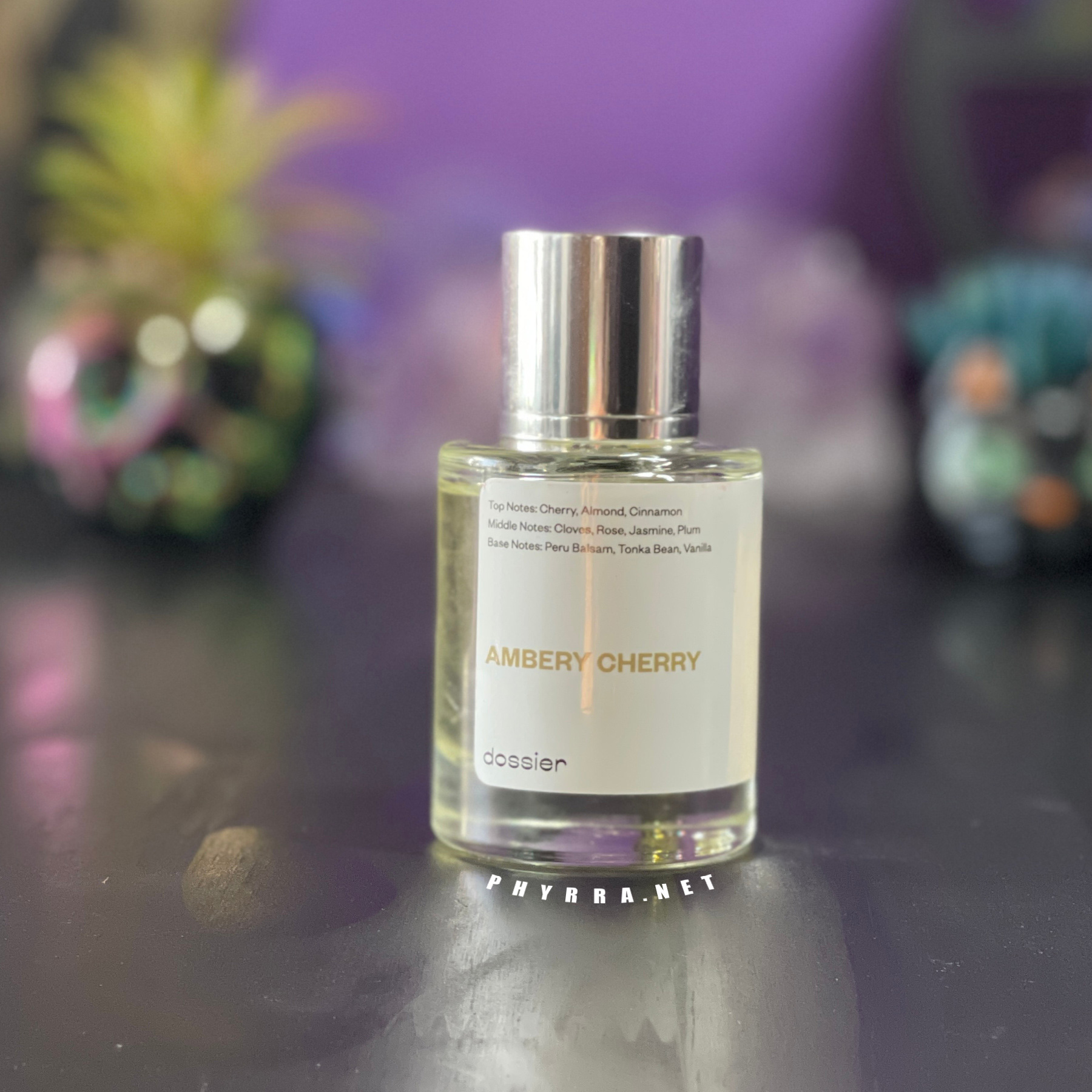 I am obsessed with cherries this year, from Godiva dark cherry cordials to frozen cherries in my smoothies to perfumes and body oils with cherry scent notes. I love cherry and how it works with my personal body chemistry!
When I first applied Dossier Ambery Cherry perfume, inspired by Tom Ford's Lost Cherry, I smelled black cherry cordial and almond notes. Once the scent has settled on my skin, I smell cherry and fruity sweet notes with a dash of clove spice. My body chemistry brings out the cherry notes. After a few hours, I can detect the vanilla and a nutty warmth from the tonka bean and balsam.
I felt nostalgic when I first smelled Dossier Ambery Cherry, inspired by Tom Ford's Lost Cherry because it reminded me a bit of how Hugo Boss Deep Red smelled on me. I used to wear Hugo Boss Deep Red, which has black currant as a top note, sweet tuberose as a mid note, and vanilla, sandalwood, and musk for grounding base notes. While they're not an exact match, the sweet, spicy, and warm base really make me happy.
What Dossier Perfumes are Best?
In my limited experience with Dossier, the Dossier Ambery perfumes are the best! What's best for you may be different than mine based on your taste and personal body chemistry, and I love what my body chemistry does with Ambery Cherry and Ambery Saffron.
How Do You Layer Perfumes?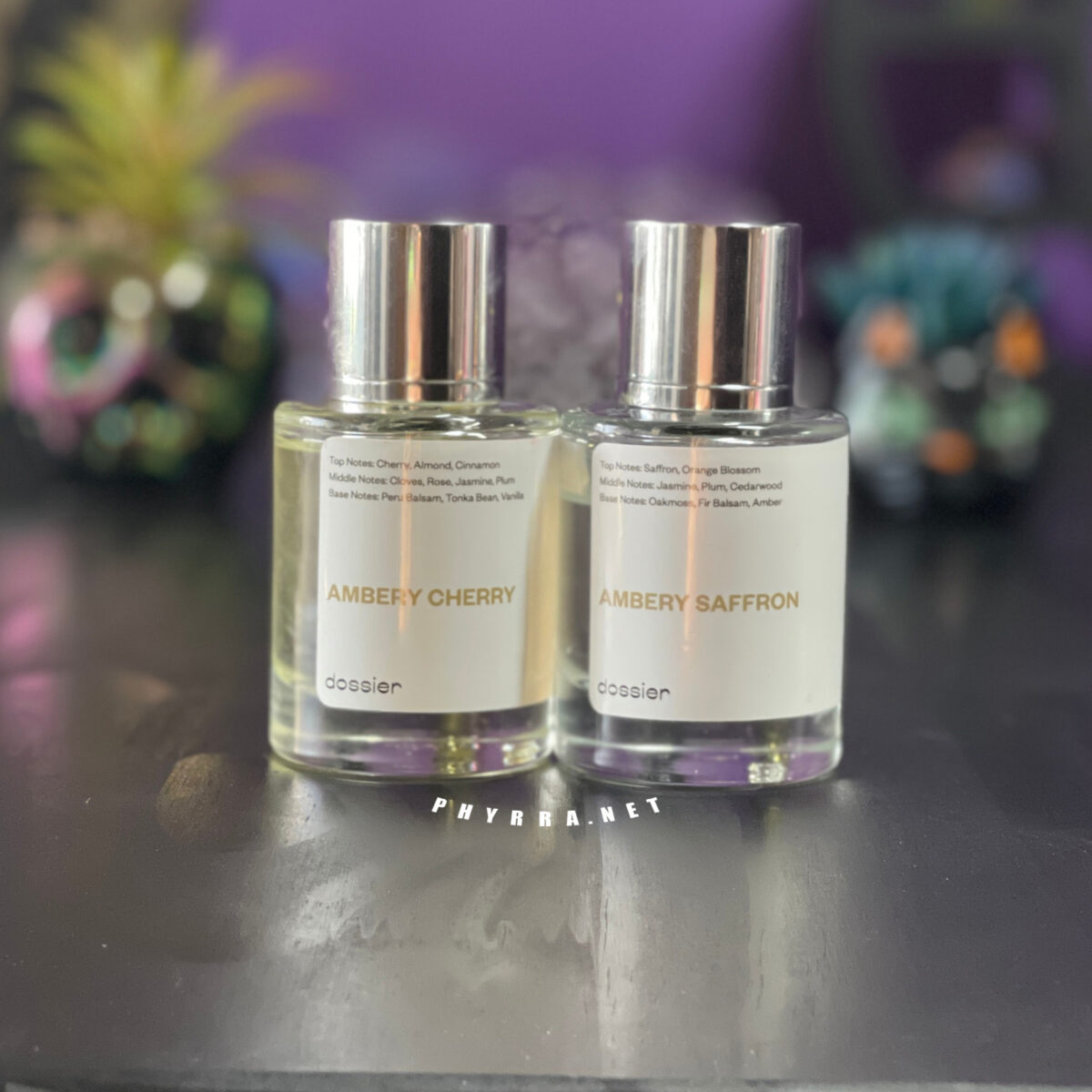 My cognoscenti friends always recommend starting with vanilla or musk-based fragrance for layering, and I always use vanilla because I'm obsessed with vanilla. Almost all of my favorite perfumes have been Amber Vanilla fragrances.
I've used a solid perfume stick or a lotion as my base layer. Then I will layer 1 or 2 spray perfumes on top. For example, I have been experimenting with layering my only solid perfume stick – TokyoMilk Dark Tainted Love (vanilla bean, orchid, white tea, sandalwood, spices) on my wrists and then spritzing Ambery Cherry on top of my wrists, and then walking into a spritz of Ambery Saffron. All three of these perfumes are Amber Vanilla fragrances, which layer together beautifully to create a unique signature scent.
I also like using a thick, deeply hydrating vanilla hand cream as my base on my wrists, then walking through a spritz of Ambery Cherry and spritzing my wrists with Ambery Saffron. The vanilla cherry spicy toasted marshmallow notes together bring me joy!
I recommend choosing perfumes that share some similarities in their notes when you're going to layer scents. Fragrances that are amber vanillas or share the similar top and mid notes are best. It can be hard to layer citrus notes because, at least on me, they sometimes turn into a weird bug spray scent, leaving you with a death note.
What is a Perfume Death Note?
A perfume death note is a note in a perfume scent that reacts poorly with your body chemistry. In my case, a honey note almost always turns into a baby powder scent on my skin, which I detest. I also have issues with certain citrus notes reacting poorly with musk, and they almost always smell like bug spray.
Final Thoughts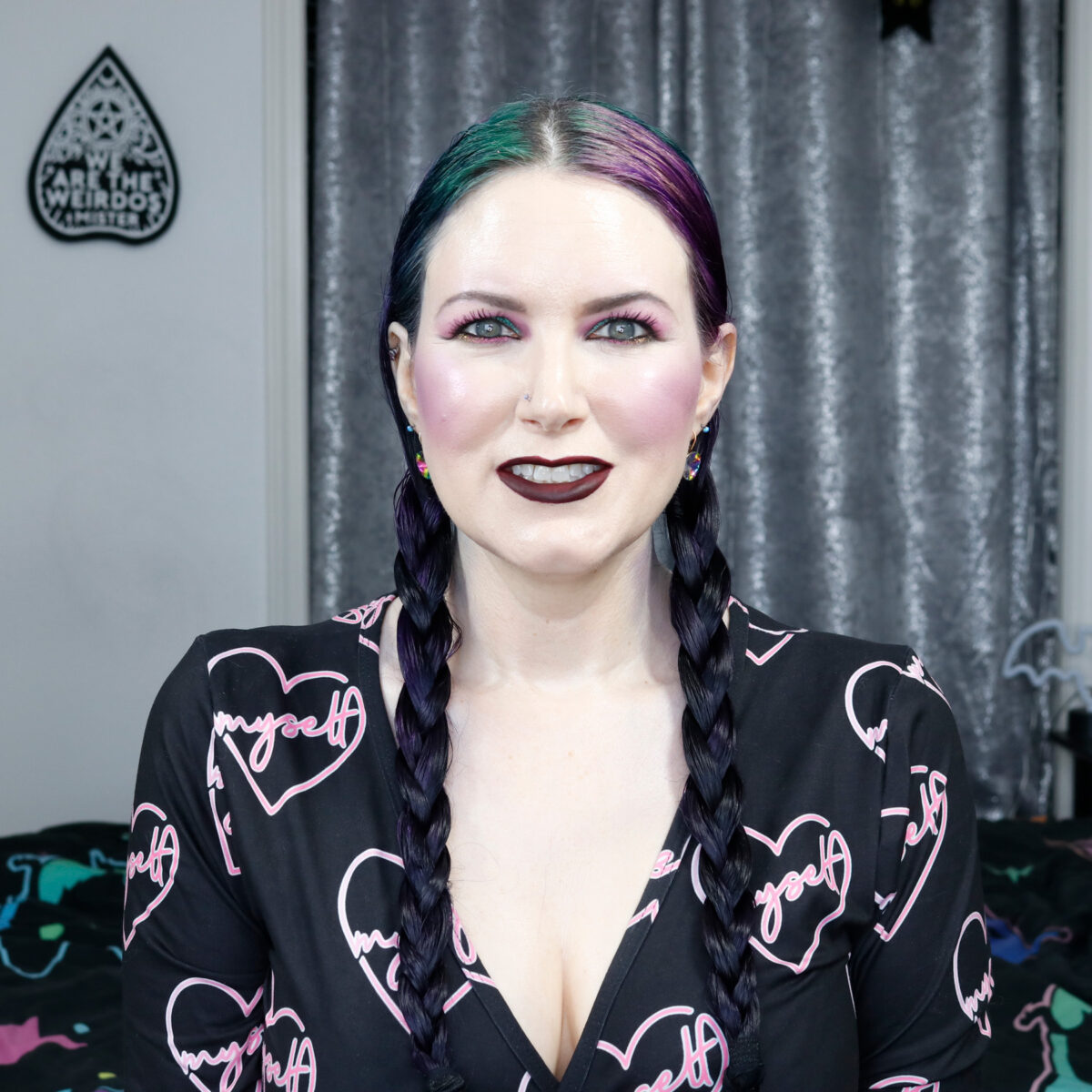 I'm in love with Dossier Ambery Cherry, inspired by Tom Ford's Lost Cherry, and I adore how it smells on me. I enjoy wearing it on its own or layered with Ambery Saffron, inspired by MFK's Baccarat Rouge 540,
What do you think of my Dossier Ambery Cherry Review? What perfume would you like me to review next?
More to See