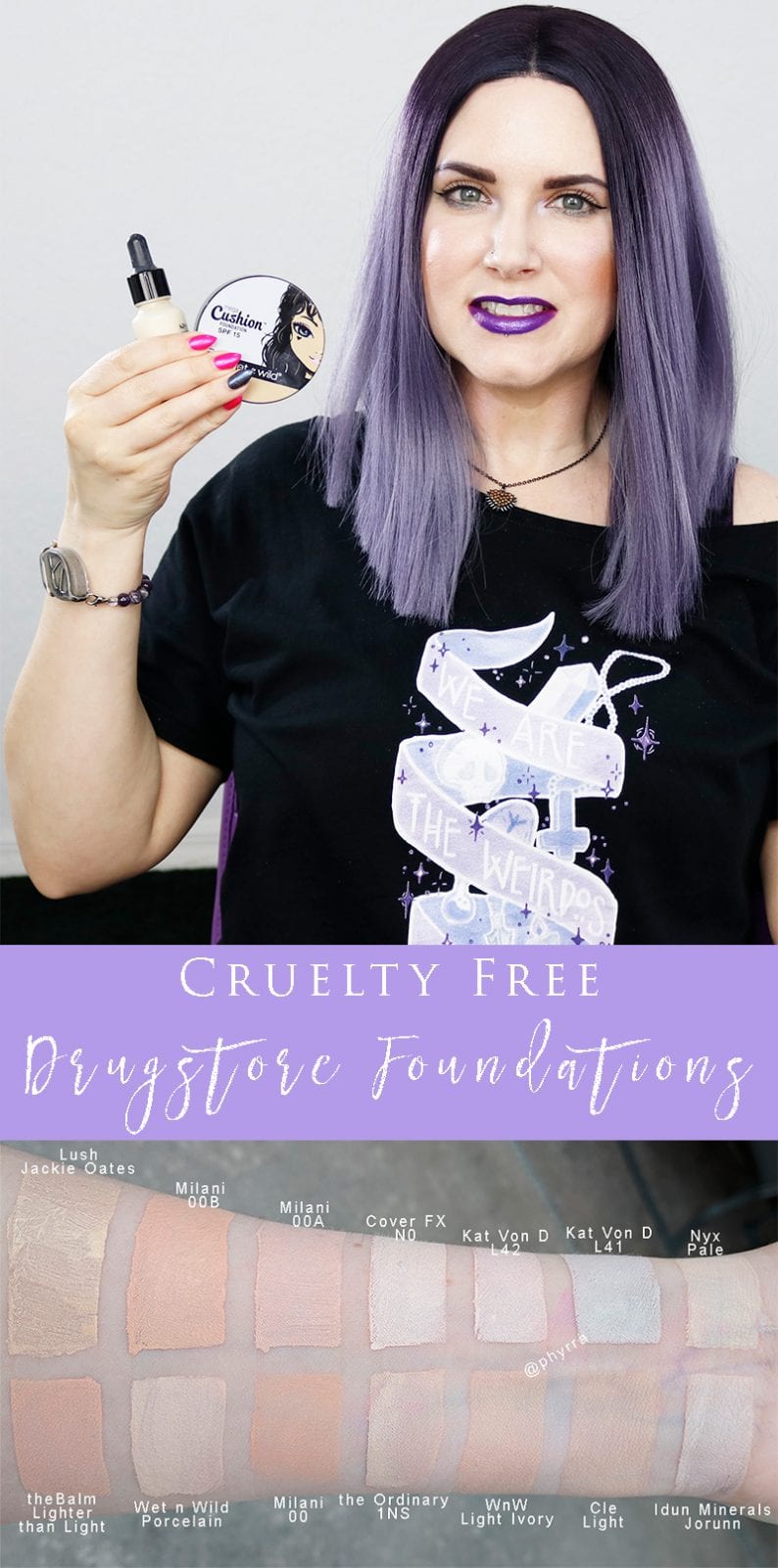 Cruelty-Free Drugstore Foundations
Today I'm sharing a subscriber request for cruelty-free drugstore foundations. I talk about the best affordable cruelty-free makeup that you can find at Ulta, Walgreens, Walmart CVS or Amazon. All of these can be found at Ulta, with the exception of Manic Panic. Many of these options are vegan.
Since people always ask my MAC number, I'm around N0. I'm basing this off of the fact that the guy who created the MAC numbering System also created the Cover FX Numbering system and I wear N0 in the Cover FX system. I consider my skintone to be neutral leaning cool yellow. Neutral or neutral yellow foundations seem to work best for me.
My best foundation matches are Idun Minerals Nordic Veil foundation in Jorunn, Idun Minerals Norrsken foundation in Jorunn, Huda Beauty FauxFilter Foundation in Milkshake and Cover FX Total Cover Cream foundation in N0. I really want to try the new Cover FX Power Play Foundation in N0. See swatches of my best matches in my best foundations for dry skin post.
Cruelty-Free Makeup Look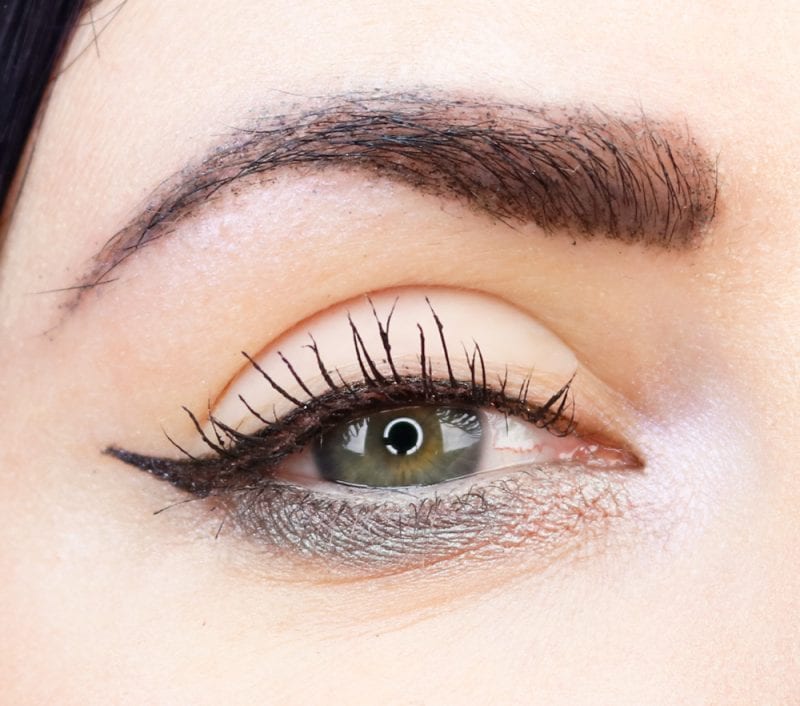 My lashes look longer when my eyes look less hooded. Kind of crazy!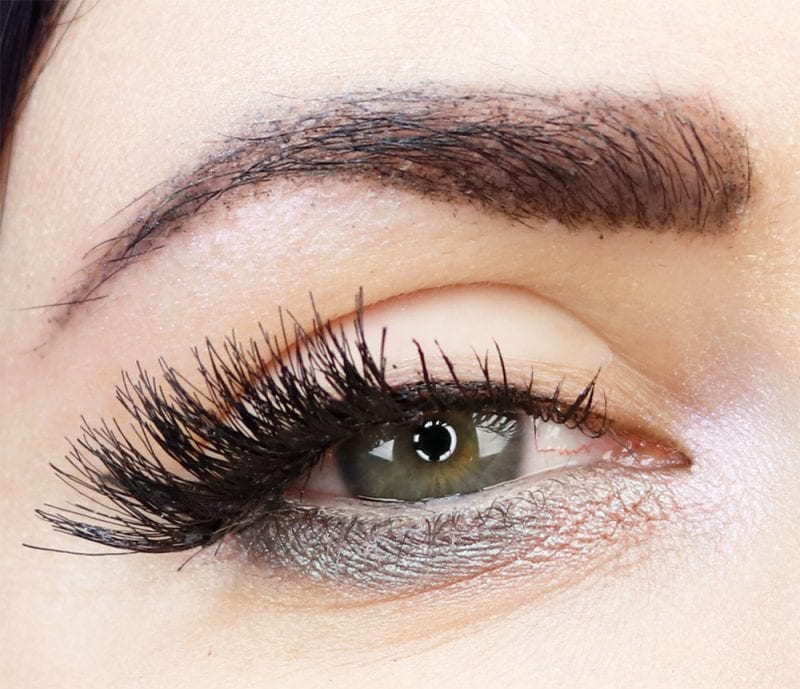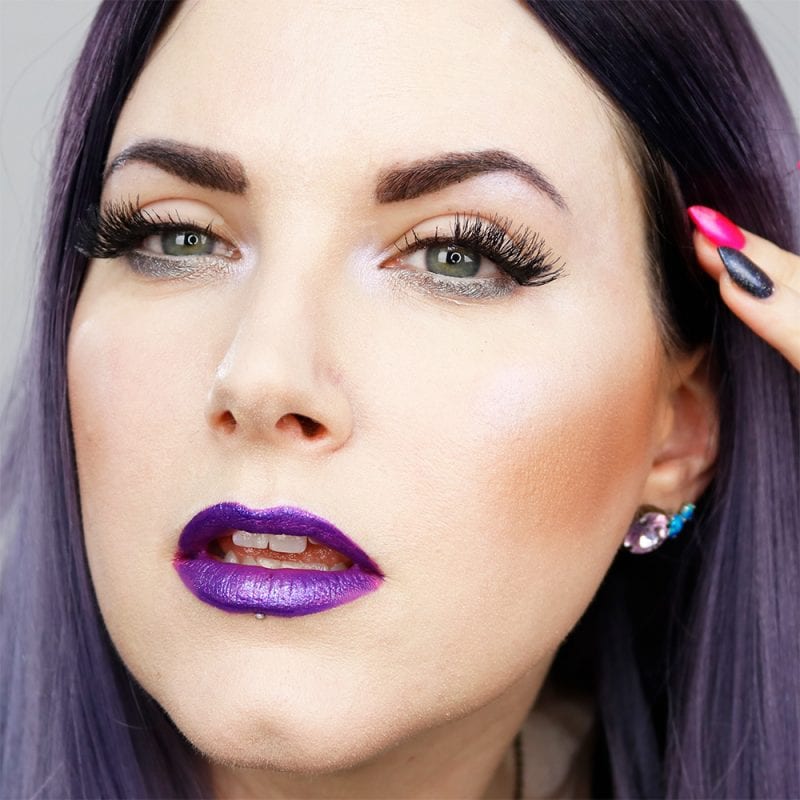 I did take a few shots with my Ardell Magnetic Accent Lashes. I love these accent lashes. I wish that the lash band that lays next to your lash line was more malleable because it's hard to get it to stay next to your lash line. But these work a million times better than the One Two Lashes that I wasted like $70 on and they were all of $13. I find the full Ardell Demi Wispies to be too long for my small eye shape, which is disappointing. They don't hug my lash line. I may cut them down at the inner corner. The reason the Ardell lashes are superior to the One Two lashes is that they have more magnets, and magnets at the end of the lash band. They need something akin to a soft memory wire to make them conform to your eye shape.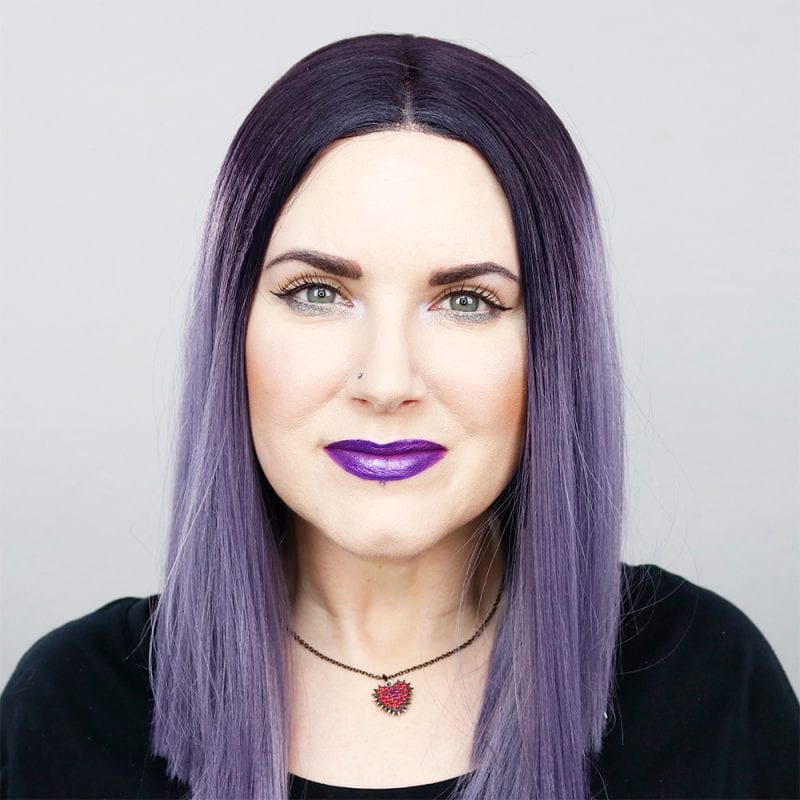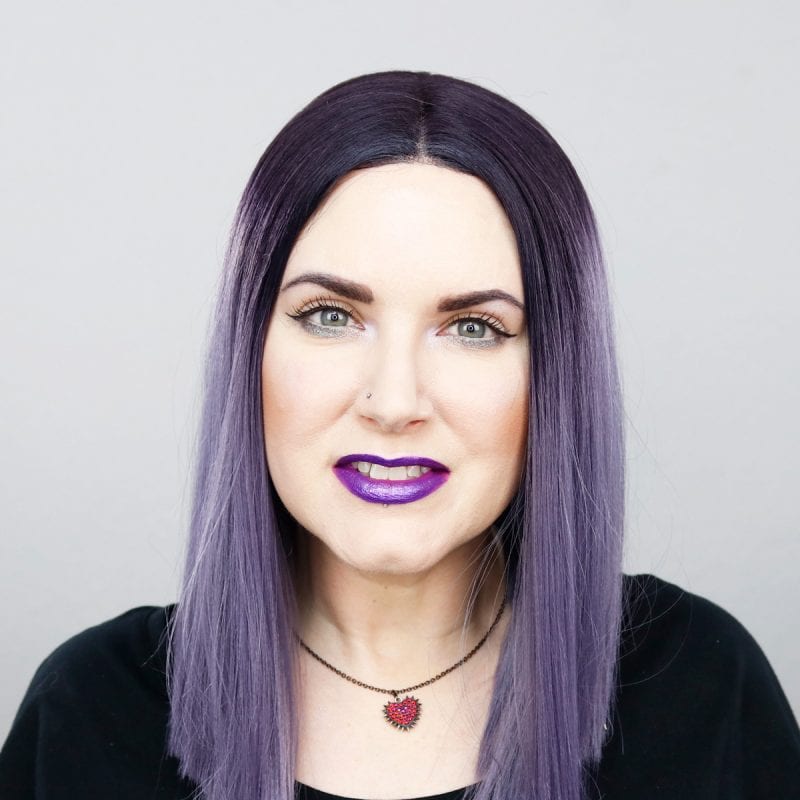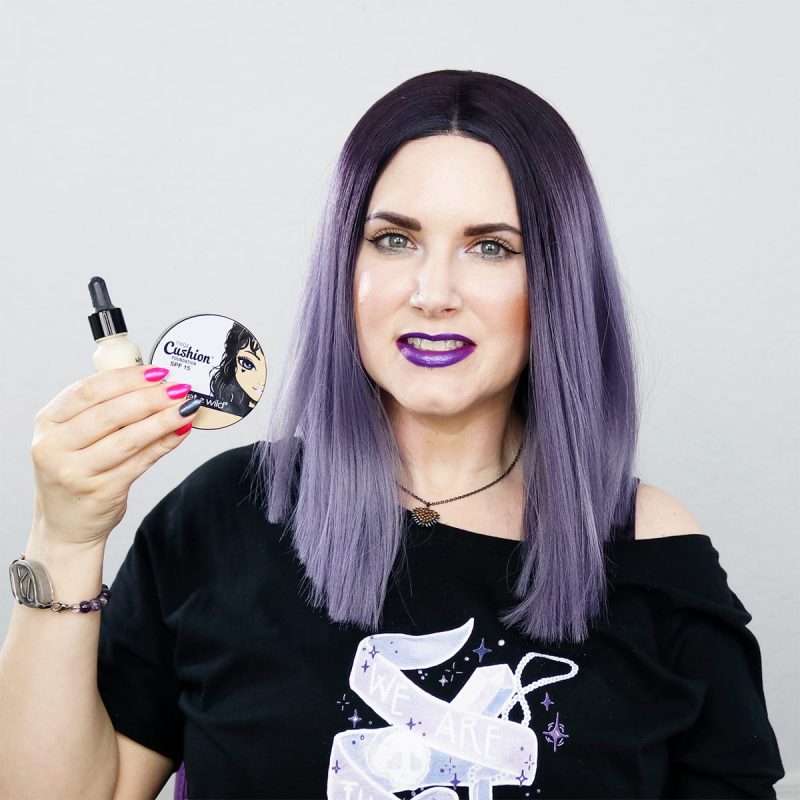 Fashion
Bobbi Boss Purple Yara Wig
We Are the Weirdos Mister t-shirt (I love this shirt so much! A bunch of us in the PhyrraNyx facebook group bought it)
Bunny Paige Micro Spiked Volcano Heart Necklace
Bellabeat Leaf Urban Health Tracker
Eyes
Elizabeth Mott Queen of the Fill black brow gel
Colour Pop Jet Set Black brow pencil
Contours RX eyelid correctors
Kat Von D trooper liner
Smashbox mascara primer
Urban Decay Perversion Mascara
Urban Decay Troublemaker Palette
Colour Pop Glass Bull lower lid
Cover Fx perfect pencil in N-Xtra Light on waterline
Face
Hourglass Veil Mineral Primer
Cle Cosmetics Cushion Foundation in Light
Wet n' Wild White Raven – highlighter
Laura Geller balance n brighten in porcelain
Bare Minerals Beige for Days blush
Urban Decay Angel (from UDxGwen blush palette) – blush topper
Makeup Geek Moon Phase – very lightly dusted on with fan brush
Stila Cushion Black Ink Liner with Milk Makeup Star Stamp
Lips
Kat Von D Roxy pencil
Urban Decay Cloud 9 Vice Lipstick
Kat Von D Televator and Starflyer Glimmer Veil Liquid Lipsticks
Cruelty-Free Makeup Foundation Swatches on Pale Skin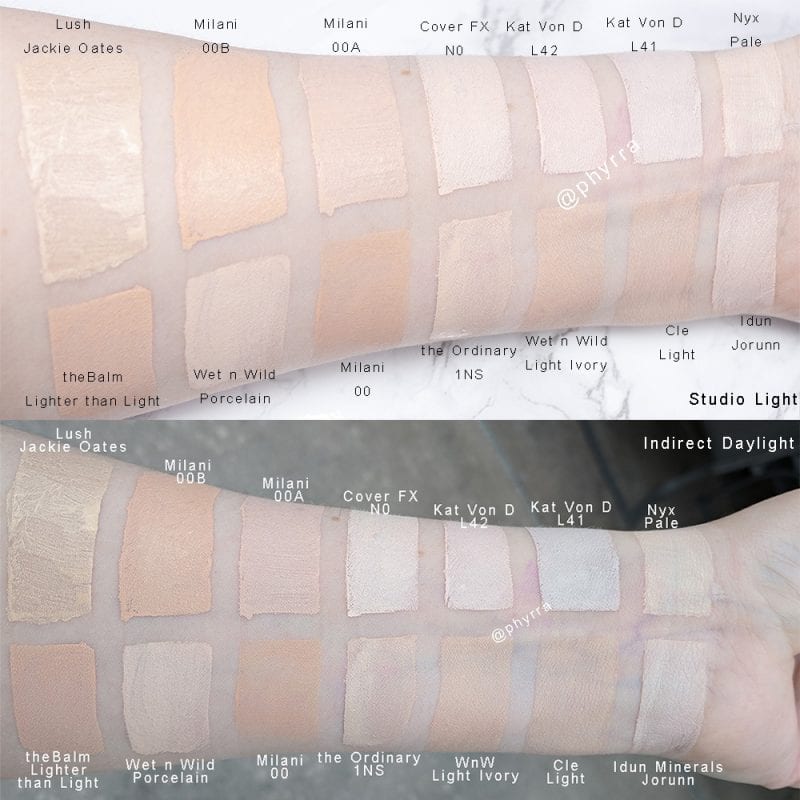 I did swatch some of my cruelty-free pale foundations for you mixed in with the affordable drugstore foundations. I need to point out that the Ordinary Serum Foundation is $6.90, making it the least expensive and most affordable foundation option of all the foundations pictured above.
Nyx Pale is a great match for my skintone, arguably better than the Nordic Veil Jorunn and I still love Jorunn. Kat Von D L41 is a cool neutral which works better for me than KVD L42 which is more of a pinky neutral. Cle Light & Wet n Wild Light Ivory are both nice but too dark for me. I can literally only put them on my areas of redness if I want to try to wear them. If I put them all over my face and you're in person with me my face looks darker than my neck or chest.
Cover FX Total Cover Cream in N0 is a great color for me, I just wish I liked the formula better. Even when I set it with powder, if you touch it slightly, it will wear off. The Ordinary Serum in 1NS is close to a match, I wish it was a shade lighter so I didn't have to add white to it. It's great for dry skin.
Now we have the travesty that is Milani. 00A is too pink. 00B is too orange. 00 is too peachy orange. All 3 are too dark. Wet n Wild Porcelain is about the same as the Ordinary Serum in 1NS, meaning it close but still too dark without white. Lush Jackie Oates is a nice yellow beige but slightly too dark. theBalm Lighter Than Light is laughably orange.
You may want to check out my cruelty-free drugstore foundations and concealers swatches.
You can also check out Jen's Physicians Formula the Healthy Foundation review and Miranda's swatches of all Healthy Foundation Shades.
Cruelty-Free Drugstore Foundations Video
Cruelty-Free Drugstore Foundations
If you're looking for more vegan foundations check out my best vegan foundations.
What are your favorite cruelty-free drugstore foundations? Any other cruelty-free foundations I need to know about? Let me know!
Check out my Gothic Clothing Guide: how to build a goth wardrobe!