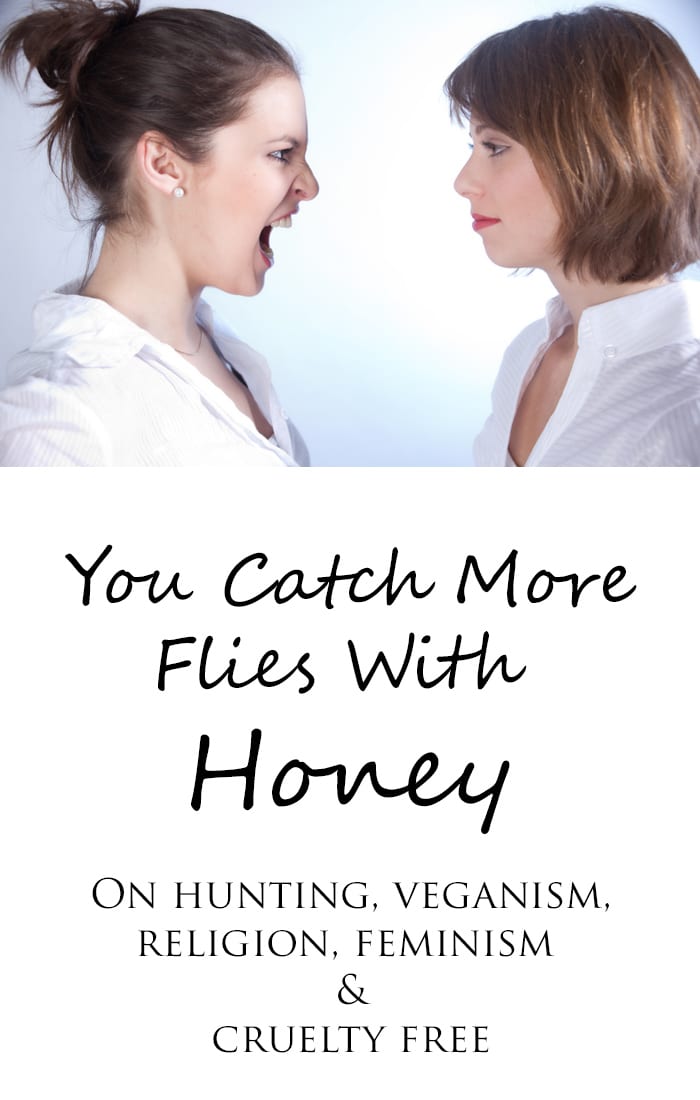 You Catch More Flies With Honey
Have you ever heard the expression you catch more flies with honey than you do with vinegar? This is a pretty accurate saying when it comes to people. My approach to cruelty free has always been 'Hey! Here's this awesome product that I love and it happens to be cruelty free. Here's why I love it.' rather than 'OMG you're a fucking murderer for buying that animal-testing-brand beauty product! It was made on the tears, blood and death of an animal! You should be ashamed!' In other words, I don't believe in shaming someone into becoming cruelty free.
In fact, I don't believe in shaming someone into religion or health or any other belief. It actually annoys the fuck out of me when people who are ultra Extremist about X (X can be ultra religious, ultra feminist, ultra vegan, just some form of extreme belief) try to shove their beliefs down my throat.
For a long time, I refused to call myself a feminist because – even though I believed in feminism – I hated the attitude of so many feminists that I'd met who were manhaters. It  bothered me so much I in no way wanted to be associated with those individuals.
I also hated organized religion and Christianity for a very long time for similar reasons. Having people try to force their beliefs on me and tell me that their way was the One True Way was the biggest reason for me to avoid whatever it was they were selling.
I was also not a fan of veganism for a very long time because of the extremists I met who shamed anyone they saw for eating meat. These same people did not understand when people couldn't be vegan because of health issues, or personal choice. Until I met my BFF who was vegan, I thought most vegans were extremists. Then she opened my eyes.
Why am I talking about this? Well, recently there was this asshole who lured a lion off of a reserve and killed it for sport. This made me sick. I hope this person gets prosecuted for what he did. I also said that this is different from licensed hunting and fishing, which does not bother me. I don't personally hunt. If I had to catch my own food, I'd probably be able to fish, eventually (I did fish with my dad as a kid), but that would be it. I've never gone hunting deer with my family because I don't think I could personally handle the experience. However, several people told me I was condoning murder by condoning people who legally hunt or fish.
There seems to be a disconnect for some people that it is not viable for every human being on the planet to be vegan. Many people cannot do it for health reasons (though it can definitely be helpful for some people).  Are you familiar with the term food desert? Wikipedia says 'A food desert is a geographic area where affordable and nutritious food is difficult to obtain, particularly for those without access to an automobile.' People in a food desert are often unable to buy fresh vegetables frequently and have to rely on processed foods, and this is looked down upon. This means that being vegan is something that some people can't do because they don't make enough money to afford to be vegan.
If you want to see people fall more in line with your beliefs, you need to change your approach. Telling people they're wrong, trying to shame them into going along with you, being an extremist, will not work with everyone. You're better off leading by example and showing people in a useful way why what you believe can be helpful. And you have to accept that you're not going to change everyone. It's just not feasible.
I've had plenty of people tell me that cruelty free doesn't matter. I just keep on doing my thing. I donate money to the Humane Society International, the Physicians Committee for Responsible Medicine, and the World Wildlife Federation. I believe these organizations all do the right thing and are working towards goals that I can agree on.
How do you choose to share your beliefs with others?