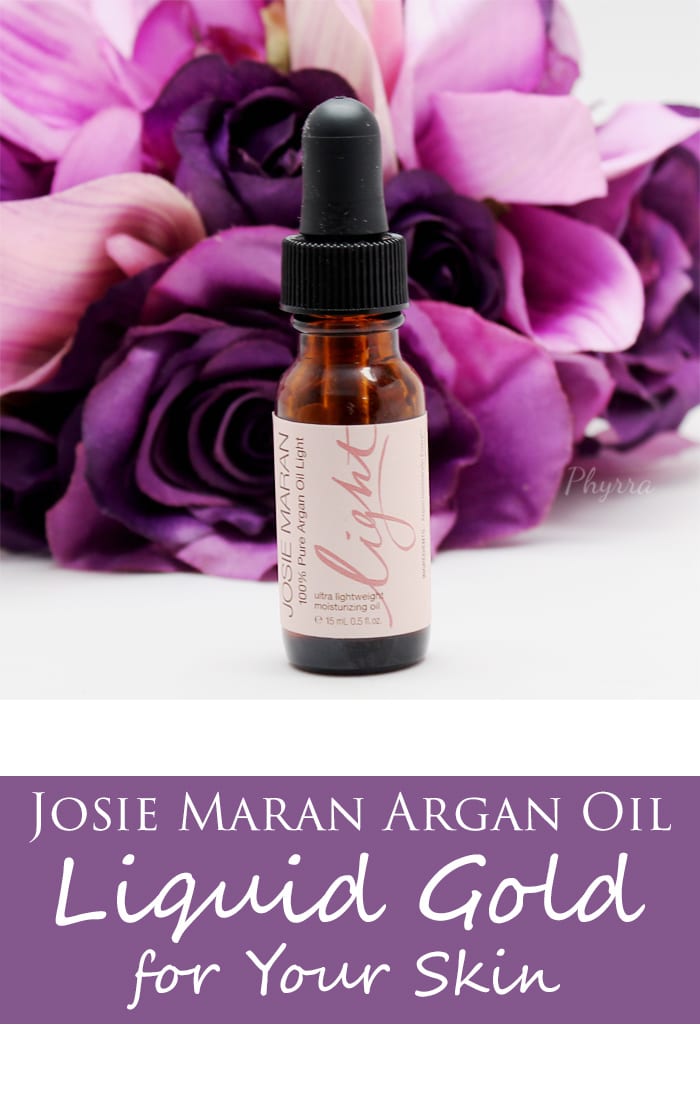 Earlier this summer I was lamenting to my friend Teri of Beautiful Makeup Search that my skin was being finicky.
Josie Maran 100% Pure Argan Oil Light Review
You see, before my rosacea diagnosis, it was combo oily and sensitive. I knew how to handle it. Then I went on rosacea meds for 2 years and dried my skin out horribly. Add in that I'm in my 30s and now my skin tends to lean between normal and a little dry anyways (yet I still have an oily t-zone, how is that fair?), and often under my eyes is dry. This makes foundation weird. I feel like if I apply concealer to hide dark circles, it's far too easy for it to get cakey or emphasize the fine lines (real talk, everyone gets little lines under their eyes. You need to keep at the moisturizer to minimize them). This is paraben free, cruelty free, vegan, cold-pressed and made with organic ingredients
Where to Buy
Sephora
Price
$16 for .5 oz
$48 for 1.7 oz
$96 for 4 oz
About Josie Maran 100% Pure Argan Oil Light
A featherweight version of the world champion of oils, 100% Pure Argan Oil Light moisturizes deeply and absorbs quickly, leaving a semi-matte finish. Produced by Moroccan women's co-ops, this top-grade Argan Oil is extracted from the nut of the argan tree, then first-cold-pressed to protect its healthy, hydrating properties. Wear it under makeup or instead of makeup, and fear not if your skin is oily. This must-have oil actually reduces sebum production, so it is ideal for all skin types, especially breakout-prone and sensitive.
Ingredients
Natural Argan Isostearylic Esters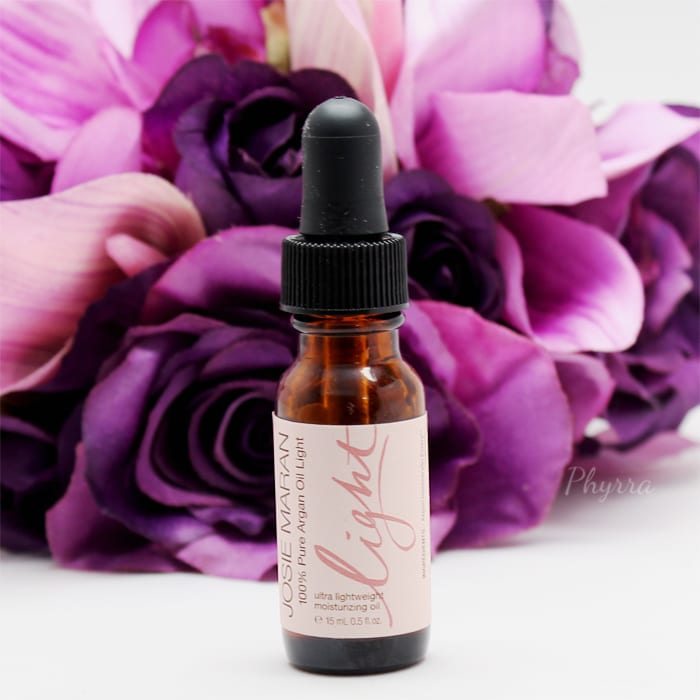 Teri recommended I try Josie Maran's Pure Argan Oil Light. She said I could mix  a drop into foundation, use it on its own, add it into an eye cream, whatever I could think of. As you know, I'm a huge argan oil fan. I love it for my hair. So I figured, why not for my face?
I bought a bottle and I've been loving it. I use it many different ways. After cleansing my face, I will put it all over my face, then apply a serum, then apply a moisturizer. Othertimes, I just put it under my eyes. I'll mix a drop or two in with my eye cream. I'll mix some in with my serum or night cream. I've even added a drop to liquid foundation. I've applied a tiny drop after I've applied concealer to help moisturize the area without getting cakey. I've used it with just about every skincare product that I use and it works well with them all.
Like I previously mentioned, I love to use this on its own or mixed in with my other skincare products or makeup. It's also good for your hair. If you're suffering from dry or irritated scalp, you can massage it on your scalp. You can use it to moisturize your cuticles for pretty nails. It's also great for softening rough patches on your elbows, knees, and feet.
It's liquid gold for my skin. Seriously. It really has helped me to be happier with my under eye area.
If you're struggling with your makeup emphasizing dryness or fine lines under the eyes, I recommend giving this argan oil a try. Just a drop has worked miracles for me. This is perfect for adding extra moisture without creating extra oil for me in the hot humid Florida summer.
What's your current skincare struggle? Do you have a miracle product for it?