Today I'm bringing you what's in my handbag – Big Cat Rescue edition. When I plan for a trip that I know I'll be bringing my camera, I always use one of my handbag-camera bag hybrids. When I went to the Big Cat Rescue I used my Kelly Moore B-Hobo bag. This purple bag (they call the color lavender but it's really a deep purple) is a shoulder bag.
What's in My Handbag – Big Cat Rescue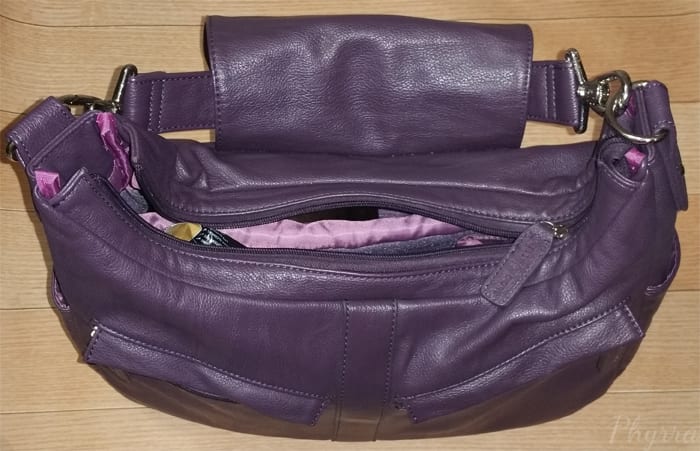 It's got a zip top that that you can leave open or shut because it has a flap with a magnetic closure on top of that. Inside it's got a compartment for my kindle fire, and 3 sections meant for a camera and 2 additional camera lenses. I end up filling those extra compartments with the stuff you see below.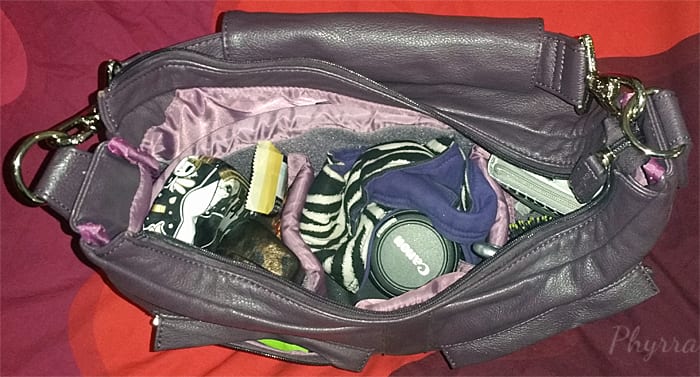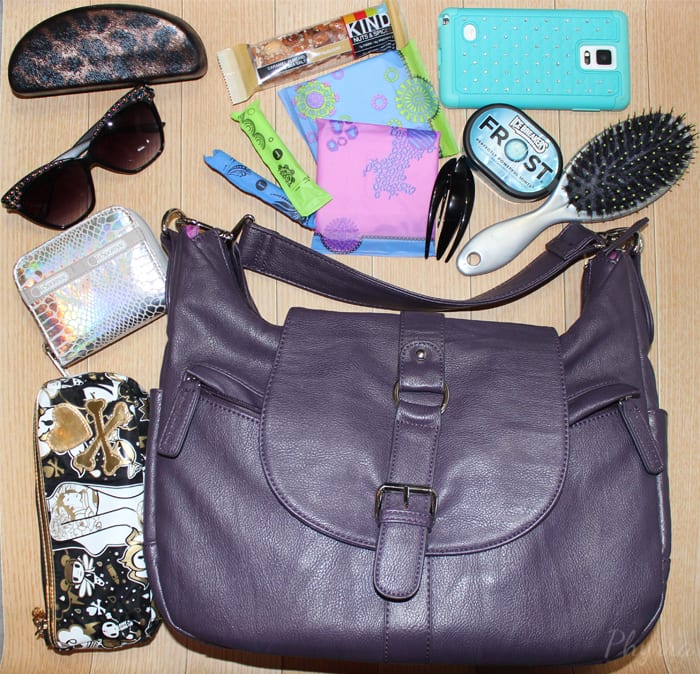 This is arguably the smallest of my handbag camera bag hybrids, but it's very versatile! It can hold a ton of things I need for when I'm going to be gone for several hours. It can hold everything you see above, plus my camera.
Pads & Tampons – I keep U by Kotex ultra thin pads and tampons in all of my handbags because I never know when my period will strike. I never want to be caught unprepared, especially when I know I'm going to be walking around outside in the heat for 2 hours.
Tokidoki pencil case – I bought this years ago and I love it to bits. I'm always keeping an eye out for cute tokidoki makeup bags. I also have a larger version of this bag.
LeSportsac Holographic Snakeskin Claire wallet – No snakes were harmed in the making of this wallet! It's my current favorite because it's compact in size but it holds everything I need. Plus, it's gorgeous.
The Crystal Cult the Aiden sunglasses – I love the Crystal Cult and they have so many amazing different sunglasses in styles I love. (psst, they're having a sale! Use the code CULT420)
Leopard Sunglasses case – I use either a hard or soft case for my sunglasses in my purse.
Goody hair brush – Since I've got longer hair these days, I need to keep a brush with me.
Karina hair clip – I have 3 of these clips and I like to keep one in my purse to pull my hair up. I brush it back like I'm going to pull it into a pony tail, then twist the hair at the base and put the clip in. It works great for my hair, which is fine/medium.
Kind Bars – the Caramel Almond and Sea Salt is my favorite flavor. I need bars like this to keep me from getting hangry. Since I'm allergic to soy, I have to experiment with bars to see if I can tolerate them or they'll make me sick. Usually if soy isn't in the first 5 ingredients, I do ok. It's extremely difficult to find bars that contain protein and are low sugar that don't have soy. Soy is in everything. Ug!
Ice Breakers Frost mints – I don't really like gum, so I prefer to bring mints (peppermint if possible) with me.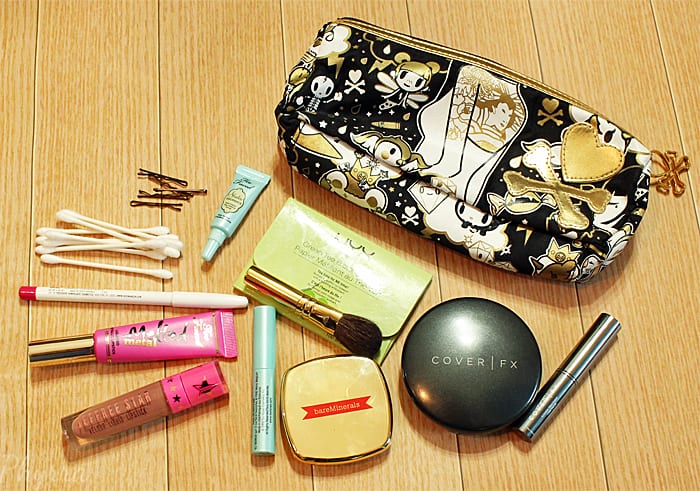 This is normally the sort of stuff I carry inside my pencil case. I always keep my mini eye shadow primer and mini lip insurance primer. The lip product colors get switched out with my moods, but I've started to always carry a bright and an easy to wear neutral. I keep powder and blotting paper to touch up shine. I always keep bobby pins for stray hairs. I use q-tips to smudge or fix liner. I really like mini sizes for the purse, which is why I have the bareMinerals pressed translucent powder and brush in there. I could fit a blush, highlighter, eyeshadow and mini mascara if I really wanted to, as well.
Mini Too Faced Shadow Insurance
Mini Too Faced Lip Insurance
Too Faced Melted Metal in Dream House
Obsessive Compulsive Cosmetics Colour Pencil in Anime
Jeffree Star Velour Liquid Lipstick in Celebrity Skin
Cover FX Pressed Mineral Foundation in N10
Cover FX Blemish Control Concealer in N Xtra-Light
Nyx Green Tea blotting paper
bareMinerals translucent setting powder
bareMinerals mini brush
bobby pins
q-tips
Below are some of the pictures I took of the big cats at the Big Cat Rescue. I've never tried taking pictures of animals in enclosures like this before, but hopefully you enjoy seeing them. They're beautiful creatures. You can hear me talk more about Big Cat Rescue here.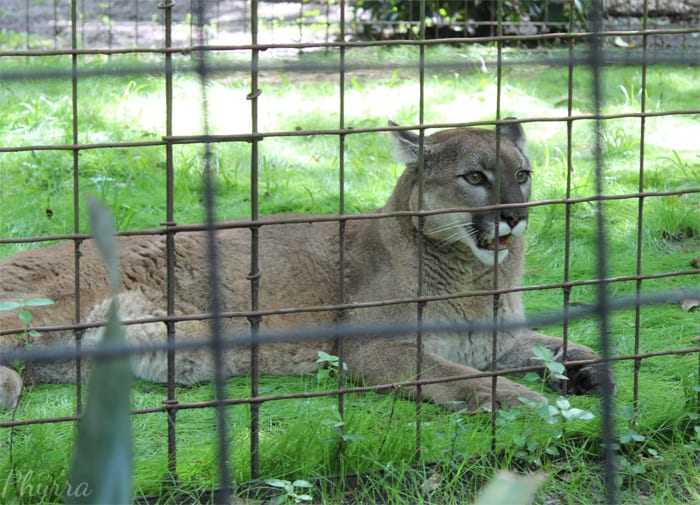 This might be my favorite photo I took that day.
I hope you enjoyed seeing photos of the felines from the Big Cat Rescue.
What do you bring in your handbag for a trip like this?