If you've ever been curious about how to dress for success at an interview, you're not alone. Sometimes it can be difficult to figure out the best way to dress for success. I'm going to give you a few tips on what to wear (and what to avoid) if you're interviewing for an office professional position.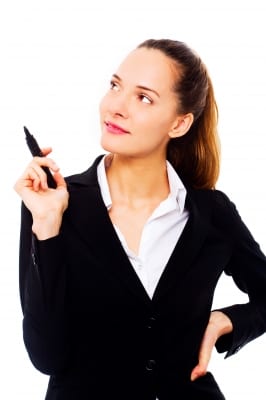 Image: Ambro / FreeDigitalPhotos.net
Clothes
I prefer to wear a button down dress shirt, though it can be tricky to find one that fits me because of my bust. I hate the dreaded gap, so it needs to have enough length in the measurement from the shoulder to the bust. In my experience, the best colors for a top are white, navy or medium blue, though I think a dark, muted purple, light grey, light blue, or light blush pink would work, too.

In the image above, I'm wearing a medium blue shirt with white cuffs and a white collar. (I actually button it up once more if I'm going to an interview.) To go with the shirt, I wear black dress pants and a matching black dress jacket. I feel like this gives a professional, neat appearance. If you don't like black, I would recommend navy or charcoal grey.
Shoes & Accessories
For shoes I wear black heels. A black skinny belt and black purse complete the outfit. I wear minimal jewelry, nothing that dangles or large, because I don't want what I'm wearing to detract from me while I'm speaking.  So for me that means I leave in the earrings I rarely change (my 2nd, 3rd, 4th and 5th holes) and I take out my first holes or I wear studs in them. Usually I don't wear a necklace, but I think a simple chain with a pendant would be acceptable for most people. I do wear my wedding ring.
Signature Scent
You should skip the perfume for the interview. You don't know if a fragrance could trigger someone's allergies. It's best to not wear any so that you avoid causing a reaction. I've had people come in to interviews smelling so strongly of cologne that it nearly choked me.
Nails
For nails, neutral is the way to go. Since I don't like boring neutrals, I would recommend fun neutral shades like Illamasqua Bacterium or Butter London All Hail the Queen. Bacterium is described as an opalescent beige with shimmer. It ends up looking beige-brown with blue opalescence. It's not boring, but it won't detract from you. All Hail the Queen is a neutral nude beige with tiny holographic sparkles.

Makeup
For makeup, I recommend focusing on your skin. I think doing the whole 'your face but better' natural type look is the way to go for an interview since it gives a neat, put together appearance. Again, it lets the focus be on you and what you're saying, rather than how cool your eye shadow looks.
Make your face look flawless. Mix concealer with a primer and apply it where you need it on your face. You can also mix an illuminator with a primer, or using an illuminating primer, too, so that you have a natural glow. For this post, I applied it under my eyes, on my nose, my forehead and chin. I applied a liquid foundation and blended it with a stipple brush. I chose the lightest, most natural looking blush I own and gave myself just a flush of color. I then lightly dusted a finishing powder on my face.
For eyes, choose a 'my skin but better' type of matte shade and then contour your eyes with a grey or brown matte (or whatever shade looks like the natural contour/shadow color on your skin). I used a face illuminator on my browbone. I tightlined my upper lash line and lined my lower waterline with a black liner. I went with my usual mascara and brow powder.
Once all my face and eye makeup was in place, I set it it with a finishing spray.
For lips, stick to a natural looking lip color. I lined my lips with Buxom Lip Stick in London and blotted. Then I applied MAC Blossom Culture on top and blotted. I think a peachy nude would work, too, but I like how the pinks looked together on me.

Eyes:
Too Faced Shadow Insurance
Lorac Posh – lid and crease
MAC Copperplate – outer corner of lid and crease
Silk Naturals Flattery – browbone
NARS Via Veneto – upper lash line and lower water line
MAC Blackberry – to define brows
Dior Diorshow Lash Primer
MUFE Smoky Eyes Mascara
Face:
Tarte Illuminating Serum mixed with MAC Pro-Longwear Concealer in NW15 & Smashbox SPF 15 Primer
Too Faced Amazing Face Liquid foundation in Vanilla Creme
Urban Decay Razor Sharp Finishing Powder
Skindinavia Makeup Setting Spray
Cheeks:
MAC Blush in Stunner
Lips:
Buxom Big & Healthy Lip Stick in London
MAC Lipstick in Blossom Culture
Nails:
Butter London All Hail The Queen
Finally, some advice about what to do (and not to do) when applying for a job.  I've conducted a lot of interviews in the past and was shocked by the behavior of some people.
1. Follow the instructions in the job posting.
You would not believe how many people do not do this. If the job posting states for you to send your resume in a specific format, such as .doc, .pdf or .txt, do that. Otherwise, if you send it in .rtf or .wps or .docx, don't be surprised if you don't hear from them. Most people will use this as a way to weed out people who cannot follow instructions.
2. Make your email your cover letter. Do a 'T' cover letter.
A T cover letter is where you take the job requirements listed in the job posting and for each requirement list how you have experience with that requirement. This makes it easier for the HR person or Hiring manager to see how you are qualified for the position. Also, always send a cover letter. In this economy, I'd assume that if you didn't send a cover letter, you wouldn't be contacted.
3. Always have a contact phone number and email address listed on your resume.
I didn't think that this needed to be stated, but it does. Some people, for whatever reason, don't put their contact phone number on the resume. You need to leave this so that the hiring person can contact you. Don't make it difficult for them to get in touch with you. I've had people that I was interested in interviewing that didn't include their phone number on their resume, and didn't respond to emails. I'm not sure how those individuals expected to get jobs.
4. Always arrive five minutes early.
Arriving 5 minutes early shows that you're punctual and likely to be a good employee if you are a bit early. You don't want to show up too early, because that might be interfering with the person's schedule who is interviewing you. If you get there a half hour early, just wait in your car until about 5 minutes before your interview time, and then walk in. I hate it when people show up a half hour early, because normally I'm still doing other things, or getting prepared to interview, or interviewing someone else.
5. If you're lost or going to be late, call.
If you're stuck in a traffic accident, if you're lost, if you're late, etc, call and let them know. It's only polite. I hate it when people show up a half hour to 45 minutes late and still expect to be interviewed. By that point, I've usually gone on to the next interview. If they've called to say that they'll be late, that's another story.
6. Always dress up for an interview, even if it's for a casual workplace.
Even if the company has a casual dress code of jeans and a tee shirt, don't show up dressed casually to the interview. Show up dressed up in business or business casual attire to show that you can be professional. You want to have a neat and professional appearance because that can reflect on how they view you. When you show up in jeans and a tee shirt, you're not taking care with your appearance and the company will not look upon it favorably. And yes, I've had people show up in jeans, a stained t-shirt, and smelling as if they didn't shower. Ew!
7. Make sure to answer questions properly.
When you're being interviewed, if you're asked for specific examples of how you handled things in the past, your most irate customer situation, how you've dealt with conflict in the work place, etc., make sure that you have specific examples to give to the interviewer. Whenever I receive vague responses, or 'I've never had any,' it instantly makes me wary of the person. Conversely, if you've really never had those experiences, answer them the way you would handle them. Additionally, research the top interview questions that you're likely to be asked, prepare answers for those questions and then practice speaking them. Practice them until you sound natural.
8. Research the company you're interviewing with.
In the age of Google, you can search for information on the company, the product or services they provide and probably make a good guess as to who you will be working for if the ad doesn't specifically state who your direct supervisor will be. Learn whatever you can about the company and their product and it will make a good impression on them. Check LinkedIn, check for reviews or news stories or youtube videos. Look for people who work for the company and see what LinkedIn has to say about them. You should try to go into the interview with as much insight as possible about the company and their products.
9. Spellcheck/Grammar check your resume and email.
You want to make a good impression on the company, so spellcheck and grammar check your resume. If the job says that it needs someone who has a great attention to detail, don't miss a detail like that! I really do recommend getting a few people to look over your resume for mistakes. Everyone needs an editor. A fresh set of eyes really helps.
10. Ask questions about the position.
If you have questions about the position, ask them! Don't be afraid to ask things like, "Is there the possibility of advancement?" or "Do you offer tuition reimbursement?" "What qualities do you feel will make someone successful in this position?" "What do you hope a new employee will bring to this position?" You should always ask them a few questions when they ask you "Do you have any questions?" because it shows that you're interested in the company and in the position.
I've based my suggestions on what has worked successfully for me when I've interviewed in the past, as well as on the countless of interviews I've conducted for companies I've worked for in the past.  What do you think of my suggestions on what to wear for an interview? What do you do differently? What colors do you feel are best to wear?