I've got two lovely scents reviewed for you today. I keep meaning to do more of these (and I have more coming up soon, don't worry!) since many of you have expressed interest. Recently I had the opportunity to try two fantastic Irish scents: Inis the Energy of the Sea and Inis Moonlight.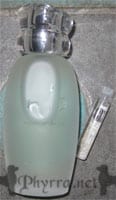 Scent Description for Inis the Energy of the Sea:
A sparkling, clean unisex scent that perfectly captures the coolness, clarity and purity of the sea, Inis the Energy of the Sea is an international fragrance favorite.
Inspired by the beauty and energy of the western coast of Ireland, the crystalline scent of Inis (the word means 'island' in Irish) instantly refreshes and brings a feeling of happiness.
Created by renowned European perfumer Arthur Burnham, the fragrance opens like a sea breeze with crisp marine and citrus notes, followed by a soft wave of geranium and lily of the valley, balanced with base notes of sandalwood, oak moss and clove that ground the fragrance like warm sand between the toes.
Scent Description for Inis Moonlight:
The sister scent to Inis Energy of the Sea, Inis Moonlight captures the magical feeling of a midnight stroll on a moonlit beach. Top notes of mandarin and water are gently blended with a soft floral heart of peach and jasmine, resting on warm, woody notes of orris and musk.
While it has a light and airy feel to it, it also has warmth and depth. This truly unique, feminine fragrance has been likened to a gossamer shawl – incredibly light yet rich, luxurious and comforting.
Price:
$35 for 30ml, $42 for 50ml, $50 for 100ml (Inis Moonlight is only available in the 100ml)
Packaging:
The full size bottle of this line is a lovely, clean design. It's frosted glass that's reminiscent of a pebble, with a clear lid that reminds me of raindrops. The sample size is in a clear vial, similar to what you see when you get perfume samples from Sephora or other places.
Inis the Energy of the Sea:
When I first spray this on my skin I immediately smell the sea, probably from the marine note. Once it dries down I smell the warmth in the mixture of sandalwood and oak moss with just a hint of sea. It reminds me of being wrapped in the warmth of a boyfriend's shirt.
I absolutely love the scent and it's really different from anything I own. I assumed I'd like it based on the notes of sandalwood, lilly of the valley and citrus. It doesn't smell perfumey or floral. It works really well with my body chemistry.
I asked Dave to give it a try, since it's a unisex scent. It smells nice on him too, though I smell more of the marine notes when he's wearing it.
Inis Moonlight:
When I first apply this on my skin, I immediately smell mandarin, followed quickly by juicy peach. Yum! It's a sweet and sexy smell to me. Once it dries down I smell the base of musk and something else that I can't quite put my finger on, along with the hint of peach sweetness. This is definitely a lovely scent on me. I adore the peach! I really like that it's got the warmth and the sweet to it.
I really love both of these scents! If you're a fan of marine scents, I think you'll be blown away by the original Inis. If you like warm and sweet without it being cloying, I think you'll like Inis Moonlight.
Have you heard of Inis? What do you think of these scents?
Products sent for consideration. All opinions are my own.