When I saw the promo pics for the MAC Styledriven collection, I wasn't terribly excited. Then I saw the eye shadow swatches and spied Weathered & Thru the Night, which I knew I had to have. I also picked up More to Love, since I adore fuchsia.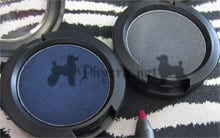 Shade Descriptions:
Weathered – dirty blue grey
Thru the Night – deep navy
More to Love – intense bluish pink


Matte, bright fuchsia that is long wearing.


Intense dark midnight blue that's the color of the night sky.


This is a gorgeous, complex grey that leans blue. I swear I see some violet and teal sparkles.
All three products were pigmented and I liked the texture of the shadows. You can see how nice Weathered looks in the eye look below.

What do you think of the Styledriven collection? Was there anything you had to have from it?
Products purchased by me. All opinions are my own.