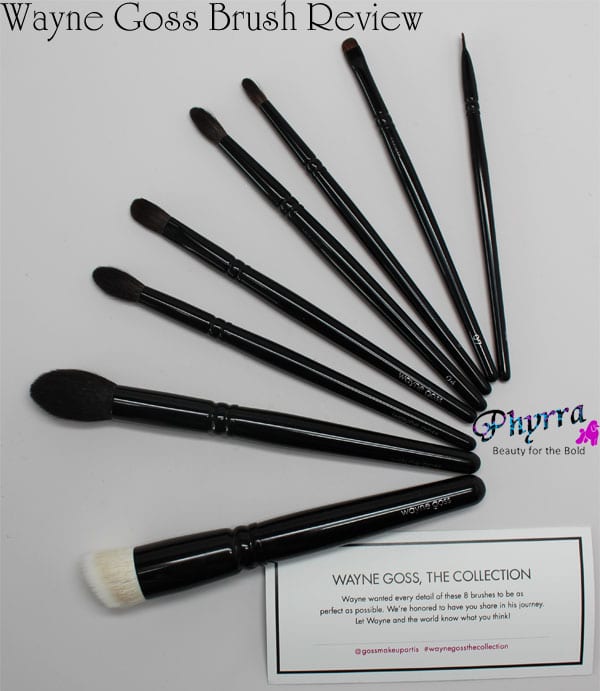 As soon as the pre-order for the Wayne Goss Brush Set went live on Beautylish, I ordered it. I was a bit worried about buying brushes that I'd never seen in person, but I've seen enough of Goss's videos to know that he knows brushes. From watching his videos where he discussed how the brushes were made, I knew they'd very high quality, as he put a lot of time and effort into the production. These brushes are currently sold out at Beautylish (and for good reason, they rock!), but I wanted to get this review up as soon as possible so that if you were interested, you could sign up for the next pre-order.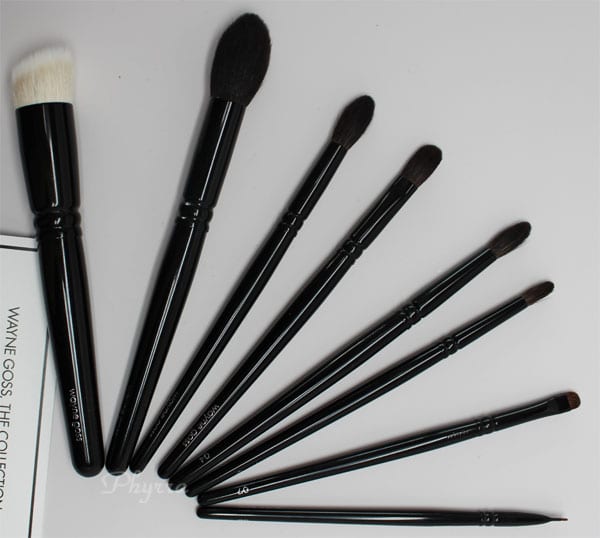 The Website Says
Wayne Goss, The Collection is an 8-piece set of makeup brushes designed by Wayne and handcrafted in Japan with the softest, 100% cruelty-free natural hair bristles. Wayne is not only a beauty vlogger, but a classically trained makeup artist with 15 years of experience. More than a million YouTube users subscribe to his application-based makeup tutorials and candid product reviews, which have earned Wayne more than 100 million views since he started making videos in 2009.
The tips are never cut, leaving the softest natural hair bristles, sourced 100% cruelty-free.
Bristles are carefully bundled into a brass ferrule to prevent them from coming loose. The construction also ensures the smoothest makeup application.
Hornbeam, a wood known as "shide" in Japanese, was chosen for the handles for its durability and sturdiness.
Each brush was handcrafted by more than 20 artisans from start to finish. The collection was made in Kumano, Japan, a region known for constructing makeup brushes for the past 200 years.
Animal Testing Policy
Wayne Goss brushes are cruelty free. They are not vegan.
Follow Goss
You can follow Goss on Youtube, his second Youtube, his Facebook, and his Twitter.
Price
$210 for the set. I list prices for each individual brush as well.
Availability
Beautylish
For the $210 set you end up paying $26.25 a brush, which is a pretty good deal considering how fantastic these brushes are. No, really, I'm so glad I invested in them!

If you like this video, please give it a thumbs up and share! You can also follow me on YouTube!
You can see the Autumn Leaves Tutorial with OCC Dope that I mention in the video.
Brush Detailing
The brushes are all glossy black, and with the exception of the foundation brush, all of the bristles are black. The wood handles are shorter than my MAC, Furless Cosmetics and other brushes, so they fit in my hand perfectly. I like shorter brush handle lengths. Goss recommends going over the numbers on the brush with clear nail polish to keep them from wearing off. They're stamped in the same fashion as MAC brushes.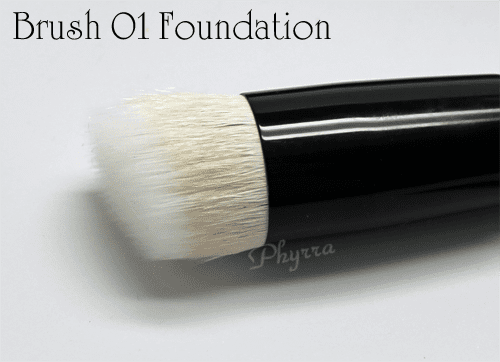 Brush 01 Foundation ($45 individually)(See Goss's video for this brush)
This brush is meant to be used to apply foundation. It can hide your pores and imperfections. It's angled, like my Sigma F88 Flat Top Kabuki, so it really does an amazing job when you apply foundation with it. The size of the brush head fits around all the nooks and crannies of the face and does a great job at applying product evenly.
To hide pores, you need to use a firm circular motion, going over the pores until they're concealed. If you've got redness on your face, like I do thanks to my rosacea, you want to apply your foundation, then go back over the red spots with a stippling motion. One of the neat things that Goss recommends in his video with this brush is to put highlighter on the shorter part of the bristles only, then take that shorter part and start at the back of your cheekbone, blending forwards down where you want to highlight. It blends out the product nicely.
Brush 02 Powder ($35 individually)(See Goss's video for this brush)
This brush is meant to be used to apply powder products like blush, bronzer, or highlighter on top of foundation without mussing the foundation. This brush makes it easy to contour. You start back by the ear, suck in your face, and follow the hollow of the cheeks down. The shape of the bristles make it easy to apply and blend out color, so you never look like you have tiger stripes on your face. (I know I've been guilty of that!) It's great with powder blush if you use a circular motion to apply it starting at the apples of the cheeks. This brush is similar in shape to the Senna Cosmetics bronzing blush brush I own.
One of the things that I learned from James Vincent at the Makeup Show Orlando is that if you're applying pinks and reds, apply blush to the apples of the cheeks. If it's an orange or hotter type shades, apply it more towards the back of your cheeks. This brush makes it easy to do both.
Brush 03 Large Crease ($32 individually)(See Goss's video for this brush)
This is the largest of the eye brushes. It can be used in the crease and it's perfect for blending. It can also highlight the face and nose. This is such a great brush. If you use it to conceal under the eyes (remember the magical triangle shape), use downward strokes. Then set the concealer with powder on top.
This is really my ideal brush shape for blending out in the crease.
Brush 04 Medium Crease ($28 individually)(See Goss's video for this brush)
This is the medium sized crease brush. It can be used to conceal under-eye bags, highlight and contour the face, for crease work in the eyes and blending. This is the brush that Goss recommends for hooded eyes. It's really great for blending colors in the crease in a windshield wiper or circular motion.
If you watch Goss's video he recommends using this to hide under eye bags. You do that by looking down and you'll be able to see the shadow that the bag creates in the mirror. You take powder or concealer that's a shade lighter than your foundation and pop it where that shadow falls, and boom, it's gone! Bags are magically hidden! Pretty impressive, really.
Brush 05 Small Crease ($25 individually)(See Goss's video for this brush)
This is the smallest of the crease brushes in this collection. It's perfect for precise color application to the outer crease, for smudging products along the upper lids or along the lashline. It's really perfect for highlighting the inner corner of the eye, too. You can contour around the nose and lips as well. Goss recommends that if you apply a charcoal liner to the upper lash line that you use this brush to smudge it out perfectly without irritating your eyes.
It's easy to use like a pencil brush, except it's much better at blending than any of my pencil brushes.
Brush 06 Blending ($25 individually)(See Goss's video for this brush)
This is the brush that I love for applying color to the lid and crease! It's got a sort of oval brush head. It's meant for pulling eyeshadows out or upwards toward the brow. It's good for applying and blending creams. Goss recommends that you remember to blend in little circles if you're using this to pull color outwards towards the end of the brow. This brush is also great for blending concealer under the eyes and using just a tiny amount of powder to set it. If you can only buy two brushes from the set, this is one of the two I would say you need.
Before trying this brush, I would have never felt confident about using a single brush to do my eyes. With this brush, I really think I could do an entire eye look with it alone. It's amazing for me.
Brush 07 Lip ($17 individually)(See Goss's video for this brush)
This is designed as a lip brush, but it also works for gel eyeliner or precise application of eyeshadow at the inner v. It's got very stiff bristles. It's about twice the width of most of my other lip brushes. I like it! Goss recommends starting at the outside corner of your lips and work your way up, following the lip line. You can also wipe it off and go back with your foundation to clean up the edges of the lips. It can be used to fill in the brows or add dark shadow to the outer v. It's great for detail work at the inner v.
The most similar brush that I own to this one is a Too Faced smudging brush. It's about the same shape and density. I would have not thought to try a brush this shape and density for the lips but it's really perfect. It's definitely more stiff than my other lip brushes.
Brush 08 Precision ($17 individually)(See Goss's video for this brush)
This is the tiniest tightlining / push brush I've ever seen! I love it! It's perfect for hooded eyes. You can apply product right at the lash line with such precision with this brush, without smearing the color onto the lids. If you have limited lid space, like I do, this is a blessing! It really is the smallest push brush I've ever seen. If you can only get 2 brushes this is the second brush I recommend. I love it! It's amazing. It can also be used to fill in brows. Goss recommends using a slightly lighter shade to fill in the inner part of your brows and use a darker shade for the outer brow.
Originally when I saw these brushes, I was only planning on ordering 08, 06, and 05. However, I decided to splurge and get them all and I'm very glad that I did. These are the nicest brushes that I own, and I have a lot of brushes (over 200 at this point, though I should really cull them).
I can't get over what a difference in blending between using these brushes and some of my other brushes. I know I get frustrated sometimes because I feel like I've had to blend forever. Now I know it's because the brush just wasn't up to par. These brushes are amazing at blending! They're so amazingly soft. There's not a single scratchy point.
I haven't yet experienced shedding with the brushes from cleansing them. I'm using the Cinema Secrets vanilla scented brush cleanser. (see the Cinema Secrets review) Goss recommends using brush guards to shape them after washing. I should probably look into getting them for my brushes because I don't own any anymore.
If you've been thinking about investing in a nice set of brushes, I highly recommend this set. They're heads and tails better than any of my other brushes, and I really didn't know there could be such a difference in makeup brushes until I tried these.
Have you tried the Wayne Goss Brush Set from Beautylish? Love it? Hate it? Let me know in the comments below!
Last Updated on