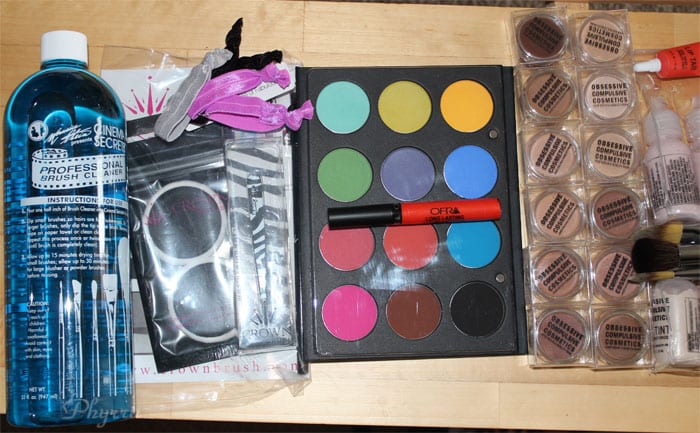 When I was at the Makeup Show Orlando I picked up the largest bottle of Cinema Secrets Professional Brush Cleaner that was available. My friend, the talented Makeup Artist James Vincent recommends Cinema Secrets and I was curious to try their best selling product. Let's take a look!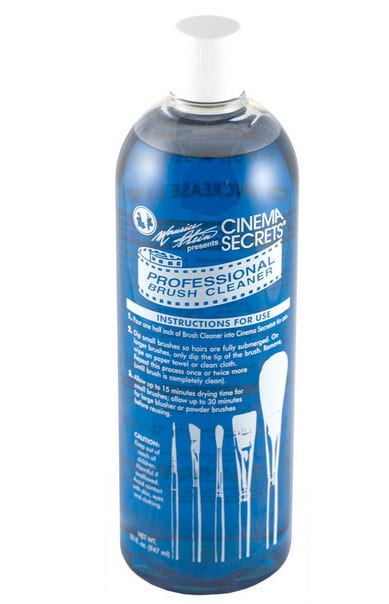 Animal Testing Policy
Cinema Secrets is cruelty free and PETA approved.
The Website Says
The most requested makeup brush cleaner on the market, Cinema Secrets Professional Brush Cleaner is known for its rich blue color and yummy vanilla scent. Top professional makeup artists rely on the quick-drying formula to clean, sanitize, and leave brushes and tools with a pleasant scent. Safe for use with natural and synthetic hairs, the cleaner immediately dissolves all traces of wax, liquid, and powder residue from brushes, spatulas, and palettes. It's the only professional brush cleaner to remove 99.9% of all bacteria–and it conditions all hair types to extend brush life. Environmentally safe and non-carcinogenic. To use on brushes, first wipe excess makeup on a tissue or paper towel. Pour a small amount of brush cleaner in a bowl or other container, and dip brush or tool in cleaner. Wipe clean on tissue. Repeat if necessary until brush wipes clean. Allow to air-dry for 10-30 seconds, depending on the size of the brush.
Cleans, sanitizes, leaves pleasant scent
Use on natural or synthetic brushes, palettes, and spatulas
Only pro brush cleaner to remove all bacteria
Environmentally safe, non-carcinogenic
Air-dries almost instantly
Price for Cinema Secrets Professional Brush Cleaner
$41.50 for 32 oz
$24.99 for 8 oz
$18.98 for 4 oz
$3 for 2 oz. tin
This is my favorite new brush cleaner! Let me tell you why. First and foremost, you don't use water with it. This is an excellent way to conserve water when you clean your brushes. This month is Water conservation month, so it's something to consider year round. Now, secondly, I have a lot of brushes. Typically when I clean brushes I am constantly turning on the sink, washing the brush, then rinsing it off, then repeating the process. In contrast, using this brush cleaner, I didn't turn on the water at all!
To clean my brushes (and I just finished cleaning 75 brushes), I poured about a half inch of product into a small measuring cup and dipped each brush into the cleaner. I then did a figure 8 shape on a clean towel, and I repeated this process until the brush was clean. Then I set the brushes down to dry. Rather than taking all night to dry, as they would if I had washed them with water, everything was dry within 15 minutes for my thickest, heaviest brushes and about 20 seconds for my smaller brushes. That's it.
For me, this is awesome. I usually use my brushes once and then wait to wash them once a week. Sometimes I wait longer, because I usually dread the process. We have very hard water in our house, so the water leaves a residue on my brushes that can be difficult to get out. Cinema Secrets Brush Cleaner is somehow able to remove that buildup and leave the brushes feeling like new!
Honestly, between this brush cleaner and my new Goss Makeup Artist brushes, I'm going to cull my brushes. I'm over 200 and I just don't need that many brushes! Especially since the dry time after cleaning is so drastically reduced with this cleaner. It's awesome!
Anyway, I can't say enough nice things about the Cinema Secrets Professional Brush Cleaner. If you want an environmentally friendly, cruelty free, fast way to clean your brushes, this is it! I will be repurchasing this when I run out. It's amazing.
Have you heard of Cinema Secrets? Have you tried the Cinema Secrets Professional Brush Cleaner?
What's your favorite way to clean your brushes?
Last Updated on