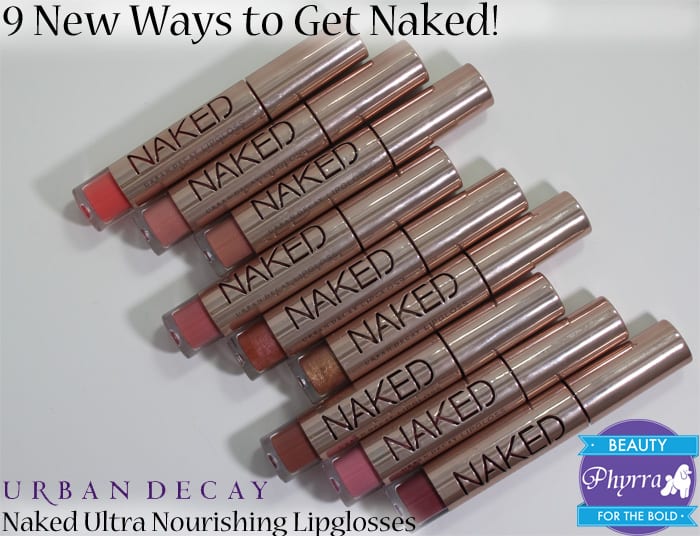 Hi there! Today I'm excited to share the all new  Urban Decay Naked Ultra Nourishing Lipglosses with you. UD has given us 9 new ways to get naked and they're all vegan!
PR sample.
Urban Decay Naked Ultra Nourishing Lipgloss Review
Let me let you in on a little secret. I used to be a lipgloss addict, eschewing lipstick for lipgloss 95% of the time. Then I fell in love with lipstick and lipgloss fell to the wayside. Now I like to use gloss again, sparingly, to add depth or dimension to the lips.

If you like this video subscribe, share and give it a thumbs up 🙂
About Urban Decay's Animal Testing Policy
Urban Decay is a cruelty-free brand and is committed to ending animal testing. We do not test our products on animals, nor do we allow others to test on our behalf. Additionally, we require our suppliers to certify that the raw materials used in the manufacture of our products are not tested on animals. Our Brand is certified by both PETA and The Leaping Bunny Program (CCIC) as cruelty-free.
Other Vegan Products by Urban Decay
Naked Skin Liquid Foundation
Naked Skin Ultra Definition Pressed Finishing Powder
Naked Beauty Balm
Naked Skin Ultra Definition Loose Finishing Powder
About the Urban Decay Naked Ultra Nourishing Lipglosses
If you ask Wende about the evolution of Urban Decay and how we stay relevant year after year, she'll probably tell you, "We're always evolving." Case in point: lipgloss. We've created lots of glosses over the years and they've all held a spot in our makeup-obsessed hearts. But none of them can top our newest formula. Like a luxe gloss and a rich balm all rolled into one, it's unlike ANYTHING you've ever tried. We painstakingly crafted the formula, obsessing over every last detail until it was just right and then we tweaked and perfected it some more! Even the firmly gloss averse  will become hardcore addicts to this gloss. It not only looks and feels amazing on your lips, it's also really nourishing. And we have the claims to prove it! With its creamy texture and gorgeous, high-gloss finish, Naked lipgloss is the perfect gloss to complement a UD smoky eye. It not only makes your lips dangerously kissable but also feels so luxe that you'll want to keep applying it all day (even when you don't need to).
Currently available in 9 shades
Laced with Hyaluronic Filling Spheres, Vitamin E, Avocado Oil, Shea Butter, Rosehip Seed Oil, antioxidants, Vitamin A and Vitamin C.
All Glosses are Vegan
In a clinical study of the Naked Lipgloss (study reflects results immediately after use)
86% of participants had a significant improvement in the appearance of lines and wrinkles
76% had a significant improvement in volume and hidration
86% said their lips felt nourished
Price
$20
Availability
Sephora, Ulta, Macy's, Beauty.com, UrbanDecay.com (starting January 14, 2014)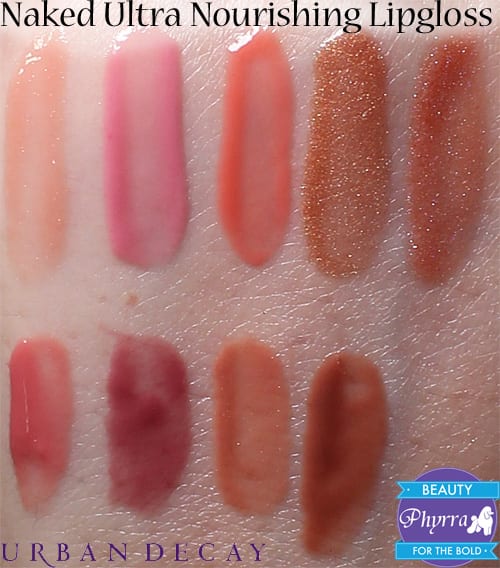 Packaging
The packaging is gorgeous! You can see the gloss color on the end of the packaging, as well as through the cutout Naked. It's a pretty champagne color and feels luxe. The paddle lays down color easily.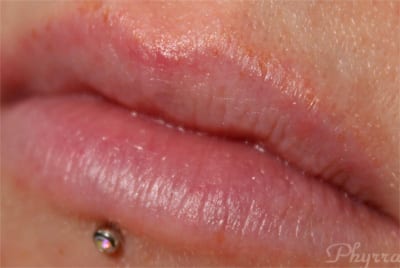 These are my naked lips. Sadly I took this picture AFTER swatching 3 shades and my lips were already starting to get irritated.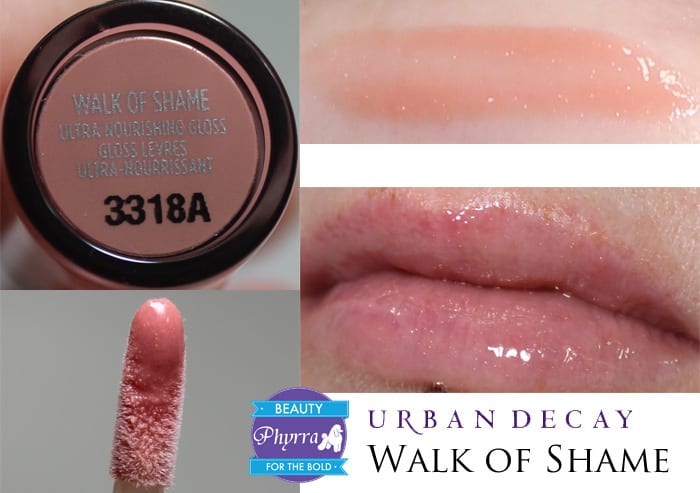 Walk of Shame
Pale nude pink with subtle micro-shimmer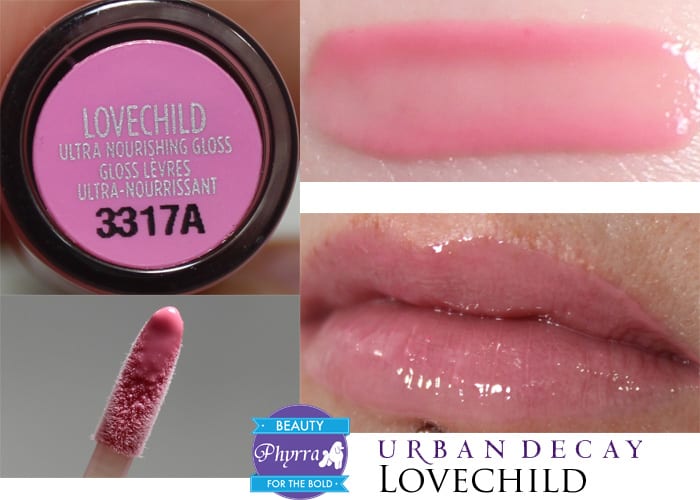 Lovechild
medium pink
This one settled into my lip lines a bit.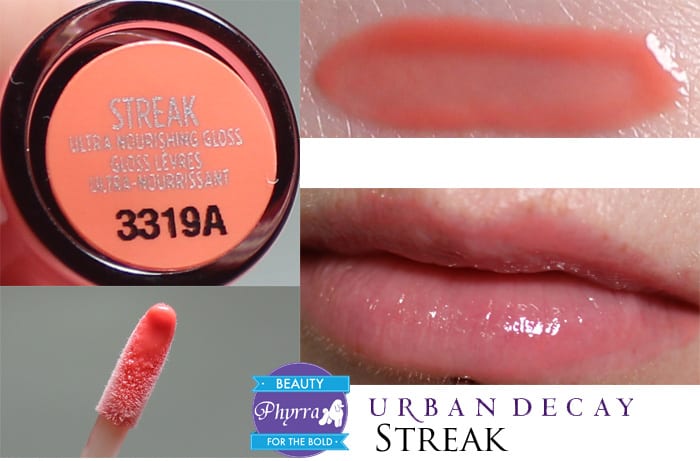 Streak
coral-peach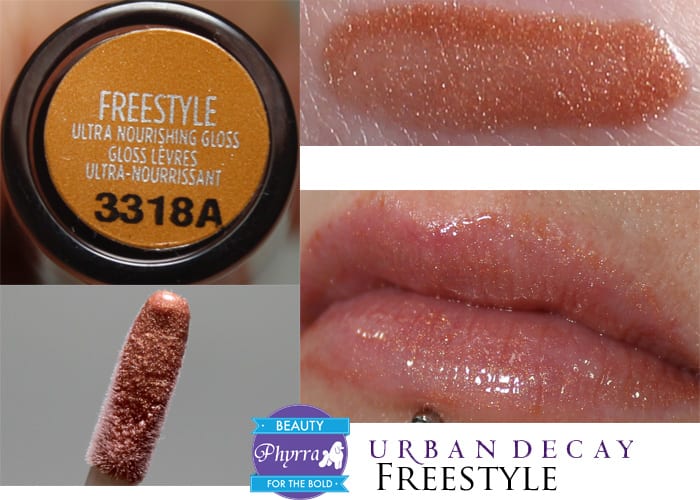 Freestyle
brown-nude with subtle micro-shimmer
This reminds me a bit of the old Midnight Cowboy lipstick. I love it!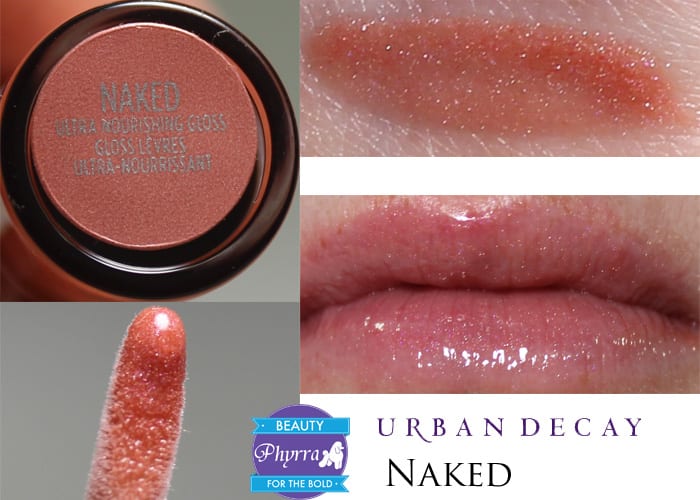 Naked
nude-pink with a pearly pink shift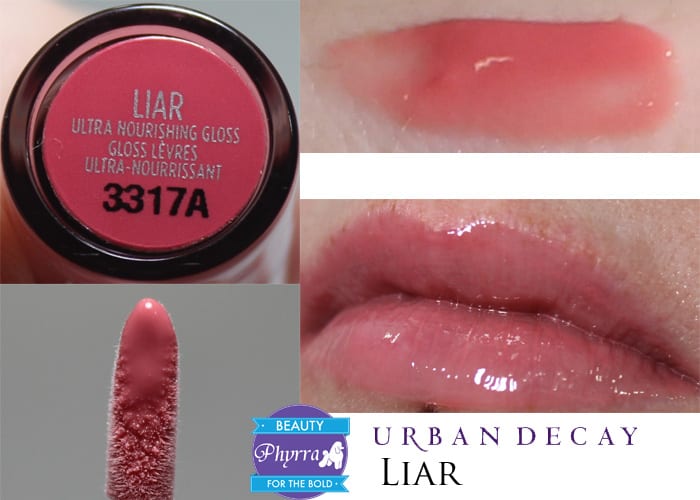 Liar
soft mauve-pink
This one emphasized my lip lines a bit.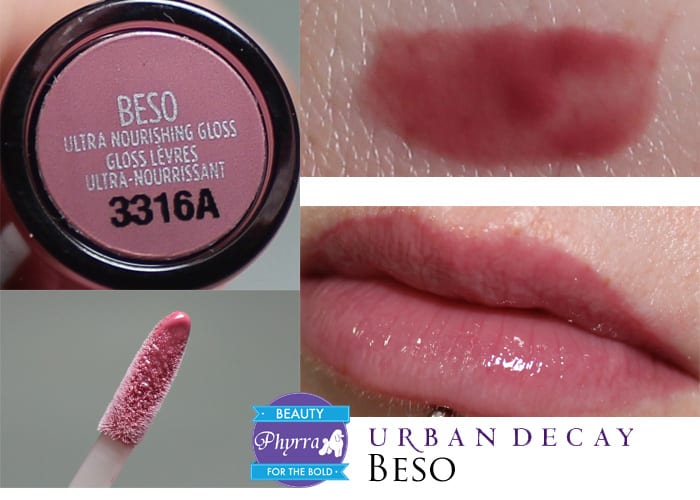 Beso
deep pink-mauve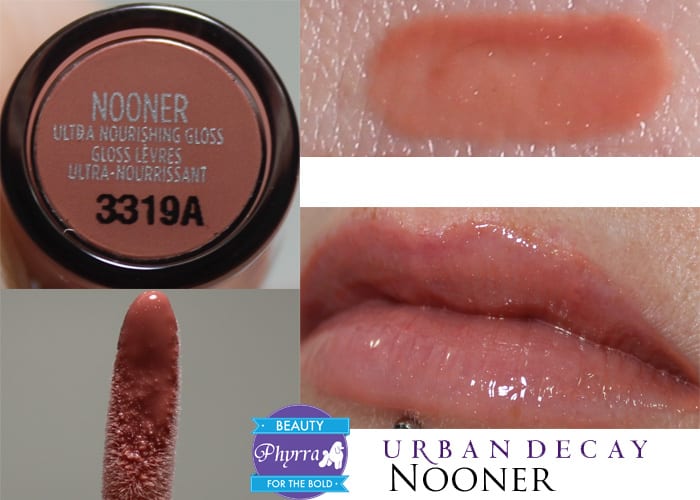 Nooner
light neutral nude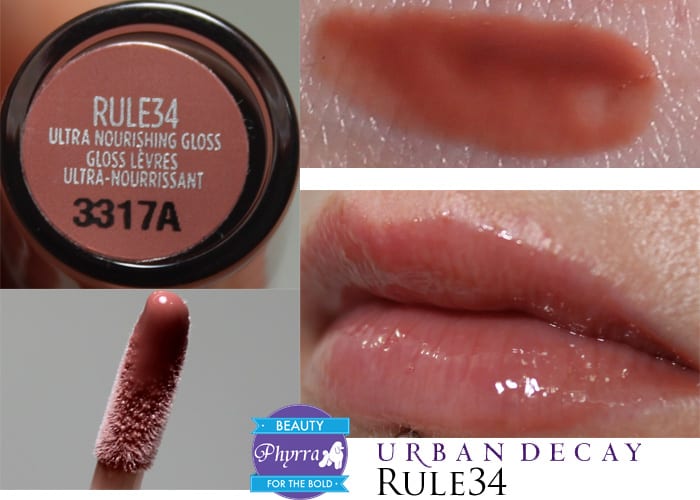 Rule34
medium brown-nude
This name cracks me up.
My Thoughts
The new Naked Ultra Nourishing lipglosses definitely live up to their name. They're made with shea butter, avocado oil, rosehip seed oil, Vitamin A and Vitamin C, all of which make your lips feel moisturized and soft. I only noticed a few of the colors settling into the fine lines in my lips, but I did not feel like they migrated. They are comfortable to wear and stayed put on my parched lips, which I appreciated!
These are NOT pigmented glosses. They're very light. They're meant for layering or for a My Lips But Better (MLBB) look. So you can layer them on top of your favorite Urban Decay Revolution Lipsticks (see swatches of all shades) or your favorite lip pencil (see swatches of all UD lip pencils). They have a slightly minty taste/smell that fades quickly for me. They really are incredibly comfortable to wear and I don't think they feel sticky.
In general I don't expect gloss to last through a meal. Glosses tend to last just a few hours for me. I wore Freestyle for 3 hours. It didn't settle into fine lines or bleed on me. It did wear off during dinner, which I expected. It was very moisturizing and comfortable to wear, especially on my irritated lips (which were irritated after swatching 9 shades; swatching that many caused a rosacea flare up by my lip line).
Pros
Very moisturizing
Not sticky
Flattering nudes – there really is at least one shade for everyone!
Cruelty free
Vegan
Cons
If you don't like lightly pigmented glosses, you will not like these
Honestly, these glosses are perfect to add extra depth and dimension to your pout, the way James Vincent recommends – at the center of your lips. They're moisturizing and comfortable. If you're in a hurry and you only have time to swipe on some gloss, these are pretty goof proof and will give you enough color to look polished. I think anyone would benefit from a shade or two like this in their makeup arsenal.
What do you think of the new Urban Decay Naked Ultra Nourishing Lipglosses? See any shades you love?
Last Updated on