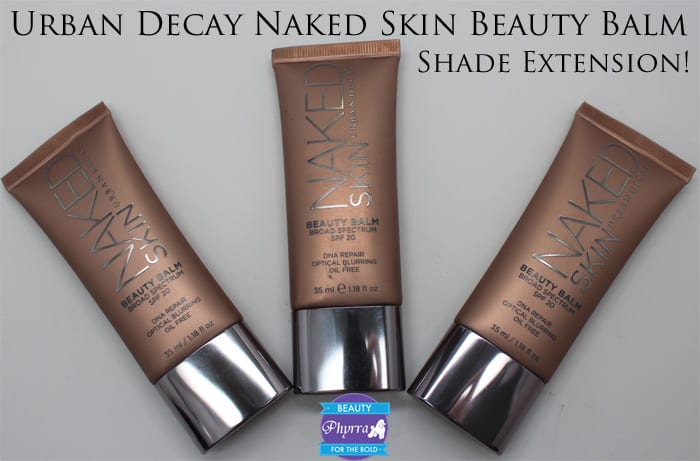 Hi! Today I've got the new shade extensions of the Urban Decay Naked Skin Beauty Balm to show you. UD has expanded their Beauty Balm SPF 20 to add a lighter and darker shade. And did I mention that it's vegan? Yay! Let's take a closer look!
Pr sample.
Urban Decay Naked Skin Beauty Balm Review
If you like this video please subscribe and share!
About Urban Decay's Animal Testing Policy
Urban Decay is a cruelty-free brand and is committed to ending animal testing. We do not test our products on animals, nor do we allow others to test on our behalf. Additionally, we require our suppliers to certify that the raw materials used in the manufacture of our products are not tested on animals. Our Brand is certified by both PETA and The Leaping Bunny Program (CCIC) as cruelty-free.
Other Vegan Products by Urban Decay
Naked Skin Liquid Foundation
Naked Skin Ultra Definition Pressed Finishing Powder
Naked Ultra Nourishing Lipglosses
Naked Skin Ultra Definition Loose Finishing Powder
About Urban Decay Naked Skin Beauty Balms
The Urban Decay Naked Skin Beauty Balm is the BB Cream with insane benefits. Unlike a lot of beauty balms, Naked Skin delivers measurable anti-aging benefits – and UD has the claims to prove it. And while many beauty balms are tinted to provide coverage, ours diffuses light with high-tech pigments to give you amazing, natural, NAKED-looking skin that keeps getting better every week. Blur flaws in seconds and get serious anti-aging benefits in just 8 weeks. Naked Skin Beauty Balm is invisible on your skin (zero rub-off). Ever since the Beauty Balm came out last spring, we've been bombarded with requests to expand our shade range. Now all your gorgeous fair-skinned women and dark-skinned beauties can start every day Naked. We're launching Naked Light and Naked Dark. Our original shade has been renamed to Naked Medium.  (See my original first impressions here.)
Perfects – Optical blurring pigments instantly even out skin tone and minimize pores, lines, wrinkles and redness
Protects – SPF 20 shields skin from sun damage and Pepha-Protect helps inhibit DNA damage
Treats – Vitasource and dGlyage firm skin, improve elasticity and provide measurable anti-aging benefits
Primes – Extremely blendable formula creates a smooth finish so makeup goes on beautifully and stays put
Hydrates – Moisturizing but never greasy, Naked Skin Beauty Balm hydreates skin instantly and improves hydration over time
Cruelty Free
Vegan
The Proof
Many beauty balms provide a lot of empty promises and not much else. In a clinical study, after 8 weeks of use (based on subjective analysis):
93% of participants had significantly firmer, more lifted skin
90% had significantly more radiant skin
84% had a significant improvement in fine lines
Over 84% had significantly smoother and more hydrated skin
UD Says
This formula is so loaded with anti-aging ingredients that it can replace your daytime anti-aging treatment. It's that good! Pepha-Protect (from watermelon extract) is rich in vitamins and amino acids like citrulline that help guard skin against daily stress. High-tech ingredients like Vitasource and dGlyage firm skin, improve elasticity and provide measurable anti-aging benefits. SPF 20 shields skin from sun damage, while optical blurring pigments diffuse light to blur flaws. The result? An ultra definition flawless finish that looks luminous and youthful.
Price
$34 for 1.18 fl. oz
Availability
Sephora, Ulta, Macy's, Beauty.com, UrbanDecay.com (starting January 14, 2014)
Shades
Naked Light – for shades .5 through 3.5
Naked Medium – for shades 3.0 through 7.0
Naked Dark – for shades 6.0 through 12.0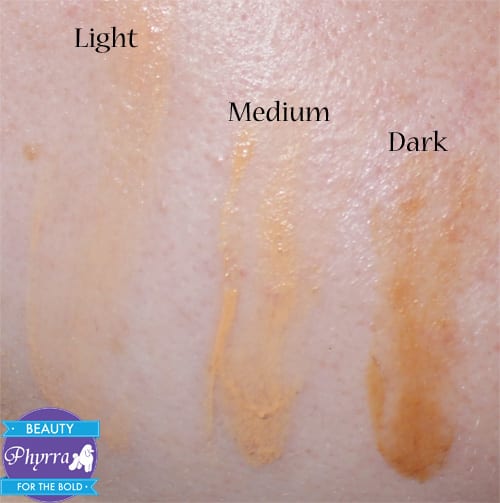 These swatches are along my jaw line.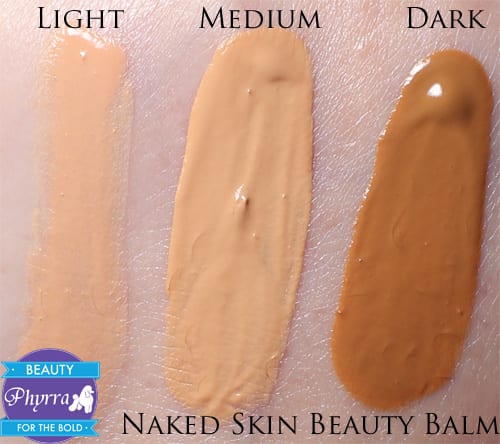 These swatches are on my hand.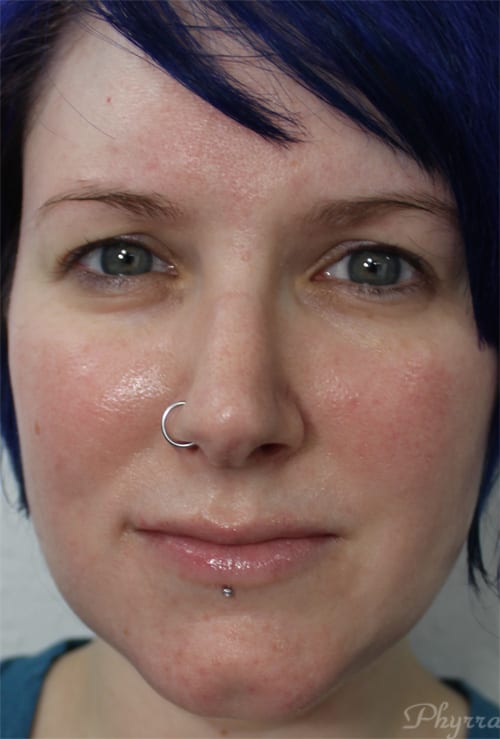 Here's my naked face. I've got a slight rosacea flare up going on right now. However, I wanted you to see what my skin looks like so you can see how the beauty balm blurs the imperfections. I did not retouch or adjust these photos so that you could see how well this works.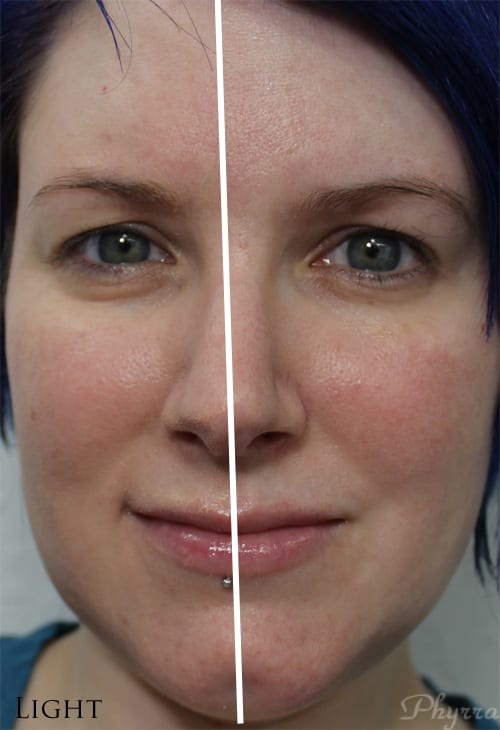 I'm wearing the Urban Decay Naked skin Beauty Balm in Light on the left side of the picture. the right side is my naked skin.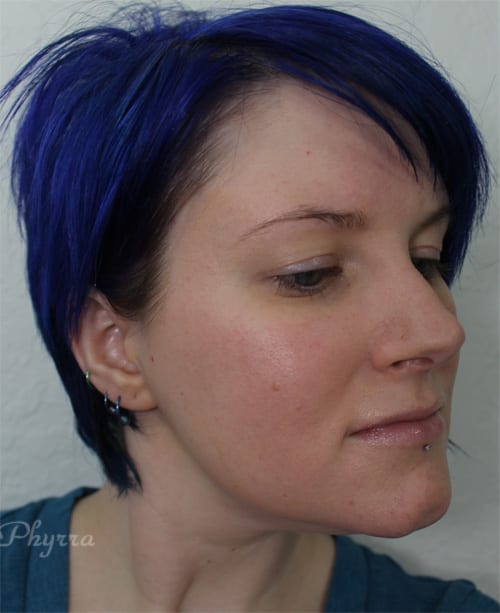 You can see here how Naked Light is slightly darker than my neck, but a lot of that red overtone is from my rosacea.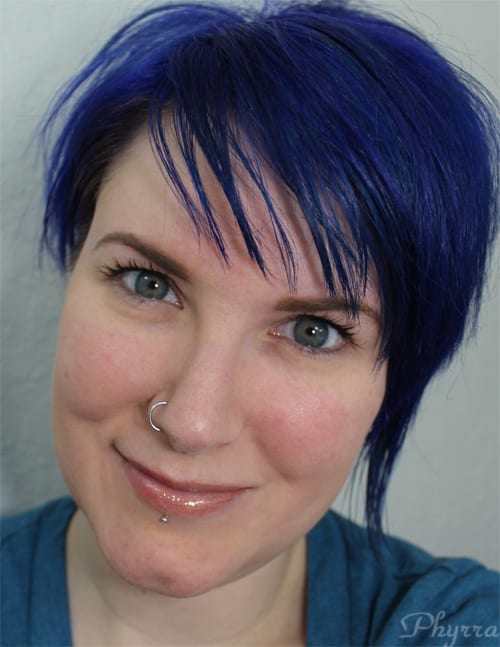 My Thoughts
This is my finished look. I'm wearing Naked Skin Beauty Balm in Naked Light with Naked Skin Ultra Definition Loose Finishing Powder in Naked Light on top. I used the pressing / rolling method (see my video) to apply the powder to set it the beauty balm and I'm really pleased with the results. I don't have on any blush. I do have on Urban Decay Naked Ultra Nourishing Lipgloss in Freestyle.
I tested the beauty balm with a primer plus the UD setting powder and after 8 hours it was still going strong. I truly think the pressing in the finishing powder as opposed to using a brush is key for me to getting longer wear time. The loose finishing powder made my skin feel like silk! I love it! It works so much better for me than the pressed.
I also find this combination very comfortable to wear! I think my skin looks good (despite my rosacea) with this combination.
Pros
Feels like I'm wearing nothing at all
SPF 20
Anti-aging benefits
Blurs imperfections
Cruelty free
Vegan
Expanded shade range
Cons
Still may not work for the darkest or fairest of complexions
If you have combo skin (I have sensitive, rosacea, oily t-zone skin), you may have to set with setting powder to get long wear
I am in love with the Beauty Balm + Loose Setting Powder combo and really like how 'natural' it makes my skin look. I like the anti-aging benefits and the SPF 20. I loved how the original version felt on my skin but ultimately decided it was too dark. This one is a much better match for me. I'm thrilled to be able to wear it.
What do you think of the expanded shades in the Urban Decay Naked Skin Beauty Balm? Did you like the original?
Last Updated on