I teased you last week with a swatch picture of Urban Decay Naked Skin Weightless Ultra Definition Liquid Makeup. Today I have those swatches for you. I will have my review coming up soon. I received the following shades: .5 (neutral/cool), 2.0 (warm/golden), 3.5 (neutral/cool), 5.5 (neutral/cool), 7.5 (neutral/cool), 9.0 (warm/golden) and 12.0 (warm/golden).


Here are all the lovely bottles together.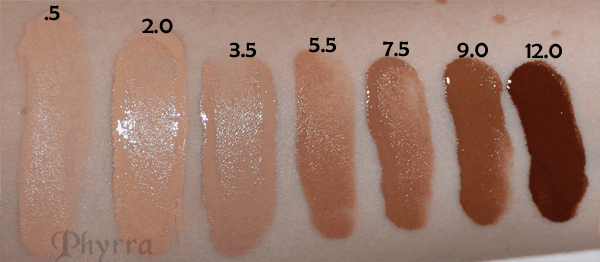 The press release says:
It feels like wearing nothing at all, yet Naked Skin transforms complexions. Skin looks natural, illuminated and bright: like the beautiful skin you were born with. Weightless and virtually invisible, this revolutionary, paraben-free formula creates a flawless, demi-matte finish; light-diffusing spheres make you look professionally retouched. It's the ultimate in ultra definition. With a broad, universal range of 18 meticulously calibrated shades, Naked Skin is a buildable liquid foundation that provides medium to full coverage with an unrivaled, weightless texture. It feels different as soon as you touch it.
Naked Skin's revolutionary, oil-free, fragrance-free, and paraben-free formula diffuses light, blurring fine lines and wrinkles. Ultra-forgiving, the weightless, never-before-seen texture allows you to apply more wherever you need extra complexion perfection. No matter how much or how little you build, your skin is left neither matte nor dewy, but with a totally natural, luminous finish.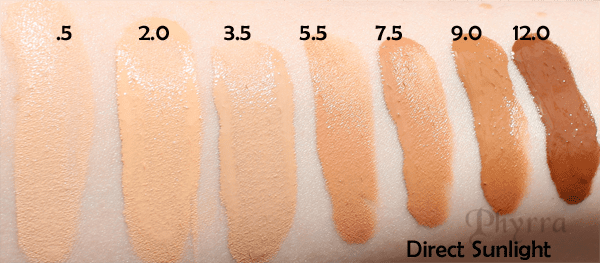 The Naked Skin shades are numbered rather than named. Shades that end in .5  are supposed to be more neutral / cool in tone. Shades that end in .0 are supposed to be more golden / warm in tone. This system seems a lot easier to understand to me than NC or NW.
The available shades are:
0.5 – neutral/cool
1.0 – warm/golden
2.0 – warm/golden
3.0 – warm/golden
3.5 – neutral/cool
4.0 – warm/golden
4.5 – neutral/cool
5.0 – warm/golden
5.5 – neutral/cool
6.0 – warm/golden
6.5 – neutral/cool
7.0 – warm/golden
7.5 – neutral/cool
8.0 – warm/golden
9.0 – warm/golden
10.0 – warm/golden
11.0 – warm/golden
12.0 – warm/golden
Some of the great ingredients are:
Litchiderm (from lychee fruit) – this is supposed to protect skin from dehydration, oxidative, stress, accelerated aging, resulting in a brighter, more radiant complexion
Vitamin E – used to hydrated and increase the skin's elasticity while fighting off free-radicals that cause skin to age prematurely
Japanese Green Tea – soothes and calms skin with anti-oxidants to neutralize free-radicals and promote collagen production for smooth and supple skin.
Matrixyl 3000 – anti-wrinkle and lifting peptides to restore and maintain the skin's youthful appearance while increasing elasticity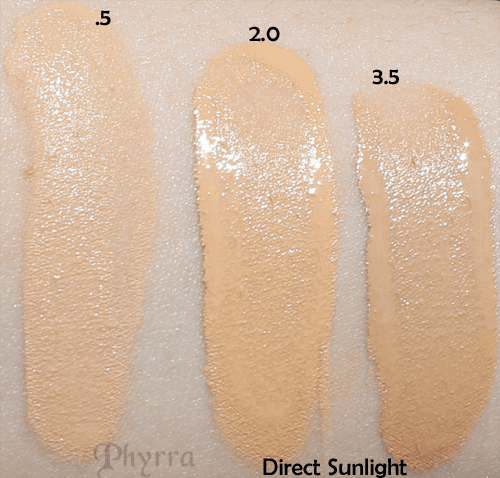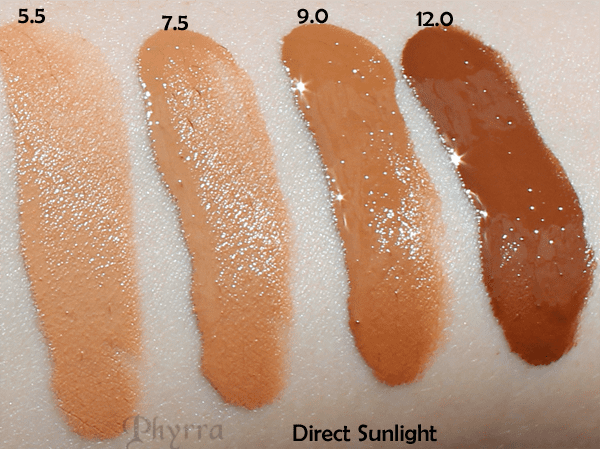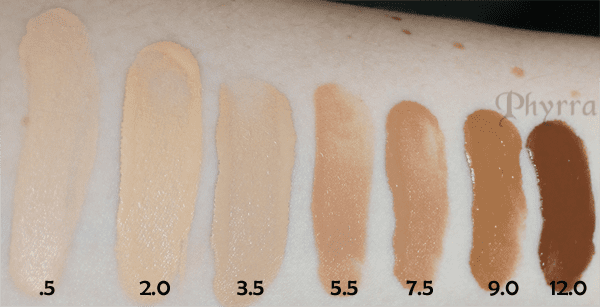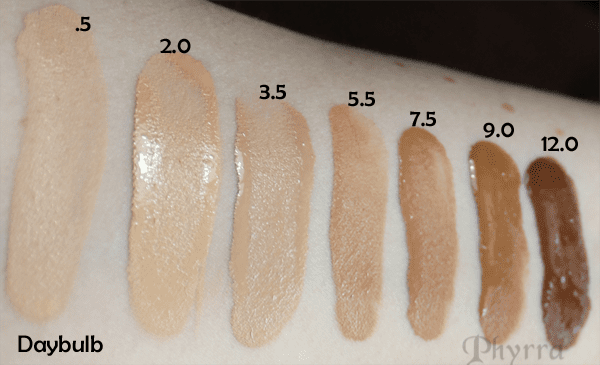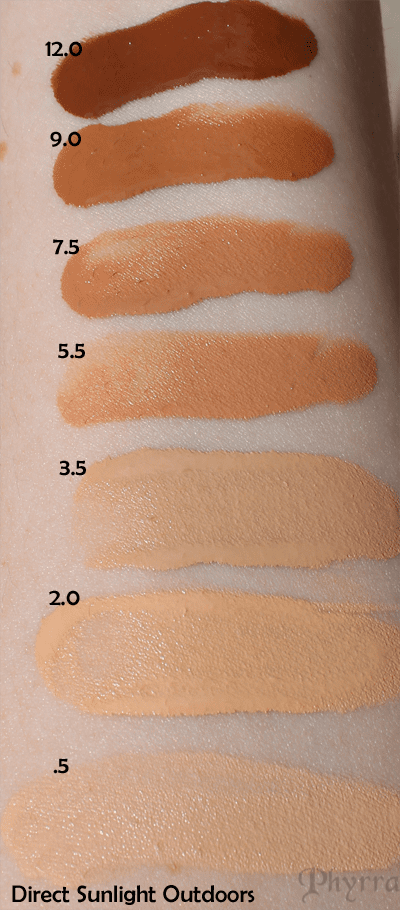 Here's another shot of the bottles.

I love the fact that the bottles have a pump. Speaking of one pump, this is what one pump of .5 looks like.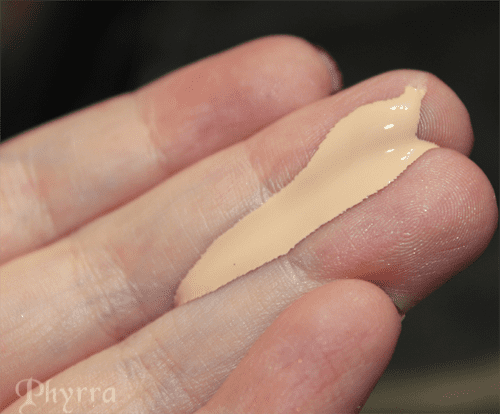 I'll have a review for you soon on the Urban Decay Naked Foundation and how it works for me. I can tell you from preliminary images that it looks pretty good on my skin and doesn't give me that 'I'm sunburnt' from being too pink.
The Urban Decay Naked Foundation is supposed to go on sale at the end of July and will retail for $38 for 1 oz.
What do you think of the colors I have swatched here? Could any of these be your match?
To the best of my knowledge, Urban Decay is cruelty-free.
Products sent for consideration. All opinions are my own.