Urban Decay

has released 3 new palettes for the Holiday Season – Fun, Feminine and Dangerous. Urban Decay's edgy brand of beauty has three ingredients: femininity, danger and fun. This post is all about the Fun Palette. (Check out my Fun Palette tutorial, where I use all of the colors in this palette). Each palette comes in a reusable zippered pouch. The eyeshadow palette pops out. It's magnetic, so don't stick any credit cards, usb drives or anything that a magnet could wipe. I believe these three palettes will be available starting September 4, 2012.

The Fun palette case is a sparkly turquoise color and it has a golden octopus on the front of it. Any time I see a cephalopod, I can't help but think of H.P. Lovecraft and Cthulhu. I love this sparkly turquoise case!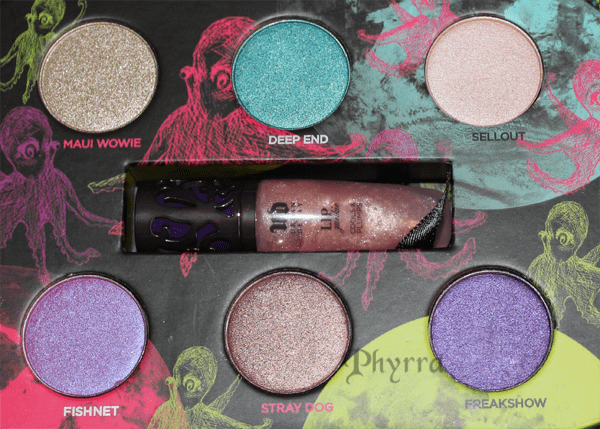 The Fun palette is perfect for experimenting with color and creating upbeat everyday looks.
The colors in the UD Fun Palette are:
Midnight Cowboy Lip Junkie Lip Gloss – sheer nude sparkle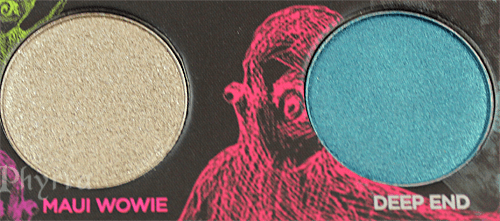 Maui Wowie – metallic golden beige with silver shimmer
Deep End – bright teal shimmer (I have this color from my 15th anniversary palette too, but UD denotes it as new, maybe to expand the core collection?)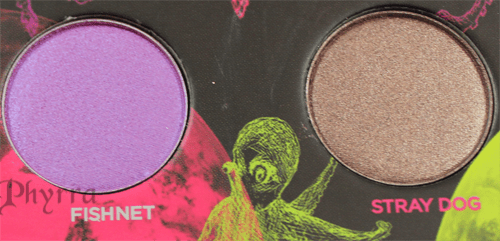 Fishnet – bright pink with purple shift
Stray Dog – cool metallic ash brown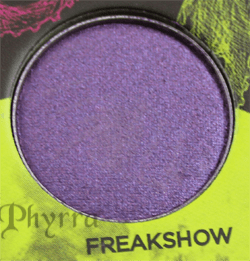 Freakshow – deep royal purple pearl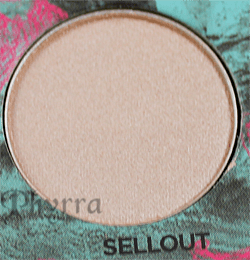 Sellout – pinky champagne (this was a favorite safe 'work' color for me and it may have been my first UD eyeshadow, though I'm not sure)
I swatched the palette on Meow Light Primer.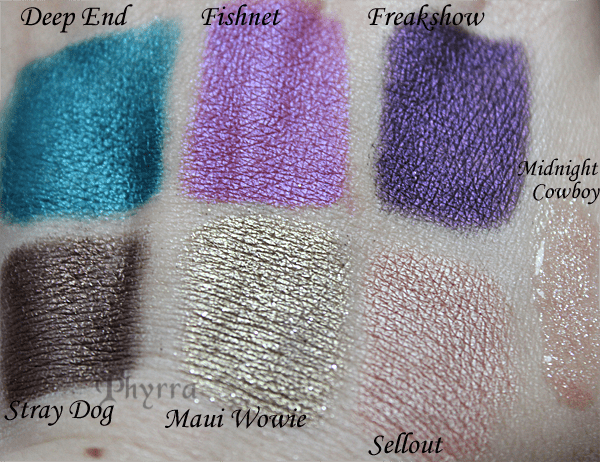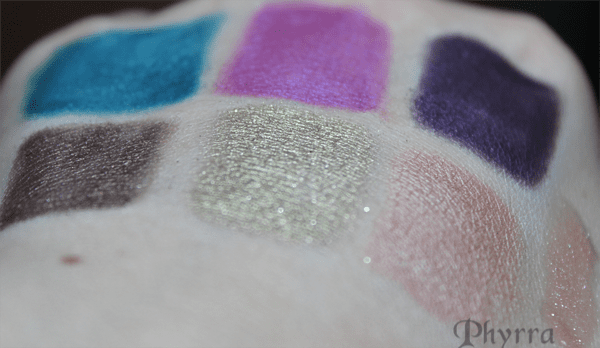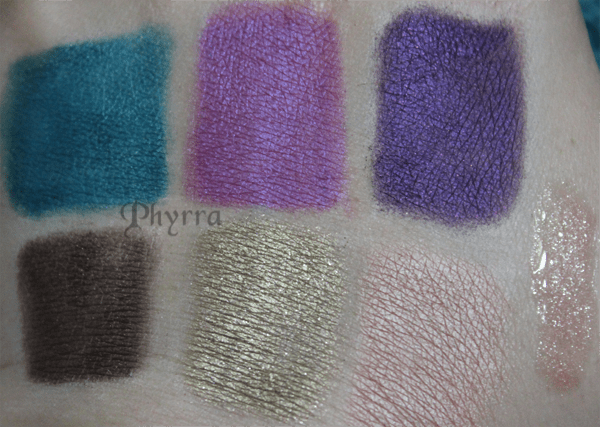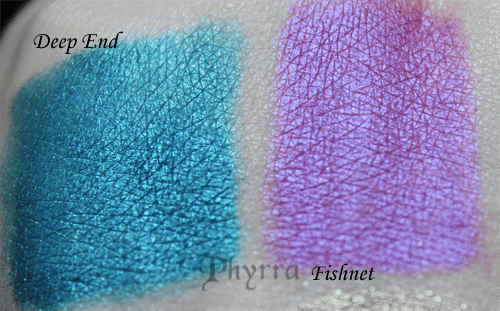 I just LOVE this teal! It's so gorgeous. It's not too green. I prefer my teals to be blue-based, so this one just makes me so happy 🙂
I really like the new version of Fishnet. The pigmentation is very smooth.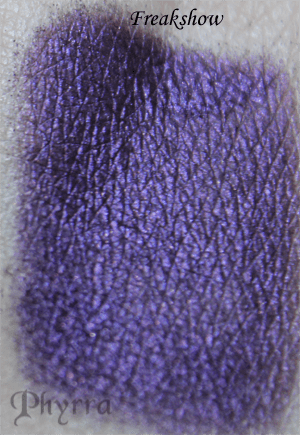 Freakshow is a TDF purple! Love it. When I think of the word purple, this is the color my mind evokes.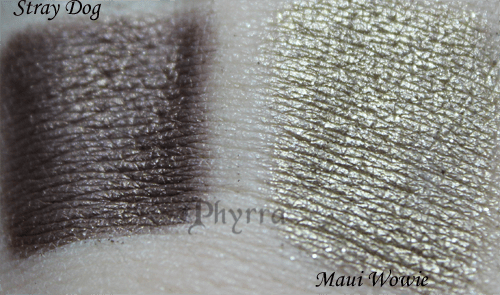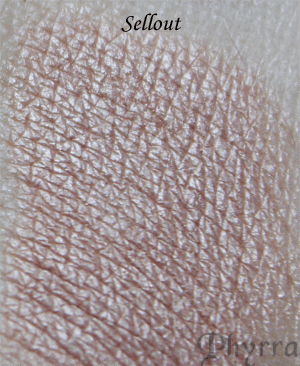 I really like the Midnight Cowboy Gloss (you know I'm a fan of the Midnight Cowboy lipstick too). It's got such pretty multi-colored sparkles in it.
I also swatched the other versions of the shades that I had for you, just to compare. You can see that the new UD shadow formula is smoother and has better pigmentation.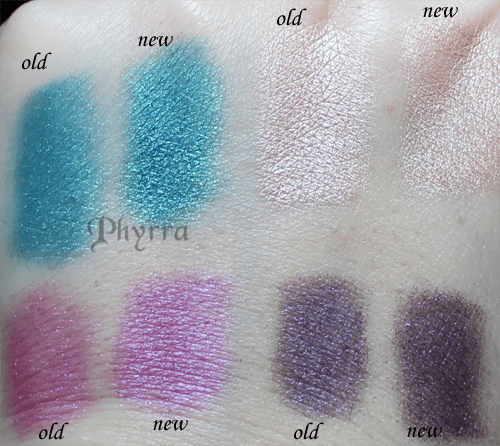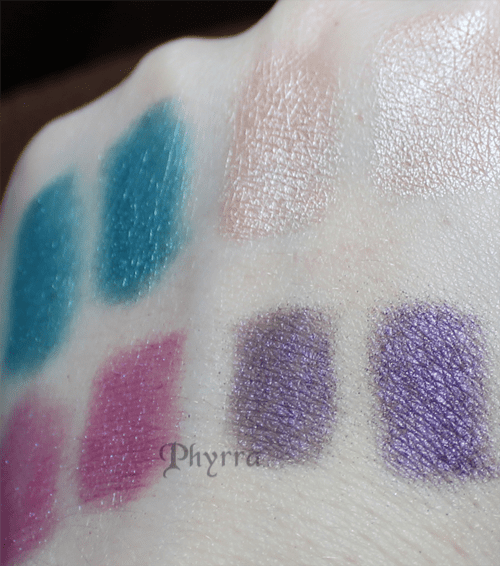 (old version left, new version right, no primer)
Deep End (15th Anniversary ) Deep End – Sellout (old) Sellout
Fishnet (Deluxe) Fishnet – Freakshow (Deluxe) – Freakshow
While the 15th Anniversary palette is supposed to be the same formula as the new shadows, I think the new Deep End seems to be a more pigmented than my old one. Sellout seems to be the same, though it applied a bit easier. My old Fishnet was the deluxe formula, but I always felt like it was hard to get good color payoff (though it was better than MAC Stars n' Rockets). The new Fishnet had better color payoff and seemed slightly more purple. Old Freakshow, also a Deluxe, seemed more satiny in finish. The new Freakshow is more pigmented and seems to have more glimmers in it.
I love the 6 shades chosen for the Fun palette. Incorporating bright teal, deep purple, bright pinky-purple, pink champagne and gold into one palette is definitely fun! Stray Dog is the only one I'm not head over heels for, but it still looks nice with Freakshow and Deep End.
A few possible color combinations:
Deep End on the lid, Stray Dog in the crease
Fishnet on the lid, Freakshow in the crease
Sellout on the lid, Stray Dog in the crease
Maui Wowie on the lid, Stray Dog in the crease
Maui Wowie on the inner lid, Freakshow in the outer lid
Deep End on the lid, Freakshow in the crease
Check out my Fun Palette Tutorial, incorporating all of the colors into a single look!

What color combinations would you wear? I want to hear how you'd wear this palette!
Price:
$36 for 6 eye shadows and a mini gloss
Available at:
Sephora.com, Ulta.com, Macys.com, Beauty.com and UrbanDecay.com
Urban Decay is cruelty-free. Product sent for consideration. All opinions are my own.