Inspired by the world's most beautiful beaches, Meow Cosmetics created the Castaway Collection. This is a seasonal collection. The color choices are really unusual for summer, and I definitely see it as more of a transitional color palette between summer and fall. These are all swatched on Meow Light Primer.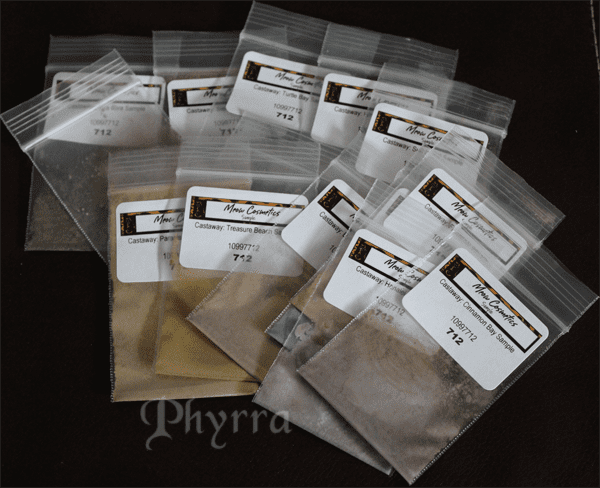 Sun Island
pearly sunkissed warm golden peach
My Take
Pearly gold with peach tones.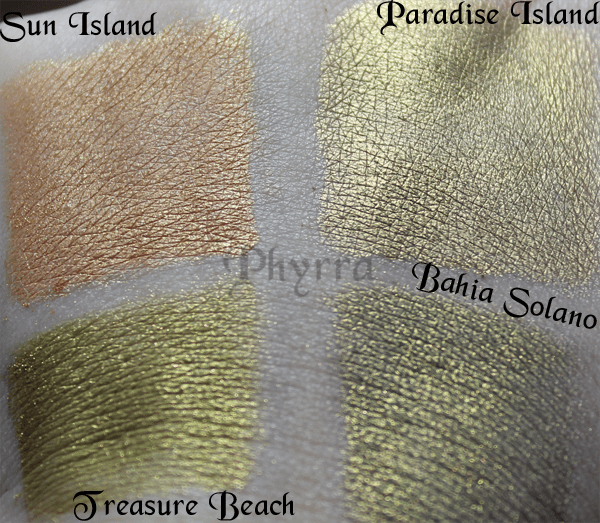 Paradise Island
soft subdued satiny muted gold
My Take
Soft metallic gold.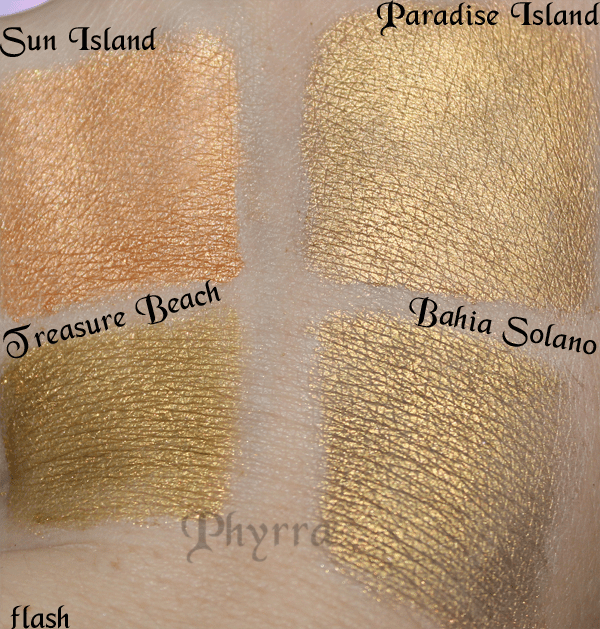 Bahia Solano
subdued sandy gold with a bright iridescent finish
My Take
Antique metallic gold.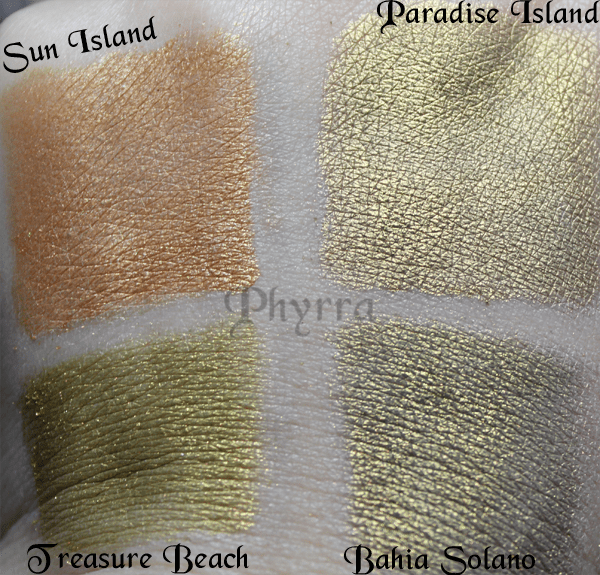 Treasure Beach
metallic golden shimmery sage
My Take
Metallic gold with soft yellow-green undertones.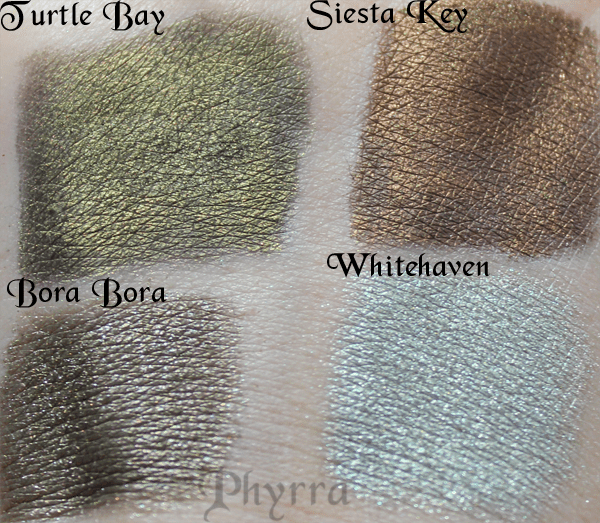 Bora Bora
rich metallic golden olive with silver shimmer
My Take
Olive with a hint of copper undertones, golden overtones and delicate silver shimmer. Really neat.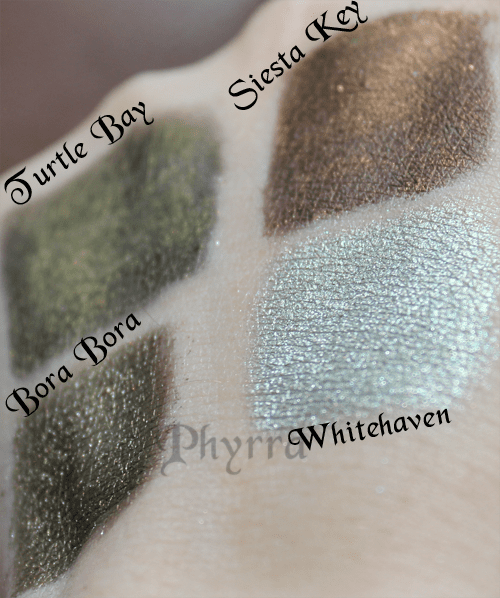 Siesta Key
olive infused with copper metallic iridescence
My Take
Copper metallic with golden iridescence on a deep bronze base. This is my absolute favorite of the entire collection.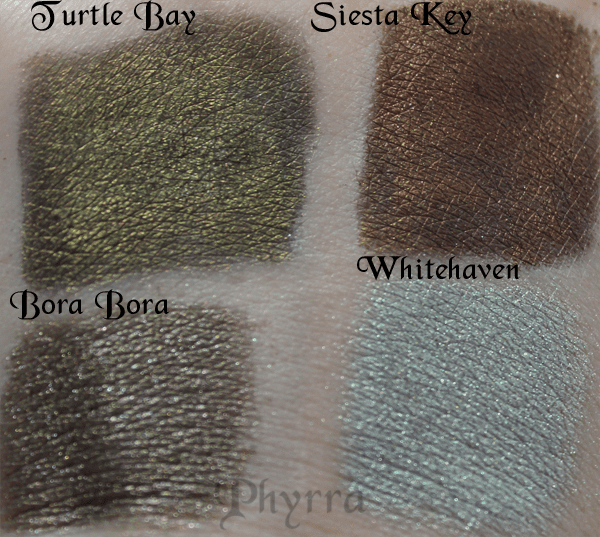 Turtle Bay
silky golden seafoam green with gold iridescence
My Take
Khaki green base with gold iridescence.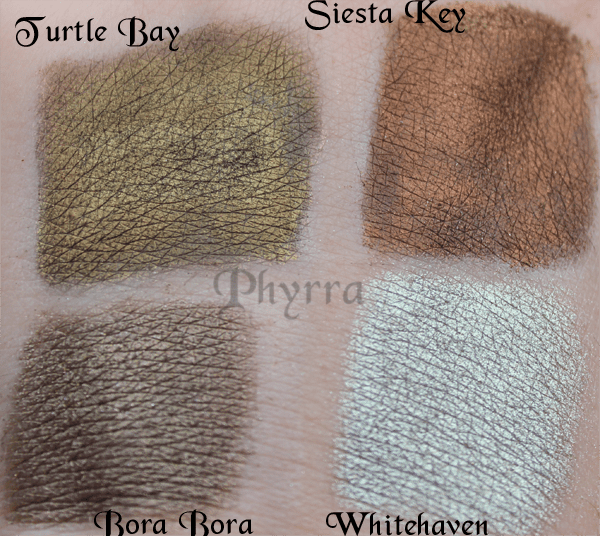 Whitehaven
bright light silvery grey with silver shimmer and sheen
My Take
Light metallic silver with pretty silver shimmer.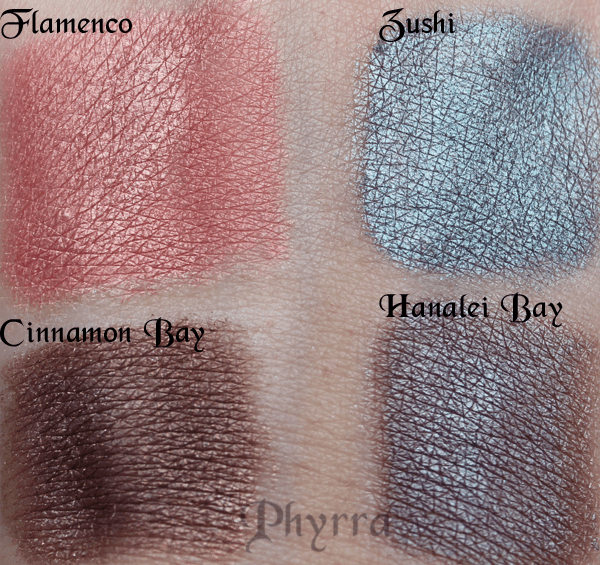 Flamenco
satin sandy blush pink with a hint of peach
My Take
Elegant, satiny salmon pink with peach tones.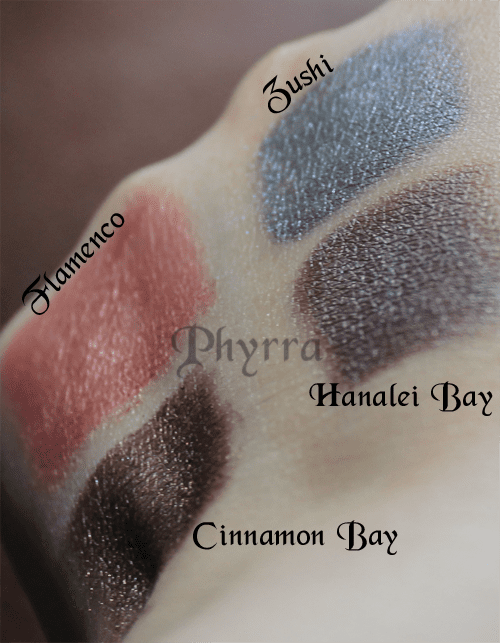 Cinnamon Bay
mysterious shimmery grey/plum
My Take
Taupe with hints of mauve and grey. This is a color that I think taupe lovers will go crazy for.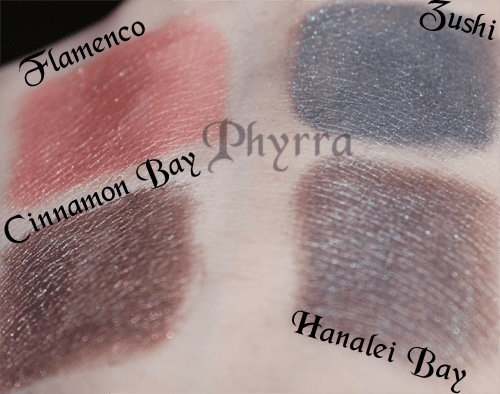 Hanalei Bay
creamy pearlized light grey with a hint of orchid undertone
My Take
Rich midtone grey with a hint of lavender. This really reminds me of NARS Lhasa. I wouldn't go so far as to call it a dupe (because I don't own Lhasa so can't swatch it side by side), but I am strongly reminded of that color.
Zushi 
quiet, calm and serene, this misty ocean blue has a kiss of teal shimmer and iridescence
My Take
Soft blue on a midtone grey base.  You can see slight teal iridescence.
Siesta Key is the crease and liner color for this look. So amazing! Check out my Tutorial.
My Favorites
Siesta Key is amazing! LOVE it! It's my absolute favorite from this collection. I also like Flamenco, Zushi, Hanalei Bay, Bora Bora, and Sun Island. Treaasure Beach, Bahia Solano and Paradise Island are pretty, too.
What colors are you loving?
To the best of my knowledge Meow Cosmetics is cruelty-free. Some products purchased by me. Some products sent for consideration. All opinions are my own.
Last Updated on